Matthew Hayden
25
We used to fear this kind of thing, but it's all been put in perspective by this: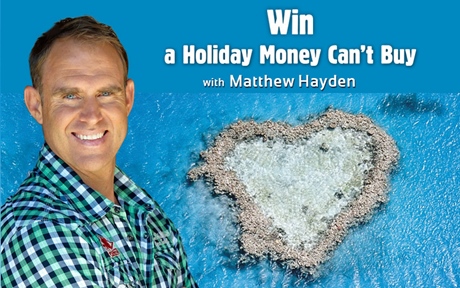 The holiday ends with you having a barbecue with the man himself. At least he's a good cook.
"Yes, I could definitely eat a 14th steak if you'd be good enough to go back over to the barbecue yet again. There's not enough heat left to cook with, you say? I'm sure there is. You'll just have to cook it for longer. You'll just have to cook it for much, much longer. That's right. Stay over there, slightly further away from me for much, much longer."
We found this via a link on Hayden's Twitter feed, which read: "Come and play in my back yard."
Not sure why we clicked it really. There was no possible good outcome.
25 Appeals
17
Apparently Jimmy Anderson once hit Michael Clarke in the head with a pad because Clarke was being a knobhead. It's a slightly disappointing story overall, but made faintly interesting by the subplots revolving around Damien Martyn.
Apparently, Jimmy was sitting in the changing rooms and Michael Clarke was giving off some sort of ill-defined arrogant vibe. Anderson told Martyn that he wanted to wrap a pad round the back of his head. Martyn told him to do it.
"I looked at him again as if to ask: 'Are you sure?'

"'Do it!' he repeated.

"As I'd had a couple of beers, I didn't need a second invitation."
That sounds rather like he did need a second invitation to us, but whatever. Jimmy applied pad to head; people swore; nothing much happened.
However, clearly feeling like he was playing a blinder, it seems Damien Martyn later managed to get himself in some sort of argument with Matthew Hayden.
This seems fair enough to us, except for the fact that Hayden delivered the most outlandish insult we've ever heard – he called Martyn "the biggest wanker on the planet".
Now, we could sort of forgive the error if someone else had said the same thing. But if you yourself are the biggest wanker on the planet, you KNOW the inaccuracy of what you are saying.
The gall of the man.
17 Appeals
9
In 2006, we started writing about how Matthew Hayden spoke bollocks. At that point, his batting drew most people's attention and it hadn't been widely acknowledged that the man was sucking all meaning out of words and then piling them together arbitrarily. Now everyone has noticed.
Even Michael Atherton's slagging him off for talking nonsense now, so in many ways our work is done. The world is well-equipped to mock Hayden's cod-business guff-talking without us.
And yet we've continued. Every time that we feel like we're out, he pulls us back in. The man's retired, so he should no longer be a target, but there he is evaluating Phil Hughes or launching The Hayden Way. Sometimes it's just too easy.
Our latest article for Cricinfo comes as a result of Hayden investing in the Big Bash League. It has to be the last thing we do about Matthew Hayden, but we fear it won't be. It says it all that Cricinfo usually add a disclaimer about all quotes being made-up, but it wasn't necessary in this instance, because we used genuine quotes. The man is officially a self-parody.
9 Appeals
16
Even now, people often ask us to write about Matthew Hayden. We never do.
Partly it's that Hayden has retired and is therefore no longer 'a target'. Mostly it's just that we don't like doing what people ask us to do.
With that in mind, we'd like to emphasise that our recent Cricinfo Ashes piece featuring Hayden was NOT written to please anyone.
That said, it's gone down amazingly well in the comments section, with one person saying that Alan Tyers is merely 10 times better than us. Another, who really seems to like it, describes us as being 'almost as good as Andrew Hughes'.
16 Appeals
11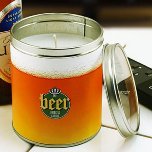 Watson thought the changing room stank and lit a scented candle. Andrew Symonds gave him shit for it.
Andrew Symonds comes out of this well; Shane Watson less so.
This tale comes from Matthew Hayden's autobiography.
We hope we get a review copy. Buying Matthew Hayden's autobiography would effectively mean giving him money and that would amount to tacit approval of the man.
11 Appeals
3
Another verse has been added to the Gospel According to Haydos.
"As the stars have aligned, they have really put me in the box seat as to the controlling interest for growing our sport in our regional and indigenous communities."
Everyone quickly point and laugh.
Now back to county cricket.
3 Appeals
5
Matthew Hayden's been out of international cricket for a while now. It's natural that he'd be a bit rusty. We're not talking in terms of his batting. We're talking in terms of his guff talking.
He's not totally lost it though:
"This game, coming tomorrow night, is the opportunity to have that decision to find our balance and play the cricket that our talent is capable of."
He's also spoken about the fear of getting hit by the ball:
"Only if I watched it and executed the hundreds of thousands of balls that I have hit over my lifetime could I focus my energy on that."
That's The Hayden Way.
5 Appeals
12
Sami has just pointed us towards The Hayden Way.
It's currently a one page website which we might as well reproduce in its entirety: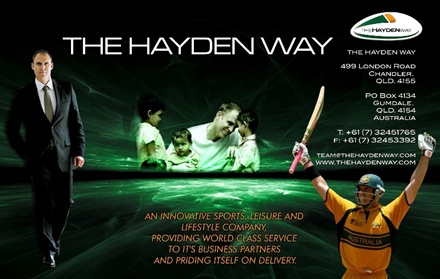 So what does The Hayden Way do?

It prides itself on the delivery of unnecessary apostrophes.
12 Appeals
11
There aren't many things you can rely upon in this world, but the Mongoose marketing department is one. Sometimes Mongoose press releases take unexpected forms, but their arrival is inevitable.
After Matthew Hayden used the Mongoose to hit many of the 93 runs he hit off 43 balls for Chennai Super Kings against Delhi Daredevils, we said to a colleague: "How long until the press release?"
Two hours.
It's not a very good press release. The only real highlight is a hint at a potential pastime for Hayden when he gets a bit older:
"I look forward to bringing it out again to entertain once more."
"The suspect showed no remorse for his crimes nor the effect they had on the Kingaroy women's tennis team, therefore he has been sentenced to 100 hours community service."
11 Appeals
6
Considering that Matthew Hayden and the Mongoose cricket bat are two of our favourite things to talk about on this site, you'd think we'd have more to say about this: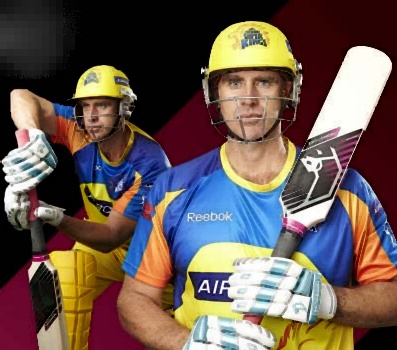 The heading on the press release says:
Matthew Hayden and Andrew Symonds to 'let loose the Goose'
We should DEFINITELY have something to say about that…
6 Appeals