Michael Clarke
28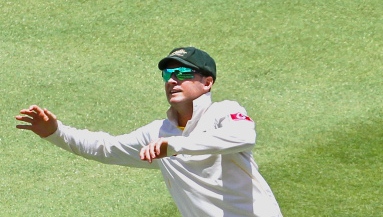 One of the most annoying things about the Australian cricket team is not its verbal aggression but the players' relentless self-righteousness about it.
Here's a quote from Michael Clarke that you'll feel like you've read a thousand times before.
"I think we play our cricket hard on the field but I think as Australians we understand and respect there's a line you can't cross."
What Clarke doesn't get is that what he perceives to be 'the line' might not necessarily be the line to everyone else in the world. Who made you King of the Line, Michael? Why do you get to decide what does and doesn't go?
He reminds us of one of those strong-willed but stupid kids who's forever changing the rules of whatever game he's playing so that he always wins. He's trying to enjoy his victories, but all the other kids are sort of rolling their eyes and thinking maybe they should go and do something else now.
In the same interview, Clarke also says that he himself has crossed the line twice in the last year.
Actually, he says he 'made no bones about' the incident with James Anderson and that what he said 'wasn't appropriate'. However, a second later he's going on about the importance of going close to the line, but not crossing it. He then appears to imply that this incident and a similar one with Dale Steyn fall under the heading 'Australians playing cricket extremely fairly'.
Maybe it's just that Clarke has a different definition of 'the line'. In his world, you can cross the acceptable/unacceptable threshold with impunity. What he's talking about is the line that separates 'not stabbing someone in the eye with the scorer's pencil' from 'stabbing someone in the eye with the scorer's pencil'.
28 Appeals
26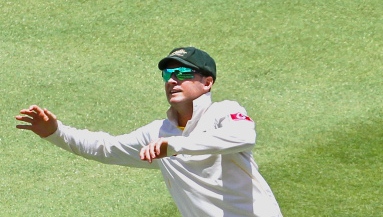 Legal documents associated with Mickey Arthur's ludicrous AUD 4 million compensation claim against Cricket Australia are said to detail deeply felt emnity between Michael Clarke and Shane Watson. This is, apparently, news.
A fairly large proportion of the Australian population has always hated Michael Clarke, seeing him as an image-conscious metrosexual who's been given an easy ride. An even greater proportion of the Australian population hates Shane Watson for being an image-conscious metrosexual who whinges a lot, throws away promising starts and who is forever getting injured. Being as both Clarke and Watson are Australians, OF COURSE each is going to hate the other.
It's basic statistics. Chances are most of Clarke and Watson's team-mates hate both of them. Why wouldn't you? The rest of us do.
Just because one person's a bit of an arse, it doesn't mean they're necessarily going to be great mates with other arses. In reality, people are generally most irritated by the negative qualities in others that they themselves possess. Clarke and Watson share plenty of irritating qualities with which to rub each other up the wrong way.
26 Appeals
29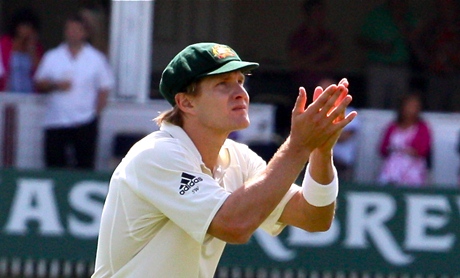 One answer would be 'because Michael Clarke's injured'. If you're wondering what's wrong with Clarke, a Cricket Australia spokesman said:
"Michael Clarke has had his right hamstring assessed by team medical staff following the game and the team physiotherapist has confirmed that Michael has stiffness in the right hamstring."
There's a joke in there somewhere. Something like: "How many Australian medical professionals does it take to diagnose a stiff hamstring when someone complains that their hamstring feels stiff?"
Anyway, this isn't the point. The point is that Shane Watson will become captain. We've said before that we have no real clue about captaincy. It's a management job really and thankfully most of the tasks involved aren't televised. We're therefore somewhat in the dark about players' suitability for the job.
But still. Shane Watson? Captains should be strong and resilient, yet Watson can't even bear to retain his own body hair. Maybe that's right though. Maybe Watson truly is the embodiment of contemporary Australia: Blonde, metrosexual, fragile, no longer troubling the speed gun and not especially good at Test cricket.
29 Appeals
30
We know. Sickening, isn't it?
If you don't already know, Lord Megachief of Gold is the highest award in cricket. Each year, we name someone winner based on some stuff. After weighing up said stuff, it turned out Michael Clarke was the winner. We were less than impressed by this, but the more we thought about it, the more we decided it wasn't quite as bad as having both legs blown off by a landmine.
Michael Clarke the batsman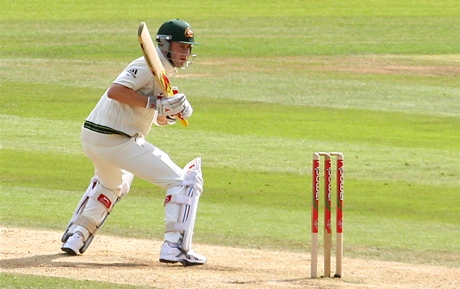 Let's start with some boring statistics, the value of which we can all pointlessly argue about in the comments. In 2012, Michael Clarke scored 1,595 Test runs at an average of 106.33 with five hundreds.
He scored the majority of these runs in Australia and a large proportion in a few huge innings, but Clarke's job is to score lots of runs and in 2012, he scored lots of runs.
Against India at the Sydney Cricket Ground, he arrived at the crease with the score reading 37-3 and proceeded to score 329 not out. Against the same opposition in Adelaide, he arrived at 84-3 and scored 210. India were thrashed by Australia in that series, but that doesn't devalue Clarke's achievements. He was contributing to that thrashing more than anyone.
On tour in the West Indies, he only managed one fifty in what was a fairly low-scoring series, but he did take 5-86 in Dominica.
Against South Africa, he scored 259 not out after arriving at 40-3 and then made 230 in his very next innings after arriving at 55-3. He then finished the year with another hundred against Sri Lanka, although 117-3 was positive luxury compared to what he'd been used to.
This is a tale of making huge hundreds when the top three have been crap.
Michael Clarke the captain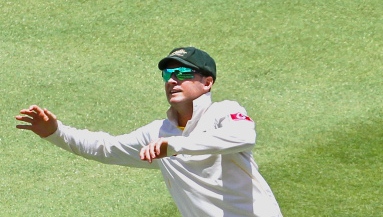 Michael Clarke was once named 'cricketer most likely to make people wince and who they would also like to slap and then push away' three years in a row. That is a FACT. (That is not a fact.)
Then, just before he was named Australia captain, a load of surveys were carried out to find out how Australians felt about this development. The aim wasn't to find out whether he was a popular choice or not; it was to establish just how much people hated him. The answer was 'a lot'.
Yet look at him now – some people actually quite like him and he is generally considered to be a pretty damn fine captain. We won't claim to know how good his captaincy really is, but we do consider him an interesting captain and that's probably more important to us.
In Bridgetown, he declared with a first innings deficit. Australia were nine down, so that wasn't really amazingly bold, but it was interesting. He didn't try and eke out 20 more runs via his tail-enders. He got on with the game. Australia then beat the Windies and the light in the final session of day five.
Against Sri Lanka, he gave his wicketkeeper an over. The value of this might be questionable, but again, it's interesting. There's nowt wrong with a mischievous bowling change. It's not like he had Matthew Wade bowl eight overs with a ring of defensive fielders. He was just trying something.
Conclusion
In a team short of half-decent batsmen, Michael Clarke batted for several men. In a team which frequently lacked fit fast bowlers and with no real spinner to speak of, he engineered Test wins as captain. He also seemed genuinely enthusiastic about Test cricket and we can't help but feel a certain degree of warmth to someone like that.
Congratulations, Michael. You are Lord Megachief of Gold 2012.
30 Appeals
11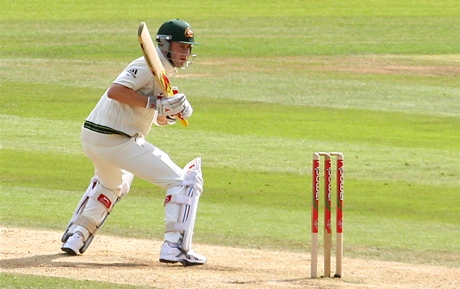 Okay, we get it – you're amazing at batting. It's getting a bit old now.
This wasn't Michael Clarke's first double hundred of the year. It wasn't even his first double hundred of the year in Adelaide; it was his second, and he has four of the buggers in total. One of them was a triple. That's… weird.
Clarke has often looked a fantastic batsman, but there's quite a big gap between playing some very good innings and the brutal efficiency he seems to be favouring of late. It's like he passed 200 in Sydney, back in January and went: "What? I'm allowed to carry on? I never knew!"
Since then, he's mostly been batting… mostly.
Most Australians really, really hated Clarke when he was made captain. Little did they know that authority would give him special powers.
But is he really all that? He ain't all that.
Okay, so maybe he's hit a few double hundreds this year. But how well would he bat if he had to wear massive, cast iron clown shoes and remain on the first floor of a small branch of Marks and Spencer? Hmm? How well would he bat then? Bet he wouldn't score too many double hundreds while he was shuffling through the cardigan section, would he?
11 Appeals
17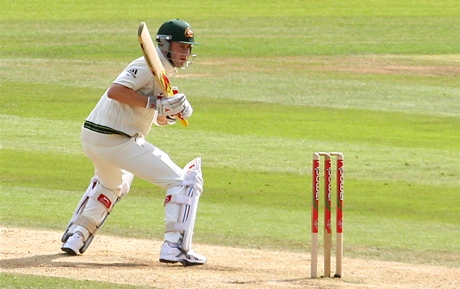 A lot of people are backtracking on Michael Clarke's captaincy. He was astonishingly unpopular when he got the job – largely on the grounds that he looks like he drinks Smirnoff Ice – but many Australians seem to have warmed to him, what with all the wins and all.
On top of that, we've noticed that Clarke has moved up to number three in the rankings for Test batsmen. It's all going well for him, of late. But is he all that?
He ain't all that.
Okay, so maybe he's won a few Test matches as captain. But how well would he captain if his players were all made out of dough and egg white? Hmm? How well would he captain then? Bet he wouldn't win many matches with that side, would he? Captain your way out of that one Captain Fantastic.
And yeah, he's hit a few hundreds in recent times. But how many runs would he score if he was encased in a giant fat suit and had to use a spatula instead of a bat? Not many, we'd wager. Bat your way out of that one Commander Sensational.
In conclusion: what a giant bell end.
17 Appeals
13
Michael Clarke concluded early on in his tenure that his man management of Mitchell Johnson would involve unconditional love, no matter what the tufty-haired purveyor of left-arm ineptitude did with the ball.
Johnson hasn't taken many wickets recently, but Clarke's been steadfast in his support. Someone should tell him he can give it a rest now.
Johnson is expected to have surgery on his left big toe this week and is likely to be out of action for about five months.
Seemingly engaging 'mindless support mode', Clarke said:
"I think it could have a good impact on him. It will give him more time away from the game to clear his head and get himself fit and strong."
For once, we've got some sympathy for Johnson, because the poor sod's already at a low ebb and is now going to miss basically a whole season. However, the idea that sitting on his arse with his foot in the air for half a year will somehow improve him as a bowler isn't all that convincing.
13 Appeals
19
We've written about batsmen being 'due' a score before. The idea is that if a batsman isn't scoring any runs, he's actually stockpiling them for a future innings.
The idea seems to be that every batsman has a quota of runs that he can allocate as he chooses. A terrible run of scores is a sign of a sensible batsman investing runs for a later date and is therefore a good thing.
It's balls, obviously – balls that have been in Michael Clarke's mouth:
"Hopefully I have saved a few runs for Adelaide."
Don't use them yet, Michael. Save them for Sydney, or better yet, Christchurch or Kolkata.
19 Appeals
31
The big names are generally old bastards. Who's next?
Ross Taylor, New Zealand, age 25
Ross Taylor tends to look like he's the man who's going to win the match for New Zealand shortly before doing something slightly spacky. Pretty soon those fifties will become hundreds and those hundreds will become double hundreds.
JP Duminy, South Africa, 25
Duminy has barely started in Test cricket, but has the reassuring habit of being exceptional whatever the format. Twenty20's just for sloggers, is it? Then why is Duminy so effective. The best batsmen are generally the best batsmen in all forms of the game.
AB de Villiers, South Africa, 25
Yes, he is only 25. There are already bowlers in world cricket who'd sooner try and insert a bat handle into their urethra than bowl at vehement letter-C denier, AB de Villiers.
Michael Clarke, Australia, 28
Recently voted 'most overrated player' by readers of the Herald Sun, Michael Clarke must be rated really, really, phenomenally highly. Quite clearly following in the footsteps of Border, Waugh and Ponting as an Aussie captain who's mint with the bat.
Gautam Gambhir, India, 28
Test average after 18 Tests: 36, with one hundred. Test average in the next nine Tests: 94, with seven hundreds. Gautam Gambhir is up and running.
31 Appeals
7
You might have noticed a certain jaded world-weariness about our recent Ashes coverage as a result of mindless media coverage smotheration. It feels right that we should return to our natural demeanour at a time when everyone else is bouncing about like there's a lot of bouncing to be done in the strange belief that mindless bouncing ever solved anything.
We haven't picked cricketers to watch because they'll be eye-catching. We've had a think and these are three who we think will play a big part.
Michael Clarke
He's not trendy and exciting any more, like Phil Hughes. He's not got the monumental record of Ricky Ponting or the inflated average of Mike Hussey. But whereas the likes of Hussey and Katich rely on experience and sound decision-making for Test runs, Michael Clarke is more like Ponting. He has better hand-eye co-ordination than most, quick feet and plays all the shots.
However, unlike Ponting, he's got a long way to go. We've probably seen Ponting's best, but Clarke could get even better. He's probably still on an upward curve.
Hussey, Katich and even Marcus North are other low-key batsmen to watch as well, because all three have years and years of cricket in England behind them.
Ravi Bopara
Never mind Kevin Pietersen, Ravi Bopara seems as likely to score runs as any England batsmen right now. A lot of cricket people seem to think Bopara's some kind of geezer, but he just seems like a nice bloke who plays cricket to us. He plays it very well and he'll be immune to the Ashes pressures, which is absolutely vital in the quest for runs.
Whether he's immune to the pressure because he's confident or because he hasn't really noticed quite what's going on is a moot point – although we'd bet on it being both.
James Anderson
We've picked two batsmen above, but batsmen are really just obstacles to victory. Bowlers decide series. England's best chance of dismissing a hugely strong and quite possibly long Australian batting line-up is through swing. Swing a cricket ball and you can get the very best players out.
It's hard to think of another swing bowler who can work a great batsman over as comprehensively as James Anderson (Zaheer Khan, maybe). Old school inswing and outswing with the new ball and their reverse swing counterparts with the old one. All bowled with thought. All bowled with control.
If the ball doesn't swing, he's a bit blunted, but if it does, James Anderson is the man to dismiss cussed batsmen who are hard to beat and who rarely make mistakes.
7 Appeals