Michael Clarke
21
England's players have been treated to an afternoon of Beefy rest day anecdotes, while Michael Clarke's babbling on about 'the line' for the billionth time ("I think everyone knows where the line is," he said this week – if not, we certainly know where we can hear about it). It's pretty clear that no-one's got anything left to say ahead of this Ashes series. We need some new source material. We need some cricket.
You get the impression that a few things need to go England's way for them to win the series. Actually, that's a mindless thing to say. Of course things need to go their way for them to win. That's what winning involves. What we mean is that a few things need to go unexpectedly their way. If everyone on both sides performs roughly as you'd expect, Australia would win.
But this is the essence of sport. All that's gone before is just history. Averages measure the past, they don't predict the future. Shan Masood has just made his first Test hundred in the fourth innings to help Pakistan make 382 to win. That was far from a likely outcome.
The only people who truly have any idea how things are going to go are the experts.
21 Appeals
18
Michael Clarke has launched an astonishing broadside against his team-mate Steven Smith ahead of this summer's Ashes series. The Australian captain claims that Smith will struggle to make any sort of impact this summer despite now being ranked the best Test batsman in the world.
Responding to Graeme Swann's assertion that Smith might get found out in English conditions, Clarke said simply: "We will find out in five Test matches' time whether Steve Smith is good enough to have success over here."
A hundred in any of the first four Test matches would surely prove Smith's credentials, so it is striking that the Australian captain does not think the matter will be resolved before the end of the series. Clearly, he is expecting few runs from the team's new number three prior to the fifth Test and presumably not even then.
Smith has not commented publically, but will doubtless be horrified to learn that his captain has such little faith in him. Alternatively, he may see Clarke's words as merely the latest salvo in the proxy war for control of the Australia team. Clarke, threatened by Smith's recent success and his status as heir apparent, may be trying to undermine his rival to firm up his own position.
Either way, the Australia camp is in obvious disarray with the cracks destined to widen like those in the Waca pitch on which they won't be playing.
With suspicions that Chris Rogers and Brad Haddin may be suffering from senility amongst other age-related illnesses, things currently look bleak for the tourists and there are also rumours that Darren Lehmann spat on a penguin while at London Zoo this week, raising the possibility that the coach may come under fire for his boorish behaviour.
18 Appeals
7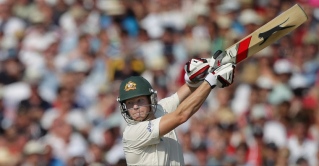 It's possible that we jumped the gun in saying that we might not see much more of Michael Clarke. We've reached this conclusion on the basis that he made a hundred as recently as today.
Watching Clarke teeter and gallumph about, it's clear that the spirit is willing but the tendons are inflamed, but you can get a long way with spirit – just ask Steve Smith.
We've previously said that at some point we'll come to terms with Steve Smith's run-scoring. We're not sure we're quite there yet, but a good innings is at least no longer a surprise. In fact, we've reached a point where we're faintly outraged when he's omitted from the Australia side. He pretty much always scores runs and he tends to do so in the right sort of manner for the situation as well.
Good cricketer. Weird batsman, weirder bowler, but good cricketer.
7 Appeals
21
It may feel like Australia lost the series against Pakistan 4-0, but actually it was only two. No matter how you play, you can't lose more than two matches when you only play two.
This has allowed Michael Clarke to somewhat disingenuously plead that his captaincy shouldn't be judged on the basis of two Tests. People will be quick to draw his attention to last year's 4-0 defeat to India, which is perhaps what he wants as such talk distracts from his batting form.
The truth is that Clarke's got away with a 2-0 defeat. He can pretend that Australia might have bounced back were they playing a third Test, but history tends to suggest that learning is more than outweighed by the negative effects of reacting whenever Australia start losing.
"We're learning," they say. "Look!"
But changing isn't the same as improving.
The captain's view
Ricky Ponting's main redeeming feature as a captain was that he was plain-speaking. He always erred on the side of blunt honesty and had an unusual predilection for answering the questions asked of him.
But there is quite some distance between being open and honest as an international cricket captain and being open and honest as a columnist. The former is like being the least annoying daytime Radio 1 DJ. You're the least bad of a group that's pretty much defined by one negative characteristic.
It is therefore no surprise to see that Ponting's first column for Cricinfo is fairly banal. He still knows those involved, so his criticism is qualified and weak. You have to read between the lines a bit and magnify some of what he's saying to interpret his true meaning.
When Ponting says that "a lot of what I saw was a bit frenetic, a bit fast," then maybe – just maybe – he's talking about Australia's number three reverse sweeping his way to 37 off 28 balls in a match in which the opposition's just posted 570-6 with one guy making a double hundred.
Glenn Maxwell at three – but what would have been next?
The selection of Glenn Maxwell to bat at number three might rank as one of the greatest cricketing decisions of all time. In this context, we're using 'greatest' to mean 'inexplicable and hilarious'.
But all we can think about is what might have happened next.
If this series had run on, who knows where Australia might have ended up. If you're picking Maxwell at three by the second Test, what do you do when you've lost four on the bounce? The team physio, Alex Kontouris, must have harboured serious hopes of opening the bowling if there had been such a match.
Playing a five Test series when all you can do is lose is like being asked to build an elaborate timber framed home when the only tools you've got are a spoon and a spatula. It's a painful, humiliating farce, but every day you have to turn up for work and do your best and then explain your progress to the client afterwards.
If you ever have to go through this, the after-effects are huge. There's no hiding place. You had ample opportunities to do a good job so if all you managed was abject failure, you have to answer for that. By slinking off after two Tests, the Australian team has minimised the damage.
The moral of the story
Your averages, captain, coaches and players can probably survive incompetence over a relatively short series, so if you're going to be rubbish against someone, make sure it's Pakistan, Sri Lanka, New Zealand or someone.
21 Appeals
28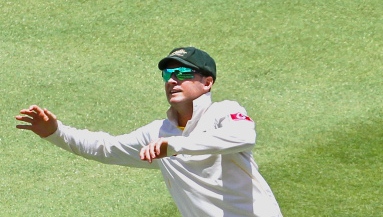 One of the most annoying things about the Australian cricket team is not its verbal aggression but the players' relentless self-righteousness about it.
Here's a quote from Michael Clarke that you'll feel like you've read a thousand times before.
"I think we play our cricket hard on the field but I think as Australians we understand and respect there's a line you can't cross."
What Clarke doesn't get is that what he perceives to be 'the line' might not necessarily be the line to everyone else in the world. Who made you King of the Line, Michael? Why do you get to decide what does and doesn't go?
He reminds us of one of those strong-willed but stupid kids who's forever changing the rules of whatever game he's playing so that he always wins. He's trying to enjoy his victories, but all the other kids are sort of rolling their eyes and thinking maybe they should go and do something else now.
In the same interview, Clarke also says that he himself has crossed the line twice in the last year.
Actually, he says he 'made no bones about' the incident with James Anderson and that what he said 'wasn't appropriate'. However, a second later he's going on about the importance of going close to the line, but not crossing it. He then appears to imply that this incident and a similar one with Dale Steyn fall under the heading 'Australians playing cricket extremely fairly'.
Maybe it's just that Clarke has a different definition of 'the line'. In his world, you can cross the acceptable/unacceptable threshold with impunity. What he's talking about is the line that separates 'not stabbing someone in the eye with the scorer's pencil' from 'stabbing someone in the eye with the scorer's pencil'.
28 Appeals
26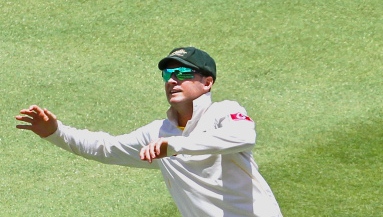 Legal documents associated with Mickey Arthur's ludicrous AUD 4 million compensation claim against Cricket Australia are said to detail deeply felt emnity between Michael Clarke and Shane Watson. This is, apparently, news.
A fairly large proportion of the Australian population has always hated Michael Clarke, seeing him as an image-conscious metrosexual who's been given an easy ride. An even greater proportion of the Australian population hates Shane Watson for being an image-conscious metrosexual who whinges a lot, throws away promising starts and who is forever getting injured. Being as both Clarke and Watson are Australians, OF COURSE each is going to hate the other.
It's basic statistics. Chances are most of Clarke and Watson's team-mates hate both of them. Why wouldn't you? The rest of us do.
Just because one person's a bit of an arse, it doesn't mean they're necessarily going to be great mates with other arses. In reality, people are generally most irritated by the negative qualities in others that they themselves possess. Clarke and Watson share plenty of irritating qualities with which to rub each other up the wrong way.
26 Appeals
29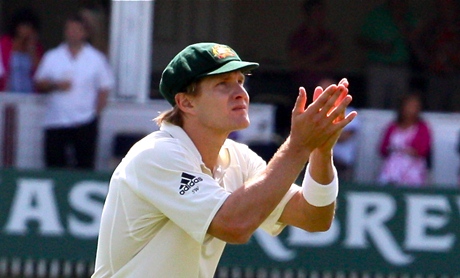 One answer would be 'because Michael Clarke's injured'. If you're wondering what's wrong with Clarke, a Cricket Australia spokesman said:
"Michael Clarke has had his right hamstring assessed by team medical staff following the game and the team physiotherapist has confirmed that Michael has stiffness in the right hamstring."
There's a joke in there somewhere. Something like: "How many Australian medical professionals does it take to diagnose a stiff hamstring when someone complains that their hamstring feels stiff?"
Anyway, this isn't the point. The point is that Shane Watson will become captain. We've said before that we have no real clue about captaincy. It's a management job really and thankfully most of the tasks involved aren't televised. We're therefore somewhat in the dark about players' suitability for the job.
But still. Shane Watson? Captains should be strong and resilient, yet Watson can't even bear to retain his own body hair. Maybe that's right though. Maybe Watson truly is the embodiment of contemporary Australia: Blonde, metrosexual, fragile, no longer troubling the speed gun and not especially good at Test cricket.
29 Appeals
30
We know. Sickening, isn't it?
If you don't already know, Lord Megachief of Gold is the highest award in cricket. Each year, we name someone winner based on some stuff. After weighing up said stuff, it turned out Michael Clarke was the winner. We were less than impressed by this, but the more we thought about it, the more we decided it wasn't quite as bad as having both legs blown off by a landmine.
Michael Clarke the batsman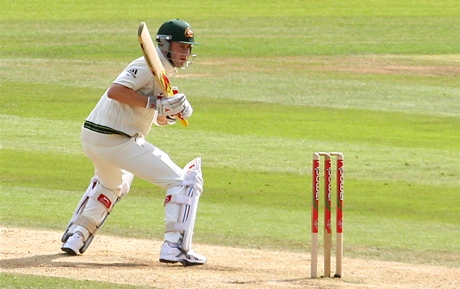 Let's start with some boring statistics, the value of which we can all pointlessly argue about in the comments. In 2012, Michael Clarke scored 1,595 Test runs at an average of 106.33 with five hundreds.
He scored the majority of these runs in Australia and a large proportion in a few huge innings, but Clarke's job is to score lots of runs and in 2012, he scored lots of runs.
Against India at the Sydney Cricket Ground, he arrived at the crease with the score reading 37-3 and proceeded to score 329 not out. Against the same opposition in Adelaide, he arrived at 84-3 and scored 210. India were thrashed by Australia in that series, but that doesn't devalue Clarke's achievements. He was contributing to that thrashing more than anyone.
On tour in the West Indies, he only managed one fifty in what was a fairly low-scoring series, but he did take 5-86 in Dominica.
Against South Africa, he scored 259 not out after arriving at 40-3 and then made 230 in his very next innings after arriving at 55-3. He then finished the year with another hundred against Sri Lanka, although 117-3 was positive luxury compared to what he'd been used to.
This is a tale of making huge hundreds when the top three have been crap.
Michael Clarke the captain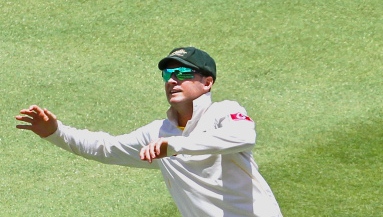 Michael Clarke was once named 'cricketer most likely to make people wince and who they would also like to slap and then push away' three years in a row. That is a FACT. (That is not a fact.)
Then, just before he was named Australia captain, a load of surveys were carried out to find out how Australians felt about this development. The aim wasn't to find out whether he was a popular choice or not; it was to establish just how much people hated him. The answer was 'a lot'.
Yet look at him now – some people actually quite like him and he is generally considered to be a pretty damn fine captain. We won't claim to know how good his captaincy really is, but we do consider him an interesting captain and that's probably more important to us.
In Bridgetown, he declared with a first innings deficit. Australia were nine down, so that wasn't really amazingly bold, but it was interesting. He didn't try and eke out 20 more runs via his tail-enders. He got on with the game. Australia then beat the Windies and the light in the final session of day five.
Against Sri Lanka, he gave his wicketkeeper an over. The value of this might be questionable, but again, it's interesting. There's nowt wrong with a mischievous bowling change. It's not like he had Matthew Wade bowl eight overs with a ring of defensive fielders. He was just trying something.
Conclusion
In a team short of half-decent batsmen, Michael Clarke batted for several men. In a team which frequently lacked fit fast bowlers and with no real spinner to speak of, he engineered Test wins as captain. He also seemed genuinely enthusiastic about Test cricket and we can't help but feel a certain degree of warmth to someone like that.
Congratulations, Michael. You are Lord Megachief of Gold 2012.
30 Appeals
11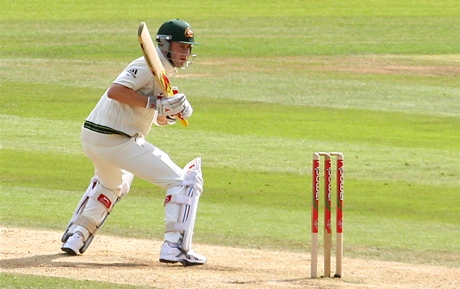 Okay, we get it – you're amazing at batting. It's getting a bit old now.
This wasn't Michael Clarke's first double hundred of the year. It wasn't even his first double hundred of the year in Adelaide; it was his second, and he has four of the buggers in total. One of them was a triple. That's… weird.
Clarke has often looked a fantastic batsman, but there's quite a big gap between playing some very good innings and the brutal efficiency he seems to be favouring of late. It's like he passed 200 in Sydney, back in January and went: "What? I'm allowed to carry on? I never knew!"
Since then, he's mostly been batting… mostly.
Most Australians really, really hated Clarke when he was made captain. Little did they know that authority would give him special powers.
But is he really all that? He ain't all that.
Okay, so maybe he's hit a few double hundreds this year. But how well would he bat if he had to wear massive, cast iron clown shoes and remain on the first floor of a small branch of Marks and Spencer? Hmm? How well would he bat then? Bet he wouldn't score too many double hundreds while he was shuffling through the cardigan section, would he?
11 Appeals
17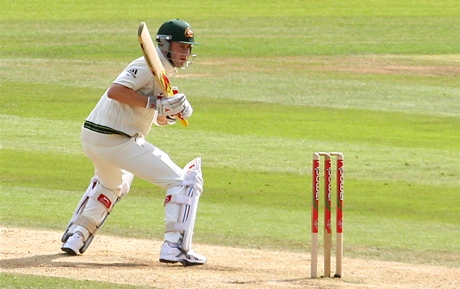 A lot of people are backtracking on Michael Clarke's captaincy. He was astonishingly unpopular when he got the job – largely on the grounds that he looks like he drinks Smirnoff Ice – but many Australians seem to have warmed to him, what with all the wins and all.
On top of that, we've noticed that Clarke has moved up to number three in the rankings for Test batsmen. It's all going well for him, of late. But is he all that?
He ain't all that.
Okay, so maybe he's won a few Test matches as captain. But how well would he captain if his players were all made out of dough and egg white? Hmm? How well would he captain then? Bet he wouldn't win many matches with that side, would he? Captain your way out of that one Captain Fantastic.
And yeah, he's hit a few hundreds in recent times. But how many runs would he score if he was encased in a giant fat suit and had to use a spatula instead of a bat? Not many, we'd wager. Bat your way out of that one Commander Sensational.
In conclusion: what a giant bell end.
17 Appeals