Ricky Ponting
35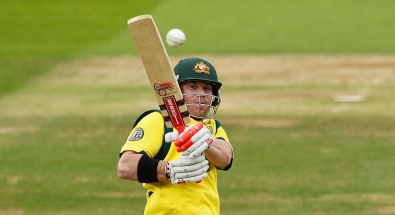 That's a straightforward message for Ricky Ponting and all who would make a similar defence of David Warner's behaviour. Read it, accept that it is a fact and then go away and think through the issues again, Ricky.
Ponting's latest column for Cricinfo features the following assumption, stated as fact.
"The Australian public love the way he bats, which goes hand in hand with the sort of confrontational approach he sometimes takes in the field."
Is that so? Aggressive batting and argumentative fielding go hand in hand, do they? Why must the way a person behaves while fielding have a direct link to the way they bat several hours later (or earlier)?
Batsmen don't come much more aggressive than Virender Sehwag, but we can't really recall him charging from slip to square up to an opposition batsman.
Or how about Chris Gayle? Does he lose his rag with the opposition every chance he gets in a bid psych himself up for batting? No, of course not. He can't be bothered. Truth is, even his 'aggressive' batting is characterised by a placid, nonchalant demeanour.
But it's different for Warner. He plays with a passion unimaginable to Sehwag, Gayle, De Villiers, Jayasuriya or whoever. He's special, and to ensure he remains special, Warner is obliged to act like an arsehole. His confrontational approach goes hand in hand with his batting, after all.
This is why Warner has to be involved in a road rage incident every time he passes a cyclist while driving; this is why he has to threaten supermarket staff when can't find his favourite brand of coffee; and this is why he has to kick a plastic cup full of loose change halfway down the street when a tramp has the temerity to laugh at him for tripping on a kerb.
35 Appeals
21
It may feel like Australia lost the series against Pakistan 4-0, but actually it was only two. No matter how you play, you can't lose more than two matches when you only play two.
This has allowed Michael Clarke to somewhat disingenuously plead that his captaincy shouldn't be judged on the basis of two Tests. People will be quick to draw his attention to last year's 4-0 defeat to India, which is perhaps what he wants as such talk distracts from his batting form.
The truth is that Clarke's got away with a 2-0 defeat. He can pretend that Australia might have bounced back were they playing a third Test, but history tends to suggest that learning is more than outweighed by the negative effects of reacting whenever Australia start losing.
"We're learning," they say. "Look!"
But changing isn't the same as improving.
The captain's view
Ricky Ponting's main redeeming feature as a captain was that he was plain-speaking. He always erred on the side of blunt honesty and had an unusual predilection for answering the questions asked of him.
But there is quite some distance between being open and honest as an international cricket captain and being open and honest as a columnist. The former is like being the least annoying daytime Radio 1 DJ. You're the least bad of a group that's pretty much defined by one negative characteristic.
It is therefore no surprise to see that Ponting's first column for Cricinfo is fairly banal. He still knows those involved, so his criticism is qualified and weak. You have to read between the lines a bit and magnify some of what he's saying to interpret his true meaning.
When Ponting says that "a lot of what I saw was a bit frenetic, a bit fast," then maybe – just maybe – he's talking about Australia's number three reverse sweeping his way to 37 off 28 balls in a match in which the opposition's just posted 570-6 with one guy making a double hundred.
Glenn Maxwell at three – but what would have been next?
The selection of Glenn Maxwell to bat at number three might rank as one of the greatest cricketing decisions of all time. In this context, we're using 'greatest' to mean 'inexplicable and hilarious'.
But all we can think about is what might have happened next.
If this series had run on, who knows where Australia might have ended up. If you're picking Maxwell at three by the second Test, what do you do when you've lost four on the bounce? The team physio, Alex Kontouris, must have harboured serious hopes of opening the bowling if there had been such a match.
Playing a five Test series when all you can do is lose is like being asked to build an elaborate timber framed home when the only tools you've got are a spoon and a spatula. It's a painful, humiliating farce, but every day you have to turn up for work and do your best and then explain your progress to the client afterwards.
If you ever have to go through this, the after-effects are huge. There's no hiding place. You had ample opportunities to do a good job so if all you managed was abject failure, you have to answer for that. By slinking off after two Tests, the Australian team has minimised the damage.
The moral of the story
Your averages, captain, coaches and players can probably survive incompetence over a relatively short series, so if you're going to be rubbish against someone, make sure it's Pakistan, Sri Lanka, New Zealand or someone.
21 Appeals
15
Mumbai Indians are currently benefiting from Ricky Ponting's expertise and Surrey will be getting a few top tips shortly when he arrives to play for them.
Don't believe us? Ask Dinesh Karthik:
"Some of the things that he says in team meetings and some of the points he brings to the fore is really hair-raising."
Is they? What kinds of things is he saying to raise your hair?
"The other day I had a doubt and I walked up to him. All he said was that if you see the ball and think you can hit it, you hit it. That, I thought was a very positive input and the one I really liked."
From this article, which was brought to our attention by Cric-O-Fan.
15 Appeals
16
Ricky Ponting's signed for Surrey. He also got fined the other day for throwing his bat after being dismissed. Mindlessly throwing the bat is how one or two Surrey batsmen approach first-class cricket, so he should fit in well.
About this time last year, there were a stack of articles about how exciting everything was at Surrey, about how they had all this young talent and how the glory days were about to return.
If Surrey do have some sort of 'vision' it is one where they keep placing fivers on the table until good players snatch them up and come and play for them.
There's nothing wrong with this approach – in fact there's little point having the money if you aren't going to do anything with it – but it does make talk of 'building a side' and 'investing in youth' sound just a little bit hollow.
Yes, Surrey doubtless are coaching their youngsters hoping that they'll become future greats, but they simply don't have as much vested in this process as other counties because over the last year or so they've imported:
Graeme Smith
Ricky Ponting
Kevin Pietersen
Vikram Solanki
Steven Davies
Gareth Batty
Jon Lewis
Gary Keedy
Chris Tremlett
Every county imports a few players, but the above isn't a million miles away from being some sort of county superteam. Even with nine players.
16 Appeals
24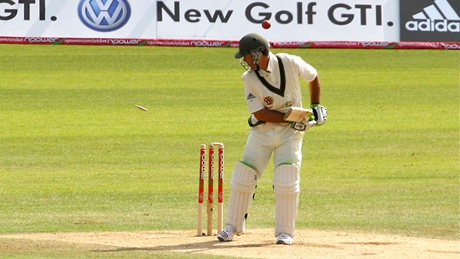 Take a look at this face. Tell us you don't instantly hate that face. You could pretty accurately track the progress of Ricky Ponting's career by our opinion of his face at various points in time.
It started badly. He made his first Test hundred in his first Ashes innings after Australia had been 50-4, so basically there was a strong desire for smug smile removal from the outset. However, it wasn't until around 2005 or 2006 that we wanted to plant our fist in his face with the most force.
Was the 2005 Ashes the turning point?
We can't quite work it out. He'd hit six hundreds in 18 innings in 2003, en route to a higher plane of obnoxiousness and he arrived in England in 2005 with us feeling much the same about him. Looking back, we're aware that the more Ponting's Australia lost, the more we warmed to him, but we're not entirely convinced this phenomenon was really all that noticeable following this series.
Maybe the first intimations of likeable qualities had been identified, but it can't have meant much as it was only a year later that England were mullered in Australia. This was also when Ponting's batting average reached its peak of 59.99 after scoring 142 in that bloody Adelaide Test.
Ricky Ponting's batting average
Let's try and forget just how fantastically irritating Ricky Ponting could be for a minute and instead consider that average. He retires with an average of 52.21, which is amazing, but leaves him immediately behind Mohammad Yousuf and with a fair few others above him. Had he retired in 2006, he would have been fifth. Crucially, he would also have played 53 Tests more than the most capped player above him.
That speaks of astonishingly prolonged consistency. That Adelaide hundred was his seventh of 2006 in eight Tests up until that point. Make no mistake, Ricky Ponting is a driven and extremely talented man.
Then what?
Then he went downhill a bit. Like many great batsmen, he probably had more confidence in himself than was actually warranted. That protective delusion is what gets them through the tough times, but it's also what can keep them hanging around, oblivious to the fact that everyone's enthusiastically clouding the vicinity with liberal quantities of Febreze.
This is when he won us over a bit though. He was a captain and a player who'd never really encountered tough times before, cricket-wise, and it was admirable to see that he wasn't a shirker.
His limitations as a captain were being exposed and his batting was deteriorating, but in a way this highlighted other qualities. The man is resilient and he feels a sense of duty. He's also fairly plain-speaking and honest and he loves cricket.
So, it turns out Ricky Ponting isn't a complete tool. It's just that he managed to keep this fact concealed from us for the first 14 years of his career.
Some more stuff about Ricky Ponting
Here are some links that we can't be bothered working into the main text. Don't feel you have to read them, but they might be welcome if you're avoiding doing work.
24 Appeals
18
As most of you know, this site uses pictures taken by Sarah Ansell. While perusing her site last week, we found this beauty: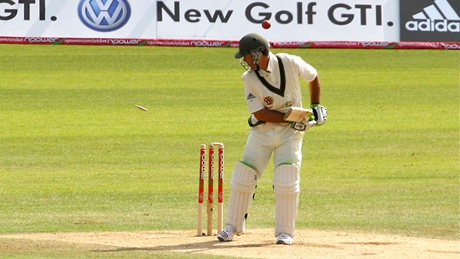 We like the way the ball is behind his head.
As a batsman, it's never good to have the ball behind your head. This is never more true than when it has arrived there via the stumps.
18 Appeals
6
There have been times when we've thought that a fat man doing naked limbo in the office would have more dignity than Ricky Ponting. However, he can have his moments.
He often speaks well these days and he seemed dignified when he reached 100 against India at the SCG as well. This might seem an odd thing to say considering he had a mouthful of turf, a dislodged helmet and a stain on his front that made it look like a giant had used his shirt as toilet paper, but it was the way he reacted that made an impression on us.
He was happy. He was genuinely delighted. He wasn't jumping around, punching the air and bellowing swear words at the sky. He was just sort of dusting himself down and smiling.
He was unarsed about looking like a complete dickhead. It was a triviality compared to the hundred he'd been working towards for almost two years. We'd say he deserved it and the effort is why he so obviously appreciated it.
6 Appeals
22
Getting a new Australia captain is like getting a new Doctor Who. It takes quite a while to get used to the new one because his face is all wrong.
As a captain, Ricky Ponting was both hugely admirable and a world-class tool. A Ricky Ponting interview normally features lots of plain speaking and references to the importance of Test cricket and this is both refreshing and reassuring. A fundamentally honest guy, there was a lot to like about Ponting at times like this.
On the pitch, his tooldom came to the fore, not least when decisions didn't go his way. The dummy spittery could reach epic proportions and the infamous haranguing of Aleem Dar during this year's Ashes was actually only the latest in a long line of incidents where he has had long conversations with umpires that seemed to be about how he was right and they were wrong. 'Shut up and get on with the cricket' was the phrase most used by viewers at home.
In terms of how he's carried out the job in the last couple of years, it'll be interesting to see how Michael Clarke fares. That'll provide a basis for comparison. We suspect that Australia's spin woes will recede just a touch, but we also don't think Ponting was quite as bad a captain and man manager as many have been making out. International captaincy is a far-reaching and highly pressured job and you don't last for as long as Ponting did without being half-decent at it.
Ricky Ponting is no longer the enemy figurehead. Now that we think about it, it's not so much like getting a new Doctor Who as getting a new Darth Vader. Next hate figure please.
22 Appeals
9
There are some great stories going around about Ricky Ponting smashing a telly after being run-out against Zimbabawe.
We like the ones that depict feeble tantrums rather than those where he has THE RAGE. Our two favourites so far are:
That he threw his gloves at the TV and now there is no picture on three-quarters of the screen (does he keep magnets in his gloves?)
He threw his box in his bag. It bounced and bust the telly.
Both good stories for their unlikeliness. The real reason is more mundane. As a child, Ricky Ponting had a very bad Halloween experience with someone dressed as Evil Edna.
Without wishing to go into details about that particular incident, immediately before he powered his bat through the screen this week, Ponting was heard to shout: "No means no, Evil Edna. No means no!"
9 Appeals
14
The more we think about it, the more these two things go hand-in-hand.
The situation was this. Nathan Hauritz got the boot because he got wellied in India like just about every other spinner who ever goes over there. Demented selections ensued.
Maybe Hauritz offended Ricky Ponting by suggesting that he stop setting fields that were complete dog toss – we may never know. What we do know is that Ponting is pretty damn certain he doesn't want Hauritz in his team ever again, even if he has to pick a shit spinner or no spinner at all instead.
Xavier Doherty was the shit spinner. Michael Beer was no spinner at all. It couldn't have gone worse.
So what went wrong, specifically?
Partly it was a 'grass is greener' mentality. Shane Warne isn't playing any more, although some people (desperate idiots) think he should be. Australia don't have a spin bowler who's even half as good as Stuart MacGill, so they should stop looking for one.
If you've got a bowler that good, you know about him. He isn't out there disguised as a Beer or a Doherty.
If you've got Nathan Hauritz, use him properly. Don't undermine him. Don't discard him. If you've got a Steve O'Keefe, encourage him; build him up.
You certainly don't just pick any old spinner and then drop him almost immediately. You tell all your spinners they're not good enough when you do that, not just the one who's come and gone.
And the captain?
Ricky Ponting has to take a lot of the blame. 152 Test matches and he doesn't know how to handle spinners either on or off the field. That's just embarrassing.
But again, is the grass greener? Ponting might not seem like a great option as captain right now, but he has learnt something in those 152 Tests and if someone can persuade him to drop down the order, he's almost certainly still worth his place in the Test team, unlike many of the alternatives.
Things aren't perfect, but hunting for perfection when it doesn't exist is counterproductive. This isn't to say we don't think Ponting should be asked to step down. It's to say think about it. There were plenty of other things wrong with Australia's Ashes teams.
14 Appeals