Ben Stokes
5
And what does he look like?
Just Google it…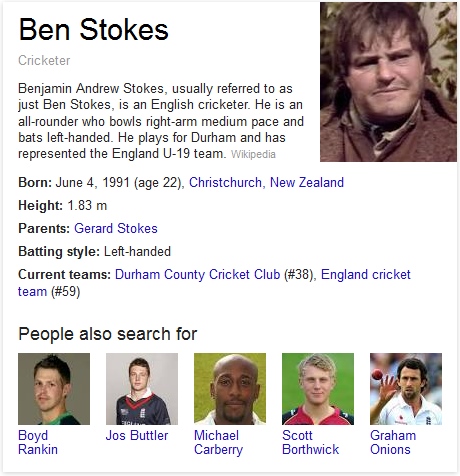 You can always rely on Google.
5 Appeals
21
Right, let's get this over with.
First, let's restate the qualification criteria:
Qualified to play for England
No established internationals
Youngish
Playing in the first division of the County Championship
Think that's it. There might be other things. Who knows? Presumably us, but we don't like to scrutinise the workings of our own mind in case we damage it. We reserve the right to apply further criteria later on if we feel like it. (more…)
21 Appeals
4
Suppose we should take a look at how our 2011 County Championship players to watch fared.
Adam Lyth, Yorkshire
553 runs at 26.33
Yeah, that's pretty shoddy.
James Hildreth, Somerset
893 runs at 38.82
That's okay.
Ben Stokes, Durham
628 runs at 48.30 and 17 wickets at 33.00
Three hundreds, five sixes in five balls against Hampshire and selection for England. We'll have that one.
Adil Rashid, Yorkshire
556 runs at 24.17 and 39 wickets at 43.38
Less than amazing, but we're not losing faith in him, even if we'll have to ignore him next year because he'll be in the second division. Life isn't slow, steady progress, it's fits and starts and going backwards and forgetting where your car keys are and having a pain in your knee and not knowing whether that hoummus is okay to eat or not – THAT'S what life is.
Adil Rashid is 23-years-old. Writing off leg-spinners or batsmen when they're 23 is moronic. Shane Warne made his Test debut at 23 and took 1-150. Rashid still has a long career ahead of him.
Paul Horton, Lancashire
1,040 runs at 37.14
That doesn't read all that impressively and nor did Horton hit any hundreds, but it's worth looking at the context. Horton scored the most runs for Lancashire this season. Being as Lancashire won more games than anyone, clearly Horton was making runs that mattered, it was just that they were low-scoring games.
A run doesn't have a set value, it varies depending on the match. Paul Horton had a good season, although that would be a bit more obvious if he'd managed to add a handful to any of his biggest innings. At various points this year, he hit 93, 94, 95, 96, 97 and 99.
Oliver Newby, Lancashire
Eight wickets at 32.50
Didn't break either leg at any point this season.
4 Appeals
11
How much worse?
One worse.
Having taken 6-77 in Worcestershire's first innings, Adil Rashid could only manage 5-37 in their second innings. This grave loss of form is deeply worrying.
Ben Stokes is getting better
How much better?
125 better.
Having scored 10 in Durham's first innings, Ben Stokes then made 135 not out in their second innings. We've plotted this on a graph for you: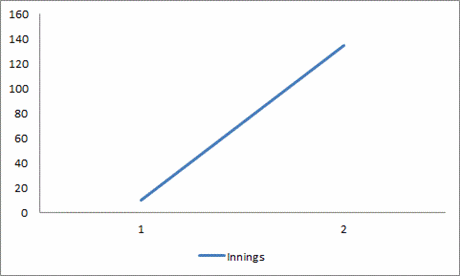 You can really appreciate that this represents improvement when you see the data in this form.
Stokes took 6-68 in between those two innings, but we don't know much about his bowling, so we don't know how to feel about that.
We're pretty sure that 6-68 is good, but without plotting it on a graph, we can't be certain.
11 Appeals
28
County Championship only. First division only.
We're also lumping them all together in one post this year, because multiple posts feels like quite a big commitment.
Adam Lyth, Yorkshire
Our reasons for picking batsmen to watch are invariably the same: they're young and we've got a general sense that they score runs when other people don't, even though we haven't really looked into it properly.
James Hildreth, Somerset
Hildreth is a rare exception. He just scores a lot of runs.
Ben Stokes, Durham
See Adam Lyth to a greater degree, but with less evidence.
Adil Rashid, Yorkshire
We watch him every year. We reckon he could take one million wickets this year. Probably no more than that though.
Paul Horton, Lancashire
We had him as one to watch in both 2009 and 2010, so we're sticking with him through thin-and-thin. He also averaged 70 for Matabeleland Tuskers over the winter and we enjoyed writing the start of this sentence, whatever it meant.
Oliver Newby, Lancashire
This has ball-all to do with cricket and everything to do with the fact that we just fundamentally like Oliver Newby. He hasn't got broken legs this year and we are hoping we can spur him to great feats through sheer force of will.
28 Appeals