Ben Stokes
26
There are times for thoughtful analysis and there are times for giddy enthusiasm. Today is clearly the latter.
At the peak of his powers, if you said the name 'Flintoff' to someone during a match with the right look in your eye, that person would immediately drop whatever they were doing and rush to the TV because no-one wanted to miss a moment of one of his innings. Already, Ben Stokes seems like Flintoff Deluxe – Brutal Deluxe, if you will.
In this Test, Stokes made 193 runs off 186 balls, hit 30 fours and four sixes. He emerged at 30-4 and at 232-4 and had a massive impact in both situations. He has achieved the impossible and made the arrival of Jos Buttler feel like something of an anticlimax.
A mechanical watch is full of all sorts of sprockets and cogs and springs and screws and when all those components are correctly positioned, everything works satisfyingly smoothly. But then there are other devices, like hammers, which do the job for which they are intended equally well without requiring all that complexity.
Stokes is very much a hammer. Not many of his shots go behind square and each makes a clean percussive sound you rarely hear even in this era of power hitting. This is a batsman who hits the ball with the middle of the bat and propels it forwards. That's his method and may he never complicate it.
Kudos to Alastair Cook as well. He was there before Stokes and he was there afterwards. It was his day too.
If Stokes enjoyed himself in the afternoon, the morning was no time for fun. There was work to be done. The lawn needed mowing, the dishes needed doing, the laundry needed hanging out. It was only once all those jobs had been ticked off that England could relax and start enjoying themselves. Suppose that's teamwork or summat.
26 Appeals
10
The final of the domestic 50-over competition is an odd thing. It took place yesterday, in late September – a fortnight after the semi-finals, three weeks after the quarter finals and a month after the main bit of the tournament. You can see why it works that way, but with the days shortening, it feels a bit like it fizzles out rather than building to a climax.
Durham won and for all the talk of modern scoring rates, it was another low-scoring affair. A party can't always be dancing and laughter. Sometimes, if it's your party, it's more about doing an awful lot of laborious housework. Or, if it's our party, it's an oud bruin and a high quality motion picture starring Rowdy Roddy Piper. (Has he ever starred in a substandard film? Not to our knowledge.) Not sure what our parties translate to in this analogy. Probably something Duckworth-Lewis affected.
Yesterday, Ben Stokes drew most of the headlines for taking a couple of wickets and making 38 not out, but it's been Paul Collingwood who's been the star of Durham's campaign. He finishes the competition among the top ten run-scorers and the top ten wicket-takers. He scored 427 runs at 53.37 at over a run-a-ball and took 14 wickets at 22.85 at less than four-an-over. We'll resist the temptation to write another 5,000 words on him, but suffice to say he's still underrated and always will be.
10 Appeals
13
One worrying, but entirely predictable, revelation from Ben Stokes' recent interview in the Guardian is that he's broken bones punching inanimate objects before.
He reckons he's going to learn this time.
"I don't think punching lockers is the way forward for anyone. There's only going to be one winner there."
This is an odd way of putting it, as if the locker was somehow parading around celebrating victory in the aftermath, rather than sitting there shell-shocked, wondering why the hell someone had just lamped it one FOR NO REASON WHATSOEVER.
Also, generally speaking people who punch things in anger don't learn. Considering it rationally, Stokes knows not to do it, but when you're launching a left hook at a solid object, you're not exactly in a rational frame of mind. It's an emotional thing. People act differently when they're capable of emotions rather than being all cold and dead inside, like you're supposed to be.
They call it venting, but venting isn't a thing. The act of 'venting' keeps your heart-rate up; it keeps you angry; and it also feels sort of good, so you carry on doing it.
But at least he has passion, eh? That was the big thing missing for England over the winter. Everyone says so. If only they had a bit more passion, they could have won. Passion drives you onto greater things. Passion drives you to things like losing all perspective, obsessing, never resting and eventually having a mental breakdown.
13 Appeals
15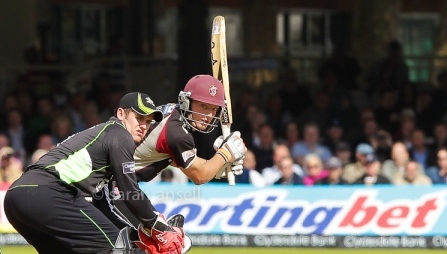 Although, admittedly, you could just as easily say that some England players beat some Australian players. England were down a Pietersen and an Anderson, but Australia were down a Clarke, a Warner, a Watson, a Haddin and we can't actually be bothered working out who else would be in the first eleven. If they were using a handicapping system, Australia probably still won.
But let's not quibble
England won a match. Furthermore, Ben Stokes went from bringing about some sort of six-shower from James Faulkner a couple of matches ago to bowling six dots at him and conceding just a single run before dismissing him. That's progress, that is. Stokes also found time to hit 70, batting at three.
The future is here; the future is Ben Stokes putting in top performances in consolation wins.
Also
The future is also Jos Buttler, the fastest bat in the West and the most insanely watchable England batsman since Eoin Morgan was a novelty. You want to see a bat flourish? Jos is your man. Sometimes hitting the ball is just a dull preamble to that follow-through.
Buttler hits fours and sixes that literally defy expectations. As often as not, your initial response upon seeing him go for a shot is to internally scream: "Don't take swing at that one! It's not right for the shot!" only to see the ball sail into the stands after a bizarre contortion and an insanely fast blur of willow. It's bleached-clean hitting and his bat appears to only really have a middle. We're slightly in love with him.
His audition to become England's next Test wicketkeeper is going pretty well, but hopefully they leave him to pretty much just do what he's doing for the time being.
15 Appeals
34
You can see him a mile off. Clutch him. CLUTCH HIM!
It's not so much that he scored a hundred on what was actually a fairly even, true pitch between the cracks. It's more that he looked unruffled. Any idiot can bat, but hardly anyone can bat in the muggy atmosphere that surrounds a team being battered in an Ashes series.
The wheels don't just come off when England do badly in Australia. They also explode, maiming bystanders. If any player can hit his own mouth with a sandwich, he's doing okay right now. Stokes-o hit a hundred.
In a sense, the pressure was off a bit, but it's pretty good to do this at the age of 22 and it's pretty handy that he bowls a bit as well.
Rejoice, England fans – not quite everything is shit.
34 Appeals
5
And what does he look like?
Just Google it…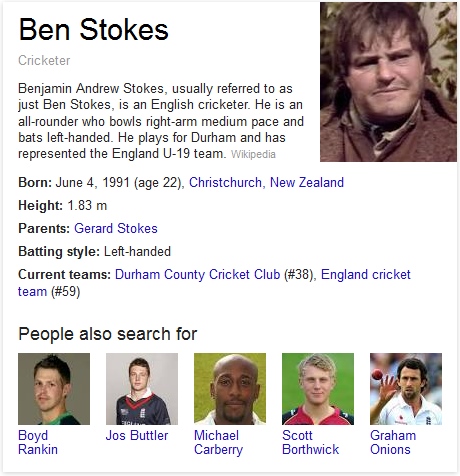 You can always rely on Google.
5 Appeals
21
Right, let's get this over with.
First, let's restate the qualification criteria:
Qualified to play for England
No established internationals
Youngish
Playing in the first division of the County Championship
Think that's it. There might be other things. Who knows? Presumably us, but we don't like to scrutinise the workings of our own mind in case we damage it. We reserve the right to apply further criteria later on if we feel like it. (more…)
21 Appeals
4
Suppose we should take a look at how our 2011 County Championship players to watch fared.
Adam Lyth, Yorkshire
553 runs at 26.33
Yeah, that's pretty shoddy.
James Hildreth, Somerset
893 runs at 38.82
That's okay.
Ben Stokes, Durham
628 runs at 48.30 and 17 wickets at 33.00
Three hundreds, five sixes in five balls against Hampshire and selection for England. We'll have that one.
Adil Rashid, Yorkshire
556 runs at 24.17 and 39 wickets at 43.38
Less than amazing, but we're not losing faith in him, even if we'll have to ignore him next year because he'll be in the second division. Life isn't slow, steady progress, it's fits and starts and going backwards and forgetting where your car keys are and having a pain in your knee and not knowing whether that hoummus is okay to eat or not – THAT'S what life is.
Adil Rashid is 23-years-old. Writing off leg-spinners or batsmen when they're 23 is moronic. Shane Warne made his Test debut at 23 and took 1-150. Rashid still has a long career ahead of him.
Paul Horton, Lancashire
1,040 runs at 37.14
That doesn't read all that impressively and nor did Horton hit any hundreds, but it's worth looking at the context. Horton scored the most runs for Lancashire this season. Being as Lancashire won more games than anyone, clearly Horton was making runs that mattered, it was just that they were low-scoring games.
A run doesn't have a set value, it varies depending on the match. Paul Horton had a good season, although that would be a bit more obvious if he'd managed to add a handful to any of his biggest innings. At various points this year, he hit 93, 94, 95, 96, 97 and 99.
Oliver Newby, Lancashire
Eight wickets at 32.50
Didn't break either leg at any point this season.
4 Appeals
11
How much worse?
One worse.
Having taken 6-77 in Worcestershire's first innings, Adil Rashid could only manage 5-37 in their second innings. This grave loss of form is deeply worrying.
Ben Stokes is getting better
How much better?
125 better.
Having scored 10 in Durham's first innings, Ben Stokes then made 135 not out in their second innings. We've plotted this on a graph for you: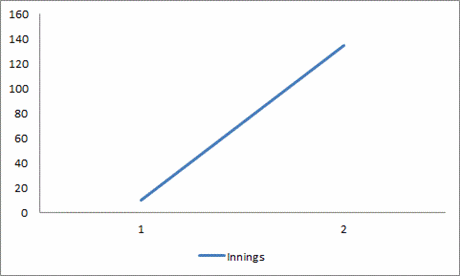 You can really appreciate that this represents improvement when you see the data in this form.
Stokes took 6-68 in between those two innings, but we don't know much about his bowling, so we don't know how to feel about that.
We're pretty sure that 6-68 is good, but without plotting it on a graph, we can't be certain.
11 Appeals
28
County Championship only. First division only.
We're also lumping them all together in one post this year, because multiple posts feels like quite a big commitment.
Adam Lyth, Yorkshire
Our reasons for picking batsmen to watch are invariably the same: they're young and we've got a general sense that they score runs when other people don't, even though we haven't really looked into it properly.
James Hildreth, Somerset
Hildreth is a rare exception. He just scores a lot of runs.
Ben Stokes, Durham
See Adam Lyth to a greater degree, but with less evidence.
Adil Rashid, Yorkshire
We watch him every year. We reckon he could take one million wickets this year. Probably no more than that though.
Paul Horton, Lancashire
We had him as one to watch in both 2009 and 2010, so we're sticking with him through thin-and-thin. He also averaged 70 for Matabeleland Tuskers over the winter and we enjoyed writing the start of this sentence, whatever it meant.
Oliver Newby, Lancashire
This has ball-all to do with cricket and everything to do with the fact that we just fundamentally like Oliver Newby. He hasn't got broken legs this year and we are hoping we can spur him to great feats through sheer force of will.
28 Appeals