Nick Compton
51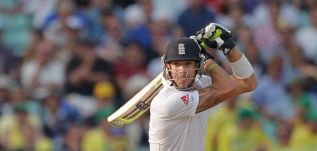 Remember when England dropped Nick Compton? At the time, we thought maybe they were getting a little bit ahead of themselves. People said Joe Root was amazing and there were loads of other amazing batsmen queuing up to play for England and come on, come on, bring us the future; the future's going to be amazing multiplied by amazing!
A few months later, 33-year-old Mike Carberry made 78 against a Western Australia Chairman's XI and England were now in a position where they thought: "Oh, okay, er, maybe he could open the batting? And then Joe Root could move back down the order? Yeah? Yeah?"
Sometimes you can overestimate the quality of what you have in reserve. Particularly if you're cocky and kind of stupid.
But of course we're in a completely different situation now. Back then, England were planning for a glorious future and ushering in talented youngsters in a bid to experience it sooner. Now England are shit. Now it's time to rebuild with talented youngsters. You know, like Australia did earlier in the year.
Because surely that should be the template for how to turn a team around? Except for the likes of Chris Rogers, Mitchell Johnson, Brad Haddin, Ryan Harris and a few others, Australia started afresh, didn't they? They gave youth its head.
When times are tough, you have to move on. It's vital to start rebuilding and the first step in that process is to chuck any half-decent bricks you find into a skip. It's not sinful waste, you see – it's long-term planning. You can't really judge the wisdom of these decisions now because it's a long-term thing. It's all going to be fine. Stop questioning the ECB's wisdom, okay? Just stop.
51 Appeals
6
Writing in The Times, Mike Atherton has said of the England setup:
"The impression is of a closed, institutionalised and claustrophobic world."
We're sure he chose his words carefully. It's also worth noting that this is a man who felt the strains of international cricket despite only ever considering it a game. He has previously written of his efforts to quash feelings that what he was doing was inherently trivial in a bid to muster more emotion and passion:
"I somehow had to convince myself that what I was doing was the most important thing in the world – that if I failed all manner of plague and pestilence would descend."
The point is, even a man like Atherton felt the pressure and he now perceives an even more mentally taxing environment for current England players.
It's not so much that players are managed and mollycoddled and supervised, it's what David Hopps draws attention to in his article for Cricinfo, that players feel like they are being judged at all times.
Imagine that level of surveillance. The principle behind the Panopticon was that people would behave in the desired manner even when they weren't being watched, simply because they would feel that they might be being watched. Imagine the pressure of that. Imagine the effect it has on you.
The Panopticon was a design for a prison, by the way.
Hopps uses a quote from a nameless England player who says that it can feel like you are constantly being assessed when you're within the England setup. We have no idea who that player was, but it instantly brought to mind the strange case of Nick Compton, who said after he had been discarded that he didn't feel that the management really knew him.
More than anything, Compton appears to have been rejected on the basis of his character and while much of the incriminating detail will have been culled from the skittish innings in his final match, you wonder how much was gleaned while watching him away from the middle. Maybe the selectors got that one right, but if other players watching on deduced how the decision was reached, what was the cost?
6 Appeals
25
There's been no announcement that Nick Compton has been dropped from England's Test squad, but he isn't in the squad to play a warm-up match against Essex and Geoff Miller, the national selector, said that Joe Root is "currently the best opening partner" for Alastair Cook.
It rather smacks of going into work only to find that you no longer have a desk. Compton appears to have been eased aside in the most casual manner. Then again, Somerset play Australia on Wednesday, so perhaps the selectors haven't yet gone so far as smashing his personalised corporate mug.
Should Compton be dropped?
We don't know about this. It seems a bit like unnecessary thinning of the herd.
When you drop a 30-year-old, it tends to be terminal. If they have any promise as an international batsman (and Compton does, because he's twice scored hundreds) then you'd better be pretty damn sure that the player replacing him will thrive because you can't go back.
Technically, you can go back, but you'd be going back to a player who's basically been told he's not good enough and who will therefore be a rather insecure imitation of the batsman you previously had in the team. You'd be settling for a player, rather than picking them and people pick up on that kind of message.
But Joe Root's amazing, so this was always bound to happen
The English cricket media's pretty insular and it can be a bit of an echo chamber when it comes to young players. Don't get us wrong, Joe Root's cracking, but it's wise not to get too carried away early on. He's played one Test against India and five against New Zealand. Remember Australia's last tour when Ravi Bopara had just scored three hundreds in three innings against the Windies?
What if Joe Root doesn't do well as an opener? What if he finally encounters a pothole in the previously immaculate tarmac A road he's been travelling for most of his career? What then? What if Joe Root reveals a hitherto unsuspected inability to deal with poor performance and throws a massive wobbler which cannot be resolved by dropping him back down the order? If that happens England are two batsmen down at their next stock take, not one.
Embracing change
Don't get us wrong, we don't see any reason why Root won't spend much of his career opening the batting for England. We just don't see the rush. He's playing well in the middle order and opening is a tougher job. While it's a vote of confidence to promote him, it's one that could be taken at any point in the next few years.
Root's good and so's Jonny Bairstow, but are England really so blessed with Test quality batsmen that they can discard someone who might very well make the grade if given a handful more matches? That's basically what's happening. Bairstow and all the other batsmen in the queue aren't going anywhere, but Compton will be looking for a new career once he's been pushed through the fire exit and into the staff car park.
Click here to read much the same point made via a white goods analogy.
25 Appeals
18
One of the weirdest send-offs of all time was when Steve Kirby, then playing for Yorkshire, sent Mike Atherton on his way with the immortal line: "I've seen better batsmen in my fridge." This article is nothing to do with that, even though it is about keeping batsmen in the fridge.
Since the India tour, there has been something of a Joe Root love-in in sections of the British press and Nick Compton has been the unfortunate victim of this. Some have perceived Compton as a functional 29-year-old batsman who should make way at the top of the order for the flavour of the month. We were not of this opinion.
The Root cause
It's not that we don't think Joe Root is an excellent player. It's more that we suspect him of being not quite so excellent as he is currently being portrayed. Column inches can be disproportionate to ability, particularly when you're 22. Besides, it's always good to have something in reserve.
Think of the relationship between fridges and freezers. Your fridge food needs using, but your freezer food can wait. Sometimes there's nothing in the fridge, but you still need to eat. At this point, you head for the freezer.
There should always be something in the freezer.
England currently have Nick Compton and Joe Root in the fridge and Jonny Bairstow in the freezer. This is fine by us. Bairstow is nowhere near his expiration date. He'll keep.
On the other hand, what would you do with Compton were you to move Bairstow to the fridge? He can't go back in the freezer – he's already been frozen once. You would have to put him in the bin.
Promising freezer meals
A lot of freezer meals aren't all they're cracked up to be, particularly when you've put them in plastic takeaway boxes without labelling them. You think it's lamb nihari, but once it's defrosted, it turns out it's just sweet potato mash.
Nick Compton might not be Michelin-starred, but he's better than sweet potato mash.
Could you make this point a bit more clearly?
Basically, we'd say a young player unable to break into the side is liable to improve more than an older player who's been discarded. Despite what some writers might think, England don't have such an embarrassment of riches that they can completely discard promising Test batsmen – which is basically what would happen to Compton if he were dropped.
This is the nub of it: Nick Compton is a promising Test batsman. He scored an extraordinary volume of runs in county cricket at a time when no-one else in the entire country could lay bat on ball. You have to pay attention to exceptional feats like that and he's done more since, even if it hasn't been headline-grabbing.
In India, he didn't score heavily, but batted a hell of a long time, which was valuable considering England have a recent history where far more experienced batsmen have frequently been contributing to batting collapses on foreign tours.
And now he's hit his first Test hundred. Compton has batted on more difficult pitches than the one at Dunedin and faced more challenging attacks than New Zealand's, but his first Test hundred was scored in the face of a less than optimal match situation and a fair degree of personal pressure resulting from what has been described above.
His mind appears strong. Nick Compton warrants his place in the fridge.
18 Appeals
4
After nought and then one, Nick Compton is finally up and running for England. Well, he's up and ambling at any rate, having made 64 runs off 162 balls in their second warm-up match. We entirely approve of this complete lack of urgency. Hopefully the majority of his six fours were thick edges down to third man.
England might not have The Wall at their disposal, but with Cook, Compton and Trott at the top of the order, they could potentially boast a series of very robust fences. Forget iPads, alternative fuel vehicles and nanotechnology, layered fencing is very much the future.
Compton is a man who will spend literally hours at a time leaving the ball in the nets. That's what cricket's about – standing there, not really doing much and continuing to not really do much for a very long time.
4 Appeals
16
Not unless he's down the order.
Some have suggested resting Alastair Cook because he made a hundred in the first warm-up match and so presumably doesn't need the practice. Being as Nick Compton made a duck, it is felt that England might now want to see how Joe Root fares in order to give themselves an alternative.
This is wrong. For one thing, looking at other options this early on undermines a new player (Compton) when he should be supported. Also, Alastair Cook may have made a hundred, but England's probable first Test opening partnership has made just two runs together. Ever.
You don't decide a bloke can't bat after he's made a duck. If he makes a few ducks, okay, there's a certain weight of evidence, but a single innings of nought offers virtually no information on its own.
A three-ball duck is curt and bland. A truly flawed batsman aspires to more than this. He hangs around for a few overs, plays himself in and then continues playing and missing and choosing the wrong shots even once his feet are moving and he's familiar with the bowlers. That's how you catch the eye and mark yourself out as a real top drawer incompetent.
16 Appeals
24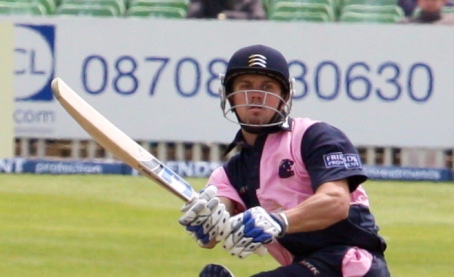 We'd go for Nick Compton. He was born in Durban, so it would help Malcolm Conn be hilarious. Conn's definitely a man abiding by our 'repeat until funny' rule when making jokes about England cricketers born in South Africa.
He's not got there yet.
Another reason to go for Compton is that he's a top order batsman who's scored loads of runs in the last couple of years. We're kind of old-fashioned – we like it when batsmen do that. It seems relevant, even if the person in question isn't in some sort of development programme and is also over the age of 23.
They'll probably go for someone younger who's flavour of the month. That's usually the way these things work. 'Blood some young talent,' people cry, as if talent fades by the year. Nothing against young batsmen, but we increasingly like our top order batsmen to be old and lumpen. Compton's perfectly happy to hang around without really doing anything whatsoever. This is admirable.
24 Appeals
27
We knew he was worth watching this season. He's currently 19 not out off 88 balls against Nottinghamshire, including a boundary which we damn well hope was an accident.
That's the stuff. That's why we picked him. Few players have the iron will required to be less entertaining than a rain delay.
27 Appeals
21
Right, let's get this over with.
First, let's restate the qualification criteria:
Qualified to play for England
No established internationals
Youngish
Playing in the first division of the County Championship
Think that's it. There might be other things. Who knows? Presumably us, but we don't like to scrutinise the workings of our own mind in case we damage it. We reserve the right to apply further criteria later on if we feel like it. (more…)
21 Appeals
16
With his exotic upbringing, superior air and blonde looks, you'd be forgiven for thinking that Nick Compton wasn't exactly our cup of tea.
And you'd be right. We can't really remember why we've included him now. We remember that there were a number of tricky decisions made when selecting this year's ones to watch. Several cricketers we're rather fond of missed the cut. How did Compton survive?
Never let it be said that no thought goes into this website. Equally, never let it be said that repeated instances of poor memory don't play a large part as well.
We'll be watching Nick Compton this season. Hopefully at some point it will become apparent why.
16 Appeals