Alastair Cook
60
"Oh, you're still here. I, er, thought everyone had gone home. Are you going to, er…? No, you're not. You're going to stick around for a bit longer, you say. You're going to stick around and have another brandy, even though everyone else has gone home and I was clearly just about to go to bed."
As we understand it, at least one of the selectors wanted shot of Alastair Cook as one-day captain, but Peter Moores didn't so they just sort of went with that.
Unlike everyone else who writes about cricket, we're not actually against this. We're not in favour either, but we don't really buy the argument that if England were bold and radical, they'd have a far better chance of winning the World Cup. As such, we think it's fine to stick with Cook because if England do somehow do okay, at least it'll be funny watching everyone backtrack.
We know you're supposed to be positive about and say 'at least if we gamble, we'll have a chance'. It's just that we don't really believe it. We've seen enough England World Cup campaigns to know that bright ideas six months out tend to result in a bunch of new players who bottle it in big games, having never actually played in one before.
At least Cook's used to everyone calling him an ineffectual bumcock and won't be taken aback by the hostility directed his way when his side collapses against New Zealand.
60 Appeals
28
After winning the previous Test with four-and-a-bit bowlers, India could have gone either way for this one. Unsurprisingly, they went with four bowlers, not five.
Sometimes you can determine a lot from these fifty-fifty calls and MS Dhoni does seem to be a bit of a 'pick the extra batsman' kind of bloke. He doesn't mind picking five bowlers every now and again (just so long as at least two of the bowlers are also credible batsmen) but you can tell he's a lot more comfortable once the team's back to normal, even if that means losing.
Dhoni captains his team as if runs win matches. This is all well and good in the shorter formats where runs are indeed the unit of currency, but in Test cricket runs merely prevent you from losing. To win, you need to take wickets. What message does picking six batsmen send to the opposition?
Why those five runs mattered
When you're dismissed for 95, one crucial thing does not change. People can still say: "He hasn't made a hundred since…"
Right now, on the day he made 95, we all know that Alastair Cook played an innings that was tantamount to a hundred. However, in about a fortnight, when it's no longer fresh in the mind, people will say: "He hasn't made a hundred since…" and it will seem that nothing has changed.
It's also important to note how ludicrous it is that this innings will to some degree shore up his captaincy credentials when it had precisely ball-all to do with the aspect of captaincy he most struggles with, which is of course 'captaincy'.
'At least Ballance is still in'
Come on, admit it. You're starting to think that too now. That constantly snarling facial expression is embedding itself in your brain and becoming just another part of your everyday life, like drinking tea or sighing each morning at the sheer pointlessness of it all.
28 Appeals
37
Captaincy is an odd thing. It always strikes us that becoming captain is like being a writer promoted to a management position.
We've had jobs where a senior colleague with a stupid job title has come up to us and basically said: "Your writing and editing is so good that we don't want you to do that any more. We want you to look at spreadsheets instead and do maths."
We don't really do maths.
It seems a similar story with Alastair Cook. The 'Cook out!' bandwagon is rolling along a little too rapidly for our taste and we don't particularly want to urge the driver to accelerate further (What's that? There's no driver?). But at the same time, what captainly qualities has he ever actually displayed? None really, beyond being a bit older than most of the team and having some sort of inclination to do the job.
A week or so ago, Cook was talking about how stubborn he was and how determined he was to see things through.
"I've never quit on anything."
That seems to us to be half the problem. Sometimes you're supposed to give up.
The problem is that Alastair Cook is a professional sportsman. He's spent his whole life being told that determination and a will to succeed are desirable qualities – and of course they are – but they can also lead to exploration of the farthest reaches of pig-headed futility.
Imagine it's the 1980s and you've got a telephone directory in your hand and you really, really need to tear it in half for some unspecified reason. As you grunt and gurn, Geoff Capes walks up behind you and asks if he can help you out. "No, it's fine Geoff – I've got this," you reply.
But you haven't.
Alastair Cook used to be a cracking batsman and now he's a shit one. The cracking-to-shit shift roughly coincides with his tenure as England captain.
What we're saying is that sometimes it makes more sense to hand the telephone directory to Geoff Capes so that he can tear it in half, leaving you free to find a more productive use for your time.
Update: We've just remembered that this article was supposed to be about how Alastair Cook shouldn't have taken the job in the first place; how he probably only did so because he'd been conditioned to believe it was something he should want and should aspire to.
We always suspect that there are quite a lot of people who become doctors or lawyers without ever really considering whether the job might suit them or not. They just follow a path without giving a great deal of thought to where it leads.
37 Appeals
16
Virat Kohli's due a score, isn't he? And how many runs has Alastair Cook got in his bag, just waiting to be plucked out?
Or is it more that Cook's now suffering the inevitable consequences of frittering runs away earlier in his career. There was a complete lack of rationing during the 2010-11 Ashes series, for example. Sometimes you have to save, Alastair. You should have set something aside for when you were captain as well as opener and therefore had double the opportunities to attract criticism.
Meanwhile, the match is poised, innit? We think it's Mike Atherton who always claims that first innings scores of around 300 tend to make for the best Test matches. We know what he's saying.
16 Appeals
17
For a very short while on the final day, it seemed like things could potentially maybe be sort of in the balance a little bit if a few more things went England's way, but then it very much wasn't in the balance and the day climaxed with Alastair Cook's round-arm shod.
Cook is, quite genuinely, one of our favourite bowlers – for much the sames reasons that Steve Harmison was one of our favourite batsmen. There's a real village green quality about his efforts with the ball. Make your own jokes about his batting and captaincy there if you wish but we're not really in the mood for catching dollies today.
For what it's worth, Cook now boasts a Test bowling average of 7.00.
17 Appeals
17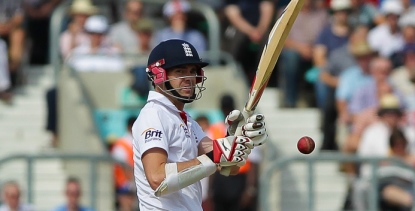 This England team isn't the most popular, but you can't fault Jimmy Anderson for that. He's waging a one-man willow-wielding war on unpopularity this summer. You wouldn't think it possible to improve on his efforts against Sri Lanka, but at Trent Bridge, against India, he may well have managed it.
But there's another story here. It's the story of two captains who like to stick to what's not working until they're absolutely convinced that it will never, ever, in a million years work. And then they give it just three more overs – just in case.
When it comes to last wicket partnerships in this Test, Alastair Cook and MS Dhoni have delivered an absolute noviceclass. To sum up how resistant they are to evidence, we can easily imagine them spending long hours pushing doors marked 'pull', confidently thinking to themselves: "Pretty soon this is going to come good."
17 Appeals
15
Will Alastair Cook learn his lesson? Most people know that it's incredibly unwise for the England captain to demand that critics be less critical.
But not Cook, apparently. He recently said that "something needs to be done" about Shane Warne's relentless criticism of his captaincy.
The headline of Warne's latest column?
"Alastair Cook's captaincy was the worst I have ever seen."
Over to you, Alastair. Which highly inflammable material are you going to use to try and extinguish the flames this time?
15 Appeals
15
Sorry that we keep harping on about that period of play when England got caught in fast-medium purgatory, but it really was when the game got away from England. A number of factors conspired to create the horror. As well as poor bowling and limp captaincy, tiredness played a part. Anderson and Broad, in particular, looked shattered and Liam Plunkett lacked that tiny bit of extra pace which is essentially the sole reason he's in the side.
Was it a fitness thing?
Not really. Everyone has their limits.
England were bowling last Monday, pushing for a win in the first Test – an intense effort – and then they were bowling again on the Friday at the start of the second Test. By Sunday, they were tired. By Monday, they were spent. Back-to-back Tests are tough and this is why it's so important to field five bowlers to share the workload.
Only the workload isn't currently shared. If it's the new ball, Cook looks to Broad and Anderson. If he's pushing for a win, he looks to Broad and Anderson. If he desperately needs to break a partnership, he looks to Broad and Anderson. Plan B is to use Jordan and Plunkett and if that doesn't work, it's back to Broad and Anderson.
Fatigue is cumulative and Cook steadily invested throughout this series. Day four at Headingley was when it all came back to haunt him.
Spin bowling is a little less physical than fast bowling, so spinners can tolerate greater workloads. That's really useful and yet how much has Moeen Ali bowled in comparison to the quicks?
Moeen Ali's bowling workload
Here's how many overs Moeen Ali bowled versus the seam bowler who bowled the least in each innings over the course of this series.
First innings at Lord's: 16 overs versus Chris Jordan's 27.4
Second innings at Lord's: 12 overs versus Liam Plunkett's 16
First innings at Headingley: 3 overs versus Stuart Broad's 15
Second innings at Headingley: 21 overs versus James Andersons's 25.5
It's also worth noting that the last one is totally misleading. Moeen may have bowled 21 overs in the end, but this was only because the quick bowlers were spent. His second over came when Broad already had 16 overs under his belt and his 11th over was the 110th of the innings – even though he had 2-32 at that point.
If Alastair Cook doesn't trust Moeen Ali's bowling, either give him a spinner he does trust, or slap him across the chops and tell him to belt up.
15 Appeals
39
Is anyone else starting to find this kind of thing grating?
"Sometimes you just have to put your hands up and say the opposition were better than us with the bat."
So said Alastair Cook after the fourth one-day international. There's been an awful lot of 'accepting that the opposition were better than us on the day' recently. It's not always 'on the day' either. Sometimes it's 'in this Test' or 'over the winter'. Pretty soon it'll be 'for the last decade or so'.
To be honest, this whole 'being magnanimous in defeat' act is really starting to get on our nerves. It's not that we expect England cricketers to be bad losers. It's that the subtext seems to be that they played really well and that sometimes the opposition are slightly better and there is NOTHING YOU CAN DO ABOUT IT WHEN THAT HAPPENS.
Similarly, who has ever suggested that the opposition aren't allowed to play well? No-one. Yet 'the opposition are allowed to play well' is a phrase we hear again and again in response to defeat.
Let's make this simple. When someone says 'the opposition are allowed to play well,' or 'they were better than us on the day,' that person is trying to tell you that this is some mystical phenomenon that's beyond anyone's control. Don't believe them.
Why? Because the person who's says these things is invariably someone whose job it is to prevent the opposition from playing well and being better than them on the day.
39 Appeals
28
'How about we put together a nice cosy environment where everyone goes along with everything Alastair says?'
Imagine we're not talking about cricket for a second and put yourself in a position where someone's just said that to you. How do you feel? Do you think that sounds like a good idea? Some bloke called Alastair? Does he know best?
As ever, there's the fact that we DON'T KNOW ANYTHING AT ALL, but if you overlook that minor detail and read the words of yesterday's ECB statement, that first paragraph feels like the subtext.
"We must invest in our captain Alastair Cook and we must support him in creating a culture in which we can be confident he will have the full support of all players, with everyone pulling in the same direction and able to trust each other."
No. You earn support. You earn support by making good decisions. Did England lose because the captain didn't have the full support of his team, or did the captain not have the full support of the team because they were losing?
People should be challenged. Leaders, in particular, need to be challenged – if only because they tend to be the kinds of people who think they know best. The kinds of people who see themselves as leaders are, by and large, less open to other opinions than your average sentient human.
We'll be honest, our opinion is coloured by our own experiences, but we've been in enough work situations where someone has demanded loyalty to know that it is almost always a sign that they have lost control – usually because that person doesn't really know what they're doing.
The disappointing part is that we'd kind of warmed to Alastair Cook's captaincy. Back when he was the anointed one, we were far from onside, but the more Shane Warne slagged him off, the more we thought he was doing plenty right. The on-field tactics were often a bit wobbly, but that's the kind of thing you can pick up over time. The off-field stuff's harder and Cook appeared to be keeping things together.
That view would now appear to be massively, massively wrong. A week or so ago, we really felt like this winter battering might have been the making of Cook. They say what doesn't kill you makes you stronger, but apparently it can also make you weaker and a little bit insecure.
28 Appeals