Alastair Cook
28
'How about we put together a nice cosy environment where everyone goes along with everything Alastair says?'
Imagine we're not talking about cricket for a second and put yourself in a position where someone's just said that to you. How do you feel? Do you think that sounds like a good idea? Some bloke called Alastair? Does he know best?
As ever, there's the fact that we DON'T KNOW ANYTHING AT ALL, but if you overlook that minor detail and read the words of yesterday's ECB statement, that first paragraph feels like the subtext.
"We must invest in our captain Alastair Cook and we must support him in creating a culture in which we can be confident he will have the full support of all players, with everyone pulling in the same direction and able to trust each other."
No. You earn support. You earn support by making good decisions. Did England lose because the captain didn't have the full support of his team, or did the captain not have the full support of the team because they were losing?
People should be challenged. Leaders, in particular, need to be challenged – if only because they tend to be the kinds of people who think they know best. The kinds of people who see themselves as leaders are, by and large, less open to other opinions than your average sentient human.
We'll be honest, our opinion is coloured by our own experiences, but we've been in enough work situations where someone has demanded loyalty to know that it is almost always a sign that they have lost control – usually because that person doesn't really know what they're doing.
The disappointing part is that we'd kind of warmed to Alastair Cook's captaincy. Back when he was the anointed one, we were far from onside, but the more Shane Warne slagged him off, the more we thought he was doing plenty right. The on-field tactics were often a bit wobbly, but that's the kind of thing you can pick up over time. The off-field stuff's harder and Cook appeared to be keeping things together.
That view would now appear to be massively, massively wrong. A week or so ago, we really felt like this winter battering might have been the making of Cook. They say what doesn't kill you makes you stronger, but apparently it can also make you weaker and a little bit insecure.
28 Appeals
30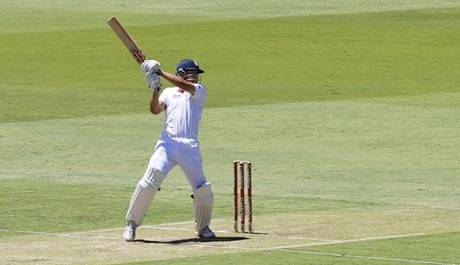 He never goes indoors when he's Down Under. He just stays out on the pitch, day after day, in direct sunlight. We know he's got sunblock on and everything, but what if he misses a bit. Actually, that's ridiculous – in Australia, Cook never misses.
Arriving with little form and a bad back, Cook's gone and batted all day for 154 not out in the first match he's played. In time-honoured tradition, he's dragged someone along with him as well. Mike Carberry is on 153 not out and with an unusual amount of uncertainty surrounding the batting line-up, might just play in the first Test.
Would this be so bad? Not really. Carberry's got a certain wisened heft about his batting and Joe Root's tyres have been partially deflated by the odd pothole encountered as an opener. Root shouldn't grumble about being sent back to the smooth tarmac of number six and it's high time England fielded a part-time electrician (Carberry).
30 Appeals
12
Apparently Alastair Cook developed a bad back while flying. This is an ability we didn't know he had.
Those who have been fortunate enough to witness an airborne Cook say he spurns dramatic swoops in favour of steady progress at a consistent altitude and that when bad weather is forecast, he takes an alternate route rather than endure turbulence.
Cook always wears a helmet when flying and has never been tempted to carry out superhero-type work. He considers flight to be an effective and cost-effective form of transportation and nothing more.
12 Appeals
16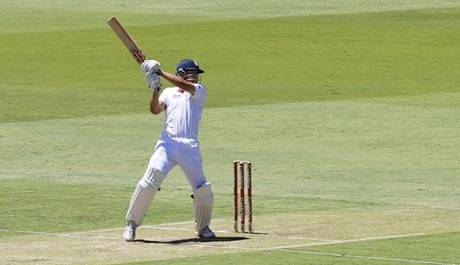 Does Alastair Cook know that captains are allowed off the field? If he doesn't, no-one tip him off, because it's going quite well. In five Tests leading England, he's now scored five hundreds.
He even hit some nice shots today, which isn't really the point. An Alastair Cook innings shouldn't feature eye-catching moments – they're distracting. The genius is in the whole.
You don't watch him bat and identify a straight six as being the mark of quality (although it was a bloody nice shot). His brilliance actually lies in the fact that he becomes commonplace.
"Oh look, Cook's batting." You would never say that. You probably wouldn't even say it sarcastically, because that would imply that the fact is in some way worth remarking upon. It isn't. If England are batting, why wouldn't Alastair Cook be at the crease? It is simply the way things are.
On current form, to be amazed at an Alastair Cook hundred would be like being amazed by a poor management decision or the setting of the sun.
16 Appeals
7
Following on, with plenty of time left in the game, it was a day for slow twitch muscle fibres. England needed batsmen to show endurance and so it was perhaps unsurprising that the cyclist (Matt Prior) and the player they say is England's fittest (Alastair Cook) were the ones to put in a long shift.
It's not like the other batsmen are liable to physically collapse should they remain at the crease for more than 20 minutes (although it currently seems like this assumption will never be tested). Playing a long innings isn't about that kind of endurance. It's more that a tired body tends to conserve energy by limiting the resources provided to the brain and feet.
However, England can expect danger in the morning for the corollary of this. The cumulative effect of very small deteriorations in elements of India's bowling and fielding means that batting gets decidedly easier as the day wears on. A yard of pace, an iota of rip, an inch of width, a slower sprint – all of these things contribute. Then, the next day when the players are rested, everything is reset.
England's first innings began with three quick wickets; the first session of day three featured four wickets; and the first session of day four featured three wickets. These periods of play have been when almost all of England's specialist batsmen have been dismissed. After that, things seem to get just a little bit easier.
As a cycling fan, Matt Prior will know all about the aggregation of marginal gains. He and Alastair Cook will need to witness this aggregation of marginal losses from the batting crease tomorrow if England are to have any hope of saving this Test match.
7 Appeals
16
Not unless he's down the order.
Some have suggested resting Alastair Cook because he made a hundred in the first warm-up match and so presumably doesn't need the practice. Being as Nick Compton made a duck, it is felt that England might now want to see how Joe Root fares in order to give themselves an alternative.
This is wrong. For one thing, looking at other options this early on undermines a new player (Compton) when he should be supported. Also, Alastair Cook may have made a hundred, but England's probable first Test opening partnership has made just two runs together. Ever.
You don't decide a bloke can't bat after he's made a duck. If he makes a few ducks, okay, there's a certain weight of evidence, but a single innings of nought offers virtually no information on its own.
A three-ball duck is curt and bland. A truly flawed batsman aspires to more than this. He hangs around for a few overs, plays himself in and then continues playing and missing and choosing the wrong shots even once his feet are moving and he's familiar with the bowlers. That's how you catch the eye and mark yourself out as a real top drawer incompetent.
16 Appeals
19
Please take a look at it by clicking here (opens in new tab).
We believe this photo provides a window into the future, even though it was actually taken in the past. It's hard to put your finger on exactly what it is, but basically most of the people in it look like dads.
Matt Prior is comfortably successful, middle-aged spread dad. Ian Bell is his son.
Stuart Broad is with his dad, Graham Onions. Graham has had a mid-life crisis and therefore always wears a leather jacket, even when it is manifestly inappropriate to do so.
Jimmy Anderson is looking awkward and holding a pashmina shawl for his wife while she catches up with her friends. He doesn't really know what to do with himself, so he just stands there.
Alastair Cook is the weirdest of all. He is sleazy lothario dad. He wears lurid shirts to complement his permatan and he always leaves a couple of buttons undone.
19 Appeals
13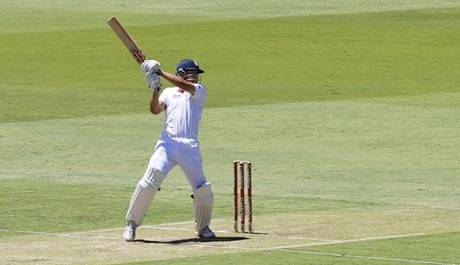 Hello South Africa and welcome to England. This is Alastair Cook. He is fitter than you are. We're not sure you're going to get on very well.
Thus far, South Africa have had a fairly typical experience of touring England. It has rained and Alastair Cook and Jonathan Trott have batted for bloody ages. The Saffers took an early wicket, but you need at least two against England to really be in business.
If you want to win Tests in England, you're heavily reliant on your seam bowlers but bowling at Cook and Trott is like attacking an industrial sander with a plank of wood. You jab at it again and again and eventually all you're left with is a nub. Then Kevin Pietersen walks to the crease and surveys you with disdain. It's not a complex tactic.
Cook's extraordinary stamina has one purpose. He has developed it so that he can do what he already does only for slightly longer. That's it. He doesn't want to run marathons or anything. He just wants to ensure that his feet move the same at 6pm as they do at midday. It seems to work.
If we have a word of reassurance for South Africa, it's that England are so heavily reliant on this method that Plan B is a good deal worse. The batting line-up is built on the principle that the top three will grind down the opposition bowlers to some degree. Get through the the top order and you introduce the other batsmen to a terrifying land of pace and movement that they are largely unfamiliar with.
But today? 267-3 isn't really doing the job. And don't pin your hopes on weariness from Cook tomorrow either.
13 Appeals
10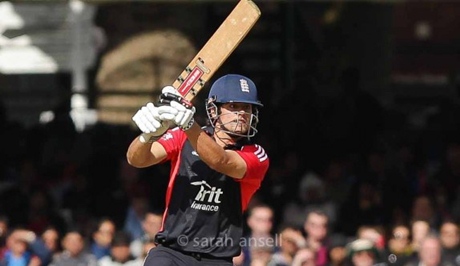 And after all of 12 matches, Steven Finn would seem to be their best bowler. How do you feel about these things? Angry or amazed?
Before this series, each of Sky's commentary team picked their preferred England one-day side. We weren't really paying attention (cooking, eating, playing games or just zoning out most likely) but we're pretty sure at least one of them didn't want Alastair Cook in the team. Whoever it was – if it was anyone – wanted Craig Kieswetter opening instead, because of his 'big shots' or something like that.
The person who may or not have said this is clearly wrong. Craig Kieswetter may well have bigger shots, but he generally only gets to play five of them. Alastair Cook plays dozens of his slightly smaller shots and scores hundreds. He middles the ball into gaps. It's what you're supposed to do.
10 Appeals
30
Teams have used any number of different approaches when trying to get Alastair Cook out in the last year. Pretty much all of them have failed. Of the 2,855 deliveries he's faced in Test cricket since this time last year, 17 of them have got him out.
Today, India tried to get the better of him via pity. They dropped catches, bowled medium-pace, gave overthrows and looked dejected throughout the day.
"What d'ya make of that, Cooky?" they seemed to be saying. "Feeling guilty?"
Cook punched the ball into the legside and took another single.
Cook doesn't care. It's not his job to care. We can see him in 20 years time, playing cricket down the drive with his nine-year-old son. Cook's batting.
His son gets bored after an hour and starts getting tetchy. Cook punches the ball into the legside and takes another single. A few hours later, his son's crying and his wife's pleading with him to go easy on the boy. Cook punches the ball into the legside and takes another single.
As a dad, he's an arsehole. As an England opening batsman, he's mint.
30 Appeals