Alastair Cook
27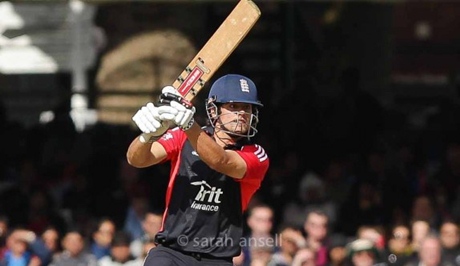 Alastair Cook says that he's doing everything he possibly can to try and turn his form around. This begs a rather obvious question. If you're practising really, really hard and doing everything you possibly can to prepare, but you're still not scoring runs – what does that actually say about your ability?
At least if you're dossing about in practice and turning up for matches half-cut, there's an obvious way to improve your returns. If you're preparing assiduously and you're still crap, it might be that you're simply not cut out for the job.
A bit of a plodder
Mike Atherton's doing a good job of not saying 'I told you so'. That's possibly because he's a mature, level-headed individual who has inexplicably found himself in the world of English cricket. Back when Cook was made one-day captain, Athers called him a plodder. A fair assessment, you'd have thought, but when Cook then made a bunch of runs in impressive fashion that summer, there were a few digs.
Verbal battles and wars. Fast forward three years and Cook has spent a hell of a lot of the intervening period being a plodder. Athers was fundamentally right and the case for making Cook one-day captain appears to have been exposed as a poor one. Most of the fans' anger revolves around what is (and isn't) happening now, but the real mistake came long ago. It's strange to say this about such a conservative organisation, but picking Cook as one-day captain was a gamble.
What happened to Cook's batting?
Is Cook out of form or is this actually the norm? Maybe it's the latter.
To provide some context, after six months or so as captain, we concluded that Cook was quite possibly England's best one-day batsman. Crucially, we qualified that with an 'at the minute'.
In the summer of 2011, he averaged 58 in 10 matches, scoring at a run a ball. The following winter, he averaged 50 in nine matches and while he scored a little bit slower, he made a couple of hundreds and three fifties. Worth his place in the side? Absolutely.
Seems a long time ago, doesn't it? It was. In his last 20-odd matches, he's made one fifty.
Maybe he got found out. When Cook took over as captain and made all those runs, he still did it in a rather limited way. His new 'expansive' game seemed to hinge almost entirely on the slog-sweep to cow corner.
At the time, we described his use of the shot as being like when a bad husband repeatedly brings flowers. It seemed little more than an apologetic gesture designed to distract from major shortcomings. It was odd that it worked, but even the most flower-loving wife will see through such a shallow ruse eventually.
The menu
Unsurprisingly, opponents have taken the slog-sweep off the menu. They're serving up off-spin in the first over instead. Cook doesn't appear to like the taste.
Cook has a place in Test cricket's All-You-Can-Eat Hall of Fame, but he's picky. He doesn't like mushrooms 'because they're slimy' and he won't eat anything with bones in it. You need to have broader tastes in one-day cricket. You need to eat everything because there's only a finite amount on offer.
Test cricket involves endless courses, so you can pick at dishes you don't like and gorge on those you do. One-day cricket is more of a taster menu. Miss out on anything and you risk going hungry. In the last year, Cook has basically starved.
27 Appeals
13
Today we're going to direct you towards two pieces of ours which appeared outside the kingdom.
First up, our latest King of Cricket is Murali. Don't worry, it ain't all numbers. It's about the joints, the graft and the batting really.
Secondly, last week's Cricinfo piece, entitled English cricket rocked by non-Cook related incident. As an added bonus, that one contains a little bit of Nick Knight.
Almost inevitably, Cook is in the news again today. Paul Downton has given another interview, which basically means Cook's relationship with the public has dropped another few notches through no fault of his own.
Downtown has an incredible knack for alienating people. When he speaks, what you're left with is a strong sense that someone has wagged their finger at you and told you they know best.
Apparently he sits in on selection meetings these days. He says he is happy with the selectors he employs (his words) and happy with the decision to continue with Cook as captain, but that the selectors will meet to discuss everything on Friday. Presumably they won't be jumping at the chance to make their boss unhappy.
Asked about Cook's form, Downton said: "Yes, he's in miserable form. But form can change. I'd suggest he's 'due' – wouldn't you?"
We've covered this before, haven't we?
Another highlight is: "He's the natural leader of that group of players."
A natural leader in the sense of being a great orator? A natural leader based on the fact he's getting great results? What is a natural leader? Is that how leaders are identified; by their nature? Do the ECB do a DNA test? What chromosomes are they looking for?
The ECB really are beyond parody now.
Downton finished by saying: "I want to enfranchise everybody and I want them to be part of what's happening in English cricket."
Remember kids, if you've been enfranchised by a stockbroker, you should inform a parent, teacher or policeman immediately. It's not your fault.
13 Appeals
15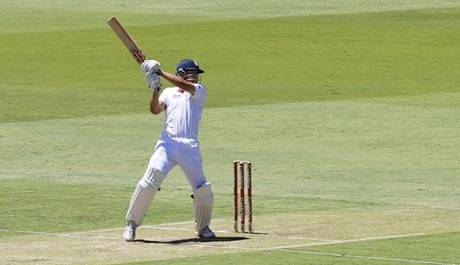 One of Alastair Cook's problems is that he plays every one-day innings as if it might be his last. He positively clings to the crease, grimly trying not to make a mistake. The better approach might be to play as if he doesn't give a toss, but say what you like about Alastair – tosses he gives.
Bowlers can do what they like at Cook. It's like bowling at a cone or a cardboard cut-out. He just sits there passively while you prod away at him with something sharp. After the sixth one-day international against Sri Lanka, Cook said that he was hitting them well in the nets. If he hadn't actually specified that it was balls he was hitting, you'd think he might have meant walls – using his head.
There are no prizes for effort in cricket and in one-day cricket there aren't even prizes for runs unless you can score them quickly enough. It doesn't matter why you drop simple chances or miss straight balls, all that matters is that you do. Cook is.
We don't blame Cook for hanging about in the one-day team. It's his job to retain confidence in himself in the face of all evidence to the contrary. Half of the battle of international sport involves bullshitting your opponent that you're something you're not. The best way to achieve that is to start off by bullshitting yourself. This is why we pay other people to see things clearly: coaches and selectors, for example.
One of the main reasons why Cook was made one-day captain is because they thought it would undermine him to have someone else in charge of the 50-over side ahead of the next Ashes. The same people who reached that conclusion might now want to consider just what effect an endless series of defeats and humiliating underperformance might be having on their boy.
15 Appeals
10
It's hard to argue that this wasn't the perfect England one-day performance. One, England won, which satisfied most of their fans; and two, there was enough evidence to suggest that England will never win one-day games with Alastair Cook at the helm, which will have satisfied his detractors.
The ideal scenario is for England to win the World Cup with Cook really not having pulled his weight but somehow still in the team. Today, he made 20 off 30 balls. Neither quick- nor heavy-scoring, it was pretty much the perfect Cook one-day innings. He was even dismissed playing a defensive shot to howls of derision from some place and some other place.
James Taylor replaced him at the crease and played really rather well. This means it's quite possible to use the argument that Cook is keeping 'players like James Taylor' out of the side, even if he isn't currently keeping your actual real-life James Taylor out of the side.
Next Joe Root scored a hundred, which is neither here nor there in itself, but did at least distract attention from Chris Woakes' 6-47. Woakes loves being overshadowed and will have been delighted to have taken six wickets in a one-day game which largely took place on an entirely different day.
These aren't even Woakes' best one-day figures. He once took 6-45 against Australia, in Australia. But no-one remembers. In fact, Woakes has two of England's three best one-day bowling performances of all time (behind Paul Collingwood). This latest effort has been sufficient to see him talked about as being someone who might possibly challenge Steven Finn for a World Cup spot. Great praise indeed.
For if Finn no longer looks like a man who has forgotten how to bowl, he does still give off the air of not yet having fully remembered. At his best, Finn looks stern and driven, but at present we find ourself getting distracted by how much he looks like he's made out of uncooked spaghetti. That may or may not be the effect he's trying to produce, so it's hard to judge his progress. Assuming it is, we'll give him 10/10 and Woakes 3/10 because the latter didn't really look at all brittle.
10 Appeals
16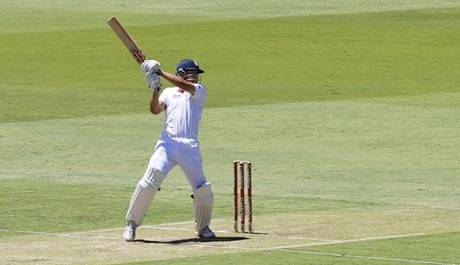 We used to moan about winter. Winter didn't give a shit.
In fact winter didn't even know we were there because it was night-time. It's always night-time in winter. That's the main thing we used to moan about. After about 15 years of raging against the tilt of the Earth, we realised that we weren't achieving much and so we resolved to try and make the best of things. Darker beers and Sunday roasts is pretty much all we've come up with, but at least it's a start.
The point is, there comes a point where you just have to accept that things are out of your hands and that you're only succeeding in making yourself more miserable with your constant complaining. There's a lot of ranting about Alastair Cook these days; about how he can't bat at any great pace, how he only ever seems to score 32 runs and how this means England can't win the World Cup. But you can muster as much outrage as you like – nowt's changing.
England supporters are beginning to delight in their team's failures, gathering a big stack of evidence to support their rightness about Cook's wrongness. But what for? For a massive, gold standard 'I told you so' come the World Cup?
We've always had a general philosophy that if you're playing for England, we'll support you. Sometimes we forget, but we're going to try and keep that sentiment in mind for the next couple of months. The Cook battering's kind of become a thing in itself and even if we agree with many of the sentiments, it's getting a bit tiresome and it's not really achieving anything.
We like the World Cup, we'd like to see England do reasonably well and Alastair Cook will be the captain, so we're kind of hoping he finds some mediocre form and can at least do his bit. If you set the bar low enough, you'll realise there are occasional nice days in winter.
16 Appeals
60
"Oh, you're still here. I, er, thought everyone had gone home. Are you going to, er…? No, you're not. You're going to stick around for a bit longer, you say. You're going to stick around and have another brandy, even though everyone else has gone home and I was clearly just about to go to bed."
As we understand it, at least one of the selectors wanted shot of Alastair Cook as one-day captain, but Peter Moores didn't so they just sort of went with that.
Unlike everyone else who writes about cricket, we're not actually against this. We're not in favour either, but we don't really buy the argument that if England were bold and radical, they'd have a far better chance of winning the World Cup. As such, we think it's fine to stick with Cook because if England do somehow do okay, at least it'll be funny watching everyone backtrack.
We know you're supposed to be positive about and say 'at least if we gamble, we'll have a chance'. It's just that we don't really believe it. We've seen enough England World Cup campaigns to know that bright ideas six months out tend to result in a bunch of new players who bottle it in big games, having never actually played in one before.
At least Cook's used to everyone calling him an ineffectual bumcock and won't be taken aback by the hostility directed his way when his side collapses against New Zealand.
60 Appeals
28
After winning the previous Test with four-and-a-bit bowlers, India could have gone either way for this one. Unsurprisingly, they went with four bowlers, not five.
Sometimes you can determine a lot from these fifty-fifty calls and MS Dhoni does seem to be a bit of a 'pick the extra batsman' kind of bloke. He doesn't mind picking five bowlers every now and again (just so long as at least two of the bowlers are also credible batsmen) but you can tell he's a lot more comfortable once the team's back to normal, even if that means losing.
Dhoni captains his team as if runs win matches. This is all well and good in the shorter formats where runs are indeed the unit of currency, but in Test cricket runs merely prevent you from losing. To win, you need to take wickets. What message does picking six batsmen send to the opposition?
Why those five runs mattered
When you're dismissed for 95, one crucial thing does not change. People can still say: "He hasn't made a hundred since…"
Right now, on the day he made 95, we all know that Alastair Cook played an innings that was tantamount to a hundred. However, in about a fortnight, when it's no longer fresh in the mind, people will say: "He hasn't made a hundred since…" and it will seem that nothing has changed.
It's also important to note how ludicrous it is that this innings will to some degree shore up his captaincy credentials when it had precisely ball-all to do with the aspect of captaincy he most struggles with, which is of course 'captaincy'.
'At least Ballance is still in'
Come on, admit it. You're starting to think that too now. That constantly snarling facial expression is embedding itself in your brain and becoming just another part of your everyday life, like drinking tea or sighing each morning at the sheer pointlessness of it all.
28 Appeals
37
Captaincy is an odd thing. It always strikes us that becoming captain is like being a writer promoted to a management position.
We've had jobs where a senior colleague with a stupid job title has come up to us and basically said: "Your writing and editing is so good that we don't want you to do that any more. We want you to look at spreadsheets instead and do maths."
We don't really do maths.
It seems a similar story with Alastair Cook. The 'Cook out!' bandwagon is rolling along a little too rapidly for our taste and we don't particularly want to urge the driver to accelerate further (What's that? There's no driver?). But at the same time, what captainly qualities has he ever actually displayed? None really, beyond being a bit older than most of the team and having some sort of inclination to do the job.
A week or so ago, Cook was talking about how stubborn he was and how determined he was to see things through.
"I've never quit on anything."
That seems to us to be half the problem. Sometimes you're supposed to give up.
The problem is that Alastair Cook is a professional sportsman. He's spent his whole life being told that determination and a will to succeed are desirable qualities – and of course they are – but they can also lead to exploration of the farthest reaches of pig-headed futility.
Imagine it's the 1980s and you've got a telephone directory in your hand and you really, really need to tear it in half for some unspecified reason. As you grunt and gurn, Geoff Capes walks up behind you and asks if he can help you out. "No, it's fine Geoff – I've got this," you reply.
But you haven't.
Alastair Cook used to be a cracking batsman and now he's a shit one. The cracking-to-shit shift roughly coincides with his tenure as England captain.
What we're saying is that sometimes it makes more sense to hand the telephone directory to Geoff Capes so that he can tear it in half, leaving you free to find a more productive use for your time.
Update: We've just remembered that this article was supposed to be about how Alastair Cook shouldn't have taken the job in the first place; how he probably only did so because he'd been conditioned to believe it was something he should want and should aspire to.
We always suspect that there are quite a lot of people who become doctors or lawyers without ever really considering whether the job might suit them or not. They just follow a path without giving a great deal of thought to where it leads.
37 Appeals
16
Virat Kohli's due a score, isn't he? And how many runs has Alastair Cook got in his bag, just waiting to be plucked out?
Or is it more that Cook's now suffering the inevitable consequences of frittering runs away earlier in his career. There was a complete lack of rationing during the 2010-11 Ashes series, for example. Sometimes you have to save, Alastair. You should have set something aside for when you were captain as well as opener and therefore had double the opportunities to attract criticism.
Meanwhile, the match is poised, innit? We think it's Mike Atherton who always claims that first innings scores of around 300 tend to make for the best Test matches. We know what he's saying.
16 Appeals
17
For a very short while on the final day, it seemed like things could potentially maybe be sort of in the balance a little bit if a few more things went England's way, but then it very much wasn't in the balance and the day climaxed with Alastair Cook's round-arm shod.
Cook is, quite genuinely, one of our favourite bowlers – for much the sames reasons that Steve Harmison was one of our favourite batsmen. There's a real village green quality about his efforts with the ball. Make your own jokes about his batting and captaincy there if you wish but we're not really in the mood for catching dollies today.
For what it's worth, Cook now boasts a Test bowling average of 7.00.
17 Appeals