Kevin Pietersen
26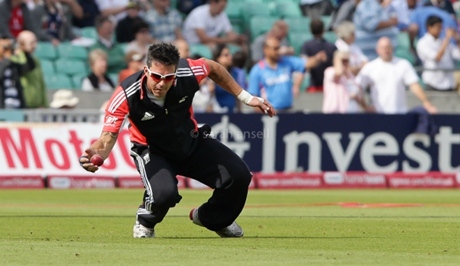 If we had to use a word to describe Kevin Pietersen in the field, we'd use 'prancing'. However, he hasn't been prancing in this match. He's been cumbersome. We also saw a photo of him running during one of the warm-ups and he was panting with neck flab caught mid flap. Clearly, based on yesterday's evidence, he has plenty more runs in him, but there are signs we should make an effort to appreciate his innings while we can.
Pietersen describes himself as 'an old man' and says that his knee was 'a shambles' in New Zealand and will never fully recover, but as long as the joint can do its bit and allow the other parts of his body to move in the correct sequence and at the correct times in order that sixes can be whipped over the bowler's head, he's still in business.
Looking at the forecast for this afternoon and Monday, much of the action in this match could be considered attritional preamble for the fourth Test, which starts on Friday. By that yardstick, England have scored 120 overs to Australia's 146 and could conceivably secure a first innings lead.
26 Appeals
22
The tone of that title is meant to convey that this news is significant but that we don't really have anything to say about it. We hope it has delivered in that regard.
Kevin Pietersen's absence seems like the kind of thing people might be talking about, but sometimes conversation doesn't flow with ease. Sometimes it's halting and awkward and you walk away feeling like you haven't given a good account of yourself. It's worst when you've been speaking on a topic on which you feel you should have an informed opinion. The best way to tackle this is to never talk to anyone about anything you remotely comprehend.
Sometimes we find ourself in a situation where, against all odds, we're talking to semi-strangers about cricket. If this happens, we make a conscious effort to shed knowledge. You don't want to be the guy who knows about stuff; they pay you more attention then. This is why we don't tell people that we write about cricket. We want to put them off the scent, so we carefully calibrate our comments accordingly.
This is actually pretty difficult because you have to remember what kind of information is likely to be common knowledge and what's minutiae. A mistake we often make is to say something head-smackingly obvious about a cricketer who we then realise is far too obscure for everyday conversation.
Players who can safely be discussed:
Cook
Pietersen
Flintoff
Warne
Botham
Players who cannot safely be discussed:
Jonny Bairstow
Graham Onions
Nick Compton
Jos Buttler
Mehrab Hossain junior
There's a real art to successfully engineering an entirely unrewarding conversation which revolves around a topic on which you are actually very well informed. It's one thing we pride ourself on.
22 Appeals
3
Sometimes you bat for your team-mates. Let's imagine there's only one threatening bowler in the opposition attack. If you can put some mileage into his legs, you make it easier for the batsmen who follow you. To some extent, it doesn't really matter how many runs you score. You are making an investment on behalf of the team.
When Graeme Swann dismissed Yuvraj Singh in India's first innings, he had 4-78, but he was starting to flag and he eventually finished with 5-144. The lower order had faced a different bowler.
India's batsmen didn't really get after Swann. Instead, they played in the knowledge that even spinners tire. Gambhir extracted 44 deliveries from the off-spinner, making just 14 runs in that time; Pujara scored 62 off 133; Kohli scored 7 off 30; and Yuvraj scored 25 off 49.
Those are dull statistics, but if you can commit the opposition's best bowler to 51 overs of toil, you aren't just surviving him, you are eroding him as well.
In England's first innings, Kevin Pietersen and Ian Bell made no such investment. The latter didn't even take a sighter. The former will doubtless argue: "That's just the way I play" and to that, we can only reply: "What, badly?"
Bowling workload doesn't make the highlights reel, but it matters. How much was Cook and Compton's decent second innings opening stand the result of the incremental loss of zip from India's spinners? Ashwin and Ojha bowled 49 of the 71 overs in England's first innings, but they could have been asked to do more work.
If those two bowlers recover their vim and venom overnight, England's openers will try and do their job. Bell and Pietersen will benefit should they be successful. Maybe next time they could return the favour.
3 Appeals
18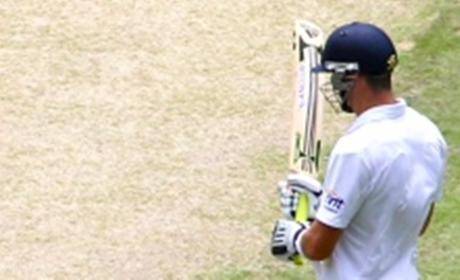 England today announced that a player who has not retired from international cricket, who averages almost 50 and who hit a hundred in his last Test match is indeed going to be included in a Test squad.
The press asked England's selection panel whether this was wise in light of the fact that some of the player's team-mates think that he is a bit of a bell end. The panel may or may not have responded by pointing out that Ian Botham was selected over a hundred times.
We can exclusively reveal that in order for this to have happened, the player in question has had to look several people in the face and say some things.
18 Appeals
18
Kevin Pietersen has signed a four-month contract with England. If the 'reintegration process' goes okay, he might even play during that time.
Whatever happens, it's pretty laughable to see so much self-important business speak used in the ECB statement. We were going to satirise it, but what's the point? The following simply cannot be improved upon:
"With regards the issue of the BBM messages, due to the fact that Kevin had not retained the BBM messages, this matter has been successfully concluded through a binding assurance provided to ECB by Kevin."
There you go. That's how you sort these things out. If you think that Britney has been texting Tegan slagging off your new look, then confront her about it. Should she, like, totally deny it, and say that the messages have been deleted anyway, then ask her to provide a binding assurance to that effect. Situation resolved.
18 Appeals
25
It's interesting that so many people took yesterday's post at face value. We'll come clean: it is not our actual stance on the Pietersen issue. There are bits of it we might agree with to some extent, but for the most part it's an extreme position we adopted in order to make an entirely different point.
It was intended as a parody of recent newspaper pieces covering the Strauss-Pietersen issue. We wrote it because we don't like it when the boundary between news and opinion is blurred and because we don't like it when the media as a whole seems to favour one particular version of events.
It was written as if we were a Little Englander. However, the twist is that in this parallel universe, Strauss is seen as the villain while Pietersen is portrayed as an England hero. The facts are the same, but they are presented differently.
Opinions
It's wrong to say that every writer has an agenda, but they do all have opinions. We're seeing a great deal more opinion than news regarding Pietersen and Strauss. That's fine, but we don't like it when opinions are sneaked in on the sly. There's a certain amount of insidious rhetoric on display when it comes to this particular story.
The point we were making with yesterday's post is that the same information can be presented in different ways. Clearly there are differences between the backgrounds of Pietersen and Strauss, but you could, if you wanted to, make an issue of Strauss's place of birth – or Andy Flower's for that matter.
Similarly, Strauss took a holiday in the middle of the season and in the middle of a crisis. This wasn't a massive crime, particularly in light of what followed, but we can only imagine how the press would have reacted if Pietersen had done the same. Strauss took a break. Pietersen would have 'controversially' taken a break.
That use of 'controversially' is the kind of thing we're talking about. Certain vocabulary can give rise to subtle, perhaps accidental, attempts to persuade the reader that one party is 'right' and the other is 'wrong'.
Word use matters
In The Sunday People, Dave Kidd outlines how England's "South Africa-born star" criticised James Taylor during the Lord's Test. No real details are given, but this doesn't stop Derek Pringle from saying that it "plumbs new depths of obnoxious behaviour" in The Telegraph. You read those two pieces and you can't help but have a certain perception of what happened – but based on what?
We know many writers are paid primarily to provide opinion, but that's not necessarily how people read their articles. Report on a new development and it comes across as being 'news'. It is then possible to colour that news through the words you choose to use and the related events you choose to recount.
Who cares?
Clearly, there are far more serious media problems than how a feud between two cricketers is being presented. However, at the same time, the issues this raises and the methodology being used are common to other, more significant stories, so it pays to be aware of this kind of thing. You shouldn't read ANYONE'S words and assume they are fair, balanced and well thought-out. After all, most writers and opinion-formers are complete idiots.
25 Appeals
35
Johannesburg-born Andrew Strauss is to keep England's star player in limbo a little while longer after controversially extending his family holiday rather than returning for much-needed clear-the-air talks.
Kevin Pietersen was man of the match in the last Test he played and is keen to help secure victories for his nation in all three formats. However, the side's embittered management group seems intent on alienating him. Pietersen's efforts to resolve the situation have been flatly ignored and there has been no sign of any intent to address this pressing situation.
Already Pietersen has missed out on being named in England's World Twenty20 squad – a competition he was keen to help England win, having been the player of the tournament during their 2010 victory. It now smacks of pure malice that Strauss should continue to keep him waiting when the batsman's entire future is in jeopardy.
Strauss has averaged just 33.94 over the last three years, whereas Pietersen has averaged almost 50 in the same period. However, there is a clique at the heart of the England team and Strauss is an integral part of it. Unfortunately for him, Pietersen – an individual and a once-in-a-lifetime cricketer – is not.
England's finest batsman has been made to feel like an outsider in his own dressing room and is being omitted for reasons that have nothing to do with sport. It is hard to avoid the conclusion that Team England is nothing but a cosy old boys' club with South African-born Strauss as the chairman and the Zimbabwean Andy Flower as the president.
35 Appeals
16
A bland, featureless room. Kevin Pietersen and Andrew Strauss sit side-by-side facing a desk, behind which sits a relationship counsellor.
Counsellor: So, what brings you here?
Strauss: We're having some issues with our relationship.
Counsellor: Have you been together long?
Strauss: A few years.
Counsellor: Okay, well, the strain can begin to show when you live in each other's pockets for a number of years.
Pietersen: [Sulkily] I'm not living in his pocket.
Counsellor: Let's try and get to the bottom of what's going on in the relationship. How is it that you know things aren't going very well at the moment?
Strauss: Well, we haven't been speaking much of late and as a consequence, we recently took the decision to separate.
Counsellor: Relationships are all about communication. That could be one of the major problems. Can I ask whether either or both of you have trouble expressing yourselves?
Pietersen: He does.
Strauss: I express myself. The difference between you and me is that I express myself in a calm, controlled manner.
Counsellor: It's important to exchange ideas without things descending into an argument. Conflict is counterproductive.
Strauss: I agree. I think it's vital that we let the dust settle, take stock and then carry out a full review.
Pietersen: Listen to him. He's so cold.
Counsellor: What do you mean by that, Kevin?
Pietersen: He's so emotionless. I can't stand it.
Counsellor: How does his attitude make you feel?
Pietersen: It makes me feel unimportant. There's no spark any more. I honestly don't know whether he still loves me or not.
Counsellor: How do you react to that, Andrew? Do you still love Kevin?
Strauss: Look, I don't think we should commit to making firm statements while emotions are still running high. It would be far better to let the dust settle, take stock and then carry out a full review.
Counsellor: Kevin?
Pietersen: You see? You see what I mean? It's like trying to have a relationship with a stone or a rock.
Strauss: Stones and rocks are much the same thing.
Pietersen: You're always criticising me!
Counsellor: Okay, okay, let's just calm down a minute. We're just trying to explore the issue at the moment. Let's try and establish the facts rather than falling out with each other.
Pietersen: Okay.
Strauss: Okay.
Counsellor: Now, Kevin. What would it take for you to feel happier in this relationship?
Pietersen: Honestly? I want to feel that I'm needed and I want to believe that he still loves me.
Counsellor: Okay, now Andrew. What would it take for you to be able to once again get in touch with your loving feelings for Kevin? I'm presuming you wouldn't be here if they weren't still in there somewhere.
Strauss: It's a matter of trust. I just don't know whether I trust Kevin any more.
Counsellor: How so?
Strauss: I just feel like he's let me down recently. I feel like there's a fundamental lack of respect for me and that has led him to seek solace with other cricketers.
Counsellor: Well that's potentially very serious. How do you respond to that, Kevin?
Pietersen: I'm going crazy in this relationship. I need to talk to someone. I need to get my emotions out somehow.
Strauss: This is no time for emotion.
Pietersen: It never is with you. When is it that I'm supposed to express my emotions?
Strauss: Once we've let the dust settle, taken stock and carried out a full review.
Pietersen: So I can get emotional then, can I?
Strauss: I really think it's important that we not get too emotional about this. It's more important that we take the right decisions for the future of the England cricket team.
Pietersen: Am I not part of the future of the England cricket team?
Strauss: Like I say, we really need to carry out a full review.
Counsellor: I'm really sorry, but I'm not sure I can do anything to salvage this relationship.
16 Appeals
39
Graeme Swann knows him too, apparently. If you want to know our feelings, we're sticking with what we wrote the other day.
Everyone talking about this seems to be taking sides now. It's become one of those 'us v them' situations, which is good, because that sort of thing is always productive.
Maybe if we correctly identify the one person who's to blame, we can have them executed and then everything will be wonderful again, just like it never used to be.
39 Appeals
22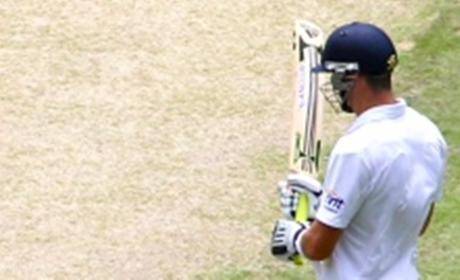 This morning, Sam pointed us towards this story. It seems Kevin Pietersen suspects some of his team-mates of running a parody Twitter account in his name. Is this the modern sportsman's equivalent of "he's calling me names behind my back"?
It seems very, very unlikely that Graeme Swann, Jimmy Anderson or anyone else would be doing this, not least because half the tweets appear during Test matches. However, the mere fact that KP thinks this way highlights a massive problem.
Paranoia
For most people, paranoid feelings don't come from nowhere. There needs to be a microbe of truth in the first place and then, like mould and mildew, these feelings need the right habitat in order to thrive.
For KP, it doesn't seem that much of a leap to think that people are publicly broadcasting his worst qualities for their own and others' amusement, even though these very same people are quite literally on his side.
If someone were actually doing that, it would be pretty horrendous, but take that antipathy down a few notches and it would still be pretty bloody awful. That second, lower notch is probably the reality. That is not a good relationship.
Long-term relationships
Relationships are fluid. There are billions of different elements sloshing about, so they never retain exactly the same shape for even a moment. When the majority of the liquid's in the right place, it's all a piece of piss. However, when things slosh the other way, you need to rely on the fundamentals. We could maybe think of these as being sediment – thick, viscous stuff that doesn't really move.
In the England cricket team, the relationship sediment is the desire to help England win at cricket. That's the one thing that everyone in the team should have in common.
When things are going well and the relationship liquid's mostly in the right place, no-one questions anything. They don't need to – everything's fine. However, when England start losing and the relationship liquid slides the wrong way, the sediment is revealed and there's always doubt with KP, isn't there? No matter what he says or does, his origins and history encourage people to question his motives.
In any relationship, you need at least one common goal. If you ain't got that, you ain't got owt. Sometimes merely suspecting that the other person feels differently is enough to make things go tits up, even if that isn't actually true.
The cause of arrogance
The situation is exacerbated by Kevin Pietersen's arrogance. It is both a cause and a symptom and it is responsible for a vicious circle which is killing his relationships with his team-mates.
Every arrogant individual is laced with insecurity. If you are telling the world how good you are, it is because you want people to see your value. You need the world's appreciation.
This isn't intrinsically bad. Arrogance is both a strength and a weakness. It's a weakness because it's really annoying and obnoxious. It's a strength because a satisfied person is inherently complacent and insecurity is generally what breeds drive and ambition.
An insecure person might measure their value in terms of money, attractiveness or their impact on the world, but in some way or another, they will always be striving for more points in their game of life.
The perception of arrogance
When someone talks about how marvellous they are and how the whole bloody world revolves around them, you can think: "That poor, insecure individual. If only his mother had loved him as much as she'd loved his three brothers, Tony, Greg and Bryan Pietersen, then maybe he wouldn't have this desperate need to feel valued every second of every God-damned day."
Alternatively, you might think: "What a prick."
If you went for Option B, congratulations – you are a normal human being. We encounter plenty of people over the course of each week and they all have various foibles and insecurities which we might take into account when communicating with them. However, practically speaking, life's too short.
Instead, you just react to this guy being a prick and you probably try and take him down a peg or two. You try to highlight all the ways in which he's not as amazing as he thinks he is. In short, you make him feel unappreciated.
Kevin Pietersen absolutely hates feeling unappreciated. It is the worst feeling in the world for him. He would do literally anything to make those around him see and acknowledge his value. Unfortunately, he really doesn't know how to accomplish this.
Insecure and unappreciated, KP therefore takes the most straightforward course of action available to him – he tries to tell everyone how amazing he is.
22 Appeals