Matt Prior
12
Perhaps it's mankind's predisposition towards seeing the world in terms of stories that has resulted in there being so much emphasis on the latter stages of Matt Prior's career. Stories build towards an ending, so we tend to think that's the most important bit.
Such a way of looking at things is almost always unfair on a cricketer and especially so in Prior's case where a few months not fully fit during which he also suffered a relatively short-lived falling out with a team-mate paint an unflattering picture.
Let's deal with the Kevin Pietersen thing first
If only to get it out of the way. Weirdly, we've always closely associated the two men because they were the standout players from an A tour to India way back when. For the most part, they got on okay. It's worth noting that many of the older events recounted in KP's book have been recoloured as a result of their subsequent falling out. It was really only quite recently that things went awry.
One of KP's biggest gripes seems to be that Prior was somehow big-headed, as proven by the fact that he referred to himself as 'The Big Cheese'. Prior's always been known as Cheese, but as we always understood it, this wasn't because of some sense that he was kind of a big deal, but because of a tendency to look like this.
Maybe the nickname evolved a little over time, but if you missed the subtleties, didn't quite appreciate the cultural concept and maybe weren't all that inclined towards self-deprecation yourself, maybe you could have got hold of the wrong end of the stick and subsequently decided to beat him with it.
Declaration batting
Many England fans who really warmed to Prior did so because of how he batted when England were looking to declare. This is no 'yay, boundaries!' thing. It was something deeper than that.
When it comes to upping the run-rate ahead of a declaration, many batsmen are only too delighted to have an excuse to go for glory. Attempting to hit sixes is a somewhat self-indulgent form of selflessness – almost a win-win.
Prior's approach was different. He would look to increase the run-rate by any means he could, including through near-suicidal running between the wickets. Although you're working towards the same end, there's no glory in a quick single or a scampered three. Caught at long-on is glorious failure, but when you're run-out, you always look like a div.
The stats
Prior sneaks out of Test cricket with an average of 40.18 allied to a very good strike-rate of 61.66. Pietersen's, weirdly, is 61.72. (Is there nothing these fast-scoring South Africa born England middle-order batsmen of similar vintage don't have in common?)
Hundreds-wise, his match-saving second innings 110 not out against New Zealand in 2013 was probably the most significant, but we'll always retain a soft spot for the cruelty of his 118 at the SCG in 2011. Batting at number eight and with England already ahead, the runs weren't really needed – but he got them anyway and in brutal, demoralising fashion. He helped England win that series in style.
However, what we'll most remember is some kind of fictional distillation of his career. England are good; England are ahead; Prior cuts a short one at a million miles an hour straight towards a boundary fielder but somehow still runs two, diving for his crease to complete the second. Shortly afterwards, England declare and they go on to win easily. The end.
12 Appeals
20
After Matt Prior missed one particular catch in the second Test, a Sky commentator – possibly Mike Atherton – suggested that the wicketkeeper might be having trouble moving to his right due to all his accumulated injury problems. In his statement announcing that he was standing down for the rest of the series, Prior basically confirmed that.
"I saw the edge all the way but I couldn't move as quick as I needed to, and that is when I knew."
Prior is only 32. If he played for another country, you'd expect him to return following surgery, but how many recent England players can you think of who have lasted long into their thirties?
Most sides can boast of at least one, usually several. Ponting and Hussey for Australia with Brad Haddin and Ryan Harris still going. Tendulkar and Dravid for India. Sangakkara and Jayawardene for Sri Lanka. Kallis for South Africa. Chanderpaul for the West Indies. Chris Martin – a pace bowler, no less – lasted until he was 38 for New Zealand. For Pakistan, Misbah-ul-Haq's (at least) 40.
And England? Strauss made it to 35. Collingwood and Swann were 34. Alec Stewart was the last with real longevity.
The finest batsmen and spinners frequently seem to have their best years in their mid-thirties, but many English players have succumbed to wear and tear type injuries by then. Swann's elbow, Vaughan's knee, Prior's Achilles, Flintoff's everything. Is it the way they're managed? Do they not get enough sleep? Or is it just one of those things?
20 Appeals
23
Who plays for England these days? NO-ONE KNOWS. They don't even have a coach and the uncertainty pours down from there, covering everyone in a sticky, unctuous goo that at first you think might be some sort of over-ripe berry that's fallen from a tree, before realising that there's no skin and the consistency's too uniform and no, no, no, this came out of the back of an animal!
Matt Prior
Hurray! Matt Prior scored a hundred. Middlesex were all out for 105 and then Matt Prior made 125 off 138 balls on the same pitch.
Matt Prior is still far and away the best England wicketkeeping option and our firm belief that he will score plenty of runs at the start of the season is already not-entirely-wrong.
Steven Finn
Hurray! Steven Finn took 6-80 in the same match and actually took Prior's wicket (eventually). Finn's probably not going to be rushed back into the Test side, but most of us are happy to see that he's commenced a slow walk in its general direction.
Openers
We will be very, very surprised if Sam Robson doesn't open the batting against Sri Lanka in the middle of June. We reckon his winter performances for the Lions mean that all he needs to do is show vague competence for the next couple of months and he'll be given a chance. Against Sussex, he made 11 and 1.
Technically, Michael Carberry is the incumbent. If Robson doesn't perform well, England will be able to retain Carberry, pretending that was the plan all along. Against Worcestershire, Carberry made a duck.
Middle order
There's a strong feeling that Eoin Morgan has been earmarked for Test selection, perhaps to make up for the excitement shortfall resulting from Kevin Pietersen's absence. We've even seen it suggested that he might have inadvertently sacrificed some of his one-day majesty through focusing on Test-specific training.
Morgan went one better than Carberry against Sussex and was bowled for a golden duck.
Coach
Peter Moores' bid to be the man to turn around England's shoddy batting must surely be hampered by the fact that his Lancashire side still can't ruddy bat after years and years of being turd. They made 144 thanks to 42 not out from Tom Smith, who is no longer an opener but a number seven.
23 Appeals
7
Following on, with plenty of time left in the game, it was a day for slow twitch muscle fibres. England needed batsmen to show endurance and so it was perhaps unsurprising that the cyclist (Matt Prior) and the player they say is England's fittest (Alastair Cook) were the ones to put in a long shift.
It's not like the other batsmen are liable to physically collapse should they remain at the crease for more than 20 minutes (although it currently seems like this assumption will never be tested). Playing a long innings isn't about that kind of endurance. It's more that a tired body tends to conserve energy by limiting the resources provided to the brain and feet.
However, England can expect danger in the morning for the corollary of this. The cumulative effect of very small deteriorations in elements of India's bowling and fielding means that batting gets decidedly easier as the day wears on. A yard of pace, an iota of rip, an inch of width, a slower sprint – all of these things contribute. Then, the next day when the players are rested, everything is reset.
England's first innings began with three quick wickets; the first session of day three featured four wickets; and the first session of day four featured three wickets. These periods of play have been when almost all of England's specialist batsmen have been dismissed. After that, things seem to get just a little bit easier.
As a cycling fan, Matt Prior will know all about the aggregation of marginal gains. He and Alastair Cook will need to witness this aggregation of marginal losses from the batting crease tomorrow if England are to have any hope of saving this Test match.
7 Appeals
19
Please take a look at it by clicking here (opens in new tab).
We believe this photo provides a window into the future, even though it was actually taken in the past. It's hard to put your finger on exactly what it is, but basically most of the people in it look like dads.
Matt Prior is comfortably successful, middle-aged spread dad. Ian Bell is his son.
Stuart Broad is with his dad, Graham Onions. Graham has had a mid-life crisis and therefore always wears a leather jacket, even when it is manifestly inappropriate to do so.
Jimmy Anderson is looking awkward and holding a pashmina shawl for his wife while she catches up with her friends. He doesn't really know what to do with himself, so he just stands there.
Alastair Cook is the weirdest of all. He is sleazy lothario dad. He wears lurid shirts to complement his permatan and he always leaves a couple of buttons undone.
19 Appeals
18
Rob Smyth is waxing lyrical about Matt Prior in The Spin, this week. We're inclined to agree with him and not just because of Prior's magnificent beard and love of cycling.
Last week, we had a conversation with someone who has had a certain amount of contact with pretty much all the England players at one time or another. We both concluded that Jimmy Anderson and Matt Prior were probably our favourites. Honesty and being a bit of an accidental fool were cited as reasons for liking the wicketkeeper. This is quite a good example of the latter.
However, one particular form of honesty is the main reason why we love Matt Prior. Watch England play for long enough and you will eventually get the sense that Prior's cricket is genuinely selfless. This is not something you can fake.
It's not easy to describe, but you can see it when the team needs quick runs. A lot of players will use this as an excuse to showcase their most eye-catching shots, because "the situation demanded that I play aggressively". Prior is more inclined to dab the ball down to fine leg and push for a borderline irresponsible second run.
Ostensibly there's the same intent, but Prior's approach doesn't cry out for crowd appreciation in the same way as an attempted six. Being caught after a wild slog is conspicuously 'selfless' in a way in which run-outs never are. Cricket fans aren't idiots and the beauty of Test cricket is that it tends to show people's true character sooner or later.
18 Appeals
6
Even without Ian Bell returning to the crease after being run out, yesterday was an odd day's cricket. In what had seemed a low-scoring match, England somehow scored over 400 in a day. There were four reasons for this.
Ian Bell
When the bowling was good, he was better. England's most adaptable batsman just couldn't stop scoring runs.
Limp India
Eoin Morgan managed to squeeze in an entire innings of 70 while India weren't really paying attention. It was utterly bizarre. As soon as they took the new ball and half switched on again, he was out.
Matt Prior
When your bowlers are tired, there can't be many batsmen you'd less like to see at the crease. Ian Bell's England's most adaptable batsmen, but Prior's the most selfless. There's something of the Flintoff attitude about him. He always seems like his eye's on the Test match rather than his own score. Plenty of players say they'd choose a 90 that contributed to a win over a hundred in a losing cause, but Prior says the same thing with his bat and his running between the wickets.
The outfield
Yesterday morning, a lead of 374 would have seemed ridiculously large, but the pitch has deadened a little and the ball is flying across the outfield as if the concept of friction has been discredited. A few quick wickets this morning and we're not ruling out one of the all-time great run-chases.
6 Appeals
7
Of all the available opening options, Matt Prior was pretty much our last choice, but we're sick of having opinions and so have reacted without emotion. That might reflect a lack of caffeine at this early hour as much as anything.
Just thought we'd check whether anything had happened while we were writing those two sentences and the headline reads 'Mushfiqur stumping snares Prior'.
And it's back to having opinions.
7 Appeals
25
Not sure we've got Imran Khan or Garry Sobers on the cards, but it's not looking bad.
Shakib Al Hasan, Bangladesh, age 22
As a cricket-writer, we're worried there'll be no words left in a few years time, because they'll all have been eaten by Bangladesh criticisers. Shakib Al Hasan will make people backtrack until they've returned to the womb. He is the best one-day all-rounder in the world and he is 22. He is not going to get any worse at any point in the next decade. Dwell on that.
Dwayne Bravo, West Indies, 26
Played a bit. Been solid. Time to push on, Dwayne.
Mahendra Singh Dhoni, India, 28
The most dangerous batsmen are those who can destroy an attack but don't feel that they have to. For Dhoni it's all about the runs. He'll get them in singles, he'll get them in ugly works to leg. He doesn't care. He also doesn't care about his average. He just wants to win matches.
Matt Prior, England, 27
No, seriously. Matt Prior has been one of the best batsmen in England for quite a while and being as everyone seems to have gone a bit quiet about his keeping, that must be acceptable as well. Despite his hairline, he's actually 27. He could prove a very important player in the next few years.
Stuart Broad, England, 23
Don't talk him up? Tough shit. We're starting to believe that he can bowl, which is the main thing, while he's got bags of time to sort out the batting, which has largely been okay anyway.
25 Appeals
25
You're an England player. You've won the Ashes. You get in touch with your agent:
"Commercial opportunities. What have you got for me?"
Your agent's silent a minute and you can hear him shuffling some papers on his desk.
"Hello. Are you there? Commercial opportunities. What have you got?"
Your agent clears his throat and says: "Er… belts?"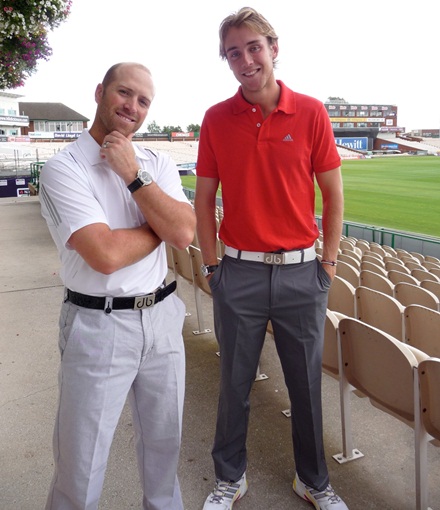 Matt Prior clearly did some DAMN GOOD WORK on this photo shoot, but Stuart Broad seems to be a rank amateur, so they made him say some stuff as well:
"I absolutely love the Druh Belts range and the colours are just amazing. They're perfect to wear on a casual night out with jeans or with chinos and a jacket for a more formal look that is just a bit different."
Everyone loves chino-friendly belts.
25 Appeals