Monty Panesar
13
No, honestly. An actual spin bowler as well, not just a batsman specialising in round-arm dob. It was the second division, but these are desperate times – we have to make the most of whatever we can find. We're basically Wombles.
The spinner in question is Monty Panesar and at the time of writing, he's taken 4-18 in 14.2 overs. We're taking this as confirmation that Panesar is the greatest spin bowler in the history of cricket. You don't dismiss Daryl Mitchell, Tom Kohler-Cadmore, Ben Cox and Jack Shantry on an unpredictable pitch without being in some way exceptional.
13 Appeals
19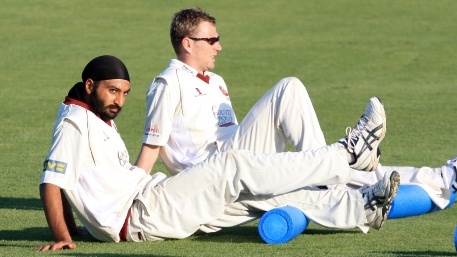 People can overcomplicate things sometimes. Pyramid tea bags? You can make a perfect cup of tea with an ordinary bag, so this is not a worthwhile development.
Okay, maybe that's not precisely the right analogy here. We do accept that there is something in the Monty Panesar has played one Test X number of times argument, but you should never confuse a flaw with uselessness.
There are days when Panesar might benefit from a little experimentation, but that doesn't mean he's broken, which is how people sometimes interpret that. He's not a mischievous imp of a spinner, he's a line bowler – and he's a damn fine line bowler who gives the ball a rip. The minor flaws don't cancel out his massive qualities.
If conditions aren't in his favour, Panesar is consistent and doesn't bowl bad balls. If conditions are in his favour, he takes wickets by the absolute bucketload. He has more five-wicket hauls in his last four Tests than Andrew Flintoff took in his entire career.
In this Test, Panesar has obliterated an Indian batting line-up to the extent that they'll be asking Duncan Fletcher to show them the forward press and the sweep. Sometimes it's important to be thankful for what you have, because it bloody well does the job.
19 Appeals
6
We could have gone with "Monty Panesar's back", but we've actually done that joke about him twice before. You have to draw the line somewhere. We fully expect you all to now tell us that we've drawn that line incorrectly.
But let's not bicker about whether a joke should be repeated word-for-word, again and again, until everyone loses the will to live; or with slightly different wordings, again and again, until people lose the will to live – this is a time for rejoicing. Monty Panesar is playing and entirely unsurprisingly, he's taken four wickets. If we had the power, we would crown the man 'king of good times'.
But what does his performance mean for the match?
The problem with an England spinner taking wickets on day one of a Test match is that he also stabs at the confidence of his batting team-mates, causing untold damage. Maybe it would have been better for the team if Panesar had wheeled away ineffectively and India had declared on 560-1. Not a team player. Drop him for the next Test.
The pitch is certainly doing a bit, but R Ashwin has 60, so it is at least possible to bat on it (at least late in the day, when the aggregation of marginal losses has come into effect). The batting approach should perhaps be similar to the last match – minimise damage until the going's slightly easier.
Incidentally, we exclude Cheteshwar Pujara from the above analysis on the grounds that he is impossible to dismiss and very possibly an entirely different species from the England batsmen.
6 Appeals
7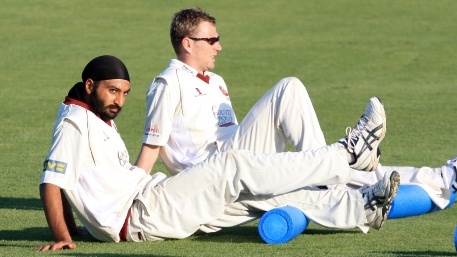 England drop Monty Panesar readily. Whether it's because of form, the pitch or 'the balance of the side', they don't seem shy about leaving him out.
Maybe the decision will be vindicated, but he seems to have been collateral damage following a line of thinking that betrays England's lack of confidence in the batsmen. Broad went home and they wanted Finn to replace him, because he's promised so much recently. However, they didn't want a tail of Finn, Panesar and Anderson. Bresnan instead of Finn? No, Bresnan instead of Panesar.
England still have Samit Patel's left-arm spin, so this isn't perhaps as eye-catching a decision as the guy who ordered a fried spam, egg and cheese sandwich in the bacon butty shop the other day. It's just a feeling we get – that Monty Panesar is easy to drop.
7 Appeals
28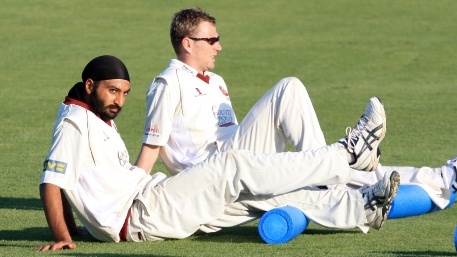 This statement was made my Shane Warne. He famously said that Monty Panesar hadn't played X Tests but one Test X number of times. This is accepted as great insight all too readily.
It's a nice catchy soundbite and it's from Shane Warne, but does it really have much merit? It seems to rely on this notion that spin bowlers have to be wily and full of mystery, but as far as we can tell Monty was winning England a lot of matches doing things his way. There's no harm in looking to improve, but Monty is sometimes ridiculed and belittled despite a Test record that would be the envy of most spin bowlers.
Imran Khan never said that Glenn McGrath hadn't played 124 Tests, but one Test 124 times. Dennis Lillee never said that Shaun Pollock hadn't played 108 Tests, but one Test 108 times. There's more than one way to take wickets, no matter what your style of bowling.
Ian Salisbury played several different Tests.
Today's image was taken by Sarah Ansell and indeed most of the images we will be using from now on will have been taken by Sarah Ansell. She and her photos can be found at www.sarahcanterbury.com. Get in touch with her if you wish to republish one.
28 Appeals
23
As in 'returned'. He hasn't got ankylosing spondylitis or anything.
It may not be the first time we've made that joke – it may not be the first time we've made that joke about Monty Panesar – but come on. Some events warrant special attention.
So what are the pros and cons of Monty Panesar being in England's XI for the second Test in Abu Dhabi?
Pros
Monty Panesar is playing.
Cons
None.
So there you go, it's a 100 per cent brilliant decision with no downside.
23 Appeals
4
No, Monty! Say it hasn't come to this.
In a desperate bid to advance his case for England inclusion, Monty Panesar has been reduced to tampering with scoreboards.
2-20 sounds so much better than 2-120.
4 Appeals
9
As in 'returned'. He hasn't got anklosing spondylitis or anything.
We're frigging delighted about Monty Panesar being in England's Ashes squad.
In a world of cynicism, underperformance and questionable motives, the man who literally jumps for joy at taking a wicket is king.
9 Appeals
5
Surely this won't help.
If Panesar's in the slips then this is beneath back garden standard.
5 Appeals
4
Panesar's current coach at Highveld Lions, Dave Nosworthy, says:
"Somewhere along the line he had lost who Monty Panesar is."
This does seem to be the case. Panesar says:
"What happened last year is that I had so many external voices to listen to … When I was searching for an answer I was going external … All the answers are inside."
Why listen to other people when there are so many internal voices to listen to? Your own voices are far better informed about you and even if they tell you to set fire to things, they do it for a reason. Even if they tell you to give the financial director of your company a wedgie because he uses too many acronyms, they do it for a reason.
The police say you shouldn't have punched that child, but they didn't hear the American accent she was putting on. The voices did.
4 Appeals