Ashes
16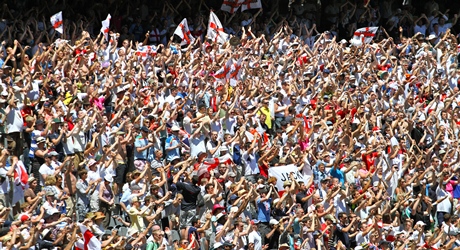 Let's get an early moan in about the five-match one-day series that's taking place between England and Australia this summer. It's not just the fact that it's pointless and elbows aside the build-up to a Test series against South Africa. It also sabotages the experience of watching next year's Ashes series as well.
The anticipation is half the joy of an Ashes series. Even though England and Australia play each other every other year, there's still ample time for the teams to develop in between. When the touring side arrives, there's a lot of excitement. They might have new players or older ones might have suddenly started excelling in Test cricket. There's an element of mystery that adds to our experience as fans.
Having an England-Australia one-day series the year before the Ashes undermines this almost completely. It's like tearing off a hunk of bread before it's finished baking. It tastes entirely unsatisfying and the loaf will be all buggered up when it finally is ready to eat.
With the 2013-14 Ashes series in Australia following just a few months after the 2013 Ashes, we'd better prepare for a lot of shitty bread. However, we don't particularly want to prepare by practising. This summer's one-day series is unwelcome. Who invited it?
16 Appeals
4
We'd like to add a slightly more sober footnote to our post from last Friday.
We described back-to-back Ashes series as being 'quite literally the worst idea of all time'. We stand by that and would like say that it's actually the worst idea by an even greater margin that we had previously thought. Here's why.
Every other year?
Ashes series have long been played every other year, give or take a few months as a result of the different seasons in England and Australia. However, up until fairly recently, there was only an event once every four years.
Up until satellite TV and the internet, only home Ashes series were a phenomenally big deal. Yes, you could get highlights at midnight on BBC1 and you could read the newspaper reports a day late, but an away series wasn't all-pervasive like a home series was.
An away Ashes series didn't unfold before you. It was something faintly unreal and distant. You really had to make an effort to keep up with it.
This meant that a home Ashes series was even more significant. The home series was the one you watched. This was the one people most cared about and it only happened once every four years.
Home and away
These days away series are almost as big a deal. You can get up early or stay up late and watch live coverage. You can read a million news reports via the internet. You can follow it on Twitter or on an obscure English cricket blog which unexpectedly goes all serious during the first Test.
An away Ashes series is now that much more vivid, it might as well be a home series. In effect, the big event is every other year, not once every four years. It's slightly less special.
Now twice the same year? That's really not special.
4 Appeals
27
Sweet fucking Christ, does everyone in the world of cricket suffer from all three major forms of retardation? This is quite literally the worst idea of all time.
Back-to-back Ashes series. Ten England v Australia Tests in a row. Does no-one who has control over anything have even the most basic understanding of sport?
We should have seen it coming
The fresh, punchy Twenty20 World Cup that was far, far shorter than the 50-over World Cup was really popular. The overlong 50-over World Cup was massively disappointing.
They decided to shorten the 50-over World Cup and for a very short while we were all full of hope. Lesson learned?
No. They then announced that the Twenty20 World Cup was going to be longer, because that was the popular one.
But back-to-back Ashes? That's something else
We get that the next Ashes in Australia can't be played the same year as the World Cup that's also taking place there. But quite honestly, we'd rather miss a series than have two back-to-back.
Yeah yeah yeah, commercial concerns and all that. We get it. But we also don't give a shit about that.
Let us spell it out clearly and simply: the Ashes is a big deal because it is an event. That's the whole fucking point.
It's not about England v Australia. That's why no-one gives a toss about these one-day matches. The Ashes is special because it doesn't happen every day. Looking forward to it is half the point.
You can't have the best thing all of the time because it rapidly becomes devalued. Too much of anything and it becomes mundane.
Any idiot knows that your 10th slice of cake isn't as good as your first. And don't you dare disagree – we're not in the mood. Eating cake all the time would be fun for about half a day. Then it would be boring. Then it would be miserable.
What possible excuse can you give for having the same two teams play 10 Tests in a row against each other?
Let's ask ECB marketing boss, Steve Elworthy. Why, Steve? Why?
Why the fuck are you ruining one of the last decent events in cricket?
"It's important to maintain momentum."
Jesus. This is what we're up against.
We are completely fucked. Cricket will be dead within a decade.
27 Appeals
16
Three of the least cricket people you could ever imagine. One guy had been explaining how he could never move abroad because he'd just bought a 50 inch plasma TV.
Here are some sample quotes.
"It's like the World Cup, but the Ashes is only ever played between England and Australia. It lasts for weeks and weeks and it's all one thing. This last one that's just finished – with England beating them down there after God knows how many years – it was ab-so-lute-ly mag-NIFicent."
"You know me, I'm not into sport, but this Ashes was just magic."
"The one-day stuff that's happening now is good, but with all the different types of bowlers and the field changes and that, an Ashes series is something else."
Bet these guys have never taken part in market research carried out on behalf of the England and Wales Cricket Board.
Casual cricket fans giving the impression that it's the nuances of cricket that are the real draw? Don't they want 'maximums' greeted by upbeat pop music (the sporting equivalent of sitcom canned laughter)?
Are they SURE they don't want that?
16 Appeals
15
It's not cool to say that. But we're not cool. We once did a live Twitter review of a cricket computer game while drinking real ale.
On the face of it, picking a Test side is simply a matter of finding your 11 best players and then saying their names out loud in front of some microphones, but in reality there's far more to it than that. We'd say England's selectors got it bang on leading up to and during the 2010-11 Ashes, so hats off.
Ian Bell at six?
Not strictly speaking a selectorial decision, but linked. Some people will say that Ian Bell should have moved up the batting order and while we think that's ultimately a good idea, it wasn't a bad move to leave him at six in this series.
England traditionally use number six as a dumping ground. All-rounders, wicketkeepers and debutant batsmen slot in there and four wickets down so often seems like it's going to be five wickets down.
In the fifth Test, England lost their fifth wicket and because there had been a nightwatchman, Ian Bell strolled out in the form of his life. How dispiriting must that have felt for the Aussie bowlers? Bell promptly hit a hundred, as did Matt Prior, batting at eight.
That they achieved this from down the order probably had more impact than if they'd been batting at four and five. Plus, it didn't undermine Paul Collingwood, which was wise (even if it didn't actually work out in practice).
Dropping people
Ian Bell was in the side after a famously galvanising dropping. The same thing happened to Andrew Strauss. In effect, selection decisions made good players better.
Perservering with people
Alastair Cook HAD to be dropped before the Ashes, according to quite a large number of people. We disagreed and so did the selectors – thank Frigg.
Selection and rotation of bowlers
Chris Tremlett – masterstroke. Tim Bresnan – masterstroke.
Picking the right players in the first place
James Anderson could have been abandoned plenty of times in years gone by. Graeme Swann was actually quite a leftfield selection when he first appeared.
Matt Prior was identified as England's wicketkeeper some time ago and has ridden it out, even though barely a day goes by without someone pushing some county keeper's case on the grounds that he hit a six in a Twenty20 match once. Foster, Kieswetter, Read, Davies? None of these would have been a patch on Prior in our opinion.
The players made the selectors look good, but the selectors allowed them to do that.
15 Appeals
33
Bert writes:
Ged has proved that life is better explained by diagrams, so I've made a graph.
It shows the innings scores from this Ashes series. The fall of wickets is indicated by numbers. I've used blue for England because they play ODIs in blue, and yellow for Australia because they play all their sports in green and yellow.
It is a thing of beauty, possibly the single most beautiful image ever created that doesn't involve a cricketer straddling a hairy pig. When it was completed, I had a little cry. I followed that with twenty-five minutes of laughing.
Analysis abounds, but my favourite is that every time England reached 300, they also reached 500. In fact, Australia took only six wickets in that range in the whole series.
This is in diagram form what KC said the other day (or last year, depending on when he posts this) about England being ruthless.
My other best graph-fact is that if you examine it carefully you can just about see that Australia are rubbish.
No doubt people can find their own little favourite bits. That's the thing about great art – it has something for everyone.
33 Appeals
39
Beer sales are down. Moisturiser sales are through the roof.
The metrosexualisation of Australian society has damaged the cricket team immeasurably.
No-one eats steak any more; they all eat scallops in an Indonesian-style jus. When Simon Katich isn't in Sydney, male body hair in the city is down by a quarter.
In a recent survey, Australia was voted the ponciest country in the entire wo-
[Hubris overload. Hubris overload. Abort post. Abort post.]
39 Appeals
10
On balance, you would have to say that this tour of Australia probably went a bit better than expected.
Which is better: winning or doing it in such a way that Australia look shit?
Don't answer that. You don't have to. You can have both.
10 Appeals
85
We've always asked that England become more ruthless. Now it seems to be happening and by the jackal head of Anubis it's a good feeling.
England have been good before, but in continually passing 500 and repeatedly recording innings victories over the course of the 2010-11 Ashes, they've added something new – a delightful lack of empathy for the opposition. They're like sociopathic surgeons – skilled and utterly devoid of guilt, compassion or remorse.
Maybe it stems from the fact that they themselves have plans for when things go wrong these days.
If you've made the effort to work out ways to take wickets after the shine's gone off the new ball, why should you feel sorry for a team that doesn't seem to bother to do that?
If you can change half your first-choice bowling attack and still have a guy like Chris Tremlett narrowly missing a hat trick despite a near-perfect third delivery, why should you give a toss when the opposition loses a captain or an opening batsman to injury?
No international cricket team deliberately goes easy on the opposition, but they don't always play as well when they're 400 ahead as when the scores are level and the adrenaline's pumping.
85 Appeals
8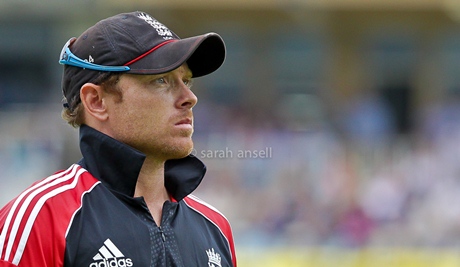 It's always tempting to judge players on their best days, but with anything long-term – a cricket career, a relationship, an overnight stint watching the Ashes on TV – a better form of evaluation is to look at what happens when things aren't in your favour.
You learn a lot about a person when everything's gone to shit. Score 220 not out or take 6-40 and you've done something that will probably win a Test match, but those days are few and far between. That's not what life's like.
Life's not chocolate and rainbows. Life's a long, hard, unremitting slog where everyone's out to get you and nothing goes right. Life's mostly about turning bowled for a duck into caught at slip for 62. It's about turning 0-120 into 2-60.
Sure, making the most of the high points is part of it, but in the grand scheme of things, every moment counts. Waiting at the airport is part of the holiday. That's your lot. Make the most of it.
Ian Bell
The hundred today isn't the best example, because when he came out to bat, he joined a batsman who was already into treble figures, but generally, over the last year or so, Ian Bell's improvement has been about being better on his bad days.
Last winter in South Africa, Bell started doing the job. It wasn't beautiful shots and a flawless hundred that won people over, it was a five-hour 78 to help save a Test.
James Anderson
James Anderson's swing bowling will still claim its fair share of headlines, but that's not the measure of the man. The reason why he's now one of the best bowlers in the world isn't because of that, it's because he's flattened out the troughs.
Where once it was a few overs of swing and then ball retrieval from the wrong side of the ropes, now reverse swing and containment are the fallbacks.
With both these players, the focus remains the same, but the picture as a whole has changed.
8 Appeals