Retirement
12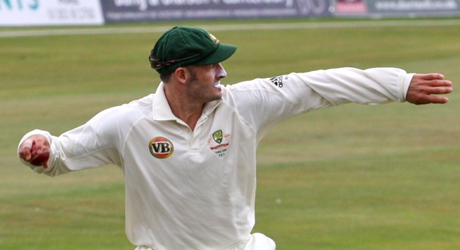 What happens to Mike Hussey's nickname now? Can you call someone Mr Cricket if their job is to inspect construction projects to confirm they comply with building regulations? We're assuming that's the kind of thing Mike Hussey will do after retiring – something dull that will allow him to be irritatingly officious.
He's been a surprisingly good international cricketer though – he'll always have that. People don't generally remark on Hussey's record that much because there's always been a feeling that he was going to have a brief, statistically freakish Test career after only being capped at the age of 30. However, he's actually hung about to the point where he's played 78 Tests (it'll be 79 if he doesn't contract pleurisy or something before the New Year Test).
To put his career in perspective, only eight Englishmen have ever scored more than his 19 Test hundreds and he's managed to average over 50 in a side that has frequently been utterly toss. He should probably get extra points for that. Unlike some of his predecessors, he's actually had to do some bloody work rather than just mincing his way towards declarations.
Hussey also carved himself a highly unlikely short format career as a 'finisher'. It's quite a CV. Hopefully that will count for something when he's job hunting next month. Bet he's picked out his interview tie already.
12 Appeals
24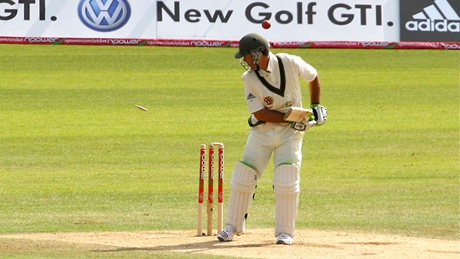 Take a look at this face. Tell us you don't instantly hate that face. You could pretty accurately track the progress of Ricky Ponting's career by our opinion of his face at various points in time.
It started badly. He made his first Test hundred in his first Ashes innings after Australia had been 50-4, so basically there was a strong desire for smug smile removal from the outset. However, it wasn't until around 2005 or 2006 that we wanted to plant our fist in his face with the most force.
Was the 2005 Ashes the turning point?
We can't quite work it out. He'd hit six hundreds in 18 innings in 2003, en route to a higher plane of obnoxiousness and he arrived in England in 2005 with us feeling much the same about him. Looking back, we're aware that the more Ponting's Australia lost, the more we warmed to him, but we're not entirely convinced this phenomenon was really all that noticeable following this series.
Maybe the first intimations of likeable qualities had been identified, but it can't have meant much as it was only a year later that England were mullered in Australia. This was also when Ponting's batting average reached its peak of 59.99 after scoring 142 in that bloody Adelaide Test.
Ricky Ponting's batting average
Let's try and forget just how fantastically irritating Ricky Ponting could be for a minute and instead consider that average. He retires with an average of 52.21, which is amazing, but leaves him immediately behind Mohammad Yousuf and with a fair few others above him. Had he retired in 2006, he would have been fifth. Crucially, he would also have played 53 Tests more than the most capped player above him.
That speaks of astonishingly prolonged consistency. That Adelaide hundred was his seventh of 2006 in eight Tests up until that point. Make no mistake, Ricky Ponting is a driven and extremely talented man.
Then what?
Then he went downhill a bit. Like many great batsmen, he probably had more confidence in himself than was actually warranted. That protective delusion is what gets them through the tough times, but it's also what can keep them hanging around, oblivious to the fact that everyone's enthusiastically clouding the vicinity with liberal quantities of Febreze.
This is when he won us over a bit though. He was a captain and a player who'd never really encountered tough times before, cricket-wise, and it was admirable to see that he wasn't a shirker.
His limitations as a captain were being exposed and his batting was deteriorating, but in a way this highlighted other qualities. The man is resilient and he feels a sense of duty. He's also fairly plain-speaking and honest and he loves cricket.
So, it turns out Ricky Ponting isn't a complete tool. It's just that he managed to keep this fact concealed from us for the first 14 years of his career.
Some more stuff about Ricky Ponting
Here are some links that we can't be bothered working into the main text. Don't feel you have to read them, but they might be welcome if you're avoiding doing work.
24 Appeals
44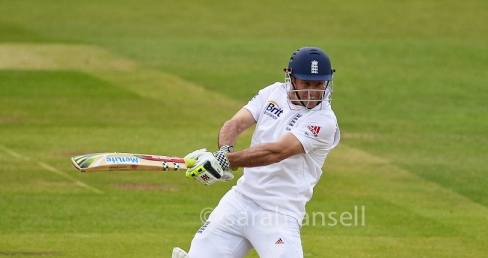 Andrew Strauss retires from cricket. If Nasser Hussain was 'do as I say' and Michael Vaughan was 'relax and play how you want' then Strauss was 'for Christ's sake, don't do anything silly'.
He was a bit establishment for our tastes and his interviews were even more bland and predictable than his on-field decisions, but people involved with the England team rate him highly and they know him better than we do. There's also the simple fact that England won a great many matches under his captaincy and that is, after all, the entire point.
The Ashes victory in Australia was clearly the high point, but he also ensured England were all but unbeatable at home during his tenure. That changed this summer and this is significant. It's hard to avoid the sense that everything's kind of falling to pieces at the minute. Many have pointed out that few captains leave on a high, but there have been smoother handovers. Cook finds himself with a great deal of work to do.
In many ways this is a further test of Strauss's captaincy. The on-field stuff's finished, but the long-term planning for which he is so well-regarded will continue to come under scrutiny. The succession-planning has already given England their next captain, so that bit's better than usual. However, set against that is the fact that the team are losing and have lost a major player because they couldn't find a way of getting on with him.
This isn't to nitpick. It's just to point out that long-term planning isn't a matter of aiming for an Ashes series and clapping yourself on the back if you win it. If you're an England captain, it also involves ensuring the house isn't a complete shit-tip for the next tenant.
We're disappointed at the nature of his exit, because the drama and goodwill that ensues masks failings and means he doesn't have to answer for the side's deterioration over the last year. However, overall, we are very happy with Andrew Strauss's performance as England captain. We'll give him a B+
44 Appeals
14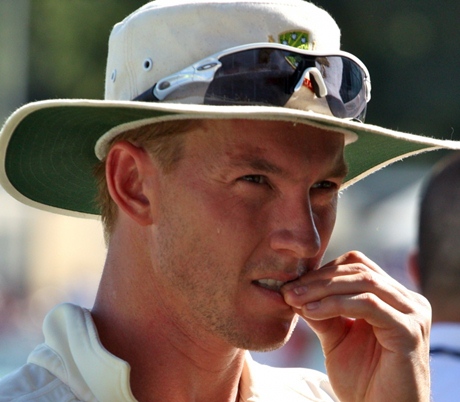 Test bowling average v England: 40.61 – what's not to like?
Yes, it's one of those weird statistics, but Brett Lee actually wasn't all that destructive in the Ashes. There was theatre and tension every time he came onto bowl, but all that happened was that the batsman thought: "Ooh, something's happening here. Better sharpen up." Maybe the adrenaline helped them cope.
Because there was adrenaline for all of us. That was Brett Lee's main attribute: he was undeniably a fast bowler. He was skilful, yes, but pace was his defining quality. Not the half-arsed, fly-by-night, four-over pace of a Shaun Tait, either. This wasn't gym muscles pace. It was sustained pace borne of athleticism and that weird mentality found in only true fast bowlers.
Fast bowling isn't just about speed. It's about scaring people. It's about looking like you're genuinely trying to hurt them and sometimes succeeding. It's also about sacrificing your own body to achieve that aim. Fast bowlers have a primal blood lust that monopolises their minds and all other thoughts and considerations cease to exist when they run in to bowl.
Fast bowling is amazing. Simply handing the ball to someone like Brett Lee in the middle of a sleepy afternoon session is enough for people to put the newspaper down and start watching. Fast bowlers bring corners and U-turns to predictable narrative, so you HAVE to pay attention.
If you can be a fast bowler, provide all of that and yet not actually do all that much to help Australia win the Ashes, you are absolute gold.
14 Appeals
19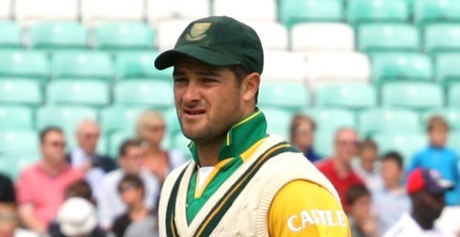 When someone retires, people are generally supposed to focus on that person's attributes and this has been particularly true for Mark Boucher after his career was ended by a horrendous incident where a bail cut his eyeball. However, here at King Cricket we don't have all that much lyrical waxation for Mark.
It's not that we don't like him or don't rate him, because we do. It's just that from our perspective his career has been characterised by low-key solidity and visible effort. We found him worthy and committed, but not especially eye-catching at any one moment.
We remember him best for the lesson he taught us about English wicketkeepers. His first tour to England was in 1998 and his wicketkeeping was bloody awful. It occurred to us afterwards that if he'd had to play half his matches in England, he'd have been dropped very early on in his career. This is a man who ended up with 999 international dismissals, so maybe we judge English wicketkeepers too harshly in what are trying conditions.
As a batsman, he was reasonable, but with the priceless quality of always appearing to be doing his absolute best. Having people like that in the opposition gives a match integrity and status. That is vital for spectators, so thanks for that Mark, and we do hope you recover okay.
19 Appeals
13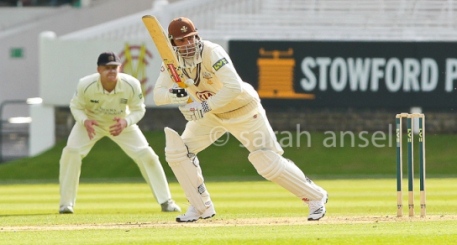 We long ago had our say about whether Mark Ramprakash could have been an England great if he'd been treated differently. Our stance is: 'Well maybe, but that don't change owt'.
Today, for once, we'd like to focus on what he DID achieve, because that was pretty extraordinary. Scoring 2,000 runs in a season again and again and hitting a hundred first-class hundreds. Batsmen like that don't come around too often. Mark Ramprakash should be lauded without reservation.
Competing in a different event
If you look upon county cricket as being something separate, rather than being a step below Test cricket, then Ramprakash is all but peerless. We're aware that view doesn't entirely stack up, but at the same time, there are plenty of Test greats who couldn't achieve what he did.
There's a big difference between hitting an immaculate cover drive and compiling a century and there's a similar gap in achievement between hitting 30 first-class hundreds and 114. The latter takes astonishing durability, endurance and relentlessness – not to mention a certain level of outright superiority for an extended span of time.
Mark Ramprakash hit two Test hundreds, but that was kind of a bonus. Hats off to one of county cricket's greatest batsmen.
13 Appeals
20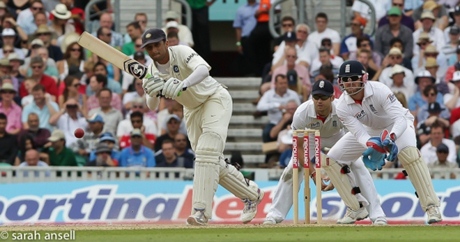 Looking through the archives, we've written surprisingly little about Rahul Dravid. Many of his best innings predate the site and also – partly as a result of that – we've always just assumed that everyone knew how good he was.
Forward defensives
They call him The Wall. It's meant as a compliment, but it misses the point. Walls do a job, but they're unremarkable and limited. You can paint them and dress them in wallpaper, but they basically do just one thing. If Rahul Dravid was just a guy in a helmet playing immaculate forward defensives, he would never have hit 13,000 Test runs and 10,000 one-day international runs.
Attacking shots
Dravid provided one of our formative cricket-watching experiences, if there is such a thing. It was a 1999 World Cup match against Sri Lanka when he and Sourav Ganguly shared a ludicrous partnership that took India from 6-1 to 324-2. Dravid was run out at that point and Ganguly then started hitting sixes to reduce Dravid's 145 to 'support act' status. That was so often the case. Best bridesmaid ever.
Subtle shots
Dravid could do things that no-one else could do. When it comes to batting averages, not every innings is equal. The last year or so of his Test career shows this as well as anything. There was a hundred in tough batting conditions in the Windies and then three in England against some very, very good bowling. He got his fair share of double hundreds, but his Test average of 52.31 was built on innings where the value was greater than the numbers might make you think.
At Nottingham, some of his singles required more skill and timing than 99 per cent of the boundaries that we see and with the going tougher than old biltong, they were arguably worth more too. It was batting for cricket connoisseurs: skill, experience, dexterity and intelligence changing people's perception of what was possible in that situation.
His 146 not out at The Oval – carrying his bat as a stand-in opener – was almost as impressive in its own way. Faced with an England first innings score of 591-6, Dravid's fellow Indian batsmen were showing all the resilience of a spaghetti portcullis. That can be infectious, but Dravid not only refused to get out, he showed younger team mates precisely how much better a batsman could be.
Just a Test cricketer?
There's a case for saying that Rahul Dravid has as much batting experience as any player in history. There are batsmen who've played more Tests, but his career has also coincided with the era of the one-day international and the rise of Twenty20 (in which he has held his own).
It's hard to imagine there's a situation in cricket that he hasn't faced. 120 to win, three wickets in hand, cloudy conditions, fifth day pitch, left-arm quick round the wicket? Yep, been there. 15-overs to go, run-rate eight-an-over, flat pitch, 40 degrees, finger-spinner, field spread? Yep, been there too. Been everywhere. Seen everything. Know what to do.
Maybe this is why it's time to go. It's great for fans to have a barometer of class; a tool which allows them to gauge how well everyone else is batting; but what does Rahul Dravid get out of playing on? We reckon he could bounce back from a poor tour of Australia, but why bother? He's 40 soon and there's virtually nothing left for him to see or do as a cricketer.
He's smart as hell and speaks better and more thoughtfully than most people on earth – maybe he can set the standard in some other way. We'll still miss him though.
20 Appeals
15
Retiring from cricket at the age of 40 is a bit like dying at a grand old age. People naturally focus on what's fresh in the memory.
People remember your interests as being duck-feeding and ailment comparison with your peers, even though you were once a fighter pilot and later invented cling film.
This is the case with Dominic Cork, who's developed a bit of an ageing rocker vibe about him, with his refusal to bow to age. The man's had an entire cricket career since he finished playing for England.
But it's his performances for England that we'll remember, even though he played a lot less than you might think. He took 7-43 on his debut and took a hat trick a couple of matches later. Noteworthy achievements.
Significantly for us, he also played a major role against the West Indies in 2000. Cork's blinding innings in the second Test really cemented our love for cricket. That's how we'll remember him.
15 Appeals
6
Sanath Jayasuriya has finally bowed out of cricket just three days short of his 70th birthday. He departed how he had thrived, with a ferocious cut shot.
Asked to reflect on his career, Jayasuriya may or may not have said:
"Eh? What? Speak up. Why does everybody mumble these days? Is it too much to ask that people speak clearly and audibly? You're all too busy playing with your iTelephones and Sony PlayMachines to enunciate properly. What's the world coming to? Bring back conscription, that's what I say."
6 Appeals
15
The days of Gentlemen and Players are long gone, but Paul Collingwood would have been the latter – a man who never lost sight of the fact that it was all about scoring runs; taking wickets and catches; and occasionally missing the ball often enough that your team salvaged a draw.
He was a state school batsman where his contemporaries were generally more privileged or from overseas, so he was our representative in the top six. And maybe it all goes back to that era of Gentlemen and Players, but he was subtly patronised by the public school, brahmin-esque cricket establishment for much of his career. He 'made the most of his talent' they said. He didn't have much style.
Substance
Let's get something straight: batting is about scoring runs. If you score runs, you are a good batsman; if you don't score runs, you aren't a good batsman.
Suggestions that Paul Collingwood 'got the most out of his talent' so that he could score more runs than 'better' batsmen are spectacularly illogical. Getting the most out of his talent is what made Paul Collingwood a better batsman than all the weak-willed stylists and technically correct teasers who trailed in his wake. Every international cricketer should make the most of their talent. That should be a given.
What is style, anyway?
Why should one stroke be more aesthetically pleasing than another? Is there something inherently beautiful about a textbook cover drive or do we learn to appreciate it because of what we hear from other people? Off-side strokes are invariably considered more stylish than leg-side strokes and this arises from the fact that the amateur Gentlemen of yesteryear played into the off-side having been brought up on true pitches, while the Professionals worked the ball to leg, because it was all about the runs.
Paul Collingwood was all about runs.
In India
It was in Nagpur that we realised that Paul Collingwood brought more than just 'a bit of ginger' to the team, as he had once claimed. He scored 400 runs at 57.14 in India, which is better than almost every English batsman who's ever gone over there. That Nagpur hundred held England together.
In Australia
Forget the 2010-11 series. In 2006, an Aussie paper called him England's worst ever number four. A lot of people said he was out of his depth. Paul Collingwood promptly scored 206.
Far from being out of his depth, Collingwood showed that he was in fact the complete antithesis of the spineless Pom who crumbles at the first 'g'day'. It should have been no surprise. When he and Alastair Cook had both scored hundreds against Pakistan earlier in the year, Cook had revealed how Collingwood had kept the score ticking over when he himself couldn't even get the ball off the square.
Cook was openly admiring Collingwood's ability when he said that, but memories are short when it comes to Paul Collingwood. Where a poor series for some batsmen would be branded 'poor form', Collingwood was more likely to be dismissed with a curt 'he's crap'.
The grit
You can't talk about Colly without talking persistence of motive and effort – grit.
Great bowling? Duff pitch? Impossible match situation? Personal poor form? All water off a duck's teflon-coated umbrella to Paul Collingwood.
He was in dire form against South Africa in 2006 and about to be dropped. In what had appeared likely to be his last Test innings, he worked his way to 94 not out.
Kevin Pietersen had been dismissed going for the glory hundred when on 94 earlier in the day. Did Collingwood learn from this? Yes, of course he did – he learnt that you should middle it when trying to reach your hundred with a six.
How dour and functional of him.
More obviously gritty were the four-hour 74 at Cardiff in the 2009 Ashes, for which every England fan will be forever grateful, and the even more gloriously lumpen twin innings in South Africa that also led to nine-wickets-down draws. A 99-ball 26 at Centurion and a one-man leaving/missing case study at Newlands that saw 40 runs scored in more than four and a half hours.
Apologies if you think this post is a bit long, but we've always wanted to do Paul Collingwood justice because we feel like other people won't. Frankly, he's one of our heroes.
15 Appeals