IPL
25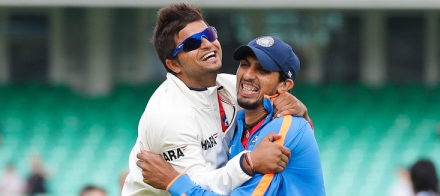 Our friend who was once known as Uncle Jrod has written a piece for Cricinfo about the impact of the IPL on India's Test performances. We can't work out whether he's been done up by the site's subeditors or whether the headline and teaser are part of the general mischievousness of the piece. Probably the former.
Blaming the IPL for India's Test defeats is tired, easy and to a great extent wrong. It's one aspect of a bigger picture. As Jarrod is at pains to point out, the lack of first-class cricket is probably the bigger problem, even if the IPL contributes to that. There's also the fact that this is nothing new. India were weak away from home and lacked reliable pace bowlers long before the 20-over format became such a huge, stinking beast.
But this isn't actually what we want to talk about today. One passage in the article reminded us of something we've been meaning to say for a while.
"Umesh Yadav is big and strong. He's the most moose like of Indian quicks. His strike rate is amazing. His pace is impressive. Dhawan at slip goes low, the ball hits the middle of his hands, he roles forward athletically. But it's kind of a mirage. It's the best of India, and what they can do. But not often what they do."
Oddly, our focus here is not Umesh Yadav's moose-like qualities, nor the misspelling of 'rolls'. No, it's actually a key difference between Twenty20 cricket and Tests. We think we've got this idea clear enough in our head that we can get it across in a couple of sentences, so we'll give it a line all of its own and maybe even put it in bold.
Twenty20 is about what you might do. Test cricket is about what you will do.
To help us outline our point, India have helpfully recalled Suresh Raina to their Test team. He seems as good a player as any to use as an example.
Raina might hit a hundred in India's first innings. Make no mistake, he's a player who sometimes comes off and when he does, it's eye-catching. Thing is, he's not what you would call reliable. He averages 28.44 in Tests.
In Twenty20, what you might do is useful. Most innings feature a lot of batting failures – it's the nature of the format. If five batsmen fail and one makes a hundred, you'll probably win. Failures are less costly because wickets don't always affect the outcome of the game. You can afford to select a whole bunch of high-risk, potentially high-reward batsmen because doing so isn't actually risky at all. In 20 overs, there's always another batsman to come in.
In Test cricket, wickets define the game. If five batsmen fail, you're conceding an awful lot of ground. You simply can't afford to carry too many people in a Test match because everyone's needed. Consequently, it doesn't pay to select players on the basis of what they might do. Far better to choose on the basis of what they (probably) will do.
While there's huge overlap in the qualities needed to succeed in both formats, there's also a fundamental difference. The ability to maximise what you can get from a finite number of deliveries is not the same as maximising what you can get with time constraints of minimal importance.
People get confused though. As Twenty20 leagues get more coverage, perception is skewed. A handful of match-winning innings will always draw more attention than a whole slew of solid but unremarkable ones and the players who deliver the former are more likely to get talked up. People say these players have more 'ability,' but this overlooks the fact that it is often high-risk, high-reward ability in a format that rewards such an approach.
Funnily enough, India are actually pretty good at distinguishing. Cheteshwar Pujara, Ajinkya Rahane and Lokesh Rahul weren't elevated to the Test team off the back of intermittent Twenty20 overachievement, which is another reason why it's misguided to blame the IPL for away Test defeats. Or at least it was. Now Suresh Raina's back and he seems to owe his selection to his proficiency at a high-risk, high-reward style of play.
Maybe Raina can adapt. Only time will tell. He might well score a hundred tomorrow. But then again, long-term Test success is never built on what you might do.
25 Appeals
12
Thank you, the IPL, and Lalit Modi specifically, for introducing us to this phrase. It appears to be Modi's main defence in misconduct charges related to bid-rigging, 'arm-twisting' and summat to do with the sale of TV rights.
It basically boils down to: "He's well got it in for me," and is aimed at Arun Jaitley who was one of those who prepared the report.
Jaitley is apparently a big supporter of BCCI president N Srinivasan and Modi has taken issue with Srinivasan having a conflict of interest, being both a team owner and administrator.
The whole investigation would appear to be some sort of exercise geared towards working out just what degree of corruption should be considered acceptable within the upper echelons of Indian cricket. Imagine a group of burglars meeting up to discuss whether or not they should draw the line at stealing children's toys and you're halfway there.
12 Appeals
16
The worth of a Twenty20 player cannot be measured via a single innings. That's a mistake many people make – they confuse aberrations with excellence. It's therefore worth underlining the sheer inevitability that it would be Chris Gayle who would break the record for the highest individual score in the shortest format.
It doesn't actually matter all that much that he was facing Ishwar Pandey, Ali Murtaza and even an over from Aaron Finch (although Luke Wright's four overs for 26 look pretty fine in this context). Whoever was bowling, it takes phenomenal ability to hit 30 of the 66 balls you face for boundaries. As a child, we never once managed it when bowling a tennis ball to ourself via the wall of the garage and we were bowling underarm and umpiring as well.
Gayle finished with 175 not out, having hit 13 fours and 17 sixes in another good advert for his core strength. His team, Royal Challengers Bangalore, won. You may well have guessed that last bit.
16 Appeals
10
Since they added extra teams, the IPL now takes even longer to take shape. Relatively speaking, it's still early days, but thankfully one team is doing badly enough that it is actually worth remarking upon. Step forward Delhi Daredevils.
After helping Delhi Daredevils to their feet again, we examined them closely and we can exclusively reveal where they're going wrong.
Delhi Daredevils on paper
However, let's first take a look at what's right, because they're not short of good players and they actually topped the league last year, even if they didn't win the competition.
They have Morne Morkel, who was the top wicket-taker in 2012 and he's supported by some of the better Indian seam bowlers, such as Ashish Nehra, Irfan Pathan and Umesh Yadav. Opening batsmen are critical in Twenty20 cricket and Delhi have Virender Sehwag and David Warner who are then followed by Mahela Jayawardene further down the order.
It's all good, right?
It is NOT all good
Take a look at Delhi's squad and there he is, stinking up the place like a medium-paced chunk of ancient cheese that someone's been sick on. Delhi have the right to field the 35-year-old innocuoso, Ajit Agarkar.
He may not be playing, but it's hard for any player to avoid being tarred by association. If Agarkar's in the Delhi squad and you're in the Delhi squad, that makes you equals, which means you must embrace mediocrity with all your heart. Every time he turns up for training, he's lowering the bar with his filthy long hops, bringing everybody down.
Frankly, we won't be surprised if Delhi fail to win a single match this year.
10 Appeals
17
We selected a fantasy IPL team on Cricinfo and were about to set up a league so that people could compete against us when we suddenly thought: 'No, wait, this is bollocks.'
Do you want to know who the best players are for a Cricinfo fantasy IPL team? It's whoever happens to be playing today. That's the game.
You have a ridiculous number of transfers open to you, so the game is basically just to go into your account daily to transfer players. It's not about picking guys you think will perform well; it's about staying on top of things. It's about checking the fixture list and ensuring you have the maximum number of players appearing each day.
You know you're having a bad week when you're this angry about the rules of a fantasy IPL game. You might say we should get some perspective, but that isn't the problem. This isn't what we're annoyed about. This is just overspill.
17 Appeals
27
Let's start slowly. We've plenty of time. Two things for now. More may follow.
1. Adam Gilchrist is playing
Adam Gilchrist is about 110 years old. More importantly, he is not a cricketer. He was once, but he isn't any more. No cricket competition should field people who aren't cricketers.
2. Six terminology
We've come to terms with sixes being referred to as 'maximums' even if we get MASSIVELY ANNOYED when someone calls fours 'boundaries' in such a way as to imply that the two words are synonyms. They aren't. A four is a type of boundary. A six is still a boundary as well. It's not 'sixes and boundaries'. That makes no sense.
But that's not our point. Our point is actually something we're slightly less annoyed about. On the homepage of the IPL website, they list 'IPL leaders'. These are the players who have scored most runs, taken most wickets and so forth. One of the categories is 'maximum sixes'.
Firstly, this mashes together two terms for the same thing, but more importantly, they aren't listing the players who've hit maximum sixes, because no-one has hit the maximum.
Chris Gayle hit the most in 2012, but he also played out plenty of dot balls and ran a few singles. He therefore cannot have struck 'maximum sixes'. He spurned literally hundreds of opportunities.
We're happy for the 'maximum sixes' category to remain, but only if it features no players whatsoever.
… and one thing that's right about the 2013 IPL
Royston Dias might play and all sports competitions are greatly improved by the inclusion of players with funny names.
27 Appeals
17
If you've missed or boycotted this year's IPL, you have only missed one thing: Sourav Ganguly's hair.
Young Sourav brought himself on to bowl against Delhi and promptly bowled Kevin Pietersen first ball. He then went on a raised-fist jaunt across the field sporting a bizarre bouncing flap of hair.
The image we've linked to above simply doesn't do it justice. It was like he'd slept in a pool of Rogaine which had affected only one side of his head, giving rise to a huge wedge of hair, far longer than the rest, which was reaching out to the world, eager for new experiences.
Sourav has a history of bad hair. For a time, he was doing that thing where men shave too high so that their hair line goes up from the ears towards the eyebrows. It made him look like he had learning difficulties.
Update: Here is the full horror in video form. (Thanks to Deep Cower)
17 Appeals
2
It's nice to see bowlers being decisive in a Twenty20 match. Far too often they might as well just glue different mugshots onto a bowling machine and use that instead.
In the Champions League final, Mumbai successfully defended 139. For a large proportion of the match, the commentators were talking up Chris Gayle and how amazing a Twenty20 batsman he is. Gayle is amazing, but he specialises in hitting sixes slightly more frequently and slightly more reliably than other six-hitting batsmen. It might seem like he's the perfect Twenty20 player because of that, but even the sport's ball-whoppiest format presents different challenges from time to time.
Gayle was actually dismissed by Harbhajan Singh, who finished with the best figures (3-20), but it was Lasith Malinga who stood out, not least because he'd also seemed like a monumental stumbling block for Somerset in the semi final.
In that match, the Zoidermen had needed 29 runs from 18 balls, 12 of which were to be bowled by Malinga. Based on how he was bowling, they basically concluded that they needed to score 14 off his two overs and 15 off the other, no matter who bowled it. Some have been at pains to stress the importance of James Franklin's performance, but we'd give half the credit for that over to the Malinga-enforced run recalculation.
2 Appeals
22
We've seen a handful of games where one team needs a six off the final ball to win – it's hard to beat. We'll talk you through the climax of Bangalore's win over South Australia in the Twenty20 Champions League:
Some Aussie guy ran in and bowled and Bangalore's wicketkeeper tonked it for six. Then some other Aussie, an older one, had a bit of a cry into his hat. Then all the Bangalore players did some jumping.
After that, there was a bit of talking and a microphone was held in front of the faces of several players, one of whom was wearing glasses. A man in a suit held a massive cheque. Then there were some adverts.
22 Appeals
5
Those who suggest we might have lost track of the IPL during the league phase may have a point.
We were at a friend's house yesterday and he switched on the IPL, asking: "Is this important?" to which we answered, with some confidence: "No."
Turns out it was important and we were also wrong about which team was going to win. Chennai Super Kings, who came second in the league, go through to the final, but Royal Challengers Bangalore, who came top, still have another chance. They will play the winner of the third v fourth match which takes place today.
This system for how four teams can be reduced to two finalists is a good one. It's a shame it's undermined by the plodding league that precedes it. King Cricket's IPL-related search traffic is about a fifth of what it was in mid-April, so that's not just our opinion.
We're going to make use of play-offs when we're choosing from menus in the future. There has to be a better way than 'thinking about your decision'.
5 Appeals