Animals being conspicuously indifferent to cricket
11
Balladeer writes:
Recently my friend acquired a budgerigar, named Amigo.
The second photograph I saw of said budgie was this: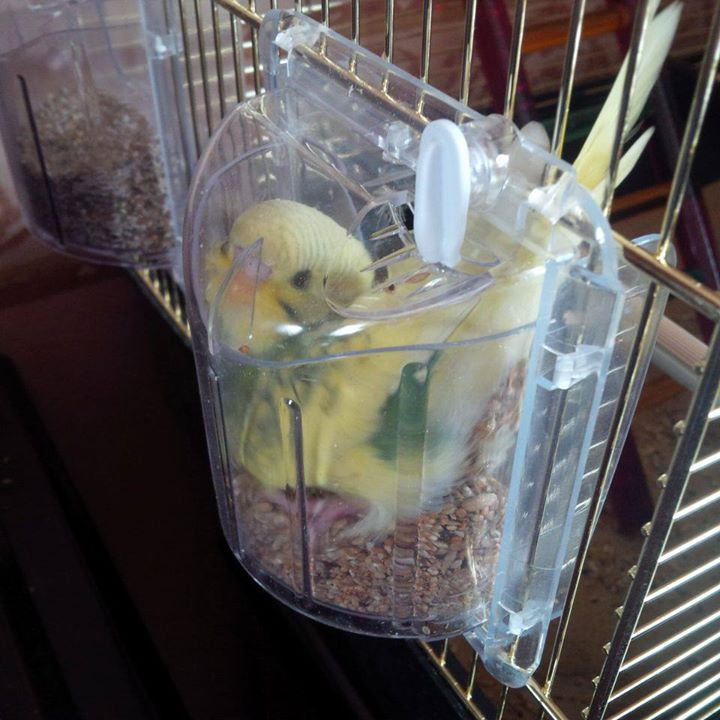 Crammed himself into his feeder. An Australian species of parrot, wearing the green-and-gold, with David Warner's intelligence. Could you get more of an obvious Australian fan?
I asked my friend to provide a picture of the budgie's reaction to some Aussie cricketing news, to prove it.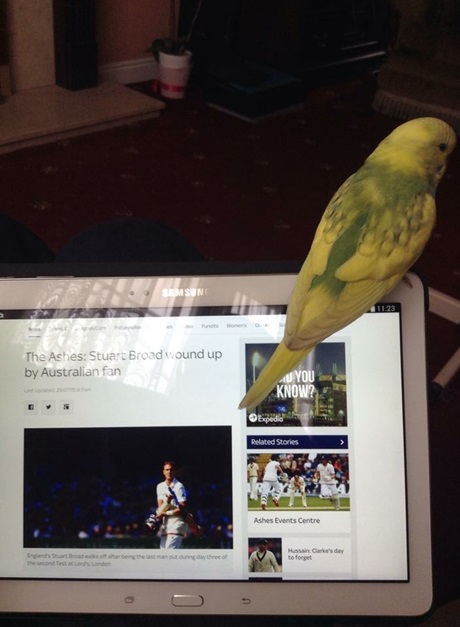 Results so far are inconclusive.
If you've got a picture of an animal being conspicously indifferent to cricket, send it to king@kingcricket.co.uk.
11 Appeals
14
Dandy Dan writes:
These are my two labs, George and Rufus.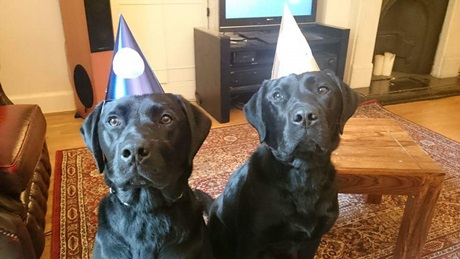 They're just over one year old. I've been meaning to introduce them for a while but I've been busy.
Anyway, their thoughts about Gary Ballance being dropped are difficult to ascertain.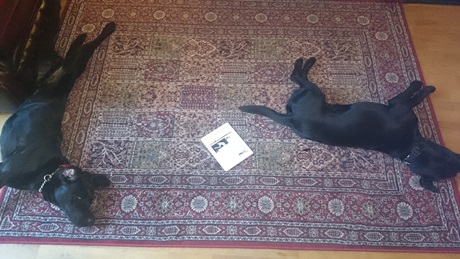 They simply don't appear to be interested.
If you've got a picture of an animal being conspicously indifferent to cricket, send it to king@kingcricket.co.uk.
14 Appeals
14
Lemon Bella writes:
As is customary at times like this, cricketing greats of the past must come out of the woodwork to pass opinion on the breaking news of the day. Therefore I found it necessary to consult StraussCat regarding the retirement of Graeme Smith.
He wasn't particularly interested when I told him the news, but his indifference reached a peak when I showed him all my match tickets from the summer Indian Skimmer and I spent following Graeme Smith around England.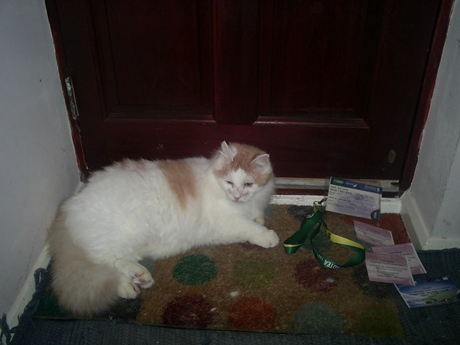 Look! There's even a South African lanyard he could have played with, but he chose to ignore it.
He got up and walked away when I told him that the Test match ticket was for the day before Graeme scored his awesome 154 to win the series.
If you've got a picture of an animal being conspicously indifferent to cricket, send it to king@kingcricket.co.uk.
14 Appeals
13
Ed writes:
Please find attached a picture that seems to tick all the boxes. Found it while going through some old pictures yesterday.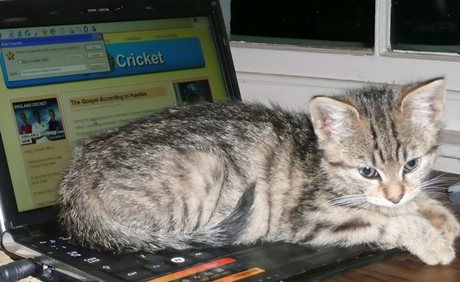 The kitten was called Mandy and is sadly no longer with us.
13 Appeals
25
You may remember our cat, Monty. Here he is being conspicuously indifferent to cricket a few years back. He's actually sitting on the cricket pages, the heathen.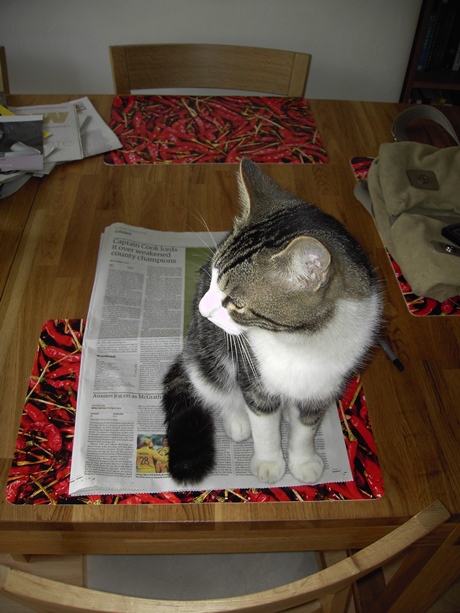 What you might not know about Monty is that he likes to piss on things. On one memorable occasion, he walked into the living room, caught our eye and urinated on the DVD player, holding our gaze as he did so. Unsurprisingly, Monty has been kicked out more than once for his urinary transgressions.
His namesake, Mr Panesar, does things rather differently. He gets kicked out first before turning to urination as a means of protest. Apparently, after being slat out of a Brighton nightclub on Sunday night, Panesar went up on the promenade and micturated down on the bouncers of said establishment as they stood below him.
Presumably he was marking his territory in some way. We've examined that notion further over at Cricinfo.
25 Appeals
8
Bradders writes:
"Please see evidence of the indifference shown by my two cats (Jaffa on left, Seamus the Celtic Warrior on right) to cricket, but also more specifically your website.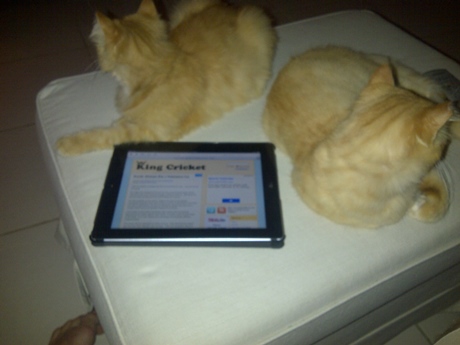 "I left it on for a bit and for a while nothing happened. However, eventually Jaffa (through some careful standing on the screen) did show some interest in finding out what sport360.com have to offer before deciding that licking Seamus was a better way to spend time.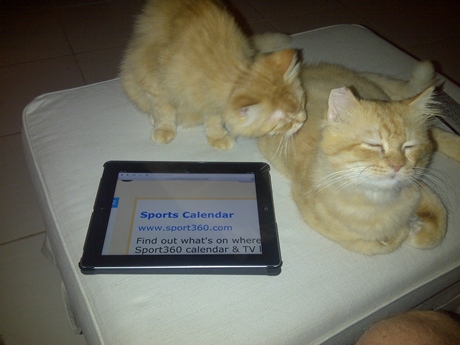 "Shortly after this they jumped down and went to eat."
If you've got a picture of an animal being conspicously indifferent to cricket, send it to king@kingcricket.co.uk.
8 Appeals
11
Tom sent us a photo of a cat named The Perundi who he was temporarily looking after over the festive period.
"Here you can see the cat showing significantly more attention to the radiator than to a nearby letter, signed by no less a man than the late, great Sir Don Bradman."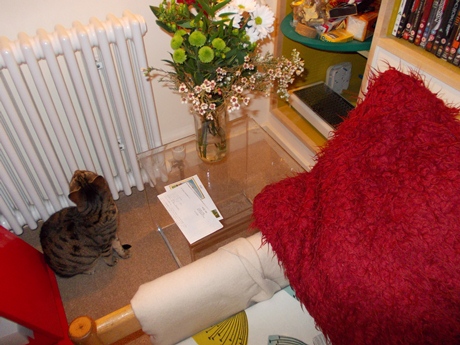 But that's not all.
"Out of shot, Sky are showing David Warner carving yet another medium-paced long-hop over gully for four."
Tom also highlights a clear difference between man and cat.
"I considered taking another, less awkward, shot, but got distracted by the cricket."
The Perundi would NEVER be guilty of that.
11 Appeals
7
Michael sent us this picture, the title above and nothing else: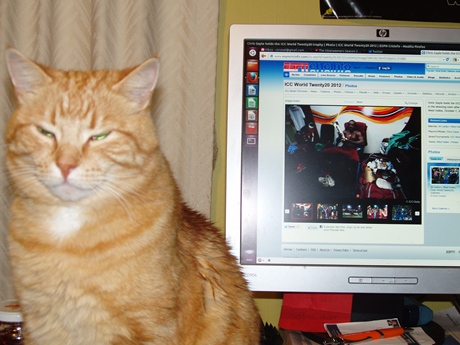 Our unquenchable thirst for information led us to ask whether Laszlo was named after a fictional character mentioned by Troy McClure in a Simpson's episode.
Michael replied:
"He's indirectly named after the cinematographer, but mostly I just liked the name Laszlo. He usually gets on the desk to remind me that he hasn't been fed for at least several minutes. If the location matters, we're in Wellington, New Zealand."
We were completely satisfied with this reply and therefore posed no further questions.
7 Appeals
12
In the highly unlikely event that we've picked up a new reader in the last year, we should say that we have a feature on this website entitled animals being conspicuously indifferent to cricket.
Lemon Bella's cats, StraussCat and Meowcus Trescattick, have appeared on several occasions and we're honoured to be able to present their verdict on Andrew Strauss's retirement from cricket.
Lemon Bella writes:
This is how StraussCat took the news of his namesake's retirement: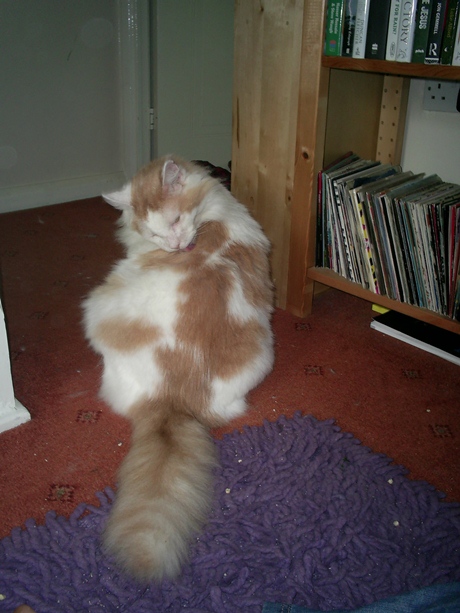 Reliable and steadfastly predictable in his conspicuous indifference, he simply focused on that particularly itchy, hard-to-reach bit. I salute him for his years of indifferent achievement and will allow him to retire with the grace befitting such a loyal servant
Meowcus Trescattick, on the other hand, was worringly interested in this news: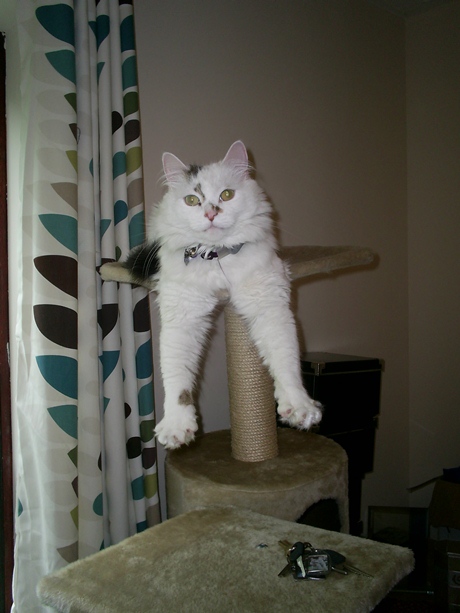 Look at him! Look at how perky and intrigued he is!
We may have to look look elsewhere for indifference from now on, because this is clearly the sort of cat who might develop an opinion about Jonny Bairstow.
12 Appeals
18
The Dawg writes:
I'm all for animals being conspicuously indifferent to cricket, but have you seen who is at the crease?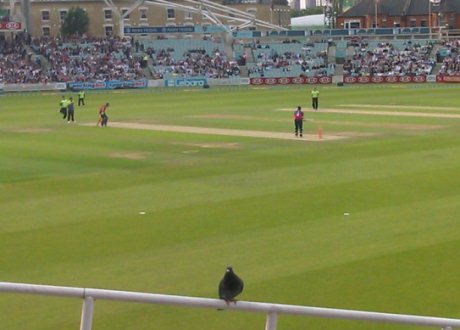 This is taken from a Kent v Surrey T20 game at the Oval. That pigeon should show more respect.
If you've got a picture of an animal being conspicously indifferent to cricket, send it to king@kingcricket.co.uk.
18 Appeals