Cricket bats in unusual places
9
Sam writes:
Please find attached a picture of several cricket bats in an unusual place, namely a glass case in a shop in Jinja, Uganda.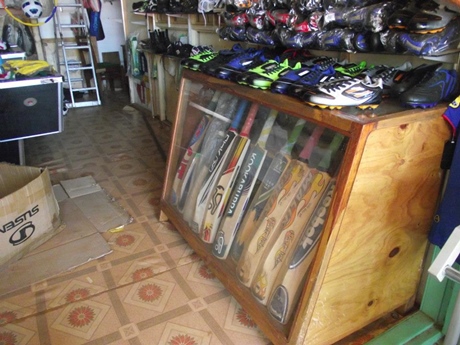 I took this picture as I was walking along the main road in Jinja, which is a fairly small town about an hour's drive away from Uganda's capital, Kampala.
I was with a friend who was looking for a swimming costume. She had entered into a detailed discussion with a shop assistant about the relative merits of a black two-piece bikini. Much as I would have liked to add my tuppenceworth and offer my photography skills should she be inclined to try the garment for size, I felt restraint would be the better part of valour and stepped out into the suffocating heat of the afternoon.
Sharp-eyed readers will notice there are several popular brands of cricket bat on offer here, and even a couple which are mysteriously wrapped in some sort of opaque covering. Uganda, unlike its neighbour Kenya, is not known for cricket. The football boots adorning the glass case only serve to further demonstrate this. You know you see those pictures where one thing juxtaposed with another thing illustrates some sort of poignant symbolism? This is a bit like that. If you squint.
I would say it's unlikely that any of those bats will ever be released from their wooden prison. They will stay there for eternity, or until they rot away, like poor deformed orphan children, staring out into a country filled with youngsters who would kick a tramp's head down the road if they thought it looked like a football.
I may or may not have had a drink with lunch before I wrote this piece.
Until next time, comrades.
Send your pictures of cricket bats and other cricket stuff in unusual places to king@kingcricket.co.uk
9 Appeals
9
You'd all forgotten about our feature 'cricket bats/stuff in unusual places' – UNTIL NOW!
Ged sent us this: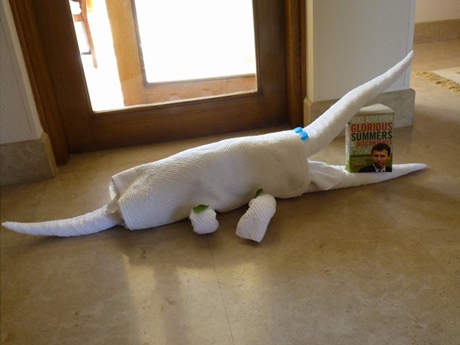 Send your pictures of cricket bats and other cricket stuff in unusual places to king@kingcricket.co.uk
9 Appeals
10
If you don't, it looks like this. And before that earned the title of 'worst picture of all time' there was this.
Both horrendous. Both making our spine do odd things even as they sit in unviewed tabs in our web browser.
Perhaps inspired by the fox-based horror in that photo, Dandy Dan sent us this: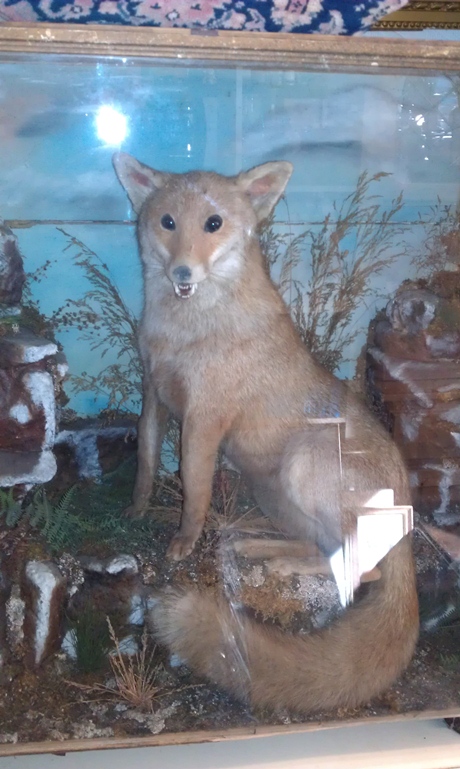 By way of explanation for this sociopathy, Dan writes:
Now on the face of it, not cricket related. But take a closer look. That's some long barrier.

Saw it in a Steptoe-style shop yesterday and immediately thought of you. I've run the idea of buying it past Victoria, but I think my mallard duck shoe brush and various original Transformers dotted about the flat has filled my quota of, in her words 'tat'.
Every time we look at it, we feel like there's another one behind us. A moving one. With the same face. Looming.
No-one send us anything like this ever again.
10 Appeals
9
Bradders writes:
My wife Pauline and I were married on the 20th August 2009 in Adare, southern Ireland. Due to it being the first day of the final Test of the Ashes series, it was obviously a momentous day.
Having booked the wedding a year before (and prior to the Ashes schedule being announced) there was a moment of panic when I realised that I might miss something crucial in the cricket. However, with the careful use of modern day technology and a multitude of keen cricket fans in the wedding party, I was kept fully informed of the days happenings.
Here is a picture of the ushers checking the score: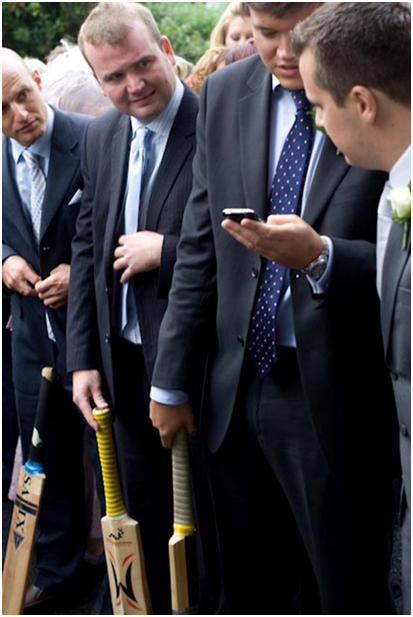 Exiting the church, we walked through an arch of cricket bats and hurleys (an Irish sport ridiculous in its violence and speed that Pauline plays).
This is a picture of the arch.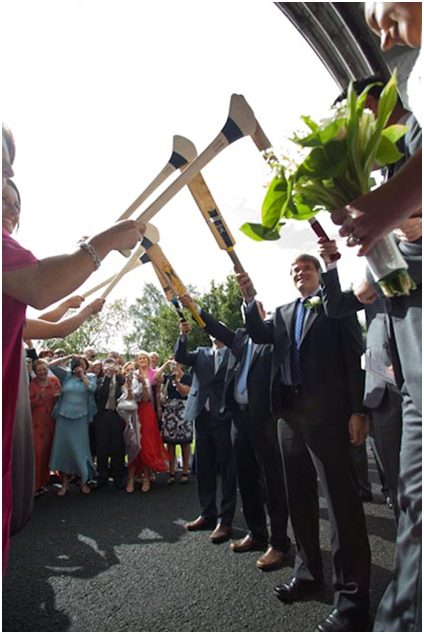 9 Appeals
12
Bobby K sent us this: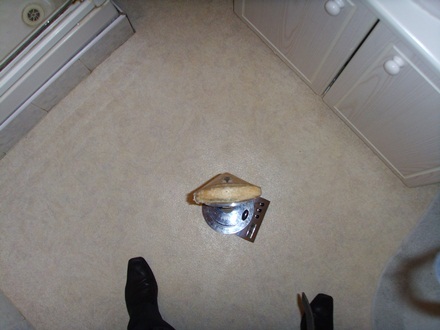 We thought it might look pretty cool if we cropped out all the background.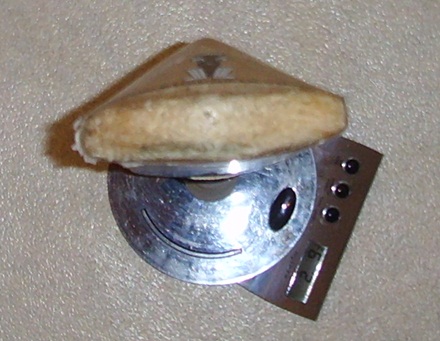 It didn't really, but we're including the picture anyway.
You invest 10 or 12 seconds in cropping a photo and you want to share it with the world.
12 Appeals
8
Dandy Dan writes:
In the Conan Doyle, a pub at the top of Leith Walk in Edinburgh, there is this: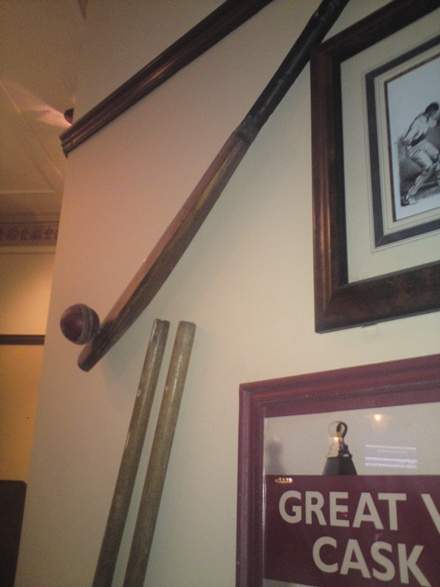 Now, before you ask, I have no idea where the third stump is. Or how someone managed to throw a cricket ball at the bat at just the right moment when I took the photo. What I do know is that one of the locals offered to 'rip it off the wall' for me if I bought him a pint. I declined his polite offer.
The pub itself isn't great. It's a 7/10. It has a frankly poor selection of ales (Bass on draught, Deuchars and another one which I'd forgotten about by the end of my Saturday night). One thing the Conan Doyle has always had on its side though is that it's cheap. A pint of Guinness will set you back just over £2 usually, which for a pub in the centre of a major city is somewhat amazing these days.
However, this night I would not be paying that much for my Guinness: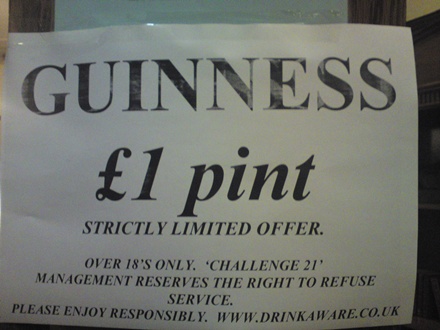 It is for this reason that I cannot remember what the guest ale was.
Send your pictures of cricket bats and other cricket stuff in unusual places to king@kingcricket.co.uk
8 Appeals
11
You don't often see cricket bats at weddings. It should happen more often.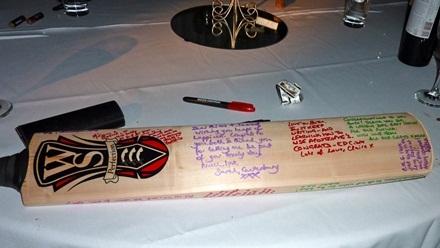 This wasn't a normal wedding though. This was the wedding of Miriam and Jrod of Cricket With Balls.
They were married at The Oval and the groom wore cricket whites.
Send your pictures of cricket bats and other cricket stuff in unusual places to king@kingcricket.co.uk
11 Appeals
7
It's Dwayne Smith and it's one of the half-hourly Mongoose cricket bat press releases we receive.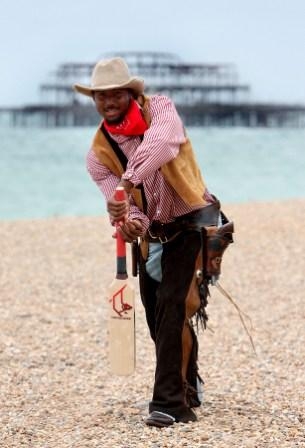 We have a friend who had to be photographed as a cowboy once. We won't say why. Not because it's sinister, but because it sounds sinister if we leave the reason to your imagination.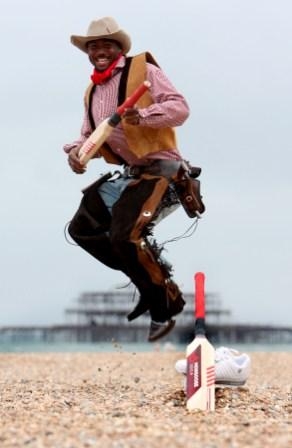 Unlike Dwayne Smith, our friend had to do it in Manchester city centre when people were leaving work.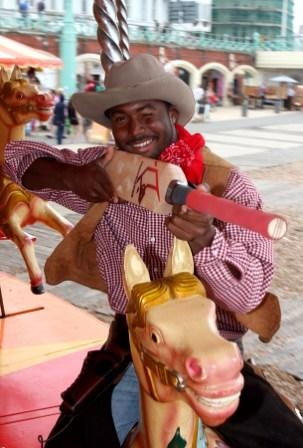 Dwayne Smith can count himself lucky.
We've put this as part of the 'cricket bats in unusual places' feature, because beach cowboys rarely use cricket bats as guns when they're on merry-go-rounds.
7 Appeals
7
Sam writes:
Please find attached a picture of a cricket bat in an unusual place, namely being used as a cue in a game of pool.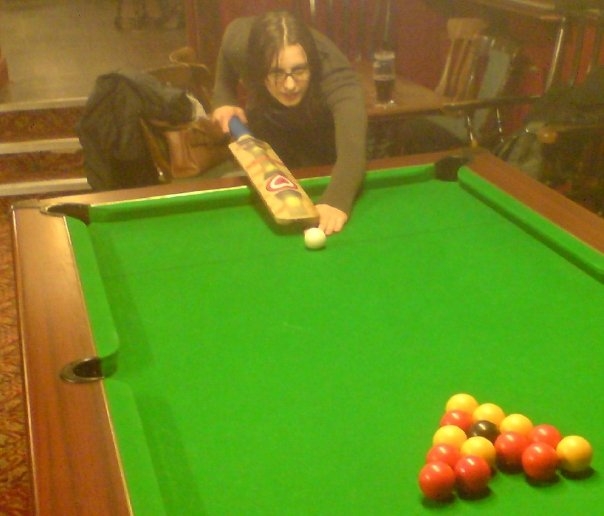 In an attempt to educate our co-worker Vita in the ways of King Cricket, we equipped her with said blade and sent her in to 'bat' as closing time approached at an overcast Surbiton watering hole.
Please note the Collingwood-esque short backlift, Daniel Vettori spectacles and half-full (or half-empty) pint of real ale perched on the table in homage to the great Freddie Flintoff.
If memory serves, the cue ball went straight into the bottom right pocket.
Vita departed with a pained Ian Bell-style 'why, God?' grimace, and we advised her to take the positives and put them under pressure early doors.
Send your pictures of cricket bats and other cricket stuff in unusual places to king@kingcricket.co.uk
7 Appeals
38
Specifically, it intends to attend meetings and conferences, do Powerpoint presentations and take care of 'the bottom line'. Whatever that might mean.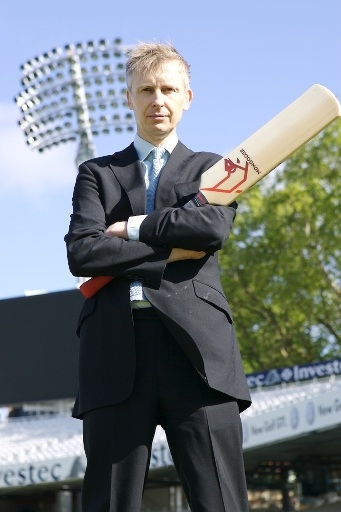 The Mongoose is a cricket bat that looks like it's got a ridiculously long handle, but actually it's just that the main bit's shorter.
The thinking is that batsmen don't really use the top of the bat for runs, so why not remove it and stick it on the back to give greater leverage and more power.
The inventor, the improbably named Marcus Codrington Fernandez, says:
"From the moment I first imagined this game-changing weapon, ensuring the bat was within both the spirit and laws of the game has been amongst our top priorities."
Stuart Law's going to give the Mongoose its first official test. He doesn't at all go over the top in describing the bat as "a weapon of mass destruction".
38 Appeals