Photos
9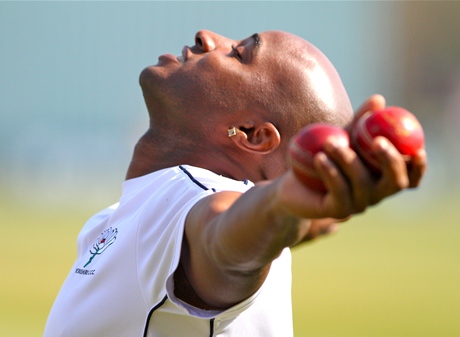 A 'balls' joke.
You can tell we're on holiday.
9 Appeals
18
As most of you know, this site uses pictures taken by Sarah Ansell. While perusing her site last week, we found this beauty: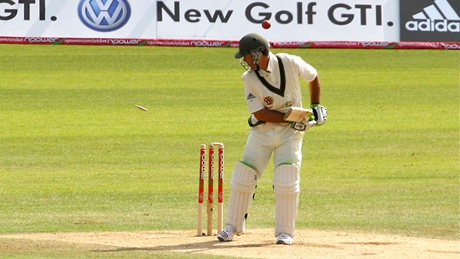 We like the way the ball is behind his head.
As a batsman, it's never good to have the ball behind your head. This is never more true than when it has arrived there via the stumps.
18 Appeals
15
Not at the same time – that would be MENTAL.
Here he is with the scissors: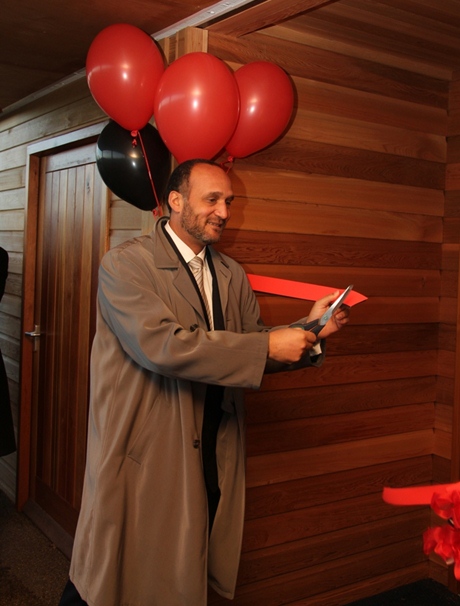 And here he is with a cup of tea: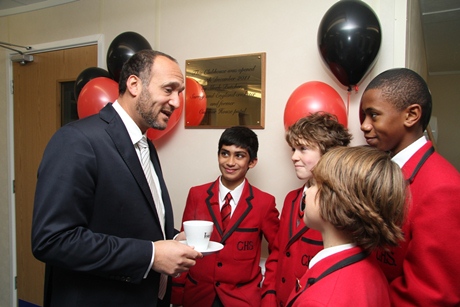 If you're wondering what's going on here, our correspondent said that Mark was at "some sort of thing".
15 Appeals
8
Ne says: "I saw this."
We asked where it was taken.
He said: "In Cardiff. I think."
We asked if he had anything else to add.
Ne added that it was taken "in a park".
8 Appeals
28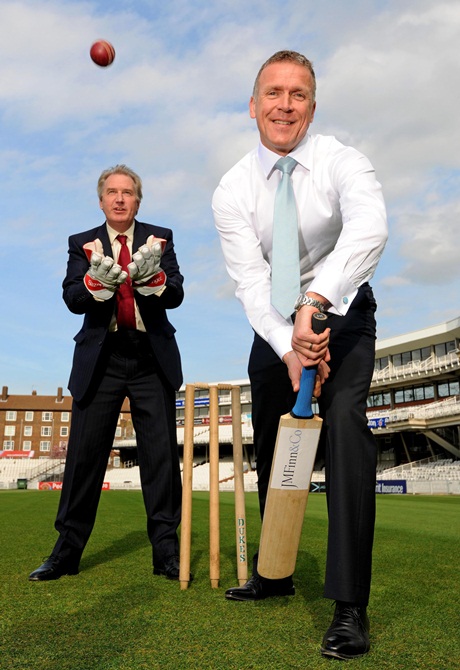 Explanation:
"Discretionary wealth managers JM Finn & Co have appointed legendary former England wicket keeper Alec Stewart as their brand ambassador."
And another tiny piece of all of us dies.
28 Appeals
18
Rob Steen has written a great piece for Cricinfo about the generally sorry state of cricket photography. Basically, a lot of the agency people couldn't give a toss about cricket and reaction shots are an easy way to get something vaguely usable.
Steen mentions the highly regarded Patrick Eagar as someone who gets good shots because he actually gives a shit about what he's doing. This, to us, seems to be the key.
Friend of the site Sarah Comma Canterbury is another with the necessary enthusiasm. What was a hobby has led to her becoming an official photographer for Kent, which is the way these things should work in our opinion.
Her site does feature reaction shots, because reaction shots aren't intrinsically bad, but it also features a lot of action shots.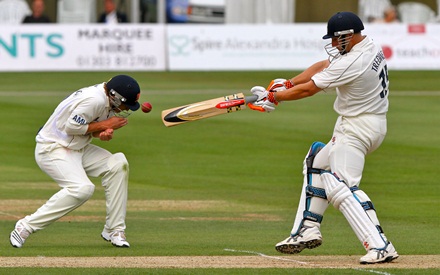 One thing you will realise, if you look through her stuff for any length of time, is that she has an uncanny knack for capturing the moment at which a batsman's stumps go wonky.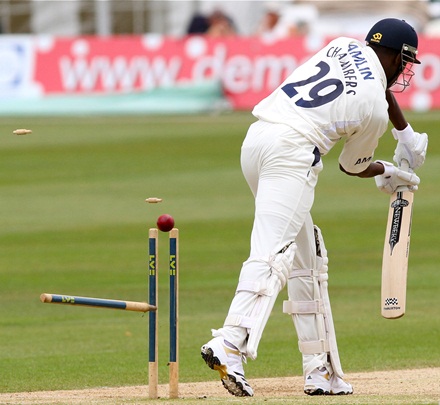 We like the picture below. You wonder how the ball's got where it is, but if you follow Darren Stevens' gaze, you realise.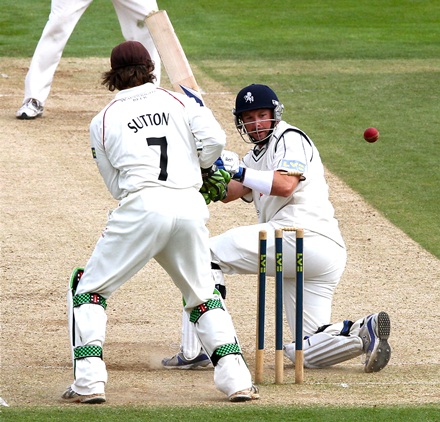 We also like this one because we're struck by the sinews and the spindly legs.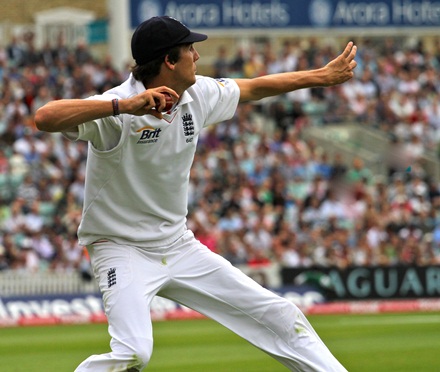 Agency photographers may have technical qualifications, but they lack one vital quality. Sarah simply takes pictures of what interests her. Most cricket fans want to see the same things, only we're all shit at photography.
18 Appeals
17
Sarah Comma Canterbury sent us these, 'hot off the camera card'.
Ian Botham could learn a hell of a lot from this: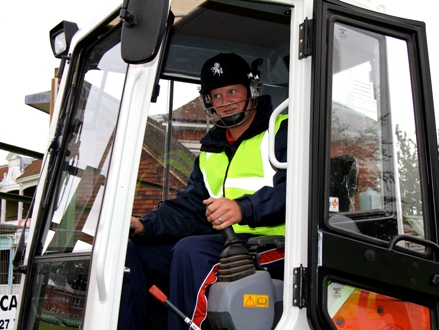 Where Botham removed his helmet and opted for a low-visibility tabard, Rob Key has got everything right.
Rob Key is better than Ian Botham in every conceivable way. Can Rob do anything wrong?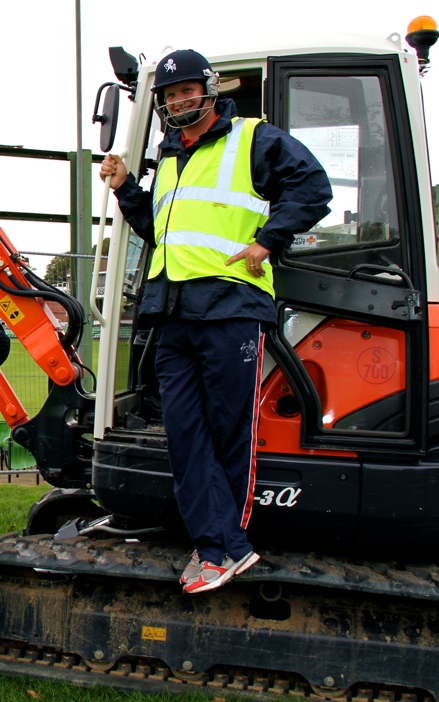 The answer is yes.
That is totally inappropriate footwear for a building site. What if someone were to drop a piece of scaffolding on his foot?
17 Appeals
4
No, Monty! Say it hasn't come to this.
In a desperate bid to advance his case for England inclusion, Monty Panesar has been reduced to tampering with scoreboards.
2-20 sounds so much better than 2-120.
4 Appeals
16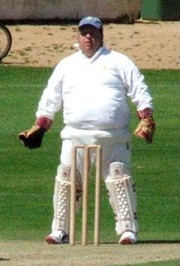 What more can you say?
16 Appeals
9
Not Michael Vaughan style painting. DIY style painting. We all know how rubbish cricketers are when it comes to DIY.
Andrew Strauss probably gets a man in to load the next toilet roll.
He doesn't even know which way he's supposed to face.
At least he's pointing the brush the right way though.
Someone rotate that man through 180 degrees and tell him to carry on.
9 Appeals