30
Kevin Pietersen and caricatured batting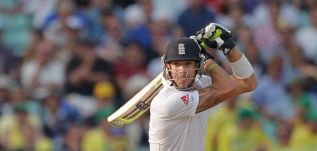 Kevin Pietersen can often look a caricature of a batsman. Look at his leave. When he leaves a ball, Jesus Christ it stays left. The ball really knows it hasn't been hit following KP's huge, flourishing, circular withdrawal of the bat.
Today, Pietersen batted sensibly and in keeping with this exaggerated depiction of the various aspects of batting, it was painfully sensible. It took him 14 balls to manage his standard hairy single to get off the mark. After 43 balls, he had just four runs.
The 49th ball he faced was from Mitchell Johnson and he edged it for four. The 52nd was a bad ball from which he gathered four runs in more deliberate fashion. He hadn't changed gear – at least not deliberately – but maybe he thought he had, because at this point he became a caricature of Kevin Pietersen the domineering freewheeler.
He tried to pull his 53rd ball (still from Johnson) for four and mishit it. It lofted in the air. He was lucky to survive. Unfazed, he drove at his 55th delivery, from Siddle, which was wide and a good length and only threatening if you for some reason chose to try and drive it. It found the edge, but fortunately for Pietersen, the inside edge. To his 59th ball, he spooned a short one and was out.
What an idiot
Apologies for the preceding paragraphs being a bit ball-by-ball, but we're about to make a wider point. Because Pietersen is a caricature, everything he does looks better or worse than his team-mates. However, the thinking and behaviour we can so easily see in him is often there in the other batsmen too – it's just not quite as obvious.
Pietersen was frustrated and when KP's frustrated, he plays the most ludicrous shots. This is not because he gets more frustrated and more irresponsible than the others. It's just that what we call 'ludicrous shots' are just 'shots' to him. You can't have the good ludicrous without the bad ludicrous because the difference between the two is nothing but a matter of timing. It's no different to Alastair Cook either edging or missing a forward defensive stroke.
An arid spell
Pietersen got himself out, but Australia got him to get himself out. For all the talk of Johnson's pace, the home team have bowled dry extremely well this series. It's why batsmen have so often been dismissed when there's been a bowling change. They're looking for an end to the pressure. In fact, they look too hard for an end to the pressure and think they've found it when they haven't.
"Oh good, Lyon's on."
A good bowling attack is an adaptable attack. Bowling dry isn't always the answer. Fierce pace isn't always the answer. Spin isn't always the answer, swing isn't always the answer, seam isn't always the answer. However, the more bases you've got covered, the more consistently you can threaten batsmen – and the more consistently you can threaten them, the harder it is for them to score.
And so the pressure builds.
England ended the second day on 180-4. Ian Bell is on nine off 62 balls.

You really should subscribe to our email updates - here's why
Follow the Vuelta a Espana over at our cycling site.
England's fans and media go on too much about "poor shots" and people "getting themselves out". English batsmen always get crucified by their media. Listening to Boycott on the TMS podcast, for example, you'd think that every current England player is rubbish and the only way to play Test cricket is get 200 in 3 days like Boycott did.

You don't hear the Aussie fan base complaining too much if one of their players plays a rash shot and gets out — yeah they may moan for a day or so but then they tend to forget about it. The purpose of batting is to score runs — it's not survival. Yes, if you have a mindset of wanting to score you will play the occasional "poor shot" but I'd much rather have someone get 30 off 43 and then get out rather than make 16 off 60 and frustrate themselves out. In my opinion there are no poor shots, just poorly played shots. If you are trying to cover drive a ball that is swinging away from you, you can get 4 if you hit it well. Some people see a nicking opportunity, good batsmen see a boundary opportunity.

The reason Cook played well today was because he was looking to score, and he was positive. Yes, you should keep the good ones out, but as Ian Chappell says, your first instinct as a batsman should be "boundary". Why do you think David Warner has been so successful in this series? You won't see an England player bunting the 4th ball of their innings straight down the ground like Warner does, because their mindset seems ultra-fearful and defensive.
I think I disagree just about 100%.

Deets, you've got it all wrong. It's not an either/or choice between 30 off 43 and 16 off 60. You've got to play the situation. In this case, England needed to get at least 370 and they had plenty of time to do so. The scores of the four batsmen who have been dismissed so far are of almost no use whatsoever. In this situation, someone's got to get a century and form at least one big partnership. Pietersen played a bad shot. Carberry had a lapse of judgement. Cook played a good shot badly. Root got a good ball and a bad decision.
So here's a question, if Prior is better then Bairstow with the gloves, are there any keepers in contention for England who are better than Prior?
It's just been so predictable. Can they call people in from the performance squad? You could realistically change 4/5 players out of this team. Butler to take over from prior maybe. Robson to open. And I almost called this on the post a couple of days back!
I hope someone calls Onions and Onions tells then to shove it
This. But he wouldn't, because he's a nice guy.
Can't agree Deets. You want a mix of attacking and defence, sometimes you just need to keep the bowling out till they are tired. I think that's what England have been trying to do only they are getting out before they manage to wear the Aussies out.
Some credit surely to the Aussie bowlers for bowling their situations well? And to the Aussie late middel order for setting up all three matches.
England have underperformed dreadfully but the Aussies have made the most of the resources available to them.
It's all felt somewhat and increasingly sickening since day 2 at Brisbane.
Let me clarify: it should always be a mixture of attack and defence. But at the moment the English batsmen are erring on the side of defence (and then frustrating themselves out trying to force the pace). Sure, the bowling has been good, but not unplayable. If you are scared of the ball getting you out, surely the best strategy is to try to make as many runs as quickly as you can before you get that ball.
The media and fans get too hung up about "daft shots". The players are then afraid to play any scoring shots at all for fear of looking silly and getting crucified by the media. As a result, defence becomes the only thing they want to do. They end up getting no rhythm to their innings, finally managing to get out after getting frustrated. At the end of the day, it's a game of bat hitting ball. If you go out as a batsman thinking that, most other things should fall into place.
In general, people who get out playing a defensive stroke usually get a pass from criticism, over someone who goes out trying to score. In my opinion though, there's nothing honorable in missing a straight ball. Sehwag and Warner are proponents of this strategy of batting, and Sehwag at his peak averaged over 50 and Warner is well on the way to. And don't call Sehwag a flat track bully, because if you look at the stats he scored around the world.
@Ged: I looked at that link.
-Avg 70 at the MCG
-Avg 53 at Trent Bridge
-Avg 58 at Harare (back when Zim were good)
-Avg 65 at Adelaide
There's quite a few other overseas ones. For any batsman coming from the subcontinent, adjusting to the extra bounce overseas is difficult. Yet he averages pretty close to 50 overseas. He was no flat track bully. Just because someone hasn't scored a 100 at Lord's doesn't make them a flat track bully.
This would be the same Trent Bridge that Ashton Agar scored 98 at? Adelaide too could never be described as lively deck, and most of his MCG runs came in a game where half the first inning wickets went to spinners.
If you look at his series averages, for most of his career he struggled in Australia, New Zealand and South Africa. Great to watch on his day and on a flat track.

Zimbabwe have never been good.

I'm with Deets now.

My attempt to make a case with facts has been utterly confounded – as utterly as an England team touring Australia in 2013/14.

Sehwag was a master of every conceivable surface wheresoever he played and against whomsoever he played that way.

Statistical significance? I spit in the face of such feeble attempts to dissemble.

I had the honour of witnessing Sehwag get his ton (106) at Trent Bridge in 2002 – it was an excellent innings and I feel honoured to have seen it. The fact that a rather ordinary England batting line up went on to top 600 in the same match is irrelevant to the excellence of that Sehwag hundred, scored at a bullying strike rate of 55-60. I was only around for the first two days so I missed his primary in the second dig.

Deets: Regardless of whether or not Sehwag was a flat track bully, I don't think England's failure are because they are not more aggressive. They are being outplayed here, and that doesn't mean you have to change the formula that has worked so well for you. KP is successful because he has been aggressive, Cook was successful because he has been a grafter. It was disappointing to see Cook trying to be aggressive and fall (that hook). If you take a look at successful batsmen (or sportsmen in general), they have changed very little throughout their career, technique-wise or attitude-wise.* One failed series does not make this a bad team. They don't need to do anything new or change their approach. They need to start believing in themselves and do what they have always done (though I concede that's easier said than done).

*The only exception I can think of is Tiger Woods, who changed his swing midway through his career. But no decent man would consider golf a sport.

A player of average skill but who has learned to be judicious in their shot selection, plays the percentages and matches risk-reward ratio to the batting situation, can be of seriously above-average worth to the team. I greatly admired Mark Richardson in Tests for this reason, and Bevan (to be fair, he was more naturally gifted, but his value judgment and situational awareness was exceptional) in ODIs.

To be even fairer, I also liked Bevan for being a Chinaman bowler (with a Test six-fer!), and as with Katich and Hogg this skewed my perception greatly in his favour… if I were selecting, at least one of the three would still be playing. Probably in place of Lyon.

Anyhow, the reason KP is getting called out for a crap shot, is because it was a crap-shot (am trying to pun unsuccessfully on the dice game) with the odds stacked against him and no need to roll the dice for risky runs in that stage of the game. If he hadn't got out to it, if it had been thwacked magnificently to the rope, it would still have been a crap shot because there wasn't value in it. Even once having dismissed the entire South African top three (Rudolph, Smith, Amla) with his dodgy offies shouldn't preserve him from this criticism.

Bailout's point about shot selection is exactly right. Aakash Chopra wrote an excellent piece about Graham Smith for cricinfo which describes how a relative plodder like Smith can still dominate with application.
http://www.espncricinfo.com/magazine/content/story/606285.html
I think many of the areas highlighted as Smith's strength are where England has struggled this series.

@Ged: Sarcasm is the lowest form of wit. The whole Sehwag discussion is besides the point anyway, but I will defend to death the fact that he was a great batsman. I have seen Sehwag make attacking hundreds against Aussie attacks consisting of McGrath and Warne on difficult reversing pitches in India when the rest of the batsmen were struggling to put bat on ball (2004). I have seen him tonk Murali around Galle when the rest of the famed Indian line up looked like club players against him (2008). You can make stats say anything — but stats only tell you part of the story. No test hundred comes easy, and esp not against good attacks.
I'm sure after this series, there will be naysayers regarding David Warner as well, calling him a flat-track bully because of the way he plays. And I'm sure these naysayers will conveniently ignore the fact that England are currently scoring next to nothing on the same pitches, and when all is said and done they still have two of the best bowlers in the world. It takes a lot of skill to score a quick hundred on a pitch that's full of cracks like this one.
Yes, every player has his own method — which is why when you have KP who's a natural entertainer pottering around for 60 balls, there's something wrong. These guys have allowed to get into their heads all those hacks who pontificate in English papers over whether KP's last dismissal was the worst shot they've seen from an English batsmen in 20 years. From an outsiders perspective, I'm always baffled by the negative press that KP gets in England despite the fact that he's your best player by a mile. When a player is that good, you've just got to let him be.

Several yonks ago I was reading an article about which active players were the classiest hookers (judge how long ago by the fact Nasser was in contention).

The pundits described their hooks as, depending on the player's particular style, "aesthetic", "scintillating", "textbook", "powerful", "fearless" and so on. No doubt they were. So to distinguish who was really top trumps (FIX THAT THING KC. IF I WANT TO WASTE MY LIFE, IT'S NOT UP TO YOUR SERVER TO STOP ME DAMMIT) they turned to stats, the availability of ball-by-ball analysis being newfangled and exciting those days.

Now these were brilliant bats, many of whom averaged over fifty. Yet on the hook they were disproportionately likely to get out. In Tests hardly any of them averaged 40 runs per dismissal and several operators whose "stylish" hooks had been lavished by journalese praise, languished about 20. However pretty it looked when the ball travelled to the boundary, it was not a percentage shot even for great players.

Not saying it was always a bad shot. Some bad balls deserve a good hook. Sometimes fast run accumulation is important. Sometimes you need to assert to the bowler that they can't just keep dishing out the short stuff (this may have been more relevant before modern bouncer limits). Sometimes the bounce from the pitch is trustworthy and you've got the number on the bowler. Sometimes the field is set in a way that cuts down risk or increases potential reward. But overall it is a technically challenging, high-risk shot that even brilliant batsmen would have benefited from laying off on (hah, got the word "laying" into a comment about classy hookers). If England's shot selection this series had been more intelligent, does anybody seriously believe it would have featured a higher proportion of hook shots? I don't think they had an aggression deficit.
@Bailout: The hook shot is not your only weapon against a bouncer. You can sway out of the way and help it over slips. It's not easy, but I've seen Tendulkar (and Cook) do it in Australia.
You can keep ducking under it, but it's such an ego boost to the bowler that it actually gees him up and he wants to scare you more. You put away short deliveries for a couple of fours and then the bowler is forced to go full.
I honestly dont think that test batsmen who have played over 100 tests think about what people in the media may say when selecting their approach to an innings or indivdiual delivery.
This match has provided some amusement, at least. Today I discovered that if you criticize Glenn McGrath's character on Twitter, it doesn't half wind up the Aussies.
This used to be such a nice, genteel blog, full of disinterested cats and ironical whimsy. Now you've gone all dull and earnest.
You getting middle-aged, KC?
Who cares about Sehwag anyway?
Well, this is going swimmingly.
Robson, Ballance and that net bowler to be in for the next Test?
I should like to assure all King Cricket readers that ironical whimsy remains my comedic style of choice here.
I should also like to assure everyone that sarcasm is far from the lowest form of wit in my kit bag. I have plenty of Über-low wit in my armoury and am not afraid to use it.
#dontmesswithged #KPisabustedflush #Sehwagwasbetter #Haydoswasevenbetter
That's the ole King Cricket spirit!

(Just throw in a cat for good measure .)

Shall we start a new feature: "Cats looking quietly impressed by Australia's controlled, disciplined bowling performances"?

pic.twitter.com/K8WzJJJsFJ
Never seen a quietly impressed cat, but if you can dig one somewhere, I'm sure he'd agree about the bowling. He'd turn his back on the batsmen, though.
Discussion Area - Make an appeal
<!– #commentform –>
<!– .formcontainer –>
<!– #respond –>
<!– #comments –>