30
Michael Clarke: Lord Megachief of Gold 2012
We know. Sickening, isn't it?
If you don't already know, Lord Megachief of Gold is the highest award in cricket. Each year, we name someone winner based on some stuff. After weighing up said stuff, it turned out Michael Clarke was the winner. We were less than impressed by this, but the more we thought about it, the more we decided it wasn't quite as bad as having both legs blown off by a landmine.
Michael Clarke the batsman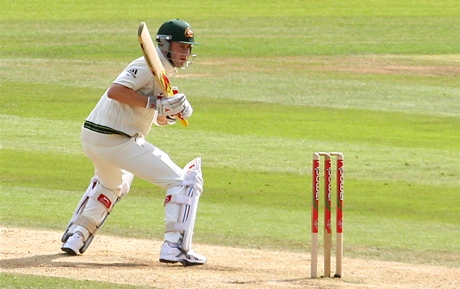 Let's start with some boring statistics, the value of which we can all pointlessly argue about in the comments. In 2012, Michael Clarke scored 1,595 Test runs at an average of 106.33 with five hundreds.
He scored the majority of these runs in Australia and a large proportion in a few huge innings, but Clarke's job is to score lots of runs and in 2012, he scored lots of runs.
Against India at the Sydney Cricket Ground, he arrived at the crease with the score reading 37-3 and proceeded to score 329 not out. Against the same opposition in Adelaide, he arrived at 84-3 and scored 210. India were thrashed by Australia in that series, but that doesn't devalue Clarke's achievements. He was contributing to that thrashing more than anyone.
On tour in the West Indies, he only managed one fifty in what was a fairly low-scoring series, but he did take 5-86 in Dominica.
Against South Africa, he scored 259 not out after arriving at 40-3 and then made 230 in his very next innings after arriving at 55-3. He then finished the year with another hundred against Sri Lanka, although 117-3 was positive luxury compared to what he'd been used to.
This is a tale of making huge hundreds when the top three have been crap.
Michael Clarke the captain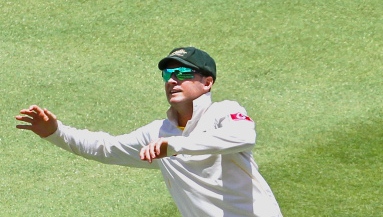 Michael Clarke was once named 'cricketer most likely to make people wince and who they would also like to slap and then push away' three years in a row. That is a FACT. (That is not a fact.)
Then, just before he was named Australia captain, a load of surveys were carried out to find out how Australians felt about this development. The aim wasn't to find out whether he was a popular choice or not; it was to establish just how much people hated him. The answer was 'a lot'.
Yet look at him now – some people actually quite like him and he is generally considered to be a pretty damn fine captain. We won't claim to know how good his captaincy really is, but we do consider him an interesting captain and that's probably more important to us.
In Bridgetown, he declared with a first innings deficit. Australia were nine down, so that wasn't really amazingly bold, but it was interesting. He didn't try and eke out 20 more runs via his tail-enders. He got on with the game. Australia then beat the Windies and the light in the final session of day five.
Against Sri Lanka, he gave his wicketkeeper an over. The value of this might be questionable, but again, it's interesting. There's nowt wrong with a mischievous bowling change. It's not like he had Matthew Wade bowl eight overs with a ring of defensive fielders. He was just trying something.
Conclusion
In a team short of half-decent batsmen, Michael Clarke batted for several men. In a team which frequently lacked fit fast bowlers and with no real spinner to speak of, he engineered Test wins as captain. He also seemed genuinely enthusiastic about Test cricket and we can't help but feel a certain degree of warmth to someone like that.
Congratulations, Michael. You are Lord Megachief of Gold 2012.

You really should subscribe to our email updates - here's why
Follow the Tour de France with us over at our cycling site.
I fully support your decision not to have a Lord Megachief of Gold for 2012, given the lack of standout candidates. A fine, principled decision.

The right decision and I admire your courage. I was wrong about Clarke. His transformation from some sort of fashion conscious metrosexual who spent much of his time bingling while deciding what jewellery to wear that paricular day has been remarkable. He has lead the side well,showed increasing maturity and performed superbly on the big stage against the big men of the game.His new missus has set him on the right track.I belive he will achieve well deserved greatness. Unless he drops out of rehab and starts modelling a range of skin lotions and jockstraps for Ralph Lauren.

This is a good decision. He was the best Test batsman and the best Test captain, and other than bowling nothing else matters. You are right to be reluctant, but we were all wrong about Michael Clarke.
He is a brilliant captain, much better than the hobbit, and as long as the high performance people at Cricket Australia don't 'condition' his hamstring out of existence we should get the chance to rebuild the team that we were denied towards the end of the Ponting era.
On balance I was probably a little harsh yesterday but at the same time since the Hobart debacle against NZ we seem to be preparing dead wickets to protect the team against swing.
I guess the Ashes will sort this out one way or the other. Sadly I think we're going to miss out in both series but Jackson Bird will probably give you guys a scare if we take him over to England.

Wolf, unless Clarke himself scores a few hundreds I doubt England have much to fear from the upcoming series. Australia look to have a fragile batting lineup from the run-scoring point of view, and a fragile bowling lineup from the not-being-injured point of view.

And I still don't think they have the first idea abut getting Cook and Trott out.
Maybe the Mayans were right after all? Maybe they were just a few days 'out'?
And by 'out' I don't mean gay. I'm not trying to call Mayans gay.
One point of query KC.
'Against Sri Lanka, he gave his wicketkeeper an over. The value of this might be questionable'
That's not questionable at all. It's brilliant. He should have become MOG for that alone.
You do realise though that this means you've set him up to first win the Ashes and then retain them, thus promoting himself to GRAND LORD MEGACHIEF OF GOLD 2013?
You do realise this, don't you?
I'm more worried by your prejudice against gay Mayans.

Besides, this is clearly an attempt to kibosh Clarke ahead of The Ashes. Look how Bell's reign went.

Is MOG the new "cover of Playfair"as Daneel suggests? I hope so.

Much though it pains me, I think KC may be right on this one.

You need to resolve your deep seated problems re possibly gay Mayans. Agree re the over to wickie – next he will request the Umpires to bowl.
Nathan Lyon seems to have done a decent job, hasn't he?
He's chipped in. We were perhaps slightly dismissive of him above. Maybe we should have said 'match-winning spinner' or something like that.
When Australia *regain* The Ashes. The Ashes belong to Australia, they just need to regain and then retain them.*
Sheesh.
*this does not imply that I think they have more than a slim chance of doing this
Once again showing that all major cricketing awards are much easier for batsmen to get than bowlers!
Bowlers always have an excuse. They are injured. They are being rotated. The chap who prepared the pitch is an idiot. Someone seems to have left a lot of keys stuck in the ground. They just don't feel like bowling etc. Maybe Philander has a claim but he fell to a hamstring — and so it goes.
Hopefully that will put the kibosh on him for 2013.
I quote from Cricinfo having just looked this up (cos I can't stay up all night watching cricket):
65.2 51.4 mph, Clarke plays a rash shot and Karunaratne takes a well-judged catch! Tossed up and Clarke decided to play the slog sweep, wasn't in control…
Michael Clarke is out of control.

…or perhaps more accurately:

Since being awarded the greatest honour in cricket, Lord Megachief of Gold, Cricinfo reports that Michael Clarke's batting has been out of control…

LMoG only ever inspires. That's why Bell is now the world's no.1 batsman and Dhoni has led his team from strength to strength.
I can't think of a better candidate for Lord Megachief of Gold.
No doubt there were some other (more personable) choices such as Cook or Kallis. Or maybe Hashim Amla – the man with the best beard in cricket (or is that Moeen Ali?)
Regardless he's had a superb year and you can only clobber those in front of you – even if they are a barely fit Indian/Sri Lankan/South African attack.
Dhoni won the world cup for India at home after becoming LMoG… The pathetic state of affairs at present isn't his fault, it was bound to happen, but he should be sacked for playing Jadeja instead of Rahane. Just saying.
Kudos to Clark. And Phillander. And Herath.
And Azhar Ali. I don't know what he did but he looks like he can make 55 of 200 balls and I always love that in a batsman.
"off"
Standards of journalism are falling at a rapid rate, Nash, so your spelling error comes as no surprise to me.
The most telling example: Alex Bowden was unable to find a single mention of Nandos this week:
http://www.espncricinfo.com/page2/content/story/599480.html
Indeed, the chilling absence of Nandos demolition chatter tells me that cricketing standards as well as journalistic standards are racing to the bottom. I think I shall start writing angry letters to the press.
Why bother holding your own standards up when everyone else's are slipping? Instead of angry letters to the press, just write a few mildly annoyed post-it notes and leave them at the bottom of your drive, and assume someone relevant will probably read one.

Brilliant plan, Howe.

"Post-it Note's Rule", as we grocer's put it.

Was the apostrophe error a display of sarcasm, Ged? Because I don't usually get sarcasm unless it is pointed out to me. Repeatedly. (Unless it is my own, in which case once is enough).

I thought the double use of the inappropriate apostrophe in one sentence was a giveaway, Deep Cower, but I should have realised that we cannot all be afficionado's of such humour.

Ha! Indeed. I am glad you didn't say "dead giveaway". I'd have felt more foolish than I do right now.
I don't have a twitter account, so I need to say this here. I am craving a good guacamole.
That's all.
Back from holiday now, and what do I find? Chaos. Anarchy. Wild hedonism and pure indulgence. I am shocked.
We have moral codes for a reason. Sometimes it might feel as if those morals are stopping you from doing what you want when you want. But when you sit back and think about it, most often you can see that the rules are there for a reason, that the greater good and greater happiness are better served by following the rules, not giving in to every lustful whim.
Mark my words. If you indulge these people they will rise again. It is important to kick a man when he is down, but it is much more important to kick him harder as he is getting to his feet again. Indulging your desire for logic, fairness and consistency is just selfish. You know the rules, KC. You practically wrote them.
http://www.kingcricket.co.uk/never-feel-sorry-for-australia/2010/12/17/
No, he literally wrote them.