Author Archive
23
The main criticism of England's one-day batting approach recently has been that they lack the dynamic hitting which is supposed to characterise the modern game. While that's true up to a point, we actually don't think that it's the worst of their problems. There's something else going on during the non-Powerplay overs – that sizeable chunk of a 50-over game when no-one's really paying much attention.
Alex Hales is a hefty biffer once he gets up and running, while Eoin Morgan and Jos Buttler are more than capable of clearing the ropes later on. What the team often lacks is the subtly different ability to find anything other than singles in the middle overs. This is especially true when steady spinners are bowling. Even Xavier Doherty managed to get away with 10 overs for 28 against them back in January.
Good middle over batting might mean fours or it might just mean twos – it could even involve the odd six. Yesterday England found themselves having apparently negotiated some sort of singles-only pact with India. The tourists were happy with this because at worst they conceded four or five an over and any wickets were a bonus on top of this.
And wickets did ensue – generally when the batsman made some sort of effort to escape from binary purgatory.
What's happening?
English batsmen really seem to struggle with the boring overs. A few singles an over are always available because they're basically being handed to them by the fielding side. However, as soon as an English batsman becomes more ambitious than that, he seems to get out. It's like it's an aspect of cricket with which they're wholly unfamiliar.
Perhaps it's something spawned by all those years of 40-over domestic cricket. This low key consolidatory period of a one-day game is the one that's curtailed in a 40-over match so arguably English batsmen have less experience of this part of the game. There also aren't as many relentlessly accurate bowlers in county teams. When there is one, a batsman can simply settle for the freebie singles and then score off the more frequent bad balls at the other end.
Boring for whom?
What's supposed to happen between overs 15 and 35 is for the batting side to make over five an over and lose one or maybe two wickets. What actually happened against India is that England lost all five of their specialist batsmen during this period.
Never mind hitting more sixes in the powerplays. How about some canny twos and fours during the boring overs?
23 Appeals
13
First up, our fortnightly Twitter round-up for Cricinfo where Grobbelaar has correctly identified that we bring nothing but negativity to the world. We're pretty sure Shaun Pollock would have a groansome quote about judging people to deliver as a riposte to that, but he'd probably also have one about bitter, petty revenge not being so glorious either.
The Kingdom
There was another strong performance from the representatives within our All Out Cricket fantasy league mini league. The Kingdom's poppie84 topped the overall table after the Cardiff one-dayer. Not sure whose team that is. Make yourself known in the comments so that everyone can congratulate/badmouth you.
We are second in the mini league and fifth overall. It's almost as if we have half an idea about one-day cricket. Who knew?
Actual cricket
Zimbabwe are chasing 232 against South Africa in a match no-one will pay attention to because (1) it involves Zimbabwe and (2) it's low-scoring.
People only remember the high-scoring matches and therefore mistakenly conclude that the one-day game's all about making huge totals these days. Even if the general trend is for higher scores, the truth is that there are still more totals of under 200 than there are of over 300.
13 Appeals
41
Before today, Suresh Raina had made three ODI hundreds in 193 matches. He made them against Bangladesh, Sri Lanka and Hong Kong.
But Raina bats in the middle order, so that doesn't tell us a lot. Let's look at fifties instead.
Against New Zealand, he has one in 11 innings; against Pakistan, one in 14; against South Africa, one in 11; against West Indies, one in 26 and against England 12 in 26, including six of his top ten one-day scores.
At this point we have to ask ourselves whether there's something he particularly likes about a tired white ball delivered at fast-medium pace.
Let's look at his strike rates against each of today's bowlers.
Anderson: 25 off 12 balls – 208.33
Woakes: 23 off 11 – 209.09
Jordan: 13 off 15 – 86.66
Stokes: 20 off 10 – 200
Tredwell: 19 off 27 – 70.37
Oddly, Jordan's efforts to become the world's foremost 'angling down the leg side' bowler probably saved him.
Extrapolation's what you need
One-day cricket in England is a bit different because you get more movement early on. However, the passages of play later on – once the ball stops doing owt – aren't so dissimilar from what might be expected in Australia come the World Cup. If anything, Australian conditions merely mean a greater proportion of those sorts of overs.
In today's match, England did the early, irrelevant bit well and then the later, relevant bit shitly. Their bowling simply isn't tall enough, fast enough, slow enough or weird enough to keep batsmen guessing on a flat pitch. It's samey. Four fast-medium right-armers is two – if not three – too many.
Is this the end of the world (cup campaign)?
Steven Finn's taller and often quicker; Stuart Broad will be back to offer the same qualities; Harry Gurney's a left-armer, should he prove reliable; and Ravi Bopara's neither-one-thing-nor-the-other wobblery does offer something different. There are always options that would desameyise a bowling attack.
As for the batting, England remain poor chasers of anything over 250, which is all the more reason to get the bowling right.
41 Appeals
8
Ged writes:
It seemed like an excellent plan when the idea was hatched.  In the absence of first class cricket between Middlesex and Essex for the foreseeable future, Charley "The Gent" Malloy and I would take in a day of second XI cricket between our two teams.  As luck would have it, the day that suited me and Charley for this cricketing purpose also suited Daisy and Mrs Malloy for an evening meal at the Daisy House. Charley and Mrs Malloy had still not seen the house, although Daisy has now been in situ there for nearly three years. The Malloys were especially keen to see the garden.
The only problem with that superb plan was, of course, the English weather. As the appointed day approached, the forecast got worse and worse. Indeed, the night before the event, I wrote to Charley saying, "not even my relentless cricket-watching optimism imagines that we'll get to see any cricket tomorrow. Let's take stock in the morning just in case, but I'm going to spend the rest of this evening building an ark and guess that I'll see you tomorrow evening at the house!"
It was pouring down when I woke up on the day and the forecast suggested that it would pretty much rain all day. I did a bit of work and sorted out some of those domestic things I never normally quite get around to sorting out unless/until they are emergencies. Naturally, just before I set off for the house in the early evening, the rain stopped and the sun even started to peep through.
At least the better evening weather enabled us to show Charley and Mrs Malloy the garden in the sunshine.  In preparation for the day at Radlett, Charley had bought a cricketing gingerbread man, which we admired for its aesthetic but all decided not to eat.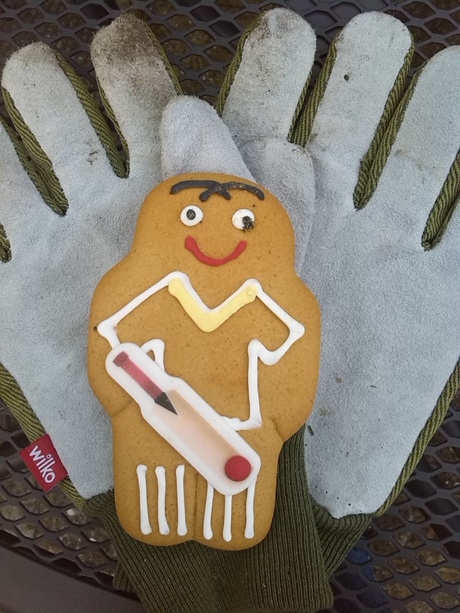 Instead, we enjoyed Daisy's superb Alaskan salmon baked in a banana leaf, with new potatoes, home-made tartare sauce and leaf salad.
After dinner, I played my baritone ukulele. Charley and Mrs Malloy listened like aficionados at a music concert – a little unnerving given the novelty of my hobby and my general lack of dexterity. "You don't move your fingers quite as much as, for example, Albert Lee did at the concert we went to the other week", said Charley. "Shhh, Charley", said Mrs Malloy, who then joined in when I sang I Guess It Doesn't Matter Any More. Charley stifled his coughing a couple of times and I saw tears welling up in his eyes at the sound of Leonard Cohen's Suzanne and Neil Young's Out On The Weekend.
Then Charley said: "I read a review of the latest Neil Young album the other day; it said that Young now sounds like an old man in a retirement home singing to himself before medication time." I took that comparative comment as a great compliment.
Send your match reports to king@kingcricket.co.uk and on no account mention the cricket itself.
8 Appeals
7
First, some links:
Now let's spend the rest of Bank Holiday Monday in classic fashion by moaning about rain.
7 Appeals
9
Cities disappear in the summer. Winter has cities, summer has counties – or at least that's the way it used to be. Now Birmingham have won a cricket tournament and we don't know where we are. The weather has been unseasonably cool this last week. Even the climate's confused.
Our viewing of Twenty20 finals day was limited to some of Lancashire's semi-final, so we asked an entirely impartial and not-at-all fictional friend what went wrong for the Red Rose in the final. They said that Birmingham cheated.
We're nothing if not conscientious when it comes to establishing facts. We know that one person's word doesn't amount to proof, so we asked a second friend whether this was true. They said: "Yes, it's true, Birmingham cheated. They cheated really badly."
It's a sad day for cricket.
9 Appeals
22
All Out Cricket's Test series fantasy league is over. Our mini league, The Kingdom, was won by… er… did anyone actually check before they deleted the league? We'd guess it was either Balladeer's Bhangra-Morris Fusion side or Patrick's p = mv, both of which were almost certainly in the top 11 overall as well.
We think we (The Courtiers) came third or fourth in the mini league, which is respectable enough. We anticipate doing far, far worse in the one-day league.
Here's what you need if you want to join that:
We managed to get 40-odd teams in our mini league last time around with minimal warning. We'd like to see more in this one. If nothing else, it's quite a good way of retaining interest in one-day cricket. You could also adopt our selection of strategy of picking players you don't really like so that when they do well, at least you get something out of it.
22 Appeals
15
It's the fashion these days to look back on a losing streak and say that you were playing well in patches and that you knew all it would take would be a slight improvement and everything would be hunky-dory again. This always gets on our nerves, because of course you played well in patches. You'd be hard pressed to go through an entire Test match without having any decent patches.
But yet India seemed to just about manage it. In the third Test, they were widely considered to have lost every single session, but still they played well in patches – Ajinkya Rahane got a pair of fifties and they made over 300. Even at Old Trafford, they had one patch – MS Dhoni's partnership with R Ashwin.
But at the Oval, there was nothing. Dhoni made more runs, but there was no good patch because his biggest partnership was with Ishant Sharma for the tenth wicket. Every run they scored merely enhanced the horror of what had preceded it.
Start by bending your fingers
We've thought and thought about India's performance because we're still not happy with the easy response that they'd simply given up. Watching their final innings of the series unfold, unravel and spontaneously combust, it seemed to us that it wasn't so much lack of fight as having no real idea how to form a fist.
Watch the highlights again and they're not peppering the slips cordon apathetically. They're just displaying an almost frightening lack of adaptability; playing the same non-shots to swinging balls outside off stump as they had been doing innings after innings. It was as if they simply had no alternative.
Wicket-taking strategies in England are no great mystery and presumably India's batsmen know what slips fielders are for, but yet most of them seemed to stick with doing exactly the things most likely to result in their dismissal.
What was it like?
It was rather like someone had said to them: "Could you retrieve my hat from this active threshing machine? You'll just have to reach in with your hand and try and grab it."
To which they said to themselves: "Oh well. Guess I'll be losing my hand in the threshing machine," rather than doing something – anything – different.
15 Appeals
9
Tomorrow, a view on India's Test series, but today let's look at England's – or at least at how it finished. Some of the later events are being ruled ineligible for analyss on the grounds that India were too crap, but we found England's approach quite interesting.
178 all out, 152 all out, 161 all out, 148 all out, 94 all out
It's easy to to avoid bowling sides out for less than 200. This much should be obvious. But even when you're in a position to do so, things often go awry. Bowlers get overconfident, change bowlers spray it around, or everything's going so gosh darned swimmingly that the whole team suddenly realises it's eased off a bit and the moment's passed.
England didn't make those mistakes. There were times when they could have bowled India out for fewer runs, but in general we've been rather impressed with their lack of mercy. It's not a quality that's always associated with England sides. Maybe all the months of humiliation have bequeathed them an embittered remorselessness.
Don't slip
Field settings were particularly noticeable. There were attacking oddities like a short slip, but the most impressive thing for us was the sheer number of conventional slips. Yes, it's easy to attack when you're miles ahead, but Alastair Cook clearly has no reservations about setting his men out as if the whole side's queuing to keep wicket. This was impressive for the simple fact that we thought that he was precisely the sort of man who would have reservations about doing that.
How can you bat?
We all knew England could do steadfast batting. Also in their known repertoire were: patient, accumulative and boring. Turns out they can also bat with gay abandon.
Jos Buttler clearly brings gay abandon, but few people thought Gary Ballance would. It takes him a while to get going, but if circumstances call for it, the shirt comes off and the runs flow. Then there was Joe Root and Stuart Broad on the final day of the series. 101 runs in 11.3 overs was a sadistic demonstration of strength of which Kaiser Soze would be proud.
Kicking them when they're down
Does all of this matter? Will all of this apparent remorselessness really add up to much when things aren't quite so easy?
We'd say so. After all, capitalising when things are going your way is basically the way in which you turn any match in your favour.
9 Appeals
24
There have been some major revelations about Ravi Shastri this summer. Apparently, he can be interesting and insightful and also possesses a sense of humour. Who knew?
We learned this while watching Sky's oddly watchable Test discussion programme, The Verdict, on which he has been a regular guest. Before that, all we'd really known of him as a broadcaster was that he was a relentless purveyor of booming cliché. In fact, he is so well-known for it that for a time there was a bot on Twitter which would reply to your cricket-themed tweets with lines of Shastri commentary.
It was painfully accurate, including gems such as: "Just what the doctor ordered", "He's given it the full Monty" and of course, "That went like a tracer bullet".
But having finished on The Verdict, Shastri's now taken on a new role. He's been named India's 'director of cricket' – surely a somewhat threatening job title for Duncan Fletcher, who remains as coach.
Fletcher might notice a few more Indians about the place. Trevor Penney, the fielding coach, has been 'given a break' according to the BCCI's press release and R Sridhar will take up that role. Bowling coach, Joe Dawes, is also being given a bit of time off and Sanjay Bangar and B Arun take up positions as assistant coaches.
Will Shastri help India recover? Dunno, but they can't do much worse and at least the standard of Indian commentary has been improved by this decision.
24 Appeals