Author Archive
14
The Champions League is on. We managed to watch half of one innings, but it's such a stupid, managed tournament, it isn't really sport in any meaningful sense, so it's back to county cricket.
First-class but second-rate
In these triple-format days, is first-class status as meaningful as it once was? We ask because Leicestershire have now gone two full years without winning a single match in the County Championship and it reminded us of something we read in WG Grace's Classic Guide to Cricket
.
Apparently, in 1890, it was suggested that county cricket be divided into first, second and third classes with eight teams in each. This struck us as being not at all a bad idea – an extension of the current league system, in effect. It would allow minor counties a route to progress and would also motivate those struggling in the second tier who at present basically find themselves playing for nothing.
At the minute, poorer counties seem aghast that they might lose their first-class status, but perhaps if it were a more fluid thing, it wouldn't seem such a cataclysmic event. The blow would be further lessened if they were still involved in 20- and 50-over competitions, which could perhaps be expanded so that minor counties could also qualify for them.
If you're wondering how things panned out in Grace's day…
"The scheme of classification did not give general satisfaction, and a newspaper warfare was kept up for some time afterwards."
We imagine it would be much the same outcome today.
Second division but Test class
How's Cheteshwar Pujara getting on playing for Derbyshire, you ask? Not enormously well. In three innings, Pujara has made 7, 0 and 16.
You wonder how much he'll really learn without spending meaningful time in the middle. Fortunately, he gets to bat against Leicestershire next week.
14 Appeals
14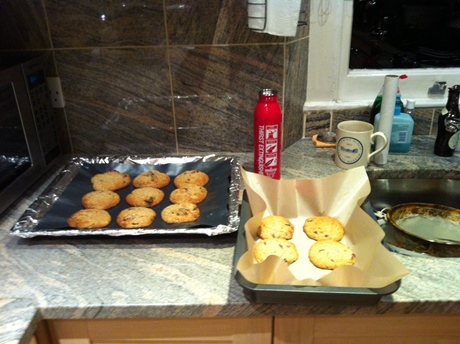 Ged writes:
"Am I to be the token Northerner?" asked the Lancastrian nephew-in-law, Escamillo Escapillo, viz our impending visit to the first Lord's Test of the 2014 season. "Not at all", I replied. "Big Al DeLarge is originally from Burnley".
But that got me thinking, what with Big Al being so fond of fine food – by his own admission he can be "a bit cheffy" – I'd need some imaginative ideas for the picnic. And what better, with two of our party being big-eating Lancys than to try cooking King Cricket's recommended dish – throdkin.
Now here's the thing. Try finding an actual recipe for throdkin on the web. The Wikipedia entry for throdkin provides clues, but not a recipe. Indeed, I could find no actual recipe for the dish anywhere on the web. Some chat, but no recipe.  I decided, from the clues, that throdkin is a form of baked oatmeal with bacon, so found a recipe for that and adapted it a little. My first attempt was gloopy, salty, only slightly sweet and impractical for cricket match picnic purposes.
The next thing that happened was bizarre and coincidental. A client of Daisy's recommended that she buy some Iberico streaky bacon from Lidgates for a posh carbonara pasta. Daisy went mad and ordered a kilo of the stuff. It made an amazing carbonara, by the way, but we needed no more than half a kilo for the pasta dish. "I'm having the rest of that bacon for the Lord's throdkin," I said, explaining my plan. Daisy thought I had taken leave of my senses, but a workable recipe for a throdkin-like delicacy was starting to form in my brain.
I switched my culinary thinking from "a variation on a theme of baked oatmeal" to "a variation on a theme of oatmeal cookies" and guessed, correctly, that I could find plenty of US recipes for bacon oatmeal cookies.  I experimented with some ordinary bacon and one of those recipes. Big tick in the box for simplicity, good texture and basic flavour, but the cookie was insanely sweet using the recommended quantities of brown sugar and white sugar in the cookie, plus icing sugar and maple syrup on top of the cookie. With that sort of sugar rush at breakfast each morning, no wonder American kids grab guns (readily accessible in all good US homes) and cause havoc with them on a regular basis.
But I had figured out the idea now.  Daisy tasted the sweet cookie and agreed that a poshed up, less sweet version of that recipe would work.  She just wanted nothing to do with it other than the eating.
Thus, "The Lord's Throdkin" was fully formed. I saw everything that I had made, and, behold, it was very good. So here it is: Ged Ladd's recipe for The Lord's Throdkin.
14 Appeals
14
Not one of ours, unfortunately. It's by Cricinfo's David Hopps – a Yorkshireman hisself.
"Their first Championship win for 13 years is a lesson to English cricket, based as it is on a strong commitment to player development – among all ethnic groups, and extending beyond the privileged classes."
Which is precisely why, even as a Lancashire supporter, we see it as a win to be celebrated rather than resented.
14 Appeals
29
In a recent comment, Bert revealed that he had something of earth-shattering importance to say about Ravi Shastri arising from this week's Cricket Badger (sign up here). Unfortunately, he didn't have a place to say it.
Let this be that place.
It also occurred to us that many of you will have something you wish to express regarding the bombastic microphone holster cum BCCI mascot because – somewhat surprisingly – we've never actually written about him before.
We're quite interested to hear what you all think…
29 Appeals
23
The Pennines have long separated good from bad, but there's been an odd inversion in county cricket this year.
White Rose good
Nottinghamshire were the only team who could have prevented Yorkshire from winning the County Championship. Being as Yorkshire are positively monstering them with just one more game to go, the title is basically theirs. The flat-capped monophthong favourers made 532-9, which was already enough even before they reduced Notts to not-many-for-six.
Considering they've spent most of the summer without their two best batsmen, Yorkshire have batted well this year. Adam Lyth has scored way more runs than anyone else, continuing a rich tradition whereby players we suggest you watch finally come good many years after we've tipped them. His alphabet-straddling opening partner, AZ Lees has also averaged over 40, meaning Yorkshire have frequently benefited from strong starts.
Red Rose bad
Lancashire, however – their batting has not been so crash-hot. Here are Yorkshire's batting averages for this season and here are Lancashire's. Compare and contrast. Then weep softly for a bit. Then imagine what Lancashire's would be like without the two overseas imports. Then bawl uncontrollably for a bit.
Lancashire's 320 all out against Sussex in their current fixture doesn't sound so bad until you realise that they were 192-8. Sussex should top 400 which should pretty much relegate Lancs. Frankly, they deserve it. They've batted badly for years now with few signs that anything might improve.
Kemar Roach then?
He took 4-64 as West Indies beat Bangladesh. He also said things on Twitter, which we've included in our latest Cricinfo round-up. Roach comes across as being… an interesting chap.
23 Appeals
30
A quick thank you to Childish Things, the guys who make International Cricket Captain, for agreeing to sponsor the site for the next month (although the hours we've lost to the game over the years, frankly they owe us). If you're not running ad-blocking software, you'll see a big, long ad for the 2014 version of the game just to the right. If you are running ad-blocking software, you may not – but you will see this post.
We've not played this latest version yet. We'd expect it to be some way more sophisticated than the 2009 instalment, which is the last one we did a proper review of. They say the match engine's been refined to ensure greater realism, although the below screenshot does feature an Alastair Cook hundred.
You can buy the game from the Childish Things website.
Advertising on King Cricket
If anyone else wants to sponsor the site, get in touch. You can have an ad for a month and a thank you post as long as you're a proper company with a proper product and not just some 19-year-old emailing people asking for links because you work in SEO.
30 Appeals
15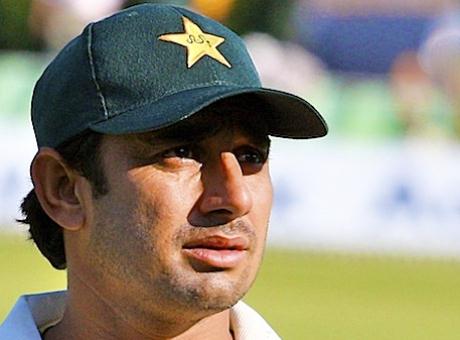 Well this is news. Pakistan's Saeed Ajmal has been banned from bowling.
Ajmal was tested once before and had his action cleared. But not this time. This time he has been found guilty of the greatest crime in cricket.
People will whisper the word whenever he is near and he will have to use the special toilets reserved for his kind whenever he is at a cricket ground. Whenever his name appears in on-screen statistics, it will always be accompanied by an asterisk. This is not to indicate that he was captain. That asterisk says just one thing. People will hiss the words, rather than say them: "Saeed Ajmal was a straightener."
A thousand parallel Ajmal-less universes have opened up to bitter fans of other nations. In ours, an entirely different Pakistan spinner keeps taking five-for-spit against England in the UAE in 2011. Probably a far less likeable one.
15 Appeals
26
England finally found a modicum of limited overs success. They've analysed the stats and apparently scoring hundreds and making big totals will give them a better chance of success in the World Cup. Common sense might also tell you such a thing.
The fifth one-day international
Joe Root became the first England batsman to survive spin bowling in the middle overs. He made a hundred, allowing the the lower order to do what they've always been perfectly capable of.
The Twenty20 international
Eoin Morgan remembered that he wasn't terrible at cricket while the selectors remembered that Ravi Bopara played cricket. Even more strikingly, Virat Kohli finally passed 50 and totally vindicated being retained in our All Out Cricket fantasy team for the entire summer.
The Kingdom
And here are the final standings for the King Cricket one-day mini league. Bailout won. We apparently didn't come second, but sixth.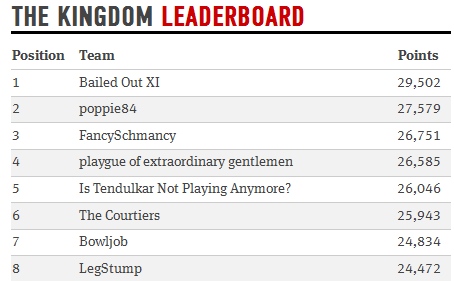 26 Appeals
32
We'll come to England's latest one-day exploits later. For now…
The upskilling of one-day skillsets
This was the other Cricinfo article of ours to be published yesterday. Apparently we were to be found at both ends of the cricket writing spectrum on the 4th of September, 2014. This particular article's that old staple, the fictional meeting between captain and coach. The bit we're most proud of is the final sentence.
Living for the city
Our latest Shire Horse column for All Out Cricket is quite Bears-centric, which will satisfy as many as one of this website's readers. Yorkshire get a mention too. Plus there's some other stuff.
Kyle Hogg's had to retire
Let's end how things always end – with some bad news. At the start of the season, we suggested that you watch out for Lancashire's Kyle Hogg. Unfortunately, this has meant watching him retire from cricket early due to chronic back knack. For one reason or another, he's never seemed to manage a long run in Lancashire's first team and we thought this was about to change but sadly his body felt otherwise.
32 Appeals
36
We've written a rather hefty piece for Cricinfo about overtraining in cricket. We think it's a big deal, but we get the distinct impression that no-one else really does.
It's partly that people don't really understand the concept. Understandably, they think it just means training too much, but overtraining is actually a label for a physiological condition that tends to come about as a result of a whole range of factors of which physical training stress is just one.
It hinges on whether or not an athlete is ever fully recovering and so it also involves all those little things which have an impact on that.
Most people don't understand recovery
And this is simply because they don't live a lifestyle where it's any kind of an issue. Even if you play a lot of sport in your spare time, chances are you're still in overall credit when it comes to recovery. You might struggle in one particular week, but it's not something that persists for a month or a year.
An alternative title for the Cricinfo article could have been 'a plea for an off season' because it strikes us that international cricket seems to be actively courting overtraining. The way the sport is run seems specifically geared towards hampering recovery, enhancing mental stress and most importantly of all, engineering a situation where players define themselves by their performance. When you reach that point, things really get out of hand.
Jonathan Trott
While speaking to Dr Richard Winsley for the article, we pointed out what happened to Jonathan Trott. Thinking about what Trott had said at the start of the summer, about how he'd basically lost the ability to switch off, it struck us that this might be an example of overtraining. Winsley agreed to the extent that he is now going to use Trott as a case study.
If the Trott example tells us anything, it is that such an implosion has no single cause. Rather, it is a perfect storm of multiple, related factors. It is also pretty clear that the environment inhabited by international cricketers is one where such an outcome is increasingly likely.
An extraordinary proportion of a modern international cricketer's time is spent with colleagues. Have you ever been on a work night out and been struck by how much you talk about the job? Imagine that all day every day. It's not healthy. People need balance. Now imagine that this environment is all you've known for your entire adult life and then suddenly, in your early thirties, it's gone. How would you adapt to that?
Fred bowled more overs
Measuring bowlers' workloads in terms of overs is reductive. There's far more to overtraining than that. England are playing at least one match a month from November of this year until September 2017, so anyone playing multiple formats is rarely going to be more than a week away from another flight and another hotel.
There's an awful lot appended to a modern international over, whereas a 1950s county over is delightfully unencumbered. They're not equal.
They're well paid
This is the most infuriating argument of all – that players should stop moaning because it's their job and most people would love to be in their position.
Firstly, most people would love to be in their position simply because most people are idiots and only imagine themselves raising their bat or holding aloft a trophy. Nobody plays a game for a living, because as soon you do, it ceases to be a game.
The reality is that you spend years building towards something that might be taken away from you in an instant by a slight divot or a dodgy call. You then get to spend endless hours ruminating on it. The cricket in the middle's the tiniest fraction of your time and the majority is spent trying to address all your myriad flaws.
Whose problem is it?
The second rebuttal to the 'they should just bloody well get on with it' argument is that this is precisely what they are doing. It's not generally the players who are suffering the most – it's us, the fans. Most people who read this website – obsessive cricket people, for the most part – would be more than happy to see far fewer games being played. They'd love to see more fast bowling and fewer meaningless fixtures.
Players and coaches are just getting on with it, but that isn't to say that everything's fine. Rotation's pitched as being a cure-all, but that assumes there is someone in charge who can enforce it. Is that the head coach, who needs his best players, the player fighting for his spot, or some sort of head medical officer keen to become a lightning rod for disappointed fans' hatred?
Fatigue accumulates over time, but as often as not a decent period of rest sees it dissipate. A defined off season would be no bad thing.
36 Appeals