Author Archive
3
Tomorrow, a view on India's Test series, but today let's look at England's – or at least at how it finished. Some of the later events are being ruled ineligible for analyss on the grounds that India were too crap, but we found England's approach quite interesting.
178 all out, 152 all out, 161 all out, 148 all out, 94 all out
It's easy to to avoid bowling sides out for less than 200. This much should be obvious. But even when you're in a position to do so, things often go awry. Bowlers get overconfident, change bowlers spray it around, or everything's going so gosh darned swimmingly that the whole team suddenly realises it's eased off a bit and the moment's passed.
England didn't make those mistakes. There were times when they could have bowled India out for fewer runs, but in general we've been rather impressed with their lack of mercy. It's not a quality that's always associated with England sides. Maybe all the months of humiliation have bequeathed them an embittered remorselessness.
Don't slip
Field settings were particularly noticeable. There were attacking oddities like a short slip, but the most impressive thing for us was the sheer number of conventional slips. Yes, it's easy to attack when you're miles ahead, but Alastair Cook clearly has no reservations about setting his men out as if the whole side's queuing to keep wicket. This was impressive for the simple fact that we thought that he was precisely the sort of man who would have reservations about doing that.
How can you bat?
We all knew England could do steadfast batting. Also in their known repertoire were: patient, accumulative and boring. Turns out they can also bat with gay abandon.
Jos Buttler clearly brings gay abandon, but few people thought Gary Ballance would. It takes him a while to get going, but if circumstances call for it, the shirt comes off and the runs flow. Then there was Joe Root and Stuart Broad on the final day of the series. 101 runs in 11.3 overs was a sadistic demonstration of strength of which Kaiser Soze would be proud.
Kicking them when they're down
Does all of this matter? Will all of this apparent remorselessness really add up to much when things aren't quite so easy?
We'd say so. After all, capitalising when things are going your way is basically the way in which you turn any match in your favour.
3 Appeals
24
There have been some major revelations about Ravi Shastri this summer. Apparently, he can be interesting and insightful and also possesses a sense of humour. Who knew?
We learned this while watching Sky's oddly watchable Test discussion programme, The Verdict, on which he has been a regular guest. Before that, all we'd really known of him as a broadcaster was that he was a relentless purveyor of booming cliché. In fact, he is so well-known for it that for a time there was a bot on Twitter which would reply to your cricket-themed tweets with lines of Shastri commentary.
It was painfully accurate, including gems such as: "Just what the doctor ordered", "He's given it the full Monty" and of course, "That went like a tracer bullet".
But having finished on The Verdict, Shastri's now taken on a new role. He's been named India's 'director of cricket' – surely a somewhat threatening job title for Duncan Fletcher, who remains as coach.
Fletcher might notice a few more Indians about the place. Trevor Penney, the fielding coach, has been 'given a break' according to the BCCI's press release and R Sridhar will take up that role. Bowling coach, Joe Dawes, is also being given a bit of time off and Sanjay Bangar and B Arun take up positions as assistant coaches.
Will Shastri help India recover? Dunno, but they can't do much worse and at least the standard of Indian commentary has been improved by this decision.
24 Appeals
25
It seemed logical to assume that India's batting at The Oval would be the most repulsive and upsetting thing any of us saw this week. Then Ian Botham put everything in perspective.
Sir Beef has a history of advertising meat. This morning he appeared to be promoting pork sword via his Twitter account. He says he was hacked. Not many people believe him.
If you've seen the horrifying image, why not answer the question that was posed alongside it: 'What are you thinking…?'
He didn't quite average 50
Mahela Jayawardene has bowed out of Test cricket with a win over Pakistan. He made a fifty in his final innings, but his first innings dismissal for four means he finishes with a Test average of 49.84. Still not bad though, is it?
Sri Lanka are fourth in the Test rankings and while they've been on an upward curve, we wonder whether they might now plateau. Jayawardene's runs will be hard enough to replace, but his tactical shenanigans will also be missed. Rangana Herath is up to third in the rankings for bowlers, but Jayawardene has to be credited with at least a few assists.
Real Hales
Engand will announce their one-day squad at some point. Alex Hales will be in it. He will have seven or eight months of 50-over cricket in which to make some sort of case for Test selection.
We'd like to see him manage it because we reckon he'd be a decent foil for Alastair Cook's nurdletastic relentlessness. Plus it's been a while since England fielded an attacking opener and such a player can really add something to a side. Look at Marcus Trescothick's 102-ball 90 on the first day of the 2005 Edgbaston Test – one of the great underrated innings. England have looked a little less passive of late, but we fear it's still something they might revert to in tougher times.
Hales would certainly address that, but let's see how he goes in the middle format first.
25 Appeals
21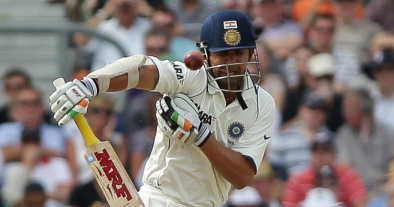 We think you'll agree that it's been very difficult to watch England methodically pan India without concluding that they are vampires. If you see Alastair Cook in your neighbourhood, don't invite him into your home.
While England have found ever greater vitality, India have been looking more and more tired. It cannot be coincidence that the changes have been proportional. The home team have clearly been exsanguinating the tourists. How else to explain India's listlessness and painfully slow thinking versus England's staggering rejuvenation?
Look at Stuart Broad's innings in the fifth Test. Here was a nervy batsman with a broken nose, sitting on the back foot and awaiting the inevitable. Yet when the short ball came, it was so insipid that he could larrup it for six. Then India batted and eleven pale, ghostly, bloodless men repeated the same mistakes as always, simply because it was all they had the strength to do.
Apparently, a bloodless coup can still involve comprehensive destruction.
21 Appeals
31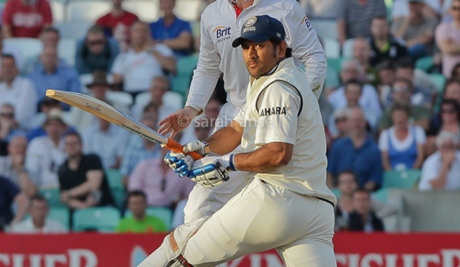 Here's a question: can you lead by example if no-one follows that example? If there's no-one behind you, you're not really leading, are you? You're just ambling around on your own while everyone else sits around having cakes and tea.
In the first innings at Old Trafford, MS Dhoni played with grit and resolve and showed the way for the rest of his team. No-one followed him. In the second innings, they buckled like a belt.
Here at the Oval, he made 82 out of 148. You could call it a captain's innings, but that perhaps highlights just how meaningless that phrase is.
31 Appeals
51
Or, more accurately, in the eyes of many: who wins cares and who loses doesn't.
We touched on this a couple of days ago. India's batting at Old Trafford warrants scrutiny, but we're still wary of drawing conclusions about the players' motives and feelings based on what happened. After all, when has a loss ever looked good?
Dileep Premachandran knows the Indian cricketers better than most and he's written a piece about accusations of indifference for Wisden India which is worth a read.
Mo' Kemar, mo' problems
Meanwhile, our latest Cricinfo Twitter round-up takes us a step closer to understanding Kemar Roach's world view. It seems to revolve around making money, attracting women and moaning about women who he feels are only attracted by money.
Sign up to our stuff
We tend to let you know about articles we write for other people, but in case we ever forget, here are various feeds and things which will help you stay on top of our 'output'.
We've also got a thing in this month's issue of The Cricketer – XI phrases we'd like to see the back of. We can't link to that. We can point at it, because we can see it on the coffee table, but that's not really any good to you, is it?
51 Appeals
20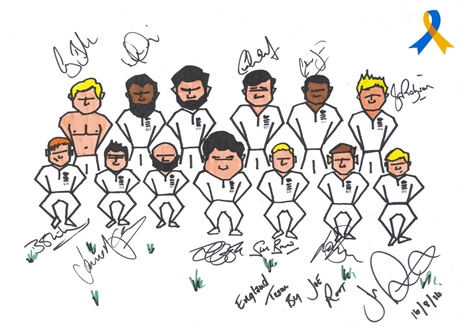 That's Joe Root's work above. It's one of a number of portraits produced by players and commentators which are being auctioned off to raise awareness of Cricket United Day. Cricket United Day is on Saturday and will see funds raised for a handful of cricket-themed charities. You can donate here.
We're not quite sure why, but it's interesting to see which England players possess even a slight bit of artistic ability. Here's the full range. It's particularly interesting to see Michael Vaughan's pathetic effort in light of the fact that he is one of the few cricketers to have claimed to be an artist. Joe Root is definitely the best. Here's his Monty Panesar from last year.
Blurred Lions
What you really want from fixtures played by England's second string are clear-cut conclusions. We remember England A playing India A and a few state sides back in 2004. Hardly anyone made a run, but Matt Prior got a few fifties while Kevin Pietersen made three hundreds. It was pretty clear that they were better than the others.
England Lions' tri-series against Sri Lanka A and New Zealand A has been less conclusive (except insofar as New Zealand A were unbeaten). Several players have performed well, but none has really stood out.
James Taylor has been the Lions king in recent times. He made one hundred in three matches, but so did Alex Hales, Ravi Bopara and Jonny Bairstow. If you had to choose based on this little tournament alone, Bairstow's 250 runs in three innings puts him a little ahead.
Bowling-wise, Steven Finn took one four-for and generally went for a few. David Willey took a five-for and went for even more.
20 Appeals
19
There's quite a bit of Test cricket going on at the minute. Savour it, because it's not long before we make a sharp turn and embark on the long, straight approach to the 50-over World Cup. After this week's final Test, England don't play the longest format again until the middle of April (whereupon they will play 17 Tests in the space of nine months).
The Africa derby
Zimbabwe have put up a bit of fight in the one-off Test against South Africa, but will lose.
Sri Lanka v Pakistan
First blood to the Lankans. Everyone's going on about Kumar Sangakkara's double hundred, but Rangana Herath took nine wickets, including six for not-very-much in the second innings. He's a canny, doughy, squat little devil and his team are increasingly thankful to have him.
Bent elbow
Saeed Ajmal's action has again been reported. They'll do some tests.
We've mixed feelings about this. People struggle to comprehend that a bent-armed bowler can bowl legally and this is compounded by misleading photos and footage which appear to show straightening where there isn't any. At the same time, Ajmal's action is quite extreme. It'll be interesting to hear the findings.
Motives and attitude
In the wake of India's twin collapses in the fourth Test, there's been a return to people questioning their attitude, which was a common theme last time they toured. We're not enamoured of this.
Players like Cheteshwar Pujara and Ajinkya Rahane are first and foremost Test cricketers; Murali Vijay hit a hundred and two fifties in the first two Tests of the series; and Gautam Gambhir has only just got back in the side. We don't see these as being players who don't give a toss; who are throwing their wickets away so that they can spend more time counting their IPL rupees.
That's most of the batting line-up. Virat Kohli was the other specialist at Old Trafford and if England fans want him to prove that he has the stomach for Test cricket, they should perhaps be careful what they wish for. After all, the series is 2-1 with one match to go. Just because you're reading that India are a beaten side about nine times each day doesn't make it true.
Update
We forgot to mention the latest Shire Horse, so we're doing that now.
19 Appeals
16
It's a common criticism of modern cricket that there are too many disruptions; too many conferences and unscheduled drinks breaks. On Sky, David Lloyd has taken to drawing attention to them with an impassioned: "Get on with the gaaaame."
You can hear the frustration in his voice when he says this and it's become an irritating catchphrase. Perhaps this is deliberate because at heart it's not really Lloyd who's the cause of the irritation.
But there's more
We knew all of this. We knew stoppages in play were an issue. What we didn't realise until Saturday was the frequency with which England send messages from dressing room to pitch. These skittering little errands don't always result in a stoppage. Often it all takes place while the bowler is walking back to its mark, but it's still annoying.
We go and see a live England match once or twice a year, so it's not like we were ignorant of the fact that this happened. The difference on Saturday was the frequency. It honestly seemed like one of the team's high-vis messengers was out there ferrying a helmet, a bottle, some medication or whatever pretty much every other ball.
England station two pitch invaders in camping chairs beneath the balcony, constantly primed for action. When a wicket falls, they both run out carrying bags of bidons. Two balls later, one of them will be out there again, often carrying a single bottle as if the liquid has simply run straight through a bowler's sieve-like digestive system.
They're not really there to deliver water, of course. They're there to deliver something much more valuable – information. The umpires seem to turn something of a blind eye so long as it doesn't actually slow things down at all. And it doesn't, for the most part. It is sly and quick, but still infuriating because it gives the impression of a team being micromanaged.
Does it matter?
The regular fall of wickets in that evening session perhaps meant that the interlopers' tabards were even more highly visible than normal, but that really just highlighted how often this is happening anyway. Maybe we're assuming too much about what was going on, but it didn't smack of players being allowed to think for themselves, which was a major criticism of the side at the end of what we're knowingly going to refer to as the previous era.
We can only guess what is being said – and perhaps the whole problem was exacerbated on this occasion by the captain needing updates about Stuart Broad's trip to hospital and James Anderson's lurgy-induced time off the field – but it surely didn't need to happen as often as it did.
Conclusion
If they really are giving the bowlers advice and new directives are being issued every two or three balls, then there is simply no room for a bowler to test his own theories. This would make the leather-flingers little more than gristly conduits for those who are poring over the data back in the dressing room.
16 Appeals
32
Sometimes the bowling's good and the ball's moving around and the fall of wickets seems inevitable. At other times, relentless pressure causes a side to break. Then there are those other days when it seems like you need to take every opportunity presented to you. Day three at Old Trafford was one of those days – only it was the batting side who took the opportunities.
One nose-broken bowler was off the field, another had the shits (it's uncertain how wild they were) and two more were bowling a fair amount of filth – yet India contrived to be bowled out for 161. That is no mean feat.
If there were any opportunity to lose a wicket, India grasped it. They barely let a single chance go unclaimed. It was very, very impressive.
32 Appeals