Author Archive
10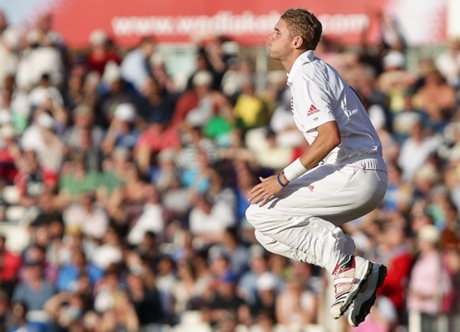 In post match analysis, many people have been saying that they thought Graeme Swann was going to be key and marvelling that he didn't get a bowl. Yes, that's true, but let's put this in perspective: Steven Finn didn't get a bowl either.
James Anderson took 2-23 and Stuart Broad took 7-44. As new ball spells go, these are adequate.
It sounds odd, but people sometimes undervalue bowling performances like this, particularly once the excitement has worn off and a few of the details have been forgotten. The innings is either described in terms of the batting side collapsing or the results are diminished by talk of helpful conditions. But while destructive bowling in unhelpful conditions is undeniably admirable, there's something really special about dismissing a side for 68. You'll be lauded if you dismiss the opposition for twice that and the difference between those two scores speaks of the standards you set yourself.
The TV highlights were pretty much the entire day's play, but yet they still felt very much like highlights. The wickets were interspersed with dozens of similar deliveries which just happened to beat the edge, rather than catch it. Many swing bowlers have picked up five wickets when the ball's doing something, but only the best ones make it seem unavoidable.
10 Appeals
11
We had it all planned out. We were going to cycle up Mow Cop and then, when we got home, we'd 'refuel' with our feet up while watching what promised to be the business end of the New Zealand innings. We'd be exhausted and would therefore be able to sit watching TV contentedly without feeling like we should be doing something else. Flawless, guilt-free self-indulgence was in the offing.
We timed it almost perfectly wrong.
Within 30 seconds of our return, the TV was on. It was the adverts. And then it was still the adverts. This was an unusually long ad break. Maybe it was the fall of a wicket. Oh, wait, maybe it was drinks. It was about the right time – an hour into the afternoon session.
It wasn't the drinks break.
11 Appeals
4
Players are always talking about the brand of cricket they're looking to play, trying to make it sound like there's some lofty aesthetic ideal with which they should be associated. No-one ever talks about playing a squalid brand of cricket and more's the pity. Squalid, low-scoring cricket that's decided by fifties and run-outs and thick edges to third man is marvellous stuff.
Hard-fought fifties used to be a thing. This was because they contributed something valuable. However, in recent years, the hard-fought fifty has been replaced by the 'missed opportunity'. The numbers are the same, but the perception is different. In many Test matches, 50 or 60 runs feels neither here nor there.
In this Test, 50 or 60 runs from someone could potentially swing the match. This struck us yesterday when Brendon McCullum was batting. People perceive McCullum as being a man well-suited to his time because he's an attacking batsman (as if that's a modern phenomenon), but he's an attacking batsman who tends to make quick fifties rather than whopping great hundreds. Once upon a time, he would have regularly tipped the balance and secured New Zealand Test wins with his scores. In this era, the same contributions tend to be something more akin to light relief. They don't affect the story. They're just pleasant distractions for a short period of time.
We rather like the fifty taking centre stage. More of this kind of thing.
4 Appeals
23
We generally approve of England's somewhat one-dimensional approach to top order batting. However, the fact that it's highly appropriate for the current era doesn't mean it's always the best approach. Against equally patient bowling attacks, it can result in stand-offs less spectacular than when two cats spend three-quarters of an hour looking everywhere but at each other.
Many fielding sides have grown weary and moved to Plan B in the face of the numbing barrage of obduracy delivered by the England top order, but New Zealand aren't like that – we're not entirely sure they have a Plan B. The nature of their bowlers means Plan A can be delivered consistently. Cut from the same hardwearing grey cloth as England's batting line-up, the Kiwi bowling attack doesn't scythe through batting orders, but nor does it try to.
Reactive batting
What do you do in the face of this? Fight lukewarm water with lukewarm water?
While it's comforting to see your nation's cricketing representatives taking their job seriously, sometimes you need a bit of irresponsibility to open a match up. Not too much; just a touch. In fact just enough to keep full-blown, overcompensatory irresponsibility at bay (Nick Compton, we're looking at you).
There are times when a little proactivity is required, but Kevin Pietersen is the only upper order England batsman prone to trying to set his own field. The others play according to what they are presented with.
Today, a slow outfield reduced the likelihood of boundaries and run-scoring was further stymied by the fact that this allowed more fielders to be placed saving singles. So perhaps today wasn't the day for proactivity. Perhaps watchfulness was the correct approach and 160-4 is less underwhelming than it seems. Perhaps open-ended closing paragraphs are unsatisfactory.
23 Appeals
8
There's too much emotion in cricket these days. We need to get back to a world where wickets are celebrated with a handshake, team spirit is expressed with a warm handshake and contempt for the opposition is conveyed via a firm handshake.
We've written about how everyone's far too het up about the first Test over at Cricinfo.
8 Appeals
29
Armpits of Botham! It's a Test match tomorrow!
How do you prefer to follow a Test? A lazy assumption is that live TV coverage presents the best option, but we're increasingly questioning that. When a match is tight and it's the closing overs, it's hard to beat – but those situations are rare. We wonder how much we'd really miss live coverage if we didn't have access.
When we started this website in 2006, we didn't have Sky Sports and we're far from glued to the screen now that we do have it. We often listen to the match on the radio while doing other stuff before watching the highlights later on. This approach means we get to experience events as they happen without the Test entirely monopolising our time. It's not like we don't know what a cover drive looks like, after all.
It's funny the way people experience cricket. A few years ago, we were struck by a theme in the comments on a series of posts about the 2005 Ashes. It seemed like hardly anyone had actually watched the matches and yet this had precisely no impact on the excitement people felt.
How would you follow a Test match in an ideal world?
29 Appeals
29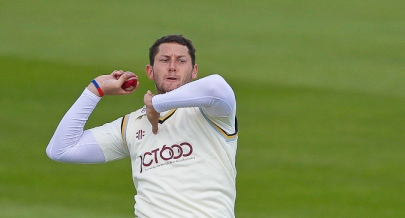 Tim Bresnan had elbow knack. It was a particularly severe case and so he had surgery. Unfortunately, the procedure made him not particularly good at cricket. He therefore had surgery again (not to get bionic legs or owt, just for the elbow).
Now he's back – even if he wasn't away quite long enough to warrant a 'Tim Bresnan's back' headline. The good news is that he claims to have recovered pace. He hasn't had this verified by a speed gun, so it might just be that he can't remember what quicker bowling looks like, but if he has recovered a yard or two, that's great news.
A sportsman's career rarely ends on a high, but injury is the saddest way to go out, particularly if it's more of an impediment than a death blow. An injury which merely takes the edge off your ability commits you to a grey purgatory where you play a pale imitation of what you once experienced of your sport.
We imagine it's kind of like going back and playing Outrun. If you've spent time driving around virtual cities doing as you please in more recent games, you simply can't re-narrow your horizons so that the Outrun experience is as satisfactory as it once was.
29 Appeals
22
You should probably stop paying attention to the section at the end of these posts where we tell you what's happening in the coming week. Last week we said the top four teams were all playing in matches starting on Wednesday. Turns out only one match started that day and that's far from being the first mistake we've made.
It probably doesn't help that we write this at a time of night when our eyes have grown foggy from drink, curry and weekend.
1st – Middlesex
It seems that Middlesex drew with Warwickshire, but who can honestly be certain of that? If we've got our dates right and this match really did take place, then it seems that Sam Robson may have made a double hundred and Tim Murtagh may have taken 5-85. But don't quote us on that. We just wrote '5-85′ as '5085′ because we forgot to press the shift key. That's how we're operating here. Anything could happen. We could spell 'anything' with two Gs or we could write 'would' instead of 'write' in this very sentence. Both of those things actually happened. These are the mistakes we're picking up, but Lord knows what we're missing.
2nd – Durham
Durham are probably still playing Surrey. Surely we should cover that next week? Incidentally, we really have to take issue with Surrey players referring to the county as "The 'Rey." It's not cool. It sounds stupid. Sometimes you just have to accept that abbreviation is not an option. Also, they're setting an unacceptable precedent for Sussex.
3rd – Yorkshire
They drew with Somerset in the match in which Adil Rashid made 180. Tim Bresnan and Jack Brooks took wickets.
The next chapter
Here's where things get really shaky. There's something about future dates which we really can't get our head around. There's a chance that Middlesex are away at Somerset and that Yorkshire are away at Warwickshire and that both matches start on Wednesday, but frankly anything could happen.
22 Appeals
13
Mumbai Indians are currently benefiting from Ricky Ponting's expertise and Surrey will be getting a few top tips shortly when he arrives to play for them.
Don't believe us? Ask Dinesh Karthik:
"Some of the things that he says in team meetings and some of the points he brings to the fore is really hair-raising."
Is they? What kinds of things is he saying to raise your hair?
"The other day I had a doubt and I walked up to him. All he said was that if you see the ball and think you can hit it, you hit it. That, I thought was a very positive input and the one I really liked."
From this article, which was brought to our attention by Cric-O-Fan.
13 Appeals
21
We're not entirely sure what a sports lounge is – it sounds oxymoronic – but Zaheer Khan's opened one. It's called Toss Sports Lounge.
It's not really selling itself is it?
The other day, Zaheer was asking people to come up with a tagline for his new venture.
Guys, am launching TOSS sports lounge in Pune! Undecided on its tagline, so my team has put together – Write a Tagline contest for you guys!

— zaheer khan (@ImZaheer) April 26, 2013
We're going with:
"Toss Sports Lounge – but come anyway."
What's your suggestion?
21 Appeals