Author Archive
14
We stand by everything we said yesterday. We never said England lacked eggs, only baskets. There have always been plenty of oeufs in the new ball basket and Jimmy Anderson is adept at using them. Take three wickets for one run and additional receptacles seem superfluous  – particularly if you then produce three additional eggs, in the form of catches and run-outs. Just don't ask where he was keeping them.
The most impressive part of the Tour de France doesn't take place in the mountains with thousands of pissed-up Dutchmen bellowing into the leading contenders' faces. It takes place the next morning when they set off again. At the top of a climb, faces haggard, breathing ragged, the cyclists are tired but at least have the finish in sight. The next day, they do not. They have hundreds of kilometres to go, perhaps the same sorts of climbs again, and they're carrying all that fatigue from the previous day's efforts.
There is something of Jimmy Anderson in this. It's not just the fact that he roused himself to action with England only a fifth of the way to dismissing West Indies and no guarantee that they'd actually reach their intended destination, it's also the sheer physical resilience of the man.
Innings after innings he at least matches and usually exceeds the workloads of the other pace bowlers. But then, making use of the fourth new ball he's had his hands on in this match, he bowls as swiftly and as effortlessly and as skilfully as at any point before, almost as if the first Test and the first 30-odd overs he'd bowled in this Test hadn't happened. Then he balletically plucks one out of the air during a rest between overs. Then he moves like a cat and throws like the complete opposite of a cat to dismiss someone else. Then yet another catch.
When does he rest? He'll rest when he's dead, presumably, and looking at England's fixture list, the ECB will have executed him by the end of the year. Wherever will England keep their eggs then?
14 Appeals
12
But complaining about it is even more unacceptable. If England didn't have quite so many eggs in the basket marked 'steady accuracy' things might be rather different.
A truly fast bowler would be nice. A leg-spinner going for runs but making the occasional breakthrough would be handy. A bit more right-arm fast-medium over the wicket however is nothing more than equine floggery post mortem.
It's not like they didn't have warning. The first Test pitch was a flatty, while the 2009 tour saw three high-scoring draws, including one in which the Windies made 749-9. Such conditions don't make for great cricket, but nor, arguably, does England's current modus operandi with the ball.
And to make matters worse, we've just used two Latin phrases in one article. How much more boring could things be? The answer is none. None more boring.
12 Appeals
9

For a while it seemed as if no-one would make it all the way – even if it had felt inevitable that several of them would get halfway. Trott was out for 59, Cook for 76 and then Ballance for 77. They were creeping closer and it was Root who added that crucial extra digit.
If you don't think the third figure matters all that much, ask Alastair Cook, who must continue to endure "hasn't made a hundred since…" comments even though he made a 95 all of four Tests ago.
The overnight score hinted that there were runs to be had and none of the fifties were a surprise. They were just steady, reliable batsmen on a steady, reliable pitch making steady runs – you could rely on them to do that.
Root, however, is at present even more reliable than your trusty old hammer and somehow achieves this while scoring at a fair old lick. This was his sixth Test fifty on the bounce, a period during which he's scored at about 70 runs per hundred balls.
Only one thing could possibly have outshone Root and that was an unholy melding of mischief, humour and knobheadery. Step forward Marlon Samuels, who opted to send-off Ben Stokes with an ashen-faced salute, hat clasped to his heart.
This infuriating goading was all the better for the fact that Stokes isn't really the kind of person who's at all happy to laugh at himself – particularly moments after picking out a fielder in the deep. He's more the kind of person to call you a C-word, before calling himself a C-word, before calling some inanimate object a C-word, before attempting to dismantle that inanimate object with his fists. This is pretty much what he did, although now the rest of the team are wise to his punchy rage-venting, they presumably wrapped him in a giant duvet onesie in a bid to prevent self-annihilation.
9 Appeals
16
Or at least last week's Stuart Broad has. Everyone get their stuff so we can move somewhere else lest he returns and finds us again.
We did suggest in the comments to that piece that the real Slim Stuart might again stand up. He had bowled a handful of quicker balls in the first Test which at least hinted that he was still capable of such a thing. It was just that he couldn't maintain it.
On day two of the second Test, things picked up a bit. Broad bowled pretty quickly and lo, he suddenly started taking wickets. People can get a bit 'it's what you do with it that counts' about bowling speed, but as we always say: pace isn't everything, but it is something.
Look at the chart below and it's fairly obvious where day two begins.
There's a lot of talk about resting quicker bowlers these days. That makes sense because in general that's what they need. Bowling builds fatigue and international bowlers bowl a hell of a lot.
However, bowling also, in parallel, builds fitness, and so what the bowler actually delivers is based on the relationship between those two things. Broad, having been injured, hasn't actually had an enormous workload in recent times. He may not have missed any Test matches, but he's missed one-day series and been out of the nets. We're therefore hopeful that he'll return to his best as fitness builds without being negated by too much fatigue. For a short time yesterday, he was decent.
Broad himself believes that going a bit wider on the crease helped him bowl quicker, saying "it gave me momentum to drive my hips through."
Maybe that's true. Maybe it was going wider on the crease. Maybe he's gaining fitness as well. Maybe a different attitude helped liberate his body from tense, self-imposed shackles. Maybe the wind had changed. Whatever it was, he'll need it to continue because yesterday he looked good, whereas the day before he bowled like a rusty old robot snatched from a pie factory production line.
16 Appeals
14
It's been a long time since we reduced the broad spectrum of human emotion down to either anger or amazement. Let's bring back that flawless rating system to assess various aspects of day one of the second Test.
Angry
England's bowling attack. We're perfectly happy about the return of Bowling Ali, but there's still a homogeneity about England's other four bowlers. Their sameness allowed them all to be equally unproductive on a flat pitch in the first Test, but far more importantly than that, it's really, really boring to watch. Sometimes you need something different to look forward to, even if it ultimately turns out to be crap.
Amazed
The in-swinger from James Anderson's which could only ever be described as 'booming'. Huge swing and busted stumps. Cricket doesn't get much better than that.
Jonathan Trott getting an over. Hurray! Something different.
There was definitely a third thing as well. We forget what it was now.
14 Appeals
27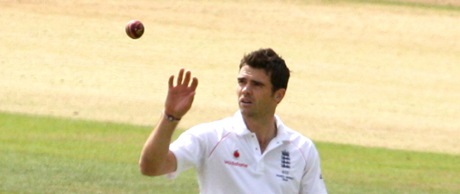 They always say of Twenty20 cricket that it's ideal for modern lifestyles because we're all so busy these days, as if everyone's got oh-so-many important things to do all the time and all those labour-saving devices have had no impact. It's probably true though. We are busier. We're busy watching Test cricket because they constrict entire series into little more than a fortnight so that we have no time for anything else.
This is our way of saying that we have to write about James Anderson's England Test wicket record today because the next Test starts in a few hours. No time to mull things over. No time to reflect. We're still chewing over the first Test, but already the plate's being whisked away and replaced with the next course.
So Jimmy then?
The truth is, we have very little to offer. We've been writing about James Anderson fairly regularly for nigh-on a decade now, so we don't have a huge amount to add. Just as you're only really one day older than yesterday on your birthday – same as every other day – so Jimmy's taken just one more wicket, even if it did take him past Beefy.
Who he went past is probably the most meaningful gauge of what it means to have become England's top Test wicket-taker. Ian Botham was not like other England cricketers. He was a comic book hero who performed outrageous feats. Ask an Englishman who knows nothing of cricket to name an England cricketer and they will name Ian Botham. If you only know one cricketer, you know Ian Botham.
And Jimmy's taken more wickets than him.
Several years ago
We've followed James Anderson's career as closely as we've followed any career, right from his first-class debut. We claim no great insight here. It was just blind luck.
When he first appeared in county cricket, we were working with someone called James Anderson who also liked cricket and also followed Lancashire. As you might imagine, we both checked the scorecards religiously and joked about his progress. That progress was famously rapid.
We would have been behind him from then on anyway, but at some point shortly afterwards we saw him playing for Lancashire and he swung the ball and took wickets. We thought he was great. Perhaps this is hindsight, but within a year or so of that time, we can start testing our memories by comparing them against things we wrote on the internet. We wrote that he was great. But not only that. It seems we also wrote that he was magic.
27 Appeals
11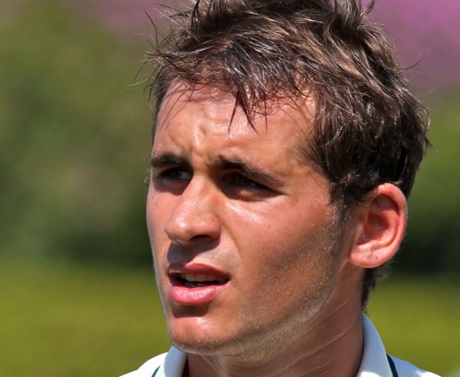 They always talk about players 'knocking on the door' when it comes to England selection. Then, when a player makes a really compelling case, they say he pretty much knocked the door down. Alex Hales seems inclined to take an even more straightforward route into the team. He's just going to push down the handle, quietly open the door, walk in and sit down.
Yorkshire are a few players down, but their bowling attack is still strong enough to have secured a 10-wicket win last week, dismissing Worcestershire for an even hundred in the second innings. As such, Alex Hales' 222 off 250 balls is what you might, with a degree of understatement, call a tidy effort.
At 393-7, it'll also be interesting to see how the rest of this match pans out – partly because Hales is still in, but also to see what kind of a pitch it is. This has all the hallmarks of being one of those innings people mistakenly refer to in years to come as being pivotal in a player's career.
The truth is, Hales has only been reduced to the rudeness of an uninvited door open after a couple of years of tap-tappery. This innings is the act of a frustrated man who is leaving nothing to chance.
Last year, we already knew that Hales could hit hundreds in T20 internationals. Perhaps concerned by this seemingly one-dimensional CV, he took steps to fill in the sizeable gaps. He made three hundreds in the 50-over competition and finished the tournament with an average of 76.80. He also made three Championship hundreds and averaged 50.21 (in the first division).
Since then, England have picked and unpicked him like poor stitching. He's pissed off. He said as much in an interview last week.
So what can he do? Well, he can score a hundred against the county champions and then, once he's done that, he can just carry on, scoring more and more runs with cold relentlessness. When you've already travelled across the threshold in both directions, you realise that doors are meant to be opened.
11 Appeals
17
If you envision the next Chanderpaul, the first thing you picture is a younger version of the current Chanderpaul – a crabby, left-handed batsman who has Chanderpaul's face and Chanderpaul's oversized cricket gear. What you don't picture is a two metre tall right-hander who's actually a bowler. Nevertheless, Jason Holder delivered a Shivnarine Chanderpaulesque performance to save the first Test. It was fully admirable.
There are other bowlers who've never made a first-class century before who've danced their way to their first in a Test match. Holder's team-mate Jerome Taylor is one. He made 106 off 107 balls against New Zealand and that's generally the way it works: a few lusty hits in fairly unchallenging circumstances; the opposition rolling their eyes or getting frustrated.
Holder's effort was very different. Holder played an innings. It was beyond responsibility. It was nothing less than a blunt refusal to allow the opposition to win – this in a team that has frequently folded like junk mail forced through one of those powerfully sprung letterboxes that only opens about 8mm even when you apply maximum force.
As for England, the players who played played well enough. Even Cook's captaincy was pretty decent. Pretty much all of the bowlers were controlled and disciplined, but control and discipline are secondary qualities on a flat, slow pitch when wickets are all you care about. What you want then is an injection of chaos. Five bowlers who deliver chaos is too many but you need at least one.
But this is why you play a Test series. The new ball didn't swing for long, reverse swing was hard to come by. Armed with these facts, we'll judge England based on how they line up and perform in the second Test.
17 Appeals
19
Gary Ballance doesn't so much score Test hundreds as cut them. Short and wide, fair enough, but our Gary seems to play the shot to middle stump half volleys as well. Fair enough. Whatever works.
Ballance isn't the only England player who appears to be sloughing his horrifically stained World Cup skin. We questioned how Stuart Broad had got back into the team earlier in the Test, but being as he's here, it's reassuring to see that there are signs he could return to good form.
As several have pointed out, it's not that Broad's incapable of bowling quickly right now, it's just that he can't do it regularly or for long. Hopefully this will come as his body again adapts to Test cricket and there will hopefully be a window of optimal performance before his pace starts being eroded again due to too much cricket.
Jos Buttler seemed to benefit from some declaration batting and there's every reason to believe this will snap him out of the bizarre strokelessness that delivered a 22-ball duck in the first innings. With Ben Stokes batting well and Moeen Ali returning, this begs the question as to who will bat at eight. England's tail may just have been docked.
19 Appeals
18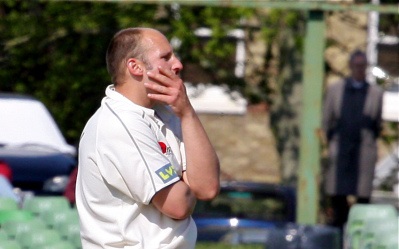 We feel moderately confident naming it this, because it doesn't seem so likely that there'll be another such day when not just one, but both of these players have a sizeable impact on a Test match.
James Tredwell, for one, might never play another Test. This is sad and if you think that's hypocritical being as we were calling for the inclusion of Adil Rashid in his stead, remember that hypocrisy is built into our England support mechanisms. If you're playing, we're behind you. You're our guy.
Tredders is a man who plays both second XI cricket and also for England. As he whangs in his round-arm slattery, he seems more like the former. He looks less like an elite athlete and more like an electrician or a maths teacher. This is, unquestionably, a good thing and only makes his wickets (winkled, cajoled or stolen – never taken) all the more pleasing.
As for Jermaine Blackwood, the mania side of his bipolar batting approach encourages the notion that he might not have a long career, but the gleeful hitting might actually be less relevant than the depression that generally engulfed it.
If the kind of man who carts his second ball for six can smother the impetuous part of his brain to such an extent that his 112 not out takes 220 balls, he has some kind of willpower. There were quite a few where-did-that-come-from larrups but he was skilled enough to get away with most and may need less luck in the future when further synapse smotheration has taken place.
Hindsight is everything. Maybe in years to come we'll look back on the lows of this innings as being indicators that Blackwood wasn't cut out for Test cricket, or perhaps we'll simply see them as rough edges. Who knows, maybe he'll find himself up against wily old James Tredwell again in 2019, two careworn masters carrying underperforming sides, engaging in one more epic individual battle.
18 Appeals