Author Archive
3
There are still two matches to go in the second division of the County Championship, but somehow we already know both the counties who will be promoted. What this basically means is that the other seven teams in that division were sufficiently crap that they failed by a distance.
There will now be eight further pointless matches. If only there were relegation as well – that'd add a bit of jeopardy. Imagine being in the third division of the County Championship. We'd really have to ignore the teams down there, to the extent that we probably wouldn't even acknowledge when they'd earned promotion.
The two teams promoted from division two are Surrey and Lancashire. Surrey think that they achieved their aim in fine style with Gareth Batty securing an innings victory with a hat-trick. Sadly for them, Lancashire went one better, earning promotion via a drawn match in which Rob Key made a hundred. What could be more magnificent than that? Even Glen Chapple couldn't get him (or indeed anyone) out.
3 Appeals
25
Let's do a match preview like proper cricket websites do.
Except for the fact that most of the headings are longer than the sections they relate to, we think we've done this right…
1. Jason Roy will 'show intent' but won't get all that many runs
We hope he does though. We like a straight six and Jason Roy hits straight sixes.
2. Nasser Hussain will say "[player name] on the charge"
Not really relevant because most of you won't be able to hear him on account of Sky TV being really expensive/immoral. Just imagine him saying it as soon as someone hits more than one boundary in an over though and you won't miss out.
3. Mitchell Starc will york someone
It's infuriating that Starc's Australian. We have to confess that we slightly love his bowling.
4. Moeen Ali will unfurl an expansive drive at a wide one and miss
Pretty self explanatory, this one.
5. Moeen Ali will unfurl an expansive drive at a wide one and cream the ball to the boundary
And in so doing look like he could never, ever miss the ball in a million years.
6. Glenn Maxwell will play the ugliest non-shot you have ever seen in your life
And it will go for four.
25 Appeals
21
Do you know how far it is from Australia to England? Miles. Absolutely bloody miles. Do you know how long it takes to complete the trip? Ages. Absolutely bloody ages.
Cameron Boyce flew from Australia to England for this match. He bowled one over. It went for 19. He didn't bat. He's going home now.
We become enraged if we walk down to Tesco Express and they don't have any sourdough. That's maybe a half-hour round trip and we only embark on it if we're also going to a second shop for something else. This is even worse than that because the experience has not merely been unproductive, it's been counterproductive. It would be like arriving home at the end of your failed sourdough mission only to discover you'd trod in dog shit and also lost a fiver.
England won the match, largely off the batting of Eoin Morgan and Moeen Ali, both of whom made 70-odd. Morgan's had a month off and reckons it's been the perfect preparation, leaving him fresh and keen to get stuck in. In contrast, Moeen Ali's been slaving away, but doesn't seem to care. Before the match he said: "If there was training every day, it would be the best. If it was games every day, it would be the best. I love it."
So do cricketers need more rest or regular cricket? Maybe, just maybe, it depends on the individual.
There's a possibility Moeen might open in the UAE in October. We hope he doesn't. When Alastair Cook played one-day cricket, he lost the ability to leave the ball with conviction. If Moeen opens in a Test match, he might lose the ability to scythe at wide balls with absolutely no thought for the consequences.
Scything at wide balls with absolutely no thought for the consequences is very much what Moeen's batting is all about. Commentators always marvel at 'checked drives' and 'little more than a forward defensive but it's gone for four'. Giving it a right big yahoo with the bat is going out of fashion and Moeen's willow describes a bigger arc than anyone's. Long may it continue.
21 Appeals
12
Last year, we took Birmingham's appearance in place of Warwickshire in the T20 Blast as being a watertight scientific experiment into whether a future of city teams would lead to better cricket. Birmingham won the tournament, seemingly proving that it would, although the findings were somewhat compromised by their sickening cheating in the final against Lancashire. There's also the fact that their performance could conceivably have been the result of improved alliteration rather than their city name. Bloody variables.
This year, the city v county angle seems even more relevant with discussions ongoing about either supplementing or replacing the current Twenty20 competition with some sort of trendy franchise thing where all the matches would be played in a block with more (literal) fireworks.
Our position on this is at odds with most people who have a history of following county cricket. We've always found each of the county competitions and the domestic season as a whole to be as bloated as Mr Creosote. We'd welcome a cull. A city-based franchise league would achieve this, but then so too would splitting the competition into several divisions. Either's fine with us.
One thing we would miss, however, is the amateurism. There's something quintessentially English (nod, wink) about slapdash professional sport. A lot of the time, this phenomenon is annoying or embarrassing, but on Twenty20 Finals Day, it is a thing of wonder.
It's hard to put your finger on exactly what it is, but it's something about everyone being half-cut on a summer's day and no-one taking things too seriously. The mascot's race is symbolic of this. The crowd tend to take it just as – if not more – seriously than the cricket itself. You could take that as a sad indictment of the nation's premier short format domestic tournament or as a comment on the fundamental pointlessness of all sport. Or you could just laugh.
Twenty20 Finals Day doesn't always scream 'elite sporting event' but then it's also far more enjoyable than most elite sporting events. There are times when you want grim-faced determination, but there's also room in this world for getting another pint so that you can be back in your seat in time to see a giraffe deck it while trying to plough through a ball pool.
12 Appeals
21
Turns out Ian Bell's not retiring. You may have heard that he maybe possibly was. You may not. Either way, he isn't.
The umming and ahhing does hint that his career is nearly at an end though. Soon enough, the bell will toll and watching Bell will no longer take its toll. We should probably embrace his pure, unadulterated Ian Bell-ness while we still have time.
Even earlier this summer, people were discussing whether a move to three might be the making of Ian Bell. That he is still widely considered unmade after 199 Test innings is quite something. There's a certain art and majesty in continuing to maintain such a perception.
Always leave people wanting more, they say, and Ian Bell generally delivers in that regard. Quite how a 33-year-old veteran can still be thought of as having promise is one of the mysteries of the age. One day, many years from now, he'll move his zimmer frame just so and onlookers will see it as an indication that he's finally cracked this batting lark. At this point, Bell will drop dead. Always one step ahead of us, Bell; constantly finessing what might one day be revealed to be the greatest post-modern joke in the history of sport.
For now, all we can do is look on in wonder. Hopefully there will be at least one more dreamy, effortless innings cut short by an unexpected bout of seppuku. Rather than curse and wail at the moon in frustration like we usually do, maybe next time we can smile and say: "That Ian Bell – his ability to continue playing cricket like Ian Bell really is quite something."
21 Appeals
3
Dumbo The Suzuki Jimny writes:
My name is Dumbo. I am a little Suzuki Jimny, making my living by being Ged Ladd's car. In our neighbourhood I have lots of big relatives, mostly Range Rovers, commonly known as Chelsea tractors.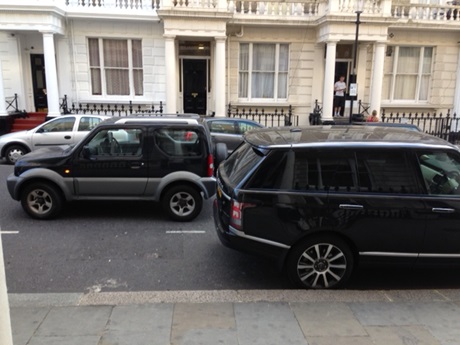 Those big posh Range Rover fellas claim that they are from the right sort of family, whereas I am not. We are all cricket lovers, of course, but the Range Rovers are members of the MCC (Motor Cricket Club) whereas I am a member of the MCCC (Motor Car Cricket Club), which the big boys tell me is a smaller, lesser brand. The bully in the photo is so big, there's neither room for me to park nor room for his big head in the photo.
Anyway, soon after Ged and Daisy's jaunt to Lord's to see the Middlesex v Durham match, I took them to Ireland for a couple of weeks, during May 2015. At the end of our holiday, we checked into our last night hotel, the Clontarf Castle, but then decided to see the Casino at Marino and also take a look at Clontarf CC.
Ged's satnav had trouble finding the Casino at Marino – the satnav wanted us to go to a cafe in Marino instead of the neo-classical house. In the end we got to the right place. Ged said that it was the least expensive visit to a casino in his entire life. He also said it was only his second ever visit to a casino and that this Marino one wasn't a gambling casino.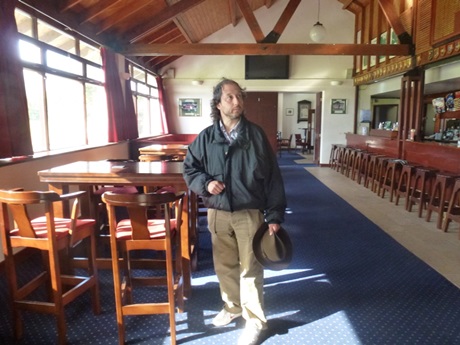 We arrived at Clontarf CC in glorious sunshine and I parked up for my first ever cricket match with a terrific view of the wicket, just beyond the boundary. Ged and Daisy wandered around to the pavilion, but by the time they got there, a shower of rain had started, so people were running around putting covers on the wicket. By all accounts the Clontarf club members and officials were very friendly with Ged and Daisy, making them feel most welcome as visitors. The locals told Ged and Daisy that Clontarf seconds were to play Leesh, weather permitting.
Ged had no idea where Leesh is and wondered why, if the club was playing against Leesh, that the score book said Laos, which is a small but beautiful landlocked country in South-East Asia where little cricket is played. But it seems that Laois (pronounced "Leesh" and not spelt Laos) is actually a small but beautiful landlocked county in Ireland where little cricket is played, so that all made sense.
Soon the rain stopped, the sun came out again, the covers came off and the game started. It all seemed very relaxed and yet taken seriously. One of the Clontarf players had to stand in for a missing umpire; Ged wondered whether he would be asked to do those duties, or perhaps to commentate on the match, as Ged is usually asked to do in his capacity as visiting dignitary when he visits remote, far-flung corners of the former British Empire.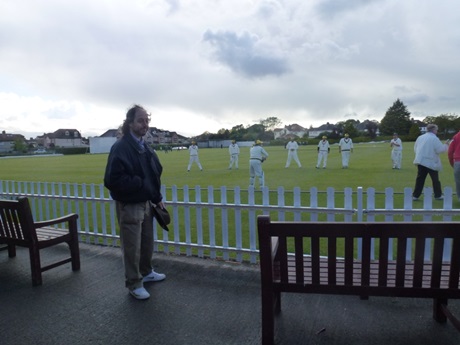 At the start of the third over, from the castle end, I noticed the Clontarf batsman eyeing up cow corner, which was exactly where I was fielding, just over the boundary. I was hoping to take a catch in the crowd or something, but then I saw Ged and Daisy running towards me and I guessed that they wanted to go.
"Ride like the wind, Dumbo," said Ged, while starting my engine. "Giddy-up, boy."
I should explain at this point that, unlike the bowler Mark Wood, who has an imaginary horse, I actually AM an imaginary horse, which is far more fun. Sometimes I'm an imaginary flying elephant instead, which is also fun.
Anyway, it transpired that Ged and Daisy had also spotted the batsman eying up cow corner and were worried that I might get injured attempting to catch the ball. As we all had a very early ferry to catch the next morning, they thought that we should cut and run before the batsman got a chance to pull and not need to run. Anyway, a few minutes after we got back to the hotel, it started to rain again, so I don't think that my first ever cricket match saw a result.
Send your match reports to king@kingcricket.co.uk. If it's a professional match, on no account mention the cricket itself. If it's an amateur match, feel free to go into excruciating detail.
3 Appeals
27
Where does 2015 rank in the pantheon of Ashes series? Somewhere in the middle, we'd guess. It was certainly dramatic, but it probably wasn't even the best Test series this summer.
It was unpredictable from one match to the next, but the same quality wasn't particularly apparent within any individual Test. There were no plot twists here, just derivative scriptwriting linking together the occasional explosive action sequence. To confusingly and unnecessarily switch art forms a moment, if a Rolf Harris drawing starts out looking like one thing but ends up as something completely different, these Tests had bold outlines drawn right from the outset.
What we basically had were two inexperienced teams who can't bat, only one took much longer to come to terms with this. Australia's batsmen didn't accept that they were inexperienced in English conditions and played as if they knew better. Australia's selectors didn't accept that at least one of their inexperienced bowlers should have made way for some less dynamic steadiness.
As for England, they didn't so much play to their limitations as resign themselves to them. They accepted that the cupboard was more or less bare and so vowed to feed voraciously, like a pack of starved velociraptors, on those rare occasions when they did get to tuck in.
It was playing to your strengths taken to an almost delusional extreme. If a triathlete can't swim and doesn't have a bike, you wouldn't think they could compete. England borrowed their gran's shopping bike with a basket on the front, did a bit of doggy paddle and then basically just sprinted through the run as fast as they could.
And they won, so yeah… approach vindicated. It will be 18 years since Australia last won the Ashes in England when they next get a chance to have a go.
27 Appeals
12
As in 'returned'. It hasn't got ankylosing spondylitis or anything, on account of the fact that it's an abstract concept and therefore doesn't have a spine or a rear side or whatever.
Mocking momentum's the in thing to do at the minute. Typical that it would come into fashion six years after we were indulging. A lot of people have cited the ding-dong-ding-ding-dong nature of this series as being evidence of its meaninglessness, but look a little closer and there momentum is, actually having some sort of meaningful impact.
What is a fightback if not defiance of momentum? And what has there not been at any point during any of this summer's Ashes Tests?
Each of the five matches between England and Australia this summer has followed a familiar pattern. One team has got ahead; the other team has at no point been able to recover. The winning team has invariably been the one that first gained momentum.
Maybe it was a thing all along.
12 Appeals
12
It's quite an impressive feat to field no fewer than eight batsmen and yet still be prone to comically low scores. You could argue that England have too many eggs in the 'positive brand of cricket' basket, but if there were a Venn diagram of baskets, that one would overlap significantly with the 'young, inexperienced batsman' basket.
So perhaps it's just a matter of time. Joe Root seems to have grown into a batsman who can confront most situations. Maybe the batsmen below him will learn to do likewise. Patience is hardly a viable cure in the short-term, but attacking batsmen who can rein themselves in generally make better Test batsmen than those who block but have nowhere else to go.
One change that seems almost certain, however, is at the top of the order. We feel for Adam Lyth and indeed any batsman who is dropped during or following an Ashes series. England v Australia Test cricket is almost a different sport. With the desperation of the crowds and the relentless media scrutiny, young player often buckle.
We sometimes think that Ashes scores should be struck from the record giving a player a chance to be more comfortable, and hopefully more effective, in time for the next series. But in reality, the opposite happens. Ashes scores count double – or half if you're doing badly.
12 Appeals
18
At some point surprisingly soon, England and Australia will complete the most one-sided close series in history. Not that it's been one-sided in favour of one particular side. It's been one-sided in favour of both of them, just at different times.
It's hard to know what to make of a close series which features no close results. We can only conclude that London is now part of Australia and that the nominal tourists have therefore had home advantage during those two Tests. How else to explain the marked shift in fortunes when the crowds have roared using different vowel sounds? Not that they roar at Lord's. They haven't much at The Oval either, it has to be said – except in frustration.
We went out on our bike towards the end of today's play. It was only a quick ride, half an hour, but during the time we were away, England lost the Test. It was almost as if they saw what Australia produced at Trent Bridge and went: "Hey! Embarrassing collapses are OUR thing," before showing them how it was done. Pulling out all the stops, several of them even contrived to get out to Mitchell Marsh.
Shouldn't it feel more painful than this? Time was we'd be almost in tears if England were bowled out for jack shit, but now it's just something that happens, like women's clothing catalogues addressed to the previous owner of your house being pushed through the door each morning, even though she moved out near-enough two years ago. Shameful collapses are commonplace. Humiliation's the new 86-2 after 30 overs.
If you go behind in a Test match these days, you just race to defeat as quickly as you can, like you're ripping off a plaster. Truly, if these are Ashes, they have resulted from self-immolation.
18 Appeals