Author Archive
5
Ged writes:
When Daisy and I go to a day of international cricket at Lord's these days, I apply for seats in the Lower Compton or Lower Edrich, as Daisy likes to hide from the sun. These seats are relatively unpopular with the county members, so we tend to get seats pretty close to the front of that stand, where the seats are just fine for both of our tastes.
I made a similar picnic to that for the lads' outing on the previous day, including the remainder of The Lord's Throdkin and two types of Banh Mi sandwiches – one small sandwich each traditional Hanoi style, with the remainder of the char siu from yesterday; another small sandwich each "Lord's Banh Mi" style, using the remainder of the Iberico streaky bacon, with mustard mayonnaise rather than sweet chilli sauce mayonnaise. Only at Lord's.
At lunch, Daisy and I went for a stroll round to the MCC members' side, where you get a higher class of floor piss in the gents' toilets and a higher class of soap in the hand wash dispensers. On leaving the toilet, I ran into Johnny Friendly, an MCC member whose family are all clients of Daisy's. Delighted to learn that Daisy was with me that day, we three gathered for a chat.
"What do you think of the cricket today?" asked Daisy.
"I've hardly seen any, frankly," said Johnny. "I was playing real tennis for most of the morning session. Have you ever seen real tennis?"
"Yes," I said. "At The Queen's Club".
"No," said Daisy.
"Would you like to see some?" asked Johnny.
"I can think of nothing that would give me more pleasure," said Daisy, sliding effortlessly into Jane Austin-style language for the occasion.
So within seconds we were sitting in the viewing area of a real tennis court, having the game explained to us patiently by Johnny Friendly. After about ten minutes of this, Daisy displayed her ability at Jane Austin-style manners by exclaiming: "This is so wonderful, I think I could delight in watching real tennis rather than cricket all afternoon. But we must allow you to return to your business, Mr Friendly. Thank you so very much indeed for your kindness." (Or words to that effect.)  Only at Lord's.
We had a bunch of beer-spilling posh boys in front of us – similar in many ways to the beer-spilling posh boys I had suffered behind my group the day before. Today's posh lot had also been mixing Champagne and beer to clear ill effect on their full-beer-skiff-balancing-skills. At least this time it wasn't my party but some other poor victims (a rather sweet, elderly couple as it happens) getting systemically soaked in beer.
The sweet couple were charming with gentle reproaches to the posh boys. "Please try not to spill the beer over us again this time." The day three posh boys were at least polite and apologetic to their victims and weren't talking so much rubbish about the cricket. They also had more staying power than the day two posh, sticking around all day.
Towards the end of the day, a few people in the Lower Compton, including our posh boys, produced some beer skiff snakes, much to the frustration of the stewards. Compared with Old Trafford and Edgbaston, these beer skiff snakes were pathetic in their length and potency, but that didn't stop some enterprising rascals commissioning a couple of young kids to "run the snakes" to frustrate the stewards, which was genuinely funny for a while. Nor did it stop the stewards from (idiotically) calling the police in at one point. Once that excitement had died down, the posh boys in front of us attempted a skiff snake with their multitudinous empty Champagne-flute-skiffs, with predictably hilarious results. Only at Lord's.
Send your match reports to king@kingcricket.co.uk. If it's a professional match, on no account mention the cricket itself. If it's an amateur match, feel free to go into excruciating detail.
5 Appeals
12
First up, Pakistan v Australia where the 'home' side appear to be doing a reasonable job of putting a score on the board. It's always hard to tell what's a decent first innings total, but with Pakistan's flaky batting, you reckon they'd be pretty happy already.
Stealth
The major contributor has been Younus Khan. It always strikes us that Younus and his former team-mate, Mohammad Yousuf, don't get the credit they deserve. Both average over 50 with Younus now one ton ahead with 25.
One argument is that they've played a lot of cricket on flat Pakistan decks, but Younus, for one, has played only 19 truly home Test matches – surely that should add to his reputation? On top of this, contrast his scores with those of his team-mates in recent times and you can see that he also has to carry some extra weight.
This hundred against Australia completes the set. He's reached three figures against everyone now.
Siddle
Also of note is the return of Peter Siddle. Having written about overtraining earlier in the year, we were interested to see how he'd go. He'd complained of fatigue and claimed he could recover his pace given a rest and a chance to train properly. Now he's had that and sure enough he's back on track.
Fast bowlers in particular need an off season. Just a reminder that England are playing a match in every calendar month from November until September 2017. Hopefully that much-needed downtime won't be delivered when they're scheduled to play the Windies.
Celebrations
On a lighter note, we wrote a piece for last month's All Out Cricket about the lost art of understated celebration. It's not just handshakes we miss, it's also quietly retrieving your cap from the umpire as well as ambling about looking at the floor. Folding your arms is another we'd like to see brought back. Beats all that shrieking and fist-pumping hands down.
The article's now online, but please do buy the mag whenever you get chance. It's decent.
Social media
And finally, Twitter. Our latest round-up's just gone up at Cricinfo. We've tried to cover the Windies thing. Not easy when you're relying on the words of others.
12 Appeals
17
Steve O'Keefe's finally been picked to play a Test match for Australia. We mentioned him as far back as 2010 as being a spinner who wasn't completely rubbish, but who was somehow being overlooked in favour of any number of slow bowlers who were.
O'Keefe's the second spinner, so Australia haven't reverted to punishing Nathan Lyon for being Nathan Lyon – he's still playing as well. Mitchell Marsh is making his debut too and one can only hope that he'll be as majestically inconsistent as his brother, Shaun.
Pakistan have also given two players debuts. Yasir Shah is a legspinner who played a solitary one-day international in 2011 when he also played two T20 internationals. We know nothing about him.
Meanwhile, Imran Khan is, as you might imagine, a pace bowler of some description. He's down as right-arm medium-fast on Cricinfo, but that's what they tend to put when they don't really know a player. Being as Imran has neither a photo nor a written profile on his player page, we suspect that is the case in this instance. In classic Pakistan tradition, he was probably hired to drive the team bus but impressed in the nets where he was bowling with an orange.
At the time of writing, Australia were one wicket away from the inevitable Younus Khan and Misbah-ul-Haq rebuilding partnership.
17 Appeals
19
Is it a sign of a good side that they can get away with working to a fairly predictable strategy? Innovation is often a way of making up for shortcomings.
South Africa's approach to one-day cricket is what comes up by default in cricket strategy software. You're meant to tweak it, twisting it to fit your strengths and weaknesses, but the Saffers haven't bothered. Perhaps this is a sign that they have some rather good one-day players.
Opening partnerships are vital in 50-over cricket – just look at England for proof of that. South Africa have one all-time great in Hashim Amla balanced by Quinton of Kock, who is there to provide a bit of impetus at the outset. They provide a decent platform by any stretch, particularly when that platform is being built for AB de Villiers whose job it is to do whatever's left.
Along with Virat Kohli, de Villiers is the best one-day bat in the world. He averages 50 and scores at a run a ball, as near as damn it. This year he averages 76. In 2012 he averaged 107. Last year was the first year since 2009 when he didn't score at more than a run a ball.
Between the openers and de Villiers stands the waxed bulwark of Faf du Plessis. For the first three years of his one-day career, du Plessis failed to score a century and averaged in the twenties. Impressed by this, South Africa moved him to three and since then he's made three hundreds and averaged 50.
Bowling-wise, South Africa have Dale Steyn. He is the reigning Lord Megachief of Gold, so we don't feel we need to write about him. Of greater interest is Imran Tahir.
Yes, that's right – Imran Tahir. The legspinner who concedes about four an over in Tests also concedes about four an over in one-dayers. And he takes a few wickets. We're not sure anyone's noticed, but he could be the trump card in what is already a hand full of jacks, queens and kings. You can assign those face cards to the players as you see fit.
King Cricket rating: The Departed
You feel like you've seen it before, but it's done well and there's a strong cast.
Other nations' World Cup strategies.
19 Appeals
25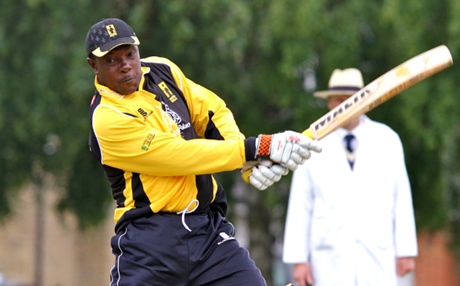 We consider the Spirit of Cricket – the branded, upper-case initial letter creation of the MCC – to be a nebulous pile of bollocks. You can quote us on that. However, that isn't to say that there is no such thing as the spirit of cricket.
The Spirit of Cricket (branded) is all about fair play and doing the right thing. The spirit of cricket (unbranded) is the way the game really works; the unspoken rules of the sport as they have naturally evolved. As such, the West Indies abandonment of their tour of India is most definitely in contravention of the spirit of cricket.
No option?
The board's argument is that they had no choice but to call the tour off once the players had announced their intention to return to the Caribbean. What utter, utter horseshit.
Since when have cricket matches demanded that both sides have their best players, or indeed sufficient players, available to them? Cricket in its purest grassroots form demands only one individual to represent his or her side. That person phones round available players in a vain attempt to drum up an eleven – any eleven – for the next match. If they fall short, the team either plays short-staffed or the opposition provides a few spam-handed incompetents to supplement their numbers.
On no account is the match called off.
A West Indies XI… or VIII or IV or whatever
Obviously, as this is international cricket, the West Indies cannot make use of Ajit Agarkar or any other Indians as they are the wrong nationality and therefore ineligible for selection. That's fair enough, but surely they can still get a few blokes out onto the park?
Richie Richardson's there; he's a decent bat. Stuart Williams is assistant coach; he can open. Clive Lloyd's knocking about and Curtly Ambrose has been working as bowling consultant. You've already got a half decent side there in our opinion. Rope in a few physios and management figures for fielding duty and they could still beat most sides in the world.
Stop your bleating and get on with it.
25 Appeals
36
The Shire Horse will be holed up inside the stables for the winter months and so we're doing a series called King Cricket's Kings of Cricket in its place.
The first cricketer to be so honoured is Brian Lara. There's also a bit of a preamble relating to the King Cricket name for the few of you who weren't around when we started the website back in January 2006 (i.e. all of you).
36 Appeals
13
It's our latest piece for Cricinfo. Here's what the critics are saying about it:
"Ultimate ROFL… Next in line is Misbah?" – The Sunday Times
Now, if you'll excuse us, we appear to have one million things to write today and very few hours in which to do it.
13 Appeals
10
Ged writes
"I've been a complete idiot," said Big Al DeLarge when he phoned me on the Monday before the Test match. "I wrote the date down in the diary but not on the wall chart. My assistant has booked a holiday and I simply cannot take that day off now. I'm furious with myself and so sorry."
"Don't worry about it, Al," I said.
But I had promised the Lancastrian nephew-in-law, Escamillo Escapillo that he wasn't to be the token northerner – Big Al hails from Burnley – and I wasn't so confident that I could drum up a replacement. I sent an e-mail to King Cricket in the hope that he might fancy a day at HQ and be able to come at short notice, but (as I suspected) he did fancy such a day but was otherwise engaged.
As good fortune would have it, in the gym the next morning I ran into Jim Hawkins, with whom I have discussed cricket for the twenty-or-so years we have both been going to that place. I know he is self-employed, so I thought he might well be up for a day at Lord's on the off-chance.  He was free – problem solved – except for the fact that Jim is not a northerner.
"You'll be sitting with a strange assortment of folk," I said. "Me, my old friend, Charley "The Gent" Malloy and the Lancastrian nephew-in-law, Escamillo Escapillo, who was hoping for the company of a northerner, so you might be a bit of a disappointment for him."
"I love Test cricket at Lord's," said Jim. "I'd sit next to Hitler if need be."
"I don't think Test cricket would have quite been Hitler's bag," I said. "I can't imagine The Führer getting the idea of playing for the draw towards the end of five days of battle."
I had planned some culinary delights because Big Al loves his food – indeed by his own admission he can be "a bit cheffy". So I had made the Lord's Throdkin for this match and also produced some Hanoi-style Banh Mi sandwiches, as Big Al tends to like my take on oriental food. In any case, Daisy and I were also going to the match the next day and both ideas had the legs for two-days-worth of picnic.
The grub all went down very well with the lads. Escamillo-Escapillo remarked that his only previous encounter with throdkin had been gloopy, which he didn't think would work as picnic food.
Sitting behind us were some idiotic posh boys, talking rubbish about the cricket and getting incredibly drunk, incredibly early in the day. They had brought several bottles of Champagne, which presumably were gone by the first drinks interval, at which point they switched to buying beer.
Much of the beer they were buying during the second hour, they somehow contrived to spill over our feet and bags, but plenty was surviving and going down their throats. It was a very hot day and we were exposed to the sun in the Upper Compo. I wondered how the posh boys would cope with a whole day of such excess. Answer – they returned after lunch briefly and then disappeared for the rest of the day. In short, they couldn't cope.
Our group was certainly not quitting early, although Jim Hawkins got the call from his girlfriend around the time that stumps were supposed to be drawn and withdrew gracefully. The rest of us saw out the whole day and finished the last bottle of red as the sun set behind the Warner Stand. Bliss.
Send your match reports to king@kingcricket.co.uk. If it's a professional match, on no account mention the cricket itself. If it's an amateur match, feel free to go into excruciating detail.
10 Appeals
44
Who would they be?
And before you ask, yes of course Fantasy Tuesday Night in the Pub is a thing. It's like 'who would you invite to your dream dinner party?' – only why do we have to have a dinner party? Why can't we just go to the pub and have three pints before reluctantly agreeing to have a fourth even though we've got work tomorrow, then thinking 'sod it' and ordering a ridiculously strong Belgian beer?
Our first attempt at picking three has given us Ian Ward, Paul Collingwood and Carl Hooper. This could change.
And no, Rob Key isn't there. It would be too much. We wouldn't be able to relax.
But these three – they're relaxed, genial and most importantly of all, they laugh relatively easily. That's always a sign of a good person. We'd quite like to have Neil Manthorp there, but he's a cricket person, not a cricketer, so we appear to have made him ineligible. This is a shame, because he appears to be a man who shares our primary interests of beer and reduced price sandwiches.
44 Appeals
5
Same as ever really. Just sort of hope that everything magically works itself out.
Shahid Afridi is a tremendously good one-day bowler, but you'd hope to see a stronger attack alongside him. Seven foot Mohammad Irfan is the novelty, while Junaid Khan is perhaps the class.
But it's the batting that's the real problem. The fact that Afridi isn't significantly less reliable than most of those above him says it all really, because Afridi is literally as unreliable as it is possible to be. If it weren't for the fact that he has 11 international hundreds to his name, you would consider him reliably useless.
So Pakistan's strategy basically boils down to having Misbah-ul-Haq wearily trying to inch them to 150 before making a frighteningly good attempt at defending that.
King Cricket rating: Brendan Gleeson's character in The Guard
Very few traditional heroic qualities, but a faint suspicion that they might somehow do the job anyway.
Other nations' World Cup strategies.
5 Appeals