Author Archive
14
Lemon Bella writes:
As is customary at times like this, cricketing greats of the past must come out of the woodwork to pass opinion on the breaking news of the day. Therefore I found it necessary to consult StraussCat regarding the retirement of Graeme Smith.
He wasn't particularly interested when I told him the news, but his indifference reached a peak when I showed him all my match tickets from the summer Indian Skimmer and I spent following Graeme Smith around England.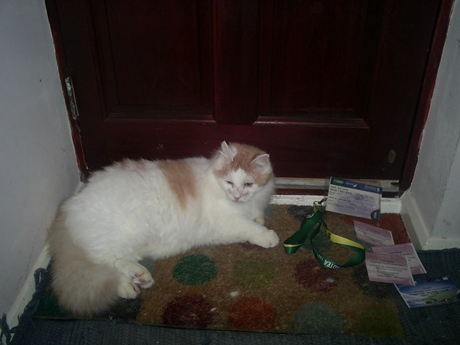 Look! There's even a South African lanyard he could have played with, but he chose to ignore it.
He got up and walked away when I told him that the Test match ticket was for the day before Graeme scored his awesome 154 to win the series.
If you've got a picture of an animal being conspicously indifferent to cricket, send it to king@kingcricket.co.uk.
14 Appeals
20
It was nearly a fitting send-off for Graeme Smith from a team hewn in his image (and 'hewn' is the only appropriate word to use). This South Africa side are dogged, resilient, they bat for ages and they're prone to fourth innings performances that defy received wisdom.
Fortunately for Australia, they had a massive, massive lead and absolutely ages to take 10 wickets. They just about managed it thanks to two spanking deliveries from Ryan Harris (and you wouldn't bet against it being his last Test either).
After the match, while both teams shook hands, Shane Warne went further and hugged everyone. A frighteningly elated Mark Nicholas then said 'magnificent full balls' to Ryan Harris and it sounded horrendous. Mitchell Johnson didn't sound elated. He sounded drab and depressed, but he was probably just tired.
20 Appeals
2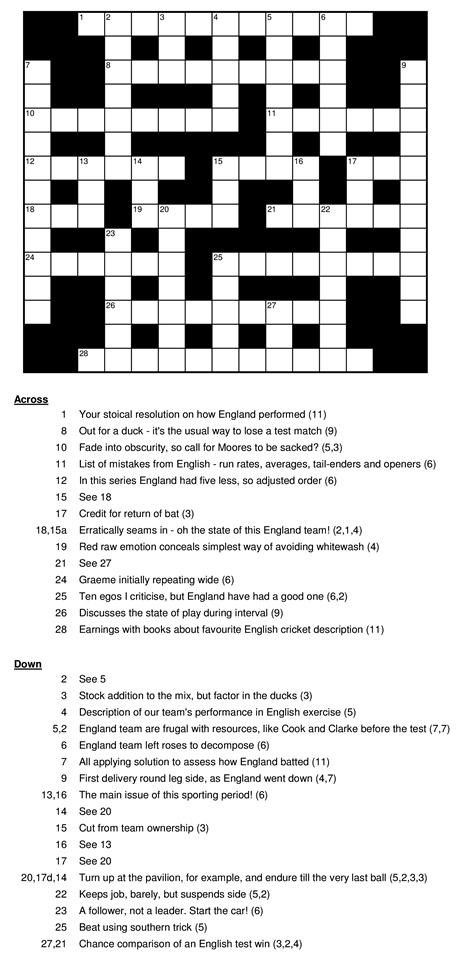 We were waiting for an England win before we published this, or something like that. It absolutely isn't that we totally forgot about it. Answers will appear when we're reminded in a day or so.
Bert writes:
Life has lost its lustre. Things that were once shiny and bright are now dull and decayed. The sun is up, the sky is blue, there's not a cloud to spoil the view, but it's raining, raining in our hearts. Actually, the sun isn't up, the sky is solid grey and it's raining, raining on my head, but that's not the point. The point is that things are pretty bleak for English cricket fans right now.
So how do we respond to this disaster? By whining and moping? By crying and moaning? By small-mindedly picking holes in the fabric of Australian cricket? Well yes of course, that all goes without saying. But also by LAUGHING in the face of adversity, by CHORTLING in the gaze of ill fortune, by STIFLING A SMIRK in the general vicinity of disappointment.
In short, by DOING AN ASHES 2013/14 CROSSWORD!
For you, for your catharsis, I have searched the darkest corners of my soul to bring you this crossword. There and the "Dreadful" entry on an online thesaurus. I must warn you, this crossword will chill you to the core, it will open old wounds and force you to confront the demons you hoped were buried forever. It will not be pleasant, unless you happen to be an Australian. In which case, happy days. You can sit on your porch in the deadly heat with a can of lager deliberately chilled to the point of tastelessness, desperately trying to jam some of the 97 words your university education has given you into the grid.
2 Appeals
19
Every batsman suffers the ebb and flow of form. Most will alter their approach when out of form, taking fewer risks in the knowledge that they aren't middling it. Shahid Afridi never alters his approach and being as his approach amounts to little more than essaying wild, body-convulsing heaves at pretty much every delivery he faces, form has a sizeable impact on his returns.
Out of form, Shahid Afridi gets out. And he gets out quickly. In form, he scores at almost unimaginable speed. On Sunday, he took his time and hit 34 off 18 balls. Today, he notched a half-century in the same number of deliveries, hitting seven sixes. After nine deliveries, he was on 35, after which he chilled out a bit.
It was the second-fastest 50 in the history of one-day internationals and it was the third time he'd scored one that quickly. He also has one off 19 deliveries, two off 20 deliveries, one off 21 deliveries and one off 22 deliveries.
19 Appeals
27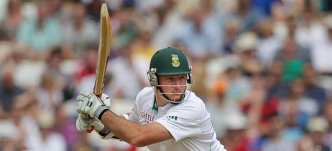 We wrote this title in the hope that we'd have some really funny thoughts to share once we started staring at the great expanse of whiteness where the body of the article's supposed to go.
Nothing happened, so we checked Twitter and apparently Graeme Smith's going to retire. Let this be a lesson to everyone that sometimes all you have to do is make a half-hearted effort to do something, allow yourself to become distracted, and then everything will just sort of work itself out.
In his retirement statement, Graeme Smith confessed to having left everything out on the field over the course of his career. 'Everything' by definition includes poo. We don't know why he would have done that, but he's admitted to it now.
There's an outside chance this isn't the most mature, insightful retirement article we've ever written.
27 Appeals
8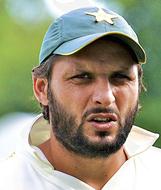 If there is a point to Shahid Afridi – and really, his genius is all about absolute commitment to joyous, unfocused, futile pointlessness – then it is that he should mishit sixes to win matches. That is what happened today.
India and Pakistan have much in common, but they also have their differences – you may even have heard about this. In cricket, the most striking difference is in their respective 'finishers'.
For India, Mahendra Singh Dhoni typically fills this role. Dhoni is one of the finest one-day batsmen of all time and utterly, utterly reliable. In 214 innings, he appears to have learnt everything there is to know about closing out a 50-over innings and he's so cool that anyone else on the field of play is at risk of frostbite and hypothermia.
Pakistan field Shahid Afridi at seven. Afridi is basically one last roll of the dice. These dice have just one side that doesn't say 'wicket' and it says 'six'. In approach, he is as cool as the fires of Hell and in 348 one-day innings, he has learnt precisely nothing. If anything, he has shed knowledge. Certainly, his first innings remains his best.
Today?
"The captain told me to take my time and I did that."
He hit 34 off 18 balls.
8 Appeals
14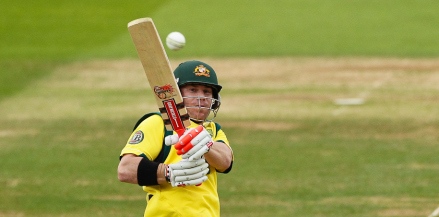 Nobody's happy about that fact, but we might as well get used to it because when he shuts that toolish mouth and plays cricket, he can score some runs.
Diversity
One thing we really like about this Australian team is that it's a lesson to everyone on the importance of having diversity within your team. Australian wickets tend to herald change, whereas an incoming England batsman is typically 'much like the last guy, only more so'.
You need to mix things up. If blocking and leaving isn't a valid strategy, England tend to gradually move towards 'really, really blocking and leaving'. In contrast, Australia have one opener trying to split the leather every chance he gets and another who basically just likes standing at the non-striker's end.
Sometimes obduracy is the better approach. Sometimes giddy pummelling is the way to go. Australia's opening partnership is almost like a fact-finding mission, allowing the rest of the team to gather information on how they should approach things. Whichever opener's out first, do the opposite.
The perfect team
Good sides are rarely one-dimensional. That goes for batting and bowling. The perfect cricket team would be a sickly mélange of top chaps and bell ends of all shapes and sizes, boasting a troubling array of mental health problems and physical abnormalities. It would be like a cross between the Hunterian Museum at the Royal College of Surgeons and my local pub on days when a herd of idiots decide to stop in after the football.
14 Appeals
22
We wish they'd warned us. We hate change. We have to prepare for it properly. We needed at least eight weeks' notice to come to terms with something like this.
Look at it!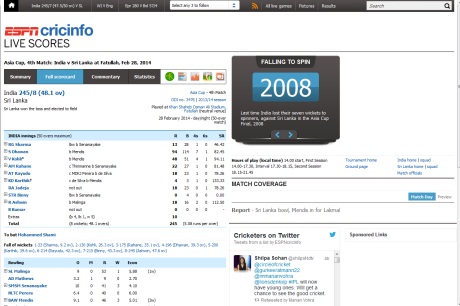 The main bit's slightly off to the left!
We're used to the main bit being in the middle. Now our eyes are in slightly the wrong place when the page loads and we have to move them. THIS WASTES TIME.
Plus there's extra information. Why does everyone always assume you want extra information these days? We don't want to see big facts or tweets from well-known cricketers. We want to see cricketers' names with numbers next to them. That's what we like: cricketers' names and numbers. That's what cricket's all about.
This is almost as bad as when they started putting videos that automatically play at the top of just about every single article. Videos are not the future. Videos take ages because you can't scan them in four seconds, ignoring all the boring bits. Plus, if you open 14 articles in different tabs, you have to play 'hunt the video' when you should be scanning/ignoring the first article.
22 Appeals
8
It's been suggested that this could be Ryan Harris's last Test. He's scheduled to have a load of loose knobbles and flakes of bone dug out of his crappy knee shortly after it finishes. Although he's then got seven months or so to recuperate before Australia's next Test, he hasn't actually got many opportunities to prove his form and fitness. The Australian cricket team might move on.
Dennis Lillee, angling for an improved contract with Cricket Australia, is currently talking up the younger bowlers (and therefore himself), but that talk doesn't actually equate to wickets. We've been here before. Australia have had plenty of promising bowlers for quite some time now, but there's a gap between being capable of performing in Tests and doing so consistently.
We're not saying Lillee's bag o' bairns are bad bowlers or that they won't become top Test bowlers one day. We're just saying that it's wrong to be blasé about the potential loss of a bowler like Harris, acting like you've got readymade replacements and it's no big deal.
Ryan Harris is currently on 96 Test wickets, incidentally.
8 Appeals
15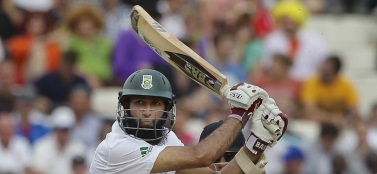 Ahead of the third Test between South Africa and Australia, Hashim Amla has said:
"There's a lot riding on the last Test and fortunately we've got a bit of momentum."
Let's very quickly examine how 'momentum' has influenced the series thus far.
Australia won the first Test and thus gained momentum. They then lost the second Test. South Africa lost the first Test, but won the second despite not having momentum.
So basically 'momentum' has had precisely zero impact on performances and results thus far.
15 Appeals