Author Archive
1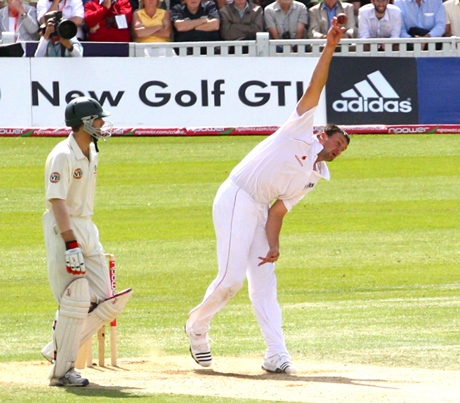 Say what you like about Steve Harmison's overall record, but he could lollop in and hit you on the elbow with the best of them. That uncanny ability to make the ball bounce considerably more than should have been physically possible brought him a bunch of wickets and England a bunch of wins, but far more importantly, it brought hope.
Fast bowlers are few and far between. English ones are rarer still. For a time, Steve Harmison was just such a thing and it was wondrous. Context is everything and that's one of the main reasons why we named him our latest King of Cricket over at All Out Cricket. You can read all about him by clicking these words.
1 Appeal
9
There's going to be relatively little news coverage on here next week. And by 'relatively little' we actually mean none. We've decided we need to graze in the outfield for a few days so that we can come back and hit the deck hard come the World Cup.
Clearly you're worried about this. You're not sure what to do. You're not sure how you'll cope. But it's okay, the site isn't going dead. Posts will be published and we'll check in on the comments every chance we get. There'll be a few links to articles we've written elsewhere recently; there'll be a review of some predictions we made several years ago; there'll be a statistical thing inspired by that review; and there'll be a match report.
Hope you enjoy it all. And stop slagging us off.
9 Appeals
8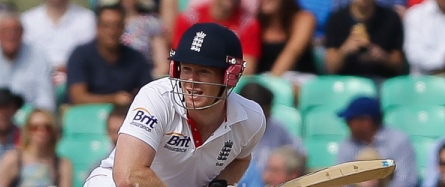 We knew this site would become a hub for celebrity gossip one day. We received a surge in traffic yesterday off the back of the fully weird news that someone tried to blackmail the ECB over some sort of relationship Eoin Morgan once had with a human woman.
The landing page of choice for those digging into the story was this one about whether or not Eoin Morgan had a girlfriend. It's from 2010 and in it we give some excellent and entirely plausible reasons why a woman might like to enter into a relationship with England's now one-day captain.
If you read the comments, there is a marked change in tone from those left within a couple of days of the post being published and those left later on. See if you can spot it.
8 Appeals
34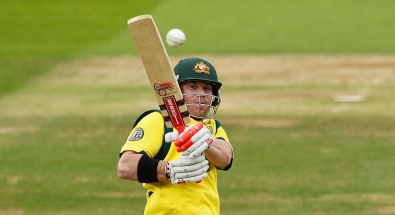 That's a straightforward message for Ricky Ponting and all who would make a similar defence of David Warner's behaviour. Read it, accept that it is a fact and then go away and think through the issues again, Ricky.
Ponting's latest column for Cricinfo features the following assumption, stated as fact.
"The Australian public love the way he bats, which goes hand in hand with the sort of confrontational approach he sometimes takes in the field."
Is that so? Aggressive batting and argumentative fielding go hand in hand, do they? Why must the way a person behaves while fielding have a direct link to the way they bat several hours later (or earlier)?
Batsmen don't come much more aggressive than Virender Sehwag, but we can't really recall him charging from slip to square up to an opposition batsman.
Or how about Chris Gayle? Does he lose his rag with the opposition every chance he gets in a bid psych himself up for batting? No, of course not. He can't be bothered. Truth is, even his 'aggressive' batting is characterised by a placid, nonchalant demeanour.
But it's different for Warner. He plays with a passion unimaginable to Sehwag, Gayle, De Villiers, Jayasuriya or whoever. He's special, and to ensure he remains special, Warner is obliged to act like an arsehole. His confrontational approach goes hand in hand with his batting, after all.
This is why Warner has to be involved in a road rage incident every time he passes a cyclist while driving; this is why he has to threaten supermarket staff when can't find his favourite brand of coffee; and this is why he has to kick a plastic cup full of loose change halfway down the street when a tramp has the temerity to laugh at him for tripping on a kerb.
34 Appeals
21
We're not intending to be a naysayer here, trotting around saying 'nay' like a horse that can't spell (so a horse then). We just want to muddy the unmitigated positivity because one win is not much of a sample from which to draw conclusions.
One of our main concerns centres on England having four of their eggs in the 85mph right-arm seam bowler basket. Today, that was a very, very important basket. On other days, not so much.
There's a case to be made that 85mph seam bowling days suit England's batsmen as well as their bowlers. It's what they're used to, after all – not least in the nets. But probably of greater importance was the fact that they were chasing just 154. If that's a regular occurrence in the World Cup, they'll have a fine old time, but it almost certainly won't be.
We can't really criticise England's actual performance, which was excellent. All we're really saying is that today presented a very complimentary snapshot and it'll be more instructive to see what happens when there's minimal swing and very little bounce. In short, when the 85mph right-arm seam bowler basket becomes less of a weapon and more of a burden.
21 Appeals
20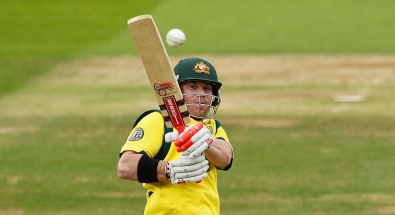 That is the subtext of any comment from captain or coach after David Warner has behaved like a bit of a prick. "He's an aggressive player and we don't want him to lose that edge," they say.
They say this because they know the truth: picking fights with people as a fielder has a direct impact on Warner's batting. It's hard for you to comprehend, because watching on TV you can't actually see his special superhero belt. But it's there. It's real. He wears it underneath his whites; it has a series of lights along it; and they illuminate as he powers up.
Warner gains energy from behaving like a six-year-old, so he needs to 'get involved' and showcase his complete inability to see another person's perspective every chance he gets. Each time he does this, another of his belt lights goes on until he is fully powered-up and ready to bat. At that point, he finally turns his attention to cricket.
20 Appeals
11
Back in November 2012, AB de Villiers made 33 off 220 balls so that South Africa could save a Test against Australia. In March last year, against the same opposition, he made 43 off 228 balls, but this time South Africa lost.
Today it took him all of 31 balls to make a hundred. Only six didn't go to the boundary. After that, he sped up.
If these extremes are impressive, consider what's in-between. If you can block with the best of them and also slog with the best of them, your main challenge is deciding precisely how to defy the opposition.
We're probably in mandatory handicapping territory here. AB de Villiers should be made to bat with the broken-off handle of a 1970s tennis racquet after downing three pints of Moonraker with a peeved ocelot strapped to his back. If we can persuade him to play like that for the next decade or so, either his Test or one-day average might just drop down into the forties. Not both though. That would be a bit optimistic.
11 Appeals
25
Asked which of his team-mates he least enjoyed facing in the nets recently, Moeen Ali said:
"James Tredwell. Annoying. You just try and smack him and you can't hit him anywhere."
It's one of the mysteries of the age how Tredders doesn't go for seven an over, but it's a fact that he doesn't. His economy rate in one-day internationals is 4.77 an over and he averages 27.81. He's also England's second highest ranked bowler (he's 12th with Jimmy Anderson sixth).
So why isn't he playing? You can say that England are experimenting, but Peter Moores did say he was looking to settle on a first choice XI by the first match against Australia, and today, Tredwell wasn't in it.
You could argue that conditions played a part, but they actually seemed quite spin-friendly and why would conditions ever dictate the omission of one of your top two bowlers anyway?
This happens a lot. It seems England omit Tredwell on the basis of how they perceive him rather than what he actually tends to do. Maybe his figures wouldn't be quite as good if he played every match, but on the basis of what he's done so far, that theory demands testing.
But no. We'll have a fourth right-arm fast-medium seamer please – that famously effective genre of one-day bowler. Six foot, slim, cool haircut, arm muscles straining the sleeves of the laser blue shirt – they look so much better in slow-mo reaction shots when the batsman's just pinged a six back over their head.
James Tredwell. Annoying. Quite often in one-day cricket, that's more than enough.
25 Appeals
5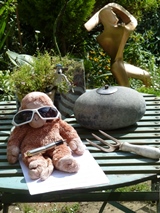 Bananarama Monkey-Face writes:
I'm originally from Pickering, so I always get very excited when I come up to North Yorkshire with Mum, Dad and brother Hippity. All the more exciting this time, because Mum and Dad had arranged, as part of their trip, to go to t'cricket at Scarborough for t'day.
It was first time for Mum and Dad, Scarborough cricket, but Hippity and I had been before some years ago, to report on a match for MTWD. I must warn you, if you click on that MTWD link, you might read stuff actually about cricket.
Mum and Dad were going to be all poncey in t'pavilion and that for most o't'day, so Hippity and I said we'd stay on t'bed in t'hotel. But once Mum and Dad set off for t'ground, we hot-footed it using a short cut across t'beach, got to t'ground before them and secreted ourselves in t'sizeable crowd.  We could get home before t'oldies same way, so they'd be none t'wiser.
Local folk in Scarborough are incredibly friendly and made us feel very welcome. There were lots of other youngsters there – school holidays had just started – so Hippity and I didn't look out of place.
Towards t'end of t'day's play, quite a lot of people from t'crowd left, apparently because t'local guest houses tend to serve tea (that's dinner to you snobby southerners) on t'dot of six-thirty. A swarm of local seagulls saw their opportunity and swooped in to scavenge t'scraps, over-running large swathes o't'outfield. For a while, seagulls stopped play, as t'umpires tried to get t'players to clear t'gulls, with only limited success. I think this photo will be allowed on King Cricket, as it was taken during that break in play. Anyroad, I don't like rules and think that you'll all like this picture.
Once t'umpires realised that t'gulls were staying for t'evening, they decided to resume play despite; soon after that it really was time for stumps.
Mum and Dad were in a cracking good mood in Scarborough before t'cricket and an even more cracking good mood after it – all of us were. We'd all thoroughly recommend a day of county cricket at Scarborough – it's t'dog's bollocks.
Send your match reports to king@kingcricket.co.uk. If it's a professional match, on no account mention the cricket itself. If it's an amateur match, feel free to go into excruciating detail.
5 Appeals
21
Ian Bell made 187 off 145 balls against the Prime Minister's XI in England's latest warm-up match. Okay, so it's not exactly the biggest match ever – Chris Rogers bowled two overs – but what's more reassuring, making 187 off 145 balls or making 26 off 38?
This constitutes further evidence that Ian Bell is not Alastair Cook. The match also provided evidence that Glenn Maxwell remains Glenn Maxwell. You've got to love a man who can score 136 off 91 balls one day and be clean bowled charging down the pitch to leave the ball in a Twenty20 match another day.
21 Appeals