Author Archive
13
If the Gabbattoir is seeing anyone slaughtered, it's not the Indians but the home team's bowlers. Ryan Harris was rested because he's slightly injured and while Peter Siddle was flat-out dropped, he might be back for the next Test because the Aussie bowlers who actually are playing have been attempting to rotate at too great a speed.
Josh Hazlewood and Mitchells Starc and Marsh all suffered in some way on day one of the second Test. A third Mitch – Johnson – only suffered in terms of his bowling figures, which were 0-64 off 15. Hazlewood and Starc should be okay to bowl on day two, but Marsh, in a respectful nod to his absent captain, has done his hammy. They're even being a bit vague about whether he'll bat.
All this cramp and nigglage hasn't done much for the over rate either. Despite 22 overs of spin, only 83 overs were bowled in the day, which is shocking. India still found time to make 311.
13 Appeals
13
Today we're going to direct you towards two pieces of ours which appeared outside the kingdom.
First up, our latest King of Cricket is Murali. Don't worry, it ain't all numbers. It's about the joints, the graft and the batting really.
Secondly, last week's Cricinfo piece, entitled English cricket rocked by non-Cook related incident. As an added bonus, that one contains a little bit of Nick Knight.
Almost inevitably, Cook is in the news again today. Paul Downton has given another interview, which basically means Cook's relationship with the public has dropped another few notches through no fault of his own.
Downtown has an incredible knack for alienating people. When he speaks, what you're left with is a strong sense that someone has wagged their finger at you and told you they know best.
Apparently he sits in on selection meetings these days. He says he is happy with the selectors he employs (his words) and happy with the decision to continue with Cook as captain, but that the selectors will meet to discuss everything on Friday. Presumably they won't be jumping at the chance to make their boss unhappy.
Asked about Cook's form, Downton said: "Yes, he's in miserable form. But form can change. I'd suggest he's 'due' – wouldn't you?"
We've covered this before, haven't we?
Another highlight is: "He's the natural leader of that group of players."
A natural leader in the sense of being a great orator? A natural leader based on the fact he's getting great results? What is a natural leader? Is that how leaders are identified; by their nature? Do the ECB do a DNA test? What chromosomes are they looking for?
The ECB really are beyond parody now.
Downton finished by saying: "I want to enfranchise everybody and I want them to be part of what's happening in English cricket."
Remember kids, if you've been enfranchised by a stockbroker, you should inform a parent, teacher or policeman immediately. It's not your fault.
13 Appeals
15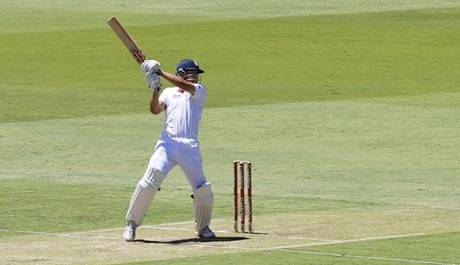 One of Alastair Cook's problems is that he plays every one-day innings as if it might be his last. He positively clings to the crease, grimly trying not to make a mistake. The better approach might be to play as if he doesn't give a toss, but say what you like about Alastair – tosses he gives.
Bowlers can do what they like at Cook. It's like bowling at a cone or a cardboard cut-out. He just sits there passively while you prod away at him with something sharp. After the sixth one-day international against Sri Lanka, Cook said that he was hitting them well in the nets. If he hadn't actually specified that it was balls he was hitting, you'd think he might have meant walls – using his head.
There are no prizes for effort in cricket and in one-day cricket there aren't even prizes for runs unless you can score them quickly enough. It doesn't matter why you drop simple chances or miss straight balls, all that matters is that you do. Cook is.
We don't blame Cook for hanging about in the one-day team. It's his job to retain confidence in himself in the face of all evidence to the contrary. Half of the battle of international sport involves bullshitting your opponent that you're something you're not. The best way to achieve that is to start off by bullshitting yourself. This is why we pay other people to see things clearly: coaches and selectors, for example.
One of the main reasons why Cook was made one-day captain is because they thought it would undermine him to have someone else in charge of the 50-over side ahead of the next Ashes. The same people who reached that conclusion might now want to consider just what effect an endless series of defeats and humiliating underperformance might be having on their boy.
15 Appeals
4
Let's leave Alastair Cook until tomorrow and instead take a quick look at how India's run-chase went in the first Test.
The tourists lost and Nathan Lyon alone took as many wickets as they did, but somehow it doesn't feel like it was that bad a performance. India somehow managed to enter the final session as favourites and that in itself is enough to combat the déja vu that has plagued their touring avatars in recent years.
The main person responsible was Virat Kohli, who smartly pretended it was merely a one-day run-chase. A target of 364 sounds intimidating, but then translate that to a 50-over match with Kohli at the crease and you'd bet on it being reached.
But not everything was as normal. We've heard that Kohli celebrated his hundred non-angrily. We'll believe it when we see it, for no-one on earth is as enraged by their own sporting success as Kohli. If he ever takes Lara's record, he'll surely claw himself to death like a crazed animal.
When he was out, India were out, but a nod to Murali Vijay as well for notching a daddy fifty.
4 Appeals
23
If you get the daily email from this site, you'll already know whether India have made a decent fist of day five of the first Test against Australia. We're writing this at the end of day four and have conflicting feelings about how things might pan out.
On the one hand, India's tours to Australia and England over the last few years seem to have been characterised by the wheels falling off. It doesn't always happen straight away – their win at Lord's this summer was excellent – but wheellessness does tend to feel like an inevitability. Once off, the wheels roll away and maim children while MS Dhoni placidly looks on.
See something often enough and you become conditioned to expect it. India's first innings 444 was a decent riposte to Australia's 517-7 declared, but they now face 98 overs on the fifth day and it feels like they'll be bowled out for 71 with the rest of the tour a painful purgatory where they'll get to relive the misery again and again. That's what normally happens.
On the other hand, India have looked an improving side for some time now and this XI in particular seems detached from its implosive predecessors. In England, the almost comically ineffectual Gautam Gambhir provided a link to previous touring sides but he's gone now, as is Dhoni.
Dhoni has many qualities, some of which are even apparent in the Test format, but he has also gained an almost tangible air of blank-faced acquiescence on these tours. When the AI finds itself sinking towards an unwinnable position in a computer game, it doesn't throw a strop and hit the reset button; it just plays on, emotionlessly, acceptant of its fate. That's what Dhoni has become: an automaton with no white flag.
If this is unfair on a player who showed real grit with the bat in England, then perhaps we have to acknowledge that life is complex and no player is a wholly positive or negative influence. Perhaps we can even draw some conclusions based on India's fourth innings performance. Is Dhoni himself the problem, or was he merely presiding over an Indian side that is the problem?
23 Appeals
10
It's hard to argue that this wasn't the perfect England one-day performance. One, England won, which satisfied most of their fans; and two, there was enough evidence to suggest that England will never win one-day games with Alastair Cook at the helm, which will have satisfied his detractors.
The ideal scenario is for England to win the World Cup with Cook really not having pulled his weight but somehow still in the team. Today, he made 20 off 30 balls. Neither quick- nor heavy-scoring, it was pretty much the perfect Cook one-day innings. He was even dismissed playing a defensive shot to howls of derision from some place and some other place.
James Taylor replaced him at the crease and played really rather well. This means it's quite possible to use the argument that Cook is keeping 'players like James Taylor' out of the side, even if he isn't currently keeping your actual real-life James Taylor out of the side.
Next Joe Root scored a hundred, which is neither here nor there in itself, but did at least distract attention from Chris Woakes' 6-47. Woakes loves being overshadowed and will have been delighted to have taken six wickets in a one-day game which largely took place on an entirely different day.
These aren't even Woakes' best one-day figures. He once took 6-45 against Australia, in Australia. But no-one remembers. In fact, Woakes has two of England's three best one-day bowling performances of all time (behind Paul Collingwood). This latest effort has been sufficient to see him talked about as being someone who might possibly challenge Steven Finn for a World Cup spot. Great praise indeed.
For if Finn no longer looks like a man who has forgotten how to bowl, he does still give off the air of not yet having fully remembered. At his best, Finn looks stern and driven, but at present we find ourself getting distracted by how much he looks like he's made out of uncooked spaghetti. That may or may not be the effect he's trying to produce, so it's hard to judge his progress. Assuming it is, we'll give him 10/10 and Woakes 3/10 because the latter didn't really look at all brittle.
10 Appeals
7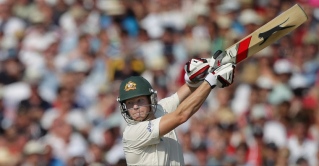 It's possible that we jumped the gun in saying that we might not see much more of Michael Clarke. We've reached this conclusion on the basis that he made a hundred as recently as today.
Watching Clarke teeter and gallumph about, it's clear that the spirit is willing but the tendons are inflamed, but you can get a long way with spirit – just ask Steve Smith.
We've previously said that at some point we'll come to terms with Steve Smith's run-scoring. We're not sure we're quite there yet, but a good innings is at least no longer a surprise. In fact, we've reached a point where we're faintly outraged when he's omitted from the Australia side. He pretty much always scores runs and he tends to do so in the right sort of manner for the situation as well.
Good cricketer. Weird batsman, weirder bowler, but good cricketer.
7 Appeals
10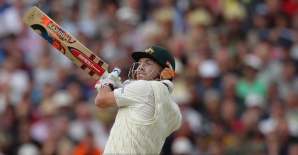 David Warner paid his own tribute to Phil Hughes by flaying a whole series of fours in the air through the off side. Chris Rogers then provided the context by demonstrating just how hard it is to middle the wide ball angling across a left-hander. Edged to slip? Where was the open-faced scythe to the boundary, man?
Warner's 10th hundred in 33 Tests takes his average within a spit of 50. He did for the opening bowlers to such an extent that India were relying on Ishant Sharma to bring the run-rate down. For all Sharma's qualities, that's usually a sign that things have gone horribly wrong.
India's other bowler was Karn Sharma, a legspinner, who was making his debut. We presume R Ashwin has again been omitted on the basis of his poor overseas record – something that he is going to struggle to correct from the dressing room. Thus far, Karn Sharma's built a piss-poor overseas record of his own, but there's little point judging him on day one of an Australian Test match. He does appear to have moobs, however.
The other big news was Michael Clarke retiring hurt. The injuries are coming with the frequency of Warner boundaries these days and we're starting to think we might not see much more of Australia's captain. We daresay he finds it rather frustrating. We do and we have pretty much nothing vested in his career.
Clarke's opposite number was Virat Kohli because MS Dhoni is slightly injured and slightly resting ahead of the World Cup. From what we saw, Kohli can do stern-faced pointing in sunglasses with the best of them. He did however lose the toss, which is something to work on before his next match as captain.
10 Appeals
23
The optimum moment to select a batsman is not when he thinks he deserves a place in the side; it's when he's completely irritated because he can't quite believe he isn't getting a game. This is probably the main difference between James Taylor now and a few years ago.
Taylor himself will probably say that he's exactly the same player, which only goes to show how people tend to imagine that past versions of themselves had all the attitudes and accumulated wisdom of their current self. For once, we might be better able to judge a player from the outside.
Then and now
The Taylor selected for Test cricket in 2012 was skilful and ineffectual. He looked good at the crease, but he wasn't even making runs in the second division. He's gone from there to being someone who makes runs in the first division and who has also had to keep elevating his one-day performances to ever-greater heights simply to earn consideration.
Doubtless you'll have read it elsewhere, but Taylor has the third-highest List-A average of all-time. (It's also worth noting that another of England's fringe one-day players, Gary Ballance, is seventh on that list, while Jonathan Trott is 22nd – one place below Phil Hughes.) Taylor has also made four million runs for the England Lions (you can have that stat for free).
Point is, Taylor's not the same player and even if he doesn't consciously know that, his subconscious must. It's the difference between kneeling, eyes down, to graciously accept your Test cap from the selectors and angrily snatching a set of one-day pyjamas off them with a stroppy 'about bloody time'. The first guy's going to be overawed. The second guy's far too busy grumbling to have time to think what international cricket might mean to him.
The second guy scores more runs.
Earning your place
There's perhaps a lesson here relating to entitlement, because if lack of support can build an indomitable spirit, there is also a corollary of that. If you build up a particular player – it doesn't matter who or why – and give him any kind of notion whatsoever that his selection is about anything other than performance, you inadvertently steal away his utter certainty that he belongs.
The player in question might retain a bullish, outwardly confident exterior, but that is perhaps less a manifestation of true confidence and more an attempt to fight back understandable doubts. One of the great things about cricket is that it has little time for people who merely talk a good game. You can't hear uncertainty in a press conference, but you can easily read it on a scorecard.
23 Appeals