Author Archive
5
Jesse Ryder took 44 wickets at 18.09 for Essex. To put that in context, Ryder has taken 99 first-class wickets in his entire career.
This season, he took four five-fors and had one ten-wicket match. These were added to the no five-fors he'd previously taken to give him a career tally of four five-fors and one ten-wicket match.
5 Appeals
6
Do you get the feeling that there are a number of dead men walking at the minute? It's like one mob family has ordered a series of hits on a rival family and now capos and crew members are being picked off as they go about their daily business.
Sunil Narine is the latest to be visited by Paulie Walnuts, but he's only been wounded, not killed. He's been reported for his action when bowling his quicker ball, but unlike Saeed Ajmal, he's not been suspended.
An uber-cynical prediction would involve him playing the rest of the Champions League for his IPL side before somehow being banned ahead of the World Cup.
6 Appeals
8
Sam writes:
They say organising a wedding is one of the most stressful things in life. Whoever they are, they have obviously never tried to stage a cricket match the following day.
Having completed the marital formalities and danced Saturday night into Sunday morning, friends and family gathered at my village club for a cobbled-together 15-over thrash. Fiercely competitive as ever, bride and groom acted as captains.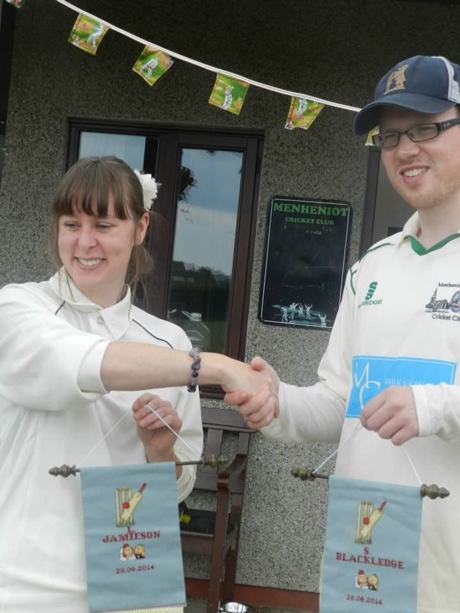 At 2pm we had about 18 players between us, some willing and some cajoled, of all ages from 7 to 82. There were four 'proper' cricketers who we hoped might hold things together if it all threatened to go a bit Wirrall CC.
Following a refreshments emergency – in the flurry of confetti and champagne the clotted cream had been left in the marital fridge – my wife won the toss and chose to bowl. I sent best man Oliver in to open with wicketkeeper Martin, as they were our only two batsmen of note. I could tell because they both had full kitbags. They even had helmets – not strictly necessary given the plastic ball.
Such was the inexperience of most other players, we agreed that the umpires would turn a blind eye to wides and no-balls. A good thing too – if strict league rules had been enforced we might still be out there now. Despite the bowlers exploring what was later generously described as "an unplayable line", we made a good start before Ollie was stumped, fishing for one which rolled down the corridor of uncertainty on the adjoining strip.
Young Billy went in at three. Billy never said a word to me all day, but did everything I asked of him without complaining. Think Jimmy Anderson in an oversized helmet and without the sulky attitude. The young man's unerring commitment to the cause was soon to prove his undoing.
Fancying a bit of a hit myself, I took the captain's prerogative and called Martin in on 39. Personal milestones have no place when victory is as stake, as my hero Michael Atherton will tell you. Graeme Hick might disagree.
I managed to connect with a few agricultural hoiks, wary of my double-jointed brother's spitting cobras and careful to keep my back foot planted with my dad ready to pounce behind the stumps. Keeping the family tradition alive, Billy drove a ball straight back to his mum Alice. Keen to get the strike, I yelled 'yes!', quickly followed by 'no!' and a lunge back to safety. But Billy had dutifully set off on the first call and we were now face to face. The perplexed lad was told he had to go, done up like a kipper by his skipper. Memories of Strauss v Hussain at Lord's flooded back. Maybe it will be the making of the kid.
The missing clotted cream had arrived and been correctly placed between jam and scones.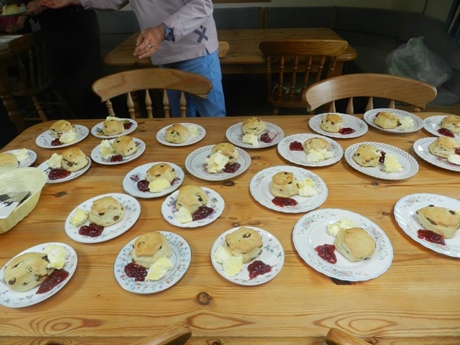 A more welcome sight was that of club stalwarts Zac and Tom strolling up for an afternoon net. I seized on them to bolster the line-ups for the second innings, a decision which would come back to haunt me.
Our ringers were no doubt perplexed by this motley crew of odd characters. My number five batsman Kate was dressed as a dog (I still don't know why), and several small children wandered around the square throughout, either putting themselves in funky field placings or trying to find their way back to the pavilion. Billy's little brother Joseph fielded for a few overs before stomping off with the words 'I don't even like cricket!' We all knew exactly how he felt.
Tom opened the run chase with my wife's uncle Kev, child-sized pads strapped to his hulking frame. He was soon trudging back, caught and bowled by Ollie. My dad, who played a good standard of club cricket once upon a time but now turns out just once a year, took the game away from us in a second-wicket stand with Tom.
Another family anecdote was forged as I bowled a rank long hop and dad pulled it hard straight to my octogenarian grandad at backward square leg. Luckily grandma had already left, but the thought of what she would say if he returned home with a nice round bruise on his bonce awoke his reflexes. He ducked and watched the missile race away for four.
I eventually got my old man, another short ball scooped to safe hands Zac on the boundary. My brother followed, caught close in, and suddenly we had a chance. I went on the attack, placing Ollie at slip. An edge went straight to him. He dropped it. I was fuming. Luckily the wedding had already happened, or I might have been looking for a new best man.
They say the first rule of marriage is learning how to lose. We had been man and wife for about 24 hours, but the post-match handshake and trophy presentation felt like a sign of things to come. I'm already plotting anniversary revenge.
Send your match reports to king@kingcricket.co.uk. If it's a professional match, on no account mention the cricket itself. If it's an amateur match, feel free to go into excruciating detail.

8 Appeals
46
Scan the homepage of this website and you could easily reach some incorrect conclusions. The post about Alastair Cook has attracted 50-odd comments, so presumably that's a hot topic, right? Not really. The vast majority are about Lancashire v Middlesex, a relegation dogfight (involving different breeds) which seems to be capturing the imagination.
Humans are prone to perceiving events as if they're stories and from that perspective the 110th over of Lancashire's first innings would seem to have been crucial to the narrative. With seven runs needed off it to preserve first division status for at least another day, the mighty Glen Chapple slogged a six and then wangled three more off the next ball.
It was the moment when the protagonist is down and almost out and the fact that our hero lived to fight another day surely means the story must now culminate in triumph. Except that's not really the case. Like one of those foreign language films about a goat herder that you record on the basis that it's supposed to be really good, but never actually watch because it also seems massively depressing, this final chapter of the 2014 season could just as easily end up describing a very slow demise.
46 Appeals
60
"Oh, you're still here. I, er, thought everyone had gone home. Are you going to, er…? No, you're not. You're going to stick around for a bit longer, you say. You're going to stick around and have another brandy, even though everyone else has gone home and I was clearly just about to go to bed."
As we understand it, at least one of the selectors wanted shot of Alastair Cook as one-day captain, but Peter Moores didn't so they just sort of went with that.
Unlike everyone else who writes about cricket, we're not actually against this. We're not in favour either, but we don't really buy the argument that if England were bold and radical, they'd have a far better chance of winning the World Cup. As such, we think it's fine to stick with Cook because if England do somehow do okay, at least it'll be funny watching everyone backtrack.
We know you're supposed to be positive about and say 'at least if we gamble, we'll have a chance'. It's just that we don't really believe it. We've seen enough England World Cup campaigns to know that bright ideas six months out tend to result in a bunch of new players who bottle it in big games, having never actually played in one before.
At least Cook's used to everyone calling him an ineffectual bumcock and won't be taken aback by the hostility directed his way when his side collapses against New Zealand.
60 Appeals
28
Lancashire started their must-win-by-a-mile match quite well, but James Harris and Ravi Patel secured a batting bonus point for Middlesex which means we now have a clearer idea of exactly what each team needs to do to survive.
Lancashire need to either score 350, or declare with fewer than eight wickets down for a score of over 300 thus denying Middlesex a bowling point. All Middlesex need to do is bowl at Lancashire until they're inevitably all out for under 300 because they can't bat.
In theory, Lancashire could also declare for a score of between 250 and 299 with fewer than five wickets down, but that would be picked up by the ECB's declaration monitor who has been dispatched to the ground for precisely this reason.
Genuinely. We're not making that up. You can't declare with the intention of denying the opposition bonus points, even if it might help you avoid relegation. Bonus points are mental.
28 Appeals
14
You know what we're doing with that headline, right? That's your theme for the week. Every time your mind idles, hopefully that'll be what rises to fill the void. You're welcome.
There's basically just one thing left to play for in the first division of the County Championship and that's 'being in the first division of the County Championship'. Lancashire and Middlesex are the two teams involved in this unseemly squabble and they're playing each other.
It's not a 'winner takes all' scenario though. The winner might still get relegated. Lancashire need to absolutely hammer Middlesex to stay up. Captain, coach and opening bowler, Glen Chapple, gave a sense of the likelihood of success with this rabble-rousing speech:
"It's a chance for us to escape, I suppose."
Lancashire's chances are further diminished by player availability. If James Anderson's absence is matched by Steven Finn's, they will also miss Tom Smith, their top wicket-taker and third-highest run-scorer. Usman Khawaja is also missing and if they've been able to draft in Junaid Khan to replace him then bowling isn't exactly the problem at Old Trafford.
We feel like we've been writing about Lancashire's batting for most of the season, but it's actually worse than that. Here's something we wrote in 2008, the last time Lancashire were relegated.
To sum up that piece: Paul Horton, Steven Croft and papering over the cracks with overseas players and imports. Now here are Lancashire's first-class centurions in 2014:
Ashwell Prince – three
Paul Horton – two
Steven Croft – two
Usman Khawaja – one
Jos Buttler – one
Plus ça change, plus c'est la même chose, as they say in Bolton.
14 Appeals
10
The final of the domestic 50-over competition is an odd thing. It took place yesterday, in late September – a fortnight after the semi-finals, three weeks after the quarter finals and a month after the main bit of the tournament. You can see why it works that way, but with the days shortening, it feels a bit like it fizzles out rather than building to a climax.
Durham won and for all the talk of modern scoring rates, it was another low-scoring affair. A party can't always be dancing and laughter. Sometimes, if it's your party, it's more about doing an awful lot of laborious housework. Or, if it's our party, it's an oud bruin and a high quality motion picture starring Rowdy Roddy Piper. (Has he ever starred in a substandard film? Not to our knowledge.) Not sure what our parties translate to in this analogy. Probably something Duckworth-Lewis affected.
Yesterday, Ben Stokes drew most of the headlines for taking a couple of wickets and making 38 not out, but it's been Paul Collingwood who's been the star of Durham's campaign. He finishes the competition among the top ten run-scorers and the top ten wicket-takers. He scored 427 runs at 53.37 at over a run-a-ball and took 14 wickets at 22.85 at less than four-an-over. We'll resist the temptation to write another 5,000 words on him, but suffice to say he's still underrated and always will be.
10 Appeals
10
We rarely feel moved by events in the second division, but it's hard not to feel a twinge of excitement at the prospect of Northamptonshire and Leicestershire playing out a draw next season to extend their respective winless streaks.
We've reported on both of these clubs in our latest Shire Horse column for All Out Cricket – plus some other stuff.
10 Appeals
14
Bad news for Slovakian handball goalkeeper, Maros Kolpak, whose name has apparently morphed into a racist insult. Yorkshire's Andrew Gale has been charged with a level three offence for firing the word at Lancashire's Ashwell Prince.
A level three offence involves "using language or gestures that offends race, religion, colour, descent or national or ethnic origin."
We suppose Kolpak refers to non-British national origin so in that sense the charge fits.
We've written more for Cricinfo – although if you're expecting a serious dissection of the issue, be warned that the article features Giles Clarke crouching behind a desk.
14 Appeals