Author Archive
4
Looks like we're gonna need a bigger skull. A year ago we wrote about how New Zealand's first few vertebrae – the batsmen at three, four, five and six – needed to be (metaphorically) full of brainy gloop to make up for shortcomings at the top. After a 148-run opening stand in the first Test against England, there no longer seems much of an issue.
It maybe wasn't the toughest examination for Martin Guptill and Tom Latham – the pitch was true and the ball didn't swing much – but a large part of being an international batsman is simply the avoidance of knobheadish shots. Knobheadery in decision-making was conspicuously absent for almost the entire day. That makes life tough for the bowlers.
England's bowling was largely ineffectual, but it didn't seem too bad to our eyes. First impressions of Mark Wood are that we rather like him. We like his imaginary horse and his imaginary starting blocks as he begins his run-up. We're less enamoured with his imaginary wickets. What is it with Durham bowlers and no-balls? Do they play on 21 yard pitches up there or summat?
We're also fond of his very real pace. Somewhere in our head there's a definition of a fast bowler. We suspect it's something like 'over 90mph for at least a third of the time'. Whatever it is, Wood must be pretty close. He's quick enough to be distinct from the usual fast-medium barrage at least, which'll do for us. And for all you cricket hipsters who say pace isn't everything, we'll once again repeat: not, it isn't – but it is something.
4 Appeals
12
We're thinking about trying to get more into selective use of statistics. It seems to be a big thing in cricket, but we're not off to a great start. Truth is it's barely been nine months since Joe Root last made a hundred in England.
Actually, we didn't specify Test cricket either, so it's more like eight months. It seems that even when you're really trying, it's very hard to make Joe Root look bad at the minute.
What happened?
Matt Prior got the day about right.
Even if the pitch looks green at @HomeOfCricket if the suns out you bat! Get through 1st hour and cash in. #biglunchforthebowlers #ENGvNZ

— Matt Prior (@MattPrior13) May 21, 2015
England successfully navigated the first hour, losing only four of their ten wickets, and then Root and Ben Stokes almost immediately went mental, cashing in with the same gleeful enthusiasm with which characters in gambling adverts cash out.
Stokes, in particular, batted like some kind of hell ox – that is if hell oxen could hold cricket bats, timed the ball sweetly and had a taste for clip-driving every other ball through the legside for four. For his part, Root ensured he was top scorer and then did one.
After that, it was a play-off to bat at seven. Jos Buttler, the incumbent, has just gone up a spot – he made 67. Moeen Ali's dropped down to eight from six but he's 49 not out. If he makes 70, maybe he'll push Buttler back down again and if he can make a ton, Stokes at six might also be in danger. Or they could just operate a rota system.
In summary
Twenty20 tends to either ebb or flow. In one day of Test cricket, we most definitely got both – and the match has barely even started.
12 Appeals
53
No bad thing in our eyes. We're a great believer in scarcity making something more attractive. Take northern hairy-nosed wombats, for example. Phwoar.
Similarly, four-day matches might become something other than sporting wallpaper if there are fewer of them. We had to follow the County Championship as part of our job last year and even we lost track half the time. There's just too much of it. Fewer matches means greater focus on those that remain.
The big question is how this is achieved. We advocated three divisions only the other week. It's surely a better option than the 'play half the teams one-and-three-quarter times' type solutions that are being put forward as alternatives. Better to keep things comprehensibly straightforward.
Done correctly, this could be an important step towards defeating the multi-coloured Excel monster that is the English domestic season.
53 Appeals
14
Too many cooks? Too many Cooks? Who's responsible for what in this new England team hierarchy?
We've just spent half an hour writing and rewriting a paragraph trying to explain how we think things are going to work. Clearly, we have no idea. We came up with some sort of division where Andrew Strauss was the strategist, the coach the tactician and the captain some sort of on-field mouthpiece, little more than a control mechanism for shuffling the players about.
But then there's the bowling coach, who'll be heavily involved in tactics. And surely the coach will have some say in strategy? Everything overlaps, and really, is it that complex a job that three people are required? For many years Dan Vettori seemed to perform all three roles and still found time for a bit of bowling and beard-growing.
As far as we can tell, the main distinction is in attire. The captain will wear whites or one-day pyjamas, the coach will wear a tracksuit and Andrew Strauss will wear smart trousers and a shirt with a tie for bad news and no tie for when things are going well. Hopefully the complex relationship between the three leadership roles won't mean that he's going to need to purchase additional neckwear.
14 Appeals
25
Here's a moment from the final scene when Geoff finds himself surrounded by a gang of maize.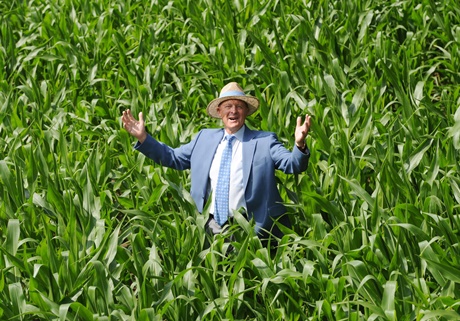 Okay, we'll admit that's a lie. Boycott's Triffids film is being kept closely under wraps and they would never give away crucial plot information like this.
The photo is actually from a press release we received last July about York maze. We've only just got round to reporting on it because, well, you know, that's just how we do things round here.
Obviously you've missed it now, but it seems that in 2014 they made a big old Geoff face maize maze.
Here it is.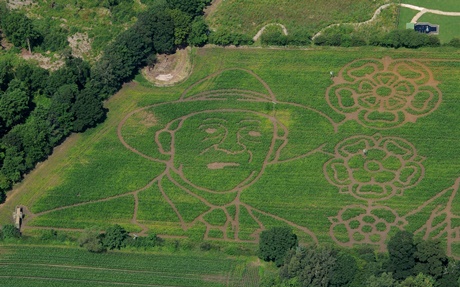 And here's a picture of Geoff with his two best friends shortly after tackling the maze. These are genuinely his best friends and it's entirely coincidence that they both happen to be maize.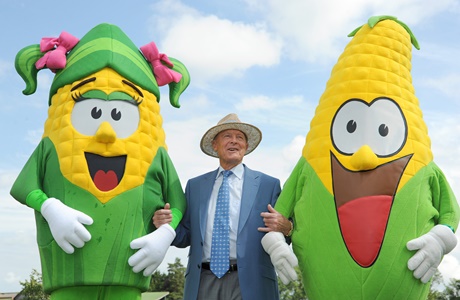 Join us tomorrow for something.
25 Appeals
38
Like a tired bear in winter, let's try and put this to bed for a few days. Maybe it'll have to get up again at some point next week to go for a wee, but we're kind of hoping that we can concentrate on the New Zealand series from now on.
As far as we can tell, this is how it's gone…
Colin Graves told Kevin Pietersen that if he came back and played county cricket and maybe made a triple hundred, he couldn't see why he wouldn't get back in the team. He said this because he genuinely couldn't see why he wouldn't get back in the team.
Then, while Graves was in the Caribbean, he discovered that England's captain, Alastair Cook, was adopting a 'him or me' position on the issue. Not mad keen on having Joe Root as Test captain just yet, the ECB opted for 'me' in favour of 'him' and tried to ham-fistedly make the best of that.
Kevin Pietersen came back, played county cricket, made a triple hundred and requested his place in the side. Andrew Strauss broke the news to him.
This is perhaps why, at the press conference the following day, Strauss said that Pietersen wouldn't play for England 'this summer', while adding that he couldn't offer guarantees beyond that. He was basically just acknowledging that there are two possible scenarios.
England win the Ashes, Cook stays, Pietersen remains excluded
They lose, Cook goes and Joe Root – who has just been named vice captain – takes over
Cook presumably feels the presence of uppity Pietersen with his inability to keep his trap shut makes captaining the side impossible. If the public comes to accept the version of events outlined above, he may come to reclassify that particular 'impossible' as merely 'very, very difficult' in comparison to what he is likely to experience should England start losing this summer.
Strauss said of Peter Moores that every game had become a referendum on whether he should continue to do the job or not. It would be like that, only a hundred times as vitriolic and a thousand times less dignified.
Here's the real nub of the problem
The main problem, as we see it, is that some people seem to think that being England captain is a big deal; like it somehow elevates you above all other England cricketers. If Alastair Cook didn't see captaincy as something to aspire to, he could have acknowledged that it wasn't especially his thing at the very outset and instead busied himself with the greatly more important job of scoring Test runs. Pretty much everyone would have liked him more for it.
You'd never get this kind of thing with Pakistan. Pakistan would have had about nine different captains by now and everything would have been much less chaotic as a consequence.
38 Appeals
16
Time for a County Championship update. The crucial piece of information is that Middlesex are now top.
If Sussex defied their top order runlessness to take an early lead, Middlesex have for the most part adopted a different approach. Their strategy seems to involve spending quite a lot of time trying to lose games before finally getting everything together when it really matters.
Against Nottinghamshire, they conceded a hundred run first innings deficit, allowed their opponents to make 400 in the second innings and then calmly batted out a draw.
Against Somerset, they again conceded a hundred run first innings deficit, but ultimately chased down the frankly ludicrous target of 402 to win. Adam Voges made a daddy hundred, getting himself in form on the offchance that the Aussies might require him for England-beating purposes at some point this summer.
The batting remained strong in the next match against Durham, where Middlesex made 463. After attaining an unassailable 170 run lead after the first innings, they promptly assisted their opponents by assailing themselves through being bowled out for 89 with their number 11, Tim Murtagh, the top scorer. Then, with incompetence well and truly purged from their system, they required all of two bowlers to bowl out Durham for 71. Steven Finn was not the pick of the bowlers with his one wicket.
But maybe it's catching, because this week's performance was decidedly Sussexy. At one point 76-4 in the first innings and then sinking to 103-6 in the second they never really made a decent total but still won comfortably. Their opponents were, somewhat inevitably, Sussex, who basically just out-Sussexed them, as you'd imagine they should.
In amongst all of this, James Harris has taken an awful lot of wickets.
16 Appeals
60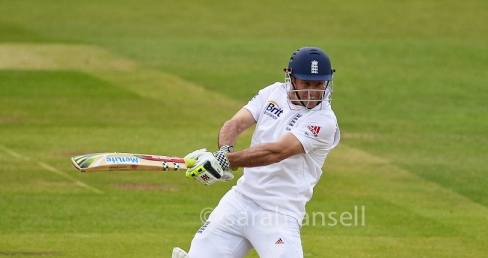 What may eventually prove to be Kevin Pietersen's final six scoring strokes in first-class cricket were, in order, 1, 2, 3, 4, 5 and 6. At that point, there was nowhere left to go.
A friend of ours was referred to a heart specialist once. As he sat in the waiting room alongside lots of sad looking folk, Unbreak My Heart started playing on the radio. Point is, plenty of things that you'd roll your eyes at if they happened in a sitcom actually do happen in real life.
Witness the ECB's public relations efforts. A script editor would rip such a story apart for being too contrived, too convenient, too obvious to pass as comedy. Kevin Pietersen is allowed to believe that if he returns to England and makes runs in the county championship, he may be considered for selection. He makes 326 not out and that night – that very same night – he is told that actually, no, he will not be considered for selection.
The news is leaked, obviously. It always is. It is leaked at the exact same moment that the ECB Twitter feed publishes a link to highlights of Pietersen's innings. The next day, the ECB officially unveil their new director of England cricket, the man who has made the decision to continue to omit Pietersen. It is Andrew Strauss, a man who once called him a cunt on TV; a man who, for all his qualities, is considered the embodiment of the establishment by those feeling disenfranchised and alienated by that very establishment.
Strauss says that Pietersen is not going to be selected any time soon because of trust issues. He later adds that he offered him a consultancy job with the one-day side, which Pietersen declined. Apparently trust is not required for that sort of a role.
If you can, temporarily suppress your feelings about Kevin Pietersen. Find a way of pretending that you're a dispassionate observer tasked with repairing the ECB's tattered image. They are, after all, considered a toxic brand even by themselves.
If the notion that the ECB is a cosy old gentleman's club, a sort of pseudo-masonic quasi-incestuous backslapping coven, then that notion had to some degree been confined to certain individuals. Whether they were truly the guilty parties or not, people like Paul Downton and Peter Moores had been infected with this cancer, but they had recently been excised. Giles Clarke is about to depart as chairman and while he will retain influence, the arrival of Colin Graves had at least felt progressive.
Now, somehow, against the odds, the cancer of negative public perception has been allowed to spread. And not just subtly and by stealth, but like something from an unusually gory B-movie. People are being eaten alive. A three-time Ashes-winning captain has become public enemy number one among a large swathe of England fans. The new coach is tainted by the new-old regime even before being sounded out about whether he might maybe like to think about possibly perhaps applying.
Rights or wrongs of the selection or non-selection of one player aside, how in the hell does an organisation find a way to shoot itself in the foot like this; a prosthetic foot it only received following an identical shooting incident just last year?
60 Appeals
12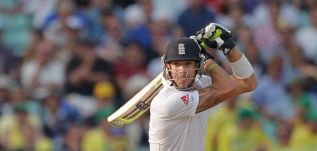 The Kevin Pietersen saga is often described as a soap opera. This is quite accurate because the defining feature of a soap opera is that IT NEVER ENDS. Okay, Crossroads and Eldorado did, but you get what we're saying. For the most part they just rumble on, day after day, setting up contrived storylines and having them play out.
Kevin Pietersen's triple hundred today was neither proof nor irrelevant. It was an impassioned and noteworthy innings against the worst first-class county. He can't help who he plays. All he can do is score a few runs. Today he did that in about as convincing a manner as possible. The second-highest score in the innings was Kumar Sangakkara's 36.
More is needed, but on this evidence more is highly likely to arrive. What strikes us most is that Pietersen was at his most exciting early on in his career when he had it all to prove. Back then, there was real steel underpinning the carnage. If his sense of being wronged has brought that back and precipitated some sort of driven final fling, then excellent.
Very few batsmen possess the qualities required to make you think you might be about to see something you've never seen before. Very few batsmen play the kinds of innings you feel compelled to send text messages about. It's not about playing outlandish shots or scoring heavily, it's a combination of brutality and endurance, a way of manhandling a match and pointing it in a new direction.
Brian Lara explored new territory, so when he got going you couldn't really feel confident about where things were going to end. There is something of that in Pietersen. Today a hundred wasn't enough; and a double hundred wasn't enough; and his highest first-class score wasn't enough. Plenty of players have hunger, plenty of players have ability. Very few sit at the farthest extremes of the spectrum on both counts.
12 Appeals
25
England have sacked their coach; the coach they hired about a year ago with a view to rebuilding the side in time for the Ashes series which starts in about 45 minutes' time. We're increasingly wondering whether they should just scrap long-term plans in favour of short-termism. It seems a more realistic way of operating.
Unlike his predecessor, Andy Flower, Peter Moores seems to have a decent knack for picking out talented players. Whoever follows him will doubtless benefit from this. Hopefully this next coach will get the opportunity to wring those same players dry in a period of unparalleled success.
When that period finally implodes, England should hire Moores for a third time to pick out the next batch of players and draw people's ire until everything's ready to go again. He could become some sort of ire-drawing, low ebb specialist; a man who builds decent foundations while simultaneously being blamed for the embarrassing lack of walls.
ECB chief executive Tom Harrison says the sacking has been made 'as we focus on the future'.
'Twas ever thus, but as any horologist will tell you, the future never comes.
25 Appeals