Author Archive
9
That's what cricketers always say, as if they received some mystical message from the cosmos informing them it was 'time'.
Ryan Harris has retired because he's broken his leg by bowling with a knee devoid of cartilage. You might therefore think it was 'time' slightly before now, but apparently not.
Harris himself implied that he took the hint after getting a medical opinion.
"My surgeon David Young, he didn't say in as many words that I should retire but he said it was going to be very hard."
However, the key element here is actually the term 'my surgeon'. Professional sportsmen should not have surgeons.
'My postman' makes sense in that it is a service from which you regularly benefit. 'My barber' works for the same reason. If you are undergoing surgery frequently enough that the person undertaking the work is basically kept on retainer, you should be in a hospital, not a sports ground.
Harris then gave an insight into the self-destructive tendencies that have allowed his body to reach this point.
"I nearly blew my head up yesterday thinking there's got to be a way I can get past this again."
Quite what cranial detonation would have achieved is anyone's guess, but you can only give him full marks for his commitment to playing Test cricket.
9 Appeals
38
A number of times this week, we've read people questioning whether England will be able to carry their positive approach from the one-day series against New Zealand into Tests. You would think so, being as that positive approach was carried into the one-day series from the preceding Tests in the first place.
We're no Grand Master of Memory – we only ever remember that we don't actually need more paprika as we're adding a fifth or sixth jar to the shelf – but we do remember England v New Zealand at Lord's. That's when things changed – specifically when Joe Root and Ben Stokes decided to dig in by scoring at a run-a-ball for an extended period.
It's probably a branding problem. The new, young, fresh, exciting one-day side is synonymous with bold cricket because being only one series old, that's all it's ever produced. Alastair Cook's Test team has a different reputation and nobody's going to be swayed into thinking differently of it just because it played in a different way in its most recent outings.
A friend of ours has these two friends – one was fat as a child and one wasn't. The fat kid gained a fat nickname that has remained with him throughout his life, even though he is now thin. The non-fat kid is now fat and yet still calls the other guy the fat nickname.
Previously-fat guy pointed out to previously-thin guy that the nickname no longer made sense and that actually previously-thin guy was now the fat one. In the face of this logical argument, previously-thin-but-now-fat guy simply replied: "Yeah, but you'll always be the fat bastard."
That, friends, is branding.
38 Appeals
37
As in 'out of the warm-up match against Essex due to a recurrence of his long-standing knee problems'. Not as in 'dismissed' or in that other sense.
"My body itself feels really good," said Harris last week. 'Good' for Ryan Harris apparently means 'at least a few days away from injury'. To call him injury-prone is misleading. He's fitness prone. Injured is the norm.
So as it stands, Australia are already struggling to cobble together a side for the first Test. They're dropping like flies. Harris is, admittedly, the first of those flies, but more will undoubtedly follow. Darren Lehmann is running scared to the extent that Brad Haddin's being rested from this match lest he break a fingernail.
England, meanwhile, go from strength to strength. Only a few days ago, they were in Spain, a country that doesn't even play cricket in any meaningful sense. Now they're in England, the country which gave birth to the game.
37 Appeals
27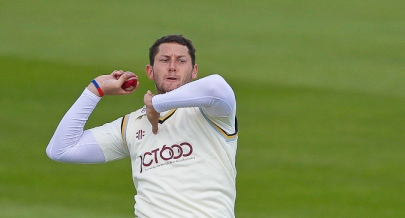 Of course you do. He played for England as recently as last month (against Ireland – what do you mean you don't remember?). But do you remember what he was? You probably remember Tim Bresnan as a diligent and accurate third seamer, but once upon a time he was an all-rounder.
Maybe that's generous. He was more accurately a lower order batsman who could make runs and when you see a 22-year-old like that, it's natural to predict further improvement. However, the 2007 season in which he made three hundreds and averaged 48.5 remained a bizarre aberration until recently.
Having floated away from England's Test team like a wiry-haired buoyancy aid, Bresnan had also sunk to number eight in Yorkshire's batting line-up like a partially deflated wiry-haired buoyancy aid. It was from this position that he made 100 not out against Somerset last month – only the fourth first-class hundred of his career.
This week, he did it again, making 169 not out in a dementedly protracted partnership with Jonny Bairstow against Durham. At the age of 30, could Bresnan finally fulfil his promise and become an actual all-rounder?
We're wishing him all the best – although not because he's a loveable fatty, which is what you'll no doubt assume. Now seems an appropriate time to restate our belief that he is no such thing and has in fact gained this reputation largely because of his abnormally round head. His big tree trunk arms may add to the impression as well, but he's surprisingly fat-free. We have previously described him as being like a burly puma and cannot currently improve on that.
27 Appeals
12
We remember seeing a story in the local paper once where a woman had come second in some sort of vegetable growing competition despite being the only person to have entered that particular category.
Let's say she grew a broccoflower – which is apparently a thing. In a world class diss, the judges decided that Janice's broccoflower was only worthy of a silver medal despite unarguably being the best broccoflower on display. Second in a competition of one. Janice probably wished she'd never entered.
Sections of the Australian media have a tendency to do the reverse of this. They perceive the nation's best fast bowlers as being exceptional purely on the basis that they're the best available. At times like now, when there's been talk that Mitchell Johnson or Ryan Harris being omitted from the Test team, that makes perfect sense – Australia do indeed have some very good quick bowlers. However, a couple of years ago, back when the team was rubbish, it led to a slightly delusional confusion between promise and quality.
Back then, during Johnson's lull, a whole host of young quicks were touted as being possibilities for the Test team. They were spoken of largely because there weren't many established players doing a decent job, but many people took the fact that they were being mentioned as a weird sort of proof of their ability.
Mitchell Starc was one of these players. He played a few Tests, and may have done a bit better if he'd ever been allowed more than one match in a row, but it wasn't some devastating start. It was promising, but not much more than that. It rather feels as if he's moved on from that now though.
Not much has happened in Test cricket since then, but there's increasingly a sense that Starc is now fully-formed. Sometimes it makes sense to distinguish between one-day and Test formats, but it depends on the player. Starc is no Nathan Bracken style white ball specialist. What has made him so frighteningly successful in the shorter formats is just as relevant – if not more relevant – in the grown-ups' game.
For England fans there's a horrible suspicion that this summer will be when the left-armer kicks off his flip-flops and makes himself comfortable in Test cricket. He's spent time with Yorkshire. He's toured once before. Plenty of the usual mistakes that every foreign quick bowler makes are behind him. Invisibly, when no-one was really watching, plenty of lessons have already been learnt.
The broccoflower competition's a bit more hotly-contested this year, but Starc may still secure first place.
12 Appeals
12
Perhaps it's mankind's predisposition towards seeing the world in terms of stories that has resulted in there being so much emphasis on the latter stages of Matt Prior's career. Stories build towards an ending, so we tend to think that's the most important bit.
Such a way of looking at things is almost always unfair on a cricketer and especially so in Prior's case where a few months not fully fit during which he also suffered a relatively short-lived falling out with a team-mate paint an unflattering picture.
Let's deal with the Kevin Pietersen thing first
If only to get it out of the way. Weirdly, we've always closely associated the two men because they were the standout players from an A tour to India way back when. For the most part, they got on okay. It's worth noting that many of the older events recounted in KP's book have been recoloured as a result of their subsequent falling out. It was really only quite recently that things went awry.
One of KP's biggest gripes seems to be that Prior was somehow big-headed, as proven by the fact that he referred to himself as 'The Big Cheese'. Prior's always been known as Cheese, but as we always understood it, this wasn't because of some sense that he was kind of a big deal, but because of a tendency to look like this.
Maybe the nickname evolved a little over time, but if you missed the subtleties, didn't quite appreciate the cultural concept and maybe weren't all that inclined towards self-deprecation yourself, maybe you could have got hold of the wrong end of the stick and subsequently decided to beat him with it.
Declaration batting
Many England fans who really warmed to Prior did so because of how he batted when England were looking to declare. This is no 'yay, boundaries!' thing. It was something deeper than that.
When it comes to upping the run-rate ahead of a declaration, many batsmen are only too delighted to have an excuse to go for glory. Attempting to hit sixes is a somewhat self-indulgent form of selflessness – almost a win-win.
Prior's approach was different. He would look to increase the run-rate by any means he could, including through near-suicidal running between the wickets. Although you're working towards the same end, there's no glory in a quick single or a scampered three. Caught at long-on is glorious failure, but when you're run-out, you always look like a div.
The stats
Prior sneaks out of Test cricket with an average of 40.18 allied to a very good strike-rate of 61.66. Pietersen's, weirdly, is 61.72. (Is there nothing these fast-scoring South Africa born England middle-order batsmen of similar vintage don't have in common?)
Hundreds-wise, his match-saving second innings 110 not out against New Zealand in 2013 was probably the most significant, but we'll always retain a soft spot for the cruelty of his 118 at the SCG in 2011. Batting at number eight and with England already ahead, the runs weren't really needed – but he got them anyway and in brutal, demoralising fashion. He helped England win that series in style.
However, what we'll most remember is some kind of fictional distillation of his career. England are good; England are ahead; Prior cuts a short one at a million miles an hour straight towards a boundary fielder but somehow still runs two, diving for his crease to complete the second. Shortly afterwards, England declare and they go on to win easily. The end.
12 Appeals
6
Asked about 'the line' earlier this month, Michael Clarke responded: "I probably say this every series but we respect there's a line you can't cross. Both teams might head-butt that line, but I'm confident we won't overstep the mark."
Everyone knows that Clarke would never breach a line, which is why he would doubtless appreciate a year's subscription to Colour Calm magazine.
With over a hundred pages of 'relaxing art therapy' for adults who enjoy colouring-in, it should keep him busy for all that extra free time he'll gain when his superannuated side loses each Test inside three days.
An online version of the mag – fillarea.com – is on the cards for those who prefer to use a computer for their pastime.
6 Appeals
21
If we were tasked with producing a faceless match report for the Twenty20 international between England and New Zealand, we'd write: "Joe Root top-scored in an innings in which Jason Roy and Sam Billings showed great promise," or something like that.
Joe Root is not the focus there. He's context. He's something you mention but don't feel the need to write about at great length. Root's form has clearly gone beyond being remarkable and become unremarkable. Who knows whether it's a high point or a false summit, but it's still worth taking a snapshot. He currently averages 54.11 in Tests, 42.36 in one-day internationals and 41.83 (with a strike-rate of 131.41) in Twenty20. That is better than fancying a brew in the belief that you're out of milk but then discovering that actually, no, you're not out of milk so you can have a brew after all.
Last night's match was also a sad end, however. This New Zealand cricket team who have been such fun will now disperse (for only a few of them will actually go home). This is disappointing enough in itself, but it also means that Ian Smith walks out of the Sky commentary box.
We appreciate this is of little interest to those of you who don't get to see live coverage, but Smith deserves a nod all the same. We've always liked him, but didn't perhaps realise how much until this summer. Smith can offer insights into the New Zealand cricket team and the dark art of wicketkeeping, but it's his demeanour which is his greatest strength.
Quite simply, he enjoys cricket, which doesn't always seem to be the case with some commentators. He also enjoys his job and his English colleagues clearly enjoy working with him more than most. Smith, Mike Atherton and Nasser Hussain have exchanged (good-natured) dry jibes with increasing frequency and when David Lloyd tried to discomfit him with one of his trademark man-of-the-people digressions, Smith smoothly outmanoeuvred him without breaking stride.
For reasons known only to himself, Lloyd was testing Smith on bingo calls and when the Kiwi didn't know one, Lloyd asked: "Do you not have bingo down there?"
"Yes," said Smith, and cited a different bingo call as proof. "What's that?" asked Lloyd. Smith gave him the answer and then shot back: "Do you not have bingo up here?"
Point is, Ian Smith can give and take a joke without the unsavoury word 'banter' welling up in your mind. It's a priceless ability for a commentator and as the Ashes wears on, we'll undoubtedly miss that.
21 Appeals
16
Following India's one-day series defeat to Bangladesh, MS Dhoni has hit back at his critics, saying that he's the captain and nothing beyond that.
When it was put to him that the result might be considered something of a disappointment to India fans, Dhoni may or may not have replied: "It's my team."
The implication seems to be that the captain is in control and if he wants to lose to Bangladesh, he can lose to Bangladesh and no-one else is permitted an opinion on the matter.
"I don't slag you lot off when you use the word 'would' when you mean 'will'," he continued. "So don't get all up in my grill when my team loses a game of cricket. Each person should stick to his own field. My field is the winning and losing of games of cricket and I will continue to do both of those things to the best of my ability until the selectors decide that someone else can do them better than I can."
When reporters looked at him quizzically, he added: "I ain't even lying."
16 Appeals
18
Michael Clarke has launched an astonishing broadside against his team-mate Steven Smith ahead of this summer's Ashes series. The Australian captain claims that Smith will struggle to make any sort of impact this summer despite now being ranked the best Test batsman in the world.
Responding to Graeme Swann's assertion that Smith might get found out in English conditions, Clarke said simply: "We will find out in five Test matches' time whether Steve Smith is good enough to have success over here."
A hundred in any of the first four Test matches would surely prove Smith's credentials, so it is striking that the Australian captain does not think the matter will be resolved before the end of the series. Clearly, he is expecting few runs from the team's new number three prior to the fifth Test and presumably not even then.
Smith has not commented publically, but will doubtless be horrified to learn that his captain has such little faith in him. Alternatively, he may see Clarke's words as merely the latest salvo in the proxy war for control of the Australia team. Clarke, threatened by Smith's recent success and his status as heir apparent, may be trying to undermine his rival to firm up his own position.
Either way, the Australia camp is in obvious disarray with the cracks destined to widen like those in the Waca pitch on which they won't be playing.
With suspicions that Chris Rogers and Brad Haddin may be suffering from senility amongst other age-related illnesses, things currently look bleak for the tourists and there are also rumours that Darren Lehmann spat on a penguin while at London Zoo this week, raising the possibility that the coach may come under fire for his boorish behaviour.
18 Appeals