Author Archive
27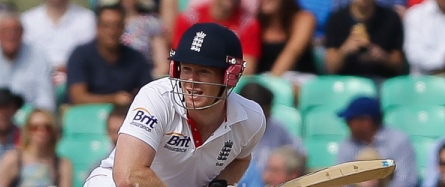 In a run-chase, pressure doesn't just come from the bowling you face. It comes from the relationship between the bowling you face and the runs you need. We haven't yet seen England's defence of 310, but our initial feeling is that Eoin Morgan's belief that the bowlers were at fault for the loss to Sri Lanka is simplistic.
We saw England bat. We saw a classic one-day finish preceded by a stumblesome plateau. 28 runs were scored in 10 overs and while you do get these lulls even in these modern high-scoring days, it seemed unjustifiably quiet. Nothing happened against Angelo Mathews and Tillakaratne Dilshan for whom bowling is a secondary skill.
If Morgan himself came to the party, he arrived with an apology. He wasn't drinking because he had work in the morning and he was really sorry but he'd also have to leave quite early. He stood in the corner for an hour, spoke to no-one and then left with 27 runs off 47 balls. It was so pointless you wonder whether England would have been any worse off if Chris Woakes had come in at five. At least Morgan could have a go at the slogging for which he is renowned if he batted at eight.
Root, Taylor and particularly Buttler engineered a strong finish and then it was over to the bowlers, but it didn't seem to be a day for the 85mph right-arm seam bowling basket. Moeen Ali took the only wicket and was also the most economical bowler.
Referring to his attack, Morgan said: "When we are firing we are predictably good." We felt sure he was about to follow this up with 'but when we aren't we are predictably bad'. He could also have gone for 'predictable and bad' but he opted for neither. Instead he bemoaned 'one bad ball every couple of overs'.
Maybe he's right – it certainly sounds like England could have fielded better – but maybe England should have made 20 or 30 runs more. Maybe that would have allowed more bad balls. Maybe that would have helped the required run-rate rise.
Or maybe it's all an irrelevance. Maybe England could have got absolutely everything exactly right throughout this World Cup – captain, batting line-up, bowlers, 'execution' – and still not won it.
27 Appeals
10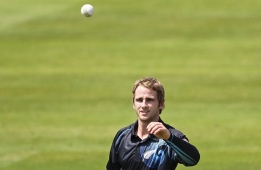 When New Zealand played Australia, the bowlers won and cricket was all the better for it. Runs are not a sensible unit of measurement when gauging the value of the 'product'.
AB de Villiers is a genius and deserves every plaudit that comes his way, but Kane Williamson's 45 off 42 balls pisses all over his 162 off 66 balls earlier in the week.
Okay, maybe that's unfair because de Villiers' knock was also match-deciding in its own way and could only have been delivered by a truly freakish talent. We're just pointing out that in many ways Williamson's innings belongs in the same category.
What's the value of a six? It's not six runs. That doesn't explain it because runs don't have a set value. A run takes its value from the context in which it is scored.
When Brendon Taylor hit a six against the West Indies earlier in the week, those runs represented around 1.6 per cent of Zimbabwe's target total. Not very exciting. When Kane Williamson hit a six today, those runs represented about 4 per cent of New Zealand's target total.
So twice as valuable? No, because we didn't properly assess the context there. Taylor's came in a run-chase that was always destined for failure and so, measured by what really matters, it was all-but-pointless. In contrast, Williamson's came with New Zealand needing six runs to win, against Australia, with only one wicket in hand.
A mishit and New Zealand's bitter rivals would have won. A four and Australia still could have won. That's when a six is a 'maximum' – when it delivers maximum impact.
10 Appeals
18
This appears to be South Africa's thinking after picking only four proper bowlers. It should present a vulnerability, but when you then make 408, you find you have a certain amount of breathing space – perhaps even enough that you could field Jade Dernbach and still harbour reasonable hopes of victory.
AB de Villiers' 66-ball 162 is only the latest 'whaaat?' innings of this World Cup. They've all been striking efforts, but we suspect the novelty will wear off. A lot of matches seem to be less about how many a team can score and more about to what extent they can cash in.
It's not the same thing. The computer game analogy is being used a lot of late but it's apposite here. This World Cup is being played on 'novice' with teams looking to hit ever more humungous scores. It's not a true challenge. It's just doing as much damage as possible when the going's easy.
We've not had too many close contests in the tournament and a lot of games have been all but decided when one team has 'gone big'. It almost seems to be the case that if a batsman gets going in the last 10 overs, there's nothing that can be done and the match is basically over.
Hopefully we'll get some matches where both sides cash in and we can have a little bit of tension for once. While big innings are a feature, competition is the bedrock on which sport is built.
18 Appeals
20
Afghanistan have won their first World Cup match. It was only the fifth one wicket win in the history of the tournament. With Ireland beating the UAE by two wickets yesterday, it doesn't need saying that the Associates have provided more than their fair share of entertainment. But we'll say it anyway. The Associates have provided more than their fair share of entertainment.
Afghanistan were at one point 97-7 in reply to Scotland's 210. That isn't so much sniffing defeat as gnawing at it, covering it in spit. At this point, Samiullah Shenwari from our bizarre list of World Cup players to watch raised his hand and requested permission to attend the party. After making 96, he exited the party and left numbers 10 and 11, Hamid Hassan and Shapoor Zadran, to do all the clearing up.
This match alone would make a wonderful extra chapter to Out of The Ashes
. The sequel – Back To The Ashes With You – would then see them sitting at home watching India repeatedly playing Australia in the 2019 World Cup.
20 Appeals
15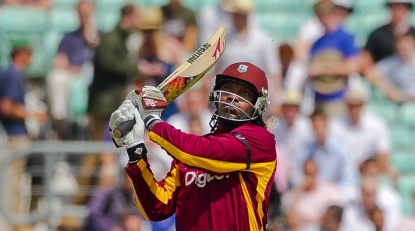 We'd say that Chris Gayle's biggest achievement today was looking like a relatively small person. The route to achieving this wasn't easy. He first had to hit a double hundred and this then allowed him the opportunity to stand next to Ian Bishop at the post-match press conference.
Bishop appears to have spent his time since retirement growing, such that he now looks like a bigger than life-size version of a human – all in proportion but built to completely the wrong scale. We're desperately hoping that England get to play the Windies and that James Taylor puts in a match-winning performance.
Shortly after Gayle had exited the pop-up stage, Jason Holder made an appearance. Miraculously, he was taller than Bishop, but looking at his spindly physique, it was obvious what had happened: someone had stretched him.
Also today, Shane Warne used the phrase 'absolutely salmon trout' to mean 'out'. Combine this with all his talk of cherries, poles and globes and it's obvious that the man is somehow entirely unfamiliar with the language of cricket.
15 Appeals
33
At the start of the tournament, we highlighted a weakness of South Africa's – the fact that their batting order "quite quickly becomes a little bit Farhaan Behardien". This weekend, it just as quickly became a little bit Wayne Parnell. That's a long tail.
South Africa's best batsmen are so good it rather distracts from the fact that their batting as a whole isn't quite so all-conquering. If you can find a way to dispatch Hashim Amla and AB de Villiers, they're a surprisingly vulnerable side. But how exactly do you get rid of those pair? Well, in de Villiers' own words: "You feel the pressure chasing 300 plus so you take on shots that you might not normally take on and you go for second runs you might not normally go for."
It's what was once known as 'scoreboard pressure' before that phrase came to mean little more than 'a big score'. The two aren't the same. Sometimes chasing 300 is easy. Sometimes chasing 250 is hard. You only really feel the pressure when you're chasing a score that is – and we hate ourself for saying this – above par.
The slog
Chasing 300 is also a great deal easier when your best batsmen are in during the final 10 overs. This period of the game appears to have become disproportionately influential in one-day cricket since the introduction of two new balls and the changes to fielding restrictions with teams routinely scoring at 10, 12, even 15 an over.
Against Zimbabwe, South Africa made 28 in the first 10 overs of the match and 146 in the last 10. That puts a lot of emphasis on what commentators call 'the back end of the innings' (and which we will therefore refer to as being 'the arse of the innings').
In that instance, it was David Miller and JP Duminy, numbers five and number six, doing the damage. However, it wouldn't have worked out quite the same if they'd entered that period with Wayne Parnell at the crease (Farhaan Behardien was actually number seven in that game, but you get what we're saying). You could even argue that just one extra wicket in the first 40 overs of the game could have cost almost 100 runs.
Who else?
One of the odd things about the arse of the innings being so significant is that it is leading a lot of teams to pick five specialist bowlers, rather than relying on part-timers. This means that it's often the number seven and number eight batsmen who are making way for out-and-out bowlers – in short, the very people who are highly likely to find themselves at the crease in the final 10 overs. This exaggerates things further.
India find themselves in a slightly odd position in that they have two strong lower order batsmen in Ravindra Jadeja and R Ashwin who are both spinners. If they can keep them in the team, the batsmen have a nice safety blanket. But without them, you could excuse a few jitters and it's possible the top order might play more conservatively to ensure the right men are around for the arse of the innings.
Australia, bizarrely, have gone the opposite way to a lot of teams and picked great swathes of batsmen-who-bowl and bowlers-who-bat. Sometimes it's just good fortune that their best bowlers are also decent batsmen (Mitchells Johnson and Starc) and that their best batsmen also bowl (Steve Smith) but they've also been keen to play all-rounders like James Faulkner and Mitchell Marsh. The upshot is that while their top order isn't quite so spectacular, it never really ends, so there'll always be someone to exploit the arse (of the innings).
And England?
England's latest match, against Scotland, was also an arse tale (as opposed to an arse tail). In a World Cup in which a three figure score from the last 10 overs is pretty much standard, they hobbled from 130-0 after 30 overs to 303-8 in 50. Basically, they scored in 20 overs not much more than a lot of sides would have been aiming for in 10.
33 Appeals
25
Skinned them alive? Probably not. Skinned them undead maybe, for England increasingly seem like zombies. Asked to explain England's latest defeat, all Eoin Morgan could muster was "braaaains" in a long, drawn-out moan. "Skiiiill" and "caaaaalmness" were also lacking.
In contrast to England's rotting flesh, New Zealand have a surfeit of vitality. Of course it's easy to run around like giddy schoolchildren when you're winning – but New Zealand are winning, so run around like giddy schoolchildren they do. The word 'intensity' has long since been rendered useless through repetition, but Kiwi fielders gave some idea what it once meant.
They also have a captain who can pick his moments. England were at one point 104-4 when Daniel Vettori had found himself at the front of the Eoin Morgan cheap dismissal queue. Brendon McCullum brought Tim Southee back into the attack.
It almost certainly wasn't the plan – Southee isn't the designated 26th over bowler – but it was a vote of confidence and recognition that the 26th over could be transformed into 'the death' through human intervention. Sure enough, eight overs later England's innings – and pretty much the match – was over. Tim Southee had 7-33 and had hit the stumps four times.
After that, Brendon McCullum had fun. Half of Steven Finn's deliveries went for six, while a quarter went for four, but the meaningful damage had already been done by the bowlers. This was just the gleeful snapping of lifeless limbs.
As for England, what do they do? Bring in a zombie and drop a zombie or stick with the zombies they've got? There's not much they can do. Three of their batsmen have played fewer than 20 one-day internationals and it was notable that 50-match Joe Root was the only man to offer resistance. Confidence takes a lot longer to build than it does to destroy – just ask Ravi Bopara – so further changes will only result in a net loss.
As ever, England didn't know their team before the World Cup, so what turned out to be their first XI didn't really believe that it was the first XI. A fair few of them had never played New Zealand before, let alone in New Zealand. Perhaps they can build a bit of confidence with a couple of wins, but the confidence borne of a couple of wins is a fragile confidence because it hasn't truly been earned.
England looked alive when they walked into this tournament, but the World Cup has a way of shining a light on decay.
25 Appeals
45
We're thinking about getting more into uninspired, derivative headlines. This is what we'd have gone with for our latest Cricinfo piece.
And while we're linking, it's also just occurred to us that we never pointed you towards the latest king added to our pantheon over at All Out Cricket. This one is – to misunderstand and then adapt a common phrase – straight out of rightfield. It's that bell-end Warnie.
45 Appeals
14
If you've been around this site for a couple of years and have properly been paying attention, you'll know that we have a slight obsession with Bangladesh's Mominul Haque on the not-at-all flimsy grounds that his name sounds a bit like a drunk person saying a team-mate's name – a team-mate's name which when mispronounced sounds like 'animal'.
Alongside that, he's actually a pretty good batsman. However, despite four Test centuries and an average of 63.05 in the longest format, he was batting at nine against Afghanistan today.
Bangladesh's batting order has long perplexed us. Rather like Afghanistan, they seem to produce more than their fair share of spin bowling all-rounders and this gives rise to a situation where guys who start out as bowling tail-enders suddenly reveal themselves to be top order batsmen who bowl a bit. Then, two matches later, they're back down the order again.
But Mominul? His freakish Test average is obviously going to fall, but Bangladesh aren't exactly blessed with batsmen good enough to fluke such a statistic. Surely he's better than coming in at number nine?
In case you're wondering, Mominul's near-namesake Anamul Haque opened. Anamul's Test average is nine.
14 Appeals
12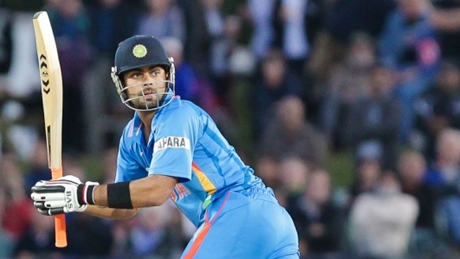 We suppose we really should at least acknowledge that the biggest cricket match of recent years took place. You know the one – Virat Kohli scored a hundred (as usual) and Misbah-ul-Haq made a futile 50 (as usual).
It was Kohli's 22nd one-day international hundred, a number that is both strikingly impressive and slightly meaningless at the same time. Kohli and AB de Villiers are the preeminent one-day batsmen of their time, but they play so many crappy nothing games that one-day international statistics don't really have the power to impress.
The World Cup matters, of course – that is an official editorial stance round these parts – so maybe we should focus on players' World Cup records specifically, in which case the knock against Pakistan was Kohli's second World Cup hundred.
That sounds like nothing and some India fans will grumble and say we're deliberately trying to diminish their man's achievements, but it's quite the opposite.
Two is a lot
If you can get your head around that, you will start to understand where we're coming from. The two hundreds in games that matter outweigh the 20 in games that don't. Virender Sehwag only made two World Cup hundreds in his entire career. Brian Lara made two. Even the mighty Nathan Astle only made two.
Only 11 players in history have made more than two World Cup hundreds. We're saying that two is a lot, but looked upon like that, even one is a lot.
And one IS a lot. That's what cricket should be like. Hundreds should be A BIG DEAL.
And they are
For now at least, World Cup hundreds remain a big deal. Even Sachin Tendulkar, whose statistical jetsam is too sprawling to comprehend, notched a manageable number. He made six. That is few enough that a human being could conceivably remember them all.
When (yes 'when') Virat Kohli makes his third World Cup hundred, he will leap into equal fifth place behind Sourav Ganguly and Mark Waugh on four, Ricky Ponting on five and Sachin Tendulkar on six. He will be level with the likes of Viv Richards, Saeed Anwar, Sanath Jayasuriya, Mahela Jayawardene and AB de Villiers.
Strikes us that you don't actually need to play huge numbers of matches to identify the best players. Just play a handful that actually matter and you'll get decent, meaningful results.
12 Appeals