County cricket news
15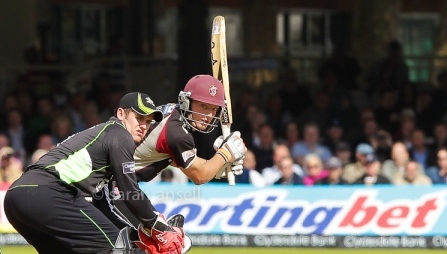 Although, admittedly, you could just as easily say that some England players beat some Australian players. England were down a Pietersen and an Anderson, but Australia were down a Clarke, a Warner, a Watson, a Haddin and we can't actually be bothered working out who else would be in the first eleven. If they were using a handicapping system, Australia probably still won.
But let's not quibble
England won a match. Furthermore, Ben Stokes went from bringing about some sort of six-shower from James Faulkner a couple of matches ago to bowling six dots at him and conceding just a single run before dismissing him. That's progress, that is. Stokes also found time to hit 70, batting at three.
The future is here; the future is Ben Stokes putting in top performances in consolation wins.
Also
The future is also Jos Buttler, the fastest bat in the West and the most insanely watchable England batsman since Eoin Morgan was a novelty. You want to see a bat flourish? Jos is your man. Sometimes hitting the ball is just a dull preamble to that follow-through.
Buttler hits fours and sixes that literally defy expectations. As often as not, your initial response upon seeing him go for a shot is to internally scream: "Don't take swing at that one! It's not right for the shot!" only to see the ball sail into the stands after a bizarre contortion and an insanely fast blur of willow. It's bleached-clean hitting and his bat appears to only really have a middle. We're slightly in love with him.
His audition to become England's next Test wicketkeeper is going pretty well, but hopefully they leave him to pretty much just do what he's doing for the time being.
15 Appeals
36
Have we all made realistic New Year's resolutions? No more drinking on Wednesdays? One takeaway a week, but you won't deliberately order enough for breakfast the next morning as well? Or maybe you've resolved to stop playing Australia quite so frequently.
Vivisection's tempting, but let's not reach for the scalpel until this England Ashes tour is actually cold. There's a fifth Test of horror to live through yet.
That said, some of the errors of recent years should perhaps inform selection for this final five-day fiasco. There's talk of Michael Carberry being dropped and this pretty much sums thing up. His omission would have an impact on an opening position and one in the middle order – in short, the two spots which England haven't been content with for a long, long time.
There must be better bread
There's been a lack of regard for the number six slot and a lack of conviction when it comes to openers and so we've ended up with the same four batsmen as filling between ever-changing types of bread.
The middle order slot has seen a number of players 'given a go' of whom only Joe Root made a decent fist of things. But England weren't happy with that. Do well at number six and they want you out of there and into what they think of as being one of the proper batting spots.
Root was promoted to England's other problem position – opener – and despite an Ashes hundred, was deemed a failure. Nick Compton was discarded too, shortly after hitting back-to-back hundreds. It seemed there was always someone better and by a process of deduction, it was determined that that person was Michael Carberry.
I thought you weren't doing a post-tour dissection
No, we're not. We just got a bit sidetracked. The point is the dropping of Michael Carberry and the ramifications of that. In this instance, England will presumably pick Gary Ballance. He seems to have good credentials to be a fixture in the middle-order – in which case, stick with him. Show conviction.
But will that happen? Joe Root will, presumably, move back up to opener should Ballance play. Root's high quality sourdough at number six, but stale Mother's Pride in the top three. Should he fail again, would they drop him or move him down the order and drop Ballance?
Too much shuffling
A number of openers and number sixes have been killed off, but Root's been suffering collateral damage from England's dissatisfaction and uncertainty too. A certain proportion of England's batting shitness stems from all this low-key shuffling and the lack of conviction from which it stems. It's rare that a player's tossed aside after just one match these days, but it's not unusual for someone to be out on their ear after four or five. It looks better, but the impact's similar.
Other fifth Test selections
But that isn't to say that players always get at least a series. Remember Chris Woakes and Simon Kerrigan? They didn't even make it onto this tour after playing in the previous Test. Ben Stokes may have benefited from the 'give 'em a chance' approach to selection, but it doesn't usually work.
This is worth remembering when names like Scott Borthwick crop up. Good luck to him and good luck to any young player picked for England, but he was literally a long way from the England Test team a fortnight ago.
36 Appeals
34
You can see him a mile off. Clutch him. CLUTCH HIM!
It's not so much that he scored a hundred on what was actually a fairly even, true pitch between the cracks. It's more that he looked unruffled. Any idiot can bat, but hardly anyone can bat in the muggy atmosphere that surrounds a team being battered in an Ashes series.
The wheels don't just come off when England do badly in Australia. They also explode, maiming bystanders. If any player can hit his own mouth with a sandwich, he's doing okay right now. Stokes-o hit a hundred.
In a sense, the pressure was off a bit, but it's pretty good to do this at the age of 22 and it's pretty handy that he bowls a bit as well.
Rejoice, England fans – not quite everything is shit.
34 Appeals
5
And what does he look like?
Just Google it…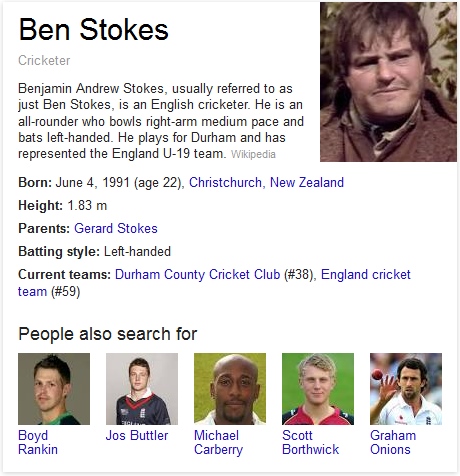 You can always rely on Google.
5 Appeals
23
Sunday starts for County Championship matches and Twenty20 matches on a Friday night. It ain't all bad.
The latter could even become 'a thing', as detailed here. Shall we try and make it a thing? What should it involve? Perhaps we could try and source beer brewed in the counties playing the televised match each week. Or we could try and prepare a delicacy native to the region – throdkin for Lancashire, balti for Warwickshire and a food closely associated with Northamptonshire's opposition for Northamptonshire.
We've a faint suspicion this is going to turn into one of those posts where you all start listing things in the comments. That's fine. Knock yourselves out.
23 Appeals
20
A secret source writes:
I thought this might interest you. It's just like the 3am Girls in The Mirror, only with better grammar and more discussion about the state of County Championship wickets than they normally have.
Overheard at the gym at the weekend – a regular first-team Lancashire player chatting to some bloke. He was saying that there is a debate at Lancs about whether they need to do something about the pitch at Old Trafford. The idea is that the 75 championship-free years were largely a consequence of a lack of results on a flat, true (albeit fast) wicket, and that it was no coincidence that when Lancs won the title they played all their home matches at Aigburth. The flip side of the debate was, according to the player in question, that Lancs' batsmen are so rubbish they need a good wicket not to look like idiots.
There is something to this. As a Test match wicket, Old Trafford is superb, and a result pitch more often than not. But, and again from the lips of this mystery player, to get a result you need three or four Test quality bowlers. Ordinary county bowlers can't extract enough wickets, and have a day fewer in which to do it.
20 Appeals
1
Cricket fans adore statistics. For most of you, the sport itself is just a convenient means of generating data. Numbers are your true love.
Here are some.
Most runs
Gary Ballance (Yorkshire) – 1,251
Wayne Madsen (Derbyshire) – 1,221
Sam Robson (Middlesex) – 1,180
Best batting averages (at least 10 innings)
Ed Joyce (Sussex) – 65.76
Gary Ballance – 62.55
Chris Woakes (Warwickshire) – 58.18
Most wickets
Graham Onions (Durham) – 70
Steve Magoffin (Sussex) – 63
Tim Murtagh (Middlesex) – 60
Best bowling averages (at least 20 wickets)
Graham Onions – 18.45
Ryan Sidebottom (Yorkshire) – 20.30
Tim Murtagh – 20.40
And a nod to Usman Arshad of Durham for his 16 wickets at 15.56 as well.
Conclusion
Ballance was the only batsman to hit five hundreds; Nottinghamshire's Michael Lumb managed four. Graham Onions was the only bowler to take five five-fors; Ollie Raynor and Chris Jordan both managed four.
The more metrics you consider, the more the season appears to revolve around just two men. The other names may change, but Graham Onions and Gary Ballance appear on every list.
England's Ashes squad now makes both more and less sense.
1 Appeal
12
Let's wrap things up. As ever, all fixtures and team names may be incorrect. The writer accepts no responsibility for factual accuracy.
1st – Durham
Having won the County Championship, Durham promptly lost to Sussex.
2nd – Yorkshire
Yorkshire beat Middlesex with a young scamp by the name of Ryan Sidebottom setting them on the path to victory with 4-27. We remember when Sidebottom was the most important part of England's attack. It was 2009; the nation was rocking to the sounds of Kanye West, Lady Gaga and Chipmunk; Gordon Brown was Prime Minister; and Hole in the Wall disappeared from our screens. Memorable times. Gary Ballance hit 90 in that match. No-one else got past 66.
Yorkshire also drew with Surrey. That man Ballance made a first innings hundred before 18-year-old Domnic Sibley made 242 alongside the rather better-known Hashim Amla, who made 151. It's impressive to think that Surrey have contrived to get relegated after fielding Graeme Smith, Ricky Ponting and Hashim Amla at various points in the season. Ballance then saved Yorkshire with 108 not out. He's bloody effective. The only worry is that he bats at number six for Yorkshire, which is a pretty sheltered spot in county cricket.
3rd – Sussex
As was mentioned above, they beat Durham, which secured them a podium position. James Anyon took 5-44 and finished with 50 wickets for the season. Chris Jordan took 4-50 and finished with 59, behind only Tim Murtagh (60), team-mate Steve Magoffin (63) and Graham Onions (a ludicrous 70, despite only playing 12 matches). Keaton Jennings and Michael Richardson scored hundreds in Durham's second, more successful, innings, but Sussex still managed to score 297 to win with Chris Nash making 108.
The next chapter
Might do a statistical round-up if it means we don't have to try and think of something to say about the Champions League for another day. Anticipate a whole series of crimes against factuality should we attempt such a thing.
12 Appeals
7
Lancashire are up.
Nottinghamshire have won the one-day competition.
Never let it be said that we can't do "news". If Reuters or Associated Press want to offer us a lucrative contract to churn out those inspid pieces which clog sports pages, we're open to offers. It would be a dream come true for someone to excitedly click on an article we'd written only to groan with disappointment when they see the name of a faceless news agency in the byline.
7 Appeals