County cricket news
9
You may have thought that we'd forgotten about our weekly County Championship round-up, what with there having been a Test match and all. However, you didn't count on the nagging feeling of guilt that jolted our memory. In truth, our subsconscious is largely just a complex web woven from different strands of guilt, but we've learnt to distinguish between them over the years.
Pleasingly, the Championship top three comprises the same teams as last week, albeit in a different order. It's almost like the table's taking shape.
1st – Middlesex
Middlesex beat Somerset by nine wickets, despite 6-95 from Jamie Overton in the first innings. Tim Murtagh was the difference here, taking 10 wickets in the match. Jos Buttler made 85 after Somerset had fallen to 35-5 in their second innings, but he needs to bat further up the order if he's to even be considered for Test cricket.
2nd – Yorkshire
Yorkshire are only three points behind Middlesex after beating Warwickshire by an innings and 139 runs. Adil Rashid made an unbeaten hundred and currently averages 200 in the Championship. Liam Plunkett (remember him) took 5-32.
3rd – Durham
Last week we vaguely promised that we'd cover Surrey v Durham this week and at school they taught us that you have to keep your vague promises, even when you don't really mean them and no-one actually cares. Durham beat Surrey with two of their spinners performing well. Ryan Buckley took 5-80 in the first innings and Scott Borthwick took 6-70 in the second. In between, Gareth Batty took 5-80 for Surrey. It's also worth noting that Stuart Meaker took one wicket in the match and went at five an over. We actually quite like Stuart Meaker, but it's sometimes worth drawing attention to days like this because a player's England credentials can be overhyped after their better performances which can skew perceptions.
The next chapter
We hate this bit now that our unfamiliarity with calendars and dates has been exposed. We think that Durham will host Middlesex this week and that Yorkshire won't play until next week.
9 Appeals
22
You should probably stop paying attention to the section at the end of these posts where we tell you what's happening in the coming week. Last week we said the top four teams were all playing in matches starting on Wednesday. Turns out only one match started that day and that's far from being the first mistake we've made.
It probably doesn't help that we write this at a time of night when our eyes have grown foggy from drink, curry and weekend.
1st – Middlesex
It seems that Middlesex drew with Warwickshire, but who can honestly be certain of that? If we've got our dates right and this match really did take place, then it seems that Sam Robson may have made a double hundred and Tim Murtagh may have taken 5-85. But don't quote us on that. We just wrote '5-85′ as '5085′ because we forgot to press the shift key. That's how we're operating here. Anything could happen. We could spell 'anything' with two Gs or we could write 'would' instead of 'write' in this very sentence. Both of those things actually happened. These are the mistakes we're picking up, but Lord knows what we're missing.
2nd – Durham
Durham are probably still playing Surrey. Surely we should cover that next week? Incidentally, we really have to take issue with Surrey players referring to the county as "The 'Rey." It's not cool. It sounds stupid. Sometimes you just have to accept that abbreviation is not an option. Also, they're setting an unacceptable precedent for Sussex.
3rd – Yorkshire
They drew with Somerset in the match in which Adil Rashid made 180. Tim Bresnan and Jack Brooks took wickets.
The next chapter
Here's where things get really shaky. There's something about future dates which we really can't get our head around. There's a chance that Middlesex are away at Somerset and that Yorkshire are away at Warwickshire and that both matches start on Wednesday, but frankly anything could happen.
22 Appeals
40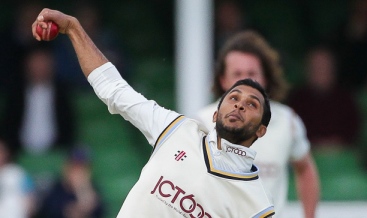 Being a young leg-spinner involves being told you're amazing when you're not. When you get a bit older and you seem a little less exciting, people tell you that you're rubbish when you're not. If you can bat as well, the extra novelty magnifies that first bit and also the contrast with the second bit. Such is life.
How old do you think Adil Rashid is? Don't look it up; we're going to tell you in the next sentence. He's 25.
There's a feeling that Adil Rashid's progress has stagnated (perhaps he's even regressed) but this is perhaps understandable as his confidence has taken a few knocks while those around him have been recalibrating their expectations. Confidence probably has a bigger impact on the performances of leg-spinners than it does on those who practise more prosaic forms of bowling and Rashid's has been hammered because he has unavoidably let people down.
A leg-spinner short of confidence can serve up some real shod, but even one in form can often start a spell with a fair chunk of it before things settle down. How does a captain distinguish between rhythm-finding shod and the kind that's there to stay? He just has to have faith really. Even when treated sympathetically, a young leg-spinner cannot always justify that faith.
It makes you wonder how anyone can ever find themselves bowling leg-spin at a high level. The world presents such a hostile environment. On the other hand, if a bowler can conquer this, you can be sure that you have a cricketer of rare resilience.
Perhaps this in itself has added to the reputation of the leg-spinner. When they do make it to the very top, they tend to be special, so we hope against hope that every young practitioner has all the right stuff. We see what we want to see, even though it (currently) isn't there.
Adil Rashid hit a hundred yesterday, but expectations regarding his bowling are currently low. Maybe they've bottomed-out. Maybe they'll now rise more realistically alongside his performances as a result of that fact. Or maybe he'll completely corner the market on shod. Maybe, maybe, maybe.
40 Appeals
8
Two teams are on the same number of points in third place. We presume it's the alphabet which decides how they are presented, in which case Warwickshire have really struck lucky with it being Yorkshire who are matching them. If they separate teams on the same points through some other method, don't try and explain it to us. Life is genuinely too short.
1st – Durham
Durham push Middlesex out of the top slot after beating Nottinghamshire. They secured a significant first innings lead thanks to 153 from 2010 player to watch, Will Smith, but then found themselves needing to score plenty of runs in not many overs in order to secure the win. They made 184 in 20.2 overs and cricket writers up and down the land noted that number of overs and drew fairly obvious conclusions about what modern batsmen are willing to try and do and why this is the case.
2nd – Middlesex
Drew with Surrey. Chris Rogers scored 214 and cricket writers up and down the country noted that he was in Australia's Ashes squad and wrote things about that. We didn't. We just left it there.
3rd – Warwickshire and Yorkshire (unless Yorkshire are actually fourth for some spurious reason)
Warwickshire drew with Sussex for whom Chris Jordan earns another mention with 4-73. Yorkshire's match against Derbyshire has already been covered.
The next chapter
Somewhat unexpectedly, all of the above teams are playing this week and all matches start on Wednesday. They're all playing counties who aren't currently in the top three.
8 Appeals
11
If you like certainty and clarity, two-innings cricket is not for you. The format presents you with details and only backs this up with context once the match has finished. Half the joy is in dissecting goings-on in order to try and shape that context in your mind's eye as the match develops.
Unpredictable events demand constant revision of the picture you are constructing. Some people – idiots – hate this. They like to be told what's happening in black and white terms. They deal in absolutes because they can't work things out for themselves. Other people have the innate self confidence to cope with being wrong. They make predictions but they take more delight in the unexpected.
Flat cap cricket
Yorkshire, powered by Joe Root, are proving a joy this year. Last week, they were bowled out for 177 and then Durham declared four wickets down in their second innings, setting a victory target of 336. Yorkshire got there with Root making 182.
This week, they conceded 475 to Chesney Hughes and Derbyshire and then promptly made 677-7 in reply (Root 236, Jonny Bairstow 186). A draw in the offing? No. They bowled Derbyshire out for 163 with the solidly-named Jack Brooks taking 5-40.
Rounded cricket
You certainly can't criticise Chesney Hughes, but it's worth pointing out that he made 15 in the second innings and his team lost. First-class cricket isn't just about the numbers – it's about the situations as well. Thus far, Yorkshire are proving to be a team capable of winning in unusual ways. They have coped with difficult situations well, which tends to indicate that they are a rounded team. Things generally don't go exactly to plan in first-class cricket, so you need to cover as many eventualities as you can. It's also fascinating to follow for those of us who are happier wrong than right.
11 Appeals
20
The best thing about Chesney Hughes' 270 is that it brings some smashing first names to prominence. A Chesney is always worth celebrating, but it gets better than that.
Chesney Hughes is from Anguilla. He was advised to come to England by a man with one of the finest names in history. His mentor is none other than Cardigan Connor.
It may sound like a nickname for an Irishman with a penchant for knitwear, but it isn't. Cardigan Connor bowled seam for Hampshire and took 614 first-class wickets. More importantly, he gives rise to quotes such as:
"I've been speaking to Cardigan at every interval."
You've got to love someone who can so effortlessly make other people sound demented.
20 Appeals
14
There was a fair bit of noteworthy action in the County Championship this week. The good news for us is that we don't have to write about much of it because it didn't particularly affect the top of the table. The good news for you is that we therefore won't feel we need to repeat our dull-the-first-time point about England players performing well in early season matches, because that's kind of the theme of what's been omitted.
1st – Middlesex
Still top and they didn't even play.
2nd – Warwickshire
Warwickshire conceded a huge first innings lead to Somerset, for whom Alviro Petersen and Jos Buttler scored hundreds, but they then managed to hold on for the draw, finishing nine wickets down. Rikki Clarke followed his 4-70 in Somerset's first innings with 61 not out in Warwickshire's second, which is the kind of low octane competence we anticipated when we decided to monitor his performances this season. Varun Chopra made 108 in Warwickshire's second innings and he's a player many people are talking about, but not us because we can't be bothered. Nick Compton made a second innings hundred for Somerset. That was something else that happened in this match.
3rd – Sussex
Sussex made 526, but drew with Surrey at least partly because it takes ages to make 526. Luke Wells made 208 before somehow contriving to get himself bowled by Vikram Solanki. Chris Jordan took 5-92 in Surrey's first innings and it struck us he was having a good season – he also took six against Yorkshire – but then he took 0-63 in the second innings, which impressed no-one.
The next chapter
Sussex play Warwickshire next week in an early season near-the-top-of-the-table clash. Middlesex again take the week off. Lord knows what they're doing with themselves. They're probably out robbing sweets and vandalising cars and that sort of stuff.
14 Appeals
14
The County Championship table is slightly canted by the fact that five teams didn't play this week. It's week two. It was time to make things a little more opaque for anyone trying to follow the competition.
1st – Middlesex
Middlesex stay top after beating Derbyshire. There were four wickets in the first innings for Steven Finn, but the match was won in Derbyshire's second innings. Tim Murtagh took 5-12, while Toby Roland-Jones docked the tail with 3-4. Derbyshire were all out for 60, which – if you're new to cricket – is a rubbish score.
2nd – Warwickshire
Warwickshire rise after last week's draw. They beat Durham. A hundred from Durham's number eight, Steve Borthwick, couldn't save them from a first innings deficit and then Warwickshire also had a go at lower order feistiness via Tim Ambrose, who scored a hundred, and King Cricket player to watch, Rikki Clarke, who made 92. This is fairly typical of Clarke – worth watching, but there's usually a more obvious focal point. This is probably for the best, what with his face and all. Chris Wright then took 6-31 and Durham were out for 94. While this is a larger number than 60, it is also a rubbish score.
3rd – Durham
Durham remain third after scoring hardly any bonus points in the match described above.
The next chapter
Middlesex and Warwickshire aren't playing this week. Sussex are and have won their one match so far. If they can manage more than half a point, they will rise above Durham.
14 Appeals
7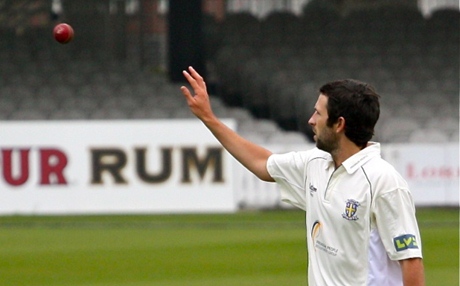 International cricket matches are now so frequent that you can forget that those involved are in any way exceptional. We like the early part of the season because it generally provides a reminder.
In general, we don't like reminders. We like to leave things indefinitely. BUT THAT DOESN'T MEAN THAT WE'VE FORGOTTEN ABOUT THEM. Yes, we are going to do that important thing at some point. No, we don't know when.
This kind of reminder is different. It's a reminder that assures you all is as it should be. Later in the season, someone will hit a hundred or take five wickets and be spoken of as being in the running for a Test spot. Look back at these early matches and you'll see what it really takes to be in the running for a Test spot. England players are remarkably reliable when they drop down a level.
We alluded to this at the weekend when referring to Graham Onions' habit of collecting huge numbers of wickets while he can – before he has to spend his summer driving to England matches only to be told that he's not needed on the morning of the game. Steven Finn also reappeared this week and promptly took 4-51. Even Jade Dernbach took wickets, for crying out loud. One of them was Nick Compton, who made a duck, but let's gloss over that.
The point is, England's selectors generally have a pretty good idea who the best players are. If a batsman doesn't make runs for England, it doesn't always mean he was the wrong selection. It might just mean that the best option isn't necessarily a world-beater.
7 Appeals
10
Our approach to covering the County Championship has always been to strip away all of the fat and flesh and a fair proportion of the bones to leave something manageable. What you do with what's left is up for debate. Give it to the dog, maybe.
Our official editorial stance is that only the first division matters, but we're refining that further this year. We're going to try and focus on the top of the table. The idea is that those of you who don't follow county cricket too closely might be able to get just a few details about the title race without wasting time reading match reports which are about irrelevant teams or which provide needless detail about how a batsman was dismissed and in what over.
First, the table. Middlesex and Sussex are top, while Durham also won. Let's try and tell their stories.
1st – Middlesex
Middlesex beat Nottinghamshire, who are generally one of the stronger counties. The match was set up by 6-63 from Toby Roland-Jones and at the age of 25 and with a first-class average of 20.57, we're pretty sure we missed a trick in not selecting him as one of our players to watch this season. Then again, trick-missing is one of our specialties, along with making scrambled eggs and being unable to work for more than about eight minutes at a time.
Roland-Jones' efforts were supported by 97 not out from wicketkeeper John Simpson. We checked his Cricinfo profile and he is not the BBC journalist. The match was then decided when Neil Dexter dismissed Nottinghamshire's entire middle-order in their second innings, taking 5-27. Not-very-interestingly, Neil Dexter isn't quite as old as we thought he was.
1st – Sussex
Yorkshire folded in their first innings. That's pretty much the story here. Chris Jordan, once of Surrey, took 6-48, but we get the impression that if he hadn't taken the wickets cheaply, someone else would have done. Yorkshire were dismissed for 96, Sussex made an unspectacular 356 and then secured an innings win with Yorkshire a dozen runs away from getting to bowl a second time.
3rd – Durham
It is early season and Graham Onions is playing. Shorn of their foulweather specialist, Nick Compton – who is resting after England duty – Somerset couldn't cope. Chris Rushworth actually took one wicket more than Onions, but we'd be surprised if that happened too often, even if Rushworth does have a surprisingly good record.
It was a low-scoring match and Ben Stokes' 49 was the best effort until Craig Kieswetter's 72 in the fourth innings. Kieswetter batted at three which is perhaps part of the masterplan to teach him how to score singles.
The next chapter
We're hoping that over the weeks, a story will take shape. The focus should become more consistent as the table becomes established and hopefully we'll get to know the characters who are having the biggest influence on things.
Set against that is the fact that we're quite lazy and might get distracted or go on holiday. We'll do our best to stay on top of things, but faint, not-particularly-heartfelt apologies if we do end up missing a week.
10 Appeals