County cricket news
9
Cities disappear in the summer. Winter has cities, summer has counties – or at least that's the way it used to be. Now Birmingham have won a cricket tournament and we don't know where we are. The weather has been unseasonably cool this last week. Even the climate's confused.
Our viewing of Twenty20 finals day was limited to some of Lancashire's semi-final, so we asked an entirely impartial and not-at-all fictional friend what went wrong for the Red Rose in the final. They said that Birmingham cheated.
We're nothing if not conscientious when it comes to establishing facts. We know that one person's word doesn't amount to proof, so we asked a second friend whether this was true. They said: "Yes, it's true, Birmingham cheated. They cheated really badly."
It's a sad day for cricket.
9 Appeals
27
Most people's knowledge of Simon Kerrigan's bowling amounts to eight overs on his debut. That's not a huge amount to go off and those overs too in circumstances that can be considered exceptional and therefore perhaps not properly representative of his ability. On the other hand, he still has to get past that.
Test cricket can be like a bike race that starts with a steep hill. You can have a five grand time trial bike and one of those ridiculous sperm-shaped helmets, but unless you've got low enough gears to start off in, you'll never get moving in the first place. Some kid on a mountain bike will spin past you and make you look like a fool. Mountain bike kid might only do 10mph and be disqualified for getting in people's way, but at least he got going.
If we were Simon Kerrigan, we'd want to be damn certain we had it in us to survive in Test cricket right now this minute. He is 25, he will get another chance – but he is unlikely to get two. Would you want your final chance at Test cricket to come not long after your first when you're only 80 per cent certain you've overcome what went wrong first time around, or would you rather wait until some point in the future when you're positively insulted that you've not yet been selected because you know – just know – that you're the best spinner going?
We suppose that later chance might never come. Hopefully that rear sprocket's large enough.
27 Appeals
6
After whipping the first division's whipping boys, Northamptonshire, with their whipping boy whipping whip, Middlesex are now 19 points ahead of Yorkshire and 22 ahead of Sussex, both of whom have a game in hand. Yorkshire would need to win to go top. Sussex would need to really, really handsomely win to do so.
Yorkshire's next match is against Lancashire, so all they really need to do is bat competently and the rest should take care of itself. Sussex's next match is against Middlesex, so they won't go top, but nor will they lose that game in hand.
A lot of Middlesex's success thus far has been built on the work done by their openers. This is great news for England, in that Sam Robson is averaging about 50. However, it's bad news for England, in that his opening partner, Chris Rogers, is averaging almost 50 per cent more and scoring almost 50 per cent quicker as well. Rogers even treated himself to a six at one point.
6 Appeals
4
We're not quite sure how to tackle the issues of the day, so in time-honoured tradition, we're not bothering.
At one extreme, we've got the T20 Blast. We watched Friday night's televised game and kind of felt we should say something about it, but then we didn't because the weather was nice on Saturday morning when we would normally have put fingertips to keyboard. We're kind of glad we didn't, because the T20 Blast already promises to make a fool of anyone who reads anything into anything.
For example, on Friday, Lancashire's batting was as ordinary as ever and they lost. A day later, they made 194-3 and won. Or how about Jade Dernbach? He failed to defend 15 off the final four balls on Friday and then secured a win for Surrey by conceding only three off the final over yesterday.
Clearly, events promise to oscillate wildly throughout the season and so commenting on them demands a complete lack of perspective. It feels like checking someone's hazard lights are working and telling them that they're 'on, off, on, off, on, off…'
Then there's the opposite extreme: match fixing and how Lou Vincent's apparently going to rip the lid off of it. Cricket being cricket, decent information will doubtless become more and more devalued as an investigation wears on and the conclusion will be something like: 'There is strong reason to believe that certain elements of a number of televised Twenty20 cricket matches have been fixed and there is an urgent need to crack down on this'.
4 Appeals
17
We've another thing. It's a fortnightly column for All Out Cricket called The Shire Horse. It's non-serious, so you don't have to sigh and roll your eyes at our making an attempt to 'say something'.
We hope you're okay with the fact that we're increasingly linking to stuff we've written elsewhere. It seems to make sense to do that for a couple of reasons. Firstly, you, the reader, don't miss owt that we've done; and secondly, as we've said before, we only have a limited number of things to say.
This site's the centre of what we do, so it can serve as a kind of hub. We'll link to what we do for other people and when there's nowt appearing elsewhere, there'll be summat here, same as ever.
On this subject, we've also got a thing in this month's issue of The Cricketer about how to identify when your team's turned shit. That's on paper though, so no link.
17 Appeals
11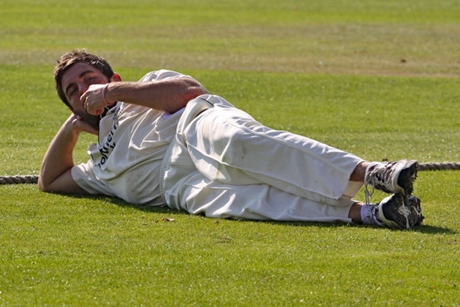 If you read about county cricket much, you'll be familiar with this kind of thing. A player you hadn't thought about a right lot suddenly starts worming his way into every second article, even though he doesn't seem to have done anything especially eyecatching. In May 2014, that person is Liam Plunkett.
His record this season is okay – good even – but it's not spectacular. He has hit 172 runs at 43 and taken 15 wickets at 27.33. So why the big whoop?
It's that age-old obsession – pace. Apparently he's recovered the half a yard he lost and added an additional proportion of a yard which no-one's yet measured. He also seems to be the anti-Shaun Tait in that he can maintain this pace for more than two overs.
We've heard enough positive things from enough different sources to be slightly surprised that Plunkett isn't being given the opportunity to reacquaint himself with the High-Visibility Tabard of Squad Membership worn by one-day international superfluosities. He did get an entirely unnecessary mention when they announced the squad though. Could he be in line for a Test recall?
11 Appeals
15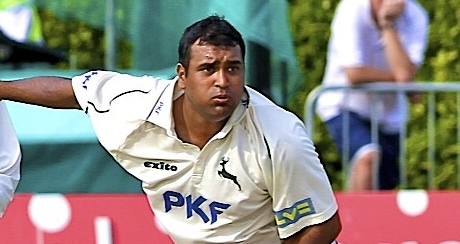 This early season is taking us back. Before Panesar and then Swann, picking an England spin bowler was like buying discounted fruit and veg. There was something wrong with whatever you chose, but could you find a way of using it somehow? You needed the vitamins, after all.
We feel like we're back there again. This cabbage is starting to yellow a bit, but take off the outer leaves and it'll be okay for the next day or so. These bananas are overripe, but they could go into a smoothie. These knackered up courgettes could be used for soup and likewise this limp brocolli.
Samit Patel's very much a batsman-who-bowls-spin, but like Jonny Bairstow, he's another recent England player who could have been given a fairer crack. In an ideal world, you wouldn't even consider him. You'd walk straight past and fondle the avocados, looking for one with just the right amount of give.
But there are no avocados. There's no spinach. There are no huge fresh tomatoes. There's just a batsman-who-bowls-spin who looks much the same as many of the other batsmen-who-bowls-spin. Might as well consider him, unless you want to contract scurvy.
15 Appeals
11
Say what you like about Craig Kieswetter's work behind the sticks, at least he owns a pair of gloves. We've half a mind that he'll end up as England's Test wicketkeeper simply because he's the only one who spends any time actually keeping wicket.
Today's Yorkshire report on Cricinfo centres on Jonny Bairstow. The angle is that if Matt Prior can't prove his fitness, Bairstow may well play as wicketkeeper in the first Test against Sri Lanka. For the record, Prior hasn't yet kept wicket this season. And nor has Bairstow.
Their other rival, Jos Buttler, is making a concerted effort to make up for not really having been a wicketkeeper in the past by trying to get a full season in behind the stumps for Lancashire. After three matches, he is now away with England.
But back to Bairstow. While he wouldn't necessarily be our first choice, we do feel that he got the faecal end of the stick during the winter. Having barely played – as either a batsman or as wicketkeeper – he was brought back into the side and scrutinised. An Ashes series is no place to try and get over a bit of rustiness. It was reminiscent of Chris Read's raw deal in 2006.
We're not really sold on Bairstow being a wicketkeeper at all, but we also don't think his recent international performances should be considered 'the norm'.
11 Appeals
5
Just a quick update to draw your attention to an old post which a lot of you won't have seen because it's from 2009. It's about Jim Foat.
If you don't know Jim Foat, it's hopefully worth a read, but that's not the main reason why we're reviving it today. We just wanted to highlight the comments section where a number of people who know Jim have written something in the years since the piece was first published.
There's nothing of earth-shattering importance in there. It's just interesting to see how this website has become a repository for vague positive feelings about an underachieving 1970s county cricketer.
5 Appeals
18
Third seamer – Chris Jordan? Can we start assuming this now, or is that going too far? It's just it would mean one less thing to keep track of, and the less we have to keep track of, the more we can concentrate on the important stuff, like moaning about the players who definitely are going to make the Test XI.
Jordan took a five-for in the latest round of championship matches and seems genuinely promising rather than the word just serving as a synonym for 'in his early 20s'. We also like his oversized glue-encrusted hands.
As for the openers, up until now we've assumed that Sam Robson will replace Michael Carberry. But with Jonathan Trott now seemingly (and sadly) gone for good, how about his becoming a good, dour, plodtastic number three? Carberry's apparently been having a series of sessions with Graham Gooch who is still, for the moment, England batting coach, and has therefore not been booted out so forcefully that he can't just amble back again with a hurt facial expression.
18 Appeals