County cricket news
12
We missed a trick when naming our county players to watch. Instead of trying to keep things manageable by limiting ourself to five, we should have completely changed the rules and just named all the England squad contenders who we were watching anyway.
What happens now is we open all the scorecards in different tabs and there are three things to write about from each one. It's all become rather unwieldy.
This is why we try and ignore the second division. There's only so much our tiny brain can sift through.
Openers
We said at the outset that we would be very, very surprised if Sam Robson didn't open against Sri Lanka. Yesterday, he scored 163, so maybe we can stop watching Michael Carberry et al. and just draw a line under the potential England openers section to cut down our workload.
Middle order
A nothingy 48 from Ravi Bopara (…in the second division. This is the problem, you see. Why are we having to pay attention to these nothingy, meaningless matches full of crap players?)  James Taylor followed up his fairly nothingy 62 with a more nothingy 33. Eoin Morgan made a reasonably noteworthy 86. Gary Ballance made 77.
Spin bowler
There really aren't any. Obviously, there's always someone who's the best of what's available, but that shouldn't be mistaken for being the future of England's spin bowling. Simon Kerrigan's probably the best specialist, but it would be a brave decision to return him to the national side right now.
The first division has some batsmen who bowl spin. Samit Patel's done nowt of note this week; Scott Borthwick took 1-50, which seems about right; and Adil Rashid is bowling pretty much as predicted, taking 1-127.
So again, we find ourself dredging the second division – which is as sure a sign as any that the situation is dire. Monty Panesar took 0-12 and 1-41 and you feel he'd really have to go some to find himself back in favour. Then there's Moeen Ali, who isn't even a spinner – he's a number three batsman. On the strength of 3-43 and 0-14 he's now being talked of as being the frontrunner. The sad thing is, he probably is.
It doesn't help these guys that half the County Championship is played in the spring these days.
Pace bowling
It's easier for these guys to look good at this time of year, but let's not complain about that. Steven Finn has followed up his first innings 5-91 with 3-63. Chris Jordan took 3-15 and then 3-121.
Owt else?
Yes. Of course. County Championship coverage never ends and it's only week two. We're going to burn out in no time. Firstly, Usman Arshad, who was starting to look like the worst-ever selection as a player to watch even before we'd clicked 'publish' rather hauled things back. None for 50-odd became a very respectable 4-78. Reverse swing? No idea. We've never even seen him play. That's how much we research these things.
Finally, we feel we have to draw attention to Ed Joyce scoring a hundred in each innings against Warwickshire, even though he's not going to play for England and even though he's not one of the players we're officially watching. But at least he has the decency to play in the first division.
12 Appeals
16
That's 'players to watch in 2014′. We don't have 2,014 players to keep an eye on. In fact, we've got fewer than ever before – just five.
A reminder of the qualification criteria:
Qualified to play for England
No established internationals
Youngish
Playing in the first division of the County Championship
Usman Arshad, Durham
It's always worth having a Durham seamer in your 'ones to watch'. Somewhat optimistically, were going with Usman Arshad this year, even though he's never taken a five-wicket haul. He did pick up a wicket every four-and-a-half overs last season, however. It'll never last. Let's watch it not last. In fact, since we wrote this, it has already not lasted.
Kyle Hogg, Lancashire
It's always worth having a Lancashire player in your 'ones to watch'. Kyle Hogg seemed to go up a notch a year or so ago, but thanks to his team-mates' shoddy batting he's had to spend a year atrophying in the second division. Let's see what's left of him.
Tom Smith, Lancashire
It's always worth having two Lancashire players in your 'ones to watch'. Tom Smith was something of a fixture in this feature in the early days after we turned up to watch the first day of the County Championship in 2006 and saw him do sort of okay. He seems to be picking up again of late. We fully expect him to take 3-56 or score 42 not out relatively frequently this year.
Adil Rashid, Yorkshire
If Tom Smith was something of a fixture in this feature, what does that make Adil Rashid? We named him in 2007, 2008, 2009, 2010 and 2011. He hasn't had great bowling returns in the last couple of years, but since when have mere trifles like 'evidence' trumped illogical hope? Call it the sunk cost fallacy, but we just know that he's going to have a brilliant year in 2014. It's too late to back out of this now.
Rashid's probably still four years away from his peak. It could still happen. It isn't beyond the bounds of possibility. Also, he did hit three hundreds and average 50 last season, so at least we can use phrases like 'he has something to offer'.
Keith Barker, Warwickshire
He's definitely someone who takes wickets without attracting too much attention. Let's give him a small amount to address that. We can then also check on Rikki Clarke and Chris Woakes while we're looking at Warwickshire scorecards.
16 Appeals
16
The fight for England spots continues to a soundtrack of very gentle applause from a smattering of supporters who didn't happen to have much on that day (activity-wise).
Top order
Jonathan Trott made 37 against Sussex – although to be fair, that has been the second-highest score in two completed innings. Ed Joyce has been the only man to better him with 117, but Joyce is Irish again now and therefore irrelevant as far as this particular article is concerned.
Middle order
James Taylor made 62 against Middlesex, which is neither here nor there really. Ravi Bopara made three against Derbyshire, which is at least a clear position. Gary Ballance made 77 against Somerset, which somehow seems a lot more than 62 and is certainly a great deal more than three.
Wicketkeeper
Apparently, the reason why Matt Prior didn't keep wicket in Sussex's last match was because his Achilles was giving him gyp. Clearly, he didn't think he could make 125 with it bothering him this week and so he's not even playing.
Spin bowler
Remember Adil Rashid? He's 85 not out at the time of writing. Tarred by his youthful shortcomings, it really is worth reminding yourself that he's only 26.
Seam bowlers
Hurray! Steven Finn has taken 4-87 against Nottinghamshire. And now he's taken 4-91. Maybe next time we check, he'll have taken 5-91…
Jesus, he actually has. That was weird.
Elsewhere, Chris Jordan took 3-15 against Warwickshire.
Shivnarine Chanderpaul Watch
Absolutely nothing to do with England whatsoever and absolutely everything to do with the fact that we just bloody love Shivnarine Chanderpaul. Essex were bowled out for 94 and Derbyshire have laboured to 143-8, but Shiv's still unbeaten with 67. Batting's hard, but he doesn't care. He's just going to bat forever anyway.
16 Appeals
22
Everyone knows that the key to a strong international side is 'competition for places'. It absolutely isn't the case that 'competition for places' is really just a synonym for 'the first XI's turned crap'.
Yesterday's England Squad Watch ended rather bleakly with the specialist batsmen seemingly competing only for a place in the dressing room from which to watch others bat. Thankfully, yesterday's play brought GREAT NEWS.
Michael Carberry improved on his first innings duck considerably, making six whole runs in the second innings. He didn't hit any boundaries, so that six entailed a whole series of scoring strokes. As for Eoin Morgan, was he smarting from his first innings golden duck? Was he 'eck as like. The vowelsome left-hander made two in a six-minute innings that will have had England's coach, whoever he is, grinning from ear to ear (assuming England's next coach has two ears and a mouth).
22 Appeals
23
Who plays for England these days? NO-ONE KNOWS. They don't even have a coach and the uncertainty pours down from there, covering everyone in a sticky, unctuous goo that at first you think might be some sort of over-ripe berry that's fallen from a tree, before realising that there's no skin and the consistency's too uniform and no, no, no, this came out of the back of an animal!
Matt Prior
Hurray! Matt Prior scored a hundred. Middlesex were all out for 105 and then Matt Prior made 125 off 138 balls on the same pitch.
Matt Prior is still far and away the best England wicketkeeping option and our firm belief that he will score plenty of runs at the start of the season is already not-entirely-wrong.
Steven Finn
Hurray! Steven Finn took 6-80 in the same match and actually took Prior's wicket (eventually). Finn's probably not going to be rushed back into the Test side, but most of us are happy to see that he's commenced a slow walk in its general direction.
Openers
We will be very, very surprised if Sam Robson doesn't open the batting against Sri Lanka in the middle of June. We reckon his winter performances for the Lions mean that all he needs to do is show vague competence for the next couple of months and he'll be given a chance. Against Sussex, he made 11 and 1.
Technically, Michael Carberry is the incumbent. If Robson doesn't perform well, England will be able to retain Carberry, pretending that was the plan all along. Against Worcestershire, Carberry made a duck.
Middle order
There's a strong feeling that Eoin Morgan has been earmarked for Test selection, perhaps to make up for the excitement shortfall resulting from Kevin Pietersen's absence. We've even seen it suggested that he might have inadvertently sacrificed some of his one-day majesty through focusing on Test-specific training.
Morgan went one better than Carberry against Sussex and was bowled for a golden duck.
Coach
Peter Moores' bid to be the man to turn around England's shoddy batting must surely be hampered by the fact that his Lancashire side still can't ruddy bat after years and years of being turd. They made 144 thanks to 42 not out from Tom Smith, who is no longer an opener but a number seven.
23 Appeals
23
We're not in favour of demonising individuals. But three runs, Jade. Three runs. That's all that was in it.
Couldn't someone have saved three runs somewhere along the way? Maybe Jos Buttler's missed stumping proved costly. Would a specialist wicketkeeper have made the difference, or would that merely have meant a few more overs of AB de Villiers?
But it's hard to look past England's bowling as being the reason for defeat and specifically the death bowling. England like to go with fast-medium. We're not sure that's the right choice.
It's hard to weigh the statistics being as bowling in the powerplay and at the end tends to mean going for more runs than those who bowl in the middle no matter how well you perform. At the same time, England's most expensive bowlers in this tournament have been Tim Bresnan, Stuart Broad and Jade Dernbach. In fact, over a 34-match Twenty20 international career, Dernbach has conceded on average 8.71 runs an over. That's a big enough sample to draw conclusions, no?
Also, look at the most economical bowlers in the tournament so far: Mahmudullah, Narine, Shakib al Hasan, Ashwin, Mishra – these are all spinners. Santokie, Malinga and Steyn have been the only seamers to have much success and yet Tredwell, Moeen Ali and the medium-pace of Ravi Bopara haven't bowled a right lot for England. It doesn't feel like they've been playing the odds.
Would these bowlers have done better than the seamers at the death? They couldn't have done much worse.
23 Appeals
20
When a sweaty-palmed Jade Dernbach bowled a wide with West Indies needing seven to win off one delivery, it was easy to forget that his opening spell had been sort of all right.
It's not a big thing, but it's definitely progress. Someone seems to have persuaded Dernbach that variations are only such when they vary from something. His first delivery took a wicket, his first over was a maiden, but the real achievement was that those six balls were all roughly the same as each other.
Clearly they're going to keep picking him – there's nothing we can do about it – so we might as well try and support him, at least for the next few weeks. If that means refraining from commenting on embarrassing, dry-humping wicket celebrations which are entirely out of proportion for a dead rubber in a warm-up series, then so be it.
20 Appeals
15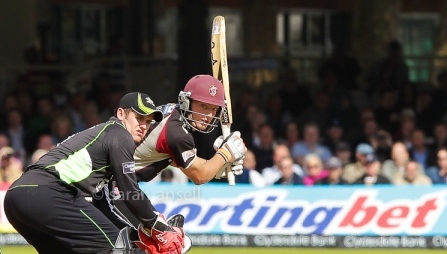 Although, admittedly, you could just as easily say that some England players beat some Australian players. England were down a Pietersen and an Anderson, but Australia were down a Clarke, a Warner, a Watson, a Haddin and we can't actually be bothered working out who else would be in the first eleven. If they were using a handicapping system, Australia probably still won.
But let's not quibble
England won a match. Furthermore, Ben Stokes went from bringing about some sort of six-shower from James Faulkner a couple of matches ago to bowling six dots at him and conceding just a single run before dismissing him. That's progress, that is. Stokes also found time to hit 70, batting at three.
The future is here; the future is Ben Stokes putting in top performances in consolation wins.
Also
The future is also Jos Buttler, the fastest bat in the West and the most insanely watchable England batsman since Eoin Morgan was a novelty. You want to see a bat flourish? Jos is your man. Sometimes hitting the ball is just a dull preamble to that follow-through.
Buttler hits fours and sixes that literally defy expectations. As often as not, your initial response upon seeing him go for a shot is to internally scream: "Don't take swing at that one! It's not right for the shot!" only to see the ball sail into the stands after a bizarre contortion and an insanely fast blur of willow. It's bleached-clean hitting and his bat appears to only really have a middle. We're slightly in love with him.
His audition to become England's next Test wicketkeeper is going pretty well, but hopefully they leave him to pretty much just do what he's doing for the time being.
15 Appeals
36
Have we all made realistic New Year's resolutions? No more drinking on Wednesdays? One takeaway a week, but you won't deliberately order enough for breakfast the next morning as well? Or maybe you've resolved to stop playing Australia quite so frequently.
Vivisection's tempting, but let's not reach for the scalpel until this England Ashes tour is actually cold. There's a fifth Test of horror to live through yet.
That said, some of the errors of recent years should perhaps inform selection for this final five-day fiasco. There's talk of Michael Carberry being dropped and this pretty much sums thing up. His omission would have an impact on an opening position and one in the middle order – in short, the two spots which England haven't been content with for a long, long time.
There must be better bread
There's been a lack of regard for the number six slot and a lack of conviction when it comes to openers and so we've ended up with the same four batsmen as filling between ever-changing types of bread.
The middle order slot has seen a number of players 'given a go' of whom only Joe Root made a decent fist of things. But England weren't happy with that. Do well at number six and they want you out of there and into what they think of as being one of the proper batting spots.
Root was promoted to England's other problem position – opener – and despite an Ashes hundred, was deemed a failure. Nick Compton was discarded too, shortly after hitting back-to-back hundreds. It seemed there was always someone better and by a process of deduction, it was determined that that person was Michael Carberry.
I thought you weren't doing a post-tour dissection
No, we're not. We just got a bit sidetracked. The point is the dropping of Michael Carberry and the ramifications of that. In this instance, England will presumably pick Gary Ballance. He seems to have good credentials to be a fixture in the middle-order – in which case, stick with him. Show conviction.
But will that happen? Joe Root will, presumably, move back up to opener should Ballance play. Root's high quality sourdough at number six, but stale Mother's Pride in the top three. Should he fail again, would they drop him or move him down the order and drop Ballance?
Too much shuffling
A number of openers and number sixes have been killed off, but Root's been suffering collateral damage from England's dissatisfaction and uncertainty too. A certain proportion of England's batting shitness stems from all this low-key shuffling and the lack of conviction from which it stems. It's rare that a player's tossed aside after just one match these days, but it's not unusual for someone to be out on their ear after four or five. It looks better, but the impact's similar.
Other fifth Test selections
But that isn't to say that players always get at least a series. Remember Chris Woakes and Simon Kerrigan? They didn't even make it onto this tour after playing in the previous Test. Ben Stokes may have benefited from the 'give 'em a chance' approach to selection, but it doesn't usually work.
This is worth remembering when names like Scott Borthwick crop up. Good luck to him and good luck to any young player picked for England, but he was literally a long way from the England Test team a fortnight ago.
36 Appeals
34
You can see him a mile off. Clutch him. CLUTCH HIM!
It's not so much that he scored a hundred on what was actually a fairly even, true pitch between the cracks. It's more that he looked unruffled. Any idiot can bat, but hardly anyone can bat in the muggy atmosphere that surrounds a team being battered in an Ashes series.
The wheels don't just come off when England do badly in Australia. They also explode, maiming bystanders. If any player can hit his own mouth with a sandwich, he's doing okay right now. Stokes-o hit a hundred.
In a sense, the pressure was off a bit, but it's pretty good to do this at the age of 22 and it's pretty handy that he bowls a bit as well.
Rejoice, England fans – not quite everything is shit.
34 Appeals