County cricket news
23
Each year, The Cricketer produces a wall chart detailing all of the summer fixtures. It works well as a visual representation of the way the English domestic game is organised. White space is in short supply. It is as much an assault on the senses as a paper wall chart can be.
The Frankenstein committee
If you've ever had the misfortune to work with other human beings, you may have had to endure the shared spreadsheet. Get enough people involved in one Excel document and it can quickly spiral into a multi-coloured monster with a life of its own. Many have created it, but no-one truly understands it – let alone controls it.
This particular document stretches from Cambridge MCCU v Northamptonshire at Fenner's (University match) on April 2nd to Surrey v Northamptonshire in County Championship Division 2 on September 22nd. Between those dates, it does all kinds of crazy shit, little of which makes sense.
Mind them windows
There's a lot of talk about making a window for 'an IPL-style T20 league' (or 'a Twenty20 league' as we like to refer to such things). There's also a conflicting desire to have County Championship cricket throughout the season. Our advice is simple. Pick one.
As it stands, county cricket favours not windows but cracks in the brickwork. They may allow light to entire, in the same way as a window, but they also compromise the integrity of the structure.
Nothing is clear. No competition takes precedence. Everything is diminished as a result.
Disconnect them windows
If you want to know why the one-day final is no longer the showpiece it once was, it's because 90 per cent of the competition takes place in the last week of July and the first week of August while the final takes place on the 15th of September. The final is a fortnight after the semi-finals, which are 10 days after the quarter finals.
You all know how much we love the word 'momentum'. This is not it.
The T20 blast is the same. Matches take place on Fridays for most of the season, but there is then a three-week gap before the quarter finals and then another fortnight before the final. The messiest part of the season also coincides with when the County Championship is in the balance, but that competition has to slot in between the two short format tournaments, seemingly at random.
Conclusion
Look at this schedule and what do you see, time and time again, in every single one of the competitions?
Excitement doesn't build, like pressure in a bladder. It is pissed away, like the contents of a bladder.
23 Appeals
16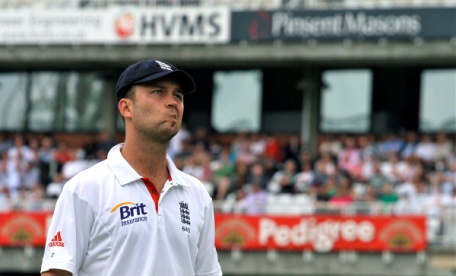 At least we think that's what's happened. As far as we can tell, Trott and a handful of others have signed for Yorkshire in time for the county's tour to South Africa. Weirdly, there doesn't seem to be any explanation why only seven of last year's Championship-winning squad will be travelling. Maybe they've had a clear-out.
In what may be related news, Trott has also been passed mentally fit for England selection by the same ECB staff who let him train himself into a pit. If we're reading today's news correctly and he really has signed for Yorkshire, does that sound like the act of a man who is mentally fit? What kind of a person would willingly move to Yorkshire, even if only for a few years?
It could be that Trott is aiming to learn some superior vowel sounds. That is the only explanation we will accept. Kevin Pietersen once promised us that he would develop a 'northern' accent – whatever the hell that is – but he clearly didn't, the lying shit.
We may have erroneously inferred the promise part of that promise, but if there's one thing we've all learnt in the last month, it's that you can take anything KP says and use it to reinforce whatever position you already hold. Our position was that he was looking to learn a better accent and we must therefore conclude that he reneged on that promise.
16 Appeals
9
Jesse Ryder took 44 wickets at 18.09 for Essex. To put that in context, Ryder has taken 99 first-class wickets in his entire career.
This season, he took four five-fors and had one ten-wicket match. These were added to the no five-fors he'd previously taken to give him a career tally of four five-fors and one ten-wicket match.
9 Appeals
46
Scan the homepage of this website and you could easily reach some incorrect conclusions. The post about Alastair Cook has attracted 50-odd comments, so presumably that's a hot topic, right? Not really. The vast majority are about Lancashire v Middlesex, a relegation dogfight (involving different breeds) which seems to be capturing the imagination.
Humans are prone to perceiving events as if they're stories and from that perspective the 110th over of Lancashire's first innings would seem to have been crucial to the narrative. With seven runs needed off it to preserve first division status for at least another day, the mighty Glen Chapple slogged a six and then wangled three more off the next ball.
It was the moment when the protagonist is down and almost out and the fact that our hero lived to fight another day surely means the story must now culminate in triumph. Except that's not really the case. Like one of those foreign language films about a goat herder that you record on the basis that it's supposed to be really good, but never actually watch because it also seems massively depressing, this final chapter of the 2014 season could just as easily end up describing a very slow demise.
46 Appeals
28
Lancashire started their must-win-by-a-mile match quite well, but James Harris and Ravi Patel secured a batting bonus point for Middlesex which means we now have a clearer idea of exactly what each team needs to do to survive.
Lancashire need to either score 350, or declare with fewer than eight wickets down for a score of over 300 thus denying Middlesex a bowling point. All Middlesex need to do is bowl at Lancashire until they're inevitably all out for under 300 because they can't bat.
In theory, Lancashire could also declare for a score of between 250 and 299 with fewer than five wickets down, but that would be picked up by the ECB's declaration monitor who has been dispatched to the ground for precisely this reason.
Genuinely. We're not making that up. You can't declare with the intention of denying the opposition bonus points, even if it might help you avoid relegation. Bonus points are mental.
28 Appeals
14
You know what we're doing with that headline, right? That's your theme for the week. Every time your mind idles, hopefully that'll be what rises to fill the void. You're welcome.
There's basically just one thing left to play for in the first division of the County Championship and that's 'being in the first division of the County Championship'. Lancashire and Middlesex are the two teams involved in this unseemly squabble and they're playing each other.
It's not a 'winner takes all' scenario though. The winner might still get relegated. Lancashire need to absolutely hammer Middlesex to stay up. Captain, coach and opening bowler, Glen Chapple, gave a sense of the likelihood of success with this rabble-rousing speech:
"It's a chance for us to escape, I suppose."
Lancashire's chances are further diminished by player availability. If James Anderson's absence is matched by Steven Finn's, they will also miss Tom Smith, their top wicket-taker and third-highest run-scorer. Usman Khawaja is also missing and if they've been able to draft in Junaid Khan to replace him then bowling isn't exactly the problem at Old Trafford.
We feel like we've been writing about Lancashire's batting for most of the season, but it's actually worse than that. Here's something we wrote in 2008, the last time Lancashire were relegated.
To sum up that piece: Paul Horton, Steven Croft and papering over the cracks with overseas players and imports. Now here are Lancashire's first-class centurions in 2014:
Ashwell Prince – three
Paul Horton – two
Steven Croft – two
Usman Khawaja – one
Jos Buttler – one
Plus ça change, plus c'est la même chose, as they say in Bolton.
14 Appeals
10
The final of the domestic 50-over competition is an odd thing. It took place yesterday, in late September – a fortnight after the semi-finals, three weeks after the quarter finals and a month after the main bit of the tournament. You can see why it works that way, but with the days shortening, it feels a bit like it fizzles out rather than building to a climax.
Durham won and for all the talk of modern scoring rates, it was another low-scoring affair. A party can't always be dancing and laughter. Sometimes, if it's your party, it's more about doing an awful lot of laborious housework. Or, if it's our party, it's an oud bruin and a high quality motion picture starring Rowdy Roddy Piper. (Has he ever starred in a substandard film? Not to our knowledge.) Not sure what our parties translate to in this analogy. Probably something Duckworth-Lewis affected.
Yesterday, Ben Stokes drew most of the headlines for taking a couple of wickets and making 38 not out, but it's been Paul Collingwood who's been the star of Durham's campaign. He finishes the competition among the top ten run-scorers and the top ten wicket-takers. He scored 427 runs at 53.37 at over a run-a-ball and took 14 wickets at 22.85 at less than four-an-over. We'll resist the temptation to write another 5,000 words on him, but suffice to say he's still underrated and always will be.
10 Appeals
20
The Champions League is on. We managed to watch half of one innings, but it's such a stupid, managed tournament, it isn't really sport in any meaningful sense, so it's back to county cricket.
First-class but second-rate
In these triple-format days, is first-class status as meaningful as it once was? We ask because Leicestershire have now gone two full years without winning a single match in the County Championship and it reminded us of something we read in WG Grace's Classic Guide to Cricket
.
Apparently, in 1890, it was suggested that county cricket be divided into first, second and third classes with eight teams in each. This struck us as being not at all a bad idea – an extension of the current league system, in effect. It would allow minor counties a route to progress and would also motivate those struggling in the second tier who at present basically find themselves playing for nothing.
At the minute, poorer counties seem aghast that they might lose their first-class status, but perhaps if it were a more fluid thing, it wouldn't seem such a cataclysmic event. The blow would be further lessened if they were still involved in 20- and 50-over competitions, which could perhaps be expanded so that minor counties could also qualify for them.
If you're wondering how things panned out in Grace's day…
"The scheme of classification did not give general satisfaction, and a newspaper warfare was kept up for some time afterwards."
We imagine it would be much the same outcome today.
Second division but Test class
How's Cheteshwar Pujara getting on playing for Derbyshire, you ask? Not enormously well. In three innings, Pujara has made 7, 0 and 16.
You wonder how much he'll really learn without spending meaningful time in the middle. Fortunately, he gets to bat against Leicestershire next week.
20 Appeals
14
Not one of ours, unfortunately. It's by Cricinfo's David Hopps – a Yorkshireman hisself.
"Their first Championship win for 13 years is a lesson to English cricket, based as it is on a strong commitment to player development – among all ethnic groups, and extending beyond the privileged classes."
Which is precisely why, even as a Lancashire supporter, we see it as a win to be celebrated rather than resented.
14 Appeals
23
The Pennines have long separated good from bad, but there's been an odd inversion in county cricket this year.
White Rose good
Nottinghamshire were the only team who could have prevented Yorkshire from winning the County Championship. Being as Yorkshire are positively monstering them with just one more game to go, the title is basically theirs. The flat-capped monophthong favourers made 532-9, which was already enough even before they reduced Notts to not-many-for-six.
Considering they've spent most of the summer without their two best batsmen, Yorkshire have batted well this year. Adam Lyth has scored way more runs than anyone else, continuing a rich tradition whereby players we suggest you watch finally come good many years after we've tipped them. His alphabet-straddling opening partner, AZ Lees has also averaged over 40, meaning Yorkshire have frequently benefited from strong starts.
Red Rose bad
Lancashire, however – their batting has not been so crash-hot. Here are Yorkshire's batting averages for this season and here are Lancashire's. Compare and contrast. Then weep softly for a bit. Then imagine what Lancashire's would be like without the two overseas imports. Then bawl uncontrollably for a bit.
Lancashire's 320 all out against Sussex in their current fixture doesn't sound so bad until you realise that they were 192-8. Sussex should top 400 which should pretty much relegate Lancs. Frankly, they deserve it. They've batted badly for years now with few signs that anything might improve.
Kemar Roach then?
He took 4-64 as West Indies beat Bangladesh. He also said things on Twitter, which we've included in our latest Cricinfo round-up. Roach comes across as being… an interesting chap.
23 Appeals