County cricket news
27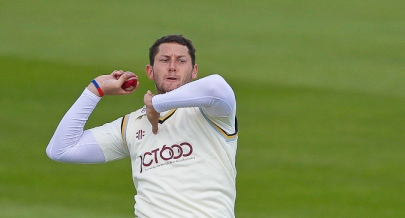 Of course you do. He played for England as recently as last month (against Ireland – what do you mean you don't remember?). But do you remember what he was? You probably remember Tim Bresnan as a diligent and accurate third seamer, but once upon a time he was an all-rounder.
Maybe that's generous. He was more accurately a lower order batsman who could make runs and when you see a 22-year-old like that, it's natural to predict further improvement. However, the 2007 season in which he made three hundreds and averaged 48.5 remained a bizarre aberration until recently.
Having floated away from England's Test team like a wiry-haired buoyancy aid, Bresnan had also sunk to number eight in Yorkshire's batting line-up like a partially deflated wiry-haired buoyancy aid. It was from this position that he made 100 not out against Somerset last month – only the fourth first-class hundred of his career.
This week, he did it again, making 169 not out in a dementedly protracted partnership with Jonny Bairstow against Durham. At the age of 30, could Bresnan finally fulfil his promise and become an actual all-rounder?
We're wishing him all the best – although not because he's a loveable fatty, which is what you'll no doubt assume. Now seems an appropriate time to restate our belief that he is no such thing and has in fact gained this reputation largely because of his abnormally round head. His big tree trunk arms may add to the impression as well, but he's surprisingly fat-free. We have previously described him as being like a burly puma and cannot currently improve on that.
27 Appeals
7
So we're calling him out on it.
For every Shivnarine Chanderpaul, trying to convince people he's still got it at the age of 40, there's a Glen Chapple, sidling into a coaching position and inexplicably trying to convince everyone that he hasn't still got it.
Chapple's not fooling anyone.
Playing against Gloucestershire, he's not opened the bowling and he batted at eleven. He made 29 not out off 13 balls and we fully expect him to prove his worth with the ball later today.
Presumably, the thinking is some sort of misguided 'give youth a chance' thing. Bollocks. Youth has plenty of chances. The whole sport's geared up towards youth. People are forever getting selected on promise and potential. Give middle-age a chance, we say.
None of this self-effacing last-into-bat, coming-on-second-change cobblers. Get stuck in. Whippersnappers are there to be spanked by wily old gnarldogs. That's the natural order of things. Do what you are meant to do, Glen, and don't stop doing it until you are either 100 per cent grey or 100 per cent bald.
You give youth a chance and you end up having to come to terms with names like Fynn Hudson-Prentice. What the hell is that? This is something worth fighting to hold at bay.
7 Appeals
21
At some point in 2013, Leicestershire were cut by the thunder. From then on, draws and losses appeared to be the only possible outcomes following four days of championship cricket. That's a dispiriting world in which to live, sounding almost like something imposed on them by a judge.
However, the great thing about the County Championship is that you can end a run of 992 days without a win and immediately start talking about promotion to the top flight. Lewis Hill hit the winning runs to end Leicestershire's extraordinary winless streak and then did precisely that.
It's a way less forgiving environment than it used to be though. Back in the day you could have gone that long as the whipping boys for the other 17 first-class counties and still been in with a chance of winning the title the following year. Glorious redemption takes a little longer these days.
But has a baton been passed (and doubtless dropped)? The beaten side, Essex, are now bottom of the second division and haven't won since the first match of the season. Start the clock!
21 Appeals
54
No bad thing in our eyes. We're a great believer in scarcity making something more attractive. Take northern hairy-nosed wombats, for example. Phwoar.
Similarly, four-day matches might become something other than sporting wallpaper if there are fewer of them. We had to follow the County Championship as part of our job last year and even we lost track half the time. There's just too much of it. Fewer matches means greater focus on those that remain.
The big question is how this is achieved. We advocated three divisions only the other week. It's surely a better option than the 'play half the teams one-and-three-quarter times' type solutions that are being put forward as alternatives. Better to keep things comprehensibly straightforward.
Done correctly, this could be an important step towards defeating the multi-coloured Excel monster that is the English domestic season.
54 Appeals
16
Time for a County Championship update. The crucial piece of information is that Middlesex are now top.
If Sussex defied their top order runlessness to take an early lead, Middlesex have for the most part adopted a different approach. Their strategy seems to involve spending quite a lot of time trying to lose games before finally getting everything together when it really matters.
Against Nottinghamshire, they conceded a hundred run first innings deficit, allowed their opponents to make 400 in the second innings and then calmly batted out a draw.
Against Somerset, they again conceded a hundred run first innings deficit, but ultimately chased down the frankly ludicrous target of 402 to win. Adam Voges made a daddy hundred, getting himself in form on the offchance that the Aussies might require him for England-beating purposes at some point this summer.
The batting remained strong in the next match against Durham, where Middlesex made 463. After attaining an unassailable 170 run lead after the first innings, they promptly assisted their opponents by assailing themselves through being bowled out for 89 with their number 11, Tim Murtagh, the top scorer. Then, with incompetence well and truly purged from their system, they required all of two bowlers to bowl out Durham for 71. Steven Finn was not the pick of the bowlers with his one wicket.
But maybe it's catching, because this week's performance was decidedly Sussexy. At one point 76-4 in the first innings and then sinking to 103-6 in the second they never really made a decent total but still won comfortably. Their opponents were, somewhat inevitably, Sussex, who basically just out-Sussexed them, as you'd imagine they should.
In amongst all of this, James Harris has taken an awful lot of wickets.
16 Appeals
12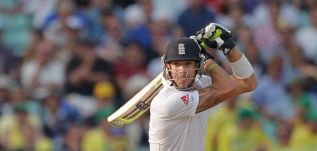 The Kevin Pietersen saga is often described as a soap opera. This is quite accurate because the defining feature of a soap opera is that IT NEVER ENDS. Okay, Crossroads and Eldorado did, but you get what we're saying. For the most part they just rumble on, day after day, setting up contrived storylines and having them play out.
Kevin Pietersen's triple hundred today was neither proof nor irrelevant. It was an impassioned and noteworthy innings against the worst first-class county. He can't help who he plays. All he can do is score a few runs. Today he did that in about as convincing a manner as possible. The second-highest score in the innings was Kumar Sangakkara's 36.
More is needed, but on this evidence more is highly likely to arrive. What strikes us most is that Pietersen was at his most exciting early on in his career when he had it all to prove. Back then, there was real steel underpinning the carnage. If his sense of being wronged has brought that back and precipitated some sort of driven final fling, then excellent.
Very few batsmen possess the qualities required to make you think you might be about to see something you've never seen before. Very few batsmen play the kinds of innings you feel compelled to send text messages about. It's not about playing outlandish shots or scoring heavily, it's a combination of brutality and endurance, a way of manhandling a match and pointing it in a new direction.
Brian Lara explored new territory, so when he got going you couldn't really feel confident about where things were going to end. There is something of that in Pietersen. Today a hundred wasn't enough; and a double hundred wasn't enough; and his highest first-class score wasn't enough. Plenty of players have hunger, plenty of players have ability. Very few sit at the farthest extremes of the spectrum on both counts.
12 Appeals
5
Let's exploit this gap in England's Test series to get up to speed with this year's County Championship and the very top of the table specifically. Currently, that means Sussex.
In their first five innings of this year, the individual members of Sussex's top five passed 50 just four times between them. Sussex have, at points in their various innings, been 128-5, 71-6 and 171-9. Despite this, they won their first two matches. It is therefore worth taking a look at their bowlers.
Sussex have attracted attention for assembling an intriguing seam attack for 2015. Ajmal Shahzad and Tymal Mills are, respectively, an England reject and an England hopeful. However, both pale into insignifance compared to the might of Indooropilly High School's finest alumnus, Steve Magoffin, a man who nets County Championship wickets like an eastern tropical Pacific tuna fisherman nets dolphins. Only he doesn't release them afterwards. He hangs onto them – albeit only in statistical form.
That said, it's actually Shahzad who's been leading the way. He has 20 wickets at 18.25, Magoffin has 10 at 33.10, while Mills seems to be attracting column inches for every wicket he fails to take. He has three at 45.00.
Sussex are top by five points, but second-placed Durham have a game in hand and also just beat them. Durham are another seam-centric side and while these early season games are just as important as those later in the season, they do perhaps give a somewhat misleading picture of who the main contenders are likely to be.
5 Appeals
25
Earlier in the year, someone-or-other expressed their reservations about adding three teams to England's four-day competition and dividing it into three divisions of seven. They said that it would be hard to maintain the quality. We can't remember who it was, but this comment seemed to us to betray a fundamentally English county cricket attitude to English county cricket.
Despite there being two divisions, some people still see it as all being the same thing, lumping first and second tier statistics in with each other. These people think that adding three smaller teams to a third division would therefore dilute first-class cricket. No it wouldn't. What it would so is give rubbish third division counties a chance to play against teams who are of roughly equivalent standard. That's what divisions are. They're a hierarchy.
On this site, we routinely ignore the second division. It's not because we don't care about it – because with Lancashire down there, we most certainly do. It's just a reaction to the way cricket is covered elsewhere and a means of making an unwieldy competition fractionally more manageable.
The newspapers that still run county cricket match reports pay little heed to the divisions. Most are more likely to cover a Surrey game than any other. Whether that's because Surrey are a well-supported club, because they feature certain high profile players or simply because the journalist in question lives nearby, it's the wrong way to report if the County Championship is to be considered a worthwhile entity in its own right. Even Cricinfo, who are generally pretty good about this sort of thing, lump first and second division matches in together in their live scores box in the sidebar.
The county season is also unnecessarily complex and while some will say that complexity is a key part of cricket's appeal, we'd argue that an already complex sport would benefit from an even more straightforward structure. County cricket hardly need worry about attracting dilettantes.
It is hard for this writer to properly follow the ins and outs of an already complex sport across eight different matches spanning two divisions, particularly when half of the season's fixtures run at the same time as Test matches. As all of our readers are also possessed of just the one brain, we figure it might be a challenge for them too, so we halve our subject matter by amputating the second division.
Sport is about competition. It seems bizarre to give equal billing to sides regardless of performance. So we don't.
25 Appeals
23
Each year, The Cricketer produces a wall chart detailing all of the summer fixtures. It works well as a visual representation of the way the English domestic game is organised. White space is in short supply. It is as much an assault on the senses as a paper wall chart can be.
The Frankenstein committee
If you've ever had the misfortune to work with other human beings, you may have had to endure the shared spreadsheet. Get enough people involved in one Excel document and it can quickly spiral into a multi-coloured monster with a life of its own. Many have created it, but no-one truly understands it – let alone controls it.
This particular document stretches from Cambridge MCCU v Northamptonshire at Fenner's (University match) on April 2nd to Surrey v Northamptonshire in County Championship Division 2 on September 22nd. Between those dates, it does all kinds of crazy shit, little of which makes sense.
Mind them windows
There's a lot of talk about making a window for 'an IPL-style T20 league' (or 'a Twenty20 league' as we like to refer to such things). There's also a conflicting desire to have County Championship cricket throughout the season. Our advice is simple. Pick one.
As it stands, county cricket favours not windows but cracks in the brickwork. They may allow light to entire, in the same way as a window, but they also compromise the integrity of the structure.
Nothing is clear. No competition takes precedence. Everything is diminished as a result.
Disconnect them windows
If you want to know why the one-day final is no longer the showpiece it once was, it's because 90 per cent of the competition takes place in the last week of July and the first week of August while the final takes place on the 15th of September. The final is a fortnight after the semi-finals, which are 10 days after the quarter finals.
You all know how much we love the word 'momentum'. This is not it.
The T20 blast is the same. Matches take place on Fridays for most of the season, but there is then a three-week gap before the quarter finals and then another fortnight before the final. The messiest part of the season also coincides with when the County Championship is in the balance, but that competition has to slot in between the two short format tournaments, seemingly at random.
Conclusion
Look at this schedule and what do you see, time and time again, in every single one of the competitions?
Excitement doesn't build, like pressure in a bladder. It is pissed away, like the contents of a bladder.
23 Appeals
16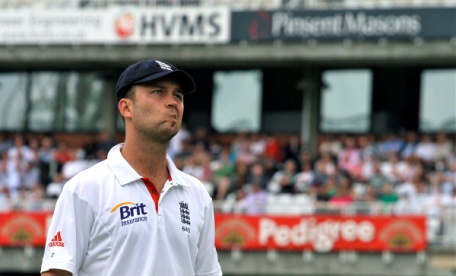 At least we think that's what's happened. As far as we can tell, Trott and a handful of others have signed for Yorkshire in time for the county's tour to South Africa. Weirdly, there doesn't seem to be any explanation why only seven of last year's Championship-winning squad will be travelling. Maybe they've had a clear-out.
In what may be related news, Trott has also been passed mentally fit for England selection by the same ECB staff who let him train himself into a pit. If we're reading today's news correctly and he really has signed for Yorkshire, does that sound like the act of a man who is mentally fit? What kind of a person would willingly move to Yorkshire, even if only for a few years?
It could be that Trott is aiming to learn some superior vowel sounds. That is the only explanation we will accept. Kevin Pietersen once promised us that he would develop a 'northern' accent – whatever the hell that is – but he clearly didn't, the lying shit.
We may have erroneously inferred the promise part of that promise, but if there's one thing we've all learnt in the last month, it's that you can take anything KP says and use it to reinforce whatever position you already hold. Our position was that he was looking to learn a better accent and we must therefore conclude that he reneged on that promise.
16 Appeals