County cricket news
5
The final of the domestic 50-over competition is an odd thing. It took place yesterday, in late September – a fortnight after the semi-finals, three weeks after the quarter finals and a month after the main bit of the tournament. You can see why it works that way, but with the days shortening, it feels a bit like it fizzles out rather than building to a climax.
Durham won and for all the talk of modern scoring rates, it was another low-scoring affair. A party can't always be dancing and laughter. Sometimes, if it's your party, it's more about doing an awful lot of laborious housework. Or, if it's our party, it's an oud bruin and a high quality motion picture starring Rowdy Roddy Piper. (Has he ever starred in a substandard film? Not to our knowledge.) Not sure what our parties translate to in this analogy. Probably something Duckworth-Lewis affected.
Yesterday, Ben Stokes drew most of the headlines for taking a couple of wickets and making 38 not out, but it's been Paul Collingwood who's been the star of Durham's campaign. He finishes the competition among the top ten run-scorers and the top ten wicket-takers. He scored 427 runs at 53.37 at over a run-a-ball and took 14 wickets at 22.85 at less than four-an-over. We'll resist the temptation to write another 5,000 words on him, but suffice to say he's still underrated and always will be.
5 Appeals
20
The Champions League is on. We managed to watch half of one innings, but it's such a stupid, managed tournament, it isn't really sport in any meaningful sense, so it's back to county cricket.
First-class but second-rate
In these triple-format days, is first-class status as meaningful as it once was? We ask because Leicestershire have now gone two full years without winning a single match in the County Championship and it reminded us of something we read in WG Grace's Classic Guide to Cricket
.
Apparently, in 1890, it was suggested that county cricket be divided into first, second and third classes with eight teams in each. This struck us as being not at all a bad idea – an extension of the current league system, in effect. It would allow minor counties a route to progress and would also motivate those struggling in the second tier who at present basically find themselves playing for nothing.
At the minute, poorer counties seem aghast that they might lose their first-class status, but perhaps if it were a more fluid thing, it wouldn't seem such a cataclysmic event. The blow would be further lessened if they were still involved in 20- and 50-over competitions, which could perhaps be expanded so that minor counties could also qualify for them.
If you're wondering how things panned out in Grace's day…
"The scheme of classification did not give general satisfaction, and a newspaper warfare was kept up for some time afterwards."
We imagine it would be much the same outcome today.
Second division but Test class
How's Cheteshwar Pujara getting on playing for Derbyshire, you ask? Not enormously well. In three innings, Pujara has made 7, 0 and 16.
You wonder how much he'll really learn without spending meaningful time in the middle. Fortunately, he gets to bat against Leicestershire next week.
20 Appeals
14
Not one of ours, unfortunately. It's by Cricinfo's David Hopps – a Yorkshireman hisself.
"Their first Championship win for 13 years is a lesson to English cricket, based as it is on a strong commitment to player development – among all ethnic groups, and extending beyond the privileged classes."
Which is precisely why, even as a Lancashire supporter, we see it as a win to be celebrated rather than resented.
14 Appeals
23
The Pennines have long separated good from bad, but there's been an odd inversion in county cricket this year.
White Rose good
Nottinghamshire were the only team who could have prevented Yorkshire from winning the County Championship. Being as Yorkshire are positively monstering them with just one more game to go, the title is basically theirs. The flat-capped monophthong favourers made 532-9, which was already enough even before they reduced Notts to not-many-for-six.
Considering they've spent most of the summer without their two best batsmen, Yorkshire have batted well this year. Adam Lyth has scored way more runs than anyone else, continuing a rich tradition whereby players we suggest you watch finally come good many years after we've tipped them. His alphabet-straddling opening partner, AZ Lees has also averaged over 40, meaning Yorkshire have frequently benefited from strong starts.
Red Rose bad
Lancashire, however – their batting has not been so crash-hot. Here are Yorkshire's batting averages for this season and here are Lancashire's. Compare and contrast. Then weep softly for a bit. Then imagine what Lancashire's would be like without the two overseas imports. Then bawl uncontrollably for a bit.
Lancashire's 320 all out against Sussex in their current fixture doesn't sound so bad until you realise that they were 192-8. Sussex should top 400 which should pretty much relegate Lancs. Frankly, they deserve it. They've batted badly for years now with few signs that anything might improve.
Kemar Roach then?
He took 4-64 as West Indies beat Bangladesh. He also said things on Twitter, which we've included in our latest Cricinfo round-up. Roach comes across as being… an interesting chap.
23 Appeals
9
Cities disappear in the summer. Winter has cities, summer has counties – or at least that's the way it used to be. Now Birmingham have won a cricket tournament and we don't know where we are. The weather has been unseasonably cool this last week. Even the climate's confused.
Our viewing of Twenty20 finals day was limited to some of Lancashire's semi-final, so we asked an entirely impartial and not-at-all fictional friend what went wrong for the Red Rose in the final. They said that Birmingham cheated.
We're nothing if not conscientious when it comes to establishing facts. We know that one person's word doesn't amount to proof, so we asked a second friend whether this was true. They said: "Yes, it's true, Birmingham cheated. They cheated really badly."
It's a sad day for cricket.
9 Appeals
27
Most people's knowledge of Simon Kerrigan's bowling amounts to eight overs on his debut. That's not a huge amount to go off and those overs too in circumstances that can be considered exceptional and therefore perhaps not properly representative of his ability. On the other hand, he still has to get past that.
Test cricket can be like a bike race that starts with a steep hill. You can have a five grand time trial bike and one of those ridiculous sperm-shaped helmets, but unless you've got low enough gears to start off in, you'll never get moving in the first place. Some kid on a mountain bike will spin past you and make you look like a fool. Mountain bike kid might only do 10mph and be disqualified for getting in people's way, but at least he got going.
If we were Simon Kerrigan, we'd want to be damn certain we had it in us to survive in Test cricket right now this minute. He is 25, he will get another chance – but he is unlikely to get two. Would you want your final chance at Test cricket to come not long after your first when you're only 80 per cent certain you've overcome what went wrong first time around, or would you rather wait until some point in the future when you're positively insulted that you've not yet been selected because you know – just know – that you're the best spinner going?
We suppose that later chance might never come. Hopefully that rear sprocket's large enough.
27 Appeals
6
After whipping the first division's whipping boys, Northamptonshire, with their whipping boy whipping whip, Middlesex are now 19 points ahead of Yorkshire and 22 ahead of Sussex, both of whom have a game in hand. Yorkshire would need to win to go top. Sussex would need to really, really handsomely win to do so.
Yorkshire's next match is against Lancashire, so all they really need to do is bat competently and the rest should take care of itself. Sussex's next match is against Middlesex, so they won't go top, but nor will they lose that game in hand.
A lot of Middlesex's success thus far has been built on the work done by their openers. This is great news for England, in that Sam Robson is averaging about 50. However, it's bad news for England, in that his opening partner, Chris Rogers, is averaging almost 50 per cent more and scoring almost 50 per cent quicker as well. Rogers even treated himself to a six at one point.
6 Appeals
4
We're not quite sure how to tackle the issues of the day, so in time-honoured tradition, we're not bothering.
At one extreme, we've got the T20 Blast. We watched Friday night's televised game and kind of felt we should say something about it, but then we didn't because the weather was nice on Saturday morning when we would normally have put fingertips to keyboard. We're kind of glad we didn't, because the T20 Blast already promises to make a fool of anyone who reads anything into anything.
For example, on Friday, Lancashire's batting was as ordinary as ever and they lost. A day later, they made 194-3 and won. Or how about Jade Dernbach? He failed to defend 15 off the final four balls on Friday and then secured a win for Surrey by conceding only three off the final over yesterday.
Clearly, events promise to oscillate wildly throughout the season and so commenting on them demands a complete lack of perspective. It feels like checking someone's hazard lights are working and telling them that they're 'on, off, on, off, on, off…'
Then there's the opposite extreme: match fixing and how Lou Vincent's apparently going to rip the lid off of it. Cricket being cricket, decent information will doubtless become more and more devalued as an investigation wears on and the conclusion will be something like: 'There is strong reason to believe that certain elements of a number of televised Twenty20 cricket matches have been fixed and there is an urgent need to crack down on this'.
4 Appeals
17
We've another thing. It's a fortnightly column for All Out Cricket called The Shire Horse. It's non-serious, so you don't have to sigh and roll your eyes at our making an attempt to 'say something'.
We hope you're okay with the fact that we're increasingly linking to stuff we've written elsewhere. It seems to make sense to do that for a couple of reasons. Firstly, you, the reader, don't miss owt that we've done; and secondly, as we've said before, we only have a limited number of things to say.
This site's the centre of what we do, so it can serve as a kind of hub. We'll link to what we do for other people and when there's nowt appearing elsewhere, there'll be summat here, same as ever.
On this subject, we've also got a thing in this month's issue of The Cricketer about how to identify when your team's turned shit. That's on paper though, so no link.
17 Appeals
11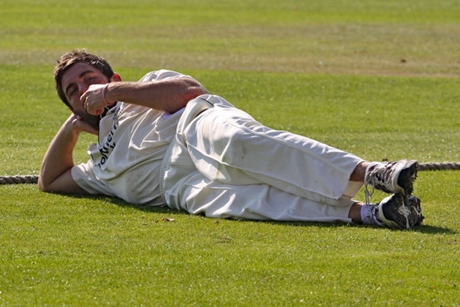 If you read about county cricket much, you'll be familiar with this kind of thing. A player you hadn't thought about a right lot suddenly starts worming his way into every second article, even though he doesn't seem to have done anything especially eyecatching. In May 2014, that person is Liam Plunkett.
His record this season is okay – good even – but it's not spectacular. He has hit 172 runs at 43 and taken 15 wickets at 27.33. So why the big whoop?
It's that age-old obsession – pace. Apparently he's recovered the half a yard he lost and added an additional proportion of a yard which no-one's yet measured. He also seems to be the anti-Shaun Tait in that he can maintain this pace for more than two overs.
We've heard enough positive things from enough different sources to be slightly surprised that Plunkett isn't being given the opportunity to reacquaint himself with the High-Visibility Tabard of Squad Membership worn by one-day international superfluosities. He did get an entirely unnecessary mention when they announced the squad though. Could he be in line for a Test recall?
11 Appeals