England cricket news
21
Turns out Ian Bell's not retiring. You may have heard that he maybe possibly was. You may not. Either way, he isn't.
The umming and ahhing does hint that his career is nearly at an end though. Soon enough, the bell will toll and watching Bell will no longer take its toll. We should probably embrace his pure, unadulterated Ian Bell-ness while we still have time.
Even earlier this summer, people were discussing whether a move to three might be the making of Ian Bell. That he is still widely considered unmade after 199 Test innings is quite something. There's a certain art and majesty in continuing to maintain such a perception.
Always leave people wanting more, they say, and Ian Bell generally delivers in that regard. Quite how a 33-year-old veteran can still be thought of as having promise is one of the mysteries of the age. One day, many years from now, he'll move his zimmer frame just so and onlookers will see it as an indication that he's finally cracked this batting lark. At this point, Bell will drop dead. Always one step ahead of us, Bell; constantly finessing what might one day be revealed to be the greatest post-modern joke in the history of sport.
For now, all we can do is look on in wonder. Hopefully there will be at least one more dreamy, effortless innings cut short by an unexpected bout of seppuku. Rather than curse and wail at the moon in frustration like we usually do, maybe next time we can smile and say: "That Ian Bell – his ability to continue playing cricket like Ian Bell really is quite something."
21 Appeals
27
Where does 2015 rank in the pantheon of Ashes series? Somewhere in the middle, we'd guess. It was certainly dramatic, but it probably wasn't even the best Test series this summer.
It was unpredictable from one match to the next, but the same quality wasn't particularly apparent within any individual Test. There were no plot twists here, just derivative scriptwriting linking together the occasional explosive action sequence. To confusingly and unnecessarily switch art forms a moment, if a Rolf Harris drawing starts out looking like one thing but ends up as something completely different, these Tests had bold outlines drawn right from the outset.
What we basically had were two inexperienced teams who can't bat, only one took much longer to come to terms with this. Australia's batsmen didn't accept that they were inexperienced in English conditions and played as if they knew better. Australia's selectors didn't accept that at least one of their inexperienced bowlers should have made way for some less dynamic steadiness.
As for England, they didn't so much play to their limitations as resign themselves to them. They accepted that the cupboard was more or less bare and so vowed to feed voraciously, like a pack of starved velociraptors, on those rare occasions when they did get to tuck in.
It was playing to your strengths taken to an almost delusional extreme. If a triathlete can't swim and doesn't have a bike, you wouldn't think they could compete. England borrowed their gran's shopping bike with a basket on the front, did a bit of doggy paddle and then basically just sprinted through the run as fast as they could.
And they won, so yeah… approach vindicated. It will be 18 years since Australia last won the Ashes in England when they next get a chance to have a go.
27 Appeals
12
As in 'returned'. It hasn't got ankylosing spondylitis or anything, on account of the fact that it's an abstract concept and therefore doesn't have a spine or a rear side or whatever.
Mocking momentum's the in thing to do at the minute. Typical that it would come into fashion six years after we were indulging. A lot of people have cited the ding-dong-ding-ding-dong nature of this series as being evidence of its meaninglessness, but look a little closer and there momentum is, actually having some sort of meaningful impact.
What is a fightback if not defiance of momentum? And what has there not been at any point during any of this summer's Ashes Tests?
Each of the five matches between England and Australia this summer has followed a familiar pattern. One team has got ahead; the other team has at no point been able to recover. The winning team has invariably been the one that first gained momentum.
Maybe it was a thing all along.
12 Appeals
12
It's quite an impressive feat to field no fewer than eight batsmen and yet still be prone to comically low scores. You could argue that England have too many eggs in the 'positive brand of cricket' basket, but if there were a Venn diagram of baskets, that one would overlap significantly with the 'young, inexperienced batsman' basket.
So perhaps it's just a matter of time. Joe Root seems to have grown into a batsman who can confront most situations. Maybe the batsmen below him will learn to do likewise. Patience is hardly a viable cure in the short-term, but attacking batsmen who can rein themselves in generally make better Test batsmen than those who block but have nowhere else to go.
One change that seems almost certain, however, is at the top of the order. We feel for Adam Lyth and indeed any batsman who is dropped during or following an Ashes series. England v Australia Test cricket is almost a different sport. With the desperation of the crowds and the relentless media scrutiny, young player often buckle.
We sometimes think that Ashes scores should be struck from the record giving a player a chance to be more comfortable, and hopefully more effective, in time for the next series. But in reality, the opposite happens. Ashes scores count double – or half if you're doing badly.
12 Appeals
18
At some point surprisingly soon, England and Australia will complete the most one-sided close series in history. Not that it's been one-sided in favour of one particular side. It's been one-sided in favour of both of them, just at different times.
It's hard to know what to make of a close series which features no close results. We can only conclude that London is now part of Australia and that the nominal tourists have therefore had home advantage during those two Tests. How else to explain the marked shift in fortunes when the crowds have roared using different vowel sounds? Not that they roar at Lord's. They haven't much at The Oval either, it has to be said – except in frustration.
We went out on our bike towards the end of today's play. It was only a quick ride, half an hour, but during the time we were away, England lost the Test. It was almost as if they saw what Australia produced at Trent Bridge and went: "Hey! Embarrassing collapses are OUR thing," before showing them how it was done. Pulling out all the stops, several of them even contrived to get out to Mitchell Marsh.
Shouldn't it feel more painful than this? Time was we'd be almost in tears if England were bowled out for jack shit, but now it's just something that happens, like women's clothing catalogues addressed to the previous owner of your house being pushed through the door each morning, even though she moved out near-enough two years ago. Shameful collapses are commonplace. Humiliation's the new 86-2 after 30 overs.
If you go behind in a Test match these days, you just race to defeat as quickly as you can, like you're ripping off a plaster. Truly, if these are Ashes, they have resulted from self-immolation.
18 Appeals
24
We're all for the ebb and flow of Test cricket with all its nuance and scope for recovery, but all in all we'd much rather see Australia being bowled out for 60 in the span of time normally reserved for a football match.
There's a cycling commentator who routinely uses the word 'testy' to mean 'testing'. Quite possibly he says 'teste' but that would still be wrong. We're now going to use 'testy' incorrectly in an entirely different way and say that today's play has been Testy. We mean this in the sense that it was what Test cricket usually is: protracted, patient and slow to ripen. It was almost like they were bothering to set the scene for once, rather than kicking off with a wild gunfight or an attack by Zombeavers (not seen that film yet, but can't wait).
It was the kind of day when you could find yourself with an opportunity to watch live Test cricket and quite quickly find yourself not watching it. We don't mean turning off in disgust. We mean just sort of drifting away from it to check out breakfast burrito recipes online or something similarly pressing.
Unless something dramatic happens after this rain break, there are no real headlines. It's almost as if up to 80 per cent of the match is still to come.
24 Appeals
28
Mike Selvey has written a nice piece about balls. The word 'caresser' is used at one point.
He is, of course, writing about Dukes balls, the cricket ball used in England which swings for way longer than the crappy, inferior Kookaburra ball. It has a bigger seam too. It's a bowler's ball; a good ball.
The headline of Selvey's piece refers to Stevie Wonder's classic track, Sir Duke, which means that for the rest of the day, we will be humming that song while imagining that we are on a train in Sri Lanka. The reason for this is that when we were in that country, many years ago, train announcements were heralded by four escalating notes comprising a major chord. In other words, the first four notes of Sir Duke, played at exactly the same tempo, only they were left hanging there, incomplete, demanding to be continued by the human brain. It was an oddly punishing psychological experience.
In many ways, swing and seam have been the story of the summer. England's bowlers' familiarity with these arts seemingly matched by Australian batsmen's unfamiliarity with the effects. But will we get more of the same at The Oval? Balls are of course only one part of an equation that may also hinge on the weather and pitch.
Anyone who's visited this country for more than half-an-hour-or-so knows that British skies are a law unto themselves. Pitches, however, are a little more controllable – even if they are to some degree influenced by what's above them. We've mostly had green seamers – good pitches – so far, but that could change. With the series secure, is there a thirst for more of the same or will the yearning for a five-day Test outweigh that?
Five day Tests are not England's friend. The flatter the pitch and the less challenging it is to bat, the closer we are to Australian conditions. As well as all the great players they produced, a worldwide trend towards true, even surfaces partly helped shunt Australia to their position of dominance for all that time through the Nineties and onwards. Quite simply, Test cricket became more Australian. Things seem to be going the other way now and we'd rather like to see that continue at The Oval, even if it means the final Test only lasts a day and a half.
28 Appeals
7
The thing about hiccups is that they almost always come as a plural. You might cough once, you can get away with a single sneeze, but hiccups arrive en masse. As such, Darren Lehmann's description of the Cardiff Test as 'a minor hiccup' seems entirely fitting.
Far from being symptomatic of woefully unjustified arrogance, Lehmann was actually being very careful with his choice of words. He might equally have described the result as a 'blip,' referring to the sound repeatedly produced by a hospital's heart-rate monitor, all things being well.
Hiccup, hiccup, hiccup. Blip, blip, blip.
But yet if that great seer of our times, Boof Lehmann, foresaw what was to come, it was fairly unexpected for many of us. The biggest surprise of all was English cricket's apparent willingness to sacrifice days of cricket in favour of improved chances of victory.
Test cricket is typically played on pitches as flat as a steamrollered pancake. This year, England apparently thought: 'Sod it. Let's play on English pitches for once, see how that goes.'
It didn't last long.
It does make you wonder whether they might have produced similar pitches a bit more often in the preceding decades. You know, at any point between Terry Alderman and now really.
7 Appeals
17
"We don't want to say he's going to be the next Botham, or the next Flintoff," said Trevor Bayliss. England's coach then veered away from an already painfully familiar statement somewhat by adding: "He'll be the next Ben Stokes" – as if we've had one already.
Every time anyone says "he isn't the next Botham" or "he isn't the next Flintoff," all they're doing is reinforcing the idea that this is precisely what Ben Stokes is. He's the next Botham AND the next Flintoff; the latest in a lineage of bombastic England all-rounders with a strangely overlooked patch where Tony Greig should be.
Of course Stokes isn't the next Botham in the sense of being identical to him and liable to perform precisely the same feats. We're not idiots. We know that. He hasn't been bred in a tank using Beefy DNA and raised in an artificial reality in which he was given all the same experiences growing up. But like Botham, he hits the ball hard – like Flintoff too. And all three bowled fast-medium and had a reputation for enjoying a drink.
In many senses, this is what you'd expect. There are plenty of aggressive batsmen around, England produces fast-medium bowlers by the boatload and Mark Wood and Moeen Ali are the only two men in the current team who don't drink.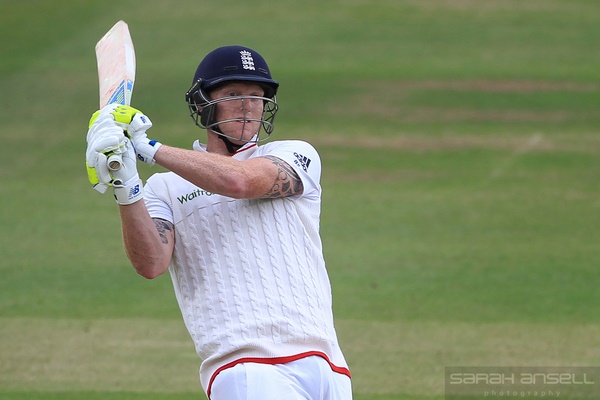 It is quite an English archetype though. Australia produces more than its fair share of fast bowlers, leg-spinners and top quality batsmen, but the nation's all-rounders are often a bit insipid. Maybe Mitchell Marsh will one day buck this trend, but at present he feels just a bit Shane Watson-ish – promising, but ultimately disappointing.
English all-rounders are different. The national side survives without one, but always seems to become a great deal stronger with one. They've now come along often enough that we should actually make some effort to distinguish between them rather than just parrotting the 'not the new…' line.
A striking development this weekend was Ben Stokes' swing bowling. In, out, and moving the ball miles, it persuaded Trevor Bayliss to confusingly suggest that he could become 'the next Jimmy Anderson'. Botham was of course an exceptional swing bowler (it's perhaps the one topic on which he commentates well), while Flintoff wasn't – although he was probably the most adept of the three at reverse swing.
If you saw Stokes eat a banana on Saturday, you'll agree with Jarrod Kimber that Stokes does everything violently. At one point he retrieved his cap from the umpire with a huge downward swing of the arm, as if he was trying to slap through a block of wood with his bare hand. Violent swing appears to be the latest manifestation of this tendency.
You've kind of seen this thing before, but you also haven't. He's like Botham and Flintoff, but also different.
17 Appeals
18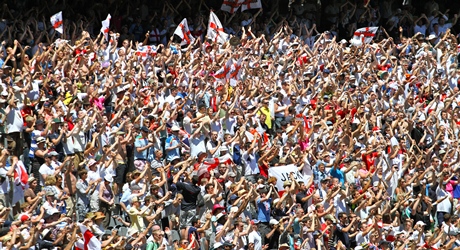 They completely did. They fully did. What do you make of that?
And as a bonus talking point, Michael Clarke seems likely to retire at the end of the series. We presume he's only waiting that long lest Steven Smith feel the pressure to follow suit immediately after leading the side to a demeaning defeat in the fifth Test.
We'll write more later, but for now… [punches air, swigs tea, links to celebratory Ashes Venn diagram, looks forward to finishing work for the day so that he can celebrate properly, using superior liquids.]
18 Appeals