England cricket news
18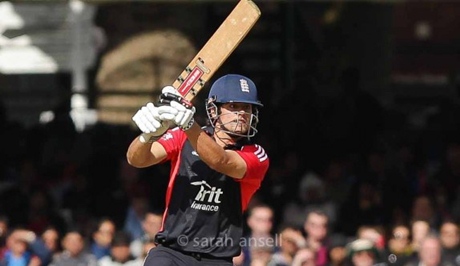 Alastair Cook says that he's doing everything he possibly can to try and turn his form around. This begs a rather obvious question. If you're practising really, really hard and doing everything you possibly can to prepare, but you're still not scoring runs – what does that actually say about your ability?
At least if you're dossing about in practice and turning up for matches half-cut, there's an obvious way to improve your returns. If you're preparing assiduously and you're still crap, it might be that you're simply not cut out for the job.
A bit of a plodder
Mike Atherton's doing a good job of not saying 'I told you so'. That's possibly because he's a mature, level-headed individual who has inexplicably found himself in the world of English cricket. Back when Cook was made one-day captain, Athers called him a plodder. A fair assessment, you'd have thought, but when Cook then made a bunch of runs in impressive fashion that summer, there were a few digs.
Verbal battles and wars. Fast forward three years and Cook has spent a hell of a lot of the intervening period being a plodder. Athers was fundamentally right and the case for making Cook one-day captain appears to have been exposed as a poor one. Most of the fans' anger revolves around what is (and isn't) happening now, but the real mistake came long ago. It's strange to say this about such a conservative organisation, but picking Cook as one-day captain was a gamble.
What happened to Cook's batting?
Is Cook out of form or is this actually the norm? Maybe it's the latter.
To provide some context, after six months or so as captain, we concluded that Cook was quite possibly England's best one-day batsman. Crucially, we qualified that with an 'at the minute'.
In the summer of 2011, he averaged 58 in 10 matches, scoring at a run a ball. The following winter, he averaged 50 in nine matches and while he scored a little bit slower, he made a couple of hundreds and three fifties. Worth his place in the side? Absolutely.
Seems a long time ago, doesn't it? It was. In his last 20-odd matches, he's made one fifty.
Maybe he got found out. When Cook took over as captain and made all those runs, he still did it in a rather limited way. His new 'expansive' game seemed to hinge almost entirely on the slog-sweep to cow corner.
At the time, we described his use of the shot as being like when a bad husband repeatedly brings flowers. It seemed little more than an apologetic gesture designed to distract from major shortcomings. It was odd that it worked, but even the most flower-loving wife will see through such a shallow ruse eventually.
The menu
Unsurprisingly, opponents have taken the slog-sweep off the menu. They're serving up off-spin in the first over instead. Cook doesn't appear to like the taste.
Cook has a place in Test cricket's All-You-Can-Eat Hall of Fame, but he's picky. He doesn't like mushrooms 'because they're slimy' and he won't eat anything with bones in it. You need to have broader tastes in one-day cricket. You need to eat everything because there's only a finite amount on offer.
Test cricket involves endless courses, so you can pick at dishes you don't like and gorge on those you do. One-day cricket is more of a taster menu. Miss out on anything and you risk going hungry. In the last year, Cook has basically starved.
18 Appeals
13
Today we're going to direct you towards two pieces of ours which appeared outside the kingdom.
First up, our latest King of Cricket is Murali. Don't worry, it ain't all numbers. It's about the joints, the graft and the batting really.
Secondly, last week's Cricinfo piece, entitled English cricket rocked by non-Cook related incident. As an added bonus, that one contains a little bit of Nick Knight.
Almost inevitably, Cook is in the news again today. Paul Downton has given another interview, which basically means Cook's relationship with the public has dropped another few notches through no fault of his own.
Downtown has an incredible knack for alienating people. When he speaks, what you're left with is a strong sense that someone has wagged their finger at you and told you they know best.
Apparently he sits in on selection meetings these days. He says he is happy with the selectors he employs (his words) and happy with the decision to continue with Cook as captain, but that the selectors will meet to discuss everything on Friday. Presumably they won't be jumping at the chance to make their boss unhappy.
Asked about Cook's form, Downton said: "Yes, he's in miserable form. But form can change. I'd suggest he's 'due' – wouldn't you?"
We've covered this before, haven't we?
Another highlight is: "He's the natural leader of that group of players."
A natural leader in the sense of being a great orator? A natural leader based on the fact he's getting great results? What is a natural leader? Is that how leaders are identified; by their nature? Do the ECB do a DNA test? What chromosomes are they looking for?
The ECB really are beyond parody now.
Downton finished by saying: "I want to enfranchise everybody and I want them to be part of what's happening in English cricket."
Remember kids, if you've been enfranchised by a stockbroker, you should inform a parent, teacher or policeman immediately. It's not your fault.
13 Appeals
15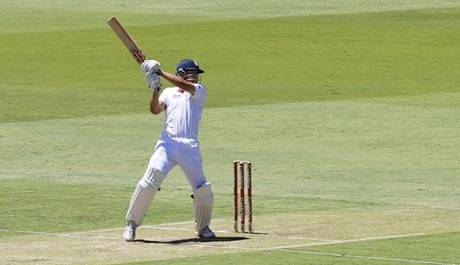 One of Alastair Cook's problems is that he plays every one-day innings as if it might be his last. He positively clings to the crease, grimly trying not to make a mistake. The better approach might be to play as if he doesn't give a toss, but say what you like about Alastair – tosses he gives.
Bowlers can do what they like at Cook. It's like bowling at a cone or a cardboard cut-out. He just sits there passively while you prod away at him with something sharp. After the sixth one-day international against Sri Lanka, Cook said that he was hitting them well in the nets. If he hadn't actually specified that it was balls he was hitting, you'd think he might have meant walls – using his head.
There are no prizes for effort in cricket and in one-day cricket there aren't even prizes for runs unless you can score them quickly enough. It doesn't matter why you drop simple chances or miss straight balls, all that matters is that you do. Cook is.
We don't blame Cook for hanging about in the one-day team. It's his job to retain confidence in himself in the face of all evidence to the contrary. Half of the battle of international sport involves bullshitting your opponent that you're something you're not. The best way to achieve that is to start off by bullshitting yourself. This is why we pay other people to see things clearly: coaches and selectors, for example.
One of the main reasons why Cook was made one-day captain is because they thought it would undermine him to have someone else in charge of the 50-over side ahead of the next Ashes. The same people who reached that conclusion might now want to consider just what effect an endless series of defeats and humiliating underperformance might be having on their boy.
15 Appeals
10
It's hard to argue that this wasn't the perfect England one-day performance. One, England won, which satisfied most of their fans; and two, there was enough evidence to suggest that England will never win one-day games with Alastair Cook at the helm, which will have satisfied his detractors.
The ideal scenario is for England to win the World Cup with Cook really not having pulled his weight but somehow still in the team. Today, he made 20 off 30 balls. Neither quick- nor heavy-scoring, it was pretty much the perfect Cook one-day innings. He was even dismissed playing a defensive shot to howls of derision from some place and some other place.
James Taylor replaced him at the crease and played really rather well. This means it's quite possible to use the argument that Cook is keeping 'players like James Taylor' out of the side, even if he isn't currently keeping your actual real-life James Taylor out of the side.
Next Joe Root scored a hundred, which is neither here nor there in itself, but did at least distract attention from Chris Woakes' 6-47. Woakes loves being overshadowed and will have been delighted to have taken six wickets in a one-day game which largely took place on an entirely different day.
These aren't even Woakes' best one-day figures. He once took 6-45 against Australia, in Australia. But no-one remembers. In fact, Woakes has two of England's three best one-day bowling performances of all time (behind Paul Collingwood). This latest effort has been sufficient to see him talked about as being someone who might possibly challenge Steven Finn for a World Cup spot. Great praise indeed.
For if Finn no longer looks like a man who has forgotten how to bowl, he does still give off the air of not yet having fully remembered. At his best, Finn looks stern and driven, but at present we find ourself getting distracted by how much he looks like he's made out of uncooked spaghetti. That may or may not be the effect he's trying to produce, so it's hard to judge his progress. Assuming it is, we'll give him 10/10 and Woakes 3/10 because the latter didn't really look at all brittle.
10 Appeals
23
The optimum moment to select a batsman is not when he thinks he deserves a place in the side; it's when he's completely irritated because he can't quite believe he isn't getting a game. This is probably the main difference between James Taylor now and a few years ago.
Taylor himself will probably say that he's exactly the same player, which only goes to show how people tend to imagine that past versions of themselves had all the attitudes and accumulated wisdom of their current self. For once, we might be better able to judge a player from the outside.
Then and now
The Taylor selected for Test cricket in 2012 was skilful and ineffectual. He looked good at the crease, but he wasn't even making runs in the second division. He's gone from there to being someone who makes runs in the first division and who has also had to keep elevating his one-day performances to ever-greater heights simply to earn consideration.
Doubtless you'll have read it elsewhere, but Taylor has the third-highest List-A average of all-time. (It's also worth noting that another of England's fringe one-day players, Gary Ballance, is seventh on that list, while Jonathan Trott is 22nd – one place below Phil Hughes.) Taylor has also made four million runs for the England Lions (you can have that stat for free).
Point is, Taylor's not the same player and even if he doesn't consciously know that, his subconscious must. It's the difference between kneeling, eyes down, to graciously accept your Test cap from the selectors and angrily snatching a set of one-day pyjamas off them with a stroppy 'about bloody time'. The first guy's going to be overawed. The second guy's far too busy grumbling to have time to think what international cricket might mean to him.
The second guy scores more runs.
Earning your place
There's perhaps a lesson here relating to entitlement, because if lack of support can build an indomitable spirit, there is also a corollary of that. If you build up a particular player – it doesn't matter who or why – and give him any kind of notion whatsoever that his selection is about anything other than performance, you inadvertently steal away his utter certainty that he belongs.
The player in question might retain a bullish, outwardly confident exterior, but that is perhaps less a manifestation of true confidence and more an attempt to fight back understandable doubts. One of the great things about cricket is that it has little time for people who merely talk a good game. You can't hear uncertainty in a press conference, but you can easily read it on a scorecard.
23 Appeals
16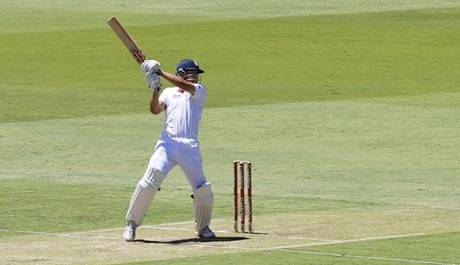 We used to moan about winter. Winter didn't give a shit.
In fact winter didn't even know we were there because it was night-time. It's always night-time in winter. That's the main thing we used to moan about. After about 15 years of raging against the tilt of the Earth, we realised that we weren't achieving much and so we resolved to try and make the best of things. Darker beers and Sunday roasts is pretty much all we've come up with, but at least it's a start.
The point is, there comes a point where you just have to accept that things are out of your hands and that you're only succeeding in making yourself more miserable with your constant complaining. There's a lot of ranting about Alastair Cook these days; about how he can't bat at any great pace, how he only ever seems to score 32 runs and how this means England can't win the World Cup. But you can muster as much outrage as you like – nowt's changing.
England supporters are beginning to delight in their team's failures, gathering a big stack of evidence to support their rightness about Cook's wrongness. But what for? For a massive, gold standard 'I told you so' come the World Cup?
We've always had a general philosophy that if you're playing for England, we'll support you. Sometimes we forget, but we're going to try and keep that sentiment in mind for the next couple of months. The Cook battering's kind of become a thing in itself and even if we agree with many of the sentiments, it's getting a bit tiresome and it's not really achieving anything.
We like the World Cup, we'd like to see England do reasonably well and Alastair Cook will be the captain, so we're kind of hoping he finds some mediocre form and can at least do his bit. If you set the bar low enough, you'll realise there are occasional nice days in winter.
16 Appeals
23
Here's a joke for you: What do a 35-over a side game in Habantota and a 50-over match in New Zealand or Australia have in common?
Pretty funny, eh?
In the third match of this series, Sri Lanka were positively blown away by England's tactic of randomly selecting a load of seamers and sacrificing a decent top order batsman who isn't Alastair Cook. There was also a counterargument to our assertion that Alex Hales and Moeen Ali would constitute a great opening partnership when the two revealed a worrying inability to remain at opposite ends. Boundaries only please, lads.
And boundaries only for Jos Buttler as well. Joe Root's non-dismissal off a no-ball seemed to precipitate a fourvalanche from the softly spoken pseudo-wicketkeeper (who actually hasn't done too much wrong behind the stumps).
England's lower order sloggery has never really been the problem though. Getting into a position where sloggery can be executed has been the problem and you could argue that a 35-over game sees the removal of the 15-overs of nurdlesome proactivity during which England's batsmen traditionally like to perform seppuku.
23 Appeals
27
This is going to come across as a gossamer-thinly-veiled plea for Alastair Cook to be given the old heave-ho, but it's not. It's literally just about Hales and Ali – Cook's merely collateral damage. In fact let's say he can bat at three. There's still a large part of us that would really like him to turn things around because it would be funny.
So Hales and Ali then – why would they make such a good combination at the top of the order? There are four main reasons. Several are mundane and obvious, but taken together they make a decent case.
First of all, both are capable of scoring hundreds at quicker than a run a ball. Like pads and a bat, that ability is something a one-day opener simply has to have these days.
Second of all, both are proper batsmen. Ali has a spectacularly good Test hundred to his name while Hales has recently taken to mincing attacks in first-class matches as well as one-dayers. Unlike some one-day openers (read 'outright sloggers') they can cope with the new ball – or, more accurately in 50-over cricket, new balls.
Thirdly, one of them's right-handed and one of them's wrong-handed. Always good in a partnership.
Finally, they compliment each other well. "Nice beard," says Hales. "Nice eyebrows," says Ali.
No, wait, we mean they complement each other well. Speaking after his hundred the other day, Ali said he was basically happiest rushing to 50 and that he was still working out how best to play after that. In contrast, Hales is a surprisingly slow starter. A lot of pundits see him hitting sixes and note that he's an opener and claim he'll 'get England off to a fast start' but actually that's typical scorecard-reading false-assumptionery. It's not the way he plays. For Nottinghamshire, Michael Lumb provides the impetus and then Hales takes over once he's set.
Unlike Moeen Ali, Hales becomes ever-more bludgeonny as his innings progresses. Fast-starting Ali will lift the pressure while Hales is getting his eye in and then, if they can stay together, Hales will return the favour when Ali slows.
27 Appeals
8
The ECB media cheat sheet will have been passed around again after today's performance. All this running talk of attacking batting is understandable, but England repeatedly show a worrying lack of aptitude for walking the full 50-over distance (actually only 45 in this instance). Six times in their last seven matches they've been bowled out.
There are many interlinked problems and it goes beyond team selection. That said, we'd actually be tempted to drop Eoin Morgan on recent form. We've no idea what's wrong with him, but he appears to need some form of arse-kick and James Taylor surely needs to get a few games before the World Cup.
As for Alastair Cook, we're not going to start laying into his batting just yet – but only because it's a seven-match series and there's another long one-day series and World Cup to come. Cook ain't going anywhere, so we've got to pace ourself. If we give full vent to our anger now, what are we going to do when he makes a 32-ball duck against Scotland in February?
8 Appeals
18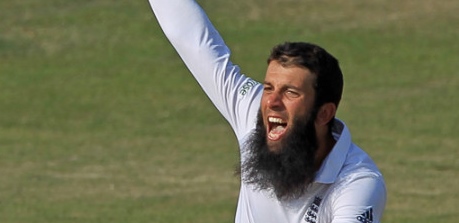 That's okay. That's what these tours are for. Moeen will have learnt from this. From now on, he'll know that 119 off 87 balls simply isn't enough and he'll instead score 180 off 110 balls or whatever.
Other than that, one of the great joys of the first one-day international between Sri Lanka and England was in seeing Alastair Cook being given out three times – at one point off two successive deliveries. Did England's mighty stuttering captain let this stop him? Did he heck. Well, okay, he let the third one stop him, but he'd already rollicked his way to 10 off 17 balls by then so it really didn't matter. That's really not a bad strike rate when you consider that three of those 17 deliveries were dismissals.
Ravi Bopara was the most economical bowler, so he was limited to just four overs. James Tredwell finished his spell with sixes and then outs – a pair of each. Harry Gurney bowled six wides. Sri Lanka also played.
18 Appeals