England cricket news
12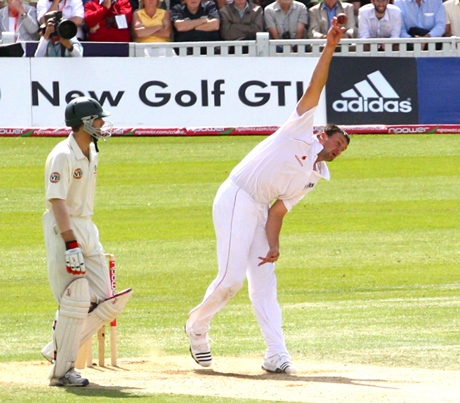 Say what you like about Steve Harmison's overall record, but he could lollop in and hit you on the elbow with the best of them. That uncanny ability to make the ball bounce considerably more than should have been physically possible brought him a bunch of wickets and England a bunch of wins, but far more importantly, it brought hope.
Fast bowlers are few and far between. English ones are rarer still. For a time, Steve Harmison was just such a thing and it was wondrous. Context is everything and that's one of the main reasons why we named him our latest King of Cricket over at All Out Cricket. You can read all about him by clicking these words.
12 Appeals
8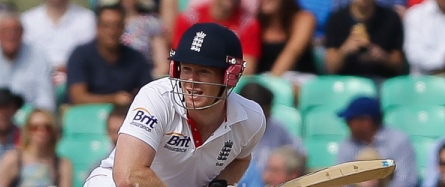 We knew this site would become a hub for celebrity gossip one day. We received a surge in traffic yesterday off the back of the fully weird news that someone tried to blackmail the ECB over some sort of relationship Eoin Morgan once had with a human woman.
The landing page of choice for those digging into the story was this one about whether or not Eoin Morgan had a girlfriend. It's from 2010 and in it we give some excellent and entirely plausible reasons why a woman might like to enter into a relationship with England's now one-day captain.
If you read the comments, there is a marked change in tone from those left within a couple of days of the post being published and those left later on. See if you can spot it.
8 Appeals
21
We're not intending to be a naysayer here, trotting around saying 'nay' like a horse that can't spell (so a horse then). We just want to muddy the unmitigated positivity because one win is not much of a sample from which to draw conclusions.
One of our main concerns centres on England having four of their eggs in the 85mph right-arm seam bowler basket. Today, that was a very, very important basket. On other days, not so much.
There's a case to be made that 85mph seam bowling days suit England's batsmen as well as their bowlers. It's what they're used to, after all – not least in the nets. But probably of greater importance was the fact that they were chasing just 154. If that's a regular occurrence in the World Cup, they'll have a fine old time, but it almost certainly won't be.
We can't really criticise England's actual performance, which was excellent. All we're really saying is that today presented a very complimentary snapshot and it'll be more instructive to see what happens when there's minimal swing and very little bounce. In short, when the 85mph right-arm seam bowler basket becomes less of a weapon and more of a burden.
21 Appeals
25
Asked which of his team-mates he least enjoyed facing in the nets recently, Moeen Ali said:
"James Tredwell. Annoying. You just try and smack him and you can't hit him anywhere."
It's one of the mysteries of the age how Tredders doesn't go for seven an over, but it's a fact that he doesn't. His economy rate in one-day internationals is 4.77 an over and he averages 27.81. He's also England's second highest ranked bowler (he's 12th with Jimmy Anderson sixth).
So why isn't he playing? You can say that England are experimenting, but Peter Moores did say he was looking to settle on a first choice XI by the first match against Australia, and today, Tredwell wasn't in it.
You could argue that conditions played a part, but they actually seemed quite spin-friendly and why would conditions ever dictate the omission of one of your top two bowlers anyway?
This happens a lot. It seems England omit Tredwell on the basis of how they perceive him rather than what he actually tends to do. Maybe his figures wouldn't be quite as good if he played every match, but on the basis of what he's done so far, that theory demands testing.
But no. We'll have a fourth right-arm fast-medium seamer please – that famously effective genre of one-day bowler. Six foot, slim, cool haircut, arm muscles straining the sleeves of the laser blue shirt – they look so much better in slow-mo reaction shots when the batsman's just pinged a six back over their head.
James Tredwell. Annoying. Quite often in one-day cricket, that's more than enough.
25 Appeals
21
Ian Bell made 187 off 145 balls against the Prime Minister's XI in England's latest warm-up match. Okay, so it's not exactly the biggest match ever – Chris Rogers bowled two overs – but what's more reassuring, making 187 off 145 balls or making 26 off 38?
This constitutes further evidence that Ian Bell is not Alastair Cook. The match also provided evidence that Glenn Maxwell remains Glenn Maxwell. You've got to love a man who can score 136 off 91 balls one day and be clean bowled charging down the pitch to leave the ball in a Twenty20 match another day.
21 Appeals
24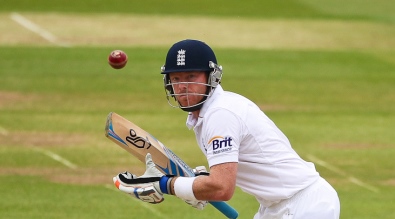 There are a lot of optimists in the world and the problem with positive people is that they assume that positivity itself is some sort of positive.
It's all well and good swanning about thinking everything will work out, but really you're just setting yourself up for disappointment and failure. The truth is things don't always work out.
Positivity can be good. It can be necessary. But it can also lead you to do stupid things.
Let's have some examples
At one extreme, imagine you've just bought a bag of beef-flavoured Space Raiders. It requires minimal positivity to look on the bright side and assume that the things inside the bag are baked corn snacks and therefore edible. Result. You get to eat some food.
An extreme pessimist, however, might perceive the same items as being made from some sort of radioactive compacted dust laced with strychnine. Boo. No food for you.
Now imagine you're standing on a high bridge across a canyon. You close your eyes and consider stepping off the side. Most people would assume that they would fall to their death were they to do that. An extreme optimist might think that a giant bird would just happen to fly underneath their foot at the exact moment they stepped out and hover there, providing support. Then another bird for their next step and another and another until they reach safety.
Now these are two extremes, but positivity does slowly morph into delusion the further you move towards each end of the continuum. Somewhere between them there's a grey area. For example, a recurring scenario in cricket is when a team has to choose between a familiar older player and a less familiar younger player.
Shades of grey
The point about shades is that you're talking about gradation, which is why we've just resisted the obvious temptation to include a number with that subheading. We'll go with 'infinite' if it makes you any happier.
No two cricketing selection decisions are the same, but with really close calls it always boils down to how much of an optimist you are – how you perceive the absent data. You know what's happened, but what will happen next?
Let's get specific. Ian Bell will open the batting for England tonight. Alex Hales will not. Is that the right decision or the wrong decision?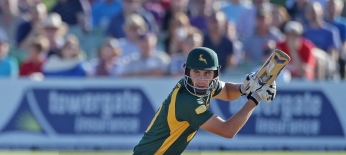 Bell v Hales
Bell is familiar. Perhaps over-familiar would be a better way of putting it. For better or worse, we don't feel like there's anything left to learn about him.
Alex Hales is newer. He had a strong domestic season and has a really good record in Twenty20 internationals, but as a 50-over opener, he's more of an unknown quantity.
We can compare stats and technique and approach, but a large part of the argument seems to hinge on what Hales might do. If you're inherently positive, you'll say Hales might win England matches with aggressive hundreds. If you're of a more negative mindset, you'll say he might rack up a great string of single-figure scores.
So Ian Bell is not Alastair Cook then?
Correct. Chances are, on some level you're aware of this fact, but we thought we'd provide a reminder. People talked so much about how bad it was to have Bell and Cook in the same top three that the two batsmen have almost become interchangeable when we talk about one-day cricket.
Hales, in contrast, was fortunate enough to be kept out of the side by Cook and has therefore become symbolic of the brave new Cook-less world in which everyone hits sixes from ball one.
But Ian Bell is not Alastair Cook and Alex Hales is not the anti-Alastair Cook. (Nor is Cook the purest form of one-day failure imaginable, for that matter – but that's something it's not worth getting into right now.)
Ian Bell is Ian Bell
If we're looking at their technical suitability for one-day cricket, Alastair Cook has three shots and Ian Bell has about 42.
If we're looking at the stats, Cook clearly ground to a halt, but Bell has been surprisingly effective for a while now. In 2012 – the year that England became the top-ranked one-day international nation – he averaged 54.90 and scored at a strike-rate of 82.68. In 2013, he averaged 43.00 and scored at 76.87. In 2014, he averaged 34.21 and scored at 90.89.
You can look at those figures two ways. You can say he simply doesn't score quickly enough for the modern day and age, or you can say that it's unrealistic to expect everyone in your batting line-up to perform like David Warner.
Warner, for the record, averages 31.40 in one-dayers with a strike-rate of 83.50.
But Hales *might* win matches for England
It's true. He might. It really is hard to argue against that, because it's absolutely true. We've even said that Alex Hales and Moeen Ali would make a great one-day opening partnership ourself.
We're not trying to make a case here. It's a grey area and that's really our point. If we have some sort of message, it's that the 'better the devil you know' argument is rarely a crowd-pleaser, but that doesn't necessarily make it wrong.
24 Appeals
25
In this new Morganian one-day world, with its unexpectedly stumbling approach to a major tournament, we'd like to ask: when should a team start planning for the World Cup?
England have often cobbled together a strategy at the 11th hour, bringing in players with little or no experience of high pressure games in front of big crowds. This is clearly the wrong approach, but for this World Cup, they appear to have gone the other way. Did they commit to plans too early, wedding themselves to a captain despite there being ample time for everything to go tits up? Skyscrapers in earthquake zones are only so robust because they give a little. When does stability become counterproductive rigidity?
Perhaps it makes sense to think of long-term planning in terms of phases. For a four-year World Cup cycle, the first might last two or three years. This is the time for experimentation. Well-established players who are likely to be around for the next World Cup can frequently be omitted from games or even entire tours so that younger players who selectors want to 'take a look at' can be included in their place.
Then, with a year to go, things maybe get more serious. You start to settle on your first-choice team and try and give them experience of playing together, performing the roles for which they have been earmarked. One of those roles might be captain. How far out can you commit with some certainty?
25 Appeals
27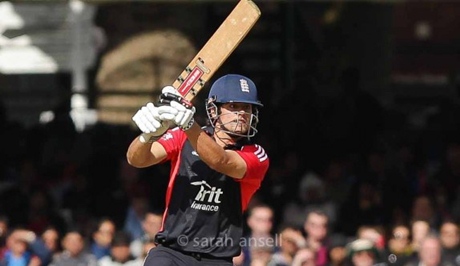 Alastair Cook says that he's doing everything he possibly can to try and turn his form around. This begs a rather obvious question. If you're practising really, really hard and doing everything you possibly can to prepare, but you're still not scoring runs – what does that actually say about your ability?
At least if you're dossing about in practice and turning up for matches half-cut, there's an obvious way to improve your returns. If you're preparing assiduously and you're still crap, it might be that you're simply not cut out for the job.
A bit of a plodder
Mike Atherton's doing a good job of not saying 'I told you so'. That's possibly because he's a mature, level-headed individual who has inexplicably found himself in the world of English cricket. Back when Cook was made one-day captain, Athers called him a plodder. A fair assessment, you'd have thought, but when Cook then made a bunch of runs in impressive fashion that summer, there were a few digs.
Verbal battles and wars. Fast forward three years and Cook has spent a hell of a lot of the intervening period being a plodder. Athers was fundamentally right and the case for making Cook one-day captain appears to have been exposed as a poor one. Most of the fans' anger revolves around what is (and isn't) happening now, but the real mistake came long ago. It's strange to say this about such a conservative organisation, but picking Cook as one-day captain was a gamble.
What happened to Cook's batting?
Is Cook out of form or is this actually the norm? Maybe it's the latter.
To provide some context, after six months or so as captain, we concluded that Cook was quite possibly England's best one-day batsman. Crucially, we qualified that with an 'at the minute'.
In the summer of 2011, he averaged 58 in 10 matches, scoring at a run a ball. The following winter, he averaged 50 in nine matches and while he scored a little bit slower, he made a couple of hundreds and three fifties. Worth his place in the side? Absolutely.
Seems a long time ago, doesn't it? It was. In his last 20-odd matches, he's made one fifty.
Maybe he got found out. When Cook took over as captain and made all those runs, he still did it in a rather limited way. His new 'expansive' game seemed to hinge almost entirely on the slog-sweep to cow corner.
At the time, we described his use of the shot as being like when a bad husband repeatedly brings flowers. It seemed little more than an apologetic gesture designed to distract from major shortcomings. It was odd that it worked, but even the most flower-loving wife will see through such a shallow ruse eventually.
The menu
Unsurprisingly, opponents have taken the slog-sweep off the menu. They're serving up off-spin in the first over instead. Cook doesn't appear to like the taste.
Cook has a place in Test cricket's All-You-Can-Eat Hall of Fame, but he's picky. He doesn't like mushrooms 'because they're slimy' and he won't eat anything with bones in it. You need to have broader tastes in one-day cricket. You need to eat everything because there's only a finite amount on offer.
Test cricket involves endless courses, so you can pick at dishes you don't like and gorge on those you do. One-day cricket is more of a taster menu. Miss out on anything and you risk going hungry. In the last year, Cook has basically starved.
27 Appeals
13
Today we're going to direct you towards two pieces of ours which appeared outside the kingdom.
First up, our latest King of Cricket is Murali. Don't worry, it ain't all numbers. It's about the joints, the graft and the batting really.
Secondly, last week's Cricinfo piece, entitled English cricket rocked by non-Cook related incident. As an added bonus, that one contains a little bit of Nick Knight.
Almost inevitably, Cook is in the news again today. Paul Downton has given another interview, which basically means Cook's relationship with the public has dropped another few notches through no fault of his own.
Downtown has an incredible knack for alienating people. When he speaks, what you're left with is a strong sense that someone has wagged their finger at you and told you they know best.
Apparently he sits in on selection meetings these days. He says he is happy with the selectors he employs (his words) and happy with the decision to continue with Cook as captain, but that the selectors will meet to discuss everything on Friday. Presumably they won't be jumping at the chance to make their boss unhappy.
Asked about Cook's form, Downton said: "Yes, he's in miserable form. But form can change. I'd suggest he's 'due' – wouldn't you?"
We've covered this before, haven't we?
Another highlight is: "He's the natural leader of that group of players."
A natural leader in the sense of being a great orator? A natural leader based on the fact he's getting great results? What is a natural leader? Is that how leaders are identified; by their nature? Do the ECB do a DNA test? What chromosomes are they looking for?
The ECB really are beyond parody now.
Downton finished by saying: "I want to enfranchise everybody and I want them to be part of what's happening in English cricket."
Remember kids, if you've been enfranchised by a stockbroker, you should inform a parent, teacher or policeman immediately. It's not your fault.
13 Appeals
15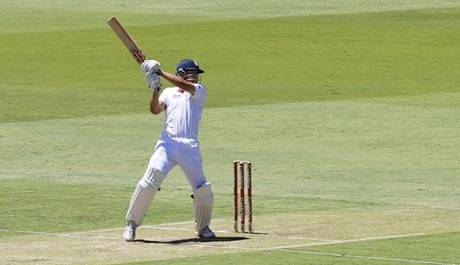 One of Alastair Cook's problems is that he plays every one-day innings as if it might be his last. He positively clings to the crease, grimly trying not to make a mistake. The better approach might be to play as if he doesn't give a toss, but say what you like about Alastair – tosses he gives.
Bowlers can do what they like at Cook. It's like bowling at a cone or a cardboard cut-out. He just sits there passively while you prod away at him with something sharp. After the sixth one-day international against Sri Lanka, Cook said that he was hitting them well in the nets. If he hadn't actually specified that it was balls he was hitting, you'd think he might have meant walls – using his head.
There are no prizes for effort in cricket and in one-day cricket there aren't even prizes for runs unless you can score them quickly enough. It doesn't matter why you drop simple chances or miss straight balls, all that matters is that you do. Cook is.
We don't blame Cook for hanging about in the one-day team. It's his job to retain confidence in himself in the face of all evidence to the contrary. Half of the battle of international sport involves bullshitting your opponent that you're something you're not. The best way to achieve that is to start off by bullshitting yourself. This is why we pay other people to see things clearly: coaches and selectors, for example.
One of the main reasons why Cook was made one-day captain is because they thought it would undermine him to have someone else in charge of the 50-over side ahead of the next Ashes. The same people who reached that conclusion might now want to consider just what effect an endless series of defeats and humiliating underperformance might be having on their boy.
15 Appeals