England cricket news
26
England finally found a modicum of limited overs success. They've analysed the stats and apparently scoring hundreds and making big totals will give them a better chance of success in the World Cup. Common sense might also tell you such a thing.
The fifth one-day international
Joe Root became the first England batsman to survive spin bowling in the middle overs. He made a hundred, allowing the the lower order to do what they've always been perfectly capable of.
The Twenty20 international
Eoin Morgan remembered that he wasn't terrible at cricket while the selectors remembered that Ravi Bopara played cricket. Even more strikingly, Virat Kohli finally passed 50 and totally vindicated being retained in our All Out Cricket fantasy team for the entire summer.
The Kingdom
And here are the final standings for the King Cricket one-day mini league. Bailout won. We apparently didn't come second, but sixth.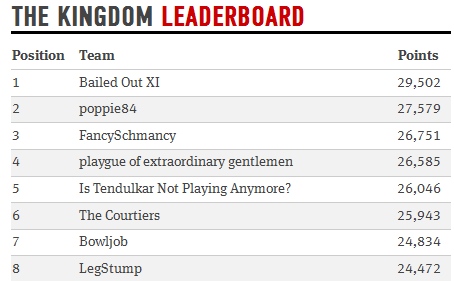 26 Appeals
36
We've written a rather hefty piece for Cricinfo about overtraining in cricket. We think it's a big deal, but we get the distinct impression that no-one else really does.
It's partly that people don't really understand the concept. Understandably, they think it just means training too much, but overtraining is actually a label for a physiological condition that tends to come about as a result of a whole range of factors of which physical training stress is just one.
It hinges on whether or not an athlete is ever fully recovering and so it also involves all those little things which have an impact on that.
Most people don't understand recovery
And this is simply because they don't live a lifestyle where it's any kind of an issue. Even if you play a lot of sport in your spare time, chances are you're still in overall credit when it comes to recovery. You might struggle in one particular week, but it's not something that persists for a month or a year.
An alternative title for the Cricinfo article could have been 'a plea for an off season' because it strikes us that international cricket seems to be actively courting overtraining. The way the sport is run seems specifically geared towards hampering recovery, enhancing mental stress and most importantly of all, engineering a situation where players define themselves by their performance. When you reach that point, things really get out of hand.
Jonathan Trott
While speaking to Dr Richard Winsley for the article, we pointed out what happened to Jonathan Trott. Thinking about what Trott had said at the start of the summer, about how he'd basically lost the ability to switch off, it struck us that this might be an example of overtraining. Winsley agreed to the extent that he is now going to use Trott as a case study.
If the Trott example tells us anything, it is that such an implosion has no single cause. Rather, it is a perfect storm of multiple, related factors. It is also pretty clear that the environment inhabited by international cricketers is one where such an outcome is increasingly likely.
An extraordinary proportion of a modern international cricketer's time is spent with colleagues. Have you ever been on a work night out and been struck by how much you talk about the job? Imagine that all day every day. It's not healthy. People need balance. Now imagine that this environment is all you've known for your entire adult life and then suddenly, in your early thirties, it's gone. How would you adapt to that?
Fred bowled more overs
Measuring bowlers' workloads in terms of overs is reductive. There's far more to overtraining than that. England are playing at least one match a month from November of this year until September 2017, so anyone playing multiple formats is rarely going to be more than a week away from another flight and another hotel.
There's an awful lot appended to a modern international over, whereas a 1950s county over is delightfully unencumbered. They're not equal.
They're well paid
This is the most infuriating argument of all – that players should stop moaning because it's their job and most people would love to be in their position.
Firstly, most people would love to be in their position simply because most people are idiots and only imagine themselves raising their bat or holding aloft a trophy. Nobody plays a game for a living, because as soon you do, it ceases to be a game.
The reality is that you spend years building towards something that might be taken away from you in an instant by a slight divot or a dodgy call. You then get to spend endless hours ruminating on it. The cricket in the middle's the tiniest fraction of your time and the majority is spent trying to address all your myriad flaws.
Whose problem is it?
The second rebuttal to the 'they should just bloody well get on with it' argument is that this is precisely what they are doing. It's not generally the players who are suffering the most – it's us, the fans. Most people who read this website – obsessive cricket people, for the most part – would be more than happy to see far fewer games being played. They'd love to see more fast bowling and fewer meaningless fixtures.
Players and coaches are just getting on with it, but that isn't to say that everything's fine. Rotation's pitched as being a cure-all, but that assumes there is someone in charge who can enforce it. Is that the head coach, who needs his best players, the player fighting for his spot, or some sort of head medical officer keen to become a lightning rod for disappointed fans' hatred?
Fatigue accumulates over time, but as often as not a decent period of rest sees it dissipate. A defined off season would be no bad thing.
36 Appeals
25
Moeen Ali made 44, 10 and 55 in his first three one-day internationals (ODIs). He was opening the batting. Then they dropped him. Today he made 67 batting at seven.
Chris Woakes opened the bowling at Cardiff and took 4-52. He also opened the bowling in Nottingham. Today he was the fourth bowler used.
Harry Gurney took nine wickets at 22.55 in the series against Sri Lanka. He was dropped for the first match of this series.
Gary Ballance was England's number three for that Sri Lanka series. He was clearly in form after the Tests. He too was dropped for the first match of this series.
James Tredwell has been the team's most reliable bowler. He also made his highest ODI score in the last match. Today he was dropped.
It's hard to avoid changing the team when they're this bad
But it's hard to avoid being this bad when the team is changed this much. We know ODIs demand a certain amount of squad rotation, but the players being rotated aren't ready for it. They're new to the side. They're insecure. You rest stalwarts because they can cope with it, but England don't have any of those because everyone's tweaked out of the first XI long before they've had chance to settle.
Even Steven Finn, who's played 40 times, said that he was nervous coming back into the side. Well why not prolong that nervousness by dropping him for the next game? Or why not change his role in the side so that he still feels new, even when he's played several matches on the trot.
There are plenty of things wrong with England's one-day side. This is another.
25 Appeals
30
The main criticism of England's one-day batting approach recently has been that they lack the dynamic hitting which is supposed to characterise the modern game. While that's true up to a point, we actually don't think that it's the worst of their problems. There's something else going on during the non-Powerplay overs – that sizeable chunk of a 50-over game when no-one's really paying much attention.
Alex Hales is a hefty biffer once he gets up and running, while Eoin Morgan and Jos Buttler are more than capable of clearing the ropes later on. What the team often lacks is the subtly different ability to find anything other than singles in the middle overs. This is especially true when steady spinners are bowling. Even Xavier Doherty managed to get away with 10 overs for 28 against them back in January.
Good middle over batting might mean fours or it might just mean twos – it could even involve the odd six. Yesterday England found themselves having apparently negotiated some sort of singles-only pact with India. The tourists were happy with this because at worst they conceded four or five an over and any wickets were a bonus on top of this.
And wickets did ensue – generally when the batsman made some sort of effort to escape from binary purgatory.
What's happening?
English batsmen really seem to struggle with the boring overs. A few singles an over are always available because they're basically being handed to them by the fielding side. However, as soon as an English batsman becomes more ambitious than that, he seems to get out. It's like it's an aspect of cricket with which they're wholly unfamiliar.
Perhaps it's something spawned by all those years of 40-over domestic cricket. This low key consolidatory period of a one-day game is the one that's curtailed in a 40-over match so arguably English batsmen have less experience of this part of the game. There also aren't as many relentlessly accurate bowlers in county teams. When there is one, a batsman can simply settle for the freebie singles and then score off the more frequent bad balls at the other end.
Boring for whom?
What's supposed to happen between overs 15 and 35 is for the batting side to make over five an over and lose one or maybe two wickets. What actually happened against India is that England lost all five of their specialist batsmen during this period.
Never mind hitting more sixes in the powerplays. How about some canny twos and fours during the boring overs?
30 Appeals
41
Before today, Suresh Raina had made three ODI hundreds in 193 matches. He made them against Bangladesh, Sri Lanka and Hong Kong.
But Raina bats in the middle order, so that doesn't tell us a lot. Let's look at fifties instead.
Against New Zealand, he has one in 11 innings; against Pakistan, one in 14; against South Africa, one in 11; against West Indies, one in 26 and against England 12 in 26, including six of his top ten one-day scores.
At this point we have to ask ourselves whether there's something he particularly likes about a tired white ball delivered at fast-medium pace.
Let's look at his strike rates against each of today's bowlers.
Anderson: 25 off 12 balls – 208.33
Woakes: 23 off 11 – 209.09
Jordan: 13 off 15 – 86.66
Stokes: 20 off 10 – 200
Tredwell: 19 off 27 – 70.37
Oddly, Jordan's efforts to become the world's foremost 'angling down the leg side' bowler probably saved him.
Extrapolation's what you need
One-day cricket in England is a bit different because you get more movement early on. However, the passages of play later on – once the ball stops doing owt – aren't so dissimilar from what might be expected in Australia come the World Cup. If anything, Australian conditions merely mean a greater proportion of those sorts of overs.
In today's match, England did the early, irrelevant bit well and then the later, relevant bit shitly. Their bowling simply isn't tall enough, fast enough, slow enough or weird enough to keep batsmen guessing on a flat pitch. It's samey. Four fast-medium right-armers is two – if not three – too many.
Is this the end of the world (cup campaign)?
Steven Finn's taller and often quicker; Stuart Broad will be back to offer the same qualities; Harry Gurney's a left-armer, should he prove reliable; and Ravi Bopara's neither-one-thing-nor-the-other wobblery does offer something different. There are always options that would desameyise a bowling attack.
As for the batting, England remain poor chasers of anything over 250, which is all the more reason to get the bowling right.
41 Appeals
9
Tomorrow, a view on India's Test series, but today let's look at England's – or at least at how it finished. Some of the later events are being ruled ineligible for analyss on the grounds that India were too crap, but we found England's approach quite interesting.
178 all out, 152 all out, 161 all out, 148 all out, 94 all out
It's easy to to avoid bowling sides out for less than 200. This much should be obvious. But even when you're in a position to do so, things often go awry. Bowlers get overconfident, change bowlers spray it around, or everything's going so gosh darned swimmingly that the whole team suddenly realises it's eased off a bit and the moment's passed.
England didn't make those mistakes. There were times when they could have bowled India out for fewer runs, but in general we've been rather impressed with their lack of mercy. It's not a quality that's always associated with England sides. Maybe all the months of humiliation have bequeathed them an embittered remorselessness.
Don't slip
Field settings were particularly noticeable. There were attacking oddities like a short slip, but the most impressive thing for us was the sheer number of conventional slips. Yes, it's easy to attack when you're miles ahead, but Alastair Cook clearly has no reservations about setting his men out as if the whole side's queuing to keep wicket. This was impressive for the simple fact that we thought that he was precisely the sort of man who would have reservations about doing that.
How can you bat?
We all knew England could do steadfast batting. Also in their known repertoire were: patient, accumulative and boring. Turns out they can also bat with gay abandon.
Jos Buttler clearly brings gay abandon, but few people thought Gary Ballance would. It takes him a while to get going, but if circumstances call for it, the shirt comes off and the runs flow. Then there was Joe Root and Stuart Broad on the final day of the series. 101 runs in 11.3 overs was a sadistic demonstration of strength of which Kaiser Soze would be proud.
Kicking them when they're down
Does all of this matter? Will all of this apparent remorselessness really add up to much when things aren't quite so easy?
We'd say so. After all, capitalising when things are going your way is basically the way in which you turn any match in your favour.
9 Appeals
21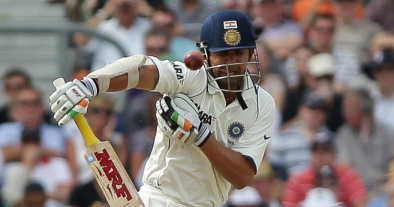 We think you'll agree that it's been very difficult to watch England methodically pan India without concluding that they are vampires. If you see Alastair Cook in your neighbourhood, don't invite him into your home.
While England have found ever greater vitality, India have been looking more and more tired. It cannot be coincidence that the changes have been proportional. The home team have clearly been exsanguinating the tourists. How else to explain India's listlessness and painfully slow thinking versus England's staggering rejuvenation?
Look at Stuart Broad's innings in the fifth Test. Here was a nervy batsman with a broken nose, sitting on the back foot and awaiting the inevitable. Yet when the short ball came, it was so insipid that he could larrup it for six. Then India batted and eleven pale, ghostly, bloodless men repeated the same mistakes as always, simply because it was all they had the strength to do.
Apparently, a bloodless coup can still involve comprehensive destruction.
21 Appeals
31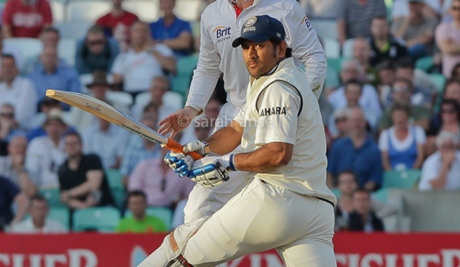 Here's a question: can you lead by example if no-one follows that example? If there's no-one behind you, you're not really leading, are you? You're just ambling around on your own while everyone else sits around having cakes and tea.
In the first innings at Old Trafford, MS Dhoni played with grit and resolve and showed the way for the rest of his team. No-one followed him. In the second innings, they buckled like a belt.
Here at the Oval, he made 82 out of 148. You could call it a captain's innings, but that perhaps highlights just how meaningless that phrase is.
31 Appeals
16
It's a common criticism of modern cricket that there are too many disruptions; too many conferences and unscheduled drinks breaks. On Sky, David Lloyd has taken to drawing attention to them with an impassioned: "Get on with the gaaaame."
You can hear the frustration in his voice when he says this and it's become an irritating catchphrase. Perhaps this is deliberate because at heart it's not really Lloyd who's the cause of the irritation.
But there's more
We knew all of this. We knew stoppages in play were an issue. What we didn't realise until Saturday was the frequency with which England send messages from dressing room to pitch. These skittering little errands don't always result in a stoppage. Often it all takes place while the bowler is walking back to its mark, but it's still annoying.
We go and see a live England match once or twice a year, so it's not like we were ignorant of the fact that this happened. The difference on Saturday was the frequency. It honestly seemed like one of the team's high-vis messengers was out there ferrying a helmet, a bottle, some medication or whatever pretty much every other ball.
England station two pitch invaders in camping chairs beneath the balcony, constantly primed for action. When a wicket falls, they both run out carrying bags of bidons. Two balls later, one of them will be out there again, often carrying a single bottle as if the liquid has simply run straight through a bowler's sieve-like digestive system.
They're not really there to deliver water, of course. They're there to deliver something much more valuable – information. The umpires seem to turn something of a blind eye so long as it doesn't actually slow things down at all. And it doesn't, for the most part. It is sly and quick, but still infuriating because it gives the impression of a team being micromanaged.
Does it matter?
The regular fall of wickets in that evening session perhaps meant that the interlopers' tabards were even more highly visible than normal, but that really just highlighted how often this is happening anyway. Maybe we're assuming too much about what was going on, but it didn't smack of players being allowed to think for themselves, which was a major criticism of the side at the end of what we're knowingly going to refer to as the previous era.
We can only guess what is being said – and perhaps the whole problem was exacerbated on this occasion by the captain needing updates about Stuart Broad's trip to hospital and James Anderson's lurgy-induced time off the field – but it surely didn't need to happen as often as it did.
Conclusion
If they really are giving the bowlers advice and new directives are being issued every two or three balls, then there is simply no room for a bowler to test his own theories. This would make the leather-flingers little more than gristly conduits for those who are poring over the data back in the dressing room.
16 Appeals
32
Sometimes the bowling's good and the ball's moving around and the fall of wickets seems inevitable. At other times, relentless pressure causes a side to break. Then there are those other days when it seems like you need to take every opportunity presented to you. Day three at Old Trafford was one of those days – only it was the batting side who took the opportunities.
One nose-broken bowler was off the field, another had the shits (it's uncertain how wild they were) and two more were bowling a fair amount of filth – yet India contrived to be bowled out for 161. That is no mean feat.
If there were any opportunity to lose a wicket, India grasped it. They barely let a single chance go unclaimed. It was very, very impressive.
32 Appeals