England cricket news
34
Captaincy is an odd thing. It always strikes us that becoming captain is like being a writer promoted to a management position.
We've had jobs where a senior colleague with a stupid job title has come up to us and basically said: "Your writing and editing is so good that we don't want you to do that any more. We want you to look at spreadsheets instead and do maths."
We don't really do maths.
It seems a similar story with Alastair Cook. The 'Cook out!' bandwagon is rolling along a little too rapidly for our taste and we don't particularly want to urge the driver to accelerate further (What's that? There's no driver?). But at the same time, what captainly qualities has he ever actually displayed? None really, beyond being a bit older than most of the team and having some sort of inclination to do the job.
A week or so ago, Cook was talking about how stubborn he was and how determined he was to see things through.
"I've never quit on anything."
That seems to us to be half the problem. Sometimes you're supposed to give up.
The problem is that Alastair Cook is a professional sportsman. He's spent his whole life being told that determination and a will to succeed are desirable qualities – and of course they are – but they can also lead to exploration of the farthest reaches of pig-headed futility.
Imagine it's the 1980s and you've got a telephone directory in your hand and you really, really need to tear it in half for some unspecified reason. As you grunt and gurn, Geoff Capes walks up behind you and asks if he can help you out. "No, it's fine Geoff – I've got this," you reply.
But you haven't.
Alastair Cook used to be a cracking batsman and now he's a shit one. The cracking-to-shit shift roughly coincides with his tenure as England captain.
What we're saying is that sometimes it makes more sense to hand the telephone directory to Geoff Capes so that he can tear it in half, leaving you free to find a more productive use for your time.
Update: We've just remembered that this article was supposed to be about how Alastair Cook shouldn't have taken the job in the first place; how he probably only did so because he'd been conditioned to believe it was something he should want and should aspire to.
We always suspect that there are quite a lot of people who become doctors or lawyers without ever really considering whether the job might suit them or not. They just follow a path without giving a great deal of thought to where it leads.
34 Appeals
20
After Matt Prior missed one particular catch in the second Test, a Sky commentator – possibly Mike Atherton – suggested that the wicketkeeper might be having trouble moving to his right due to all his accumulated injury problems. In his statement announcing that he was standing down for the rest of the series, Prior basically confirmed that.
"I saw the edge all the way but I couldn't move as quick as I needed to, and that is when I knew."
Prior is only 32. If he played for another country, you'd expect him to return following surgery, but how many recent England players can you think of who have lasted long into their thirties?
Most sides can boast of at least one, usually several. Ponting and Hussey for Australia with Brad Haddin and Ryan Harris still going. Tendulkar and Dravid for India. Sangakkara and Jayawardene for Sri Lanka. Kallis for South Africa. Chanderpaul for the West Indies. Chris Martin – a pace bowler, no less – lasted until he was 38 for New Zealand. For Pakistan, Misbah-ul-Haq's (at least) 40.
And England? Strauss made it to 35. Collingwood and Swann were 34. Alec Stewart was the last with real longevity.
The finest batsmen and spinners frequently seem to have their best years in their mid-thirties, but many English players have succumbed to wear and tear type injuries by then. Swann's elbow, Vaughan's knee, Prior's Achilles, Flintoff's everything. Is it the way they're managed? Do they not get enough sleep? Or is it just one of those things?
20 Appeals
40
It's an unlikely Cluedo solution, but it happened. We saw it with our own eyes.
Joe Root was the third caught attacking the short ball after lunch and he did a cracking Charlie Brown slope upon being dismissed. It was really, really first class. We were in awe.
We don't know anything about rhythmic ceremonial rituals. Is there a dance called The Retreat where you take one step forwards and then two steps back? That's the way England are operating at present.
Do The Retreat
They take a few top order wickets, then concede a bunch of runs to the tail. Alastair Cook shows signs of being a less than desperate captain, then fails to score any runs with the bat. They get within a spit of batting out the morning session without losing a wicket, then Moeen Ali is dismissed off the final ball of the session triggering alarming subsidence.
Maybe as well as taking the positives, they should also take the negatives and put them in the debit column. It's shitty accountancy to only look at one side of the ledger.
But at the same time…
Top win by India and it's also heart-warming to see Ishant Sharma getting the wickets. He usually draws adjectives such as 'gangling', 'awkward' and 'hapless' but yet there was Rahul Dravid describing his spell as being one of the greatest by an Indian fast bowler.
But as we said yesterday, this match wasn't won on the last day. Sharma's contribution was the final layer of gloss. The construction work has been going on throughout. This is no fluke built on foundations laid down by one individual. There's been Ajinkya Rahane's blinding hundred, Murali Vijay's stout resistance, Ravindra Jadeja's joyride and Bhuvneshwar Kumar's everything.
But it's more than that, because India haven't won away from home since 1912 when they beat a hungover Shropshire side by one wicket. They had to overcome that record and will themselves to kill England. Sometimes that's the hardest bit, but they bravely grasped the pillow and put the home team out of their misery as swiftly and effectively as they could.
40 Appeals
28
It's okay to start headlines with 'and' when you're emphasising the repetitive nature of something.
Ravindra Jadeja isn't exactly the tail, of course. Even if you play half your domestic matches on the world's flattest pitch, scoring three triple hundreds shifts you out of the tail-end category never to return. He bats wonkily, but with gusto and when he gets it right, it sounds less like a cricket shot and more like a gunshot.
Bhuvneshwar Kumar seems rather too skilled to be considered a tail-ender as well. He's looked a damn sight more solid than Alastair Cook, which reflects on both of them. Don't worry, we'll return to Cook next week. If you're desperate to read more about the England captain's plight, we're sure you can find something pretty much anywhere.
As far as this match goes, England have to score plenty of runs on a fifth day pitch where both seamers and spinners look threatening. Unless the play somehow takes on a completely different form, they will lose. The fourth innings isn't the problem. This match will have been lost thanks to cowardly first innings bowling and an inability to polish off innings. Bowling first using tired bowlers seemed odd too, but perhaps Captain Hindsight is paying a visit there. The bowlers probably could have made it the right decision.
28 Appeals
16
Virat Kohli's due a score, isn't he? And how many runs has Alastair Cook got in his bag, just waiting to be plucked out?
Or is it more that Cook's now suffering the inevitable consequences of frittering runs away earlier in his career. There was a complete lack of rationing during the 2010-11 Ashes series, for example. Sometimes you have to save, Alastair. You should have set something aside for when you were captain as well as opener and therefore had double the opportunities to attract criticism.
Meanwhile, the match is poised, innit? We think it's Mike Atherton who always claims that first innings scores of around 300 tend to make for the best Test matches. We know what he's saying.
16 Appeals
13
A lot. It seems to be his default facial expression while batting. It's a little disconcerting.
But on the plus side, we've already started thinking to ourself: "At least Ballance is still in," as if he's the most reliable of the England batsmen. Like Jonathan Trott, you don't really feel the need to watch him. You just check in on his score every once in a while.
A Test hundred mere days after drinking a bit too much. You wouldn't think it possible, would you?
13 Appeals
7
For the second time this series, we find ourself looking for an old article of ours about an Indian batsman only to find that we never actually wrote it. As far back as 2012, we were casually referring to Ajinkya Rahane in a matter of fact way, as if you all already knew our opinion – yet we never seem to have actually stated it.
Maybe we just didn't have much to say. Often we don't. Nothing of interest anyway. Murali Vijay struck us as a good batsman who'd probably do well in Test cricket and Rahane creates a similar impression. Those aren't really thoughts that warrant wider exposure.
We've always check Rahane's scores, as if he's one of 'our players', yet we seem to have neglected to claim him. It's too late now. He's scored runs in a Test in England. He's common property.
Rahane's actually only played one of his Tests at home and yet his record, at this early juncture, stacks up well. This hundred in particular was worth several scored at a typical subcontinental ground, such as Trent Bridge.
Obligatory comment on the absence of the decision review system
India don't want it. It isn't being used. There's little point bleating on and on about it. It's just tiresome for everyone. We're therefore going to try and restrict ourself to this one comment on the matter.
We found a speck of dust on our floor after vacuuming yesterday morning, so we immediately smashed our hoover to pieces on the grounds that it wasn't 100 per cent effective. From now on, we will use a handful of straw tied to a stick instead.
7 Appeals
17
For a very short while on the final day, it seemed like things could potentially maybe be sort of in the balance a little bit if a few more things went England's way, but then it very much wasn't in the balance and the day climaxed with Alastair Cook's round-arm shod.
Cook is, quite genuinely, one of our favourite bowlers – for much the sames reasons that Steve Harmison was one of our favourite batsmen. There's a real village green quality about his efforts with the ball. Make your own jokes about his batting and captaincy there if you wish but we're not really in the mood for catching dollies today.
For what it's worth, Cook now boasts a Test bowling average of 7.00.
17 Appeals
17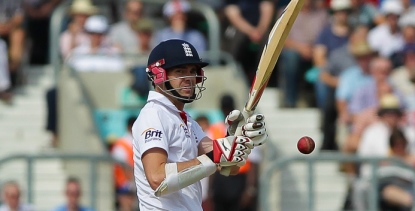 This England team isn't the most popular, but you can't fault Jimmy Anderson for that. He's waging a one-man willow-wielding war on unpopularity this summer. You wouldn't think it possible to improve on his efforts against Sri Lanka, but at Trent Bridge, against India, he may well have managed it.
But there's another story here. It's the story of two captains who like to stick to what's not working until they're absolutely convinced that it will never, ever, in a million years work. And then they give it just three more overs – just in case.
When it comes to last wicket partnerships in this Test, Alastair Cook and MS Dhoni have delivered an absolute noviceclass. To sum up how resistant they are to evidence, we can easily imagine them spending long hours pushing doors marked 'pull', confidently thinking to themselves: "Pretty soon this is going to come good."
17 Appeals
13
We were at the Test yesterday. It was… steady. Or at least it was until Stuart Broad came in.
The main thing we gleaned from our side-on vantage point is that Ishant Sharma has two different running styles during his approach to the crease. First, he jogs normally. Then, halfway through his run-up, with no discernible change in speed, he suddenly starts kicking his arse with his heels. We've no idea why.
Elsewhere
We did a thing for Cricinfo about Alastair Cook being a weary middle manager. We just get a sense that things are getting fractious at home.
For All Out Cricket, we wrote that Alex Hales is scoring too quickly and people commenting on their Facebook page completely missed the point.
13 Appeals