England cricket news
14
If you envision the next Chanderpaul, the first thing you picture is a younger version of the current Chanderpaul – a crabby, left-handed batsman who has Chanderpaul's face and Chanderpaul's oversized cricket gear. What you don't picture is a two metre tall right-hander who's actually a bowler. Nevertheless, Jason Holder delivered a Shivnarine Chanderpaulesque performance to save the first Test. It was fully admirable.
There are other bowlers who've never made a first-class century before who've danced their way to their first in a Test match. Holder's team-mate Jerome Taylor is one. He made 106 off 107 balls against New Zealand and that's generally the way it works: a few lusty hits in fairly unchallenging circumstances; the opposition rolling their eyes or getting frustrated.
Holder's effort was very different. Holder played an innings. It was beyond responsibility. It was nothing less than a blunt refusal to allow the opposition to win – this in a team that has frequently folded like junk mail forced through one of those powerfully sprung letterboxes that only opens about 8mm even when you apply maximum force.
As for England, the players who played played well enough. Even Cook's captaincy was pretty decent. Pretty much all of the bowlers were controlled and disciplined, but control and discipline are secondary qualities on a flat, slow pitch when wickets are all you care about. What you want then is an injection of chaos. Five bowlers who deliver chaos is too many but you need at least one.
But this is why you play a Test series. The new ball didn't swing for long, reverse swing was hard to come by. Armed with these facts, we'll judge England based on how they line up and perform in the second Test.
14 Appeals
19
Gary Ballance doesn't so much score Test hundreds as cut them. Short and wide, fair enough, but our Gary seems to play the shot to middle stump half volleys as well. Fair enough. Whatever works.
Ballance isn't the only England player who appears to be sloughing his horrifically stained World Cup skin. We questioned how Stuart Broad had got back into the team earlier in the Test, but being as he's here, it's reassuring to see that there are signs he could return to good form.
As several have pointed out, it's not that Broad's incapable of bowling quickly right now, it's just that he can't do it regularly or for long. Hopefully this will come as his body again adapts to Test cricket and there will hopefully be a window of optimal performance before his pace starts being eroded again due to too much cricket.
Jos Buttler seemed to benefit from some declaration batting and there's every reason to believe this will snap him out of the bizarre strokelessness that delivered a 22-ball duck in the first innings. With Ben Stokes batting well and Moeen Ali returning, this begs the question as to who will bat at eight. England's tail may just have been docked.
19 Appeals
18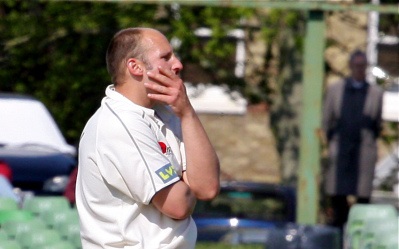 We feel moderately confident naming it this, because it doesn't seem so likely that there'll be another such day when not just one, but both of these players have a sizeable impact on a Test match.
James Tredwell, for one, might never play another Test. This is sad and if you think that's hypocritical being as we were calling for the inclusion of Adil Rashid in his stead, remember that hypocrisy is built into our England support mechanisms. If you're playing, we're behind you. You're our guy.
Tredders is a man who plays both second XI cricket and also for England. As he whangs in his round-arm slattery, he seems more like the former. He looks less like an elite athlete and more like an electrician or a maths teacher. This is, unquestionably, a good thing and only makes his wickets (winkled, cajoled or stolen – never taken) all the more pleasing.
As for Jermaine Blackwood, the mania side of his bipolar batting approach encourages the notion that he might not have a long career, but the gleeful hitting might actually be less relevant than the depression that generally engulfed it.
If the kind of man who carts his second ball for six can smother the impetuous part of his brain to such an extent that his 112 not out takes 220 balls, he has some kind of willpower. There were quite a few where-did-that-come-from larrups but he was skilled enough to get away with most and may need less luck in the future when further synapse smotheration has taken place.
Hindsight is everything. Maybe in years to come we'll look back on the lows of this innings as being indicators that Blackwood wasn't cut out for Test cricket, or perhaps we'll simply see them as rough edges. Who knows, maybe he'll find himself up against wily old James Tredwell again in 2019, two careworn masters carrying underperforming sides, engaging in one more epic individual battle.
18 Appeals
22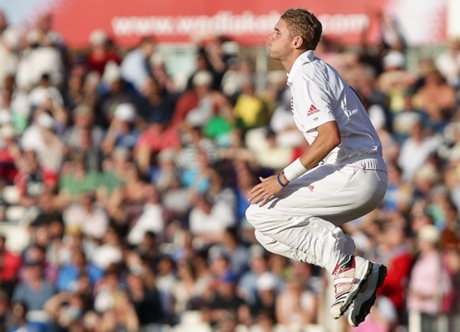 If wealthy, middle-aged American women's faces teach us anything, it is that people do not go under the knife and then return much as they ever were. Don't seam bowlers usually have to prove themselves again after surgery?
Stuart Broad had a knee problem. It wasn't anything too debilitating. It was the kind of thing for which you schedule surgery. A few months later, no real cricket to his name, he floats back into England's World Cup squad and performs poorly. Now he's in the Test team.
This is unusual. Established Test batsmen retain a firm hold on their places, but seam bowlers, whoever they are, generally do not. It only takes one ball for a batsman to lose his wicket, so it can take a few matches to gather meaningful evidence. In contrast, the worse a bowler bowls in a match, the more opportunities he gets to show what he can (and can't) do.
There also seems to be an understanding that, no matter what the name attached to him, a bowler isn't always the same person. This is why rotation is a thing. Sometimes a bowler's tired. Sometimes their pace drops and their ability to shoulder a workload is reduced.
So again, we'll ask, don't seam bowlers usually have to prove themselves after surgery? Because this Stuart Broad is not the Stuart Broad we once had.
Even in the unlikely event that England are looking for an 80mph right-armer who can't bat, is Broad really the best available? Such bowlers are ten-a-penny in county cricket and most have more experience of being such a thing than Broad. Broad has occasionally been seen flirting with the 'fast bowler' label and has a Test hundred to his name. He doesn't know how to bowl medium-pace and bat at number 11.
If the impact of Varun Aaron's bouncer is still being felt psychologically long after the physical scars have healed, that's sad and unfortunate, but it only puts more emphasis on the quality of Broad's bowling. Even in top physical condition, it pays to have realistic expectations of what he will do. At present, after surgery and a long spell without cricket, Broad's bowling is pointlessly insipid.
How did he get in the team? Don't seam bowlers usually have to prove themselves again after surgery?
22 Appeals
23
We're not sure what the disease is called. Nor can we tell whether it's a mild virus that you soon overcome or a more serious illness, like rigor mortis.
Either way, symptoms include caution, timidity and a fear of failure. Observing these qualities, relatives yearn for the patient to display freedom of expression – although this also often results in their pleading for what would, in normal circumstances, be considered recklessness.
A sickly morning
In the morning, the top three of Cook, Trott and Ballance looked to have the capacity for frozen shotlessness. But it is a question of degrees. In other circumstances, on another day, it might not be a problem at all. Strauss, Cook and Trott usually proved rather productive, for example.
The issue, instead, seems to be that players, whether naturally attack-minded or of a more patient nature, often seem disinclined to take the initiative. There is an air of paralysis surrounding all involved and the medically-minded among you will know that paralysis cannot be treated by simply asking the patient to move.
So how do you free up a team like England? Most people call for the inclusion of players who they consider to be freewheeling risk-takers. It seldom works. Either they're flavour of the month and not up to standard or they're eventually picked on for wilfully unravelling the carefully woven platforms bequeathed to them by their colleagues.
Soon enough everyone's playing responsibly because at least it looks right. To lose responsibly is the aim of a fool.
Just go out and whack it
You can't tell a player to 'go out and whack it'. You first have to tell them that if they go out and miswhack, they'll keep their place in the team. Second of all, you have to somehow convince them that what you just told them is the truth.
Peter Moores is fighting to keep his job. Alastair Cook is fighting to keep his. They need people to succeed right now. They can't really afford failure today in the pursuit of success tomorrow. For them, whatever they may say to the contrary, "don't throw it away" will be the subtext.
We have sympathy. They're being asked to produce a viable long-term plan knowing they'll be judged on what happens in the next three weeks.
Fortunately…
Fortunately for them, Joe Root's still in the team. Joe Root ain't getting dropped, so he can play how he likes. After overcoming Ashes paralysis, Root appears to have resolved that such a thing will never happen again. Ian Bell's pretty secure in his place too. Let him get warmed up and he's not afraid to try and hit the odd four. And Ben Stokes hasn't been dragged into conservatism just yet. Nor Jos Buttler.
Perhaps if these sorts of players can do okay, England can get some wins and if they get some wins, maybe the surfeit of black bile that is the cause of the illness will ebb away. Who knows, a fit and healthy England might be a different beast.
23 Appeals
26
With live cricket broadcast at a reasonable hour, a Test tour of the West Indies is one of our favourites when it comes to watching the game on TV. It's a shame it comes hot on the heels of the World Cup, ahead of an Ashes and in conflict with the start of the county season. But you get what you're given and all you can do is make jerk chicken, pour yourself a beer and slouch on your sofa making the best of things.
There are many things we'd like to see in the next few weeks. Two major hopes are for signs of good form from Jonathan Trott and James Anderson.
Trott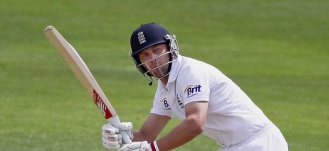 While England have ostensibly replaced Trott's runs with those that have been produced by Gary Ballance, the effect doesn't seem to have been quite the same. England's good performances seem so closely associated with Trott's good performances that he should really be branded 'totemic'.
For some reason, you have to be attention-seeking to be branded a talisman. Andrew Flintoff and Ian Botham were thought of in these terms. Trott less so, but his influence seems to us to have been as great. Perhaps he's less showy amulet and more rabbit's foot contained in an inside pocket. England are shaky. His runs and influence are needed.
Anderson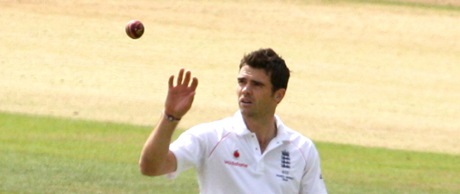 If he plays, this will be Trott's 50th Test. Jimmy Anderson is about to play his 100th. For a quick bowler, that is some total. However, the corollary of that is that we've already seen the bulk of his career. Sad to say, but it would be good to see him find form because we should savour every ball in his remaining Tests. England doesn't produce many bowlers who are this good.
England need him as well – as much as ever, which is worrying. Where once they appeared to have a surfeit of seam bowling riches, a lot of the queue has been revealed to be illusory. Symptomatic of this is the fact that Stuart Broad is certain to play, despite not having shown any form whatsoever since his return from surgery. Fast-medium, unremarkable, largely ineffective, he somehow remains England's first-choice opening bowler.
As ever, it seems like it's all on you, Jimmy.
Adil Rashid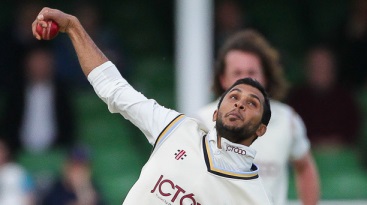 If good form from Trott and Anderson are short- to medium-term hopes, we'd also like to see England move to a place where they are less reliant on them. We'd like to see something from everyone involved, but we'd be particularly pleased if Adil Rashid can somehow get a game and a clutch of wickets.
He is, reportedly, not bowling all that well at the minute, which is a bloody shame. England's strategy where they looked to build suffocating pressure with a battery of right-arm fast-medium bowlers now seems redundant without sufficiently reliable personnel, so it would be good to get some variety.
Everyone assumes that variety demands a fast bowler (preferably a left-armer because some of the best fast bowlers in the world are currently cack-handed and apparently that aspect is more significant than the fact that they're good bowlers regardless of which hand they hold a pen with). But leg-spin is useful. It can provide an injection of chaos when the status quo ain't in your favour.
Rashid is currently no Warne, but it isn't too fanciful to assume that he could do a number on the guileless contemporary lower orders who nevertheless contribute so many runs. Plus he can bat.
Rashid would be no passenger were he to make it into the Test team, but English tradition dictates that one spinner is the default – even if you have two decent options who can also bat. Expect James Tredwell – not a feature of second division Kent's first-class team – to play, and expect him to be judged and discarded from the one-day side on the basis of his Test performances.
26 Appeals
14
We've a slight concern that the ECB's new chief executive referred to 'the England Cricket Department' in announcing Paul Downton's sacking, as if English cricket really were a corporation in which broad, curved desks were every bit as important pieces of equipment as bats and balls. Nevertheless, it's hard not to feel some sense of relief that someone involved has finally taken a fairly obvious, logical decision.
Back in October, we asked if the entire organisation could be dissolved, to be replaced by something more representative, but we knew that this was unrealistic, which was why we'd shifted to 'sack Downton and Whitaker' by last month. It sounds like we're getting our wish.
Almost as if he has spent the last 20 years 'outside cricket' working in a bank, Downton was found wanting. Personal attacks are needless and distasteful. He was merely the beneficiary of a nasty little system and his story ends with him also falling victim to that system by way of its inevitable failings. He appeared to allow himself to be bounced about by superiors as well as those under him. It's easy to influence people who don't know their stuff. When you know your world inside-out, you have the clarity which breeds conviction.
Selectors are harder to appraise, but Whitaker, if he goes, can have few complaints. His predecessor, Geoff Miller, presided over a period of success which ended at almost the exact moment he walked out the door. It's long enough ago now that what has happened since surely has to be meaningful with regards to Whitaker's performance.
The pair will be replaced by one bloke who will be responsible for the men's England cricket team and nothing else. Michael Vaughan appears to be an early frontrunner. He would presumably have to detach himself from the ISM Sports Management firm for this to happen, which would at least mean he wouldn't be clogging up column inches and frittering away airtime talking up its clients while trading on his reputation as an Ashes-winning captain.
14 Appeals
23
Each year, The Cricketer produces a wall chart detailing all of the summer fixtures. It works well as a visual representation of the way the English domestic game is organised. White space is in short supply. It is as much an assault on the senses as a paper wall chart can be.
The Frankenstein committee
If you've ever had the misfortune to work with other human beings, you may have had to endure the shared spreadsheet. Get enough people involved in one Excel document and it can quickly spiral into a multi-coloured monster with a life of its own. Many have created it, but no-one truly understands it – let alone controls it.
This particular document stretches from Cambridge MCCU v Northamptonshire at Fenner's (University match) on April 2nd to Surrey v Northamptonshire in County Championship Division 2 on September 22nd. Between those dates, it does all kinds of crazy shit, little of which makes sense.
Mind them windows
There's a lot of talk about making a window for 'an IPL-style T20 league' (or 'a Twenty20 league' as we like to refer to such things). There's also a conflicting desire to have County Championship cricket throughout the season. Our advice is simple. Pick one.
As it stands, county cricket favours not windows but cracks in the brickwork. They may allow light to entire, in the same way as a window, but they also compromise the integrity of the structure.
Nothing is clear. No competition takes precedence. Everything is diminished as a result.
Disconnect them windows
If you want to know why the one-day final is no longer the showpiece it once was, it's because 90 per cent of the competition takes place in the last week of July and the first week of August while the final takes place on the 15th of September. The final is a fortnight after the semi-finals, which are 10 days after the quarter finals.
You all know how much we love the word 'momentum'. This is not it.
The T20 blast is the same. Matches take place on Fridays for most of the season, but there is then a three-week gap before the quarter finals and then another fortnight before the final. The messiest part of the season also coincides with when the County Championship is in the balance, but that competition has to slot in between the two short format tournaments, seemingly at random.
Conclusion
Look at this schedule and what do you see, time and time again, in every single one of the competitions?
Excitement doesn't build, like pressure in a bladder. It is pissed away, like the contents of a bladder.
23 Appeals
31
He's this guy. And here's his Cricinfo page which currently features a spectacularly poor headshot (and we of all people know one when we see one). It's rather as if the photographer has instructed the Antiguan: "Make a sad face. Now do some mouth-breathing. Perfect!"
According to Tony Cozier, Rahkeem Cornwall is a decent prospect. Excellent name, excellent girth – let's hope he can get into the West Indies side before too long.
This is semi-relevant because England are of course in the Windies at the minute. Most articles we've read about the series seem to almost instantly flit to the tours of New Zealand and Australia in the summer, adopting the Colin Graves attitude that England should easily win and that Test matches against the West Indies are barely worth talking about.
What's your take on that? We feel much the same as we did about all those columns that stated that England would qualify for the quarter finals of the World Cup. In cricket, presuming something is the finest way to negate that very presumption.
31 Appeals
19
It's always faintly harrowing when England select a leg-spinner. The way they're treated tends to be geared towards absolute decimation of their confidence. Adil Rashid himself has benefited from this once before.
Eight years ago, we promised Rashid that we'd always be nice to him – even if he got bowled by an Andrew Hall straight one – and we've stuck by that promise, selecting him as 'one to watch' pretty much every year since. We therefore deem today's Test call-up 'a good thing'.
Even though there's every chance the scrutiny and unfair expectations will ruin him for another four years, we have to hope that this time Rashid will overcome barren growing conditions and reveal himself to be a resilient and hugely valuable cricketer. Have to, you hear. Have to.
Trotty's back too. That is also ace.
19 Appeals