England cricket news
12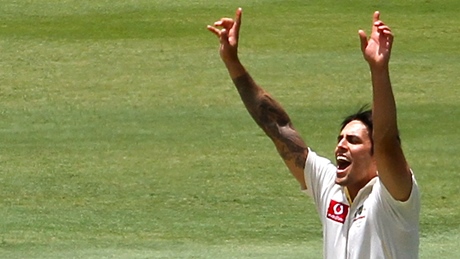 The escape route outlined in yesterday's article? England evaded it perfectly, opting instead to stand their ground, whereupon they were flattened by the giant, tufty-haired boulder which has been rumbling after them since they landed Down Under.
The most frustrating thing is that, for all the devastation, Mitchell Johnson only actually dismissed one of the specialist batsmen – Alastair Cook. Carberry was out to Watson, Root and Pietersen were out to idiocy and Bell was not out.
If Root or Pietersen could have avoided lending Australia a hand, Bell showed how together they could have countered Johnson and perhaps worn him down. Who knows? Maybe the lower order would have lasted more than a ball each then.
There's still a second innings, but realistically the opportunity has gone now – you can't turn blancmange back into brain.
12 Appeals
40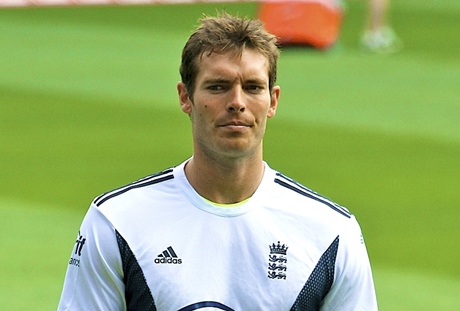 Today was a nice little primer in how to approach Test cricket in Australia. It called for extremes. England didn't really have any. It was all a bit fast-medium.
We blame Steven Finn for this. On England's last Ashes tour, he was exactly the right kind of bowler for Australian conditions, but lacking three years' experience. However, someone appears to have subtracted experience rather than adding it. Finn is less of a bowler now than he was then. And he's the young one. He's the one we were relying on to improve.
England have been left without a third seamer. In the first Test, they turned to Tremlett, who also fits the archetype for bowling in Australian conditions. For more understandable reasons, he too has regressed in the last three years. He now delivers little more than a nice bit of fast-medium.
The other three
Jimmy Anderson has other skills which mean he can get away with being fast-medium. However, they're less relevant in these conditions and a man who is normally a strike bowler must therefore switch to being a support bowler.
But who is he supporting?
In both Tests, England's third seamer has also been a support bowler, while Stuart Broad took two wickets for 80 when England triumphed on their last tour of Australia. Broad's doing well, relatively speaking, but you wouldn't build the attack around him.
Then there's Graeme Swann. Like Broad, his contribution was fairly insignificant three years ago – 15 wickets at 40. Why should we expect earth-shattering performances now?
More worryingly, he too is showing signs of being less of a bowler than he was. He suffered in comparison to Nathan Lyon in Brisbane where the latter's overspin was deemed to be advantageous and Lyon also looked more dangerous in his short spell today where the hardness of the new ball was floated as being a possible explanation for his apparent superiority. But how many exceptions does it take before what was previously thought to be the norm must instead be considered the exception?
Meanwhile, at the top
Is Alastair Cook all that he was? No-one seriously expects him to match his performances from the 2010-11 Ashes, but it's also true that he has just endured a long summer as an Ashes captain and the best part of two days directing things in the field.
He's a fantastic player, but he's unavoidably compromised. That's just the reality. Someone has to lead the side, Cook appears to be the best candidate and he simply has to try and minimise the impact on his batting. He's still more than worth his place, but on balance he's probably not quite the player he was.
Small changes
If all that sounds unremittingly bleak to English ears, it's not meant to be. We're talking about minor deterioration here. Small changes can make a lot of difference.
Take Mitchell Johnson, for example. With a year off and a bit of tinkering with a view to improving his accuracy, he advertently gained about 8mph in pace – not bad as side effects go. Suddenly he had a way to consistently threaten batsmen and this brought confidence, which brought relaxation, which then brought the accuracy he was striving for all along (greater accuracy at any rate – he's still Mitchell Johnson).
Johnson is now quicker, more accurate, confident, determined and focused and Australia have the best bowler on either side – something they haven't been able to claim with any confidence for seven years. While it would be going too far to say the team's performance entirely hinges on this – Ryan Harris and Michael Clarke are fantastic players in their own rights – there is certainly a case for saying the team as a whole has gained confidence as a result of Johnson's apparent transmogrification and that they have been able to play under less pressure as a result of his wickets.
An opportunity
But with so much of the team's improvement hanging off Johnson's pace, England actually have an opportunity in this match – a very, very big opportunity.
If they can take Johnson into his eighth spell (he bowls short spells), they will sap his pace in this Test and inevitably for the next as well. If that sounds unlikely, the sad fact is that they won't have a better opportunity. The Adelaide pitch isn't particularly friendly to fast bowlers, but it's downright rude to those who deliver fast-medium.
How long will it take for Johnson to ebb to fast-medium? Who knows, but he's not had a really heavy bowling stint in quite a while and if England's batsmen can get to this point, Johnson's brain should take care of the rest. He might even turn to the razor blade (for the 'stache, obviously).
300-and-odd runs short of the follow-on would seem an odd position from which to launch an attack. It wouldn't be so much launching an attack, however, as very gradually unveiling one. Good luck – you're not exactly in prime position here, lads.
40 Appeals
21
So where are we? No-one knows – which is the way it should be.
What we do know is that England could have had one, two and, in theory, three more wickets if they'd caught better. We also know that England's batting looks lighter than Michael Rasmussen.
Stop going on about Michael Rasmussen all the time
You could probably infer something from the fact that we've made two Rasmussen references in one week. Thin bowling and light batting doesn't amount to a particularly strong squad. It's indirectly led to a situation where England have mimicked their not-entirely-successful team selection from August, where a nominal all-rounder gets a game because they want to play a second spinner.
Monty's a bit more reliable than Simon Kerrigan proved to be, but what of Ben Stokes? All-rounders are bloody handy, but we always worry that almost-good-enough bowling and almost-good-enough batting does not actually equate to 'good enough for Test cricket'.
The counter-argument would be that if an almost-good-enough batsman's going to get runs anywhere, it's more likely to be on the kind of pitch where you deem it necessary to play five bowlers. It's also given rise to a nicely varied bowling attack.
But this series doesn't appear to hinge on the bowling attacks.
Fatiguewatch
We're venturing into back-to-back territory, so it's instructive to look at how the main bowlers are holding up. Stuart Broad seems fine. Jimmy Anderson seemed down on pace. Then again, with Anderson you never know whether it's fatigue, injury or simply a decision to ration his glycogen. He is someone who reins it in a bit when he doesn't feel there's much to be gained from self-floggery.
21 Appeals
6
We can only do one impression and it's an impression of our friend Neal doing an impression of himself. Not only are there very few people who could potentially appreciate it – it also isn't particularly good.
We are therefore filled with admiration for Jimmy Anderson and his note-perfect mimicry of the great Nasser Hussain, as seen in Graeme Swann's first video diary. Perhaps we need to spend more time 'getting into character'.
6 Appeals
13
Okay, let's take stock. England can't bat and Australia can't bat. Generalising masks specific truths, but this is actually a fair summary of where we stand.
Mo'tchell Johnson has gathered headlines, but England also failed to score off Ryan Harris (forgivable) and shed middle order wickets against Nathan Lyon (probably not forgivable). Peter Siddle did okay too. That pretty much amounts to not batting well in all kinds of different ways. There's a suggestion they didn't cope well with the crowd either. There's a lot to correct.
With the exception of Michael Clarke, Australia just can't bat. Most of them are capable of scoring runs, but you don't really need to get them out; you just need to avoid doing anything stupid and eventually they'll get themselves out.
However, this is easier said than done for England, whose bowling currently looks thinner than Michael Rasmussen. There used to be a fight to be third seamer. Now it's a fight to evade the position. Steven Finn and Boyd Rankin are taking every opportunity to press for exclusion and so Chris Tremlett might retain his place simply through spurning incompetence.
Then there is the intriguing Graeme Swann subplot, where some sort of diktat has gone out to every Australian that they should take a bat and try and launch him over the top. They want rid. But how committed are they to this? Suicidally committed? It'll be interesting to see how this one pans out.
Back-to-back
If England are to get anything from this series, they need to start batting well in Adelaide – no later. With just a few days' gap between the second and third Tests, long innings this week will be doubly valuable and a draw in which you've done most of the batting could pumice the edge off fast bowlers looking forward to the bounce of the Waca.
Darren Lehmann says that Australia don't rotate any more and it doesn't look like England even have the option. The second Test isn't a must-win game; it's a must-not-lose game with a view to dulling fast bowlers for the following game through time-consuming attrition.
Put that on a T-shirt.
13 Appeals
6
Writing in The Times, Mike Atherton has said of the England setup:
"The impression is of a closed, institutionalised and claustrophobic world."
We're sure he chose his words carefully. It's also worth noting that this is a man who felt the strains of international cricket despite only ever considering it a game. He has previously written of his efforts to quash feelings that what he was doing was inherently trivial in a bid to muster more emotion and passion:
"I somehow had to convince myself that what I was doing was the most important thing in the world – that if I failed all manner of plague and pestilence would descend."
The point is, even a man like Atherton felt the pressure and he now perceives an even more mentally taxing environment for current England players.
It's not so much that players are managed and mollycoddled and supervised, it's what David Hopps draws attention to in his article for Cricinfo, that players feel like they are being judged at all times.
Imagine that level of surveillance. The principle behind the Panopticon was that people would behave in the desired manner even when they weren't being watched, simply because they would feel that they might be being watched. Imagine the pressure of that. Imagine the effect it has on you.
The Panopticon was a design for a prison, by the way.
Hopps uses a quote from a nameless England player who says that it can feel like you are constantly being assessed when you're within the England setup. We have no idea who that player was, but it instantly brought to mind the strange case of Nick Compton, who said after he had been discarded that he didn't feel that the management really knew him.
More than anything, Compton appears to have been rejected on the basis of his character and while much of the incriminating detail will have been culled from the skittish innings in his final match, you wonder how much was gleaned while watching him away from the middle. Maybe the selectors got that one right, but if other players watching on deduced how the decision was reached, what was the cost?
6 Appeals
45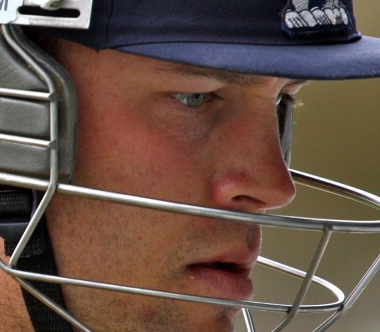 For all that we're meant to be enlightened, modern folk who are au fait with mental health issues, there's an odd reluctance to enter into specifics when someone is suffering 'a stress-related illness'.
Physical v mental
In a sense, medical problems are nobody's business but the sportsman in question. It seems invasive when we learn of Shoaib Akhtar's genital warts or the problems Tom Boonen's been having with his barse. But yet we'll hear all the details about a hamstring strain or knee problem. We'll hear too many details. We'll hear medical jargon most of us are ill-equipped to comprehend.
But with stress, we don't get a clear picture. Apparently that would be prying in a way in which providing the details about a physical injury would not. That's probably correct, but as readers we've become conditioned to expect detail. The absence breeds conjecture.
Depressive illness
'Stress-related illness' is a vague slice of the depression spectrum. There's mild anxiety at one end and suicide at the other. There are many different symptoms – such as pessimism, destructive thought patterns, persistent elevated heart rate, insomnia and self-harm – and different people will experience different combinations to different degrees.
Everything we experience goes through the brain. When that's fucked, you can't shrug it off. It's all-consuming; a muddied bottleneck which soils everything that passes through it. This is why modern society is increasingly sympathetic to sportsmen who are struggling – because more and more people understand, or, unfortunately, have experience of depression.
So why so few details?
A sportsman's personal identity and sense of self worth are invariably closely linked to performance. For a batsman, that is something intrinsically fickle and fragile. Most of us therefore understand that depression is a very real occupational hazard. Why then is the information provided to the press so vague?
Perhaps mental fragility is considered a professional weakness and therefore somehow 'off limits' to the press, but Michael Clarke's bad back is a professional weakness to which endless column inches have been devoted in recent months. What's the difference?
Is it that detailing the problem might pile extra pressure on the player who is suffering? A counter argument would be that getting things out in the open has been shown to lighten the mental load for a number of people in a similar position. Men are particularly prone to crippling themselves with their attempts to conceal their struggles and no men attempt to be men's men like sportsmen.
You'd hope we aren't seeing an aspect of the kind of institutional warrior culture so spectacularly eviscerated by Brian Phillips writing about the Miami Dolphins bullying scandal, but you suspect we might be.
So what of Jonathan Trott?
Is it related to his struggles in the first Test? Probably to a degree, because as we said above, personal identity is likely to be entwined with professional performance. However, it will certainly have been something that's been slowly building rather than a direct response. In that sense, his second innings at the Gabba could be seen as a symptom, rather than a cause.
Inevitably, there will be talk of weakness. Invariably, it will be from people who aren't worth listening to. Some Australians have a propensity to stereotype their compatriots as mentally tough, physically tough hardcases and a corollary of this is that they see the English as mentally flimsy big girl's blouses. They will take Trott's departure as vindication of their prejudices.
However, they might like to ponder something first. The man they perceive to have crushed Jonathan Trott is Mitchell Johnson. Johnson sought counselling as a result of the baiting he has received at the hands of a large number of England fans. He isn't the first Aussie quick to show mental fragility either. Shaun Tait has been open about experiencing bouts of depression. It can happen to anyone – although it's pretty obvious that it's more likely to happen to cricketers.
45 Appeals
27
Today's grim moment of clarity came courtesy of Mark Butcher midway through the highlights which show immediately after the day's play. "Michael Clarke made good decisions throughout this match," he said.
Note 'made' not 'has made'. Australia had won then? The rest of the highlights were a joy, particularly when they told us about long rain delays which constricted the time in which England had to lose all of their remaining wickets.
England's batting
It's hard to pinpoint what went wrong in this match. However, that's only because a pin is an entirely inappropriate tool for the job. What you instead need is a nine-inch paint roller with which to daub a great big cross.
England batted like idiots. The bowlers did a great, if not flawless, job in the first innings and actually performed creditably in the second innings given that the pitch was true and they'd only had about nine minutes' break since bowling in the first innings. The batsmen, however, failed twice.
Yesterday, we identified Jonathan Trott's dismissal as being among the worst of recent times. Today, we'd like to nominate Matt Prior's. It probably wasn't as bad as Trott's, in all honesty, but playing at a ball you needn't play at when it is only likely to go to one of two fielders positioned behind you on the leg-side? That would be pretty stupid even if you didn't get out doing exactly the same thing off the only ball you faced in the first innings – a dismissal which itself happened one ball after another batsman had been dismissed in identical fashion.
Australia's speaking
Towards the end of the match, a stump microphone picked up Michael Clarke saying to Jimmy Anderson:
"Get ready for a fucking broken arm."
Clarke later described it as 'banter' which is further proof that you would never want to spend time with anyone who ever uses that word.
Not that we're necessarily getting on our high horse about the comment itself. Say what you like. We actually think it might work. Jimmy fights a perpetual battle to keep the rage that fuels him from devouring the control which allows him to do his job. There may well come a point at which he hates Clarke so much, he'll lose control. That's fine for a fast bowler, but control is basically Jimmy's weapon.
27 Appeals
14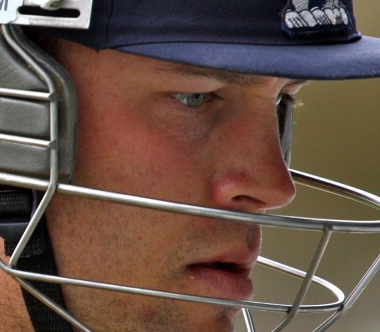 We're wondering whether we just saw the most unforgiveable dismissal of all time. There have been worse shots, certainly, but IJL Trott c Lyon b Johnson 9 ticks a lot of boxes.
First, there's the backdrop. For months, the opposition have told you that you can't play the short ball directed at your body, so you've had plenty of warning. You were then dismissed by just such a delivery in the first innings, so there's confirmation that this is what's happening and that this is how you're at risk of losing your wicket.
Then there's the field, with two men back. Don't try and play the ball in that area. You are likely to get out. If you still don't get it – which apparently you don't – here's a narrow escape as a little aide mémoire, the ball dropping between two fielders.
Now do you get it? Now do you get the phenomenal degree of risk that comes with your trying to play short balls to leg? You've been the coolest, most logical batsman England have had in years. Surely you get it? Surely?
"The brutal truth is he's rattled." Mike Atherton
It's a tough game. If your dismissal looked inevitable, you don't have a lot of time to work things out.
Watching this unfold on television brought feelings of helplessness and frustration not seen since Brian Lara Cricket where a false button press would see the batsmen setting off for singles even while the ball was nestling in the wicketkeeper's gloves. This experience lasted longer though, so it was worse – albeit it wasn't that much longer.
14 Appeals
24
There are times when you simply do not want to see James Anderson's face. Switching on the TV at 6am was therefore a bleak moment. Upon noticing that he wasn't wearing a helmet, the mental calculations were rapid, even at that hour. There was, quite simply, no way that this could be a good thing.
Batting even worse than Australia's
Andrew Strauss made a good point on commentary. He said that players hide behind collective responsibility at times like this. Listen for it. Listen for: "We need to perform better as a batting unit."
No. You need to perform better. You need to perform better and he needs to perform better and so does he. Do that and the 'unit' will take care of itself.
So in the spirit of humanising the unit, we'd like to put Jonathan Trott, Joe Root and Matt Prior forward for greatest opprobrium (although really no-one should escape).
Trott was strangled down the leg-side, which might be forgivable if it hadn't happened several times before and Mitchell Johnson hadn't spent the last few weeks scheduling an appointment for strangulation. Joe Root played a crappy shot, doubtless looking to 'be positive' and for some reason thinking that playing away from his body at a ball angling across him was the time to do that. Matt Prior kindly provided an action replay of Ian Bell's dismissal for those who had missed it the ball before.
The only real difference between Australia's poor innings and England's dire one was that numbers seven and eight didn't bail the tourists out. However, if you're setting your standards according to what Australia's batsmen achieve, you're not going to win too many Test matches.
Rough 'em up
The worst thing about this collapse and the fact that two of the specialist batsmen got out to short balls is that it encourages the Australian fantasy that they're a nation of hirsute hardcases.
Note to Australia: Mitchell Johnson is your hard man. He is hairy for precisely one-twelfth of a year and he's as brittle as the wishbone of a bird.
On the other hand, he is currently a fast bowler and we're a fan of those regardless of nationality. Their rarity multiplied by the infrequency of even slightly hard pitches equals a rare opportunity to see one of the greatest aspects of cricket – batsmen struggling to cope with pace.
Trends and facts
It's no longer a trend; it's just a fact. England's first innings on every Test tour will be an absolute horror show. The batsmen don't hit the ground running. They hit the ground and then stand there, wincing at the resultant knee pain.
Here's a suggestion: whatever you do before the second innings of the tour – why don't you do that before the first innings?
24 Appeals