England cricket news
21
Tomorrow England meet New Zealand in the second Test at Headingley. The home team will be looking to take a 2-0 series win, while the tourists will be looking to tie the series 1-1. England will settle for a draw and a 1-0 series result, but would prefer to win.
Despite winning the first Test, England did several things badly and will be looking to do those things better while simultenously maintaining standards or improving when it comes to the things they did well.
The same applies to New Zealand, only they will be looking to make far greater improvements. When you consider the outcome of the last Test, they could conceivably play significantly better and yet still lose if England can improve to the same degree.
Set against that is the fact that New Zealand could play exactly the same as in the first Test and England could play worse, in which case we might get a different result. However, the Kiwis won't want to have to rely on that.
Players who are injured will be replaced by different players, but there may also be other changes. Some players are more likely to be dropped than others and that likelihood is often dependent on the quality and form of the players who would most likely replace them.
Both teams will look to play well early on and will also be keen to continue playing well should they achieve that. If either side makes a poor start, they will hope that they can come back from that and will endeavour to do so.
It might rain a bit.
21 Appeals
15
Enough of the eye-catching swing bowling. What is this website for if not for accentuating the negative? Let's focus on England's batting.
We still haven't really settled on a firm opinion regarding England's approach in the first Test. We'd probably grade it 'acquiescent'. We don't think it was as bad as some are making out, but nor do we think it was acceptable in the conditions. Run-scoring was hard and basically they just seemed to accept that.
The problem is that the top five are all primarily reactive batsmen. They play according to the situation. They don't particularly look to shape it. For any given batsman, that's a perfectly valid approach, but five of them in a row feels like washing your hands of responsibility and handing the match outcome over to fate.
If England want to address that, we see three main options.
Encourage the current batsmen to be more flexible in terms of their approach
Replace a batsman or batsmen
Shuffle the batting order
Number one is probably not particularly realistic. Alastair Cook has shown adaptability via other formats, but his Test approach is grooved and successful and this is perhaps even more true of Jonathan Trott. Nick Compton and Joe Root should be left to their own way of doing things at this early stage and Ian Bell is just Ian Bell. He responds to public desires like a balloon to the point of a knife.
Option two seems harsh on any of those five, even if there appears to be fundamental dissatisfaction with Compton from some quarters. People are incredibly quick to talk about dropping him, even though he's made two hundreds in his last four Tests.
People assume that option three isn't a goer because of the unwritten rule that says that batting positions four to six in the England team are decided based on seniority. Whoever's most established in the Test team bats at four and the sixth choice batsman bats at six.
Why does this have to be the case?
Jonny Bairstow is the only current England batsman who is at all proactive in approach, so he could potentially draw a line under top order automatism through appearing at four, possibly influencing the innings as a consquence. Furthermore, if he's the one most likely to be dropped when Kevin Pietersen returns, doesn't it make a degree of sense to have him batting in Pietersen's position? Why does number six have to be the only doorway in and out of England's middle order.
By the way, this probably doesn't matter.
15 Appeals
31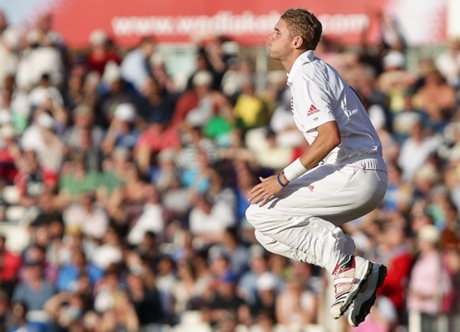 In post match analysis, many people have been saying that they thought Graeme Swann was going to be key and marvelling that he didn't get a bowl. Yes, that's true, but let's put this in perspective: Steven Finn didn't get a bowl either.
James Anderson took 2-23 and Stuart Broad took 7-44. As new ball spells go, these are adequate.
It sounds odd, but people sometimes undervalue bowling performances like this, particularly once the excitement has worn off and a few of the details have been forgotten. The innings is either described in terms of the batting side collapsing or the results are diminished by talk of helpful conditions. But while destructive bowling in unhelpful conditions is undeniably admirable, there's something really special about dismissing a side for 68. You'll be lauded if you dismiss the opposition for twice that and the difference between those two scores speaks of the standards you set yourself.
The TV highlights were pretty much the entire day's play, but yet they still felt very much like highlights. The wickets were interspersed with dozens of similar deliveries which just happened to beat the edge, rather than catch it. Many swing bowlers have picked up five wickets when the ball's doing something, but only the best ones make it seem unavoidable.
31 Appeals
14
We had it all planned out. We were going to cycle up Mow Cop and then, when we got home, we'd 'refuel' with our feet up while watching what promised to be the business end of the New Zealand innings. We'd be exhausted and would therefore be able to sit watching TV contentedly without feeling like we should be doing something else. Flawless, guilt-free self-indulgence was in the offing.
We timed it almost perfectly wrong.
Within 30 seconds of our return, the TV was on. It was the adverts. And then it was still the adverts. This was an unusually long ad break. Maybe it was the fall of a wicket. Oh, wait, maybe it was drinks. It was about the right time – an hour into the afternoon session.
It wasn't the drinks break.
14 Appeals
5
Players are always talking about the brand of cricket they're looking to play, trying to make it sound like there's some lofty aesthetic ideal with which they should be associated. No-one ever talks about playing a squalid brand of cricket and more's the pity. Squalid, low-scoring cricket that's decided by fifties and run-outs and thick edges to third man is marvellous stuff.
Hard-fought fifties used to be a thing. This was because they contributed something valuable. However, in recent years, the hard-fought fifty has been replaced by the 'missed opportunity'. The numbers are the same, but the perception is different. In many Test matches, 50 or 60 runs feels neither here nor there.
In this Test, 50 or 60 runs from someone could potentially swing the match. This struck us yesterday when Brendon McCullum was batting. People perceive McCullum as being a man well-suited to his time because he's an attacking batsman (as if that's a modern phenomenon), but he's an attacking batsman who tends to make quick fifties rather than whopping great hundreds. Once upon a time, he would have regularly tipped the balance and secured New Zealand Test wins with his scores. In this era, the same contributions tend to be something more akin to light relief. They don't affect the story. They're just pleasant distractions for a short period of time.
We rather like the fifty taking centre stage. More of this kind of thing.
5 Appeals
23
We generally approve of England's somewhat one-dimensional approach to top order batting. However, the fact that it's highly appropriate for the current era doesn't mean it's always the best approach. Against equally patient bowling attacks, it can result in stand-offs less spectacular than when two cats spend three-quarters of an hour looking everywhere but at each other.
Many fielding sides have grown weary and moved to Plan B in the face of the numbing barrage of obduracy delivered by the England top order, but New Zealand aren't like that – we're not entirely sure they have a Plan B. The nature of their bowlers means Plan A can be delivered consistently. Cut from the same hardwearing grey cloth as England's batting line-up, the Kiwi bowling attack doesn't scythe through batting orders, but nor does it try to.
Reactive batting
What do you do in the face of this? Fight lukewarm water with lukewarm water?
While it's comforting to see your nation's cricketing representatives taking their job seriously, sometimes you need a bit of irresponsibility to open a match up. Not too much; just a touch. In fact just enough to keep full-blown, overcompensatory irresponsibility at bay (Nick Compton, we're looking at you).
There are times when a little proactivity is required, but Kevin Pietersen is the only upper order England batsman prone to trying to set his own field. The others play according to what they are presented with.
Today, a slow outfield reduced the likelihood of boundaries and run-scoring was further stymied by the fact that this allowed more fielders to be placed saving singles. So perhaps today wasn't the day for proactivity. Perhaps watchfulness was the correct approach and 160-4 is less underwhelming than it seems. Perhaps open-ended closing paragraphs are unsatisfactory.
23 Appeals
29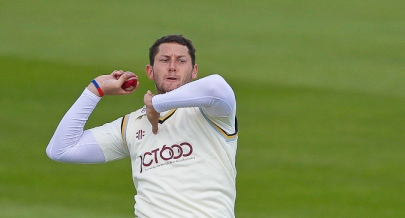 Tim Bresnan had elbow knack. It was a particularly severe case and so he had surgery. Unfortunately, the procedure made him not particularly good at cricket. He therefore had surgery again (not to get bionic legs or owt, just for the elbow).
Now he's back – even if he wasn't away quite long enough to warrant a 'Tim Bresnan's back' headline. The good news is that he claims to have recovered pace. He hasn't had this verified by a speed gun, so it might just be that he can't remember what quicker bowling looks like, but if he has recovered a yard or two, that's great news.
A sportsman's career rarely ends on a high, but injury is the saddest way to go out, particularly if it's more of an impediment than a death blow. An injury which merely takes the edge off your ability commits you to a grey purgatory where you play a pale imitation of what you once experienced of your sport.
We imagine it's kind of like going back and playing Outrun. If you've spent time driving around virtual cities doing as you please in more recent games, you simply can't re-narrow your horizons so that the Outrun experience is as satisfactory as it once was.
29 Appeals
40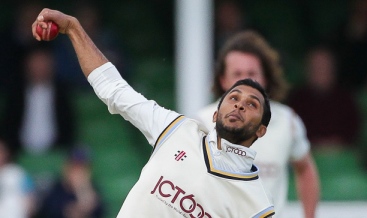 Being a young leg-spinner involves being told you're amazing when you're not. When you get a bit older and you seem a little less exciting, people tell you that you're rubbish when you're not. If you can bat as well, the extra novelty magnifies that first bit and also the contrast with the second bit. Such is life.
How old do you think Adil Rashid is? Don't look it up; we're going to tell you in the next sentence. He's 25.
There's a feeling that Adil Rashid's progress has stagnated (perhaps he's even regressed) but this is perhaps understandable as his confidence has taken a few knocks while those around him have been recalibrating their expectations. Confidence probably has a bigger impact on the performances of leg-spinners than it does on those who practise more prosaic forms of bowling and Rashid's has been hammered because he has unavoidably let people down.
A leg-spinner short of confidence can serve up some real shod, but even one in form can often start a spell with a fair chunk of it before things settle down. How does a captain distinguish between rhythm-finding shod and the kind that's there to stay? He just has to have faith really. Even when treated sympathetically, a young leg-spinner cannot always justify that faith.
It makes you wonder how anyone can ever find themselves bowling leg-spin at a high level. The world presents such a hostile environment. On the other hand, if a bowler can conquer this, you can be sure that you have a cricketer of rare resilience.
Perhaps this in itself has added to the reputation of the leg-spinner. When they do make it to the very top, they tend to be special, so we hope against hope that every young practitioner has all the right stuff. We see what we want to see, even though it (currently) isn't there.
Adil Rashid hit a hundred yesterday, but expectations regarding his bowling are currently low. Maybe they've bottomed-out. Maybe they'll now rise more realistically alongside his performances as a result of that fact. Or maybe he'll completely corner the market on shod. Maybe, maybe, maybe.
40 Appeals
11
If you like certainty and clarity, two-innings cricket is not for you. The format presents you with details and only backs this up with context once the match has finished. Half the joy is in dissecting goings-on in order to try and shape that context in your mind's eye as the match develops.
Unpredictable events demand constant revision of the picture you are constructing. Some people – idiots – hate this. They like to be told what's happening in black and white terms. They deal in absolutes because they can't work things out for themselves. Other people have the innate self confidence to cope with being wrong. They make predictions but they take more delight in the unexpected.
Flat cap cricket
Yorkshire, powered by Joe Root, are proving a joy this year. Last week, they were bowled out for 177 and then Durham declared four wickets down in their second innings, setting a victory target of 336. Yorkshire got there with Root making 182.
This week, they conceded 475 to Chesney Hughes and Derbyshire and then promptly made 677-7 in reply (Root 236, Jonny Bairstow 186). A draw in the offing? No. They bowled Derbyshire out for 163 with the solidly-named Jack Brooks taking 5-40.
Rounded cricket
You certainly can't criticise Chesney Hughes, but it's worth pointing out that he made 15 in the second innings and his team lost. First-class cricket isn't just about the numbers – it's about the situations as well. Thus far, Yorkshire are proving to be a team capable of winning in unusual ways. They have coped with difficult situations well, which tends to indicate that they are a rounded team. Things generally don't go exactly to plan in first-class cricket, so you need to cover as many eventualities as you can. It's also fascinating to follow for those of us who are happier wrong than right.
11 Appeals
31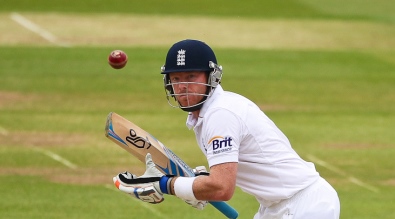 Some read yesterday's post as being criticism of Ian Bell, which wasn't really how it was intended. We just feel that of all the England players, his performances are the ones that most closely correlate with how the team fares. On day five of the third Test against New Zealand, Bell played out of his skin.
Not literally, that would be hideous – although it would doubtless disconcert the bowlers sufficiently that they would struggle with their lines and lengths. No, he just played very well. In fact maybe that's a more appropriately functional phrase for a delightfully, fantastically functional performance. On day five of the third Test against New Zealand, Ian Bell played very well.
Matt Prior is garnering the headlines and we certainly aren't saying that he doesn't deserve them, but Bell's contribution was more sizeable – not in runs maybe, but as treasured fount of wisdom, poet, philosopher and all-round good egg, Bert, once pointed out, runs are not the correct unit of measurement when batting for a draw.
With that in mind, here is an alternative scorecard for England's second innings:
Alastair Cook – 145
Nick Compton – 3
Jonathan Trott – 66
Ian Bell – 271
Steven Finn – 10
Joe Root – 79
Jonny Bairstow – 19
Matt Prior – 182
Stuart Broad – 77
Jimmy Anderson – 2
Monty Panesar – 5
This isn't the first time that Bell's made an enormous contribution towards securing a draw and nor was it the first time he's sidestepped much of his due acclaim through being dismissed before the end of the match. The characters present in the final act are deemed to be the heroes because that's the way conventional narratives work, but who did the bulk of the work?
There's a feeling in cricket that unless a batsman sees it through to the finish he has somehow failed, but that's a rather childish black and white way of looking at a team game. The guy who cuts the ribbon to open a building hasn't built it. Look at the man hours for a true reflection of construction efforts.
Ian Bell put in a four-and-a-half hour shift. That may not be a full working day and he may have been leaning on his bat at the non-striker's end for half of it, but it's probably more than we've ever managed.
31 Appeals