England cricket news
33
At the start of the tournament, we highlighted a weakness of South Africa's – the fact that their batting order "quite quickly becomes a little bit Farhaan Behardien". This weekend, it just as quickly became a little bit Wayne Parnell. That's a long tail.
South Africa's best batsmen are so good it rather distracts from the fact that their batting as a whole isn't quite so all-conquering. If you can find a way to dispatch Hashim Amla and AB de Villiers, they're a surprisingly vulnerable side. But how exactly do you get rid of those pair? Well, in de Villiers' own words: "You feel the pressure chasing 300 plus so you take on shots that you might not normally take on and you go for second runs you might not normally go for."
It's what was once known as 'scoreboard pressure' before that phrase came to mean little more than 'a big score'. The two aren't the same. Sometimes chasing 300 is easy. Sometimes chasing 250 is hard. You only really feel the pressure when you're chasing a score that is – and we hate ourself for saying this – above par.
The slog
Chasing 300 is also a great deal easier when your best batsmen are in during the final 10 overs. This period of the game appears to have become disproportionately influential in one-day cricket since the introduction of two new balls and the changes to fielding restrictions with teams routinely scoring at 10, 12, even 15 an over.
Against Zimbabwe, South Africa made 28 in the first 10 overs of the match and 146 in the last 10. That puts a lot of emphasis on what commentators call 'the back end of the innings' (and which we will therefore refer to as being 'the arse of the innings').
In that instance, it was David Miller and JP Duminy, numbers five and number six, doing the damage. However, it wouldn't have worked out quite the same if they'd entered that period with Wayne Parnell at the crease (Farhaan Behardien was actually number seven in that game, but you get what we're saying). You could even argue that just one extra wicket in the first 40 overs of the game could have cost almost 100 runs.
Who else?
One of the odd things about the arse of the innings being so significant is that it is leading a lot of teams to pick five specialist bowlers, rather than relying on part-timers. This means that it's often the number seven and number eight batsmen who are making way for out-and-out bowlers – in short, the very people who are highly likely to find themselves at the crease in the final 10 overs. This exaggerates things further.
India find themselves in a slightly odd position in that they have two strong lower order batsmen in Ravindra Jadeja and R Ashwin who are both spinners. If they can keep them in the team, the batsmen have a nice safety blanket. But without them, you could excuse a few jitters and it's possible the top order might play more conservatively to ensure the right men are around for the arse of the innings.
Australia, bizarrely, have gone the opposite way to a lot of teams and picked great swathes of batsmen-who-bowl and bowlers-who-bat. Sometimes it's just good fortune that their best bowlers are also decent batsmen (Mitchells Johnson and Starc) and that their best batsmen also bowl (Steve Smith) but they've also been keen to play all-rounders like James Faulkner and Mitchell Marsh. The upshot is that while their top order isn't quite so spectacular, it never really ends, so there'll always be someone to exploit the arse (of the innings).
And England?
England's latest match, against Scotland, was also an arse tale (as opposed to an arse tail). In a World Cup in which a three figure score from the last 10 overs is pretty much standard, they hobbled from 130-0 after 30 overs to 303-8 in 50. Basically, they scored in 20 overs not much more than a lot of sides would have been aiming for in 10.
33 Appeals
25
Skinned them alive? Probably not. Skinned them undead maybe, for England increasingly seem like zombies. Asked to explain England's latest defeat, all Eoin Morgan could muster was "braaaains" in a long, drawn-out moan. "Skiiiill" and "caaaaalmness" were also lacking.
In contrast to England's rotting flesh, New Zealand have a surfeit of vitality. Of course it's easy to run around like giddy schoolchildren when you're winning – but New Zealand are winning, so run around like giddy schoolchildren they do. The word 'intensity' has long since been rendered useless through repetition, but Kiwi fielders gave some idea what it once meant.
They also have a captain who can pick his moments. England were at one point 104-4 when Daniel Vettori had found himself at the front of the Eoin Morgan cheap dismissal queue. Brendon McCullum brought Tim Southee back into the attack.
It almost certainly wasn't the plan – Southee isn't the designated 26th over bowler – but it was a vote of confidence and recognition that the 26th over could be transformed into 'the death' through human intervention. Sure enough, eight overs later England's innings – and pretty much the match – was over. Tim Southee had 7-33 and had hit the stumps four times.
After that, Brendon McCullum had fun. Half of Steven Finn's deliveries went for six, while a quarter went for four, but the meaningful damage had already been done by the bowlers. This was just the gleeful snapping of lifeless limbs.
As for England, what do they do? Bring in a zombie and drop a zombie or stick with the zombies they've got? There's not much they can do. Three of their batsmen have played fewer than 20 one-day internationals and it was notable that 50-match Joe Root was the only man to offer resistance. Confidence takes a lot longer to build than it does to destroy – just ask Ravi Bopara – so further changes will only result in a net loss.
As ever, England didn't know their team before the World Cup, so what turned out to be their first XI didn't really believe that it was the first XI. A fair few of them had never played New Zealand before, let alone in New Zealand. Perhaps they can build a bit of confidence with a couple of wins, but the confidence borne of a couple of wins is a fragile confidence because it hasn't truly been earned.
England looked alive when they walked into this tournament, but the World Cup has a way of shining a light on decay.
25 Appeals
23
This World Cup's a marathon not a sprint. The last thing you want to do is hit the ground running.
You want to hit the ground with a wet splat; look up; slowly get your bearings; and then start crawling in about a fortnight's time. You want to reach a fat person's jog this time next month and then you can really pick up the pace from there.
As such, England have made an excellent start. They've been bowled out by a Mitch – and not even by a decent Mitch, but by a rubbish medium-pace Mitch who'd taken all of six one-day international wickets before today. Maybe Srinivasan had a bet on.
They also made a mockery of our belief that Eoin Morgan should be batting at six instead of five. If the captain had been one place lower, he would have emerged precisely one ball later, so clearly it didn't matter. Either way, after scoring just two runs in his last five innings, he is almost painfully due.
Australia have basically set off at a sprint. Momentum – that oh-so-valuable commodity – can only be lost.
23 Appeals
18
This shouldn't really need writing on an England cricket website, but there's a lot of cynicism about so we thought we'd state our position.
We had what may or may not be considered a 'Twitter rant' earlier. We'd been reading various previews from various writers from various nations and had found ourself if not standing and humming the national anthem exactly then at least putting the kettle on for a nice cup of tea with milk in it. You know, something truly patriotic.
Our initial gripes were as follows:
Everyone saying England are 20 years behind the times when it comes to one-day cricket
The Aussies laying into us in 'hilarious' fashion
English pessimism
But there was another one on top of that, which can best be summed up as 'English non-cricket fan in pub who only notes major losses and says that England always lose'.
You know the guy. He says cricket's boring. He's a tool. Wouldn't you want England to win the World Cup just to shut his stupid, everyman mouth?
Plus there's the cricket
There's also this assumption that what everyone else is doing is amazing and what England are doing is stupid.
People are still moaning about Alastair Cook not being dropped even now he's gone and everyone seems to be focusing on Eoin Morgan's poor form, even though he made a hundred against England's first opponents all of four innings ago. In what world is a hundred against the World Cup favourites, in their home conditions, right before the World Cup, some sort of flimsy irrelevant feat? That's the way it's being presented at the minute. We're having none of it.
As for the opposition, they're not perfect. There's much to admire about the Australian one-day side – they're clearly favourites tomorrow and strong contenders overall – but they don't have a spinner. Doesn't that strike anyone as a weakness?
They've got the option of Xavier Doherty and they've got Glenn Maxwell who bowls some spin, but there isn't really much going on in that department, is there? It probably won't matter tomorrow and maybe it won't matter at all, but it does seem like something that could potentially haunt them given the right circumstances. Worth mentioning at least.
Then there's South Africa. They're also hotly tipped and their top order's immense, but it quite quickly becomes a little bit Farhaan Behardien lower down and then before you know it Morne Morkel's in. It's not a long batting line-up, is it? And what about India's bowling, Sri Lanka's middle order, West Indies squad selection and Pakistan's innate Pakistannery?
All these teams have weaknesses, but yet England are the shit no-hopers.
We're a bit sick of it and while we acknowledge they're far from favourites, we really hope they do well – if only to shut up that generic non-cricket fan in the pub.
18 Appeals
8
When the England captain ain't making runs, the drill goes like this: journalist asks one of his team-mates about his loss of form; team-mate describes him as 'world class' and says there's nothing to worry about.
It was Joe Root earlier in the week and now it's Jimmy Anderson's turn.
"Morgs is a world-class player and has been for however many games he's played. He's been great for us and we're just hopeful he can get some form because we've seen how destructive he can be when he's in form."
While Root may not actually have used the term 'world class', that was the gist and it's certainly a phrase you'll hear a lot from England players – often about struggling team-mates, but also in reference to far-from-struggling opponents.
But what is world class? What does it mean? If it means suitable for the World XI who are pencilled in for a several millennia long tour of GU Piscium b or wherever then the term is being thrown about a little too freely. If it simply means 'among the best in the world' then it seems something of a back-handed compliment. Surely any international cricketer is by definition among the best cricketers in the world?
Don't suppose it matters really. Australia v England tomorrow. We're actually – genuinely – looking forward to it. Come on the Englands. Show your (world) class.
8 Appeals
17
We're struggling with the build-up to the World Cup. We fundamentally believe that a World Cup is a big deal, but at the same time we're aware of the need to ration our enthusiasm. It might be another month before one of the major teams has to play a match where there's something riding on it, after all.
So warm-up matches featuring more than 11 players per side? It's hard to pay too much attention, but yet the World Cup starts this weekend and this is actual cricket involving the main protagonists. Perhaps the best thing to do for now is to write that we don't really know what to make of this particular game and hope that we find something to latch onto in time for tomorrow's post. Maybe we can cover Michael Clarke's race for fitness, same as everybloodybody else.
New Zealand thrashed South Africa as well today. That seems newsworthy, even if the Saffers were Steyn-free. Hopefully we won't be looking back on this match as being one of the great upsets of this World Cup in a couple of months' time.
17 Appeals
16
A guest review of KP: The Autobiography
by Dandy Dan.
Having met KP and most of team, I feel I'm very qualified to review this book – especially as he came across to me as actually being all right. I didn't buy it. I got it out from the library. I didn't even pay the 50p charge (or however much it is these days) as I know the librarian. It's not what you know…
It's a bit boring really. The problem isn't really all the sections released in the media when it came out. It's that he's never really been shy in saying how he feels throughout his career so we all know the stories anyway. The only thing that came to a real surprise to me was his dislike for Flower. Flower gets a pasting throughout the book, even during the successful times. Now I had come to the conclusion at the end of the last Ashes series that Flower must be to blame for the whole debacle, so taking this one sided view of things I feel smugly content in being right.
Essentially, each chapter follows the same path with a different tour/story thrown in.
In bullet point format:
Yes, I've made mistakes, I realise that now (But he doesn't realise he's still making them).
The IPL is great, not enough people in England realise this.
The ECB is made up of incompetent buffoons (This was a particularly startling revelation).
I had an injury and wasn't playing well.
I played well.
The most interesting part of it to me (well one which wasn't covered by the media that I could tell) was his apparent dislike of authoritarian coaches, yet the fondness he holds for his strict childhood experiences. Flower (and to a lesser extent Moores) get a slagging for being too controlling, yet he reminisces about his time at school where the juniors had to say please at the end of every sentence they spoke to a senior. Apparently this taught him that respect has to be earnt. I'm not sure I understood the idea of earning someone's respect just because they were older than you. He obviously has a lot of respect for his father who he says showed him little emotion, but then criticises Flower for not putting an arm around him. If there's a source to the idea that KP just wants to be loved there it is. Pop psychology over.
The whole Matt Prior/Big Cheese stuff starts off quite funny, gets a bit tiresome, then goes back to being funny again. It's particularly amusing when he takes the piss out of him for thinking he's in Team Sky. Swann doesn't get laid into as much as I thought he would for leaving the tour early.
He does make a good case for the IPL and reading his book has changed my mind about it a bit regarding its importance and the engagement the ECB should have with it. I'm still not interested in actually watching it though.
Following this revelation that the newspapers didn't actually republish every last word of KP's book, you might like to buy it. If so, you can get it from Amazon here
.
16 Appeals
12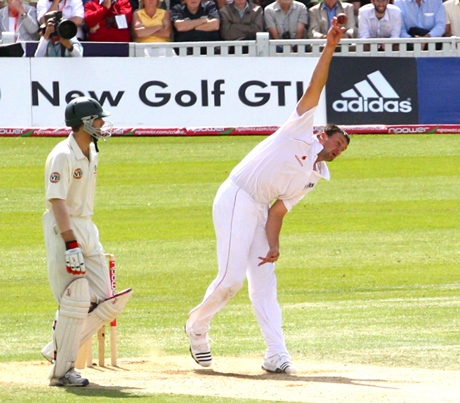 Say what you like about Steve Harmison's overall record, but he could lollop in and hit you on the elbow with the best of them. That uncanny ability to make the ball bounce considerably more than should have been physically possible brought him a bunch of wickets and England a bunch of wins, but far more importantly, it brought hope.
Fast bowlers are few and far between. English ones are rarer still. For a time, Steve Harmison was just such a thing and it was wondrous. Context is everything and that's one of the main reasons why we named him our latest King of Cricket over at All Out Cricket. You can read all about him by clicking these words.
12 Appeals
8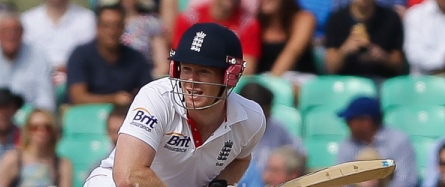 We knew this site would become a hub for celebrity gossip one day. We received a surge in traffic yesterday off the back of the fully weird news that someone tried to blackmail the ECB over some sort of relationship Eoin Morgan once had with a human woman.
The landing page of choice for those digging into the story was this one about whether or not Eoin Morgan had a girlfriend. It's from 2010 and in it we give some excellent and entirely plausible reasons why a woman might like to enter into a relationship with England's now one-day captain.
If you read the comments, there is a marked change in tone from those left within a couple of days of the post being published and those left later on. See if you can spot it.
8 Appeals
21
We're not intending to be a naysayer here, trotting around saying 'nay' like a horse that can't spell (so a horse then). We just want to muddy the unmitigated positivity because one win is not much of a sample from which to draw conclusions.
One of our main concerns centres on England having four of their eggs in the 85mph right-arm seam bowler basket. Today, that was a very, very important basket. On other days, not so much.
There's a case to be made that 85mph seam bowling days suit England's batsmen as well as their bowlers. It's what they're used to, after all – not least in the nets. But probably of greater importance was the fact that they were chasing just 154. If that's a regular occurrence in the World Cup, they'll have a fine old time, but it almost certainly won't be.
We can't really criticise England's actual performance, which was excellent. All we're really saying is that today presented a very complimentary snapshot and it'll be more instructive to see what happens when there's minimal swing and very little bounce. In short, when the 85mph right-arm seam bowler basket becomes less of a weapon and more of a burden.
21 Appeals