England cricket news
39
Before today, Suresh Raina had made three ODI hundreds in 193 matches. He made them against Bangladesh, Sri Lanka and Hong Kong.
But Raina bats in the middle order, so that doesn't tell us a lot. Let's look at fifties instead.
Against New Zealand, he has one in 11 innings; against Pakistan, one in 14; against South Africa, one in 11; against West Indies, one in 26 and against England 12 in 26, including six of his top ten one-day scores.
At this point we have to ask ourselves whether there's something he particularly likes about a tired white ball delivered at fast-medium pace.
Let's look at his strike rates against each of today's bowlers.
Anderson: 25 off 12 balls – 208.33
Woakes: 23 off 11 – 209.09
Jordan: 13 off 15 – 86.66
Stokes: 20 off 10 – 200
Tredwell: 19 off 27 – 70.37
Oddly, Jordan's efforts to become the world's foremost 'angling down the leg side' bowler probably saved him.
Extrapolation's what you need
One-day cricket in England is a bit different because you get more movement early on. However, the passages of play later on – once the ball stops doing owt – aren't so dissimilar from what might be expected in Australia come the World Cup. If anything, Australian conditions merely mean a greater proportion of those sorts of overs.
In today's match, England did the early, irrelevant bit well and then the later, relevant bit shitly. Their bowling simply isn't tall enough, fast enough, slow enough or weird enough to keep batsmen guessing on a flat pitch. It's samey. Four fast-medium right-armers is two – if not three – too many.
Is this the end of the world (cup campaign)?
Steven Finn's taller and often quicker; Stuart Broad will be back to offer the same qualities; Harry Gurney's a left-armer, should he prove reliable; and Ravi Bopara's neither-one-thing-nor-the-other wobblery does offer something different. There are always options that would desameyise a bowling attack.
As for the batting, England remain poor chasers of anything over 250, which is all the more reason to get the bowling right.
39 Appeals
9
Tomorrow, a view on India's Test series, but today let's look at England's – or at least at how it finished. Some of the later events are being ruled ineligible for analyss on the grounds that India were too crap, but we found England's approach quite interesting.
178 all out, 152 all out, 161 all out, 148 all out, 94 all out
It's easy to to avoid bowling sides out for less than 200. This much should be obvious. But even when you're in a position to do so, things often go awry. Bowlers get overconfident, change bowlers spray it around, or everything's going so gosh darned swimmingly that the whole team suddenly realises it's eased off a bit and the moment's passed.
England didn't make those mistakes. There were times when they could have bowled India out for fewer runs, but in general we've been rather impressed with their lack of mercy. It's not a quality that's always associated with England sides. Maybe all the months of humiliation have bequeathed them an embittered remorselessness.
Don't slip
Field settings were particularly noticeable. There were attacking oddities like a short slip, but the most impressive thing for us was the sheer number of conventional slips. Yes, it's easy to attack when you're miles ahead, but Alastair Cook clearly has no reservations about setting his men out as if the whole side's queuing to keep wicket. This was impressive for the simple fact that we thought that he was precisely the sort of man who would have reservations about doing that.
How can you bat?
We all knew England could do steadfast batting. Also in their known repertoire were: patient, accumulative and boring. Turns out they can also bat with gay abandon.
Jos Buttler clearly brings gay abandon, but few people thought Gary Ballance would. It takes him a while to get going, but if circumstances call for it, the shirt comes off and the runs flow. Then there was Joe Root and Stuart Broad on the final day of the series. 101 runs in 11.3 overs was a sadistic demonstration of strength of which Kaiser Soze would be proud.
Kicking them when they're down
Does all of this matter? Will all of this apparent remorselessness really add up to much when things aren't quite so easy?
We'd say so. After all, capitalising when things are going your way is basically the way in which you turn any match in your favour.
9 Appeals
21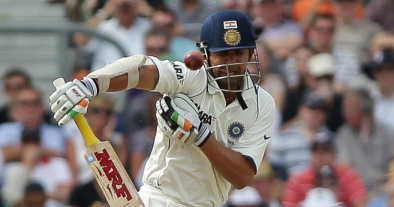 We think you'll agree that it's been very difficult to watch England methodically pan India without concluding that they are vampires. If you see Alastair Cook in your neighbourhood, don't invite him into your home.
While England have found ever greater vitality, India have been looking more and more tired. It cannot be coincidence that the changes have been proportional. The home team have clearly been exsanguinating the tourists. How else to explain India's listlessness and painfully slow thinking versus England's staggering rejuvenation?
Look at Stuart Broad's innings in the fifth Test. Here was a nervy batsman with a broken nose, sitting on the back foot and awaiting the inevitable. Yet when the short ball came, it was so insipid that he could larrup it for six. Then India batted and eleven pale, ghostly, bloodless men repeated the same mistakes as always, simply because it was all they had the strength to do.
Apparently, a bloodless coup can still involve comprehensive destruction.
21 Appeals
31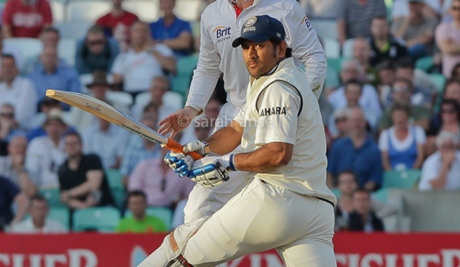 Here's a question: can you lead by example if no-one follows that example? If there's no-one behind you, you're not really leading, are you? You're just ambling around on your own while everyone else sits around having cakes and tea.
In the first innings at Old Trafford, MS Dhoni played with grit and resolve and showed the way for the rest of his team. No-one followed him. In the second innings, they buckled like a belt.
Here at the Oval, he made 82 out of 148. You could call it a captain's innings, but that perhaps highlights just how meaningless that phrase is.
31 Appeals
16
It's a common criticism of modern cricket that there are too many disruptions; too many conferences and unscheduled drinks breaks. On Sky, David Lloyd has taken to drawing attention to them with an impassioned: "Get on with the gaaaame."
You can hear the frustration in his voice when he says this and it's become an irritating catchphrase. Perhaps this is deliberate because at heart it's not really Lloyd who's the cause of the irritation.
But there's more
We knew all of this. We knew stoppages in play were an issue. What we didn't realise until Saturday was the frequency with which England send messages from dressing room to pitch. These skittering little errands don't always result in a stoppage. Often it all takes place while the bowler is walking back to its mark, but it's still annoying.
We go and see a live England match once or twice a year, so it's not like we were ignorant of the fact that this happened. The difference on Saturday was the frequency. It honestly seemed like one of the team's high-vis messengers was out there ferrying a helmet, a bottle, some medication or whatever pretty much every other ball.
England station two pitch invaders in camping chairs beneath the balcony, constantly primed for action. When a wicket falls, they both run out carrying bags of bidons. Two balls later, one of them will be out there again, often carrying a single bottle as if the liquid has simply run straight through a bowler's sieve-like digestive system.
They're not really there to deliver water, of course. They're there to deliver something much more valuable – information. The umpires seem to turn something of a blind eye so long as it doesn't actually slow things down at all. And it doesn't, for the most part. It is sly and quick, but still infuriating because it gives the impression of a team being micromanaged.
Does it matter?
The regular fall of wickets in that evening session perhaps meant that the interlopers' tabards were even more highly visible than normal, but that really just highlighted how often this is happening anyway. Maybe we're assuming too much about what was going on, but it didn't smack of players being allowed to think for themselves, which was a major criticism of the side at the end of what we're knowingly going to refer to as the previous era.
We can only guess what is being said – and perhaps the whole problem was exacerbated on this occasion by the captain needing updates about Stuart Broad's trip to hospital and James Anderson's lurgy-induced time off the field – but it surely didn't need to happen as often as it did.
Conclusion
If they really are giving the bowlers advice and new directives are being issued every two or three balls, then there is simply no room for a bowler to test his own theories. This would make the leather-flingers little more than gristly conduits for those who are poring over the data back in the dressing room.
16 Appeals
32
Sometimes the bowling's good and the ball's moving around and the fall of wickets seems inevitable. At other times, relentless pressure causes a side to break. Then there are those other days when it seems like you need to take every opportunity presented to you. Day three at Old Trafford was one of those days – only it was the batting side who took the opportunities.
One nose-broken bowler was off the field, another had the shits (it's uncertain how wild they were) and two more were bowling a fair amount of filth – yet India contrived to be bowled out for 161. That is no mean feat.
If there were any opportunity to lose a wicket, India grasped it. They barely let a single chance go unclaimed. It was very, very impressive.
32 Appeals
20
Luckless at the Rose Bowl, mediocre at Old Trafford, Pankaj Singh has thus far found two ways to avoid taking a Test wicket. Our worry is that two will prove enough; that he'll fail to take a wicket in this match and will never return to the team.
It's become a 'thing' now. People talk about how many balls he's bowled without success. "Oh, Pankaj!" they cry as another impassioned appeal peters out, unfulfilled.
We'll be at Old Trafford today and we'll be delighted if Pankaj gets that first wicket. If he gets a second, we'll be nonplussed. A third and we'll basically hate him.
20 Appeals
33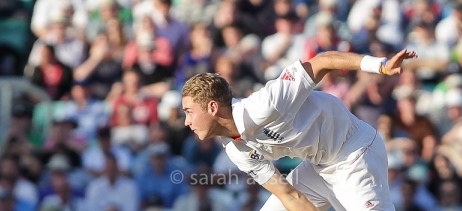 There have been a few stats of late about James Anderson and Stuart Broad as a bowling partnership. Something about lots of wickets. We forget how many.
On paper, they're a wonderfully complementary duo. One's a devious swing bowler; the other's rangly and hits the deck hard (a phrase which sounds to us more like the individual in question isn't particularly handy in a fight). It's like having Ian Botham and Curtly Ambrose in your team. You've got all scenarios covered.
Except it doesn't work like that. It doesn't work like that at all.
Who is Stuart Broad?
Stuart Broad is James Anderson. He's James Anderson a bit back, but make no mistake, that's who he is. He rushes in, lets fly some away swing and wickets ensue. What he doesn't do is bowl anything like the man he said he wanted to bowl like round about the time he came into the England side. Glenn McGrath he is not.
Does it matter?
Well, to paraphrase a generic England cricketer – he is who he is. There's no changing that. It's odd that he somehow always seems to bowl like a much smaller man, but it isn't necessarily a bad thing so long as he bowls well.
If there is an issue, it's that thing we mentioned before about covering all scenarios. Faux James Anderson doesn't so much complement Real James Anderson as compound him. When the ball swings – hey-hey, we're quids in! When it doesn't, you've got all your new balls in one box.
Today it swung.
33 Appeals
11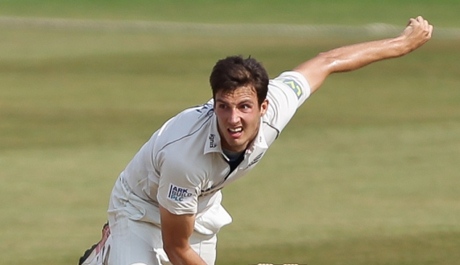 As in 'returned'. He hasn't got ankylosing spondylitis or anything.
He's also only back in the squad, not necessarily the team. Plus he hasn't been away that long. If we're honest, we're only doing this joke because we know we'll get complaints if we don't.
But it does feel like Steven Finn's back. He's in ostensibly the same situation as at the end of the Ashes tour, but whereas then he was on a downward curve heading towards being considered 'not selectable' by Ashley Giles, it now feels like he's on an upward curve heading towards Godfrey Evans knows where.
We're quite happy about this because Finn does at least threaten to address the fast-mediumish qualities of the England attack. Tall and sometimes fast, he's distinct from the others.
Liam Plunkett hasn't had a chance to play on a non-blancmange pitch yet, but he hasn't been as eye-wateringly quick as we'd hoped (pace isn't everything, but it is something), while Stuart Broad really should offer something different being so tall, but somehow doesn't. He always seems to bowl like a much smaller man.
Finn is undeniably tall and he certainly can be quick. More importantly, he seems capable of bowling those deliveries which make the batsman feel like he has no cricket bat, but additional knuckles.
11 Appeals
34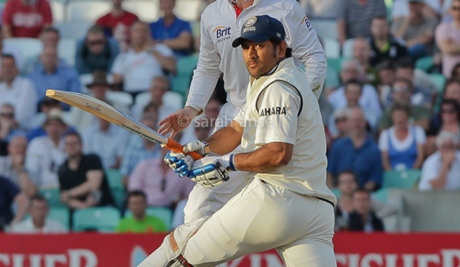 Might as well call for at least one of the captains to be sacked.
His batsmen have crumbled against bowling they should be comfortable against, his senior players aren't 'standing up', he's insisting on fielding a part-time spinner instead of a specialist and he hasn't made a hundred in his last 20 Test innings. He has to take responsibility for these things.
It's the young, inexperienced players who are showing the way. It's time to move on.
It's not just us saying this. Someone who once played cricket internationally has also criticised Dhoni's captaincy for some reason – possibly to do with tactics. They said they'd have done things differently and that what they'd have done would have worked, unlike what Dhoni did. It's hard, if not impossible, to argue with that.
When will the BCCI finally accept that this team is at a low ebb and acknowledge that it is time for change?
34 Appeals