Australia cricket news
3
We're way past Ian Bell 2.0. Being as he's 33 and batting at three, we're going to call this incarnation Ian Bell 33.3. Hopefully that won't prove to be its batting average.
Most of the previous Ian Bells have looked solid only to get out in infuriating fashion when you least expected it. This new version's different. This one seems hell-bent on scoring at at least a run a ball and consequently its dismissal only ever feels a delivery away. But it's fun while it lasts. It rattles along at a frightening rate, pinging drives through the covers and slicing back-cuts between the slip fielders like its risk-assessment circuits have malfunctioned.
It was also good to see England attack a victory target with gusto. You can sometimes inch to a win and leave the opposition feeling more uplifted than you are. This was more akin to getting a few bonus jabs in before the next round. 'Remember last time you bowled to me and I flayed you for three boundaries every over?' you seem to say as you walk to the middle in the next Test.
Ian Bell.
3 Appeals
4
Once again, Mitchell Johnson rocked England. He took 2-66. (Wickets taken via bouncers count double, it seems.) After that, it was back to England dismissing clueless Australian batsmen, which was really rather delightful.
This Test has brought back memories of the magical folding Australia side of a few years ago. Back then the top order were basically just lamp-posts; insignificant objects you didn't pay any attention to which you quickly passed on your way somewhere else. Soon enough, Micky Arthur was given the boot. Darren Lehmann received plaudits for resuscitating the side, but he largely achieved this by bringing back a previous generation. It's striking that several years later, he's still relying on the same policy.
The thing is, now those same players are much, much older and the generation below are getting old as well. Nature abhors a vacuum, but Australian cricket is unnatural. Nothing seems to be filling the gap. Drop Michael Clarke, drop Adam Voges and bring in… Shaun Marsh?
Steven Smith has risen to the challenge and David Warner has established himself, but it feels rather like Lehmann is driving everyone towards some Clarke-less, Rogers-less precipice. It'll be interesting to see whether he finds a way of turning the vehicle before the fatal moment, or whether he simply bails out at the last second.
Steven Finn was the main beneficiary of Australian ineptitude today. The word 'unselectable' has therefore been receiving a repeat airing to drive home the heart-warming nature of his resurgence. But never mind the heating of internal organs – his return is plain old admirable. He had a tough time, he couldn't bowl for shit, he despaired, he got over it, he worked, he practised and he succeeded. He'll probably take 0-200 in the next Test, but let's frame our story with this as the ending and then start a new tale.
As for the batting, barring one or two exceptions and a few strange passages of silky strokeplay, it's not been particularly excellent in this Test. Australia have made a point of being worse than England, but the home team had to make full use of their eight batsmen, which isn't an especially good sign either. Maybe modern Test players as a whole aren't particularly good at dealing with sideways movement – but then that isn't really their job. Ninety per cent of the time being a Test batsman is about making as many runs as you can in fairly benign conditions. They get picked on that basis.
Australia are better than England in fairly benign conditions. We're rather hoping they don't get to prove that again.
4 Appeals
10
We're playing squash tonight. One thing you notice with squash is that the ball's momentum doesn't always carry it in the same direction. Quite often it alters course quite markedly upon contact with what is known as 'the wall'. The momentum in this Ashes series is similar, it would seem. Only without Rahul Dravid.
When Australia are winning, they look really good. When they're not, you again become aware of the cobbled-together nature of their team. 61-year-old Chris Rogers is a good, reliable cobble; 42-year-old Adam Voges, less so; Peter Nevill's on the way in; Michael Clarke's on the way out; and while Mitch Marsh looks an obvious replacement for Leg Before Watson when he's knocking out hundreds in a couple of warm-up matches, he then looks like a man who's only ever played a couple of warm-up matches in English conditions when he later appears at number six in a Test.
Nor does it end there. An injury to one of the fast bowlers and Pat Cummins – a man with a seven match first-class career – could be playing too. Team selection doesn't seem very elite. It seems to rely more on your local third XI's 'see who's free on Sunday' approach. This isn't to say they're a bad side. Just a weird one.
Jimmy Anderson's a weird one too. He's a man who can play a major role in Australia making 566-8 and who can then be equally influential in their making 136 all out. There isn't really much more to be written about him, which is both a compliment and a sad reflection of his age. Then again, as 76-year-old Chris Rogers proves, age need be no barrier to continued sporting success. Ian Bell's age remains a neither-here-nor-there 33.
10 Appeals
15
That sounds a little like a crude and edgy, deliberately controversial Off-Broadway show. But it isn't. It's a reference to the eldest Mitchell; the man who apparently compels English batsmen to dash their own brains out in fear.
Mitchell Johnson is currently the man with the fifth-best bowling average and strike-rate for Australia in this series. No-one likes facing him – that's fairly obvious – but we do rather feel that his impact is prone to being overstated. He's a very good bowler, he's done great things in the past, but it does sometimes feel like his performances get talked up as being earth-shattering even when he's taken 3-60.
Don't get us wrong, 3-60's good, but it's 'well bowled' good, not 'cower before me, mortals!' good. Johnson may also take 5-15 at some point, so why not save all the cooing and fawning for then?
"We're not going to cross the line, but we're going to go right up to it and I think there are a few scars there which might open up," said some fictional amalgam of the Australian team because we can't be bothered finding an actual quote about mental scars with which to make our point.
It's a peculiarly Australian obsession, mental scarring. Other nations rarely talk about it, but Johnson in particular seems to believe he's liable to open up scars in England's top order by dismissing Stuart Broad with a short ball. Maybe it's that psychological phenomenon where you project onto others the flaws you possess yourself, because surely if anyone's scarred by a northern hemisphere Ashes series, it's Johnson.
Or maybe it's just a fast bowler talking bollocks because the Ashes is a pantomime. Either way, it's a really tired thing to say and we're kind of sick of the self-aggrandising aspect of it.
Meanwhile, Mitchell Starc's bowling more rapidly and producing a greater number of unplayable deliveries, while Josh Hazlewood's plonking it on a length and getting more wickets than either of them.
15 Appeals
14
This week David Warner gave many people the impression that he thinks the activity known as 'reading' is some bizarre pastime reserved for 17th Century English gentlemen. Of the differences between himself and Chris Rogers, he said simply: "He reads a lot of books – I wouldn't read a book."
The reason he doesn't read, however, is because he's far too busy writing – because Warner, if you didn't already know, is a published author.
And he can read. Oh how he can read. If you want proof, look no further than this entertaining video produced to promote his book, The Kaboom Kid. Our stumpy little moustachioed man really shows that autocue who's boss.
Our favourite bit is: "I'm really exciteage to juice you."
14 Appeals
29
Absolutely true. You don't possess a bottomless pit of willpower. It's why New Year's resolutions fizzle out. It's why you can only resist easily-accessible snack food for so long. Anything that takes mental effort drains your resources and without time to recuperate, eventually you'll have nothing left.
Winning is easy. Winning is no effort at all. Once you're ahead, you need little motivation. You can just play. Losing is hard. Trying to motivate yourself when you know, deep down, that you're already unlikely to win takes rather a lot of effort. Find yourself in that position for long enough and eventually the well will run dry.
After day one of the second Test, Australia were 337-1. Clearly they hadn't won, but they were massively, massively ahead. Maybe England retained a 10 per cent chance of victory. It is harder to motivate yourself when you only have a 10 per cent chance of victory.
At the end of day two, Australia had made 566 and England were 85-4. They probably didn't even have a one per cent chance of victory now and they had maybe a 20 per cent chance of salvaging a draw. It is hard to motivate yourself to play for a draw. It is harder still to play for the outside chance of a draw.
At the end of day three, Australia were batting for a declaration and there was nothing England could realistically do but wait and maybe try and slow them down a bit. It is very hard to motivate yourself to try and slow down the opposition in the hope that you might postpone their declaration for long enough that maybe, hopefully, some bad weather will arrive and save you.
On day four, Australia declared. England needed 509 to win and they needed to find some resolve.
29 Appeals
4
Not much is happening in the cricket at the minute, so we might as well busy ourselves tackling the difficult philosophical questions. If three Mitches play cricket for Australia, is it possible to have a favourite?
For us, this is the order in which we'd place them – best at the top.
Mitchell Starc
Mitchell Johnson
Mitchell Marsh
If we try and explain our reasoning, it seems our preference is largely based on cricketing reasons, which is something of a surprise. In short, we feel that Starc 'deserves' success, while Marsh doesn't.
We remember in the early days of Jason Gillespie's career, Steve Waugh (or possibly even Mark Taylor) tried to embiggen him before an Ashes series by saying he was the best bowler in the world. It was bollocks, obviously – he was only the third-best bowler in the team – but the captain did at least put forward a reasoned argument.
He said that Gillespie was the perfect fast bowler. He said he was tall, bowled 90-odd mph and swung it both ways, all of which was true at the time. We kind of feel the same about Mitchell Starc, only he's also a left-armer. We figure if a player has all of those qualities, he should be successful otherwise much of what we believe about cricket is wrong.
As for Marsh, he's a medium-pacer and an Aussie all-rounder. If they prove effective, it again calls into question much of what we believe about cricket.
On the plus side, there's a Twitter account about Mitch Marsh that we find funny largely on the grounds that we don't get it. Merchell Mersh communicates with weird neanderthal vowel sounds and that's pretty much the joke.
We generally just try and avoid thinking about Mitchell Johnson.
4 Appeals
5
You may have noticed that we didn't complain about the pitch after day one. That's something we only allow ourself to do once both teams have batted. Sadly, this policy appears to have been vindicated.
Sometimes it's not a dead pitch. Sometimes it's merely in a deep, deep sleep and one of the teams doesn't have the bowlers to wake it. A shriek from a leg-spinner or a rumble from a truly fast bowler and it stirs, yawns, rubs its eyes and shoos Gary Ballance back to the pavilion.
Perhaps there was a clue for England in how Stuart Broad bowled, which is to say excellently. It's not like there was uniform helplessness. Weary legs and brains were then confronted by Armitcheddon – the thoroughbred Starc and the untamed stallion Johnson. Also Mitch Hazlewood. (That's his name, right?) These three often bowled so full that the pitch was basically an irrelevance, but they seemed to get something out of it at other times too.
Counterattacking and playing liberated cricket are tougher things to do when you're 520 behind and already four wickets down, but Ben Stokes is a game lad, so he's having a go.
5 Appeals
18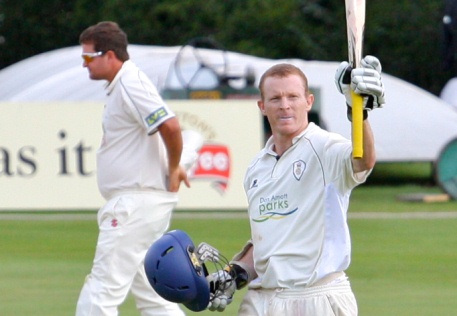 There is a famous oak tree in the middle of a field near Bakewell in Derbyshire. It is weathered and gnarled and its enormous branches reach halfway to the road. Some say it is lucky. Some say it is cursed. The only thing that is known about it for certain is that it was planted there by Chris Rogers during his first season of county cricket, many, many years ago, back when he was in his thirties.
We think we read somewhere this week that Shaun Marsh has only played one first-class innings in England. This is who could be playing, but instead Australia went for Rogers, who has played about a billion. Being as the English season is longer than the Australian one, we wouldn't actually be all that surprised to learn that he had played more cricket over here than in his home country.
Chris Rogers' nickname is Buck. Buck Rogers is a World War I veteran who remains in suspended animation until the 25th Century. When he awakes, he's surprisingly able-bodied considering he's technically 521 years old. Both a namesake and a role model, you suspect.
Steve Smith also made a hundred today.
18 Appeals
18
Maybe this statement would seem more accurate to some of you if we said 'too many fair batsmen' – but that would fly in the face of the universally-accepted Premier Manager 2 scale where 'fair' actually means 'really rather shit'.
No, England and Australia have too many Very Good batsmen. Too many Very Good*** batsmen way down the order to be precise. It's not that either side has better batsmen than ever before in the top six. It's not that at all. Nobody would make a case for this being the best line-up of specialist batsmen either team has boasted. It's down the order where the problems lie.
In the first Test England had Moeen Ali at eight, while Australia had Mitchell Starc – a guy with a Test 99 to his name – at number 10. This means innings can really drag on.
It's not that it feels like a drag while you're watching Jos Buttler, Moeen Ali, Mitchell Johnson or any of these sorts. As often as not, they're more entertaining than the guys above them. It's just that with tails docked, the importance of a wicket is diminished – and in a Test match, wickets are very much what it's all about.
Time was, you took two top order wickets and it was like an explosion. Bricks flew everywhere. Damage had been done. Walls might collapse. The whole damn structure might implode. Nowadays it's like picking a bit of sealant from around a window, or dislodging a slate from the roof. Technically you've done some damage, but there's so much more left to do.
Bring back Alan Mullally and Jo Angel.
18 Appeals