Australia cricket news
33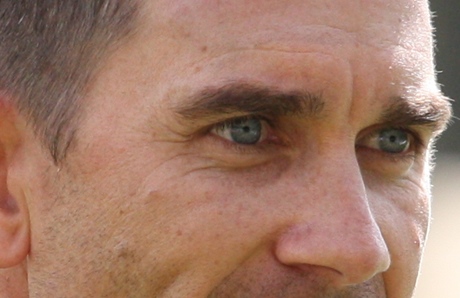 Justin Langer has a philosophy. It's changed the culture of the Western Australia cricket team and made them successful. Central to his philosophy are the following three rules:
Use common sense
Keep things simple
No mobile phones at training
This revelation comes from within an almost transcendentally nauseating interview. Other highlights include his Christian faith ("I've probably got about 15 to 20 sets of rosary beads at home"); how he and his wife dedicate an hour to each other every morning (or at least they do when he's in town); and his habit of scrawling trite quotes on the walls of what is now his daughter's room…
"The words on the wall are just scriptures and quotes. They're just reminders. Every now and then I go up and lie on her bed and just surround myself."
Try as they might, this current generation of Australian cricketers just can't quite muster the same level of exceptional loathesomeness as that 2005 outfit.
It's the same kind of guff that Matthew Hayden comes out with. All this belief, self-improvement and relentless positivity – it's almost like a cult. "My name's Justin and I believe in successfulnessment."
It's hard not to picture Warnie sat in the corner of the dressing room, gawping at them with a cheese toastie in his hand. The sad fact is, Warne's actually not much better these days. At some point the fat idiot must have been infected by it all – it's just that the disease just took a decade to gestate thanks to all the cheddar clogging up his synapses.
33 Appeals
21
It may feel like Australia lost the series against Pakistan 4-0, but actually it was only two. No matter how you play, you can't lose more than two matches when you only play two.
This has allowed Michael Clarke to somewhat disingenuously plead that his captaincy shouldn't be judged on the basis of two Tests. People will be quick to draw his attention to last year's 4-0 defeat to India, which is perhaps what he wants as such talk distracts from his batting form.
The truth is that Clarke's got away with a 2-0 defeat. He can pretend that Australia might have bounced back were they playing a third Test, but history tends to suggest that learning is more than outweighed by the negative effects of reacting whenever Australia start losing.
"We're learning," they say. "Look!"
But changing isn't the same as improving.
The captain's view
Ricky Ponting's main redeeming feature as a captain was that he was plain-speaking. He always erred on the side of blunt honesty and had an unusual predilection for answering the questions asked of him.
But there is quite some distance between being open and honest as an international cricket captain and being open and honest as a columnist. The former is like being the least annoying daytime Radio 1 DJ. You're the least bad of a group that's pretty much defined by one negative characteristic.
It is therefore no surprise to see that Ponting's first column for Cricinfo is fairly banal. He still knows those involved, so his criticism is qualified and weak. You have to read between the lines a bit and magnify some of what he's saying to interpret his true meaning.
When Ponting says that "a lot of what I saw was a bit frenetic, a bit fast," then maybe – just maybe – he's talking about Australia's number three reverse sweeping his way to 37 off 28 balls in a match in which the opposition's just posted 570-6 with one guy making a double hundred.
Glenn Maxwell at three – but what would have been next?
The selection of Glenn Maxwell to bat at number three might rank as one of the greatest cricketing decisions of all time. In this context, we're using 'greatest' to mean 'inexplicable and hilarious'.
But all we can think about is what might have happened next.
If this series had run on, who knows where Australia might have ended up. If you're picking Maxwell at three by the second Test, what do you do when you've lost four on the bounce? The team physio, Alex Kontouris, must have harboured serious hopes of opening the bowling if there had been such a match.
Playing a five Test series when all you can do is lose is like being asked to build an elaborate timber framed home when the only tools you've got are a spoon and a spatula. It's a painful, humiliating farce, but every day you have to turn up for work and do your best and then explain your progress to the client afterwards.
If you ever have to go through this, the after-effects are huge. There's no hiding place. You had ample opportunities to do a good job so if all you managed was abject failure, you have to answer for that. By slinking off after two Tests, the Australian team has minimised the damage.
The moral of the story
Your averages, captain, coaches and players can probably survive incompetence over a relatively short series, so if you're going to be rubbish against someone, make sure it's Pakistan, Sri Lanka, New Zealand or someone.
21 Appeals
9
It can be hard to keep up with Pakistan's playing staff. Mitchell Marsh gets a debut and great tracts of webspace are devoted to him, explaining what this decision means and why it's such a monumental event. In contrast, Pakistan players ghost into the side and it's only when they've become the top-ranked batsman or bowler in the world that anyone finally pays any attention to them.
For one reason or another, Pakistan's bowling attack is particularly untested at the minute but they seem to be doing okay. Zulfiqar Babar and Yasir Shah, the two spinners, were the architects of Australia's downfall and it's tempting to wonder whether we've just seen the first steps taken by a duo that will one day rank alongside Wasim and Waqar, Lillee and Thompson and Ambrose and Walsh.
Then you look at them and this clearly isn't the case. Spring chickens they are not. Zulfiqar Babar in particular is an old stewing chicken. He looks like an Indian Railways employee on his Cricinfo profile page. In fact we're pretty sure we once bought a ticket off him. We remember him repeatedly answering our question about whether the train stopped at a particular station with the Indian 'maybe, maybe not' head wobble. Apparently there's a version of 'yes' which is quite similar to that movement, but to Western eyes it was a decidedly unhelpful response. Yasir Shah is at least wearing cricket gear in his picture, but he could still pass for a ticket inspector.
As for Australia, where do they stand after this heavy defeat? We didn't see the match, but apparently Alex Doolan looked out of his depth, while Mitchell Marsh is never a number six batsman. The two spinners were also strikingly ineffectual on what was clearly a turning pitch. You could perhaps defend Steve O'Keefe by saying it was his debut, but that rings a little hollow when Pakistan's entire attack was pretty much new to Test cricket.
The whole Australia team probably just needs to be a little bit more aggressive. That's the answer. That'll sort it.
9 Appeals
12
First up, Pakistan v Australia where the 'home' side appear to be doing a reasonable job of putting a score on the board. It's always hard to tell what's a decent first innings total, but with Pakistan's flaky batting, you reckon they'd be pretty happy already.
Stealth
The major contributor has been Younus Khan. It always strikes us that Younus and his former team-mate, Mohammad Yousuf, don't get the credit they deserve. Both average over 50 with Younus now one ton ahead with 25.
One argument is that they've played a lot of cricket on flat Pakistan decks, but Younus, for one, has played only 19 truly home Test matches – surely that should add to his reputation? On top of this, contrast his scores with those of his team-mates in recent times and you can see that he also has to carry some extra weight.
This hundred against Australia completes the set. He's reached three figures against everyone now.
Siddle
Also of note is the return of Peter Siddle. Having written about overtraining earlier in the year, we were interested to see how he'd go. He'd complained of fatigue and claimed he could recover his pace given a rest and a chance to train properly. Now he's had that and sure enough he's back on track.
Fast bowlers in particular need an off season. Just a reminder that England are playing a match in every calendar month from November until September 2017. Hopefully that much-needed downtime won't be delivered when they're scheduled to play the Windies.
Celebrations
On a lighter note, we wrote a piece for last month's All Out Cricket about the lost art of understated celebration. It's not just handshakes we miss, it's also quietly retrieving your cap from the umpire as well as ambling about looking at the floor. Folding your arms is another we'd like to see brought back. Beats all that shrieking and fist-pumping hands down.
The article's now online, but please do buy the mag whenever you get chance. It's decent.
Social media
And finally, Twitter. Our latest round-up's just gone up at Cricinfo. We've tried to cover the Windies thing. Not easy when you're relying on the words of others.
12 Appeals
17
Steve O'Keefe's finally been picked to play a Test match for Australia. We mentioned him as far back as 2010 as being a spinner who wasn't completely rubbish, but who was somehow being overlooked in favour of any number of slow bowlers who were.
O'Keefe's the second spinner, so Australia haven't reverted to punishing Nathan Lyon for being Nathan Lyon – he's still playing as well. Mitchell Marsh is making his debut too and one can only hope that he'll be as majestically inconsistent as his brother, Shaun.
Pakistan have also given two players debuts. Yasir Shah is a legspinner who played a solitary one-day international in 2011 when he also played two T20 internationals. We know nothing about him.
Meanwhile, Imran Khan is, as you might imagine, a pace bowler of some description. He's down as right-arm medium-fast on Cricinfo, but that's what they tend to put when they don't really know a player. Being as Imran has neither a photo nor a written profile on his player page, we suspect that is the case in this instance. In classic Pakistan tradition, he was probably hired to drive the team bus but impressed in the nets where he was bowling with an orange.
At the time of writing, Australia were one wicket away from the inevitable Younus Khan and Misbah-ul-Haq rebuilding partnership.
17 Appeals
15
Will Alastair Cook learn his lesson? Most people know that it's incredibly unwise for the England captain to demand that critics be less critical.
But not Cook, apparently. He recently said that "something needs to be done" about Shane Warne's relentless criticism of his captaincy.
The headline of Warne's latest column?
"Alastair Cook's captaincy was the worst I have ever seen."
Over to you, Alastair. Which highly inflammable material are you going to use to try and extinguish the flames this time?
15 Appeals
6
After whipping the first division's whipping boys, Northamptonshire, with their whipping boy whipping whip, Middlesex are now 19 points ahead of Yorkshire and 22 ahead of Sussex, both of whom have a game in hand. Yorkshire would need to win to go top. Sussex would need to really, really handsomely win to do so.
Yorkshire's next match is against Lancashire, so all they really need to do is bat competently and the rest should take care of itself. Sussex's next match is against Middlesex, so they won't go top, but nor will they lose that game in hand.
A lot of Middlesex's success thus far has been built on the work done by their openers. This is great news for England, in that Sam Robson is averaging about 50. However, it's bad news for England, in that his opening partner, Chris Rogers, is averaging almost 50 per cent more and scoring almost 50 per cent quicker as well. Rogers even treated himself to a six at one point.
6 Appeals
28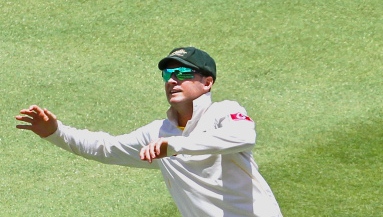 One of the most annoying things about the Australian cricket team is not its verbal aggression but the players' relentless self-righteousness about it.
Here's a quote from Michael Clarke that you'll feel like you've read a thousand times before.
"I think we play our cricket hard on the field but I think as Australians we understand and respect there's a line you can't cross."
What Clarke doesn't get is that what he perceives to be 'the line' might not necessarily be the line to everyone else in the world. Who made you King of the Line, Michael? Why do you get to decide what does and doesn't go?
He reminds us of one of those strong-willed but stupid kids who's forever changing the rules of whatever game he's playing so that he always wins. He's trying to enjoy his victories, but all the other kids are sort of rolling their eyes and thinking maybe they should go and do something else now.
In the same interview, Clarke also says that he himself has crossed the line twice in the last year.
Actually, he says he 'made no bones about' the incident with James Anderson and that what he said 'wasn't appropriate'. However, a second later he's going on about the importance of going close to the line, but not crossing it. He then appears to imply that this incident and a similar one with Dale Steyn fall under the heading 'Australians playing cricket extremely fairly'.
Maybe it's just that Clarke has a different definition of 'the line'. In his world, you can cross the acceptable/unacceptable threshold with impunity. What he's talking about is the line that separates 'not stabbing someone in the eye with the scorer's pencil' from 'stabbing someone in the eye with the scorer's pencil'.
28 Appeals
9
"I don't particularly like them," said James Faulkner before Australia played the West Indies. He must positively detest them now.
Here's another Faulkner quote.
"If you can do something to upset somebody and upset their team, it goes a long way towards doing well as a group."
He got that the wrong way round. The West Indies did well as a group to chase 179, which surely upset the Australians, and the fact that it was Faulkner bowling the final over when Darren Sammy hit successive sixes to win the match has doubtless upset him specifically.
Sammy said:
"The Australians normally have a lot to say. We are here to play cricket."
Which isn't to say that the West Indies are mutes. They just save their talking for after the matches. Sammy couldn't help but remark that his team had handled the pressure better than the Aussies. Faulkner was unavailable for comment.
The Windies also save their bat-flinging and cool-losing for after the match. The willow of Dwayne Bravo may not yet have returned to terra firma, so high was it thrown, while the emotions were sufficient for even Chris Gayle to finally lose his cool.
And oh how he lost it. This video of the celebrations doesn't even show Gayle's immediate reaction to the winning six, when he screamed so hard he actually fell over.
9 Appeals
14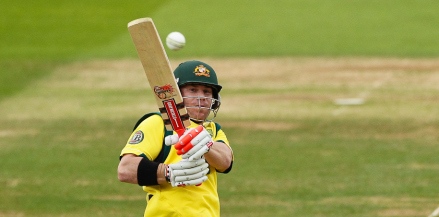 Nobody's happy about that fact, but we might as well get used to it because when he shuts that toolish mouth and plays cricket, he can score some runs.
Diversity
One thing we really like about this Australian team is that it's a lesson to everyone on the importance of having diversity within your team. Australian wickets tend to herald change, whereas an incoming England batsman is typically 'much like the last guy, only more so'.
You need to mix things up. If blocking and leaving isn't a valid strategy, England tend to gradually move towards 'really, really blocking and leaving'. In contrast, Australia have one opener trying to split the leather every chance he gets and another who basically just likes standing at the non-striker's end.
Sometimes obduracy is the better approach. Sometimes giddy pummelling is the way to go. Australia's opening partnership is almost like a fact-finding mission, allowing the rest of the team to gather information on how they should approach things. Whichever opener's out first, do the opposite.
The perfect team
Good sides are rarely one-dimensional. That goes for batting and bowling. The perfect cricket team would be a sickly mélange of top chaps and bell ends of all shapes and sizes, boasting a troubling array of mental health problems and physical abnormalities. It would be like a cross between the Hunterian Museum at the Royal College of Surgeons and my local pub on days when a herd of idiots decide to stop in after the football.
14 Appeals