Australia cricket news
13
Mumbai Indians are currently benefiting from Ricky Ponting's expertise and Surrey will be getting a few top tips shortly when he arrives to play for them.
Don't believe us? Ask Dinesh Karthik:
"Some of the things that he says in team meetings and some of the points he brings to the fore is really hair-raising."
Is they? What kinds of things is he saying to raise your hair?
"The other day I had a doubt and I walked up to him. All he said was that if you see the ball and think you can hit it, you hit it. That, I thought was a very positive input and the one I really liked."
From this article, which was brought to our attention by Cric-O-Fan.
13 Appeals
10
Fast bowling isn't just about bowling quickly. It's also about sitting around worrying about your knee. As such, Australia's younger bowlers have the perfect role model in Ryan Harris.
Harris is injured again, which is pretty much his default status. Really, the news was that earlier in the week, he was fit – that was what was worth remarking upon. Now we're back to normal and he's had to fly home from the IPL after a debilitating workload of 12 overs in three weeks saw his Achilles tendon sustain some form of knackage.
Ryan Harris doesn't look fragile. Like a potato, he appears lumpy and functional. He's not like one of these gangly fast bowlers who move like puppets where every component's stretched to breaking point. Those guys look like they're made out of cooked spaghetti wrapped around raw spaghetti and you can easily see why something is likely to give way.
But yet Harris is the vulnerable one – particularly his legs. He's still the best at this. He's the one showing Mitchell Starc, Pat Cummins et al. how it's done.
10 Appeals
20
Maybe not. One of first-class cricket's finest batsmen may yet get an opportunity to play a second Test having been selected in Australia's Ashes squad. It just goes to show, if you hang around long enough, the failings of the next generation will eventually earn you the recognition you sort of deserve.
15 years of experience
You wouldn't say Rogers has been picked at his peak, but he's still good enough in English conditions to have topped Middlesex's batting averages last year (if you ignore Andrew Strauss because he only made 277 runs). Also, being as he's here already, he's got plenty of time to get his eye in.
What else?
He won't be the only one with an opportunity to get his eye in. Modern Test tours are short, but there seems to be recognition that the players need more time to acclimatise as seven of the Test squad will arrive early with the Australia A team.
Who else?
There has been a cull. Batsmen picked for their bowling and bowlers picked for their batting are out. Glenn Maxwell, Moises Henriques and Steve Smith are all dropped, as is Xavier Doherty. Even if they hadn't been replaced, the squad would be stronger. They were basically just diluting the previous Australia squad and distracting people. Brad Haddin's gnarl-dog face has also been brought back, because it looks the part.
Conclusions
This may be the least terrifying Australia Ashes squad in years, but at least there's some clarity about it. That wasn't the case in India, where the selectors seemed to be hysterically hedging and hoping. It's also a good move to have plenty of players over in the UK for a prolonged period before the first Test.
We tend to think there's a tendency to fill in the unknowns rather generously when it comes to Australia's younger bowlers, but that doesn't mean we think they're outright bad and they'll have more impact in England than in India. As long as you have bowlers, you are always in with a shout.
20 Appeals
15
To which the less generous among you might say: "Again?"
We have mixed feelings about such jokes because we retain a great deal of affection for Graeme Hick. Many years ago, we spent a great deal of time desperately wishing he would turn the corner and start savaging Test attacks. We spent even longer unearthing flimsy evidence that this was actually happening:
"That 31 not out takes his average above 50 over the past eight months if you discount those two bad decisions against New Zealand."
In a way, Hick is the man who taught us how hope will invariably become attached to at least one player in a poor team and how the beneficiary/victim is rarely the best player in that team. Instead, they tend to be inconsistent players who have experienced very occasional stellar highs. 'When those aberrations become the norm…' is the basic mentality. Only who's to say they ever will?
It's important to have something to cling to though, even when your team is manifestly dire, otherwise why would you follow any match? At certain times we need a player to look upon this way; someone who might just salvage things single-handed. You might even be able to think of some current cricketers who meet such a need.
We of course would never stoop to naming one, even in the unlikely event that there were some sort of a link to Graeme Hick's new coaching role which would make for a satisfyingly rounded conclusion to this article.
15 Appeals
12
ICC: Hi Australia, could you possibly name your long list of 30 players for the Champions Trophy. You don't have to name your 15-man squad yet, just a bunch of players who might appear in it.
Cricket Australia: No.
ICC: Er, why not?
Cricket Australia: Because that's just what they'll be expecting us to do. [Evil grin.]
ICC: Who'll be expecting that?
Cricket Australia: Everyone. The media, the fans, the tournament organisers.
ICC: Okay.
Cricket Australia: We're going to play by different rules this time. [Evil laugh.]
ICC: Okay.
Cricket Australia: [Continues cackling.]
ICC: You know you'll still have to name your 15-man squad a few weeks before the tournament, right?
Cricket Australia: Yes. [Looks shifty.]
ICC: And you know that you don't actually have any secret weapons anyway? It's not like you're going to put all your opponents on the back foot by suddenly unleashing some unknown genius.
Cricket Australia: We might.
ICC: You won't. That player doesn't exist.
Cricket Australia: He might.
ICC: You're picking 30 players. Look at the last 30 guys you've capped in one-day internationals. Graham Manou's probably the best of them.
Cricket Australia: Pat Cummins?
ICC: Okay, Pat Cummins is good, but just look at some of those names: Ben Laughlin, Shane Harwood, Dan Christian, Josh Hazlewood – they're not exactly household names, are they? Of the last 30 players you've capped, Xavier Doherty has been the most successful selection. Why should we believe that you could identify a great player, even if there was one available to you?
Cricket Australia: You'll be laughing on the other side of your face when we unveil our secret squad.
ICC: No, we'll be entirely unmoved when you finally get round to confirming your 15-man squad in early May.
12 Appeals
25
We used to fear this kind of thing, but it's all been put in perspective by this: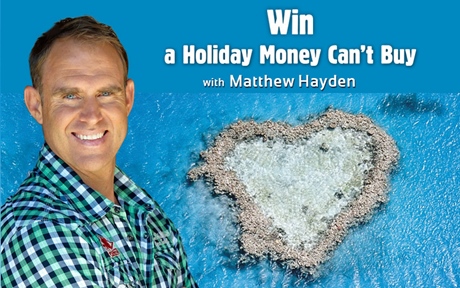 The holiday ends with you having a barbecue with the man himself. At least he's a good cook.
"Yes, I could definitely eat a 14th steak if you'd be good enough to go back over to the barbecue yet again. There's not enough heat left to cook with, you say? I'm sure there is. You'll just have to cook it for longer. You'll just have to cook it for much, much longer. That's right. Stay over there, slightly further away from me for much, much longer."
We found this via a link on Hayden's Twitter feed, which read: "Come and play in my back yard."
Not sure why we clicked it really. There was no possible good outcome.
25 Appeals
34
Mitchell Starc's been sent for an operation. Apparently, he's been suffering with bone spurs for months. It's very hard to keep track of injuries to Australian bowlers, but we think that he joins Pat Cummins and Jackson Bird on the sidelines. We presume Ryan Harris is injured as well, although he's been in the grey land between injury and retirement for so long, he's presumably built a house there.
As ever, the team's injured bowling attack is probably better than the Test attack, although at least James Pattinson's been allowed to play again. Plus Peter Siddle's in form. Siddle strikes you as being a man who's heard of being injured, but who doesn't really believe in the concept.
The sheer inevitability of Australian fast bowling injuries is highlighted best by the case of Shane Watson. Half batsman, half bowler, half tearful bovine – this man-and-a-half is apparently fit to bat, but not to bowl.
This really does beg the question as to why the state of Australia's spin bowling is so dire. Surely all the youngsters are turning to tweak in a bid for self-preservation.
34 Appeals
23
A quick update on how Phil Hughes is doing against India's spinners. He really kicked on today, scoring two whole runs.
This means that Hughes has now been dismissed five times in his last 70 balls against spin, scoring two runs in that time.
That's 0.4 runs per dismissal at a strike rate of 2.86.
It's rare that statistics speak for themselves when you're trying to deliver humour.
23 Appeals
9
A great result for Australia today with the first day's play being a complete washout. It didn't stop them making the one decision needed for them to commit to a playing eleven though.
"We went with what we perceive to be our two specialist spinners."
Does that mean that they aren't specialist spinners? Is Mickey Arthur saying that they're actually zookeepers, but that he and Michael Clarke are choosing to perceive them as spinners?
Surely you trust your own perception? To use the phrase 'what we perceive to be' indicates an odd tinge of self doubt. If we said that we were currently drinking 'what we perceive to be a cup of tea' you'd stop us and say: "Hang on a minute. What are you really saying here, King Cricket? What are you really drinking?"
If we then looked down into our mug and answered: "We perceive it to be tea," you'd probably look at us weirdly for using the first-person plural, but it would also pique your interest still further. You'd want answers. If there's an element of doubt as to whether this substance is tea or not, then what are the other possibilities?
But it's more than that. What triggered this uncertainty? How on earth does someone come to question the accuracy of their own perception of the world around them? What has to happen before a person looks at something perfectly commonplace and suspects it might not be quite what it appears. Furthermore, what are the ramifications with regards to the nature of everything else that surrounds them?
If you can't identify tea with complete confidence, how can you be sure that you can correctly identify coffee? How can you be sure of anything?
9 Appeals
30
This is the impression we're getting.
'Come up with three ways in which we can improve'
People keep using the word 'homework' and it's because of the way the task was given to the players. It's the kind of school assignment where the level of difficulty has been carefully gauged to ensure a response. 'Come up with three bullet points – everyone can do that. No excuses.'
But a coach shouldn't have to lead the players by the hand like this. Working out how to improve should be second nature to them. How have they got into the national team if they're not continually evaluating their own performance and by extension that of the team?
Backchat
This is, quite genuinely, one of the minor indiscretions described by Mickey Arthur that apparently contributed to the decision to suspend players. 'Giving attitude' was another. We're not sure we've ever heard of an adult 'giving attitude'.
Viewed against this sort of a backdrop, the suspensions smack of a teacher reclaiming control of the class via an almost arbitrary show of power.
Shane Watson 'weighing up his options'
What's a decent reason for retiring from one form of the game? That you've been struggling with injuries? That you're worried you're not up to standard any more?
Both of those might apply to Shane Watson, but strangely they weren't what triggered his sudden urge to 'weigh up his options' with regards to his cricketing future. No, instead Watto has decided to take stock of things at the exact moment when he's just been told off.
He's threatening to take his bat in and doesn't want to play any more. It is, quite simply, a massive great strop.
30 Appeals