Australia cricket news
7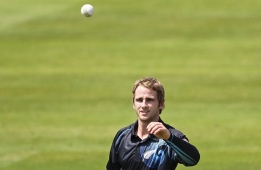 When New Zealand played Australia, the bowlers won and cricket was all the better for it. Runs are not a sensible unit of measurement when gauging the value of the 'product'.
AB de Villiers is a genius and deserves every plaudit that comes his way, but Kane Williamson's 45 off 42 balls pisses all over his 162 off 66 balls earlier in the week.
Okay, maybe that's unfair because de Villiers' knock was also match-deciding in its own way and could only have been delivered by a truly freakish talent. We're just pointing out that in many ways Williamson's innings belongs in the same category.
What's the value of a six? It's not six runs. That doesn't explain it because runs don't have a set value. A run takes its value from the context in which it is scored.
When Brendon Taylor hit a six against the West Indies earlier in the week, those runs represented around 1.6 per cent of Zimbabwe's target total. Not very exciting. When Kane Williamson hit a six today, those runs represented about 4 per cent of New Zealand's target total.
So twice as valuable? No, because we didn't properly assess the context there. Taylor's came in a run-chase that was always destined for failure and so, measured by what really matters, it was all-but-pointless. In contrast, Williamson's came with New Zealand needing six runs to win, against Australia, with only one wicket in hand.
A mishit and New Zealand's bitter rivals would have won. A four and Australia still could have won. That's when a six is a 'maximum' – when it delivers maximum impact.
7 Appeals
23
This World Cup's a marathon not a sprint. The last thing you want to do is hit the ground running.
You want to hit the ground with a wet splat; look up; slowly get your bearings; and then start crawling in about a fortnight's time. You want to reach a fat person's jog this time next month and then you can really pick up the pace from there.
As such, England have made an excellent start. They've been bowled out by a Mitch – and not even by a decent Mitch, but by a rubbish medium-pace Mitch who'd taken all of six one-day international wickets before today. Maybe Srinivasan had a bet on.
They also made a mockery of our belief that Eoin Morgan should be batting at six instead of five. If the captain had been one place lower, he would have emerged precisely one ball later, so clearly it didn't matter. Either way, after scoring just two runs in his last five innings, he is almost painfully due.
Australia have basically set off at a sprint. Momentum – that oh-so-valuable commodity – can only be lost.
23 Appeals
35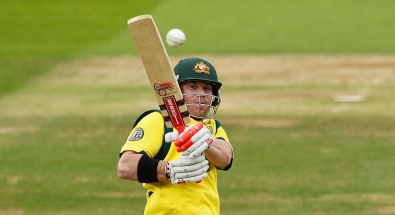 That's a straightforward message for Ricky Ponting and all who would make a similar defence of David Warner's behaviour. Read it, accept that it is a fact and then go away and think through the issues again, Ricky.
Ponting's latest column for Cricinfo features the following assumption, stated as fact.
"The Australian public love the way he bats, which goes hand in hand with the sort of confrontational approach he sometimes takes in the field."
Is that so? Aggressive batting and argumentative fielding go hand in hand, do they? Why must the way a person behaves while fielding have a direct link to the way they bat several hours later (or earlier)?
Batsmen don't come much more aggressive than Virender Sehwag, but we can't really recall him charging from slip to square up to an opposition batsman.
Or how about Chris Gayle? Does he lose his rag with the opposition every chance he gets in a bid psych himself up for batting? No, of course not. He can't be bothered. Truth is, even his 'aggressive' batting is characterised by a placid, nonchalant demeanour.
But it's different for Warner. He plays with a passion unimaginable to Sehwag, Gayle, De Villiers, Jayasuriya or whoever. He's special, and to ensure he remains special, Warner is obliged to act like an arsehole. His confrontational approach goes hand in hand with his batting, after all.
This is why Warner has to be involved in a road rage incident every time he passes a cyclist while driving; this is why he has to threaten supermarket staff when can't find his favourite brand of coffee; and this is why he has to kick a plastic cup full of loose change halfway down the street when a tramp has the temerity to laugh at him for tripping on a kerb.
35 Appeals
20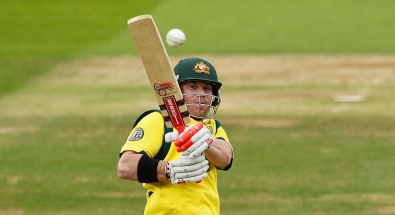 That is the subtext of any comment from captain or coach after David Warner has behaved like a bit of a prick. "He's an aggressive player and we don't want him to lose that edge," they say.
They say this because they know the truth: picking fights with people as a fielder has a direct impact on Warner's batting. It's hard for you to comprehend, because watching on TV you can't actually see his special superhero belt. But it's there. It's real. He wears it underneath his whites; it has a series of lights along it; and they illuminate as he powers up.
Warner gains energy from behaving like a six-year-old, so he needs to 'get involved' and showcase his complete inability to see another person's perspective every chance he gets. Each time he does this, another of his belt lights goes on until he is fully powered-up and ready to bat. At that point, he finally turns his attention to cricket.
20 Appeals
6
Australia will get to declare again. Maybe this is presumptuous on our part. Maybe they were batting for a declaration but have now got a taste for scoring at ten an over and will carry on tomorrow. It seems unlikely though. If there's one thing Australia like more than scoring at ten an over, it's declaring against India.
In their eight innings in this series, Australia have been bowled out just twice. In Brisbane they made 505 and in Melbourne they made 530.
This definitely feeds the narrative of the weak Indian seam attack, but the fact is that Australia haven't actually been able to restrict India either. The tourists have made at least 400 in every first innings, so the pitches must be at least partly to blame. We're not a fan of declaration cricket. We like to see teams bowled out.
One of the worst aspects of this from India's perspective is the unravelling of several of their seam bowlers. They've certainly brought some of it on themselves with their inconsistency, but if you weigh the promise of 'what might be' in one hand and the cooling excrement of 'what has been' in the other, the balance has certainly shifted in the last few weeks. And that 'what has been' hand will never be so clean again.
We can't be bothered finding the exact quotes, but before the series Kohli listed the qualities of his attack. It was one of those 'on paper' exercises. You are never more likely to look at what a player might do rather than what they will do than when assessing a side on paper. The gist of his words was that several of his bowlers were quick and several could swing it while Ishant offered height and bounce.
On paper.
A different piece of paper summarises what's actually happened. Mohammed Shami has the best average – 35.80 – but has conceded 4.24 runs an over. Ishant Sharma has been more economical, conceding 3.24 runs an over, but averages 48.22. Beneath them, it only gets more horrendous.
Umesh Yadav has averaged near enough 50 and has conceded 4.62 an over. He's bowled 118 overs, so that economy rate is no fluke. Varun Aaron bowled 64 overs and conceded 5.64 an over, averaging 72.40. Bhuvneshwar Kumar has one wicket at 168.
The truth is, none of Australia's bowlers has averaged under 30 either. The difference is, they have happier days to fall back on. For India's seamers, a tour to Australia should have represented a nice break from slow 'n' low, but if anything it's been worse.
You're meant to benefit from experience. Unfortunately, most of India's seam bowlers' experience is of declaration bowling.
6 Appeals
6
It wasn't so long ago that Australia's batting was pretty fragile. Since then, David Warner and Steve Smith have joined Michael Clarke as regular run-scorers, providing more than mere gaffer tape solidity. However, while India's 408 doesn't look too imposing, nor does Australia's new-look line-up.
Some players seem underrated by the sides they represent. Others… well, you just feel like you're missing something. The Marshes are a case in point.
Shaun Marsh makes good hundreds interspersed with a hell of a lot of ducks. He's played for long enough now that you'd think people would have a fair idea what they will get from him, but the Australian selectors seem far more concerned with what they might get from him.
His brother, Mitch, is looked upon in a similar way. People seem impressed by his bowling, despite the fact that he has only just taken his first Test wicket in his fourth Test, while he finds himself batting at six despite a first-class average of 29.63. By way of contrast, India's number six averages 58.68 in first-class cricket and recently became the first man to hit two ODI double hundreds – yet still approximately half of his team's supporters think he shouldn't be playing.
The middle order Marshes – they sound more challenging than they perhaps are.
6 Appeals
14
If the Gabbattoir is seeing anyone slaughtered, it's not the Indians but the home team's bowlers. Ryan Harris was rested because he's slightly injured and while Peter Siddle was flat-out dropped, he might be back for the next Test because the Aussie bowlers who actually are playing have been attempting to rotate at too great a speed.
Josh Hazlewood and Mitchells Starc and Marsh all suffered in some way on day one of the second Test. A third Mitch – Johnson – only suffered in terms of his bowling figures, which were 0-64 off 15. Hazlewood and Starc should be okay to bowl on day two, but Marsh, in a respectful nod to his absent captain, has done his hammy. They're even being a bit vague about whether he'll bat.
All this cramp and nigglage hasn't done much for the over rate either. Despite 22 overs of spin, only 83 overs were bowled in the day, which is shocking. India still found time to make 311.
14 Appeals
7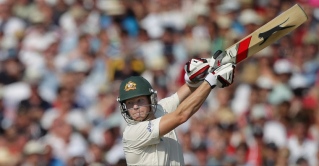 It's possible that we jumped the gun in saying that we might not see much more of Michael Clarke. We've reached this conclusion on the basis that he made a hundred as recently as today.
Watching Clarke teeter and gallumph about, it's clear that the spirit is willing but the tendons are inflamed, but you can get a long way with spirit – just ask Steve Smith.
We've previously said that at some point we'll come to terms with Steve Smith's run-scoring. We're not sure we're quite there yet, but a good innings is at least no longer a surprise. In fact, we've reached a point where we're faintly outraged when he's omitted from the Australia side. He pretty much always scores runs and he tends to do so in the right sort of manner for the situation as well.
Good cricketer. Weird batsman, weirder bowler, but good cricketer.
7 Appeals
10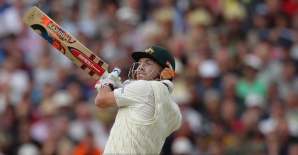 David Warner paid his own tribute to Phil Hughes by flaying a whole series of fours in the air through the off side. Chris Rogers then provided the context by demonstrating just how hard it is to middle the wide ball angling across a left-hander. Edged to slip? Where was the open-faced scythe to the boundary, man?
Warner's 10th hundred in 33 Tests takes his average within a spit of 50. He did for the opening bowlers to such an extent that India were relying on Ishant Sharma to bring the run-rate down. For all Sharma's qualities, that's usually a sign that things have gone horribly wrong.
India's other bowler was Karn Sharma, a legspinner, who was making his debut. We presume R Ashwin has again been omitted on the basis of his poor overseas record – something that he is going to struggle to correct from the dressing room. Thus far, Karn Sharma's built a piss-poor overseas record of his own, but there's little point judging him on day one of an Australian Test match. He does appear to have moobs, however.
The other big news was Michael Clarke retiring hurt. The injuries are coming with the frequency of Warner boundaries these days and we're starting to think we might not see much more of Australia's captain. We daresay he finds it rather frustrating. We do and we have pretty much nothing vested in his career.
Clarke's opposite number was Virat Kohli because MS Dhoni is slightly injured and slightly resting ahead of the World Cup. From what we saw, Kohli can do stern-faced pointing in sunglasses with the best of them. He did however lose the toss, which is something to work on before his next match as captain.
10 Appeals
39
It's never easy to cover serious news on a website like this because whatever we write will have to stand alongside something stupid. Our usual way of dealing with this is to just let the serious story completely pass us by. But you can't write a cricket site and not comment on the death of a cricketer who was killed while playing cricket. Where are you if you start doing that anyway? The modern world is a disconnected, unfeeling place at times. Ignoring a person's death is not acceptable.
However, the first thing we've noticed is that even if people can feel distanced from major events nowadays, the cricket world – and that includes you and us – seems to remain healthily responsive. We're writing this because it's a struggle to read. Phil Hughes' death seems to have rinsed all the cynicism away so that even trite words are making us teary.
That's one of the things about cricket. A day's play is six hours; a Test match five days; a tour can last months – it's a lot of time to get to know someone. We don't see players in every situation in their life, but we do see a hell of a lot of them. We take in the ups and downs that shape them – ups and downs which can be very personal and unrelated to the fortunes of their team. Cricket's like a huge, freakish family and when a cricket family member dies, we all feel a sense of loss.
Quite a few of the obituaries are saying that Hughes was destined for greatness, which is the kind of fortune-telling revisionism which often takes place when someone dies at an unacceptably young age. We don't much care whether he would have been great or not. What we'll miss is Hughes's career, however it might have panned out. That was the fascination – in seeing things unfold.
And Hughes was a truly fascinating player. We'd have loved to have seen how things went from here. He could look – and we'll not mince our words here – outright bad at the crease. He could look like a bad batsman. But he could also look good and more than anything, he could perform in a way that made him impossible to ignore. He bounced between those extremes like no-one else and that is what we'll miss. All players are unique, but Hughes was a high profile, potentially-alter-your-entire-way-of-thinking unique.
His career seemed to constitute an experiment as to whether really obvious shortcomings could be completely negated by sheer brilliance. Hughes would pick up a whole string of ducks and you'd think it was an open-and-shut case and then he'd score hundreds when no-one else could get off the mark. That was the quality we picked up on in his early days and he only became more interesting when we later discovered that his was a qualified brilliance.
Freakishly heavy scoring is hard to ignore and if Australians still talk about Shaun Marsh as being some great white hope, it's worth noting that Hughes made over twice as many first-class hundreds despite being six years younger. He was 25. We hadn't even started this website when we were 25. We hadn't even thought about doing the thing that we do when were the age at which Phil Hughes has died. We know a sportsman's career starts and ends earlier than most, but it isn't meant to end this early.
39 Appeals