Australia cricket news
27
Where does 2015 rank in the pantheon of Ashes series? Somewhere in the middle, we'd guess. It was certainly dramatic, but it probably wasn't even the best Test series this summer.
It was unpredictable from one match to the next, but the same quality wasn't particularly apparent within any individual Test. There were no plot twists here, just derivative scriptwriting linking together the occasional explosive action sequence. To confusingly and unnecessarily switch art forms a moment, if a Rolf Harris drawing starts out looking like one thing but ends up as something completely different, these Tests had bold outlines drawn right from the outset.
What we basically had were two inexperienced teams who can't bat, only one took much longer to come to terms with this. Australia's batsmen didn't accept that they were inexperienced in English conditions and played as if they knew better. Australia's selectors didn't accept that at least one of their inexperienced bowlers should have made way for some less dynamic steadiness.
As for England, they didn't so much play to their limitations as resign themselves to them. They accepted that the cupboard was more or less bare and so vowed to feed voraciously, like a pack of starved velociraptors, on those rare occasions when they did get to tuck in.
It was playing to your strengths taken to an almost delusional extreme. If a triathlete can't swim and doesn't have a bike, you wouldn't think they could compete. England borrowed their gran's shopping bike with a basket on the front, did a bit of doggy paddle and then basically just sprinted through the run as fast as they could.
And they won, so yeah… approach vindicated. It will be 18 years since Australia last won the Ashes in England when they next get a chance to have a go.
27 Appeals
12
As in 'returned'. It hasn't got ankylosing spondylitis or anything, on account of the fact that it's an abstract concept and therefore doesn't have a spine or a rear side or whatever.
Mocking momentum's the in thing to do at the minute. Typical that it would come into fashion six years after we were indulging. A lot of people have cited the ding-dong-ding-ding-dong nature of this series as being evidence of its meaninglessness, but look a little closer and there momentum is, actually having some sort of meaningful impact.
What is a fightback if not defiance of momentum? And what has there not been at any point during any of this summer's Ashes Tests?
Each of the five matches between England and Australia this summer has followed a familiar pattern. One team has got ahead; the other team has at no point been able to recover. The winning team has invariably been the one that first gained momentum.
Maybe it was a thing all along.
12 Appeals
18
At some point surprisingly soon, England and Australia will complete the most one-sided close series in history. Not that it's been one-sided in favour of one particular side. It's been one-sided in favour of both of them, just at different times.
It's hard to know what to make of a close series which features no close results. We can only conclude that London is now part of Australia and that the nominal tourists have therefore had home advantage during those two Tests. How else to explain the marked shift in fortunes when the crowds have roared using different vowel sounds? Not that they roar at Lord's. They haven't much at The Oval either, it has to be said – except in frustration.
We went out on our bike towards the end of today's play. It was only a quick ride, half an hour, but during the time we were away, England lost the Test. It was almost as if they saw what Australia produced at Trent Bridge and went: "Hey! Embarrassing collapses are OUR thing," before showing them how it was done. Pulling out all the stops, several of them even contrived to get out to Mitchell Marsh.
Shouldn't it feel more painful than this? Time was we'd be almost in tears if England were bowled out for jack shit, but now it's just something that happens, like women's clothing catalogues addressed to the previous owner of your house being pushed through the door each morning, even though she moved out near-enough two years ago. Shameful collapses are commonplace. Humiliation's the new 86-2 after 30 overs.
If you go behind in a Test match these days, you just race to defeat as quickly as you can, like you're ripping off a plaster. Truly, if these are Ashes, they have resulted from self-immolation.
18 Appeals
24
We're all for the ebb and flow of Test cricket with all its nuance and scope for recovery, but all in all we'd much rather see Australia being bowled out for 60 in the span of time normally reserved for a football match.
There's a cycling commentator who routinely uses the word 'testy' to mean 'testing'. Quite possibly he says 'teste' but that would still be wrong. We're now going to use 'testy' incorrectly in an entirely different way and say that today's play has been Testy. We mean this in the sense that it was what Test cricket usually is: protracted, patient and slow to ripen. It was almost like they were bothering to set the scene for once, rather than kicking off with a wild gunfight or an attack by Zombeavers (not seen that film yet, but can't wait).
It was the kind of day when you could find yourself with an opportunity to watch live Test cricket and quite quickly find yourself not watching it. We don't mean turning off in disgust. We mean just sort of drifting away from it to check out breakfast burrito recipes online or something similarly pressing.
Unless something dramatic happens after this rain break, there are no real headlines. It's almost as if up to 80 per cent of the match is still to come.
24 Appeals
28
Mike Selvey has written a nice piece about balls. The word 'caresser' is used at one point.
He is, of course, writing about Dukes balls, the cricket ball used in England which swings for way longer than the crappy, inferior Kookaburra ball. It has a bigger seam too. It's a bowler's ball; a good ball.
The headline of Selvey's piece refers to Stevie Wonder's classic track, Sir Duke, which means that for the rest of the day, we will be humming that song while imagining that we are on a train in Sri Lanka. The reason for this is that when we were in that country, many years ago, train announcements were heralded by four escalating notes comprising a major chord. In other words, the first four notes of Sir Duke, played at exactly the same tempo, only they were left hanging there, incomplete, demanding to be continued by the human brain. It was an oddly punishing psychological experience.
In many ways, swing and seam have been the story of the summer. England's bowlers' familiarity with these arts seemingly matched by Australian batsmen's unfamiliarity with the effects. But will we get more of the same at The Oval? Balls are of course only one part of an equation that may also hinge on the weather and pitch.
Anyone who's visited this country for more than half-an-hour-or-so knows that British skies are a law unto themselves. Pitches, however, are a little more controllable – even if they are to some degree influenced by what's above them. We've mostly had green seamers – good pitches – so far, but that could change. With the series secure, is there a thirst for more of the same or will the yearning for a five-day Test outweigh that?
Five day Tests are not England's friend. The flatter the pitch and the less challenging it is to bat, the closer we are to Australian conditions. As well as all the great players they produced, a worldwide trend towards true, even surfaces partly helped shunt Australia to their position of dominance for all that time through the Nineties and onwards. Quite simply, Test cricket became more Australian. Things seem to be going the other way now and we'd rather like to see that continue at The Oval, even if it means the final Test only lasts a day and a half.
28 Appeals
10
Shane Warne left an important part of his brain somewhere on a cricket field in Hampshire. It's the part that stops you doing things that your 11-year-old self would have thought a good idea.
Here he is describing a painting he had commissioned.
We'd love to know what this programme was and what else was covered. We'd particularly like to hear Warne talk us through the rest of his painting.
During the last Test, there was an unsually laboured spell of commentary in which Warne revisted his 'Sherminator' nickname for Ian Bell while working alongside Ian Botham. "He's not the Sherminator any more," said Warne. "He's Stifler" – intending this as some form of bizarre compliment.
It's a strange sort of 45-year-old whose favourite film is American Pie. It's stranger still for someone that age to see Steve Stifler – a character who at one point refers to himself as 'The Stifmeister' – as being the hero.
Botham dealt with the situation by completely ignoring Warne, despite being asked direct questions on the matter on at least three separate occasions.
Beefy has rarely if ever before seemed so professional behind a microphone.
Thanks to Russell Jackson for pointing this video out.
10 Appeals
12
You've got to hand it to us, we can call matches incorrectly with the worst of them. Almost as if they were goaded into it, Sri Lanka have done everything in their power to make our assessment of them the day before yesterday seem almost criminally inaccurate.
We called them insipid. They recovered from being five wickets down in their second innings and still near enough 100 behind to set India 176 to win. The turnaround began at almost exactly the moment we accused them of 'embarking on a second round of divdom'.
We said that Rangana Herath appeared to have lost the ability to take wickets and lead the attack. He has just taken 7-48 to bowl India out for 112 to win the Test.
The murderous capybara is back and we can again comfort ourselves with the thought that Planet Earth wouldn't have to consider selecting Nathan Lyon – which is just as well as with his misshapen Mekon head, he's clearly a Treen sleeper agent.
12 Appeals
7
The thing about hiccups is that they almost always come as a plural. You might cough once, you can get away with a single sneeze, but hiccups arrive en masse. As such, Darren Lehmann's description of the Cardiff Test as 'a minor hiccup' seems entirely fitting.
Far from being symptomatic of woefully unjustified arrogance, Lehmann was actually being very careful with his choice of words. He might equally have described the result as a 'blip,' referring to the sound repeatedly produced by a hospital's heart-rate monitor, all things being well.
Hiccup, hiccup, hiccup. Blip, blip, blip.
But yet if that great seer of our times, Boof Lehmann, foresaw what was to come, it was fairly unexpected for many of us. The biggest surprise of all was English cricket's apparent willingness to sacrifice days of cricket in favour of improved chances of victory.
Test cricket is typically played on pitches as flat as a steamrollered pancake. This year, England apparently thought: 'Sod it. Let's play on English pitches for once, see how that goes.'
It didn't last long.
It does make you wonder whether they might have produced similar pitches a bit more often in the preceding decades. You know, at any point between Terry Alderman and now really.
7 Appeals
18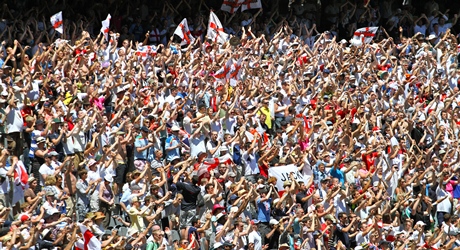 They completely did. They fully did. What do you make of that?
And as a bonus talking point, Michael Clarke seems likely to retire at the end of the series. We presume he's only waiting that long lest Steven Smith feel the pressure to follow suit immediately after leading the side to a demeaning defeat in the fifth Test.
We'll write more later, but for now… [punches air, swigs tea, links to celebratory Ashes Venn diagram, looks forward to finishing work for the day so that he can celebrate properly, using superior liquids.]
18 Appeals
6
Not the one from Walkabout, but the weird, pathetic quasi-pull shot he plays when he gets a short ball with two men on the fence. The one that's twice cost him his wicket in this series and which near enough got him out on the two or three other occasions when he's played it. We think this might be our favourite shot of this year's Ashes.
There are other contenders, of course. Michael Clarke alone has delivered a whole new batting textbook each innings. It's hard to pick out one shot though as he's rarely repeated one. He hasn't usually had time.
Peter Nevill's leave is serving him well. While his middle order colleagues have been drawn to the ball in slow, easy-to-outwit fashion, like zombies towards brains, Nevill has been confident enough to leave the ball. At Edgbaston, he calmly left a James Anderson delivery which hit his stumps. Here at Trent Bridge, he did the same to a Ben Stokes ball but this time got his legs in the way.
Shaun Marsh's hard-handed push is a strong contender. His is the most zombie-like of all the hard-handed pushes and is further enhanced in our eyes by being played by a man whose batting we've long enjoyed. Executed perfectly, Marsh's shot would end up in the hands of mid-off for no runs. It is an unspectacularly pointless means of courting dismissal and yet it already feels like the inevitable full stop to each of his innings, like Shane Watson's bat-around-pad lbw review preamble.
But on balance, Warner's non-pull is the winner, if only because it comes from a batsman who's otherwise looked pretty decent. It's an aberration, but he plays it so often, it can't be. Warner's spent time honing this gun-in-the-mouth-trigger-pull.
It's also spectacular. He doesn't just spoon the catch to a legside fielder. He doesn't just miss it. He somehow contrives to play the ball vertically while simultaneously looking camp as Christmas. Truly, it is a thing of rare, rare beauty. More of this kind of thing!
6 Appeals