India cricket news
44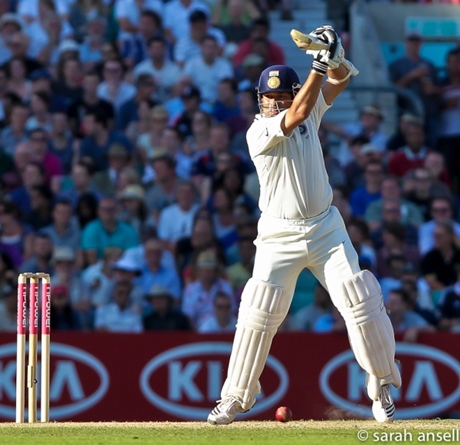 Considering he's been the highest profile player for pretty much the whole time we've been following cricket, we've missed an awful lot of Sachin Tendulkar's career.
We went to the match in which he scored his first Test century, but we didn't see him bat. Then, for a long time afterwards, his innings were broadcast elsewhere and we'd only check in with him once every few years when there was a World Cup or India toured England. Each time this happened, we'd wonder how the hell he managed to average over 50 – not because we didn't think he was good, but because back then that sort of average meant something.
In more recent years, we've seen more of him, but that isn't to say we've always watched closely. Sachin Tendulkar is so massive, such a fixture in cricket, that it never felt vital to watch any particular innings. There would always be another.
Highlights
He's never been one for the Brian Lara innings anyway. Not for him extraordinary peaks and troughs. For a man who's hit more boundaries than anyone, his career is actually defined by accumulation. He's had dryish spells, certainly, but he's been playing international cricket for 25 years – that'll happen. In general, he's picked up a mid-sized hundred every few innings, regardless of age, opposition or location.
We've written before about how Tendulkar's career is just too much to take in and evaluate. This is the true mark of his genius; that we can have missed the vast majority of his 780 international innings and still be overwhelmed by the information. You can't boil it all down to a jus and taste it. It is something which can only possibly be consumed over many sittings.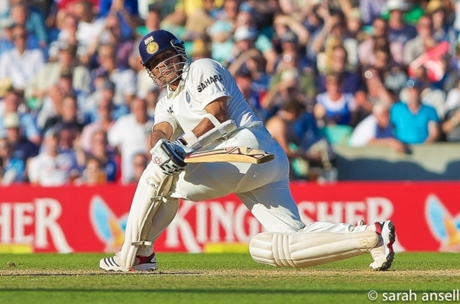 Summing him up
Some career obituaries you read will point to something in particular as summing him up – a particular shot or a particular innings. No. That is entirely missing the point. The point is the sheer breadth of what he's achieved.
Hardly anyone has been Test standard at 16. Hardly anyone has been Test standard at 40. Tendulkar has been both and more. Between those two already freakish extremes, lies the most freakish achievement of all. He's excelled at all forms of batting near-constantly against a backdrop of insane expectation.
There are almost infinite scenarios in cricket. Different goals, different formats, different pitches, different bowlers, different fields, different circumstances. You can always find something that needs ticking off, but by any rational measure, Tendulkar has done the job.
This was why we once said that he has been better than Bradman. It was mischievous because we didn't really mean it as a comparison. It's just that there's a temptation to flatter players from the past when imagining what they did or what they would have done had they been around today, whereas Sachin Tendulkar can't really benefit from this. He's a known quantity. In 25 years and three formats, he's come up against a wider variety of challenges than anyone. Mostly, he's done okay.
44 Appeals
26
We've instead written about writing about Sachin Tendulkar over at Cricinfo.
Within minutes of it being published, it had already attracted insightful comment:
"Now finally great person retirement time will came But We expecting good support for younger with their experience. This Type of great person very low volume coming."
Translation software may well have been put to use there. Translation software is gash.
26 Appeals
27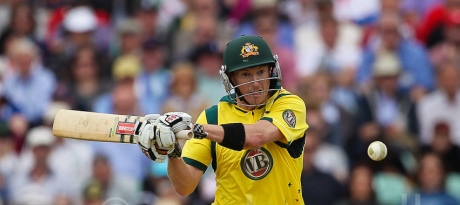 Yesterday, the man they used to call Nohit Sharma made a one-day double hundred, but even eight wickets down, Australia seemed in with a chance of chasing their 384 run target. Ludicrous totals seem to have become the norm in one-day internationals (ODIs) and even India's captain has been complaining about things. What's going on?
The bigger picture
The first thing to note is that this isn't a global thing. In general, fewer runs have been scored per over in 2013 (5.07) than were scored in 2009 (5.12) and roughly the same as were scored in 2011 (5.04) and 2012 (5.05). The narrative that one-day cricket is increasingly all about six-hitting and phenomenal scoring rates only really makes sense if you focus on certain matches.
Even then, it's not been quite so outlandish as you might think. India's 383-6 yesterday was the highest total of the series, but in historical terms, it was only the 19th highest. Their 362-1 in Jaipur earlier in the series has been the second-highest total of the year, but is only the 34th highest in history.
So why do things seem so crazy-mental?
It definitely feels like everything's gone nuts though, doesn't it? If there has been a change, it has been towards the end of the innings. For example, Rohit Sharma took 71 balls to reach 50, but then hit 59 off the final 18 balls he faced with seven of those deliveries going for six. Batsmen have always looked to accelerate, but this appears to have become more pronounced in recent times.
Sharma and MS Dhoni scored at 10.65 an over during their 167-run partnership, while earlier in the series, Sharma and Virat Kohli scored 186 runs at 10.73 an over. This is not just very attacking batting – it is also sustained, which implies there is less risk of being dismissed.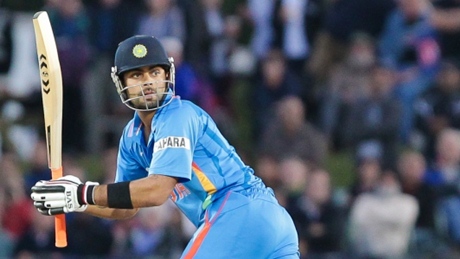 Minor factors
The easiest and laziest thing to do is to point to Twenty20 cricket. There are certainly contributory factors arising from that format – a change in mentality and increased focus on the methodology of hitting sixes – but it's also true that it's been around a while. The IPL's been up and running since 2008 and Twenty20′s been played in England since 2003.
People also point to flat pitches being produced in India, but there's nothing new there either. Pitches can only get so flat. Every 10-run rise in score isn't indicative of another degree of flatness. These things are probably contributing to high scores, but there is more going on.
Major factors
We'd point to two relatively recent changes in playing conditions as being the major reason why back-end scores (fnar fnar) have risen in recent times. Since the start of this year, ODIs have been played with two white balls (fnar fnar) and each team has only been allowed four fielders outside the circle outside the powerplay overs.
Having two white balls was meant to give something back to the bowlers because the new ball is usually more threatening to batsmen. However, many Indian pitches feature relatively little bounce and so this advantage doesn't actually amount to a right lot. In fact, the benefits to the bowlers are far outweighed by the fact that a harder, newer ball will travel further off the bat later in the innings. Last year's caught-on-the-boundary-in-the-40th-over is this year's six.
And with four men out on the fence, there is always a sizeable gap somewhere. Loft a shot in that direction and you will probably get six and will have to settle for four if you mishit it.
Basically, the batsmen have been encouraged to try and hit boundaries by the removal of one of the boundary fielders and have been given greater hitting power by the use of two white balls.
Other factors
Then there's the bowling. Clint McKay, Nathan Coulter-Nile, James Faulkner, Xavier Doherty and Glenn Maxwell. Let's be brutally honest here – that's a B-team. This is a recurring theme in one-day cricket these days. Fast bowlers in particular require a great deal more rotation than batsmen, so you invariably end up with the best batsmen from one country facing the second-best bowlers from the opposing nation. There's imbalance there, even excluding all the other factors.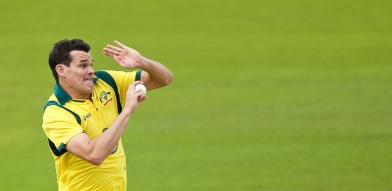 Does any of this matter?
Unlike Test cricket, where the aim of the game is to take 20 wickets (while minimising the damage sustained in achieving that), one-day cricket is about run-scoring. That is the unit of measurement. The team which scores most runs, wins. As such, higher totals are not intrinsically a bad thing.
The problem is that there comes a point where you are not rewarding the best batsmen, you are just rewarding batsmen in general. While Virat Kohli may be an exceptional talent, few would argue that the likes of George Bailey and James Faulkner are in the same bracket and yet they have scored heaps of runs at astonishing rates. It seems to us that in India specifically, the current ODI rules tip things too far in favour of the batsmen.
Batting is essentially about weighing risk and playing accordingly. The best batsmen are at less risk, no matter what the shot, because they hit more cleanly and consistently. However, we now have a situation where even a mediocre batsman can aim to hit a six with minimal risk because there are bigger gaps and because a newer ball will go further even when mishit.
A question
Weather, pitches and cricket balls vary from country to country. Why do ODI rules need to be the same worldwide?
27 Appeals
3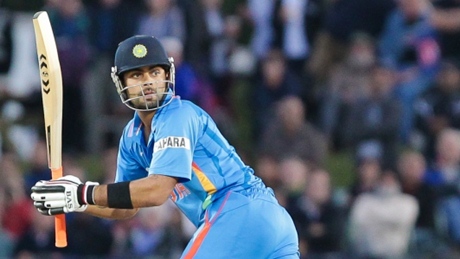 Every year they change the rules for one-day internationals and every year the highest-scoring matches become even higher scoring. That's where the effects are most keenly felt – at the top end. If there's one man you want in your team in a modern world where targets of 350 and more are increasingly common, it's Virat Kohli.
There are plenty of stats out there about Virat Kohli in run chases. Seek them out if you feel that you need them. We'll just point to his last two hundreds – 100 not out off 52 balls chasing 360 and 115 not out off 66 balls chasing 351. India won both those matches.
Kohli is the finisher who bats at three. He does the same thing Michael Bevan did, but he does it from farther out facing a higher asking rate. That's not to say that he's better, because he plays in matches where it's easier to set high asking rates and more difficult to dismiss batsmen. It's a different thing.
But Kohli is no mere slogger (although he can certainly slog). On a scorecard, his innings may seem like they should be lumped in with the hell-for-leather, all-or-nothing efforts of Twenty20 players like Kieron Pollard, Glenn Maxwell or Luke Wright. But the difference is that Kohli's efforts are sustainable. His is an engine which can cruise at those scoring speeds. He's no dragster.
That's why we likened him to Bevan. His calculations might not be quite so fastidious, but he still gauges his effort according to the demands of the situation. It's the same job in a very, very different world.
3 Appeals
21
Bailout made an unusually strong and comprehensive argument in favour of Stuart Matsikenyeri when we requested names of players whose continued selection seems inexplicable. However, Ishant Sharma was mentioned more frequently.
Sharma seems to be the subject of much scrutiny at the minute. A Cricinfo article about him last week was rendered all but redundant by a blunt and brutal subheading which told the whole story:
"Ishant Sharma has been a disappointment in ODIs, proving ineffective with new ball and old for the majority of his six-year career"
Yesterday, he was taken apart as if he were a national health service, with James Faulkner in the role of right-wing politician. With Australia needing 44 off three overs, Faulkner scored 30 off Sharma, who somewhat disappointingly didn't bowl any wides or no-balls to extend the destruction.
MS Dhoni says that his bowlers don't need to be spoon-fed. Presumably, Sharma is currently being fed through a straw.
21 Appeals
19
So, technically, one-day cricket isn't 'all about hitting sixes these days' because India won.
Australia made 359-5 and India skittered to 362-1 in 43.3 overs in reply. Rohit Sharma hit a hundred and looked quite angry about it. Virat Kohli hit a 52-ball hundred and looked extraordinarily angry about it. Shikhar Dhawan failed shamefully, making only 95, and looked fairly nonplussed about it.
James Faulkner took the wicket, but on this occasion successfully resisted the temptation to try and poke Brad Haddin's eye out during the celebrations.
19 Appeals
48
Frank Skinner often talks about there being different 'seats' for public figures. The premise is that there are certain timeless jokes which require a well-known figure with certain characteristics for the punchline and there always has to be someone to fulfil that role. The person may change, but the joke does not. There is a thick seat, a fat seat and a load of others we can't remember off the top of our head.
The same applies in cricket. You want a cricketer who loves his food – you'll probably still go for Mike Gatting. You want to say something about innocuous Kiwi all-rounders – Chris Harris.
We sometimes find need to call upon the person sitting in a seat which could be labelled: 'Terrible cricketer who somehow keeps getting recalled to play for his country even though he is almost entirely without ability and there are plenty of better options available'.
Up until this week, that seat was occupied by Ajit Agarkar. But alas, no longer, for he has retired from cricket many years too late.
Which occasional international cricketer could possibly replace him?
48 Appeals
7
And that's make a really obvious and not-particularly-funny joke about something entirely unrelated which would have been timely had it appeared seven months ago, but which probably still wouldn't have been original even then.
Brace yourselves…
So, hey, is Justin Timberlake's 'new' album, like, all about Twenty20 cricket or what then? Hmm? Hmm?
It's called The 20/20 Experience, you see, so maybe there's a song about the required run-rate climbing to over nine-an-over and another about how the batsman's just hit three 'maximums' in a row.
Maybe there's a song about sitting at a county ground, wondering whether anyone among the smattering of spectators shivering in the cold really appreciates the five second blasts of a song by none other than Justin Timberlake each time someone hits a four.
One of the songs on the album is (genuinely) called Don't Hold The Wall. Who would have expected wise words from Justin Timberlake on the subject of respecting Rahul Dravid's personal space.
[Categorises post under 'Rahul Dravid']
7 Appeals
12
Have you been following this India-South Africa brouhaha over the last few weeks? Just because something's reported as if it's not massively childish, doesn't mean it isn't massively childish.
Basically, there's a whole load of politics going on, which is sod all to do with cricket and everything to do with business, power and influence. However, a Test series may well be sacrificed in the crossfire.
Reading about this farrago is an exercise in futility because you can disregard pretty much everything anyone says about it. Most official comment isn't even a bastardised version of the truth, it's usually just a completely irrelevant lie presented as if it's 'the issue'. Quite who this official reading of the situation is aimed at is anyone's guess because no-one really believes it.
The BCCI have some sort of roulette wheel featuring heady-sounding job titles which they spin at times like this to see who will be called upon to talk vacuous nonsense to the media. This week, it landed on 'secretary' which is a bloke called Sanjay Patel. It doesn't matter who he is or what he does though. The BCCI has whole battalions of these guys. We presume that they grow them somewhere in dank, clay soil which doesn't get much daylight.
Sanjay Patel said:
"Certain things have to be put in right perspective. Let me inform you that BCCI in normal circumstances would have done anything [for the tour to proceed]. But the protocol of finalising any series is joint declaration. But that declaration was originally done without the BCCI's approval. So we are waiting."
This is such a colossal waste of words.
Patel paints the BCCI as being an organisation which would do anything to ensure a cricket tour took place, which it isn't.
He claims the problem is due to 'protocol', which would be absurdly trivial if it were true – but it isn't. The BCCI claim that their gripe is that South Africa announced the series prematurely before everything was finalised. There may well be some truth in that, but you can be equally certain it's not the full story – it's no more than one sentence in the middle of chapter eight.
Finally, he says that the BCCI are waiting, without saying what they might be waiting for. We can only presume they are waiting for the day when Gondwana reforms in the shape of a giant boardroom table around which every remaining human will gather, wearing a suit and sunglasses. They will then discuss whether or not to take a vote for a thousand years before finally deciding that they need to launch an internal investigation into why no vote has taken place.
No-one, at any point, will question what the vote might be about. No-one, at any point, will achieve anything.
12 Appeals
37
Five! A full five!
This would appear to be the upside to the fact that Test cricket is pretty much only played by England, Australia and India these days. We finally get a full length series that isn't the Ashes. When did that last happen?
No, really – when? We can't be bothered doing the research.
There will be three Tests in the South-East and two in the rest of the UK. Feel free to have an argument about that in the comments.
We propose that all future Tests be played near the birthplaces of British-born Test cricketers who would be in the first XI at the time the fixtures were agreed. That currently gives us a surprisingly broad choice of Gloucester, Sheffield, Coventry, Bradford, Nottingham, Northampton, Burnley and either Pontefract or Watford, depending on whether Tim Bresnan or Steven Finn gets the nod.
These places have earned the right to host Tests. Everywhere else clearly doesn't love cricket enough to be considered.
Update: With six days the longest gap between Tests, fans attending the later matches will be delighted at the prospect of seeing several of each nation's best cricketers.
37 Appeals