India cricket news
21
For those who don't know what Sri Lanka v India is, it's kind of like the Ashes, only they don't make the losing team play a fifth Test. Or a fourth one.
Sri Lanka seem to have turned a little bit insipid. They coped with Muttiah Muralitharan's retirement surprisingly well considering their entire gameplan hinged on him for a decade, but now some cracks are appearing. Mahela Jayawardene has gone and Kumar Sangakkara will follow him shortly, on top of which the surprisingly effective Rangana Herath appears to be becoming less effective just as his wickets were ceasing to be a surprise.
Last year Pakistan toured Sri Lanka. In two Tests Herath took 23 wickets. All that was missing was some boggle-eyed grinning and it would have been just like Murali was still around. This year Pakistan again toured Sri Lanka. Herath took two wickets in two Tests and was dropped for the third. That's a pretty marked contrast.
Against India, Sri Lanka batted like divs to make 183, conceded 375 and now appear to be embarking on a second round of divdom. It isn't glorious.
21 Appeals
16
Following India's one-day series defeat to Bangladesh, MS Dhoni has hit back at his critics, saying that he's the captain and nothing beyond that.
When it was put to him that the result might be considered something of a disappointment to India fans, Dhoni may or may not have replied: "It's my team."
The implication seems to be that the captain is in control and if he wants to lose to Bangladesh, he can lose to Bangladesh and no-one else is permitted an opinion on the matter.
"I don't slag you lot off when you use the word 'would' when you mean 'will'," he continued. "So don't get all up in my grill when my team loses a game of cricket. Each person should stick to his own field. My field is the winning and losing of games of cricket and I will continue to do both of those things to the best of my ability until the selectors decide that someone else can do them better than I can."
When reporters looked at him quizzically, he added: "I ain't even lying."
16 Appeals
14
That's what we've written about for the Mumbai Mirror. It's not just about Dhoni though. It's also about conviction in general and how an epidemic of uncertainty can sweep through a side at a major tournament.
In other words, it's yet another piece about stuff England did wrong masquerading as something broader and more inclusive.
14 Appeals
16
The players, the coaches, the fans and the media told England that they needed to be making 350-plus scores to do well in this tournament. The 2015 World Cup wasn't just going to be about run-scoring; it was going to be about phenomenal, unimaginable run-scoring. Look at what India are doing! Batsmen are making double hundreds EVERY DAY.
India, for what it's worth, have reached the semi-finals of the tournament despite a top score of 307. None of their batsmen rank particularly highly in the list of top run-scorers. However, they have bowled out the opposition in each of their seven matches and they have won every game.
India, of course, have conviction. They don't mimic other nations. They do what they feel they need to do to win one-day cricket matches. More on this as well as a valuation of the damnation of tinkers over at the Mumbai Mirror.
16 Appeals
33
At the start of the tournament, we highlighted a weakness of South Africa's – the fact that their batting order "quite quickly becomes a little bit Farhaan Behardien". This weekend, it just as quickly became a little bit Wayne Parnell. That's a long tail.
South Africa's best batsmen are so good it rather distracts from the fact that their batting as a whole isn't quite so all-conquering. If you can find a way to dispatch Hashim Amla and AB de Villiers, they're a surprisingly vulnerable side. But how exactly do you get rid of those pair? Well, in de Villiers' own words: "You feel the pressure chasing 300 plus so you take on shots that you might not normally take on and you go for second runs you might not normally go for."
It's what was once known as 'scoreboard pressure' before that phrase came to mean little more than 'a big score'. The two aren't the same. Sometimes chasing 300 is easy. Sometimes chasing 250 is hard. You only really feel the pressure when you're chasing a score that is – and we hate ourself for saying this – above par.
The slog
Chasing 300 is also a great deal easier when your best batsmen are in during the final 10 overs. This period of the game appears to have become disproportionately influential in one-day cricket since the introduction of two new balls and the changes to fielding restrictions with teams routinely scoring at 10, 12, even 15 an over.
Against Zimbabwe, South Africa made 28 in the first 10 overs of the match and 146 in the last 10. That puts a lot of emphasis on what commentators call 'the back end of the innings' (and which we will therefore refer to as being 'the arse of the innings').
In that instance, it was David Miller and JP Duminy, numbers five and number six, doing the damage. However, it wouldn't have worked out quite the same if they'd entered that period with Wayne Parnell at the crease (Farhaan Behardien was actually number seven in that game, but you get what we're saying). You could even argue that just one extra wicket in the first 40 overs of the game could have cost almost 100 runs.
Who else?
One of the odd things about the arse of the innings being so significant is that it is leading a lot of teams to pick five specialist bowlers, rather than relying on part-timers. This means that it's often the number seven and number eight batsmen who are making way for out-and-out bowlers – in short, the very people who are highly likely to find themselves at the crease in the final 10 overs. This exaggerates things further.
India find themselves in a slightly odd position in that they have two strong lower order batsmen in Ravindra Jadeja and R Ashwin who are both spinners. If they can keep them in the team, the batsmen have a nice safety blanket. But without them, you could excuse a few jitters and it's possible the top order might play more conservatively to ensure the right men are around for the arse of the innings.
Australia, bizarrely, have gone the opposite way to a lot of teams and picked great swathes of batsmen-who-bowl and bowlers-who-bat. Sometimes it's just good fortune that their best bowlers are also decent batsmen (Mitchells Johnson and Starc) and that their best batsmen also bowl (Steve Smith) but they've also been keen to play all-rounders like James Faulkner and Mitchell Marsh. The upshot is that while their top order isn't quite so spectacular, it never really ends, so there'll always be someone to exploit the arse (of the innings).
And England?
England's latest match, against Scotland, was also an arse tale (as opposed to an arse tail). In a World Cup in which a three figure score from the last 10 overs is pretty much standard, they hobbled from 130-0 after 30 overs to 303-8 in 50. Basically, they scored in 20 overs not much more than a lot of sides would have been aiming for in 10.
33 Appeals
12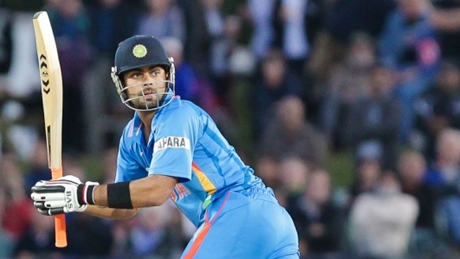 We suppose we really should at least acknowledge that the biggest cricket match of recent years took place. You know the one – Virat Kohli scored a hundred (as usual) and Misbah-ul-Haq made a futile 50 (as usual).
It was Kohli's 22nd one-day international hundred, a number that is both strikingly impressive and slightly meaningless at the same time. Kohli and AB de Villiers are the preeminent one-day batsmen of their time, but they play so many crappy nothing games that one-day international statistics don't really have the power to impress.
The World Cup matters, of course – that is an official editorial stance round these parts – so maybe we should focus on players' World Cup records specifically, in which case the knock against Pakistan was Kohli's second World Cup hundred.
That sounds like nothing and some India fans will grumble and say we're deliberately trying to diminish their man's achievements, but it's quite the opposite.
Two is a lot
If you can get your head around that, you will start to understand where we're coming from. The two hundreds in games that matter outweigh the 20 in games that don't. Virender Sehwag only made two World Cup hundreds in his entire career. Brian Lara made two. Even the mighty Nathan Astle only made two.
Only 11 players in history have made more than two World Cup hundreds. We're saying that two is a lot, but looked upon like that, even one is a lot.
And one IS a lot. That's what cricket should be like. Hundreds should be A BIG DEAL.
And they are
For now at least, World Cup hundreds remain a big deal. Even Sachin Tendulkar, whose statistical jetsam is too sprawling to comprehend, notched a manageable number. He made six. That is few enough that a human being could conceivably remember them all.
When (yes 'when') Virat Kohli makes his third World Cup hundred, he will leap into equal fifth place behind Sourav Ganguly and Mark Waugh on four, Ricky Ponting on five and Sachin Tendulkar on six. He will be level with the likes of Viv Richards, Saeed Anwar, Sanath Jayasuriya, Mahela Jayawardene and AB de Villiers.
Strikes us that you don't actually need to play huge numbers of matches to identify the best players. Just play a handful that actually matter and you'll get decent, meaningful results.
12 Appeals
6
Australia will get to declare again. Maybe this is presumptuous on our part. Maybe they were batting for a declaration but have now got a taste for scoring at ten an over and will carry on tomorrow. It seems unlikely though. If there's one thing Australia like more than scoring at ten an over, it's declaring against India.
In their eight innings in this series, Australia have been bowled out just twice. In Brisbane they made 505 and in Melbourne they made 530.
This definitely feeds the narrative of the weak Indian seam attack, but the fact is that Australia haven't actually been able to restrict India either. The tourists have made at least 400 in every first innings, so the pitches must be at least partly to blame. We're not a fan of declaration cricket. We like to see teams bowled out.
One of the worst aspects of this from India's perspective is the unravelling of several of their seam bowlers. They've certainly brought some of it on themselves with their inconsistency, but if you weigh the promise of 'what might be' in one hand and the cooling excrement of 'what has been' in the other, the balance has certainly shifted in the last few weeks. And that 'what has been' hand will never be so clean again.
We can't be bothered finding the exact quotes, but before the series Kohli listed the qualities of his attack. It was one of those 'on paper' exercises. You are never more likely to look at what a player might do rather than what they will do than when assessing a side on paper. The gist of his words was that several of his bowlers were quick and several could swing it while Ishant offered height and bounce.
On paper.
A different piece of paper summarises what's actually happened. Mohammed Shami has the best average – 35.80 – but has conceded 4.24 runs an over. Ishant Sharma has been more economical, conceding 3.24 runs an over, but averages 48.22. Beneath them, it only gets more horrendous.
Umesh Yadav has averaged near enough 50 and has conceded 4.62 an over. He's bowled 118 overs, so that economy rate is no fluke. Varun Aaron bowled 64 overs and conceded 5.64 an over, averaging 72.40. Bhuvneshwar Kumar has one wicket at 168.
The truth is, none of Australia's bowlers has averaged under 30 either. The difference is, they have happier days to fall back on. For India's seamers, a tour to Australia should have represented a nice break from slow 'n' low, but if anything it's been worse.
You're meant to benefit from experience. Unfortunately, most of India's seam bowlers' experience is of declaration bowling.
6 Appeals
25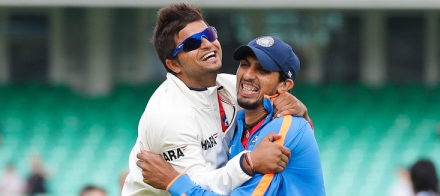 Our friend who was once known as Uncle Jrod has written a piece for Cricinfo about the impact of the IPL on India's Test performances. We can't work out whether he's been done up by the site's subeditors or whether the headline and teaser are part of the general mischievousness of the piece. Probably the former.
Blaming the IPL for India's Test defeats is tired, easy and to a great extent wrong. It's one aspect of a bigger picture. As Jarrod is at pains to point out, the lack of first-class cricket is probably the bigger problem, even if the IPL contributes to that. There's also the fact that this is nothing new. India were weak away from home and lacked reliable pace bowlers long before the 20-over format became such a huge, stinking beast.
But this isn't actually what we want to talk about today. One passage in the article reminded us of something we've been meaning to say for a while.
"Umesh Yadav is big and strong. He's the most moose like of Indian quicks. His strike rate is amazing. His pace is impressive. Dhawan at slip goes low, the ball hits the middle of his hands, he roles forward athletically. But it's kind of a mirage. It's the best of India, and what they can do. But not often what they do."
Oddly, our focus here is not Umesh Yadav's moose-like qualities, nor the misspelling of 'rolls'. No, it's actually a key difference between Twenty20 cricket and Tests. We think we've got this idea clear enough in our head that we can get it across in a couple of sentences, so we'll give it a line all of its own and maybe even put it in bold.
Twenty20 is about what you might do. Test cricket is about what you will do.
To help us outline our point, India have helpfully recalled Suresh Raina to their Test team. He seems as good a player as any to use as an example.
Raina might hit a hundred in India's first innings. Make no mistake, he's a player who sometimes comes off and when he does, it's eye-catching. Thing is, he's not what you would call reliable. He averages 28.44 in Tests.
In Twenty20, what you might do is useful. Most innings feature a lot of batting failures – it's the nature of the format. If five batsmen fail and one makes a hundred, you'll probably win. Failures are less costly because wickets don't always affect the outcome of the game. You can afford to select a whole bunch of high-risk, potentially high-reward batsmen because doing so isn't actually risky at all. In 20 overs, there's always another batsman to come in.
In Test cricket, wickets define the game. If five batsmen fail, you're conceding an awful lot of ground. You simply can't afford to carry too many people in a Test match because everyone's needed. Consequently, it doesn't pay to select players on the basis of what they might do. Far better to choose on the basis of what they (probably) will do.
While there's huge overlap in the qualities needed to succeed in both formats, there's also a fundamental difference. The ability to maximise what you can get from a finite number of deliveries is not the same as maximising what you can get with time constraints of minimal importance.
People get confused though. As Twenty20 leagues get more coverage, perception is skewed. A handful of match-winning innings will always draw more attention than a whole slew of solid but unremarkable ones and the players who deliver the former are more likely to get talked up. People say these players have more 'ability,' but this overlooks the fact that it is often high-risk, high-reward ability in a format that rewards such an approach.
Funnily enough, India are actually pretty good at distinguishing. Cheteshwar Pujara, Ajinkya Rahane and Lokesh Rahul weren't elevated to the Test team off the back of intermittent Twenty20 overachievement, which is another reason why it's misguided to blame the IPL for away Test defeats. Or at least it was. Now Suresh Raina's back and he seems to owe his selection to his proficiency at a high-risk, high-reward style of play.
Maybe Raina can adapt. Only time will tell. He might well score a hundred tomorrow. But then again, long-term Test success is never built on what you might do.
25 Appeals
19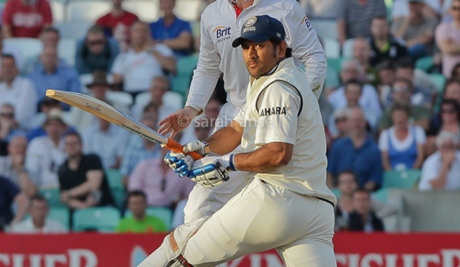 The normal reaction when one of cricket's biggest stars retires from Tests is a kind of pained collective whine, mourning their departure. Never again will we get to see them do all those things that we've only just realised we took for granted. But MS Dhoni is different. Everyone – even his fans – is just sort of saying: 'Yeah, that makes sense'.
People can be a bit black and white about these sorts of things saying that Dhoni never liked the longest format. That's rubbish. He played 90 Tests and you don't do that unless you give at least half a toss. It probably is true that Test cricket is his least favourite format however – and as is the case for all top cricketers, something eventually has to give.
Once upon a time, you could afford to give your all in even your least favourite format, but with today's fixture lists, enthusiasm has to be rationed; carefully apportioned where it will have the most impact. Does anyone want to see MS cruising through big matches? It's not hugely satsifactory, but the truth is it's probably better to replace him with a lesser, but more ravenous player.
It shouldn't come to that really. Ideally there would be little enough cricket that the top players would be completely full-on in every match in every format. But at present that's simply unrealistic. Everyday cricket every day is what we've found ourselves with.
Some countries have more of their best players retiring early from Tests to prolong their short format careers; other countries will see their best players retiring early from one-dayers to prolong their Test careers. All else being equal, this difference is enough to determine who wins at what. International cricket as one country's true best eleven versus the best eleven players the opposition can possibly muster is a rare thing indeed. Perhaps we never truly see it any more.
19 Appeals
14
If the Gabbattoir is seeing anyone slaughtered, it's not the Indians but the home team's bowlers. Ryan Harris was rested because he's slightly injured and while Peter Siddle was flat-out dropped, he might be back for the next Test because the Aussie bowlers who actually are playing have been attempting to rotate at too great a speed.
Josh Hazlewood and Mitchells Starc and Marsh all suffered in some way on day one of the second Test. A third Mitch – Johnson – only suffered in terms of his bowling figures, which were 0-64 off 15. Hazlewood and Starc should be okay to bowl on day two, but Marsh, in a respectful nod to his absent captain, has done his hammy. They're even being a bit vague about whether he'll bat.
All this cramp and nigglage hasn't done much for the over rate either. Despite 22 overs of spin, only 83 overs were bowled in the day, which is shocking. India still found time to make 311.
14 Appeals