India cricket news
21
We're not entirely sure what a sports lounge is – it sounds oxymoronic – but Zaheer Khan's opened one. It's called Toss Sports Lounge.
It's not really selling itself is it?
The other day, Zaheer was asking people to come up with a tagline for his new venture.
Guys, am launching TOSS sports lounge in Pune! Undecided on its tagline, so my team has put together – Write a Tagline contest for you guys!

— zaheer khan (@ImZaheer) April 26, 2013
We're going with:
"Toss Sports Lounge – but come anyway."
What's your suggestion?
21 Appeals
15
Our facial hair says 'couldn't be bothered shaving'. Shikhar Dhawan's says 'I take enormous pride in my moustache'.
Hair can build up like limescale or mould or it can be something you cultivate and tend to like a flower. Dhawan's moustache reminds us of a possibly apocryphal story we heard while in Rajasthan once. This guy told us he'd sat behind someone on a bus who he'd suspected of having the grandest, widest moustache, only to discover that the chap in question had actually waxed his extensive ear hair into long, regal points. Whether that's true or not, that's taking pride in your hair.
Dhawan's moustache is fantastic, but somehow he overshadowed it with his batting. We've said before that India rarely struggle for batsmen. Let's not devalue Dhawan's innings by dwelling on the bowling he faced, the truth is that he tracked down Australia's open wounds and then excavated them using some sort of threshing machine made entirely out of salt. It was astonishingly cruel, frighteningly brutal and quite, quite brilliant.
15 Appeals
26
We don't mean that in the sense that we've tried Test cricket and it should now be abandoned. What we're saying is that Test cricket is essentially a shoddily-designed framework for testing all sorts of hypotheses and the lack of clarity is what makes it so compelling.
Take India v Australia, for example. Have the home team taken steps forward since being battered on tours to England and Australia? Are Australia incredibly shabby in subcontinental conditions? Let's test both those things simultaneously and therefore gain no conclusions!
If we then look at particular elements that contribute to those hypotheses, that too becomes difficult because nothing is fixed. Is R Ashwin improving as a Test bowler or is it just that he's getting to bowl to Phil Hughes all the time? Is Phil Hughes really that bad or is he just up against a really good spin bowler?
Let's not try and reach any conclusions. Let's just wallow in the greyness.
And let's take a look at India today. Australia have had enough of our attention in recent weeks.
Murali Vijay and Cheteshwar Pujara
Some vacuums do get filled and India's batting line-up tends to suck in quality (although you should never get too cocky about this kind of thing because even the richest tradition of all eroded to the point that Pedro Collins had to be selected).
Cheteshwar Pujara is quality, so that's a result for a start. Not everyone is convinced by Murali Vijay. All we know is that we saw some of his early Tests and liked the straightness of his bat. We were quite surprised when he then revealed a penchant for the heaved six in the IPL.
Another young Indian batsman we've liked in recent times is Ajinkya Rahane. With relative newcomers improving the side having ousted or replaced ageing stars, we wonder whether India's batting could be improved still further through his inclusion.
R Ashwin and Ravindra Jadeja
We like R Ashwin a lot. He's got that quality where it doesn't matter how expensive your sunglasses are, people can still tell that you're kind of a dork – but in a good way.
We're talking nerdy, studious dorkishness; the kind of guy who does things properly and doesn't cut corners. He appears to take his bowling VERY SERIOUSLY INDEED and, as an added bonus, he also appears to take his batting VERY SERIOUSLY INDEED. That's admirable and seems doubly beneficial when there might be players around who act like success and failure have little to do with their own efforts.
Ravindra Jadeja, we're not quite so sure about, but he does seem to have improved the side. We still haven't worked out how he's managing to take wickets, but we can't deny it's happening. Plus he can bat.
Conclusion
We're pretty sure India are better than they were. Then again, Australia do currently seem to be really, really bad in Indian conditions and almost entirely without direction.
Let the flawed experiment continue!
26 Appeals
21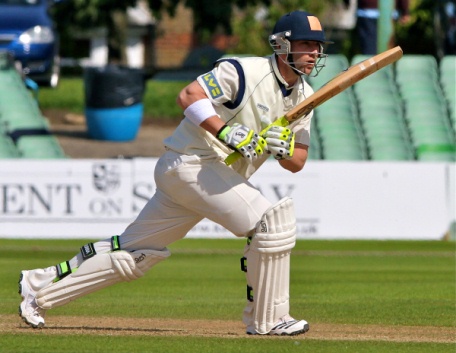 Around 95 per cent of cricket statistics are 85 per cent meaningless, but here's a nice one: In his last 39 deliveries against spin, Phillip Hughes has scored zero runs and been dismissed four times.
Earlier in the year, Hughes was overlooked for the Tests against South Africa because the selectors wanted to protect him from their fast bowlers. If someone needs protection from fast bowlers and spinners, is it really accurate to describe him as a batsman? Surely you're selecting someone who is first and foremost a fielder?
But it gets better. If Hughes is dropped, Australia may well replace him with Steven Smith.
21 Appeals
13
England fans appear to be making the most of Australia's eight wicket defeat to India, drawing all sorts of conclusions based on this one Test match. This shows a certain lack of awareness when their own team recently lost the first Test in a series in India by nine wickets.
There are plenty of similarities as well. With the bat, England had little to show for their defeat beyond a hundred from their captain and a feisty display from their number seven. Ditto Australia. In terms of the bowling, Graeme Swann took five wickets, giving some cause for optimism and while Australia's spinner didn't do a right lot, James Pattinson took 5-96.
Some people seem to think that just because England happened to win a series by using two spinners, that that's the way you should do things in India. But cricket isn't a tightly plotted videogame where you have to locate the sole route to completion. England themselves opted to leave out Monty Panesar for that first match in large part because South Africa had managed to draw their 2010 series thanks to Dale Steyn.
England thought they were playing to their strengths, not recognising that their spin attack was actually as good as their pace attack. In contrast, Australia's self-assessment is probably accurate. This doesn't mean that they can't win, however – but they do need to find their own approach.
Maybe they could bring back Mitchell Johnson.
13 Appeals
19
If we had to sum up the opinions aired regarding Dhoni's captaincy yesterday, it basically boils down to something like: "Yes, he could do a bit more to support and encourage his bowlers, but it probably doesn't matter all that much because they'd still be pretty middling even then – plus he's good in other ways."
Like scoring 224 with fine style in order to make the opposition bowling attack look even more limited than your own. This isn't technically captaincy, but people still label it 'leading by example,' which basically just involves doing anything good while you happen to be captain.
For Australia, Moises Henriques has again scored runs – which is just as well, because nobody else did. Allied to the one wicket that he took, he increasingly looks like a Test number seven who might take the odd wicket – a slot that Australia have been desperate to fill for some time, along with all the others.
19 Appeals
21
Speaking about captaincy in his interview with the Guardian, Ian Chappell said:
"I also felt – and I think this is overlooked a bit – that it was your job to make the cricket interesting for the players. In doing that, you get the best out of your best players. If you make it dull and bloody boring for them, they'll just go through the motions."
When we read that, MS Dhoni immediately came to mind. You don't think of him as being a boring player – certainly not in in his younger days – but his captaincy can seem really insipid, particularly in Tests and even more so when the match is getting away from him.
Dhoni's supporters will say that he has to captain within his means; that he has to set defensive fields because of the bowlers he has at his disposal. But how much does the captain's approach and attitude affect how those bowlers perform?
It isn't about setting defensive fields, necessarily. It's about setting interesting fields and asking the batsmen different questions. That can keep bowlers engaged and motivated where the same-old, same-old will not.
Is this unfair? Do you think Dhoni's a predictable captain? Do you think he creates an environment where his players sometimes merely go through the motions?
21 Appeals
26
That's the big news for the Australians today. Moises Henriques might well turn into the next Jacques Kallis or the next Imran Khan, but at present there's a vague scent of bits and the distinct whiff of pieces in the air.
Henriques is one of the better Test players born in Portugal. Indeed, we could argue that he has already outperformed Dick Westcott in order to be considered the absolute best. However, he has made one first-class hundred in his career and is yet to bowl at Test level. We're not quite sure what he brings to the team, other than a bit of a breather for Shane Watson.
From India's perspective, R Ashwin put Australia on the ropes and then invited someone – anyone – to land the killer blow. His team-mates then just sort of shuffled about, looking at their feet before Ravindra Jadeja mustered an effete slap via another non-spinning clean-bowled. If anyone can deduce precisely what it is that persuades batsmen to play for the turn against him, please let us know.
26 Appeals
6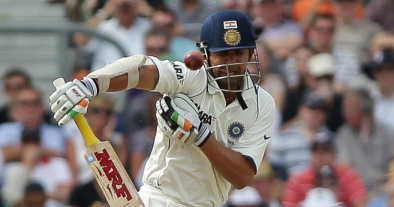 More often than not, an out of form batsman needs to be treated sensitively and given reassurance. If their confidence returns, they tend to discover it was actually all that was ever absent.
Then again, sometimes a batsman needs the bracing reality check that comes with having someone's lace holes applied to their backside with a certain degree of force. We get the impression that Gautam Gambhir had reached this stage and so it's probably in everyone's interests that India's selectors have finally dropped him.
It's the excuse-making. Good batsmen always have a reason why they failed on any particular occasion as this is actually a valuable way of retaining necessary confidence. However, if you don't have much confidence, this kind of self-delusion serves little purpose and Gambhir over the last year or so has been inhabiting the same territory as Ian Bell back when he used to make so much effort to stick out his chest. Body language is a symptom of confidence, not a cause.
No-one's fooled by posturing
In fact, it advertises fragility. For example, Kevin Pietersen's 'confidence' is frequently conspicuously brandished, but mentally he's all peaks and troughs. In contrast, Jonathan Trott does nothing to display that he's the man, because he doesn't need – or value – that reassurance. He's steadier and more resilient.
Admittedly, this is partly because Trott is entirely self-contained – approval or disapproval from others has little effect on him. He simply doesn't give a shit what anyone thinks. Not in a brash,  aggressive way – it's more that he's almost autistically oblivious.
Only Trott's brain affects Trott's emotions, so posturing serves him no purpose.
The quest for validation
Gambhir's not like that. Unlike Trott, or Tendulkar, he accepts public validation and is therefore vulnerable to public disapproval as well.
There's nothing wrong with having your confidence built on the mood of others, but it can make you vulnerable. The public don't know how you train, but they do know your past performances. They give you nothing when you're slaving away and seeing no results, but they love you when you've seen success – even if you've now started to grow complacent.
There's a time lag there and it feels like Gambhir has been inhabiting that netherland, his stockpile of acclaim for past glories steadily dwindling without his taking much action to address that.
What next?
Well now that he's got the heave, Gautam Gambhir will have to fully confront reality. We reckon he'll be able to do this and we reckon he'll respond. He's a pleasingly workmanlike batsman from a nation that produces its fair share of artists. That implies that he is, at heart, a very effective pragmatist.
A word of warning, however. A premature recall will breed only false confidence. The arse kick must propel him sufficiently far from the India team that he has to work hard to get back again.
6 Appeals
10
Well, on the assumption that you are employing a treasurer, why not do what the BCCI has done.
From Cricinfo:
"The BCCI has been hit with a Rs 2300 crore (approx $433m) notice from the income tax department and has asked its treasurer Ajay Shirke to suggest how to deal with the issue."
"So, Ajay – suggestions?"
Apparently, the BCCI was previously benefiting from tax exemptions because promoting cricket was considered a 'charitable activity'. You've got to tip your hat to the accountant who had the sheer brass balls to suggest that.
10 Appeals