India cricket news
32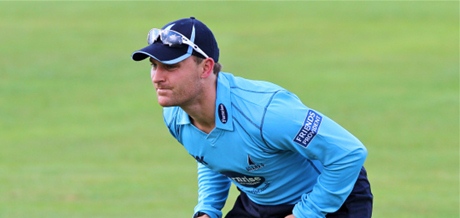 Brendon McCullum is a positive person; the kind of irritating, upbeat character who can't understand everyone else's entirely logical can't-do attitude to things. When he was joined at the crease by BJ Watling in the second Test against India on day three, he'll have thought: 'Okay, if we can just put on 352 runs for this wicket, we'll be in with a shout.'
So he and BJ promptly put on 352 runs for the sixth wicket. When the two came together, New Zealand were 94-5 and 152 runs away from making India back again. 123 overs later, when Watling was finally dismissed, they were 200 ahead. At this point, McCullum thought to himself: 'Okay, if we can just put on at least 125 runs for this wicket…'
32 Appeals
15
That's a reference to his name cropping up in talk of IPL match fixing and the fact that he's won 12 international tosses in a row, including all of them on this tour of New Zealand (without yet winning a match). Top tossing, Mahendra. Top tossing.
Even if the perfect toss record continues, the winless streak might end, as India are in a very strong position after day one of the second Test. Ross Taylor's missus has a lot ot answer for. He's away for the birth of a new Taylor and New Zealand's seemingly-resilient middle-order looked rather more wonky without him. Kane Williamson couldn't even benefit from twice being dismissed off a no-ball.
As for the match-fixing thing, is anyone else surprised by how little coverage there's been, even if things haven't yet got past the question marks in headlines stage.
15 Appeals
8
Leading India by 301 runs after the first innings, New Zealand frittered away all but 40 of them in the second innings to ensure an unexpectedly exciting finish to the first Test. If you're in an almost unassailable position and want to make things interesting for yourself, get bowled out for 105 and invite India to chase a target.
As we said on Friday, India will be tough opponents for England this summer. The fact that they're losing masks how they're losing. They're losing with grit and running good teams very close where once they were just sort of having a bit of a sit-down and waiting for matches to end. They're genuinely rebuilding rather than just using that word as a meaningless excuse for being beaten.
New Zealand are more building than rebuilding. You could say that they're exploiting India while they're in a state of flux, but we suspect there's more to it than that. They have a middle-order and a well organised seam attack, although they could still do with some reliable opening batsmen.
Another weakness is that they're full of Trents, Coreys and Kanes. In an ideal world, all Kiwi cricketers would be called Chris, Martin or both.
8 Appeals
19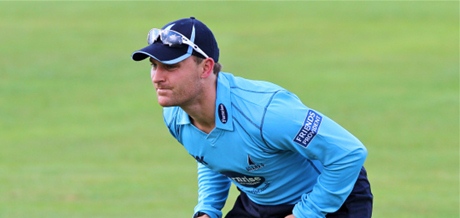 It's a week in which teams have been relying on their big name, 30-something batsmen. This isn't a coincidence. That's just the way Test cricket works.
Kumar Sangakkara has indulged in some average bolsteration by hitting 424 runs in the second Test against Bangladesh. For their part, Bangladesh managed two runs more than that in their first innings, which isn't a bad effort.
In New Zealand, Brendon McCullum made 224 against India, who are now 130-4 in reply. India of course tour England in the summer and after seeing real fight from their batsmen in South Africa, we think they'll provide stern opposition. Then again, you wonder who wouldn't fancy their chances of steamrollering England at the minute. No-one even knows who plays for them any more. Cook, Bell, Broad, Anderson…
India's pace bowling is still pretty wonky, but New Zealand's is looking stronger these days. At the time of writing, Trent Boult had 74 Test wickets at 26.09 and rarely seems to let them down, home or away, while Tim Southee's passed 100 wickets by the age of 25. Neil Wagner also bowls for New Zealand.
19 Appeals
21
We ask that not even knowing whether it's still a draft or not? When does a draft proposal become an official proposal? When they actually come to vote on it? Presumably that'll only happen once everything's been thrashed out, in which case official proposal status will be a transient and meaningless state.
Whatever it is, where are we? Our answer is: don't know.
There have been all sorts of changes in the last few days as the various pedlars, wide boys and shysters tweak things in order to get enough people onside. We've heard about a few of these changes, but there is sure to be plenty more going on that we don't know about.
The upshot is that the future of the sport hinges on a vote on proposals the exact nature of which are unknown to us. Being as the whole thing's entirely out of our hands anyway, we suppose that doesn't especially matter in any practical sense.
In other news, Bangladesh got battered by Sri Lanka. You probably saw. Shakib al Hasan was hoping it would be a spicy pitch. Sri Lanka scored 730-6.
21 Appeals
8
India picked Ronnie Irani. Hurray!
The Ronnie Irani in question is Stuart Binny. Speaking at the toss, MS Dhoni said that he would give India a lower order batsman and an additional bowling option. Needless to say, Binny bowls a bit of medium-pace.
How appropriate that he should make his debut in New Zealand, land of the Chris Harris. And what a debut! R Ashwin and Ravindra Jadeja batted ahead of him, so he didn't make it to the crease and he was then entrusted with a single over, which went for eight.
A specialist number eight who doesn't really bowl much. Every team should have one.
8 Appeals
33
A draft proposal regarding the structure of international cricket will be presented to the ICC Executive Board during its quarterly meeting in Dubai on January 28 and 29. One of the elements is a two-tier Test system in which India, England and Australia would be protected from relegation. (So a three-tier system, then.)
The supposed justification is that this is a commercial decision; that cricket would become financially unsustainable without all of these three at the top table.
Really? Is this a fact? It's presented as if it's a fact, but is that actually the case? Who decided it was a fact? Would all the fans in each of those countries completely lose interest in the sport should their team be relegated?
Here's an alternative scenario
India are relegated and forced to play Bangladesh, Ireland, Afghanistan et al. The popularity of the sport in those countries skyrockets. India return to the top tier at the first time of asking, leaving the health of the sport in each of the second tier nations in a far better state than when they were relegated.
Maybe that's a trifle idealistic, but it's also true that sports fans' main interest is competition. They don't always care so much at what level their team is playing. Manchester City Football Club have won the FA Cup and the Premier League in recent years, but many of the fans still rate the 1999 Division Two play-off final against Gillingham as being one of the club's most memorable days because of the extraordinary drama of that match, with City clawing back a two-goal deficit during injury time.
When the short-term is the only timeframe that matters
If there is one thing that cricket administrators need to understand, it is that what they consider to be the right decisions for the commercial viability of the game are merely the right decisions for the commercial viability of the game in the short-term.
Doing what seems rational from a short-term commercial perspective actually means doing exactly the wrong things from a long-term commercial perspective.
Abandoning Test cricket entirely makes sense from a short-term commercial perspective – it's the hardest format to sell to fans. However, in the long-term Test fans are generally the most loyal and easiest to retain as the very complexities which make Test cricket so inaccessible to new fans are precisely what engage people in the long-term.
Similarly, it makes sense for England to play Australia this summer from a short-term commercial perspective because that's the series that currently gains most interest in those countries and therefore makes most money. However, in the long-term people will grown weary of seeing the same thing over and over again. Big events draw people in, but diversity is what keeps them interested. How will we know the Ashes is special if we have nothing against which to compare it?
Further reading
We once wrote a five-part short story for Cricinfo in which short-term commercial optimisation fucked everything up. If you've the time and inclination, have a read. It starts with a bloke presenting something at an ICC board meeting. The end of it is basically what's happening now.
33 Appeals
17
We're a day late with this and have little to add, but since when has turning up late and contributing little stopped us?
Just over a year ago, Faf du Plessis and AB de Villiers combined to play out an unlikely draw against Australia. Du Plessis made 110 not out over about seven-and-a-half hours. De Villiers hit a chronically shotless 33 off 220 balls. This weekend, they did something similar against India, although de Villiers did actually remember to hit the ball this time.
South Africa made 450-7 – eight runs short of victory – with 134 from du Plessis (run out!) and 103 from de Villiers. Vernon Philander and Dale Steyn batted out the draw. They were actually slightly further off victory than appears because Steyn hit the final ball of the match for six.
Up until that last day, India had looked magic.Virat Kohli made light of alien conditions (alien as in 'unfamiliar' – there was oxygen and what have you) in the first innings and was then almost as good in the second innings, but found himself outshone by Che Pujara who is becoming a somewhat wearying number three for opposition teams what with his unquashable love of scoring runs and all. Between times, the Indian seamers – including a newly svelte Zaheer Khan, who somewhat inexplicably chose France as the place where he would eat less bread – did a fine job, ensuring an Indian first innings lead.
But this is what South Africa do. They're feisty sods and these kinds of draws can be dispiriting and physically wearing for the dominant team. Last year, South Africa's stunning dead-battery knocked Peter Siddle and Ben Hilfenhaus out of the following Test match, allowing them to win the series. This time around, there's (infuriatingly) only one Test to go, so no-one will be rested from the Indian bowling attack. Some of them might be a little less zingy, even if they're not flabbing in to bowl these days.
17 Appeals
11
Sometimes we really feel for Ishant Sharma. Whenever we see him, he appears to be bowling on a flat pitch in a one-day international with the batsmen going hell-for-leather and fielding restricitions in place. In reality, that isn't the only time we see him bowl. It just feels like it is.
It's a bit like being a mole in a living room. You're bloody marvellous at burrowing around underground, but sat there on the carpet, everyone just thinks you're useless. If they're generous, they pat their knee for you to come and sit on them, but with your short-arse back legs, you can't jump up.
They look at you sadly as you blunder around with your crap eyesight, bumping into things, occasionally making a futile attempt to scrabble at the floor. Someone sneers at you and says: "Ugh, look at you with your disgusting extra thumb."
But put you outside and you're away. You might have lost all confidence in your ability to dig, but it's still there. You just need to rediscover it. The dog gets filthy digging a shallow hole; the cat digs an even shallower hole, craps in it and then fills it in again. Suddenly everyone realises that there are certain jobs for which the mole is well suited – it's just that you've just been spending all of your time in the wrong environment.
11 Appeals
11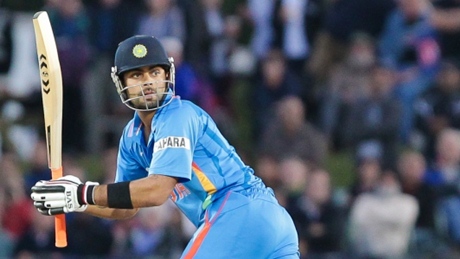 Not sure what organisation or body deems a player to be 'up and running'. We're going to try and decree it ourself and hope that it sticks.
But what do we mean by 'up and running'? Virat Kohli's just about the best one-day batsman in the world and he's been around for pure time now. Why are we only now getting around to making this outlandish and hugely controversial statement?
It's because he's scored a Test hundred in South Africa and it seems to us that this might represent the final step in his fairly inevitable journey into the top tier of batsmen. Flatelaide and three Indian cricket grounds have seen Kohli Test hundreds previously, but this one's a different beast. He's now the batsman you worry about, no matter where you're playing.
England host India next year. Magic.
11 Appeals