India cricket news
25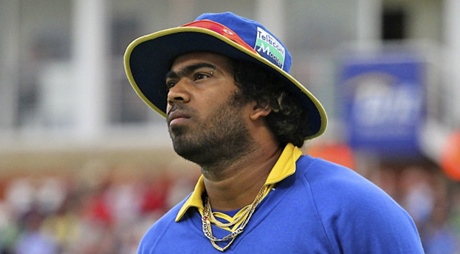 But yet able to withstand heat in the manner of an O-ring fashioned from a Viton fluoroelastomer. Sri Lanka's bowling was so efficient, it deserves to be described using mechanical gasket terminology.
The power of weirdness
This World T20 was another lesson for those who still believe that the shortest format is 'all about power'. Some feel that England were always bound to fail because of some sort of biceps shortfall, but their biggest weakness was that they didn't have weird enough bowling. Sri Lanka on the other hand…
Unlike in Tests, runs are the unit of measurement in limited overs cricket, but this Sri Lanka side haven't reached final after final because they've got exceptional one-day batsmen. They've got some good ones, certainly, but they're not match-winners. Overall, Sri Lanka are a pretty average batting side. They win because they generally don't need to score as many runs as other teams thanks to their freakish and hugely varied bowling attack.
Sri Lanka's best batsman
In the final, Sri Lanka's best batsmen was Yuvraj Singh. That is unarguable. Kumar Sangakkara played well, but no willow-wielder did more to ensure a Sri Lankan victory than Yuvi. The sad fact is that this is distracting from one of the great one-day team bowling performances.
Yes, Yuvraj seemed like he'd never held a cricket bat before, but Sri Lanka exploited that masterfully. Batsmen often start scratchily, but then they somehow get one away and suddenly everything's fine. However, Sachithra Senanayake and Lasith Malinga in particular managed to make Yuvraj's scratchiness persist for long enough that it became 'a thing'. From there, they just rode a wave of uncertain mishits, allowing their victim the strike, until Nuwan Kulasekara foolishly dismissed him.
But perhaps that wicket wasn't a mistake. This might not sound credible if you happen to have seen Yuvraj's innings, but perhaps Sri Lanka's bowlers actually wanted to get him out. Why would they do this? What possible reason might they have had for wanting to sweep aside the batting depression and bring in a Dhoni front? Well maybe they wanted to make a point – for it was not just Yuvraj who struggled.
Not just Yuvraj
India basically have just one batsman who can come in and start hitting boundaries from the first ball they face and that is the perennially ace-shit Suresh Raina, a flawed batsman with a wonderful ability to take a swing. But no, this was a man's job. Things were looking tough out there, so Dhoni made a big show of taking responsibility and moved himself up the order.
Intent on salvaging things for his team LIKE THE HERO HE IS, Dhoni promptly made four not out off seven balls, monopolising the strike in the process.
So maybe it wasn't just Yuvraj. Maybe it was Yuvraj's poor form coming up against an organised, skilled, well drilled bowling attack which just happens to include pretty much the finest death bowler to have played the game.
25 Appeals
16
That was where everything went wrong. They hauled it back a bit by batting okay, but really the match was decided when Faf du Plessis scorned the coin's generosity. Why would you ask Virat Kohli to chase? It's like asking Mike Gatting to guard your cupcakes from scavengers.
This leaves us with an India v Sri Lanka final. As usual.
16 Appeals
12
Minnows, upsets, India v Pakistan and the semi-finals already – this World T20 is getting the job done. And while some people claim that Twenty20 can be a lottery, you can make a strong case for the four remaining teams also being the four strongest.
Sri Lanka v West Indies
Darren Sammy is averaging a hundred in this tournament with a strike rate of  224. He's managed to make an extraordinary impact in just 45 balls at the crease. Rangana Herath has played even less cricket but he too has made his mark. Bowling just 21 deliveries, he is currently averaging 0.60.
That sort of sums these teams up. Both seem like proper Twenty20 sides, chock full of weirdness and heavery. Neither gets too disheartened whether chasing a big total or defending a small one. We've no idea who'll win, which is the way we like it.
India v South Africa
Insofar as any team can have reliable batting in Twenty20, India have reliable batting, but their bowling is more than doing a job in these conditions. Hardly anyone's going for runs and in fact this is probably why the batting has appeared solid. They've been able to play within themselves.
For their part, South Africa have been uncharacteristically erratic. They've been generally underwhelming but with flashes of individual brilliance and appear to be working to Broad's Law about only needing a maximum of two or three players to play well in this format. We'd bet on India, but unfortunately we don't hold a position of responsibility within the BCCI and are therefore not permitted to lay wagers on cricket matches.
12 Appeals
5
We can officially reveal that India v Pakistan in the World T20 wasn't quite interesting enough to prevent keen cricket fans from going out to buy eggs and then out again, a second time, to post something.
To put this in context, we would rank posting letters right up there with opening letters on the list of things we will try and postpone indefinitely. The ideal scenario for us is when we postpone the posting of something for so long that it no longer needs posting and can instead be thrown away. During India v Pakistan, we thought: "Hmm, might as well as post that." But not only that. We then actually did it, which is another step altogether.
It was Pakistan's fault. Quite often they never really get round to starting their innings. You think, after about 10 or 12 overs, that they might begin soon, but then they don't. Next thing you know, they've made 130 and the match is basically over.
5 Appeals
32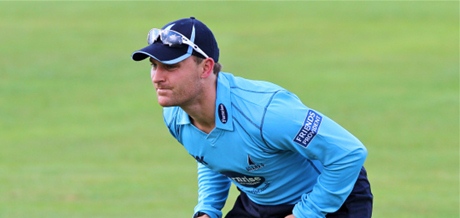 Brendon McCullum is a positive person; the kind of irritating, upbeat character who can't understand everyone else's entirely logical can't-do attitude to things. When he was joined at the crease by BJ Watling in the second Test against India on day three, he'll have thought: 'Okay, if we can just put on 352 runs for this wicket, we'll be in with a shout.'
So he and BJ promptly put on 352 runs for the sixth wicket. When the two came together, New Zealand were 94-5 and 152 runs away from making India back again. 123 overs later, when Watling was finally dismissed, they were 200 ahead. At this point, McCullum thought to himself: 'Okay, if we can just put on at least 125 runs for this wicket…'
32 Appeals
15
That's a reference to his name cropping up in talk of IPL match fixing and the fact that he's won 12 international tosses in a row, including all of them on this tour of New Zealand (without yet winning a match). Top tossing, Mahendra. Top tossing.
Even if the perfect toss record continues, the winless streak might end, as India are in a very strong position after day one of the second Test. Ross Taylor's missus has a lot ot answer for. He's away for the birth of a new Taylor and New Zealand's seemingly-resilient middle-order looked rather more wonky without him. Kane Williamson couldn't even benefit from twice being dismissed off a no-ball.
As for the match-fixing thing, is anyone else surprised by how little coverage there's been, even if things haven't yet got past the question marks in headlines stage.
15 Appeals
8
Leading India by 301 runs after the first innings, New Zealand frittered away all but 40 of them in the second innings to ensure an unexpectedly exciting finish to the first Test. If you're in an almost unassailable position and want to make things interesting for yourself, get bowled out for 105 and invite India to chase a target.
As we said on Friday, India will be tough opponents for England this summer. The fact that they're losing masks how they're losing. They're losing with grit and running good teams very close where once they were just sort of having a bit of a sit-down and waiting for matches to end. They're genuinely rebuilding rather than just using that word as a meaningless excuse for being beaten.
New Zealand are more building than rebuilding. You could say that they're exploiting India while they're in a state of flux, but we suspect there's more to it than that. They have a middle-order and a well organised seam attack, although they could still do with some reliable opening batsmen.
Another weakness is that they're full of Trents, Coreys and Kanes. In an ideal world, all Kiwi cricketers would be called Chris, Martin or both.
8 Appeals
19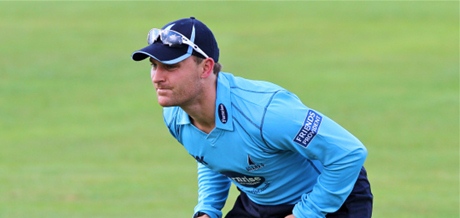 It's a week in which teams have been relying on their big name, 30-something batsmen. This isn't a coincidence. That's just the way Test cricket works.
Kumar Sangakkara has indulged in some average bolsteration by hitting 424 runs in the second Test against Bangladesh. For their part, Bangladesh managed two runs more than that in their first innings, which isn't a bad effort.
In New Zealand, Brendon McCullum made 224 against India, who are now 130-4 in reply. India of course tour England in the summer and after seeing real fight from their batsmen in South Africa, we think they'll provide stern opposition. Then again, you wonder who wouldn't fancy their chances of steamrollering England at the minute. No-one even knows who plays for them any more. Cook, Bell, Broad, Anderson…
India's pace bowling is still pretty wonky, but New Zealand's is looking stronger these days. At the time of writing, Trent Boult had 74 Test wickets at 26.09 and rarely seems to let them down, home or away, while Tim Southee's passed 100 wickets by the age of 25. Neil Wagner also bowls for New Zealand.
19 Appeals
21
We ask that not even knowing whether it's still a draft or not? When does a draft proposal become an official proposal? When they actually come to vote on it? Presumably that'll only happen once everything's been thrashed out, in which case official proposal status will be a transient and meaningless state.
Whatever it is, where are we? Our answer is: don't know.
There have been all sorts of changes in the last few days as the various pedlars, wide boys and shysters tweak things in order to get enough people onside. We've heard about a few of these changes, but there is sure to be plenty more going on that we don't know about.
The upshot is that the future of the sport hinges on a vote on proposals the exact nature of which are unknown to us. Being as the whole thing's entirely out of our hands anyway, we suppose that doesn't especially matter in any practical sense.
In other news, Bangladesh got battered by Sri Lanka. You probably saw. Shakib al Hasan was hoping it would be a spicy pitch. Sri Lanka scored 730-6.
21 Appeals
8
India picked Ronnie Irani. Hurray!
The Ronnie Irani in question is Stuart Binny. Speaking at the toss, MS Dhoni said that he would give India a lower order batsman and an additional bowling option. Needless to say, Binny bowls a bit of medium-pace.
How appropriate that he should make his debut in New Zealand, land of the Chris Harris. And what a debut! R Ashwin and Ravindra Jadeja batted ahead of him, so he didn't make it to the crease and he was then entrusted with a single over, which went for eight.
A specialist number eight who doesn't really bowl much. Every team should have one.
8 Appeals