India cricket news
25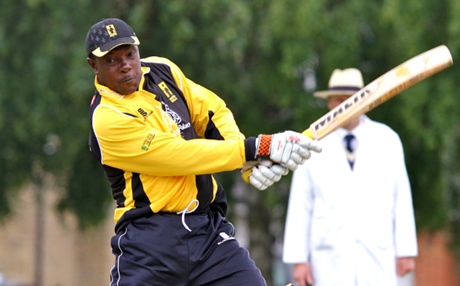 We consider the Spirit of Cricket – the branded, upper-case initial letter creation of the MCC – to be a nebulous pile of bollocks. You can quote us on that. However, that isn't to say that there is no such thing as the spirit of cricket.
The Spirit of Cricket (branded) is all about fair play and doing the right thing. The spirit of cricket (unbranded) is the way the game really works; the unspoken rules of the sport as they have naturally evolved. As such, the West Indies abandonment of their tour of India is most definitely in contravention of the spirit of cricket.
No option?
The board's argument is that they had no choice but to call the tour off once the players had announced their intention to return to the Caribbean. What utter, utter horseshit.
Since when have cricket matches demanded that both sides have their best players, or indeed sufficient players, available to them? Cricket in its purest grassroots form demands only one individual to represent his or her side. That person phones round available players in a vain attempt to drum up an eleven – any eleven – for the next match. If they fall short, the team either plays short-staffed or the opposition provides a few spam-handed incompetents to supplement their numbers.
On no account is the match called off.
A West Indies XI… or VIII or IV or whatever
Obviously, as this is international cricket, the West Indies cannot make use of Ajit Agarkar or any other Indians as they are the wrong nationality and therefore ineligible for selection. That's fair enough, but surely they can still get a few blokes out onto the park?
Richie Richardson's there; he's a decent bat. Stuart Williams is assistant coach; he can open. Clive Lloyd's knocking about and Curtly Ambrose has been working as bowling consultant. You've already got a half decent side there in our opinion. Rope in a few physios and management figures for fielding duty and they could still beat most sides in the world.
Stop your bleating and get on with it.
25 Appeals
25
Moeen Ali made 44, 10 and 55 in his first three one-day internationals (ODIs). He was opening the batting. Then they dropped him. Today he made 67 batting at seven.
Chris Woakes opened the bowling at Cardiff and took 4-52. He also opened the bowling in Nottingham. Today he was the fourth bowler used.
Harry Gurney took nine wickets at 22.55 in the series against Sri Lanka. He was dropped for the first match of this series.
Gary Ballance was England's number three for that Sri Lanka series. He was clearly in form after the Tests. He too was dropped for the first match of this series.
James Tredwell has been the team's most reliable bowler. He also made his highest ODI score in the last match. Today he was dropped.
It's hard to avoid changing the team when they're this bad
But it's hard to avoid being this bad when the team is changed this much. We know ODIs demand a certain amount of squad rotation, but the players being rotated aren't ready for it. They're new to the side. They're insecure. You rest stalwarts because they can cope with it, but England don't have any of those because everyone's tweaked out of the first XI long before they've had chance to settle.
Even Steven Finn, who's played 40 times, said that he was nervous coming back into the side. Well why not prolong that nervousness by dropping him for the next game? Or why not change his role in the side so that he still feels new, even when he's played several matches on the trot.
There are plenty of things wrong with England's one-day side. This is another.
25 Appeals
41
Before today, Suresh Raina had made three ODI hundreds in 193 matches. He made them against Bangladesh, Sri Lanka and Hong Kong.
But Raina bats in the middle order, so that doesn't tell us a lot. Let's look at fifties instead.
Against New Zealand, he has one in 11 innings; against Pakistan, one in 14; against South Africa, one in 11; against West Indies, one in 26 and against England 12 in 26, including six of his top ten one-day scores.
At this point we have to ask ourselves whether there's something he particularly likes about a tired white ball delivered at fast-medium pace.
Let's look at his strike rates against each of today's bowlers.
Anderson: 25 off 12 balls – 208.33
Woakes: 23 off 11 – 209.09
Jordan: 13 off 15 – 86.66
Stokes: 20 off 10 – 200
Tredwell: 19 off 27 – 70.37
Oddly, Jordan's efforts to become the world's foremost 'angling down the leg side' bowler probably saved him.
Extrapolation's what you need
One-day cricket in England is a bit different because you get more movement early on. However, the passages of play later on – once the ball stops doing owt – aren't so dissimilar from what might be expected in Australia come the World Cup. If anything, Australian conditions merely mean a greater proportion of those sorts of overs.
In today's match, England did the early, irrelevant bit well and then the later, relevant bit shitly. Their bowling simply isn't tall enough, fast enough, slow enough or weird enough to keep batsmen guessing on a flat pitch. It's samey. Four fast-medium right-armers is two – if not three – too many.
Is this the end of the world (cup campaign)?
Steven Finn's taller and often quicker; Stuart Broad will be back to offer the same qualities; Harry Gurney's a left-armer, should he prove reliable; and Ravi Bopara's neither-one-thing-nor-the-other wobblery does offer something different. There are always options that would desameyise a bowling attack.
As for the batting, England remain poor chasers of anything over 250, which is all the more reason to get the bowling right.
41 Appeals
15
It's the fashion these days to look back on a losing streak and say that you were playing well in patches and that you knew all it would take would be a slight improvement and everything would be hunky-dory again. This always gets on our nerves, because of course you played well in patches. You'd be hard pressed to go through an entire Test match without having any decent patches.
But yet India seemed to just about manage it. In the third Test, they were widely considered to have lost every single session, but still they played well in patches – Ajinkya Rahane got a pair of fifties and they made over 300. Even at Old Trafford, they had one patch – MS Dhoni's partnership with R Ashwin.
But at the Oval, there was nothing. Dhoni made more runs, but there was no good patch because his biggest partnership was with Ishant Sharma for the tenth wicket. Every run they scored merely enhanced the horror of what had preceded it.
Start by bending your fingers
We've thought and thought about India's performance because we're still not happy with the easy response that they'd simply given up. Watching their final innings of the series unfold, unravel and spontaneously combust, it seemed to us that it wasn't so much lack of fight as having no real idea how to form a fist.
Watch the highlights again and they're not peppering the slips cordon apathetically. They're just displaying an almost frightening lack of adaptability; playing the same non-shots to swinging balls outside off stump as they had been doing innings after innings. It was as if they simply had no alternative.
Wicket-taking strategies in England are no great mystery and presumably India's batsmen know what slips fielders are for, but yet most of them seemed to stick with doing exactly the things most likely to result in their dismissal.
What was it like?
It was rather like someone had said to them: "Could you retrieve my hat from this active threshing machine? You'll just have to reach in with your hand and try and grab it."
To which they said to themselves: "Oh well. Guess I'll be losing my hand in the threshing machine," rather than doing something – anything – different.
15 Appeals
24
There have been some major revelations about Ravi Shastri this summer. Apparently, he can be interesting and insightful and also possesses a sense of humour. Who knew?
We learned this while watching Sky's oddly watchable Test discussion programme, The Verdict, on which he has been a regular guest. Before that, all we'd really known of him as a broadcaster was that he was a relentless purveyor of booming cliché. In fact, he is so well-known for it that for a time there was a bot on Twitter which would reply to your cricket-themed tweets with lines of Shastri commentary.
It was painfully accurate, including gems such as: "Just what the doctor ordered", "He's given it the full Monty" and of course, "That went like a tracer bullet".
But having finished on The Verdict, Shastri's now taken on a new role. He's been named India's 'director of cricket' – surely a somewhat threatening job title for Duncan Fletcher, who remains as coach.
Fletcher might notice a few more Indians about the place. Trevor Penney, the fielding coach, has been 'given a break' according to the BCCI's press release and R Sridhar will take up that role. Bowling coach, Joe Dawes, is also being given a bit of time off and Sanjay Bangar and B Arun take up positions as assistant coaches.
Will Shastri help India recover? Dunno, but they can't do much worse and at least the standard of Indian commentary has been improved by this decision.
24 Appeals
21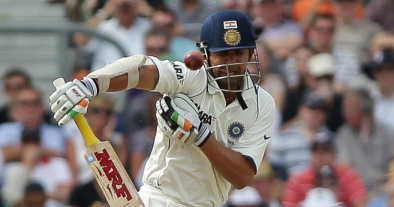 We think you'll agree that it's been very difficult to watch England methodically pan India without concluding that they are vampires. If you see Alastair Cook in your neighbourhood, don't invite him into your home.
While England have found ever greater vitality, India have been looking more and more tired. It cannot be coincidence that the changes have been proportional. The home team have clearly been exsanguinating the tourists. How else to explain India's listlessness and painfully slow thinking versus England's staggering rejuvenation?
Look at Stuart Broad's innings in the fifth Test. Here was a nervy batsman with a broken nose, sitting on the back foot and awaiting the inevitable. Yet when the short ball came, it was so insipid that he could larrup it for six. Then India batted and eleven pale, ghostly, bloodless men repeated the same mistakes as always, simply because it was all they had the strength to do.
Apparently, a bloodless coup can still involve comprehensive destruction.
21 Appeals
31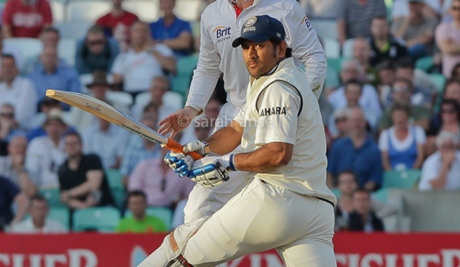 Here's a question: can you lead by example if no-one follows that example? If there's no-one behind you, you're not really leading, are you? You're just ambling around on your own while everyone else sits around having cakes and tea.
In the first innings at Old Trafford, MS Dhoni played with grit and resolve and showed the way for the rest of his team. No-one followed him. In the second innings, they buckled like a belt.
Here at the Oval, he made 82 out of 148. You could call it a captain's innings, but that perhaps highlights just how meaningless that phrase is.
31 Appeals
32
Sometimes the bowling's good and the ball's moving around and the fall of wickets seems inevitable. At other times, relentless pressure causes a side to break. Then there are those other days when it seems like you need to take every opportunity presented to you. Day three at Old Trafford was one of those days – only it was the batting side who took the opportunities.
One nose-broken bowler was off the field, another had the shits (it's uncertain how wild they were) and two more were bowling a fair amount of filth – yet India contrived to be bowled out for 161. That is no mean feat.
If there were any opportunity to lose a wicket, India grasped it. They barely let a single chance go unclaimed. It was very, very impressive.
32 Appeals
20
Luckless at the Rose Bowl, mediocre at Old Trafford, Pankaj Singh has thus far found two ways to avoid taking a Test wicket. Our worry is that two will prove enough; that he'll fail to take a wicket in this match and will never return to the team.
It's become a 'thing' now. People talk about how many balls he's bowled without success. "Oh, Pankaj!" they cry as another impassioned appeal peters out, unfulfilled.
We'll be at Old Trafford today and we'll be delighted if Pankaj gets that first wicket. If he gets a second, we'll be nonplussed. A third and we'll basically hate him.
20 Appeals
33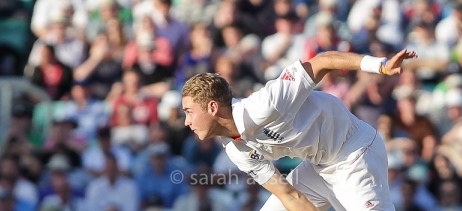 There have been a few stats of late about James Anderson and Stuart Broad as a bowling partnership. Something about lots of wickets. We forget how many.
On paper, they're a wonderfully complementary duo. One's a devious swing bowler; the other's rangly and hits the deck hard (a phrase which sounds to us more like the individual in question isn't particularly handy in a fight). It's like having Ian Botham and Curtly Ambrose in your team. You've got all scenarios covered.
Except it doesn't work like that. It doesn't work like that at all.
Who is Stuart Broad?
Stuart Broad is James Anderson. He's James Anderson a bit back, but make no mistake, that's who he is. He rushes in, lets fly some away swing and wickets ensue. What he doesn't do is bowl anything like the man he said he wanted to bowl like round about the time he came into the England side. Glenn McGrath he is not.
Does it matter?
Well, to paraphrase a generic England cricketer – he is who he is. There's no changing that. It's odd that he somehow always seems to bowl like a much smaller man, but it isn't necessarily a bad thing so long as he bowls well.
If there is an issue, it's that thing we mentioned before about covering all scenarios. Faux James Anderson doesn't so much complement Real James Anderson as compound him. When the ball swings – hey-hey, we're quids in! When it doesn't, you've got all your new balls in one box.
Today it swung.
33 Appeals