India cricket news
40
It's an unlikely Cluedo solution, but it happened. We saw it with our own eyes.
Joe Root was the third caught attacking the short ball after lunch and he did a cracking Charlie Brown slope upon being dismissed. It was really, really first class. We were in awe.
We don't know anything about rhythmic ceremonial rituals. Is there a dance called The Retreat where you take one step forwards and then two steps back? That's the way England are operating at present.
Do The Retreat
They take a few top order wickets, then concede a bunch of runs to the tail. Alastair Cook shows signs of being a less than desperate captain, then fails to score any runs with the bat. They get within a spit of batting out the morning session without losing a wicket, then Moeen Ali is dismissed off the final ball of the session triggering alarming subsidence.
Maybe as well as taking the positives, they should also take the negatives and put them in the debit column. It's shitty accountancy to only look at one side of the ledger.
But at the same time…
Top win by India and it's also heart-warming to see Ishant Sharma getting the wickets. He usually draws adjectives such as 'gangling', 'awkward' and 'hapless' but yet there was Rahul Dravid describing his spell as being one of the greatest by an Indian fast bowler.
But as we said yesterday, this match wasn't won on the last day. Sharma's contribution was the final layer of gloss. The construction work has been going on throughout. This is no fluke built on foundations laid down by one individual. There's been Ajinkya Rahane's blinding hundred, Murali Vijay's stout resistance, Ravindra Jadeja's joyride and Bhuvneshwar Kumar's everything.
But it's more than that, because India haven't won away from home since 1912 when they beat a hungover Shropshire side by one wicket. They had to overcome that record and will themselves to kill England. Sometimes that's the hardest bit, but they bravely grasped the pillow and put the home team out of their misery as swiftly and effectively as they could.
40 Appeals
28
It's okay to start headlines with 'and' when you're emphasising the repetitive nature of something.
Ravindra Jadeja isn't exactly the tail, of course. Even if you play half your domestic matches on the world's flattest pitch, scoring three triple hundreds shifts you out of the tail-end category never to return. He bats wonkily, but with gusto and when he gets it right, it sounds less like a cricket shot and more like a gunshot.
Bhuvneshwar Kumar seems rather too skilled to be considered a tail-ender as well. He's looked a damn sight more solid than Alastair Cook, which reflects on both of them. Don't worry, we'll return to Cook next week. If you're desperate to read more about the England captain's plight, we're sure you can find something pretty much anywhere.
As far as this match goes, England have to score plenty of runs on a fifth day pitch where both seamers and spinners look threatening. Unless the play somehow takes on a completely different form, they will lose. The fourth innings isn't the problem. This match will have been lost thanks to cowardly first innings bowling and an inability to polish off innings. Bowling first using tired bowlers seemed odd too, but perhaps Captain Hindsight is paying a visit there. The bowlers probably could have made it the right decision.
28 Appeals
16
Virat Kohli's due a score, isn't he? And how many runs has Alastair Cook got in his bag, just waiting to be plucked out?
Or is it more that Cook's now suffering the inevitable consequences of frittering runs away earlier in his career. There was a complete lack of rationing during the 2010-11 Ashes series, for example. Sometimes you have to save, Alastair. You should have set something aside for when you were captain as well as opener and therefore had double the opportunities to attract criticism.
Meanwhile, the match is poised, innit? We think it's Mike Atherton who always claims that first innings scores of around 300 tend to make for the best Test matches. We know what he's saying.
16 Appeals
14
Okay, turns out we do have something else to say. It's to do with who's a good batsman.
We don't want this to become a Suresh Raina bashing thing, because we've a certain amount of time for him. He does certain things better than almost anyone. The issue is that many people confuse 'certain things' with 'everything'.
You may not remember, but Suresh Raina played each of the Test matches the last time India toured England in 2011. We have no idea how this happened. If you slaved away in a lab, you'd do well to engineer a worse Test batsman for English conditions than Suresh Raina.
Here are his scores from that 2011 series. The miracle is that he made a fifty:
0, 78, 12, 1, 4, 10, 0 and 0.
If he didn't nick one, you just bounced him out. It was easy, as the scores suggest. There's no shame in that, because he shouldn't have been playing in the first place. His selection was the crime, not his batting.
So who should have been playing? Well, Rahane, obviously. He too might have been crap, but at least he had a case for being there. In the 2010-11 season, Rahane scored 1,003 first-class runs in nine matches at an average of 83.58, making five hundreds. That same season, Raina made 144 runs in five matches at 20.57. He made one fifty.
Yeah, yeah, yeah – statistics and all that. But what you have to remember is that these statistics only support what is blatantly obvious to everyone: Ajinkya Rahane is a batsman who can adapt to different situations and different conditions, whereas Suresh Raina does 'certain things' very well.
Last time around, India picked a load of celebrities and got the shit kicked out of them. This time they've picked some proper cricketers and prepared them properly too. It is already a far better series.
14 Appeals
7
For the second time this series, we find ourself looking for an old article of ours about an Indian batsman only to find that we never actually wrote it. As far back as 2012, we were casually referring to Ajinkya Rahane in a matter of fact way, as if you all already knew our opinion – yet we never seem to have actually stated it.
Maybe we just didn't have much to say. Often we don't. Nothing of interest anyway. Murali Vijay struck us as a good batsman who'd probably do well in Test cricket and Rahane creates a similar impression. Those aren't really thoughts that warrant wider exposure.
We've always check Rahane's scores, as if he's one of 'our players', yet we seem to have neglected to claim him. It's too late now. He's scored runs in a Test in England. He's common property.
Rahane's actually only played one of his Tests at home and yet his record, at this early juncture, stacks up well. This hundred in particular was worth several scored at a typical subcontinental ground, such as Trent Bridge.
Obligatory comment on the absence of the decision review system
India don't want it. It isn't being used. There's little point bleating on and on about it. It's just tiresome for everyone. We're therefore going to try and restrict ourself to this one comment on the matter.
We found a speck of dust on our floor after vacuuming yesterday morning, so we immediately smashed our hoover to pieces on the grounds that it wasn't 100 per cent effective. From now on, we will use a handful of straw tied to a stick instead.
7 Appeals
17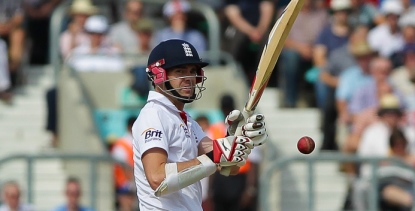 This England team isn't the most popular, but you can't fault Jimmy Anderson for that. He's waging a one-man willow-wielding war on unpopularity this summer. You wouldn't think it possible to improve on his efforts against Sri Lanka, but at Trent Bridge, against India, he may well have managed it.
But there's another story here. It's the story of two captains who like to stick to what's not working until they're absolutely convinced that it will never, ever, in a million years work. And then they give it just three more overs – just in case.
When it comes to last wicket partnerships in this Test, Alastair Cook and MS Dhoni have delivered an absolute noviceclass. To sum up how resistant they are to evidence, we can easily imagine them spending long hours pushing doors marked 'pull', confidently thinking to themselves: "Pretty soon this is going to come good."
17 Appeals
34
This starts off as a Twitter story, but stick with it because that's merely the setting. The point we're about to make has nothing to do with that.
Firstly, let us just say that we don't make predictions on Twitter. No-one really cares what we think and it's too easy to get drawn into predicting things which are fairly likely anyway. In any given match, someone will get runs and someone will get wickets. Why name names? Keep it for your fantasy league.
However, with India 453-9 and the last pair having been together for two and a half hours, we made an exception. Moeen Ali came on to bowl and we said:
Mark my words, Moeen Ali will take this final wicket.

— King Cricket (@TheKingsTweets) July 10, 2014
That over, Bhuvneshwar Kumar was dismissed.
A lot of people were impressed by this. We even got a 'whoa man!!!' off Pommie Mbangwa.
Pommie spoke for many and there were lottery number jokes and so forth, but to us it wasn't a lucky guess. We thought it was highly likely to happen and that's why we broke our own unwritten rule about making predictions.
Why was the wicket highly likely?
Rhythm.
We play squash. Every now and again, the stars align and both ourself and our opponent have decent fitness and excellent timing and we play the sport like it's meant to be played. At these times, the rallies drag on. When things are going really well, we middle the ball every time, play it exactly where we want to, but neither of us can engineer a winner. It becomes a strategic battle, which is very satisfying. However, these points are almost always resolved in exactly the same way: with a mishit.
It's not that every shot in the rally's the same. It's that you get used to the way the ball moves, whether it's a drive, a drop shot or something played off the side wall. You're in rhythm. Your body's moving into the right position long before the ball arrives and it does so with perfect timing. A mishit plays havoc with this. Your brain simply can't get to grips with the weird, looping trajectory or the non-angle which brings the ball to the middle of the court.
Are you calling Moeen Ali a mishit?
No. It's about bowling diversity and presenting a change of rhythm. Shami and Kumar were starting to look like unmovable top order batsmen, but they're no such thing. It was just that England's sterile monoculture of a bowling attack had allowed them to get into a groove. Bowling changes were no such thing from the batsmen's perspective. They were timing everything.
This is England's problem at the moment. It happened against Sri Lanka and it's happened again. It's not about the quality of the bowlers. It's about the lack of diversity and the more tired the seamers get, the more it becomes a problem.
Here's another prediction: it will happen again.
34 Appeals
22
There's been a fair amount of whinging about the slowness and lowness of the pitch – and not without cause – but it strikes us that really good bowling attacks don't happen across dead pitches very often. England's is not a really good bowling attack.
The point of Test cricket is that you're presented with conditions and a particular situation and you then have to respond to them, no matter what they are. England's bowling attack has actually performed pretty well today. It's just that they've performed pretty well 'considering' – and therein lies the problem. They are able to respond to a relatively narrow span of circumstances and beyond that their limitations become apparent.
On the other hand, it's a five-day Test and a five-Test series. Let's not get too downbeat yet. There'll be plenty of time for that from Lord's onwards.
If there is a man who's had a good day, it's Murali Vijay – or 'Myurali Vijaaaay' as David Lloyd would have it. We had a vague notion that we'd written something insightful about Vijay once, but all that came to mind was a vague sense of approval for the straightness of his bat. A quick Google and we found the piece in question. Pretty much all we said was that we liked the straightness of his bat.
22 Appeals
25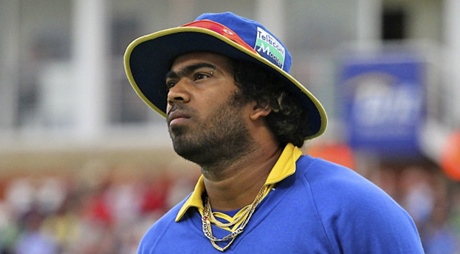 But yet able to withstand heat in the manner of an O-ring fashioned from a Viton fluoroelastomer. Sri Lanka's bowling was so efficient, it deserves to be described using mechanical gasket terminology.
The power of weirdness
This World T20 was another lesson for those who still believe that the shortest format is 'all about power'. Some feel that England were always bound to fail because of some sort of biceps shortfall, but their biggest weakness was that they didn't have weird enough bowling. Sri Lanka on the other hand…
Unlike in Tests, runs are the unit of measurement in limited overs cricket, but this Sri Lanka side haven't reached final after final because they've got exceptional one-day batsmen. They've got some good ones, certainly, but they're not match-winners. Overall, Sri Lanka are a pretty average batting side. They win because they generally don't need to score as many runs as other teams thanks to their freakish and hugely varied bowling attack.
Sri Lanka's best batsman
In the final, Sri Lanka's best batsmen was Yuvraj Singh. That is unarguable. Kumar Sangakkara played well, but no willow-wielder did more to ensure a Sri Lankan victory than Yuvi. The sad fact is that this is distracting from one of the great one-day team bowling performances.
Yes, Yuvraj seemed like he'd never held a cricket bat before, but Sri Lanka exploited that masterfully. Batsmen often start scratchily, but then they somehow get one away and suddenly everything's fine. However, Sachithra Senanayake and Lasith Malinga in particular managed to make Yuvraj's scratchiness persist for long enough that it became 'a thing'. From there, they just rode a wave of uncertain mishits, allowing their victim the strike, until Nuwan Kulasekara foolishly dismissed him.
But perhaps that wicket wasn't a mistake. This might not sound credible if you happen to have seen Yuvraj's innings, but perhaps Sri Lanka's bowlers actually wanted to get him out. Why would they do this? What possible reason might they have had for wanting to sweep aside the batting depression and bring in a Dhoni front? Well maybe they wanted to make a point – for it was not just Yuvraj who struggled.
Not just Yuvraj
India basically have just one batsman who can come in and start hitting boundaries from the first ball they face and that is the perennially ace-shit Suresh Raina, a flawed batsman with a wonderful ability to take a swing. But no, this was a man's job. Things were looking tough out there, so Dhoni made a big show of taking responsibility and moved himself up the order.
Intent on salvaging things for his team LIKE THE HERO HE IS, Dhoni promptly made four not out off seven balls, monopolising the strike in the process.
So maybe it wasn't just Yuvraj. Maybe it was Yuvraj's poor form coming up against an organised, skilled, well drilled bowling attack which just happens to include pretty much the finest death bowler to have played the game.
25 Appeals
16
That was where everything went wrong. They hauled it back a bit by batting okay, but really the match was decided when Faf du Plessis scorned the coin's generosity. Why would you ask Virat Kohli to chase? It's like asking Mike Gatting to guard your cupcakes from scavengers.
This leaves us with an India v Sri Lanka final. As usual.
16 Appeals