India cricket news
19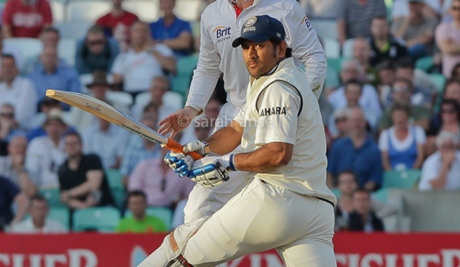 Might as well call for at least one of the captains to be sacked.
His batsmen have crumbled against bowling they should be comfortable against, his senior players aren't 'standing up', he's insisting on fielding a part-time spinner instead of a specialist and he hasn't made a hundred in his last 20 Test innings. He has to take responsibility for these things.
It's the young, inexperienced players who are showing the way. It's time to move on.
It's not just us saying this. Someone who once played cricket internationally has also criticised Dhoni's captaincy for some reason – possibly to do with tactics. They said they'd have done things differently and that what they'd have done would have worked, unlike what Dhoni did. It's hard, if not impossible, to argue with that.
When will the BCCI finally accept that this team is at a low ebb and acknowledge that it is time for change?
19 Appeals
29
There are two types of spin bowlers:
The first kind is the attacking kind. They bat at number 11, but with the ball in their hand, they can take wickets. Early in their career, they can be a bit hit and miss, going for a few boundaries, but you try and allow for that because if they become more consistent, they're invaluable.
The second kind is the batsman-who-bowls-spin. You'll see them all the time in one-day cricket. They seem to have confused the batsman's legs with the stumps and spear everything in this direction. The captain's never scared of bringing them on because nothing bad can ever happen.
What England want
England haven't been able to find an attacking spinner, so they've had to settle for a batsman-who-bowls-spin. Except they haven't, because Moeen Ali's actually no such thing.
Moeen Ali is a young spinner, a developing spinner, but he's not a batsman-who-bowls-spin according to the definition above. People assume that England have selected someone to block up one end so that the seamers can take turns attacking from the other, but from what we've seen this isn't the way Moeen approaches his bowling.
Gauging worth
The poor lad's being assessed by the wrong criteria. It's often said of Graeme Swann that he was two bowlers in one – he could keep it tight and he could also attack. Now everyone's wailing because we can't even find someone to do the first of those things.
But they're not sequential. You don't go from trying to concede no more than two runs an over to taking eight wickets in an innings. If anything, the first approach will hamper your efforts at the second.
Moeen Ali bowls a decent number of four balls. If you're Paul Harris, that's criminal, but Moeen also bowls more potentially wicket-taking deliveries than Harris did. If he's aspiring to be Paul Harris, he needs to erase both these extremes. Let's take a vote on whether that's the best course of action…
29 Appeals
16
Whatever his keeping's like and no matter whether or not he's 'ready' for Test cricket, we're very pleased that Jos Buttler is now in England's Test team. We like skittishness in a number seven batsman.
It is always worth watching Buttler at the crease and when he bats with Ian Bell, you stand a decent chance of seeing pretty much everything decent that a batsman can do. The wicketkeeper's contribution to today's 106-run partnership was robust, impatient and ever-so-slightly unhinged. Bell's was sleek, but increasingly ambitious, as if he gradually came to see new possibilities which had been somehow left unheralded by the fat square cut of Gary Ballance.
It was declaration batting and clearly that is currently what Buttler is best suited to. It may only be one box ticked on the ECB quality control checklist, but surely the 'counterattacking' box is also awaiting ink. Those would present reasonable foundations on which a 23-year-old Test cricketer might build.
16 Appeals
28
After winning the previous Test with four-and-a-bit bowlers, India could have gone either way for this one. Unsurprisingly, they went with four bowlers, not five.
Sometimes you can determine a lot from these fifty-fifty calls and MS Dhoni does seem to be a bit of a 'pick the extra batsman' kind of bloke. He doesn't mind picking five bowlers every now and again (just so long as at least two of the bowlers are also credible batsmen) but you can tell he's a lot more comfortable once the team's back to normal, even if that means losing.
Dhoni captains his team as if runs win matches. This is all well and good in the shorter formats where runs are indeed the unit of currency, but in Test cricket runs merely prevent you from losing. To win, you need to take wickets. What message does picking six batsmen send to the opposition?
Why those five runs mattered
When you're dismissed for 95, one crucial thing does not change. People can still say: "He hasn't made a hundred since…"
Right now, on the day he made 95, we all know that Alastair Cook played an innings that was tantamount to a hundred. However, in about a fortnight, when it's no longer fresh in the mind, people will say: "He hasn't made a hundred since…" and it will seem that nothing has changed.
It's also important to note how ludicrous it is that this innings will to some degree shore up his captaincy credentials when it had precisely ball-all to do with the aspect of captaincy he most struggles with, which is of course 'captaincy'.
'At least Ballance is still in'
Come on, admit it. You're starting to think that too now. That constantly snarling facial expression is embedding itself in your brain and becoming just another part of your everyday life, like drinking tea or sighing each morning at the sheer pointlessness of it all.
28 Appeals
7
This year they moved the Twenty20 Cup to Friday nights to create an 'appointment to view'. The premise is if people know when matches are being played, there's a better chance they'll watch.
This year also sees a five-Test series taking place between England and India which boasts four different start days. That's back-to-back scheduling for you. They have to leave an extra day or two to allow the players 'rest'.
If you didn't know, the third Test starts today.
7 Appeals
40
It's an unlikely Cluedo solution, but it happened. We saw it with our own eyes.
Joe Root was the third caught attacking the short ball after lunch and he did a cracking Charlie Brown slope upon being dismissed. It was really, really first class. We were in awe.
We don't know anything about rhythmic ceremonial rituals. Is there a dance called The Retreat where you take one step forwards and then two steps back? That's the way England are operating at present.
Do The Retreat
They take a few top order wickets, then concede a bunch of runs to the tail. Alastair Cook shows signs of being a less than desperate captain, then fails to score any runs with the bat. They get within a spit of batting out the morning session without losing a wicket, then Moeen Ali is dismissed off the final ball of the session triggering alarming subsidence.
Maybe as well as taking the positives, they should also take the negatives and put them in the debit column. It's shitty accountancy to only look at one side of the ledger.
But at the same time…
Top win by India and it's also heart-warming to see Ishant Sharma getting the wickets. He usually draws adjectives such as 'gangling', 'awkward' and 'hapless' but yet there was Rahul Dravid describing his spell as being one of the greatest by an Indian fast bowler.
But as we said yesterday, this match wasn't won on the last day. Sharma's contribution was the final layer of gloss. The construction work has been going on throughout. This is no fluke built on foundations laid down by one individual. There's been Ajinkya Rahane's blinding hundred, Murali Vijay's stout resistance, Ravindra Jadeja's joyride and Bhuvneshwar Kumar's everything.
But it's more than that, because India haven't won away from home since 1912 when they beat a hungover Shropshire side by one wicket. They had to overcome that record and will themselves to kill England. Sometimes that's the hardest bit, but they bravely grasped the pillow and put the home team out of their misery as swiftly and effectively as they could.
40 Appeals
28
It's okay to start headlines with 'and' when you're emphasising the repetitive nature of something.
Ravindra Jadeja isn't exactly the tail, of course. Even if you play half your domestic matches on the world's flattest pitch, scoring three triple hundreds shifts you out of the tail-end category never to return. He bats wonkily, but with gusto and when he gets it right, it sounds less like a cricket shot and more like a gunshot.
Bhuvneshwar Kumar seems rather too skilled to be considered a tail-ender as well. He's looked a damn sight more solid than Alastair Cook, which reflects on both of them. Don't worry, we'll return to Cook next week. If you're desperate to read more about the England captain's plight, we're sure you can find something pretty much anywhere.
As far as this match goes, England have to score plenty of runs on a fifth day pitch where both seamers and spinners look threatening. Unless the play somehow takes on a completely different form, they will lose. The fourth innings isn't the problem. This match will have been lost thanks to cowardly first innings bowling and an inability to polish off innings. Bowling first using tired bowlers seemed odd too, but perhaps Captain Hindsight is paying a visit there. The bowlers probably could have made it the right decision.
28 Appeals
16
Virat Kohli's due a score, isn't he? And how many runs has Alastair Cook got in his bag, just waiting to be plucked out?
Or is it more that Cook's now suffering the inevitable consequences of frittering runs away earlier in his career. There was a complete lack of rationing during the 2010-11 Ashes series, for example. Sometimes you have to save, Alastair. You should have set something aside for when you were captain as well as opener and therefore had double the opportunities to attract criticism.
Meanwhile, the match is poised, innit? We think it's Mike Atherton who always claims that first innings scores of around 300 tend to make for the best Test matches. We know what he's saying.
16 Appeals
14
Okay, turns out we do have something else to say. It's to do with who's a good batsman.
We don't want this to become a Suresh Raina bashing thing, because we've a certain amount of time for him. He does certain things better than almost anyone. The issue is that many people confuse 'certain things' with 'everything'.
You may not remember, but Suresh Raina played each of the Test matches the last time India toured England in 2011. We have no idea how this happened. If you slaved away in a lab, you'd do well to engineer a worse Test batsman for English conditions than Suresh Raina.
Here are his scores from that 2011 series. The miracle is that he made a fifty:
0, 78, 12, 1, 4, 10, 0 and 0.
If he didn't nick one, you just bounced him out. It was easy, as the scores suggest. There's no shame in that, because he shouldn't have been playing in the first place. His selection was the crime, not his batting.
So who should have been playing? Well, Rahane, obviously. He too might have been crap, but at least he had a case for being there. In the 2010-11 season, Rahane scored 1,003 first-class runs in nine matches at an average of 83.58, making five hundreds. That same season, Raina made 144 runs in five matches at 20.57. He made one fifty.
Yeah, yeah, yeah – statistics and all that. But what you have to remember is that these statistics only support what is blatantly obvious to everyone: Ajinkya Rahane is a batsman who can adapt to different situations and different conditions, whereas Suresh Raina does 'certain things' very well.
Last time around, India picked a load of celebrities and got the shit kicked out of them. This time they've picked some proper cricketers and prepared them properly too. It is already a far better series.
14 Appeals
7
For the second time this series, we find ourself looking for an old article of ours about an Indian batsman only to find that we never actually wrote it. As far back as 2012, we were casually referring to Ajinkya Rahane in a matter of fact way, as if you all already knew our opinion – yet we never seem to have actually stated it.
Maybe we just didn't have much to say. Often we don't. Nothing of interest anyway. Murali Vijay struck us as a good batsman who'd probably do well in Test cricket and Rahane creates a similar impression. Those aren't really thoughts that warrant wider exposure.
We've always check Rahane's scores, as if he's one of 'our players', yet we seem to have neglected to claim him. It's too late now. He's scored runs in a Test in England. He's common property.
Rahane's actually only played one of his Tests at home and yet his record, at this early juncture, stacks up well. This hundred in particular was worth several scored at a typical subcontinental ground, such as Trent Bridge.
Obligatory comment on the absence of the decision review system
India don't want it. It isn't being used. There's little point bleating on and on about it. It's just tiresome for everyone. We're therefore going to try and restrict ourself to this one comment on the matter.
We found a speck of dust on our floor after vacuuming yesterday morning, so we immediately smashed our hoover to pieces on the grounds that it wasn't 100 per cent effective. From now on, we will use a handful of straw tied to a stick instead.
7 Appeals