10
minute read
With his thin hair and love of whole milk, you could easily mistake Ben Stokes for a baby. But Ben Stokes is not a baby. Ben Stokes is a full grown adult man who plays cricket for a living. He plays it very well with a particular penchant for seeing out high pressure run chases.
If you can't immediately work it out, the three Ben Stokes innings we're looking at here are…
84 not out in the 50-over World Cup final v New Zealand, July 2019
135 not out in the 3rd Ashes Test v Australia, August 2019
52 not out in the T20 World Cup final v Pakistan, November 2022
Three unbeaten innings in run-chases, one in each format and all three incredibly ridiculous.
But which was the most ridiculous? And why are we even including the T20 World Cup final when it's clearly not that one?
The criteria
We like to approach these things methodically and we also like to give numeric scores so that at the end we can sidestep all nuance and give a firm answer.
We will be rating Ben Stokes' big three high pressure run-chase innings according to the Seven Aspects of Cricket Run-Chase Ridiculousness, as outlined by Jayasinghe, Farooqi, Laghari and Saltaformaggio in their seminal 2006 paper, Did You See That? Did You See What He/She Did? That Was Fully Nuts! How Ridiculous Was That?
The seven aspects are as follows:
Intensity of pressure
Duration of pressure
Rarity
What was at stake
Improbability
Jeopardy
Comedy
Rather than sticking with chronology, let's instead rate the three innings in format order – that way we get the T20 one out of the way early.
T20: 52 not out off 49 balls v Pakistan in the 2022 World Cup final
INTENSITY OF PRESSURE: As Jayasinghe, Farooqi, Laghari and Saltaformaggio concede, this is always a hard one to score because pressure isn't a constant; it builds and dissipates according to events. You can however counteract this to a degree by writing an article so long that people don't especially want you to go into any great detail which will give you room to fudge your conclusion a bit.
It was quite obvious for most of Stokes' innings that the T20 World Cup final was going to be a low-scoring game. This meant an ordinarily manageable run-chase seemed much more difficult and that increased the pressure on Stokes. Secondly, it was a World Cup final, which is a pretty big thing. Thirdly, thanks to his reputation, Stokes played much of his innings as The Guy Who's Going To Win This For Us, which is a pressure in itself. Set against that, England never got themselves into too big a hole and that suppressed heartbeats a certain amount.
Rating: 8
DURATION OF PRESSURE: Easy one this. Brevity is T20's greatest strength as a format, but also its greatest weakness when it comes to the real, stomach-churning, this-could-be-amazing-or-awful-and-I-don't-know-which passages of play when sport is at its most intense. At 49 balls and 1h21m, this was a fairly short cricket innings and obviously not all of it was played at peak pressure either.
Rating: 2
RARITY: You don't play in a T20 World Cup final every day. Set against that, Ben Stokes had played in one before. And there had also been a T20 World Cup final 12 months earlier.
Rating: 7
AT STAKE: A T20 World Cup and also that old classic "redemption" in the eyes of headline writers after getting nailed for four successive sixes by Carlos Brathwaite in the final over of the 2016 final. The T20 World Cup is very much the lesser World Cup though, if only due to frequency. Plus England had won it before (in 2010) so it wasn't quite as big a deal.
Rating: 7
IMPROBABILITY: Low-scoring game, pressure of a final and everything, but we'd almost be tempted to slot this effort down on the 'probable' side of the probable/improbable divide. The required run-rate was only about 6.5 an over when he came in, which is no big thing in T20, and it never got much above 8 an over with plenty of wickets remaining.
Rating: 3
JEOPARDY: Jeopardy is so important. Jeopardy is the fragility of the situation. The more it feels like all you have could disappear in an instant, the more alive you feel. A lot of the jeopardy in this innings arose from the unprovable and very probably wrong sense that, 'if Stokes doesn't do this, no-one will'. The truth is England only lost five of their 10 wickets. Things were never really that fragile.
Rating: 4
COMEDY: It's important to emphasise that we're rating ridiculousness here and comedy is a fundamental part of that. (One-seventh of it, actually.) All the bonkers, unexpected things that happen over the course of an innings – all the mishits, dropped chances and near-run-outs – they all add to the ridiculousness of that knock. Let's be honest though: Stokes' T20 World Cup final innings wasn't a particularly funny one. There was a trio of deliveries from Naseem Shah where he may as well have not been there and a duff-plopped almost-chance towards long-off, but not much else. The funniest thing that happened was probably just him being there. Chasing them down. Again.
Rating: 1.5
TOTAL: 32.5
ODI: 84 not out off 98 balls v New Zealand in the 2019 World Cup final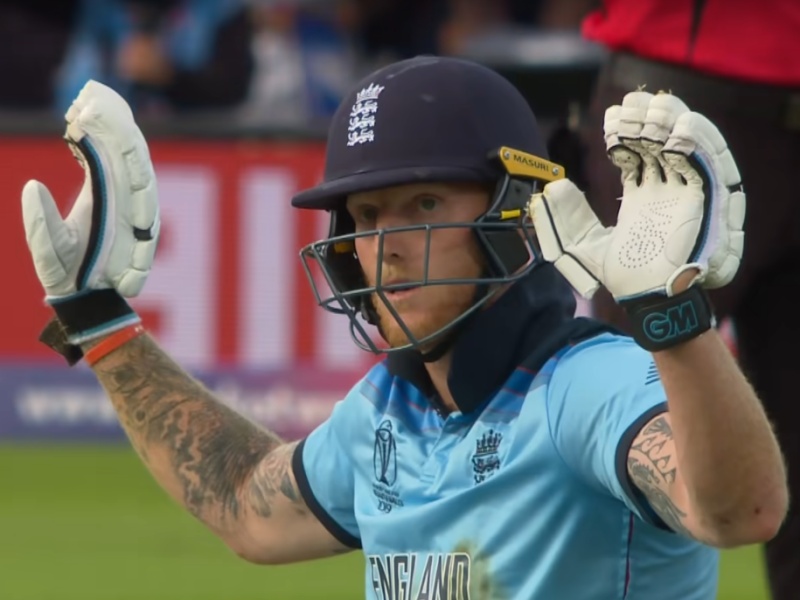 INTENSITY OF PRESSURE: New Zealand had made 241. Ben Stokes came to the crease in the 20th over and by the end of the 25th – halfway through the chase – England were 93-4, needing roughly a run-a-ball. That's a pretty high pressure situation anyway, but that was just the starting point. From there the required rate continually bubbled up, peaking at 15 needed for an outright win off the final over. The last five overs of the innings played out with the required rate in excess off nine an over and Stokes's presence at the crease very obviously vital for his team to have any chance of success. It's worth pointing out as well that England had never won the 50-over World Cup.
Rating: 10
DURATION OF PRESSURE: If 98 balls doesn't sound colossal, 2h27m maybe presents the effort a little more clearly. We would also argue that Stokes was under significant (and escalating) pressure, pretty much from start to finish. Short of a team suffering an even bigger and even more rapid clatter of early wickets, it's hard to envisage a more protracted period of pressure for an innings played in a one-day international.
Rating: 9
RARITY: The 50-over World Cup is once every four years. England had never won it.
Rating: 10
AT STAKE: The 50-over World Cup, which England had never won.
Rating: 10
IMPROBABILITY: Improbability is not just a measure taken at the outset of an innings. It can also climb based on developments. We would also argue that it is almost the sum of all those moments because every scenario must be overcome.
Chasing 242 to win, England's score was variously:
93 with 25 overs to go
208 with three overs to go
220 with nine balls to go
227 with four balls to go
At each of those points, victory (or at least parity) was possible rather than probable. The rating reflects that protracted unlikeliness.
Rating: 9
JEOPARDY: Given the scenarios outlined in the previous section, England needed either Stokes or Jos Buttler or ideally both at the crease to stand a chance of matching New Zealand's score. From the start of the 24th over to the 45th over, a wicket would have removed one of them from the equation. That was when Buttler was dismissed and from then on, realistically, it was all on Stokes. He could not get out. That is a very fragile situation and so very high jeopardy.
Rating: 10
COMEDY: At one point in this innings, Ben Stokes played a diving blind shot for a cumulative six. That alone would put it in the top percentile of comedy knocks – but then just think about the climax. The end of England's run-chase was one of the purest examples of how cricket can be much, much funnier than any other sport thanks to its dense labyrinth of confusing rules.
These are the bare facts: England needed 22 off nine balls. Two of those nine were dot balls, three resulted in wickets and three were sixes. One of the sixes was caught by Trent Boult while he was straddling the boundary. Stokes took a run off each of the final two deliveries and both resulted in run-outs.
Rating: 11 (Spinal Tap value because this is pretty much the benchmark for comedy one-day innings.)
TOTAL: 69
Test: 135 not out v Australia in the 2019 Ashes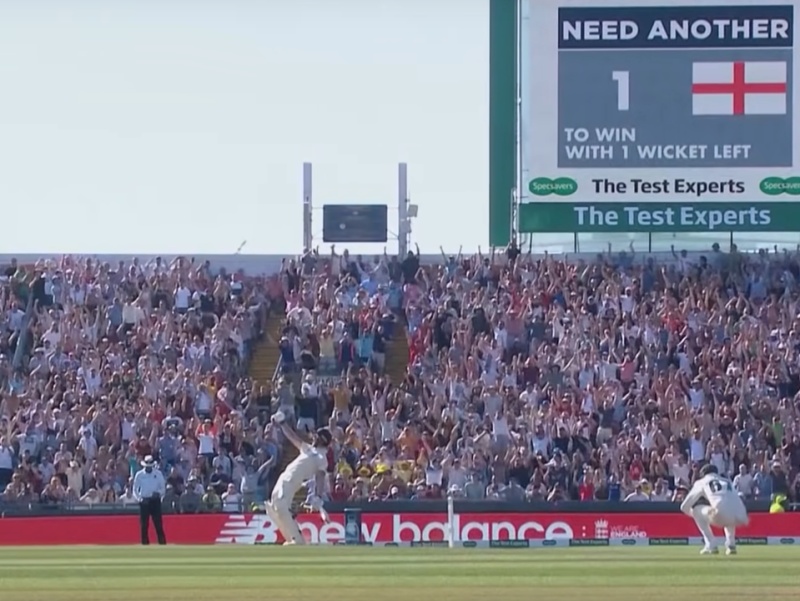 INTENSITY OF PRESSURE: The only thing that really tempered the intensity of the match situations Stokes faced at Headingley in 2019 was hopelessness; the forlorn sense that this was already out of his and England's reach and so there really wasn't much he should worry about. But you can't go from there to winning a match without passing through the intervening levels of pressure – and even by undertaking such a journey, you kind of raise the pressure anyway. The blunt truth is that Ben Stokes put himself in positions where victory or defeat in an Ashes Test that most England fans had previously given up on was entirely in his hands. People really, really want to see things like that happen and that fact brings additional pressure.
Rating: 10
DURATION OF PRESSURE: It was a 219-ball innings that lasted five-and-a-half-hours. There was pressure throughout and significant pressure the majority of the time.
Rating: 10
RARITY: Ashes series are every couple of years and there are five Tests in a series, so in that sense this wasn't that rare a thing. Match situations like this, however, are incredibly rare. Combine the two and you've got your rarity score. (We do however have to subtract one point for not being the first against-all-odds Ashes turnaround at Headingley.)
Rating: 9
AT STAKE: An Australia win and they would have retained the Ashes. The Ashes comes around more frequently than the World Cup and England have won a whole bunch of times. But that isn't the full story. The true measure of this innings is the hope it magicked into existence; the innards-twisting, delighted disbelief that something amazing could happen; and the desperate, desperate, desperate need for that not to be thrown away. That was what was really at stake.
It's about investments. Any England supporter who invested in this match when Stokes was making two runs in 50 balls the night before saw that investment mushroom into something sizeable the following day when it became plausible that England could actually do this. When the home team subsequently careered deep into implausibility before boomeranging back again, that investment became unquantifiable.
Stokes made three runs off 72 balls in this innings before he hit a boundary – not just an investment, but an investment against the odds. And he kept adding to that investment. By fighting back from a dire first innings and several all-but-hopeless situations during the run-chase, he ensured that something else was at stake at the finish: that wonderful, childish idea that, 'it ain't over til it's over'.
Rating: 10
IMPROBABILITY: England have delivered some mad Test run chases since, but it's worth revisiting the context of this one because it is, quite simply, unmatchable. They were chasing 359 in their second innings having been bowled out for 67 in their first one. Also, just by the way, they had never actually chased 359 in the fourth innings before.
From there, things got distinctly less probable. While Stokes came in with the score a moderately healthy 141-3, he was also there when it became 286-9. This moment is worth emphasising. If you need 73 to win and number 11's at the crease, it's fair to consider victory pretty damn improbable. What really elevates this innings above the 2019 World Cup final effort is that distinction. There were points when even the merest whiff of possibility was hard to discern.
Rating: 10
JEOPARDY: England's chances were pretty deeply intwined with the fate of Ben Stokes from early on: if he'd got out, their chances would have dimished enormously. But then we got to nine wickets down, where if either Stokes or Jack Leach had got out, England's chances wouldn't have just diminished, they'd have gone. Completely gone.
And then they stayed at that point for 10 overs with everyone's emotional investment growing throughout. Every ball, it could have been all over. Every single ball. A full hour where an impossibly rare opportunity for the most memorable victory was entirely at stake and completely at risk, every… single… ball.
The purest example of the level of jeopardy was the BBC commentary we used to begin another of our features: What Ben Stokes, Jack Leach and Headingley 2019 tell us about Test cricket. "It's six or out… It's six," said Jonathan Agnew. With the ball in the air, there were just two possible outcomes: six vital runs or complete failure.
But even this moment overlooks the most vital element of jeopardy – fallibility. It is one thing for the fate of a match to entirely hinge on Ben Stokes not getting out in the next hour. It is quite another for the same thing to entirely hinge on Jack Leach not getting out. That level of fragility – to have the whole outcome of a game in the hands of the very person deemed least qualified to handle the situation – is why cricket can at times be the most exciting sport of all.
We never said these ratings were out of 10.
Rating: 20
COMEDY: Headingley 2019 can't in all honesty match the 2019 World Cup final in this sphere, but that isn't to say it doesn't have solid comedy credentials all the same. Getting out to a shit shot for eight in the first innings and then doing this in the second innings is pretty damn funny. Making three runs off 72 balls and then 132 off 147 balls is pretty damn funny. Six or out is pretty damn funny. A 76-run partnership in which Leach contributed a single run is pretty damn funny.
What else? Nathan Lyon missing a run-out with two needed for the win: very funny. An LBW appeal a ball later that would have been given if Australia had any reviews left: very, very funny. Hell, take a step back and the sheer gall of going out and delivering this run chase is pretty damn funny in itself.
Rating: 10
TOTAL: 79
Results
Headingley Test: 79
2019 World Cup final: 69
2022 T20 World Cup final: 32.5
Ben Stokes' monstrously ludicrous and protracted 135 not out in the 3rd Ashes Test v Australia in August 2019 was the most ridiculous of his big three high pressure run-chase innings.
This piece – and all our other features – are only possible thanks to our Patreon backers. If you're not currently a King Cricket patron and you'd like to see us to do more with the site, you can help crowdfund us from £1 a month. You can find a longer explanation of why we do this and what you get here. Thanks for reading either way though. Maybe just sign up for the email if you kind of want to show support for us but quite understandably don't really want to spend money on something that you already get for free.