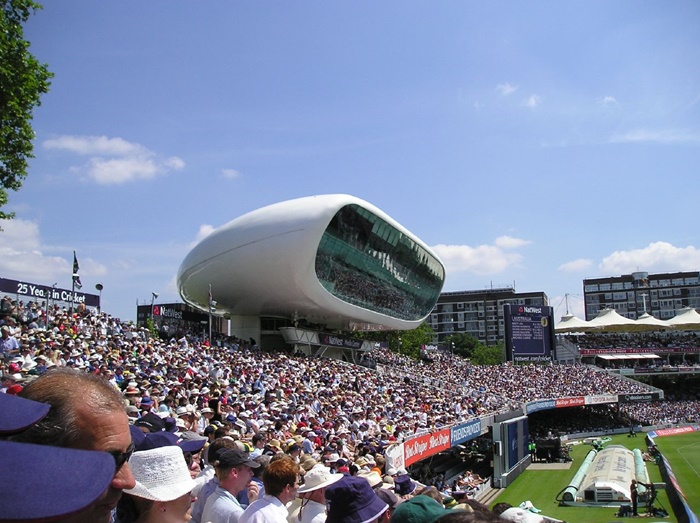 Gareth writes:
The last time I'd been to Lord's I'd found the place a bit stifling, and an incredibly drunken young man had capped Glamorgan getting spanked by Gloucestershire by "singing" on the bus the whole way back. That had not been a fun day.
This time, I was off to watch a World Cup final. I won't bore you with the details. It's not allowed, is it? Plus, you probably all know what happened, what with you being cricket fans and all.
So I was already up in London that Sunday morning, having been to the West Ham stadium (or whatever it's called) to see the athletics the night before. I met my old friend "Steve" (real name Steff – I'm not very good with pseudonyms) on the westbound platform of the Jubilee line at Canning Town and we were off to Lord's.
When we got to the ground, we saw police with machine guns. "Oooh" I though. Although this is a more common sight these days, the sight of a machine gun up close still makes me think "Oooh". We made it through security with the minimum of fuss.
Once inside, first off, we did a lap of Lord's, which was looking very nice indeed. We took in the museum (I liked Viv Richards's maroon cap the best) and resisted the temptation to make annoying, Philistine comments about the Ashes urn ("is that it?!") to the obviously very proud guide person in charge of that section.
Also, Kumar Sangakkara has a very small bat. He saws the bottoms off apparently. Is that a scoop? As in journalistic, not the old Grey Nicholls bat design. Sorry, veering dangerously close to ankylosing spondylitis pun territory here.
We had seats up on the top tier in the Compton stand (I think). Before the match started, a woman in a white leotard floated around underneath a hot air balloon doing gymnastic stuff. It was arty. Then she gave the World Cup trophy to someone else, and some songs played. Then they started playing cricket.
Anyway, the seats were a bit cramped and the guy to my right was, unfortunately, a bit miserable. He did not engage much with my attempts at conversation. In fact, he just got his paper out and pointedly turned away from me. I tried not to take it personally.
The weather was a bit changeable. I decided to keep my raincoat on. This made me warm. Steff and I are both in charge of small children too. The warmish weather/sleep deprivation/excessive excitement combination made us tired. In no time, we found ourselves dozing off intermittently instead of paying attention.
As the crowd filled up, we decided it was high time to get out of our seats and cause disruption to them by squeezing past so we could beat the mid-innings lunch queues.
I had a veggie-burger, Steff had a beef burger. They were nice too. Good use of pickle. You don't always get pickle in a veggie-burger. I guess that's the kind of thing that slightly sets Lord's apart.
We didn't have champagne though – I 've never seen champagne sold on tap before. I guess that's the kind of thing that slightly sets Lord's apart.
We got Pedigree instead.
We did a few more laps of the ground in between sitting down until we got stiff. Nothing like a day in a sports stadium's seating to remind you of the ever-accelerating onrush of middle/old age. At one point, we found a mobile phone and handed it in to lost property like good boys. We rewarded ourselves with another drink.
Upon returning to our seats for the final time, everyone in the ground got increasingly noisy and excited for about an hour. I got swept up in it, I must admit. I also did a vague wave in the direction of where Ged said he was sitting (I'd kept forgetting up to that point, but I guarantee that it did happen.) Hello Ged, hope you enjoyed the match.
Then the stuff I'm not meant to mention finished happening and it was time to rush off. I got to Victoria, caught the Megabus and ate some McCoy's crisps as I headed west.
It had been a fun day.
Send your match reports to king@kingcricket.co.uk. If it's a professional match, on no account mention the cricket itself. If it's an amateur match, feel free to go into excruciating detail.