4
minute read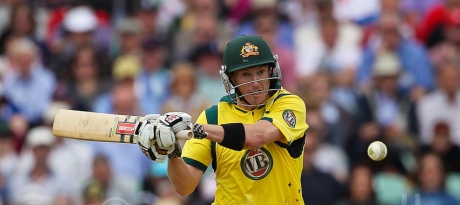 Yesterday, the man they used to call Nohit Sharma made a one-day double hundred, but even eight wickets down, Australia seemed in with a chance of chasing their 384 run target. Ludicrous totals seem to have become the norm in one-day internationals (ODIs) and even India's captain has been complaining about things. What's going on?
The bigger picture
The first thing to note is that this isn't a global thing. In general, fewer runs have been scored per over in 2013 (5.07) than were scored in 2009 (5.12) and roughly the same as were scored in 2011 (5.04) and 2012 (5.05). The narrative that one-day cricket is increasingly all about six-hitting and phenomenal scoring rates only really makes sense if you focus on certain matches.
Even then, it's not been quite so outlandish as you might think. India's 383-6 yesterday was the highest total of the series, but in historical terms, it was only the 19th highest. Their 362-1 in Jaipur earlier in the series has been the second-highest total of the year, but is only the 34th highest in history.
So why do things seem so crazy-mental?
It definitely feels like everything's gone nuts though, doesn't it? If there has been a change, it has been towards the end of the innings. For example, Rohit Sharma took 71 balls to reach 50, but then hit 59 off the final 18 balls he faced with seven of those deliveries going for six. Batsmen have always looked to accelerate, but this appears to have become more pronounced in recent times.
Sharma and MS Dhoni scored at 10.65 an over during their 167-run partnership, while earlier in the series, Sharma and Virat Kohli scored 186 runs at 10.73 an over. This is not just very attacking batting – it is also sustained, which implies there is less risk of being dismissed.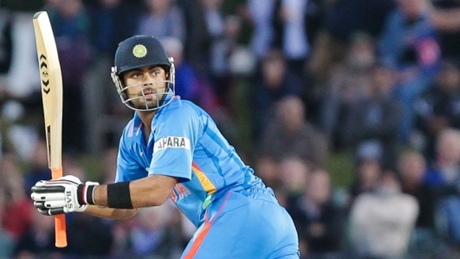 Minor factors
The easiest and laziest thing to do is to point to Twenty20 cricket. There are certainly contributory factors arising from that format – a change in mentality and increased focus on the methodology of hitting sixes – but it's also true that it's been around a while. The IPL's been up and running since 2008 and Twenty20's been played in England since 2003.
People also point to flat pitches being produced in India, but there's nothing new there either. Pitches can only get so flat. Every 10-run rise in score isn't indicative of another degree of flatness. These things are probably contributing to high scores, but there is more going on.
Major factors
We'd point to two relatively recent changes in playing conditions as being the major reason why back-end scores (fnar fnar) have risen in recent times. Since the start of this year, ODIs have been played with two white balls (fnar fnar) and each team has only been allowed four fielders outside the circle outside the powerplay overs.
Having two white balls was meant to give something back to the bowlers because the new ball is usually more threatening to batsmen. However, many Indian pitches feature relatively little bounce and so this advantage doesn't actually amount to a right lot. In fact, the benefits to the bowlers are far outweighed by the fact that a harder, newer ball will travel further off the bat later in the innings. Last year's caught-on-the-boundary-in-the-40th-over is this year's six.
And with four men out on the fence, there is always a sizeable gap somewhere. Loft a shot in that direction and you will probably get six and will have to settle for four if you mishit it.
Basically, the batsmen have been encouraged to try and hit boundaries by the removal of one of the boundary fielders and have been given greater hitting power by the use of two white balls.
Other factors
Then there's the bowling. Clint McKay, Nathan Coulter-Nile, James Faulkner, Xavier Doherty and Glenn Maxwell. Let's be brutally honest here – that's a B-team. This is a recurring theme in one-day cricket these days. Fast bowlers in particular require a great deal more rotation than batsmen, so you invariably end up with the best batsmen from one country facing the second-best bowlers from the opposing nation. There's imbalance there, even excluding all the other factors.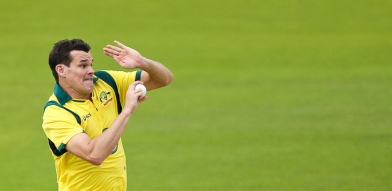 Does any of this matter?
Unlike Test cricket, where the aim of the game is to take 20 wickets (while minimising the damage sustained in achieving that), one-day cricket is about run-scoring. That is the unit of measurement. The team which scores most runs, wins. As such, higher totals are not intrinsically a bad thing.
The problem is that there comes a point where you are not rewarding the best batsmen, you are just rewarding batsmen in general. While Virat Kohli may be an exceptional talent, few would argue that the likes of George Bailey and James Faulkner are in the same bracket and yet they have scored heaps of runs at astonishing rates. It seems to us that in India specifically, the current ODI rules tip things too far in favour of the batsmen.
Batting is essentially about weighing risk and playing accordingly. The best batsmen are at less risk, no matter what the shot, because they hit more cleanly and consistently. However, we now have a situation where even a mediocre batsman can aim to hit a six with minimal risk because there are bigger gaps and because a newer ball will go further even when mishit.
A question
Weather, pitches and cricket balls vary from country to country. Why do ODI rules need to be the same worldwide?