2
minute read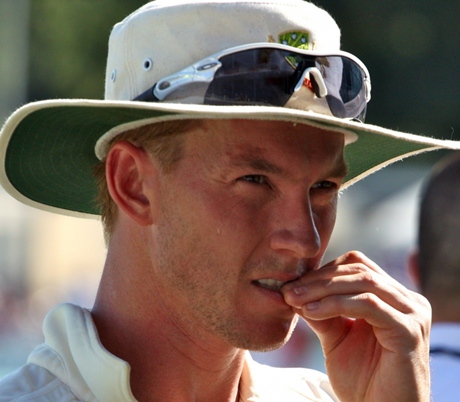 Test bowling average v England: 40.61 – what's not to like?
Yes, it's one of those weird statistics, but Brett Lee actually wasn't all that destructive in the Ashes. There was theatre and tension every time he came onto bowl, but all that happened was that the batsman thought: "Ooh, something's happening here. Better sharpen up." Maybe the adrenaline helped them cope.
Because there was adrenaline for all of us. That was Brett Lee's main attribute: he was undeniably a fast bowler. He was skilful, yes, but pace was his defining quality. Not the half-arsed, fly-by-night, four-over pace of a Shaun Tait, either. This wasn't gym muscles pace. It was sustained pace borne of athleticism and that weird mentality found in only true fast bowlers.
Fast bowling isn't just about speed. It's about scaring people. It's about looking like you're genuinely trying to hurt them and sometimes succeeding. It's also about sacrificing your own body to achieve that aim. Fast bowlers have a primal blood lust that monopolises their minds and all other thoughts and considerations cease to exist when they run in to bowl.
Fast bowling is amazing. Simply handing the ball to someone like Brett Lee in the middle of a sleepy afternoon session is enough for people to put the newspaper down and start watching. Fast bowlers bring corners and U-turns to predictable narrative, so you HAVE to pay attention.
If you can be a fast bowler, provide all of that and yet not actually do all that much to help Australia win the Ashes, you are absolute gold.