Thanks to Bradders for pointing us towards this: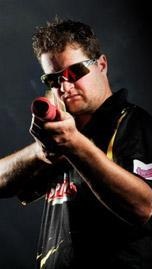 But also not thanks. Pretending things are guns is never cool. Somebody will have told him to do it, but that doesn't matter. Rob could have gone for bat-as-guitar or bat-as-snooker-cue even. Both would have been better than bat-as-gun.
There's the sunglasses too. It's all bad. We feel very disappointed today and we don't quite know where we go from here.
We're also wondering whether to move the 'Rob Key' child category out of the 'England' parent category and back into the 'county cricket' one. This really is a low moment.