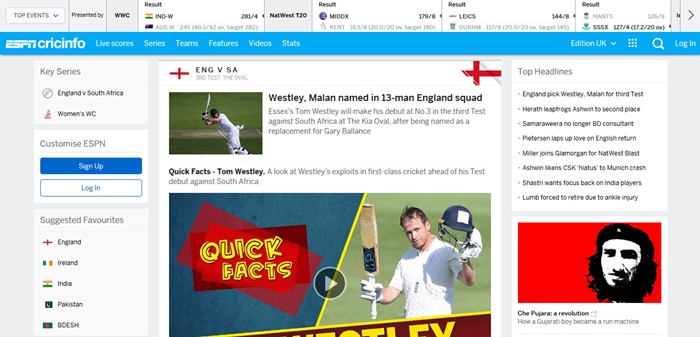 Cricinfo have redesigned their website so that it looks like one of those ones that scrapes your content and republishes it in breach of copyright. The home page in particular looks like some sort of template from GoDaddy.com.
The home page was dreadful before, in all honesty, but in an entirely different way. Previously it was weighed down by randomly placed subsections, each of which was overfilled. The new one is at least a little bit lighter – although it still feels a bit like someone's said 'is there some way we can make absolutely everything really prominent'.
Viewed on a desktop, scorecards are too wide.
The explanation for the change is that they're putting 'mobile first'. Apparently no-one's told Cricinfo that you can have completely different designs for mobiles and PCs through the magic of stylesheets. Even we do that and we're so bad at this kind of thing that we haven't even removed the empty menu dropdown on our mobile site.
The new Cricinfo is at least usable on a mobile now. The old version was unusable, so this redesign probably emerges in credit.