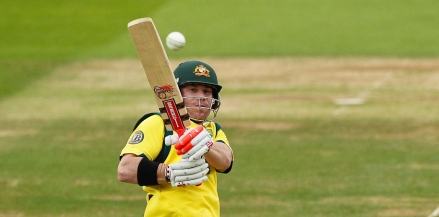 We've some sympathy for the young, millionnaire cricketer, David Warner – and it's not just because he's Australian. We feel that sympathy – just a small amount – because he's been branded a Twenty20 player.
Warner's done well off the back of Twenty20, but he's always going to have to strive that little bit harder for respect now, no matter what he achieves. Like a left-handed artist or a left-handed carpenter or a left-handed teacher, his triumphs will only be reluctantly acknowledged by the public.
That Twenty20 brand will always be there. It'll fade when he bats well, but it'll shine like a xenon headlight bulb every time he fails. There's something a bit snobby about it all.
Twenty20 and Test cricket aren't different species with a common ancestor, they're the same species. They can interbreed. A successful Twenty20 batsman is likely to have a good eye, which is a quality shared by all the best Test batsmen. A successful Test batsman will be a good decision-maker, which is also a great attribute in Twenty20.
If there were no Twenty20 cricket, David Warner might not be making his Test debut, but that's hardly his fault. If anything, he seems to be approaching his Test career rather admirably. With three first-class hundreds in 11 games and an average of 60, he's doing his bit on the pitch and apparently he's spent long hours in the nets simply to practise batting for a long time.
He was out for three on his Test debut today, playing a short ball like he'd never seen one before. Maybe he hadn't.