< 1
minute read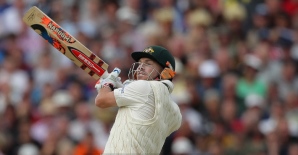 David Warner says: "I couldn't be hitting the ball any better but it's just that the runs aren't coming for me at the moment."
In this week's Cricket Badger, we point out that this runs counter to Temba Bavuma's matter-of-fact observation that, "you can't be playing well and not scoring runs."
Warner is, presumably, crisply striking the ball straight to slip. In the next couple of days, he'll get the opportunity to prove his ability to hit it elsewhere.
If there's one kind of form we love above all others, it's net form. A batsman's professional life is bound up with events that are out of his control to a far greater extent than he'd ever care to accept. This leads to a necessary level of self-delusion that is far higher than a rational person would maintain and at no time is this delusion more apparent than when net form is cited.
The next development for Warner will either be:
Scoring some runs – 'proof' that he was always in form
Another failure, which he'll chalk up as the latest in a lengthening list of aberrations
If you're a batsman, run-scoring is the norm – because if it isn't, what the hell are you doing with your life?