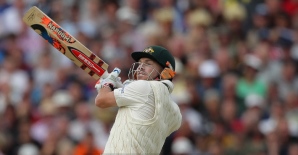 Some of you may have both noticed and cared that David Warner was apparently having a relatively mediocre year before this Test. His 2016 one-day record is exceptional, but his long format returns had been little more than 'all right'.
Against Pakistan Warner edged a load and also became what feels like the 85th person to be bowled off a Wahab Riaz no-ball before eventually reaching three figures.
One day of jousiness and Warner's Test year now reads 748 runs at 41.55 with two hundreds (plus a 97).
So perfectly normal then.
Strikes us that if mediocrity can so easily be negated, it was probably no such thing in the first place.
They should probably start including an asterisk next to Australian batsmen's annual records, indicating "was obliged to face Herath". As far as this Warner story goes, that pretty much explains everything.