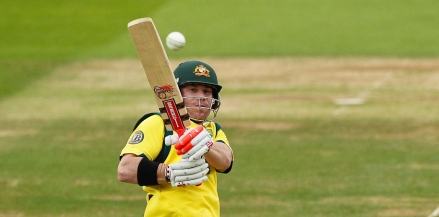 We haven't really given much thought to Australia's other five batting slots which means we can pitch Bailey v Warner as being a battle for the sixth one. They'll almost certainly both play in the first Ashes Test, but let's gloss over this so that we've got something to say today.
David Warner is the incumbent – albeit an incumbent who's been dropped. Such is cricket. Warner played in Australia's last Test, but has been dropped for one-day cricket, which is supposed to be what he's good at. However, after skiving a club match to go to the races, he has since hit three hundreds in four innings, including 197 off 141 balls against Victoria. It's all been in domestic one-day cricket, but it's undeniably impressive.
But what of George Bailey? The other day we said that one-day form combined with not being a complete child is probably enough to warrant Bailey being selected in Australia's Test team and we stand by that. After kicking off Australia's short format tour of India with a duck (Rajkot, not Bombay), he's hit 85 off 82 balls, 92 not out off 50 balls, 43 off 60 balls and 98 off 94 balls.
Different format, different conditions, but also different situations. Bailey appears to have the qualities that so many Aussie batsmen currently seem to lack – adaptability and the ability to respond to a given match situation. Plus he's smart, outspoken and pleasingly non-corporate. We therefore conclude that Australia should pick Matt Weaver, who played three Ryobi Cup innings and scored a whole 10 runs.