< 1
minute read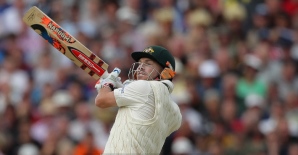 You'll of course remember when David Warner took a swing at Joe Root after becoming inexplicably incensed by the Yorkshireman's inappropriate use of a wig.
Halcyon days. There was at least something comical about this particular confrontation; a certain Scrappy Doo quality borne of Warner's diminutive stature and the sheer ludicrousness of the supposedly inflammatory act. It's not quite like that this time around.
Fortunately, Warner's still around to bring a note of levity to proceedings.
The Guardian reports that he's been pondering how to get "up" and also how to get on top of England's players. Counterintuitively, he says the mechanism for achieving these ends is to muster hatred.
"How can I dislike this player? How can I get on top of him?" he said. "You have to delve and dig deep into yourself to actually get some hatred about them to actually get up when you're out there."
Thank you David for another puzzling window into your psyche.