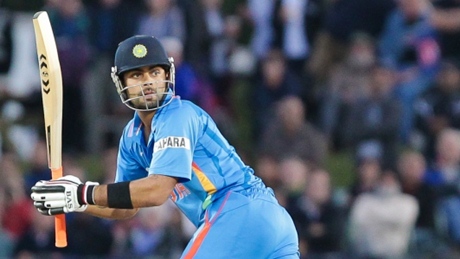 We changed what time this site's daily email went out recently. We can't be bothered checking what time range we set it to and we also can't be bothered working out what impact British Summer Time will have. As such, this post is a preview of the India v Australia match written in the knowledge that you may well be reading when the result is already known.
We wouldn't be making any predictions anyway. Predictions can quickly look foolish. They have a thing that constantly tries to predict which team's going to win running throughout each match of this World T20. It's called The Win Predictor. The Win Predictor is making a good case for being rebranded The Momentum Disprover.
At one point quite early on in England's match against Sri Lanka, The Win Predictor indicated 100 per cent likelihood of an England victory. England did win, but not before it had later had Sri Lanka's likelihood of a win up around 70 per cent.
We made a comment about The Win Predictor effectively taking the piss out of its own earlier predictions during that game and one of the founders of the website behind it (CricViz) got in touch. We felt bad, because it's not really the Win Predictor that's at fault, it's the game it's trying to model.
T20 matches tend to progress in surges. Get a partnership and the run-rate can skyrocket. A wicket or two and it can come to a standstill. The swings can be so swift and dramatic that it can make earlier predictions look preposterous. Your general feeling as a viewer is: 'Why should I pay heed to this prediction now when the one five minutes ago was so wildly different?'
Like we say, it's not the predictor that's the issue here, it's the format. At the same time, that uncertainty is what keeps us watching. One thing's for sure though. As far as India v Australia goes, the big story is already known: New Zealand knocked one of them out.