3
minute read
Bert of 'sports administration is like looking after your neighbour's cat' fame writes:
Last year I booked to go to see the IPL in India. Since then, I've not really taken much notice of the news. My travel agent – Clarke's 20/20 Adventures – assured me that everything was tickety-boo, so last week I set off as planned for Delhi.
On arrival, the arranged car didn't turn up. I telephoned Mr Clarke to ask what had happened. He said that the taxi driver had seemed a decent sort when he had first met him, so he had given him all the money up front. Since then, the driver had been exposed as an international fraudster. Apparently, this meant that it was "not my problem any more". He discarded me.
Eventually, I managed to find suitable transport. When I had booked originally, there were several classes of hotel to choose from. I had opted for "Luxury", but Mr Clarke had insisted that I go for "Luxery", which he said was a Hindi word meaning "better than the best thing ever, with a helicopter".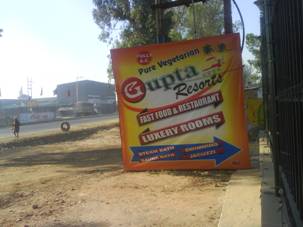 The following morning, I was met by Mr Clarke's helper, a Mr Collier. I mentioned that Mr Clarke's organisation of the 20/20 journey so far had not been the best. Mr Collier told me that no-one cared what I thought, as Mr Clarke had the full support of a dozen or so people that he was giving lots of money to and that was all that mattered.
I also pointed out that the hotel room was not quite the luxery I was expecting. He said that it was easy to be wise after the event and that no-one at the time could have predicted that things would turn out to be seedy and grubby.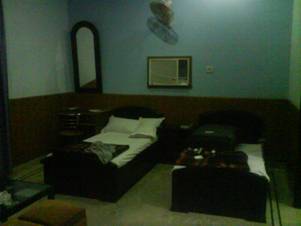 At this stage, I didn't know which match I would be seeing. Would it be The Chargers, with Gilchrist and Gibbs opening the batting? Or maybe I would get to see Dhoni and Flintoff for the Super Kings. Mr Collier said it would be none of these and introduced me instead to two of this year's new franchises: the Muzaffarnagar Lads and the Muzaffarnagar Other Lads.
I watched from the main stand, which had been reserved entirely for me. The cricket didn't seem to be quite up to the standard that I had remembered from last year, but it was much better than the standard of English limited-overs cricket.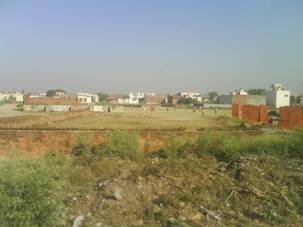 It was a little difficult to make much out, but according to Mr Collier, I was watching Lillee bowling to Bradman, with IVA Richards at the non-striker's end. I said I wasn't sure about that, but he suggested that I shut my eyes tight and say la-la-la very loudly, which he said was Mr Clarke's method of seeing the best in a situation.
Knowing the predilection at this website for pictures of cats, I asked Mr Collier if he could find any local cats for me. He said that he couldn't, but many years of working with Mr Clarke meant he knew how to spot a swine with his snout in the mud.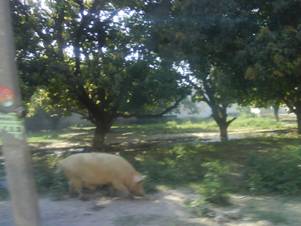 Send your match reports that don't mention the actual cricket to king@kingcricket.co.uk