< 1
minute read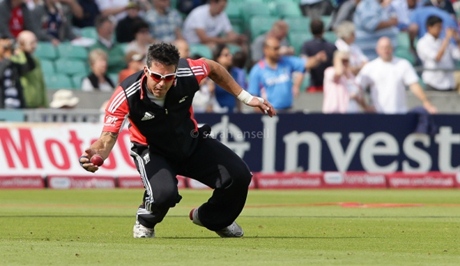 That's what Simon Hughes said on Channel 5's highlights programme, so that's what happened.
It's probably wrong to mock commentators' slips of the tongue when you yourself forget 98 percent of your vocabulary whenever you have to talk in front of more than one person, or to a stranger, or on the phone, or in public, or when you're tired.
Kevin Pietersen managed to squeeze in a hundred before he slightly fatiguely waved at a wide one. He was at the crease when England were 86-5 and while there are any number of articles stating just how many matches it's been since England scored 400 plus in their first innings, we're not sure this was ever going to be the match where they put that right.
They say it's the new stand that's helping the swing, but the ball's been swinging at Trent Bridge for ages. We were there in 2005 on the day that Matthew Hoggard and Simon Jones, England's biggest swingers (in a good way), reduced Australia to 58-4.
So Kevin Pietersen's hundred might prove pretty handy. We'll have to wait and see how New Zealand's innings goes.
England v New Zealand, third Test at Trent Bridge
England 273-7 (Kevin Pietersen 115, Tim Ambrose 67, Iain O'Brien 4-61, Kyle Mills 3-58)