< 1
minute read
Or himself for that matter. If you didn't see Misbah-ul-Haq getting run out for 82, you'll get an idea as to what happened from the accompanying picture.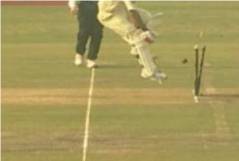 Misbah was about to make his ground after a quickish single. The throw came in from Dinesh Karhik at backward point and Misbah jumped to avoid the ball. Unfortunately, this meant that he was airborne as he crossed the popping crease. If you don't ground your bat or some part of yourself the other side of that line, then you haven't made your ground. The ball hit the stumps and Misbah was out.
He knew instantly and proceeded to angrily swipe his bat at the tips of the grass, which is the least satisfying outlet for pent-up rage in the whole world. After returning to the pavilion, Misbah presumably found something more substantial to punish for his own mental aberration.
There are so many ways to get out. You always have to be on your guard. Mentally, Misbah had already made his ground – he was just evading a cricket ball. Unfortunately, mentally making your ground doesn't cut it with the third umpire.
Poor sod.