< 1
minute read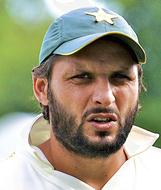 Most of the sentiments have been expressed here before, only because this was for Cricinfo we made the article longer, more rambling and less to the point. We pretty much repeat ourself in every paragraph as well to really drive the non-point home.
That non-point is basically that Shahid Afridi is diminished by Twenty20 cricket. One of the comments then says that Twenty20 was invented for characters like him. We suppose that's not necessarily missing the point. This person might conceivably mean that those who invented Twenty20 were missing the point, which is almost certainly true.
Another comment draws attention to the fact that Afridi's batting has gone to shit since he retired from Tests, which is actually worth mentioning. They also say something intelligent about the benefits of his reputation when it comes to batting in the longest format.
How many Cricinfo comments do you have to read before you happen upon sense? Many, but it can happen. Well played, Stark62.