< 1
minute read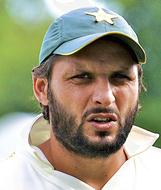 Out of form and out of practice, Pakistan were playing like a cutlery drawer full of spoons at the start of the tournament but literally improved with every game.
Shahid Afridi played like a grown-up today, which is again missing the point of Shahid Afridi. But being as he won the World Cup for his nation, we aren't going to be too critical of him for that. Shahid Afridi embracing sense sits uncomfortably, but it'll never last. The man's devoted his entire life to pointless risk-taking with the bat. He's probably got 'playing the ball on merit' out of his system already.
Pakistan had the best bowling attack and it's nice to see that count in Twenty20. Far from being a barrage of sixes, the World Twenty20 was chock full of awkward yorkers and slower balls. It was ace.