< 1
minute read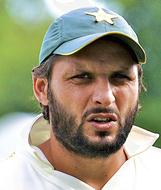 With Shahid Afridi, it's not about what will happen; it's about what might happen. Pakistan might need 20 an over, but if Shahid Afridi has got a bat in his hand, that's not beyond the realms of possibility.
In order to maintain this feeling, Afridi occasionally needs to do something to support it. He doesn't need to do it very often – just often enough that ludicrous events still seem faintly plausible. Today, in a relatively low-scoring game, he hit a hundred off 68 balls. He can return to his usual airy swishing for a good few innings now.
We once saw a hilarious joke in Two Pints of Lager and a Packet of Crisps. We watched at least two full episodes on the strength of that. We'll never get that time back again. Shahid Afridi has a greater success rate than Two Pints of Lager and a Packet of Crisps and can keep you interested as a consequence.
You probably knew that.