5
minute read
In 2018, the ICC released a promotional video for the 2019 World Cup.
It starred Freddie Flintoff (definitely Freddie and not Andrew or Andy in this instance) and you can still find it on YouTube here.
We have a bunch of questions about it.
Is this what Fred does now?
Flintoff also did a song for the football world cup and it was both incredible and bad.
Apparently that was just practice, which explains why this particular world cup music video is incredible and slightly less bad.
How long would it take for the Daily News to fold?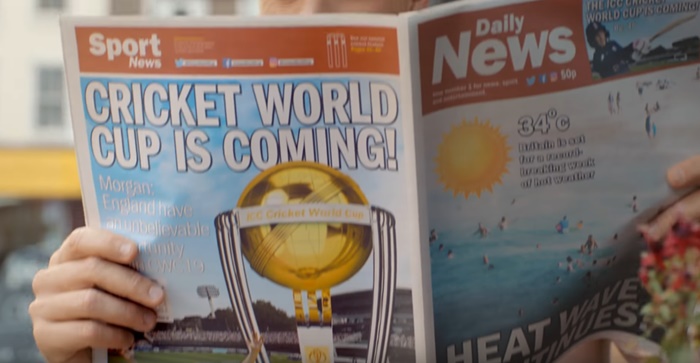 The front page is weather, which is good, strong UK tabloid fodder. The back page is "CRICKET WORLD CUP IS COMING."
This is (a) a woeful headline and (b) hardly a sudden and newsworthy development.
We'd suggest that the kind of newspaper that runs 'cricket tournament that has been scheduled for years is shortly about to start' as its main sports story is not one that is going to earn a huge and profitable readership.
The only way this makes sense as a back page headline is if there are about 15 different editions of the newspaper every single day – and if that's the case, they're going to go bust almost instantly.
Who the hell are these needy tag-alongs and what the hell is going in their heads?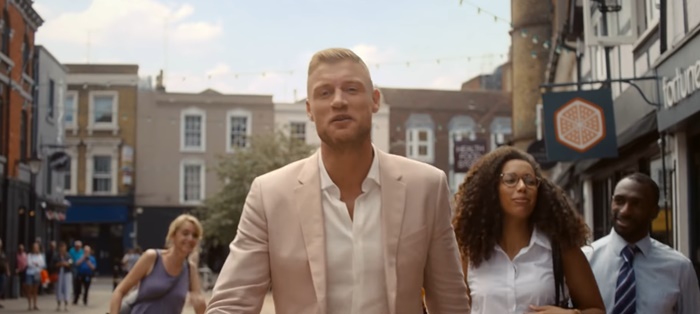 We've seen Andrew Flintoff several times in real life. We have never once felt an urge to follow him.
Now we like Fred very much, but if we saw him and he suddenly broke out into song, we would honestly be physically repelled by this. We would rapidly begin to move in the opposite direction without hesitation.
What can possibly be happening in these people's lives that they instead think: "Well this is unbelievably weird. I know – why don't we not just follow, but actively join in."
The two on the right are definitely on their lunch breaks, in which case this free time should be incredibly valuable to them and surely not to be frittered away on ex-cricketer-following wild goose chases.
What were these three guys doing before they joined in?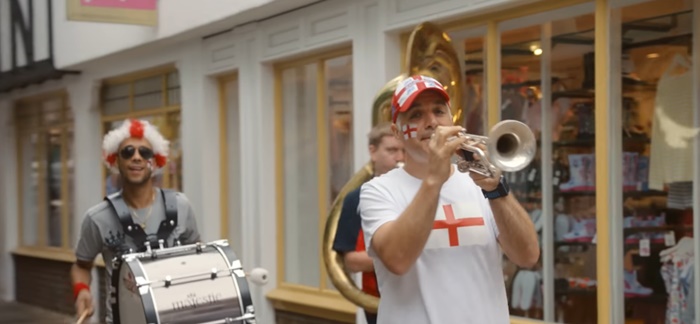 'Just hanging around in town in my England clothes with my entirely normal hair.'
Is Charlotte Edwards the greatest facial actor in history?
Look at Charlotte Edwards' face here and try and tell us this face doesn't somehow crystallise all of the many conflicting emotions you simultaneously feel while watching the video.
Either (a) Charlotte Edwards is the greatest actor in history or (b) they didn't warn her and this is just her genuine, honest reaction.
Why is there a police officer?
The opening gives the impression that this is one of those impromptu celebratory parades that often seem to occur in music videos and nowhere else.
If that's the case, where did this guy come from?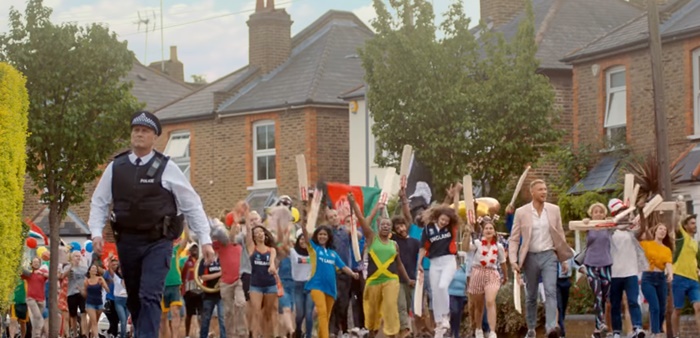 What kind of impromptu celebratory parade has a police escort?
Maybe this isn't an impromptu celebratory parade. Maybe we should stop thinking of it as one.
What is the guy at Mani's Greengrocers doing?
This guy.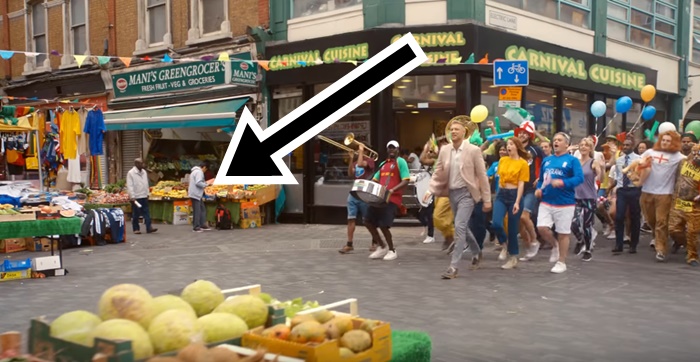 At first we thought he was a customer and that was maybe his rucksack in front of him.
But then we noticed that he has bright blue hands.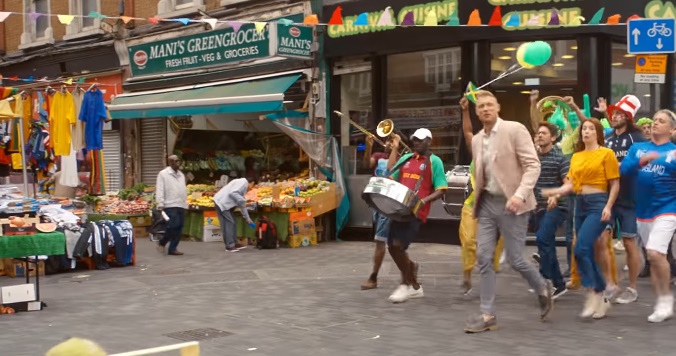 Either he's wearing a luridly coloured disposable latex glove, like they use at crime scenes or he's bagged something up.
The second option seems more normal, but it looks more like a glove to us, in which case who is he? Does he work at Mani's? Is he Mani? (He's certainly not Mani from the Stone Roses.)
If he's just a customer, why is he putting a glove on and where is he putting the fruit? If he's an employee, what is he doing? Also, why doesn't he so much as bat an eyelid at the demented torrent of people pouring past him.
Maybe this one isn't all that important in the grand scheme of things, but it's bugging us all the same.
Who are these people and how did they know this parade would happen?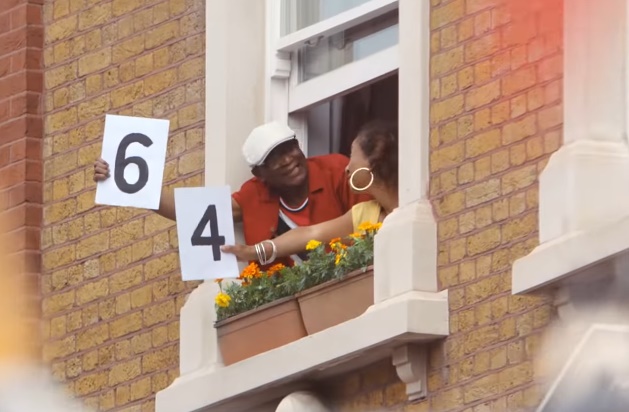 Did they have 4 and 6 signs lying around? Do they attend Tests annually but retain their signage from one year to the next? Did they see the parade coming on CCTV giving them time to dig out the signs and display them at the appropriate moment?
We're pretty sure the guy's not a proper cricket fan because a proper cricket fan would always wave the 6 as a 9. (We've no idea why this is the case, but we've seen it happen enough times to know that this is 100 per cent true.)
Is this one of the Currans?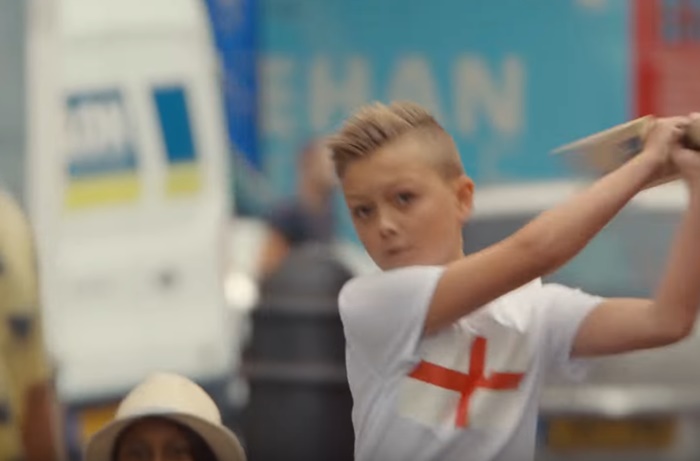 Kind of looks like one.
Maybe not one of the current ones, but we assume there are more Currans still to come.
How long is this parade?
They start somewhere urban, they end at the Oval, but then at one point they're here.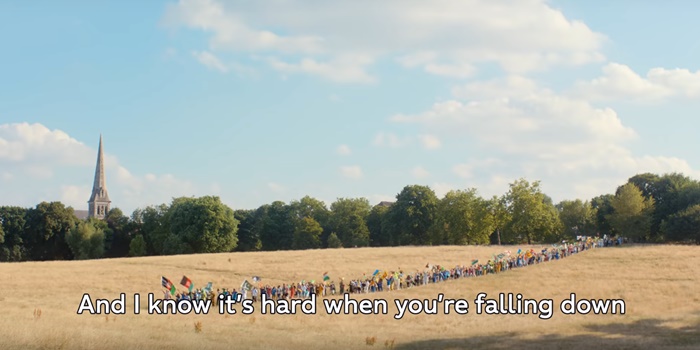 Is this one of those bits of London where they leave a field surrounded by big trees to try and trick you into thinking you're not in London? (Nice try London, but we can still hear you.)
It's also worth noting that going off the background, Charlotte Edwards' bench is in this area but then when Fred acknowledges her, he's back in suburbia (or possibly urbia (why does no-one say 'urbia'?)).
This is a very slow response time. Fred's reactions have deteriorated markedly since he was a professional cricketer.
In terms of famous cricketers, does the video mostly just feature people who happened to be in and around the Oval on the day that they were filming?
Fred obviously got the train down especially, but other than that you kind of feel like they just roped in whoever stumbled past.
Other than Edwards, we get Phil Tufnell (obviously) and Kumar Sangakkara (less obviously, but also totally obviously if we subscribe to the 'in-and-around-the-Oval' theory).
Greg James is there too. A Venn diagram pretty much demanded his presence because this is both music and cricket.
Where do you go after this last bit?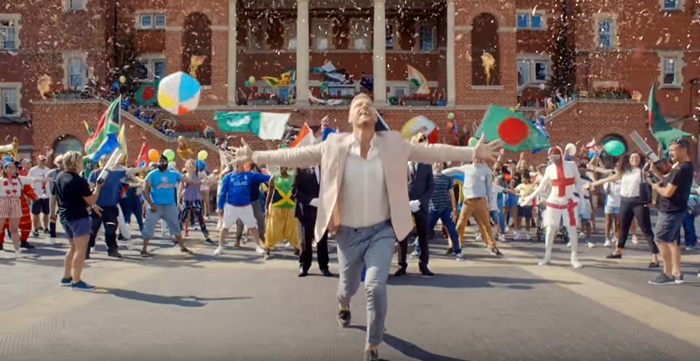 The problem with climactic moments like this is that everyone has to do something immediately afterwards and you've honestly got no room for manoeuvre. It's all downhill from here.
We're guessing that everyone looked around awkwardly; no-one really spoke; a bunch of people checked their watches and hurried back to work; and the Saint George's Cross person got the Tube home, leaving little deposits of tinsel and ticker tape here there and everywhere.
Fred's probably still there, pratting about with the beach ball or something.