< 1
minute read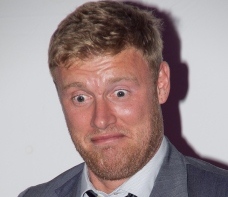 If there's one thing that's become clear from Freddie Flintoff's slurred slights against acerbic Athers, it's that the duff-kneed purveyor of forced laddish bonhomie cares little for freedom of speech.
"How can he talk about a player like Alastair Cook who is 10 times the player he ever was – he has a much bigger average and will go on and on. Atherton averaged in the 30s for England and yet he thinks he can judge others."
You can't, Athers. You can't. You don't have the right to judge anyone because you averaged in the late-30s. You probably wouldn't have averaged in the 40s even if you hadn't had a broken back for 90 per cent of the matches you played. Shut up. Shut up right now.
Here in Flintoff's world, the right to express your opinions is earned through sporting prowess. Aristotle? Get back to me when you can play a decent forward defensive stroke. John Locke? Let's see you get some crosses in the box before you start mouthing off.
If we want opinions, we'll go to someone truly worth listening to, like Pete Sampras or Diego Maradona.