2
minute read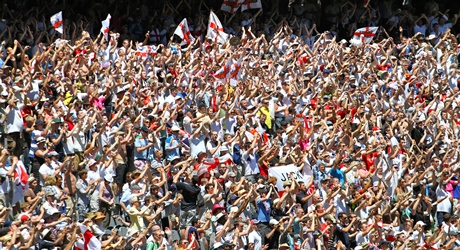 We're doing far too much moaning about this kind of crap and frankly we're sick of reading about it elsewhere as well, even if we agree with much of what's being said. This post is an attempt to purge some of our ill-feeling, because the negativity is spreading like a cancer, infecting every other update.
England v Australia, 2012
We don't give a toss, even though we're actually attending one of the matches. Worse than that, the damn series is going to draw some of our attention whether we like it or not, sapping our enthusiasm for what follows.
Most significantly in the long-term, this one-day series will sap our Ashes enthusiasm, which is unforgivable. However, it will sap our enthusiasm for the South Africa Test series which follows later in the summer as well. We will have seen cricket; we will have seen international cricket; and we will have seen it almost daily.
It's not our bloody fault. Sit us down for a meal and we will look forward to the food, but cover the table with a million different nibbles and we will eat them. We'll still eat the main meal afterwards, but it won't be nearly so satisfying.
Even if we were remotely capable of self-control, that isn't the point. Restaurateurs don't actively encourage you to sate your appetite before they bring out their finest food because they're not greedy idiots who have no comprehension of the fact that a man's appetites are finite.
In simple terms
You know, you don't even need to know anything about cricket to see that its cartilage is being eroded by overuse. In fact, if you know next to nothing about the sport, it's pretty much the only thing you can see. That can't be good for the health of the game.
We have a friend who regularly asks us 'does it never end?' Our answer is, unavoidably, 'no'. We are dreading speaking to this person during the next few Ashes series. How can we explain to him that any given match matters when England are playing Australia seemingly daily?
As far as he's concerned, England played Australia last year, they're playing them this year, they're playing them next year, they're playing them the year after. One-dayers, Tests – it's just England v Australia to him. Whether it's officially 'the Ashes' or not is of no real concern.
Trapped in this stupid, insular world, most people don't seem to recognise that fact. Every match, no matter what the format, has an impact on every other match. It's all cricket.