New Zealand
25
And is 'number of wicketkeepers in squad' the key metric when predicting the likelihood of success nowadays? Sod net practice, let's get everyone squatting down with Bruce French for hours at a time.
Who's got a spare room? We're starting to think we should invite New Zealand to move in. We don't want to overcommit too soon or anything, but things have been going so well between us recently, it seems like a logical move.
25 Appeals
9
We kept an eye on this one-day series between England and New Zealand while we were away, but we were rather too preoccupied eating squid to read as much about it as we normally would. It was therefore slightly odd to return to lots of articles of the oeuvre 'is this the greatest one-day series EVER?'
Betteridge's law of headlines applies of course, but it's still interesting that some people feel it might be okay to ask such a question. Quite how you'd judge the bestness of something that spans several thousand separate deliveries is perhaps irrelevant. It's been a good series, but more pertinently it's been a welcome series – in particular for England fans.
One-day cricket has often been the standard bearer for English cricketing underperformance. Even when his Test and Twenty20 brothers have been strong, you could still rely on the middle sibling to disappoint you. However, over the last year or so, English cricket has been more far-reachingly sad and so the 50-over side has responded by dropping its game still further.
In the same way that a poky little office with failing equipment leaves employees tetchy and fractious, so this general all-round rubbishness provided ideal growing conditions for melodrama. In the absence of entertaining cricket, people who have played cricket for England became the entertainment. It was all very depressing and no-one who likes cricket really enjoyed it.
That was the backdrop to this series. Desperate England fans would have settled for a small portion of whitebait, but they have been treated to a fish platter for two, all on their own. Not all of the fish on there is necessarily of the highest quality, but it's unfamiliar and exciting and it's far more than was expected.
Is it the best one-day series ever? Of course not, but it didn't require anything close to that for people to have been blown away. The important thing is that for once everyone's full and enjoyed the meal.
9 Appeals
7
New Zealand's performance against England in the recently-completed Test series was the most relentlessly aggressive we can remember. There have been examples of individual players adopting a persistent attacking approach before now, but look back on those series and you'll tend to find obdurate batting and dry bowling from a fair proportion of their team-mates.
Aggressive teams are, in general, a myth. We did a piece for Cricinfo a year ago in which we highlighted this using the Ashes-winning Australia side as an example. That side was – and its current incarnation still is – a side with a reputation for playing aggressively which was based on the exploits of the few. The highlights packages show Mitchell Johnson bouncers, but when asked to outline the team's overarching bowling strategy, Peter Siddle said simply: "The key stat for us is maidens."
But there's another angle to this, and another of our old Cricinfo articles as well. Why do people think that acting aggressively is somehow part of playing attacking cricket? New Zealand have, surely, driven home the message that such a view is a complete pile of crap.
Through the World Cup and now this series against England, the Kiwis have attacked with both bat and ball in a way few other sides would ever even consider. Yet they have never once gone close to the mythical 'line' that separates perfectly acceptable behaviour from that which is universally condemned. Attacking cricket and verbal aggression – turns out they're entirely different things.
7 Appeals
27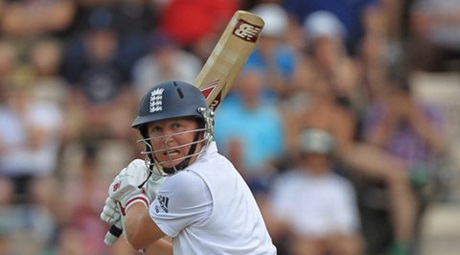 Parity on first innings isn't really parity because one team has to bat last. When England matched New Zealand's 350, they were behind.
Not that this was where the match was decided, but it's worth noting when so much attention is on fourth innings shot selection.
Several days ago…
Two things happened to produce that unquantifiable first innings deficit. First of all, the second half of New Zealand's innings produced way more runs than the first half. This seems to happen to England a lot, particularly once a few shots find their way to the boundary. The Kiwis' second innings was more of the same but with an added dash of disaffection on the part of England's bowlers.
In a way, New Zealand are just the sort of team England hate bowling at because it sometimes feels like the entire team have watched a Shahid Afridi knock and said: "Yes. Let's do that. Let's all of us, from one to eleven, do precisely that."
It would also help if someone – anyone – could catch.
The second reason why England didn't do better on first innings was because they collapsed. There is no mystery about this. New Zealand simply bowled excellently in decent conditions with the second new ball. They took two wickets in 80 overs with their first ball and then in just 14 overs with the second, they took a further six.
At the same time…
This is again something that happens to England a lot. They've collapsed in five of their last six innings. They aren't tail-end collapses either. They're good, solid top and middle order floppery.
There's always a lust for head-rolling in these situations. Gary Ballance and Ian Bell seem to be the men currently out of favour. Ballance's poor form hasn't yet been so severe as to bring his Test average below fifty, while Ian Bell hasn't made a Test hundred for all of six weeks. Maybe we should give it a bit before committing to decapitation.
Moeen Ali's getting stick as well. Without having bowled much recently, he's looking very much like a man who's short of bowling.
In summary
So that's that. Just as New Zealand had a first innings lead when both sides scored 350, they also take the series 1-1. On behalf of all in England, can we just say how disappointed we are that the two teams won't face each other again until another risible two-Test series in 2018.
Before the series, New Zealand coach Mike Hesson said he hoped that the way his team performed might persuade people to give them more matches in the future. Sadly, everyone will have forgotten how spectacularly entertaining they were by the time they get round to sorting out the next tour. Comfort yourselves with the fact that you've really, really earned that status quo, New Zealand.
27 Appeals
32
Sometimes the crowd are said to be a 12th man. Sometimes the 12th man is a 12th man. At times, in England, persistent drizzle is the 12th man.
Even Brendon McCullum at his most innovative couldn't get the better of the United Kingdom's damp, maritime climate today. "What if I set nine short midwickets?" he was heard to ask the umpires, while looking mournfully out of the window. "It'll still be pissing it down," replied a faintly perplexed S Ravi.
It wasn't the perfect rainy day at Test cricket, but it did have much to commend it – most obviously a long, unbroken, sitting-on-their-backsides-drinking-tea opening partnership between Alastair Cook and Adam Lyth. Will it be more of the same tomorrow? No-one knows. Although the Met Office are saying: 'Maybe a little bit, but only in spits and spots.'
32 Appeals
15
Bradley-John. BJ stands for Bradley-John. We'd have gone with Brad. Or John. Or Bradley. Or Bradley-John. BJ went for BJ.
As for the surname, we can't hear 'caught Watling' without thinking it's some sort of archaic crime. As in: 'Broad was caught watling behind the keep and was sentenced to a day in the stocks – that'll teach him to watle'.
But despite the quirky nomenclature and despite fielding in his dad's jumper, BJ has got a lot going for him. For example, on day three, he made a hundred which feels like it's decided a Test match.
Never say never in this series. England may well come out and chase down 400-and-whatever. It just doesn't seem likely and New Zealand's skippy, trippy approach to cricket means they aren't short of time, even if drizzle has a say.
As for what precisely drizzle might say, were it to arrive. We'd guess it would say: "Why BJ? Why not Brad or something?"
15 Appeals
8
After day two of the second Test, the important question is this: Is Michael Vaughan getting louder?
Maybe he was always like this, but it seems to us that he's crossed the speaking-shouting threshold this season. At the start of Channel 5's highlights programme, when he's standing in the middle of the pitch, it's as if he's trying to make himself heard by the people in the stands. And also like he thinks those people in the stands are completely deaf.
The people in the stands were more interested in a Yorkshire opener who's still playing though. Adam Lyth made his first Test hundred. We haven't yet had any particularly interesting thoughts about him. He has a good record in first-class cricket and now he's made a hundred in a Test. Our feelings are therefore broadly positive. We know everyone's supposed to have strong opinions about everything these days, but we're just going to have to add to that view with time.
A word too for Stuart Broad, who secured what must surely rate as one of the weirdest five-wicket hauls in Test history. Incisive and expensive in equal measure.
8 Appeals
19
Q: What do you call a donkey that was born in New Zealand, grew up in Australia, got a snorter first ball in his first Test but survived and went on to make 88 off 70 balls?
A: A Ronchi
It's probably not the greatest joke, but that's not what donkey jokes are about. Donkey jokes are about thinking of words that end in '-key' and then setting that punchline up in painfully long-winded fashion.
What else?
Mark Wood bowled a ball to die for, cementing our love for him. He looks like a man who has spent his entire life perfecting his craft and as such he has been given the reward of six Test wickets.
James Anderson has taken 401 Test wickets.
What else on top of that?
We still have no idea what's happening in this Test series and it's a delightful sensation. Win or lose, New Zealand make matches worth watching. They never coast. The game always moves forwards.
We only hope some of this has rubbed off on England. It certainly feels infectious, but then England possess quite a hardy immune system, so who knows.
Is that it?
If you see the Cricinfo headline 'Transformer blast near Gaddafi stadium,' it isn't worth clicking. It's a massive disappointment being as it features neither Autobots nor Decepticons.
Nor is this the first time that a Transformer's ruined a cricket match. Not even close.
19 Appeals
21
Imagine going back in time and trying to tell cynical, world-weary you from a week ago about this match.
"England were 30-4 inside the first hour of day one," you'd say.
"Yeah, that seems about right," Earlier You would reply.
"And they then conceded 523 in New Zealand's first innings," you'd continue.
"Nothing changes," says Earlier You.
"And England won."
At this point, Earlier You would presumably reach the conclusion that Current You was not really Future You (from their perspective). They'd assume you were actually an evil doppelganger, spreading insane lies for who knows what reason.
Only you know what you'd do in that situation.
But this is what actually happened. We may have jumped the gun in lauding the ebb and flow of day one because what do we say now? At no point did we ever really have much an idea how this match was going to end and even now it's over, we're still not entirely sure we've got it right.
It kind of feels like someone's got the sums wrong; like one of New Zealand's innings has accidentally been omitted and they actually won by 250.
21 Appeals
24
Looks like we're gonna need a bigger skull. A year ago we wrote about how New Zealand's first few vertebrae – the batsmen at three, four, five and six – needed to be (metaphorically) full of brainy gloop to make up for shortcomings at the top. After a 148-run opening stand in the first Test against England, there no longer seems much of an issue.
It maybe wasn't the toughest examination for Martin Guptill and Tom Latham – the pitch was true and the ball didn't swing much – but a large part of being an international batsman is simply the avoidance of knobheadish shots. Knobheadery in decision-making was conspicuously absent for almost the entire day. That makes life tough for the bowlers.
England's bowling was largely ineffectual, but it didn't seem too bad to our eyes. First impressions of Mark Wood are that we rather like him. We like his imaginary horse and his imaginary starting blocks as he begins his run-up. We're less enamoured with his imaginary wickets. What is it with Durham bowlers and no-balls? Do they play on 21 yard pitches up there or summat?
We're also fond of his very real pace. Somewhere in our head there's a definition of a fast bowler. We suspect it's something like 'over 90mph for at least a third of the time'. Whatever it is, Wood must be pretty close. He's quick enough to be distinct from the usual fast-medium barrage at least, which'll do for us. And for all you cricket hipsters who say pace isn't everything, we'll once again repeat: not, it isn't – but it is something.
24 Appeals