New Zealand
6
It has to be. Unable to fly and never allowed to play more than three Tests in a series, it has to adapt quickly if it isn't to be devoured by cats or beaten by Pakistan.
Captains and coaches always talk about learning from a defeat, but you rarely see any evidence of this. It's just a thing you say – yet New Zealand appear to have actually improved as their tour of not-Pakistan has progressed.
First Test: Beaten so soundly you might have mistaken them for second-rate tourists, such as Australia or England
Second Test: A very creditable draw
Third Test: Almost certainly a win – and by a huge, huge margin
They even got Younus Khan out for a golden duck. Just think about that.
It's almost as if it would be worth everyone's while to have New Zealand play more than six Tests a year; as if having more than three teams in the world might somehow enrich the sport.
Thankfully, this will never happen. New Zealand will play two Tests against England this summer AND THEN IT'S THE ASHES AGAIN. You can't argue with the law of supply and demand – the more of something you have, the more valuable it becomes.
6 Appeals
11
Is MS Dhoni's arm made out of just one super fast-growing bone? We're imagining an ever-extending protuberance that requires regular pruning based on the following from Cricinfo:
"On the eve of the meeting, a BCCI insider revealed that Dhoni was recovering from a "right forearm" injury. By the time the selectors finished the meeting, an aide close to Dhoni said it was a "wrist" injury. Two hours later, BCCI secretary Sanjay Patel told reporters that Dhoni had been advised rest after hurting his "right thumb"."
Dhoni was apparently carrying the injury during the aborted series against the West Indies when it was presumably some sort of shoulder problem.
Bangladesh batsmen
In Chittagong, something very unusual is happening. Bangladesh are making a dominant start to a Test match. They've already won the first two Tests against Zimbabwe and appear to have drawn some confidence from this. At the time of writing, they were 213-0 and both Tamim Iqbal and Imrul Kayes had made hundreds.
We were going to bring you some exciting statistics about Bangladesh partnerships like a proper media outlet, but Statsguru isn't working so we've quickly lost interest. Someone put something in the comments. Make it up if you want.
Battery
Pakistan are still battering New Zealand. It's odd how each of their recent Tests appear to have taken place on two different pitches. You'd think the opposition would object to having to bat on a pitted minefield when Pakistan do all their run-scoring on a complete featherbed.
11 Appeals
16
Poor New Zealand. In recent times, they have slowly been putting together a solid side. Since losing to England last year, they have drawn one Test series and won three. They have one of the more promising seam attacks around and have even found a few batsmen. Now they find themselves up against a happy, determined, organised, well prepared, in-form Pakistan.
What are the chances?
Do stars align? We've never really understood that saying and not solely because we fail to see the link between the relative positions of celestial bodies and events on Earth. Does it literally mean some stars appearing in a straight line? Why is that a good thing?
However rare an event star alignment is, Pakistan's current status is rarer still. It's like all the planets and stars – every last one of them – getting into a giant, intergalactic queue. It'll never happen again and nor can it last.
At the time of writing, Pakistan are 347-1 and Brendon McCullum's already had a bowl. New Zealand are really up against it and they haven't even caught sight of Younus Khan yet.
16 Appeals
9
Jesse Ryder took 44 wickets at 18.09 for Essex. To put that in context, Ryder has taken 99 first-class wickets in his entire career.
This season, he took four five-fors and had one ten-wicket match. These were added to the no five-fors he'd previously taken to give him a career tally of four five-fors and one ten-wicket match.
9 Appeals
11
Sperm whales have pretty small brains. If you saw one, it would look massive, but they're small brains in relative terms because sperm whales are massively massive.
In Moby Dick, Herman Melville makes the case that the small brain is compensated for by the whale's giant vertebrae, the first few of which are almost the same size as the skull and filled with the same brainy gloop. Needless to say, this rather odd argument made us think of the current New Zealand team.
It's not that the Kiwis are brainless. It's that they seem lacking up top. For as long as we can remember, New Zealand have struggled to find openers and this has contributed to a batting fragility which for a long time saw the lower order outscoring the specialist batsmen on a regular basis.
It's reached the point where it just seems futile to hope for much up top, so New Zealand are compensating for this with the first few vertebrae. It's going rather well for them. In Kane Williamson, Ross Taylor, Brendon McCullum and Jimmy Neesham, they have a cracking spine.
New Zealand have had one or two decent middle-order batsmen in recent years, but having four makes a lot of difference. With four, it seems likely that at least one of them will score in any given innings and suddenly the lower half aren't being asked to do all the running. Anatomically-speaking, you might think that running ought to fall under the lower half's jurisdiction, but New Zealand are a sperm while, so they don't run.
Kane Williamson has made 161 swims without being dismissed in the second innings of the third Test against the West Indies.
11 Appeals
17
As assassins go, Sri Lanka's Rangana Herath is sort of chubby and non-threatening looking. However, after taking five wickets for three runs in 3.3 overs, New Zealand were left feeling like they'd been gummed to death by a capybara. If that weren't enough, there were two run-outs while he was bowling as well.
It was soft, dreamlike carnage, like choking on blancmange or being smothered by Egyptian cotton with an unusually high thread count. Full credit to the captain for bringing him on so early. Nominally, that captain was Lasith Malinga, but being as he didn't seem to know his team at the toss and judging by the flailing arms of Mahela Jayawardene and Kumar Sangakkara in the field, that was little more than an honorary position.
17 Appeals
33
We're going to miss this match, so you're going to have take up the slack and deliver our usual insightful, in-depth reportage in the comments section yourselves.
If you divvy the work up between a few hundred of your pets, we're sure you can produce something approaching our usual quality. Infinite monkeys and all that. You will probably get more accurate results if the pets are angry, tired, hungry, or all three. But don't be cruel to them in the name of art. It is unacceptable to do anything in the name of art, except for the destruction of art.
Blame our Dad for ageing if you've got a problem with our absence. Sometimes it seems like not a year goes by without him having some kind of birthday or other. And not a decade goes by without there being a big song and dance about it (albeit with no actual singing or dancing, because he's a real man).
Meet you back here in a few days. We will review the comments upon our return and take your words as gospel for the remainder of the tournament.
33 Appeals
32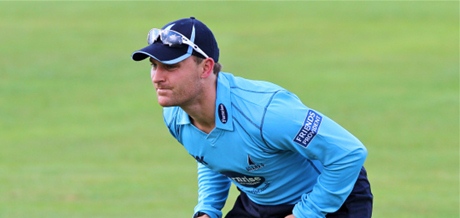 Brendon McCullum is a positive person; the kind of irritating, upbeat character who can't understand everyone else's entirely logical can't-do attitude to things. When he was joined at the crease by BJ Watling in the second Test against India on day three, he'll have thought: 'Okay, if we can just put on 352 runs for this wicket, we'll be in with a shout.'
So he and BJ promptly put on 352 runs for the sixth wicket. When the two came together, New Zealand were 94-5 and 152 runs away from making India back again. 123 overs later, when Watling was finally dismissed, they were 200 ahead. At this point, McCullum thought to himself: 'Okay, if we can just put on at least 125 runs for this wicket…'
32 Appeals
15
That's a reference to his name cropping up in talk of IPL match fixing and the fact that he's won 12 international tosses in a row, including all of them on this tour of New Zealand (without yet winning a match). Top tossing, Mahendra. Top tossing.
Even if the perfect toss record continues, the winless streak might end, as India are in a very strong position after day one of the second Test. Ross Taylor's missus has a lot ot answer for. He's away for the birth of a new Taylor and New Zealand's seemingly-resilient middle-order looked rather more wonky without him. Kane Williamson couldn't even benefit from twice being dismissed off a no-ball.
As for the match-fixing thing, is anyone else surprised by how little coverage there's been, even if things haven't yet got past the question marks in headlines stage.
15 Appeals
8
Leading India by 301 runs after the first innings, New Zealand frittered away all but 40 of them in the second innings to ensure an unexpectedly exciting finish to the first Test. If you're in an almost unassailable position and want to make things interesting for yourself, get bowled out for 105 and invite India to chase a target.
As we said on Friday, India will be tough opponents for England this summer. The fact that they're losing masks how they're losing. They're losing with grit and running good teams very close where once they were just sort of having a bit of a sit-down and waiting for matches to end. They're genuinely rebuilding rather than just using that word as a meaningless excuse for being beaten.
New Zealand are more building than rebuilding. You could say that they're exploiting India while they're in a state of flux, but we suspect there's more to it than that. They have a middle-order and a well organised seam attack, although they could still do with some reliable opening batsmen.
Another weakness is that they're full of Trents, Coreys and Kanes. In an ideal world, all Kiwi cricketers would be called Chris, Martin or both.
8 Appeals