New Zealand
6
There's a lesson for everyone here. Hamish Rutherford has just middled we don't know how many deliveries for four through the covers in one of those clean, brutal innings you can't help but admire. And yet a year ago, he couldn't even get a game for Otago. How did he turn it around?
"There were a few dark times, things go through your head. But I started working in a coffee shop and doing some bar work and started to find more enjoyment out of playing cricket as opposed to looking at it solely as a job."
You see – coffee and beer is the route to success. Or maybe the lesson is that motivation can be forged through having a really shit job. Either way, something for us all to cling to there.
On a slow pitch with little movement, Hamish Rutherford has looked magic. There's a great deal more to Test batting than that, but it doesn't apply in this match.
6 Appeals
11
Brendon McCullum's captaincy was soiled at birth due to having arrived via the feculent womb of Mike Hesson, but just because Hesson's man management skills are staggeringly inept, doesn't mean McCullum is a bad captain.
Asking questions
Commentators always talk about asking questions of a batsman. This is rarely a verbal thing (and even when it is, the questions are usually rhetorical). Instead, we infer the questions the bowler appears to be asking using the ball. They're usually things like "Can you judge when a ball's going to hit your off stump?" or "Have you learnt to defend or dodge the short ball?"
It's hard to judge field settings on TV, because half the time you can't always see what's going on, but we got the impression that New Zealand's questions derived from the field settings more than what was being bowled. The bowlers did much the same thing with each delivery but McCullum tinkered with the field to alter the balance between risk and reward for the batsman. He would add a gully or leave an inviting gap and he seemed to change things frequently so the batsman was forever having to recalculate what they should and shouldn't do.
Answering questions
It's the kind of approach you use when the opposition are 200-0 and the ball's doing nowt. It's not Plan A.
It's not Plan A because an intelligent, switched-on batsman should always be able to weigh that risk-reward balance and play appropriately. That England manifestly failed to do this says a lot.
Learning to answer questions
Andy Flower admits that England weren't properly prepared when they arrived in the UAE last year. Supposedly, they learnt from this and we're meant to believe that the series victory in India is proof of this. But is it?
Maybe they learnt to play spin better, but did they also learn how to prepare properly? The lesson from the UAE wasn't 'prepare properly when you're about to face spin' it was 'prepare properly'.
Maybe it's unfair to make these judgements at this early stage, but we feel like we've just seen a combination of one-day batting and rusty thoughtlessness. Test cricket isn't just about facing fast bowlers and mystery spin. Challenges come in many forms, as McCullum has shown.
It's not enough to think your team is full of 'class' and that this is all you need. When good players play badly, your team will be soundly beaten and in a three-Test series, you don't really want to go one down – if only because that makes Mike Hesson look good and nobody's happy about that.
11 Appeals
10
Are you a cricket writer working for a national newspaper? Are you struggling to find something to write after day one of the first Test between New Zealand and England was washed out?
Have no fear, after spending almost a full minute looking at photos on Cricinfo, we can exclusively bring you all the gossip.
Kevin Pietersen was spotted travelling on the most selfish form of transport in the world, spurring rumours of further ructions in the England camp.
Brendon McCullum was seen spending time with his family. The existence of an actual family raises serious questions as to whether McCullum feels that the New Zealand cricket team are 'like family' – something all captains are obliged to think. This revelation is even more damning when you consider that the New Zealand cricket team frequently features his brother.
There was a rare sighting of reserve umpire Chris Gaffaney. Everybody was thrilled.
Finally, in related news, this happened.
10 Appeals
14
Well played Kane Williamson for scoring 145 not out and well played the rest of you for fielding competently.
We're sure he'll be delighted about it, but we're not too sure that Captain Brendon McCullum can take enormous pride in beating a South Africa side featuring the following luminaries:
Quinton de Kock
Colin Ingram
Farhaan Behardien
David Miller
Ryan McLaren
Rory Kleinveldt
That feeling is compounded by the fact that the South Africans managed to lose half their wickets to run-outs.
Rotation rocks, except when you rotate through 180 degrees and realise that all you can see now is arse.
14 Appeals
7
This website is against two-Test series, but some people like them. Secretly, New Zealand will be delighted that they don't have to adopt stern facial expressions in order to state that they are desperate to make amends for previous performances in the third Test.
Instead, the players can claim to want the opportunity to try and make amends without having to actually test whether they can. They can say what they like.
The second Test was just about as bad as the first with South African batsmen scoring hundreds for fun shortly before all of New Zealand's batsmen scored a hundred between them without there being even the faintest whiff of fun.
Bring back Chris Harris.
7 Appeals
17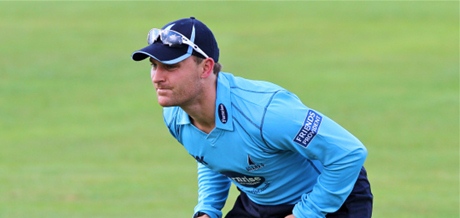 Brendon McCullum won the toss and elected to go home. Upon being told that the options were to bowl or bat, he opted for the latter. If it were a 44 all out kind of pitch, he'd have been vindicated.
Maybe McCullum was in two minds about what to do, in which case the good news is that South Africa still had to bat on the first morning of the Test. Or maybe in his role as opening batsman, he quickly assessed the pitch and concluded that his side needed to be bowling as soon as possible and just took it from there.
Either way, it was an exciting start to the Mike Hesson-Brendon McCullum era and completely justified the decision to humiliate Ross Taylor to the extent that he felt he couldn't go on this tour.
Let's relive the highlight. Here's where New Zealand scored 11 per cent of their runs:
1.1 Philander to Guptill, 5 leg byes, big appeal first ball! Guptill got across his stumps and is taken on the pad but it's missing leg stump. De Villiers chases the ball and throws at the non-striker's end which results in four overthrows
17 Appeals
5
Okay, we think we've got to grips with what's happened.
Mike Hesson said to Ross Taylor: "I don't like you and I don't like your face. I'm going to get a new captain."
Ross Taylor replied: "Who the hell are you? When did you become New Zealand coach?"
Mike Hesson said: "I don't know. It doesn't matter. The important thing is that I look like a young Dennis Taylor."
Ross Taylor said: "Who?"
Mike Hesson said: "Dennis Taylor. The snooker player."
Ross Taylor said: "You don't really look much like him, you know. You don't look like a cricket coach either."
Mike Hesson said: "And you don't look like a cricket captain."
Ross Taylor said: "Oh," and then looked at the floor so that Hesson couldn't see that his eyes had gone a bit wet.
Mike Hesson said: "I want Brendon McCullum to be captain because I've known him longer."
Ross Taylor said: "That's a stupid reason for making someone captain."
Mike Hesson said: "Come on. He needs it. He stopped keeping wicket so that he could become a batsman, but it turns out he isn't all that good as a batsman so we need to give him a new job."
Then everyone went to Sri Lanka for a bit and after New Zealand won the second Test and drew the series, Hesson realised that he'd look like a right dickhead for getting rid of Taylor, so he pretended that he'd wanted to keep him as Test captain all along, even though that probably wasn't the case.
For his part, Ross Taylor feels a bit fed up and now he won't answer the door.
5 Appeals
23
We had suggested that a few away Tests would see Vernon Philander's bowling average swell like a space hopper at altitude. What we hadn't considered was that Philander's first away Tests would be in New Zealand.
You get some good Test matches in New Zealand. The home side have secured a first innings lead even though none of their batsmen got past the forties. We mean 'the forties' and not 'the Forties' there. No-one's having to combine Test cricket with a role in the Home Guard.
23 Appeals
12
Exceptional cricket. That is how you exploit a weakness.
At 108-2 chasing 222, South Africa seemed untroubled, but there was a spot on their face. It was very small, but it was there. With the dismissal of Jacques Kallis, they gave it a little bit of a scratch and took the top off it, drawing a faint speck of blood.
What New Zealand did then was magnificent. They sawed off Mount Everest, tipped it over, inserted the tip into that blemish and pushed. Bringing the field in, surrounding the South Africans, they pushed and they pushed and they pushed until that tiny break in the skin was a wound and then they pushed some more until South Africa split in two.
That is how you win big cricket matches. Full marks to New Zealand. References to South African mental frailty do them a grave disservice.
12 Appeals
2
The great thing about actual, proper tournaments is the way that narratives develop. Every remaining team already has a good story in place if they eventually go on to become World Champions.
Pakistan - Would defy what was a catastrophic build-up to the tournament even by their standards. Being as Pakistan cricket has a higher staff turnover than the active squad in Cannon Fodder, that's quite some preparation.
India - Would see Sachin Tendulkar claim the trophy in his home city.
Australia – Like an old codger urinating in a rich man's swimming pool, they would have found a way to rage against the dying of the light.
England – Would have shrugged off a triviality like seeming to be really, really bad at cricket to register a first World Cup win which would also complete their best year ever.
Sri Lanka – Could wave goodbye to Muralitharan having repaid about 0.01 per cent of the debt they owe the man.
South Africa – Would have demonstrated a newfound ability to ensure the flow of air from the environment into the lungs.
New Zealand – Would have won the World Cup. They haven't done that before.
2 Appeals