New Zealand
17
As assassins go, Sri Lanka's Rangana Herath is sort of chubby and non-threatening looking. However, after taking five wickets for three runs in 3.3 overs, New Zealand were left feeling like they'd been gummed to death by a capybara. If that weren't enough, there were two run-outs while he was bowling as well.
It was soft, dreamlike carnage, like choking on blancmange or being smothered by Egyptian cotton with an unusually high thread count. Full credit to the captain for bringing him on so early. Nominally, that captain was Lasith Malinga, but being as he didn't seem to know his team at the toss and judging by the flailing arms of Mahela Jayawardene and Kumar Sangakkara in the field, that was little more than an honorary position.
17 Appeals
33
We're going to miss this match, so you're going to have take up the slack and deliver our usual insightful, in-depth reportage in the comments section yourselves.
If you divvy the work up between a few hundred of your pets, we're sure you can produce something approaching our usual quality. Infinite monkeys and all that. You will probably get more accurate results if the pets are angry, tired, hungry, or all three. But don't be cruel to them in the name of art. It is unacceptable to do anything in the name of art, except for the destruction of art.
Blame our Dad for ageing if you've got a problem with our absence. Sometimes it seems like not a year goes by without him having some kind of birthday or other. And not a decade goes by without there being a big song and dance about it (albeit with no actual singing or dancing, because he's a real man).
Meet you back here in a few days. We will review the comments upon our return and take your words as gospel for the remainder of the tournament.
33 Appeals
32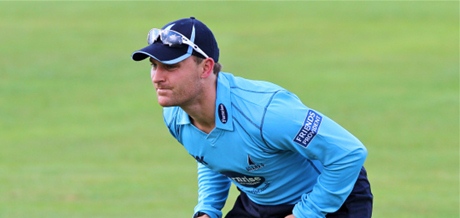 Brendon McCullum is a positive person; the kind of irritating, upbeat character who can't understand everyone else's entirely logical can't-do attitude to things. When he was joined at the crease by BJ Watling in the second Test against India on day three, he'll have thought: 'Okay, if we can just put on 352 runs for this wicket, we'll be in with a shout.'
So he and BJ promptly put on 352 runs for the sixth wicket. When the two came together, New Zealand were 94-5 and 152 runs away from making India bat again. 123 overs later, when Watling was finally dismissed, they were 200 ahead. At this point, McCullum thought to himself: 'Okay, if we can just put on at least 125 runs for this wicket…'
32 Appeals
15
That's a reference to his name cropping up in talk of IPL match fixing and the fact that he's won 12 international tosses in a row, including all of them on this tour of New Zealand (without yet winning a match). Top tossing, Mahendra. Top tossing.
Even if the perfect toss record continues, the winless streak might end, as India are in a very strong position after day one of the second Test. Ross Taylor's missus has a lot ot answer for. He's away for the birth of a new Taylor and New Zealand's seemingly-resilient middle-order looked rather more wonky without him. Kane Williamson couldn't even benefit from twice being dismissed off a no-ball.
As for the match-fixing thing, is anyone else surprised by how little coverage there's been, even if things haven't yet got past the question marks in headlines stage.
15 Appeals
8
Leading India by 301 runs after the first innings, New Zealand frittered away all but 40 of them in the second innings to ensure an unexpectedly exciting finish to the first Test. If you're in an almost unassailable position and want to make things interesting for yourself, get bowled out for 105 and invite India to chase a target.
As we said on Friday, India will be tough opponents for England this summer. The fact that they're losing masks how they're losing. They're losing with grit and running good teams very close where once they were just sort of having a bit of a sit-down and waiting for matches to end. They're genuinely rebuilding rather than just using that word as a meaningless excuse for being beaten.
New Zealand are more building than rebuilding. You could say that they're exploiting India while they're in a state of flux, but we suspect there's more to it than that. They have a middle-order and a well organised seam attack, although they could still do with some reliable opening batsmen.
Another weakness is that they're full of Trents, Coreys and Kanes. In an ideal world, all Kiwi cricketers would be called Chris, Martin or both.
8 Appeals
19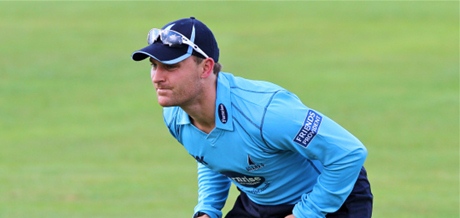 It's a week in which teams have been relying on their big name, 30-something batsmen. This isn't a coincidence. That's just the way Test cricket works.
Kumar Sangakkara has indulged in some average bolsteration by hitting 424 runs in the second Test against Bangladesh. For their part, Bangladesh managed two runs more than that in their first innings, which isn't a bad effort.
In New Zealand, Brendon McCullum made 224 against India, who are now 130-4 in reply. India of course tour England in the summer and after seeing real fight from their batsmen in South Africa, we think they'll provide stern opposition. Then again, you wonder who wouldn't fancy their chances of steamrollering England at the minute. No-one even knows who plays for them any more. Cook, Bell, Broad, Anderson…
India's pace bowling is still pretty wonky, but New Zealand's is looking stronger these days. At the time of writing, Trent Boult had 74 Test wickets at 26.09 and rarely seems to let them down, home or away, while Tim Southee's passed 100 wickets by the age of 25. Neil Wagner also bowls for New Zealand.
19 Appeals
14
The story of the New Zealand v West Indies series seems to be West Indies' batting collapses. This is odd, because they're hardly a new phenomenon. It's also harsh on Trent Boult, who's a darn tidy bowler.
It's perhaps even more unfair on Ross Taylor, who has countered everything thrown at him – or occasionally bowled at him – with disdain. He's averaging almost 250 in the series after scoring two hundreds and an unbeaten double. Overall, his Test average now stands at 47.49. In New Zealand, where batting tends to be rather tricky, he averages over 60.
It also sounds like he's a colossal cricket nerd, which isn't a bad thing. This is how he got away from the pressure of his innings during the lunch break:
"Peter Fulton had the Almanack out and I was answering the questions and it was nice to just get away from it."
In the evenings, he plays Brian Lara Cricket
to unwind. Probably.
14 Appeals
15
Brendon McCullum is a man whose batting achievements don't exactly tally with his profile. He's bolstered his reputation with captaincy and wicketkeeping and the peculiar nature of his one-day assaults, but he basically has a very middling record with the bat. However, he has just scored his eighth Test hundred and helped New Zealand to a first innings position of rare heft against the West Indies.
McCullum's approach is spectacular but often sees him depart for 62, even when he's playing well. His captaincy is innovative and exciting, but his team still loses more than it wins. Perhaps just a little of the freeform jazz could be shed in favour of a decent bassline.
A friend of ours has a cool scar by his eye which is very similar to McCullum's. He did it by accidentally headbutting a newel post while removing a T-shirt.
15 Appeals
39
South Africa are supposed to be playing the Windies today, then India play Pakistan before England play New Zealand. However, we're away for the weekend with no plans to use the internet, so you're going to have to fill in the gaps yourselves in the comments section.
We're not really in the habit of predicting things because we always anticipate being wrong and if you don't trust your own predictions, why should anyone else? However, if pushed to commit to some sort of opinion, we'd say South Africa's bowling line-up appears to have been put together for Chris Gayle's benefit, so maybe something will happen there should the rain relent.
As for the second match, we've been backing India in this tournament and so should probably stick with that. It's a bizarre match though with a great batting line-up and mediocre bowling line-up pitted against a shoddy batting line-up and fantastic bowling line-up. Only one thing's for certain: one team will reveal themselves as being better than the other one (unless the match is rained off).
England v New Zealand? We're pretty confident that one will be a washout. It's just the way these things work.
39 Appeals
9
In other words, they didn't get enough overs in for messrs Duckworth and Lewis to put their umbrella-holding hands up and come to the rain-affected party.
Aside from David Warner's performance ferrying drinks, this match was perhaps most notable for Dan Vettori's immobility. His Achilles tendon problems necessitate saline injections to inhibit the pain. Kyle Mills says he's okay getting his toast and cereal for breakfast but struggles on the field. You can tell.
It's most striking because of how much Vettori's visibly changed since he first appeared in international cricket. Back then, he was a scrawny thing who stood out because he wore glasses. Now no-one notices the glasses and he's a huge, lumbering bear of a man with walking difficulties.
Time, eh? It passes. Each day your body becomes incrementally more decrepit until you suddenly notice that one of the components no longer functions at all. At that point, you may regret not using it more. However, it's important to remember that you didn't do the things you didn't do for a reason – you couldn't be bothered.
9 Appeals