New Zealand
12
We're thinking about trying to get more into selective use of statistics. It seems to be a big thing in cricket, but we're not off to a great start. Truth is it's barely been nine months since Joe Root last made a hundred in England.
Actually, we didn't specify Test cricket either, so it's more like eight months. It seems that even when you're really trying, it's very hard to make Joe Root look bad at the minute.
What happened?
Matt Prior got the day about right.
Even if the pitch looks green at @HomeOfCricket if the suns out you bat! Get through 1st hour and cash in. #biglunchforthebowlers #ENGvNZ

— Matt Prior (@MattPrior13) May 21, 2015
England successfully navigated the first hour, losing only four of their ten wickets, and then Root and Ben Stokes almost immediately went mental, cashing in with the same gleeful enthusiasm with which characters in gambling adverts cash out.
Stokes, in particular, batted like some kind of hell ox – that is if hell oxen could hold cricket bats, timed the ball sweetly and had a taste for clip-driving every other ball through the legside for four. For his part, Root ensured he was top scorer and then did one.
After that, it was a play-off to bat at seven. Jos Buttler, the incumbent, has just gone up a spot – he made 67. Moeen Ali's dropped down to eight from six but he's 49 not out. If he makes 70, maybe he'll push Buttler back down again and if he can make a ton, Stokes at six might also be in danger. Or they could just operate a rota system.
In summary
Twenty20 tends to either ebb or flow. In one day of Test cricket, we most definitely got both – and the match has barely even started.
12 Appeals
5
But it seemed to come out as a Dan Vettori piece.
Big beardy Dan. Back from retirement. Keeping it tight like one-day cricket hasn't changed at all in the last decade and leaping about like a man roughly the same age but not quite so decrepit.
5 Appeals
10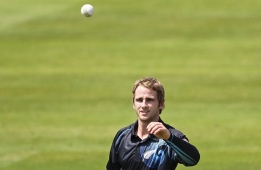 When New Zealand played Australia, the bowlers won and cricket was all the better for it. Runs are not a sensible unit of measurement when gauging the value of the 'product'.
AB de Villiers is a genius and deserves every plaudit that comes his way, but Kane Williamson's 45 off 42 balls pisses all over his 162 off 66 balls earlier in the week.
Okay, maybe that's unfair because de Villiers' knock was also match-deciding in its own way and could only have been delivered by a truly freakish talent. We're just pointing out that in many ways Williamson's innings belongs in the same category.
What's the value of a six? It's not six runs. That doesn't explain it because runs don't have a set value. A run takes its value from the context in which it is scored.
When Brendon Taylor hit a six against the West Indies earlier in the week, those runs represented around 1.6 per cent of Zimbabwe's target total. Not very exciting. When Kane Williamson hit a six today, those runs represented about 4 per cent of New Zealand's target total.
So twice as valuable? No, because we didn't properly assess the context there. Taylor's came in a run-chase that was always destined for failure and so, measured by what really matters, it was all-but-pointless. In contrast, Williamson's came with New Zealand needing six runs to win, against Australia, with only one wicket in hand.
A mishit and New Zealand's bitter rivals would have won. A four and Australia still could have won. That's when a six is a 'maximum' – when it delivers maximum impact.
10 Appeals
25
Skinned them alive? Probably not. Skinned them undead maybe, for England increasingly seem like zombies. Asked to explain England's latest defeat, all Eoin Morgan could muster was "braaaains" in a long, drawn-out moan. "Skiiiill" and "caaaaalmness" were also lacking.
In contrast to England's rotting flesh, New Zealand have a surfeit of vitality. Of course it's easy to run around like giddy schoolchildren when you're winning – but New Zealand are winning, so run around like giddy schoolchildren they do. The word 'intensity' has long since been rendered useless through repetition, but Kiwi fielders gave some idea what it once meant.
They also have a captain who can pick his moments. England were at one point 104-4 when Daniel Vettori had found himself at the front of the Eoin Morgan cheap dismissal queue. Brendon McCullum brought Tim Southee back into the attack.
It almost certainly wasn't the plan – Southee isn't the designated 26th over bowler – but it was a vote of confidence and recognition that the 26th over could be transformed into 'the death' through human intervention. Sure enough, eight overs later England's innings – and pretty much the match – was over. Tim Southee had 7-33 and had hit the stumps four times.
After that, Brendon McCullum had fun. Half of Steven Finn's deliveries went for six, while a quarter went for four, but the meaningful damage had already been done by the bowlers. This was just the gleeful snapping of lifeless limbs.
As for England, what do they do? Bring in a zombie and drop a zombie or stick with the zombies they've got? There's not much they can do. Three of their batsmen have played fewer than 20 one-day internationals and it was notable that 50-match Joe Root was the only man to offer resistance. Confidence takes a lot longer to build than it does to destroy – just ask Ravi Bopara – so further changes will only result in a net loss.
As ever, England didn't know their team before the World Cup, so what turned out to be their first XI didn't really believe that it was the first XI. A fair few of them had never played New Zealand before, let alone in New Zealand. Perhaps they can build a bit of confidence with a couple of wins, but the confidence borne of a couple of wins is a fragile confidence because it hasn't truly been earned.
England looked alive when they walked into this tournament, but the World Cup has a way of shining a light on decay.
25 Appeals
21
How do you measure X-factor? Does it come in units or is it a subtance. Does Glenn Maxwell give you one X-factor or does he provide you with a few centilitres of X-factor that you can pool along with whatever can be provided by Mitchell Johnson, David Warner and Xavier Doherty?
Either way, the team with the most X-factor will win this World Cup. From what we've read, there will be a direct correlation between it and results – that much is clear.
But which players possess X-factor? Our feeling has always been that you either have it or you don't, but today Cricinfo are asserting that Luke Ronchi is evolving into New Zealand's X-factor which suggests that you can gradually attain more and more of this quality.
A friend of ours used to work in a nursery. She was forever losing her rag with three-year-olds pretending to be Pokémon (Pokémons? What's the plural?). They'd squat down, do some sort of weird vibrating mime and say: "I'm evolving!"
"No, you're not," she'd spit. "You're metamorphosising!" Then she would start talking to them about genes and natural selection.
So perhaps Luke Ronchi is evolving in the Pokémon sense and will emerge as a fully-formed X-factor player at some point soon. Or maybe it really is a gradual process and one of his hollow limbs is slowly filling with more and more X-factor fluid.
Whichever it is, we can state only one thing with confidence: very few of our World Cup cricketers to watch are X-factor players.
21 Appeals
11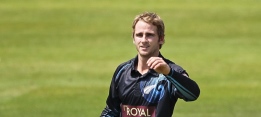 It's a double-post day today. Maybe we're all backed-up after slacking off over Christmas. A few words about New Zealand first and then this afternoon we'll turn to Australia v India, so hold your commenting horses if that's what you want to talk about.
In cycling, there's a thing called the combativity award. It generally goes to the guy who shows the least common sense, who tries to defy logic and experience by cycling 100km on his own when he could save his energy by cruising along in the peloton. He loses the race, but at the end of the day, they give him a wheel of cheese.
New Zealand strike us as being a rather cheese-worthy side these days. There's real fight about them and they don't get disheartened. Where England implode and India strop, New Zealand get stuck in. We saw it most clearly in the UAE where all the runes and tea leaves said they'd get stomped only for them to fight back to draw the series and we've just seen it again against Sri Lanka.
A 135-run first innings deficit is by no means insurmountable, but when you were dispatched for 221 in your first dig and only one guy – a magician, no less – has made more than 69 in the entire match, you can be forgiven for wondering whether you might still be in with a chance of losing by an innings.
But New Zealand aren't here to roll over; they're here to remain the right way up – and so they made 524-5. Kane Williamson's 242 not out takes his average to 46, near as damn it. When you play half your Tests in New Zealand, that's really rather good.
11 Appeals
21
We're never sure why people are so averse to comparing apples and oranges. They're both fruit, after all. It's not like comparing ox heart and communism. Like apples and oranges, Brendon McCullum and Angelo Mathews are quite different, but also have rather a lot in common.
Why a dual award?
There were plenty of other contenders this year. Kumar Sangakkara couldn't stop scoring runs and Steve Smith developed a real taste for the Indian bowling, while last year's Lord Megachief of Gold, Dale Steyn, has become so relentlessly brilliant that people don't even bat an eyelid when he takes 39 Test wickets at 19.56.
However, Brendon McCullum and Angelo Mathews have been the players who have stood out for us. We have spent the last week or so trying to choose, but their cases are so different that it has been like comparing crisps with ennui. In the end, we decided that as captains of lower profile Test nations who have led by freakish example, they both have an equal claim to the title, even if they have reached this point via entirely different routes.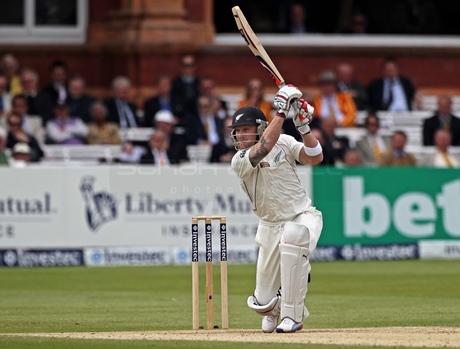 The highs and lows
We'll start with McCullum because his case is more obvious. Until recently, he has always been far better in one-dayers than Tests, but in 2014, he averaged 20.33 in one-dayers and 72.75 in Tests. But even that doesn't really give the full story because between the middle of February and the end of November, he didn't get past 50 in the longest format.
Truth be told, McCullum didn't register a single Test fifty all year. He was only an ounce of extra heft away from not having made a score between 100 and 200 either. His 134-ball 195 against Sri Lanka on Boxing Day seemed an almost childishly needless means of pointing out to everyone that he could also score normal hundreds as well as doubles and triples.
New Zealand won that match – their last of the year – just as they'd won against India in their first match of the year when McCullum had made 224. One match later, he made 302 after his side had surrendered a 246-run first innings lead to earn an unlikely draw. You can't say he doesn't influence matches and nor can you say that he doesn't make the most of good form.
McCullum's crowning achievement came in November, however. Australia had just demonstrated how hard it is to even compete against Pakistan in the UAE, let alone win, and the 'home' team had at first carried on in much the same vein against New Zealand. But a Kiwi side hewn in McCullum's stumpy-but-still-up-for-a-fight image was having none of it. They drew the second Test and then minced Pakistan in the third.
Mark Craig was man of the match, but McCullum made 202 off 188 balls. It's hard to respond to something like that and Pakistan couldn't.
The bit in-between
Angelo Mathews has been harder to spot. Not for him the double hundreds. In fact, even the single hundreds feel like aberrations. Mathews' year has been almost the exact opposite of McCullum's. He seems to have made 50 almost every time he has gone out to bat.
Only once in 20 Test innings was he dismissed for a single-figure score and despite only two hundreds, he averaged 77.33. If this is starting to sound like a celebration of mediocrity, factor in his one-day knocks and you start to get a feel for the scale of his achievement. Over 31 50-over innings, he averaged 62.20 and even when his team was rubbish, he was good. In five sad defeats to India, he delivered 92 not out after arriving with the score reading 64-3, 75 after arriving at 42-3 and 139 not out after arriving at 73-3.
Quite simply, he never lets his side down. At times in the past, he's seemed a trifle bits and pieces. But nowadays his bits of bowling arrive alongside some magnificent pieces of batting.
His all-round performance at Headingley must rank somewhere reasonably high in some list or other of good cricket things. We're not going to define that list or choose the ranking because that could only elicit nit-picking which is surely besides the point.
Mathews had taken 4-44 in England's first innings when he walked out to bat. His side were 68 ahead with four wickets down and had just expended an extraordinary amount of energy in securing a nine-wickets-down draw in the first Test (a match in which he had made 102). Pretty soon, Sri Lanka were seven down and just 169 ahead. Surely the reservoirs of self-belief were running dry?
At the time, we wrote about how batting with the tail is an amorphous puzzle where your goal oscillates between singles and boundaries with the field waxing and waning constantly. In short, it's mentally exhausting, yet Angelo Mathews took his side from 277-7 to 437-9.
Even then, he wasn't done. England fought back through Moeen Ali. When you've poured so much into a game and it seems it's still not enough, you can crumple or you can redouble your efforts. Quite how you accomplish the latter is beyond us, but that is presumably what Mathews managed in captaining Sri Lanka to their first proper series victory in England.
In summary
Between them, they've got it all covered. Take a bow, Brendon McCullum and Angelo Mathews – the sides you captain are better for your presence. You are 2014's Conjoined Lord Megachiefs of Gold.
21 Appeals
6
It has to be. Unable to fly and never allowed to play more than three Tests in a series, it has to adapt quickly if it isn't to be devoured by cats or beaten by Pakistan.
Captains and coaches always talk about learning from a defeat, but you rarely see any evidence of this. It's just a thing you say – yet New Zealand appear to have actually improved as their tour of not-Pakistan has progressed.
First Test: Beaten so soundly you might have mistaken them for second-rate tourists, such as Australia or England
Second Test: A very creditable draw
Third Test: Almost certainly a win – and by a huge, huge margin
They even got Younus Khan out for a golden duck. Just think about that.
It's almost as if it would be worth everyone's while to have New Zealand play more than six Tests a year; as if having more than three teams in the world might somehow enrich the sport.
Thankfully, this will never happen. New Zealand will play two Tests against England this summer AND THEN IT'S THE ASHES AGAIN. You can't argue with the law of supply and demand – the more of something you have, the more valuable it becomes.
6 Appeals
11
Is MS Dhoni's arm made out of just one super fast-growing bone? We're imagining an ever-extending protuberance that requires regular pruning based on the following from Cricinfo:
"On the eve of the meeting, a BCCI insider revealed that Dhoni was recovering from a "right forearm" injury. By the time the selectors finished the meeting, an aide close to Dhoni said it was a "wrist" injury. Two hours later, BCCI secretary Sanjay Patel told reporters that Dhoni had been advised rest after hurting his "right thumb"."
Dhoni was apparently carrying the injury during the aborted series against the West Indies when it was presumably some sort of shoulder problem.
Bangladesh batsmen
In Chittagong, something very unusual is happening. Bangladesh are making a dominant start to a Test match. They've already won the first two Tests against Zimbabwe and appear to have drawn some confidence from this. At the time of writing, they were 213-0 and both Tamim Iqbal and Imrul Kayes had made hundreds.
We were going to bring you some exciting statistics about Bangladesh partnerships like a proper media outlet, but Statsguru isn't working so we've quickly lost interest. Someone put something in the comments. Make it up if you want.
Battery
Pakistan are still battering New Zealand. It's odd how each of their recent Tests appear to have taken place on two different pitches. You'd think the opposition would object to having to bat on a pitted minefield when Pakistan do all their run-scoring on a complete featherbed.
11 Appeals
16
Poor New Zealand. In recent times, they have slowly been putting together a solid side. Since losing to England last year, they have drawn one Test series and won three. They have one of the more promising seam attacks around and have even found a few batsmen. Now they find themselves up against a happy, determined, organised, well prepared, in-form Pakistan.
What are the chances?
Do stars align? We've never really understood that saying and not solely because we fail to see the link between the relative positions of celestial bodies and events on Earth. Does it literally mean some stars appearing in a straight line? Why is that a good thing?
However rare an event star alignment is, Pakistan's current status is rarer still. It's like all the planets and stars – every last one of them – getting into a giant, intergalactic queue. It'll never happen again and nor can it last.
At the time of writing, Pakistan are 347-1 and Brendon McCullum's already had a bowl. New Zealand are really up against it and they haven't even caught sight of Younus Khan yet.
16 Appeals