New Zealand
39
South Africa are supposed to be playing the Windies today, then India play Pakistan before England play New Zealand. However, we're away for the weekend with no plans to use the internet, so you're going to have to fill in the gaps yourselves in the comments section.
We're not really in the habit of predicting things because we always anticipate being wrong and if you don't trust your own predictions, why should anyone else? However, if pushed to commit to some sort of opinion, we'd say South Africa's bowling line-up appears to have been put together for Chris Gayle's benefit, so maybe something will happen there should the rain relent.
As for the second match, we've been backing India in this tournament and so should probably stick with that. It's a bizarre match though with a great batting line-up and mediocre bowling line-up pitted against a shoddy batting line-up and fantastic bowling line-up. Only one thing's for certain: one team will reveal themselves as being better than the other one (unless the match is rained off).
England v New Zealand? We're pretty confident that one will be a washout. It's just the way these things work.
39 Appeals
9
In other words, they didn't get enough overs in for messrs Duckworth and Lewis to put their umbrella-holding hands up and come to the rain-affected party.
Aside from David Warner's performance ferrying drinks, this match was perhaps most notable for Dan Vettori's immobility. His Achilles tendon problems necessitate saline injections to inhibit the pain. Kyle Mills says he's okay getting his toast and cereal for breakfast but struggles on the field. You can tell.
It's most striking because of how much Vettori's visibly changed since he first appeared in international cricket. Back then, he was a scrawny thing who stood out because he wore glasses. Now no-one notices the glasses and he's a huge, lumbering bear of a man with walking difficulties.
Time, eh? It passes. Each day your body becomes incrementally more decrepit until you suddenly notice that one of the components no longer functions at all. At that point, you may regret not using it more. However, it's important to remember that you didn't do the things you didn't do for a reason – you couldn't be bothered.
9 Appeals
16
But not by a huge amount. Chasing 139 to win, you'd hope to get there without losing nine wickets. Then again, they didn't lose ten, so what's the problem?
A really bad run chase is a wonderful thing. A big run chase is faintly absorbing, but for real tension you need the looming spectre of a right royal balls-up. We're not sure as to the exact visual appearance of such a spectre, but we're pretty sure it would make a spooky noise and exude a bad smell.
When the top scorer for the winning team was batting at number eight, you know it was a good match. Furthermore, New Zealand scored eight in leg byes while Sri Lanka scored one. The significance of that should also be considered a badge of quality.
16 Appeals
9
Probably should have exercised a little editorial restraint with that last post and gone straight to this one instead. Then again, what's the internet for if not for failing to exercise editorial restraint?
Here are some awards.
Ploddiest bastard
The ploddiest bastard award recognises the batsman who played the most bar-filling innings. There were a few contenders with England's entire first innings at Lord's worthy of a team award, while Neil Wagner's unbeaten nought not out off 37 balls in the second Test was an unfinished masterpiece. However, this award goes to Nick Compton for his unspectacular seven off 45 balls in the second Test. This case study in self-imposed mental paralysis was made all the more striking for being played while the famously uninhibited Alastair Cook was making a 63-ball 50 against the same bowling.
Biggest sociopath
This award recognises profound antisocial behaviour on the cricket field and it goes to Jonathan Trott for his batting on the fourth evening of the second Test. His 11 not out off 69 balls while England were looking to increase the run-rate ahead of an inevitable declaration showed quite staggering disregard for the feelings of his captain, coach, team-mates, fans and indeed pretty much everyone on earth. It was marvellous stuff.
Crappest shot
We'd probably go with Nick Compton's deranged slog in the first innings of the first Test. Block, block, leave, block, HEAVE LIKE YOU'RE TRYING TO SLAUGHTER A DEMON FROM HELL WITH ONE CRUSHING BLOW, walk off the pitch looking a little bit ashamed.
Thanks for coming
Martin Guptill. Followed one off five balls with three off 22 balls. No wonder they gave him a bowl in between. Those five overs went for 41.
Living the cliché
Recognising the player who made it most difficult to avoid using tired, overused phrases to describe them. Neil Wagner gets this award for his bustling fast-medium bowling. He just kept on running in.
9 Appeals
17
Work expands to fill the time allotted. We remember one particularly undemanding week where we made a plan to buy a toothbrush on one day and toothpaste the following day. Good times. Credit to England's bowlers then for not performing as if they've got 468 runs to play with.
These kinds of ultra-conservative declarations can sap the sense of urgency from an attack. Maybe the weather helped their cause. The threat of bad light and then rain today added a frisson to a fairly moribund scenario and perhaps helped England take six wickets on day four when they might otherwise have rationed them more carefully.
The key with this declaration was the prioritisation of a Test series win over a Test match win. A draw is enough for England to secure the series, so if that's your primary goal, it makes sense to remove an unlikely defeat from the equation. Were Test wins the primary goal, more would be risked in pursuit of one. The rights and wrongs of that perhaps merit discussion. However, we simply cannot be bothered venturing an opinion.
17 Appeals
23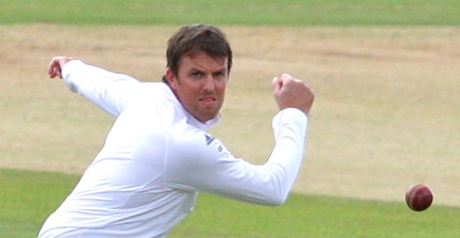 It's a strange and wonderful sport where two members of the opposition who aren't even on the pitch can aid your cause, but Graeme Swann can thank Trent Boult and Neil Wagner for three of his four wickets.
The two left-armers created some beautifully scruffy turf for him to aim at and the added purchase meant the ball did plenty more than you would ordinarily expect. People talk like it's surprising when the ball turns so early in the match, but pitches don't wear uniformly. Even after just one innings, the footmarks from two left-armers probably provide Swann with more rough than on the fifth day of any other Test match.
Unless you're Sri Lanka in the Murali era ("Hey, you're left handed and have quite big feet. I don't suppose you're free for a bit of seam bowling between Thursday and Monday, are you?") you don't pick your bowlers for the by-products of their endeavours. Yet footmarks can lead to crucial wickets and can therefore decide a match.
What a wonderfully complex sport. Imagine explaining this to someone new to cricket. Imagine having to explain spin bowling and the impact of the rough. Now imagine the person saying in a loud, booming, almost certainly American voice: "You know what they should do. They should bowl from the other side of the stumps so the rough patches aren't in the right place for him."
Actually, don't imagine that. It's too irritating.
23 Appeals
26
Tomorrow England meet New Zealand in the second Test at Headingley. The home team will be looking to take a 2-0 series win, while the tourists will be looking to tie the series 1-1. England will settle for a draw and a 1-0 series result, but would prefer to win.
Despite winning the first Test, England did several things badly and will be looking to do those things better while simultenously maintaining standards or improving when it comes to the things they did well.
The same applies to New Zealand, only they will be looking to make far greater improvements. When you consider the outcome of the last Test, they could conceivably play significantly better and yet still lose if England can improve to the same degree.
Set against that is the fact that New Zealand could play exactly the same as in the first Test and England could play worse, in which case we might get a different result. However, the Kiwis won't want to have to rely on that.
Players who are injured will be replaced by different players, but there may also be other changes. Some players are more likely to be dropped than others and that likelihood is often dependent on the quality and form of the players who would most likely replace them.
Both teams will look to play well early on and will also be keen to continue playing well should they achieve that. If either side makes a poor start, they will hope that they can come back from that and will endeavour to do so.
It might rain a bit.
26 Appeals
31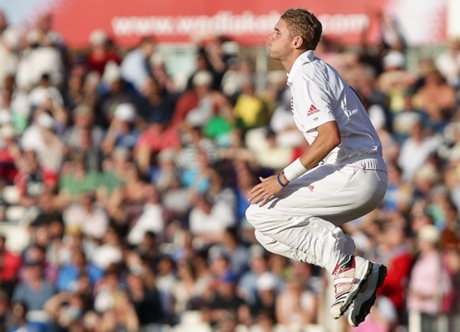 In post match analysis, many people have been saying that they thought Graeme Swann was going to be key and marvelling that he didn't get a bowl. Yes, that's true, but let's put this in perspective: Steven Finn didn't get a bowl either.
James Anderson took 2-23 and Stuart Broad took 7-44. As new ball spells go, these are adequate.
It sounds odd, but people sometimes undervalue bowling performances like this, particularly once the excitement has worn off and a few of the details have been forgotten. The innings is either described in terms of the batting side collapsing or the results are diminished by talk of helpful conditions. But while destructive bowling in unhelpful conditions is undeniably admirable, there's something really special about dismissing a side for 68. You'll be lauded if you dismiss the opposition for twice that and the difference between those two scores speaks of the standards you set yourself.
The TV highlights were pretty much the entire day's play, but yet they still felt very much like highlights. The wickets were interspersed with dozens of similar deliveries which just happened to beat the edge, rather than catch it. Many swing bowlers have picked up five wickets when the ball's doing something, but only the best ones make it seem unavoidable.
31 Appeals
14
We had it all planned out. We were going to cycle up Mow Cop and then, when we got home, we'd 'refuel' with our feet up while watching what promised to be the business end of the New Zealand innings. We'd be exhausted and would therefore be able to sit watching TV contentedly without feeling like we should be doing something else. Flawless, guilt-free self-indulgence was in the offing.
We timed it almost perfectly wrong.
Within 30 seconds of our return, the TV was on. It was the adverts. And then it was still the adverts. This was an unusually long ad break. Maybe it was the fall of a wicket. Oh, wait, maybe it was drinks. It was about the right time – an hour into the afternoon session.
It wasn't the drinks break.
14 Appeals
5
Players are always talking about the brand of cricket they're looking to play, trying to make it sound like there's some lofty aesthetic ideal with which they should be associated. No-one ever talks about playing a squalid brand of cricket and more's the pity. Squalid, low-scoring cricket that's decided by fifties and run-outs and thick edges to third man is marvellous stuff.
Hard-fought fifties used to be a thing. This was because they contributed something valuable. However, in recent years, the hard-fought fifty has been replaced by the 'missed opportunity'. The numbers are the same, but the perception is different. In many Test matches, 50 or 60 runs feels neither here nor there.
In this Test, 50 or 60 runs from someone could potentially swing the match. This struck us yesterday when Brendon McCullum was batting. People perceive McCullum as being a man well-suited to his time because he's an attacking batsman (as if that's a modern phenomenon), but he's an attacking batsman who tends to make quick fifties rather than whopping great hundreds. Once upon a time, he would have regularly tipped the balance and secured New Zealand Test wins with his scores. In this era, the same contributions tend to be something more akin to light relief. They don't affect the story. They're just pleasant distractions for a short period of time.
We rather like the fifty taking centre stage. More of this kind of thing.
5 Appeals