New Zealand
17
Work expands to fill the time allotted. We remember one particularly undemanding week where we made a plan to buy a toothbrush on one day and toothpaste the following day. Good times. Credit to England's bowlers then for not performing as if they've got 468 runs to play with.
These kinds of ultra-conservative declarations can sap the sense of urgency from an attack. Maybe the weather helped their cause. The threat of bad light and then rain today added a frisson to a fairly moribund scenario and perhaps helped England take six wickets on day four when they might otherwise have rationed them more carefully.
The key with this declaration was the prioritisation of a Test series win over a Test match win. A draw is enough for England to secure the series, so if that's your primary goal, it makes sense to remove an unlikely defeat from the equation. Were Test wins the primary goal, more would be risked in pursuit of one. The rights and wrongs of that perhaps merit discussion. However, we simply cannot be bothered venturing an opinion.
17 Appeals
23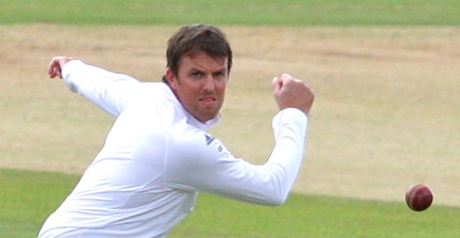 It's a strange and wonderful sport where two members of the opposition who aren't even on the pitch can aid your cause, but Graeme Swann can thank Trent Boult and Neil Wagner for three of his four wickets.
The two left-armers created some beautifully scruffy turf for him to aim at and the added purchase meant the ball did plenty more than you would ordinarily expect. People talk like it's surprising when the ball turns so early in the match, but pitches don't wear uniformly. Even after just one innings, the footmarks from two left-armers probably provide Swann with more rough than on the fifth day of any other Test match.
Unless you're Sri Lanka in the Murali era ("Hey, you're left handed and have quite big feet. I don't suppose you're free for a bit of seam bowling between Thursday and Monday, are you?") you don't pick your bowlers for the by-products of their endeavours. Yet footmarks can lead to crucial wickets and can therefore decide a match.
What a wonderfully complex sport. Imagine explaining this to someone new to cricket. Imagine having to explain spin bowling and the impact of the rough. Now imagine the person saying in a loud, booming, almost certainly American voice: "You know what they should do. They should bowl from the other side of the stumps so the rough patches aren't in the right place for him."
Actually, don't imagine that. It's too irritating.
23 Appeals
26
Tomorrow England meet New Zealand in the second Test at Headingley. The home team will be looking to take a 2-0 series win, while the tourists will be looking to tie the series 1-1. England will settle for a draw and a 1-0 series result, but would prefer to win.
Despite winning the first Test, England did several things badly and will be looking to do those things better while simultenously maintaining standards or improving when it comes to the things they did well.
The same applies to New Zealand, only they will be looking to make far greater improvements. When you consider the outcome of the last Test, they could conceivably play significantly better and yet still lose if England can improve to the same degree.
Set against that is the fact that New Zealand could play exactly the same as in the first Test and England could play worse, in which case we might get a different result. However, the Kiwis won't want to have to rely on that.
Players who are injured will be replaced by different players, but there may also be other changes. Some players are more likely to be dropped than others and that likelihood is often dependent on the quality and form of the players who would most likely replace them.
Both teams will look to play well early on and will also be keen to continue playing well should they achieve that. If either side makes a poor start, they will hope that they can come back from that and will endeavour to do so.
It might rain a bit.
26 Appeals
31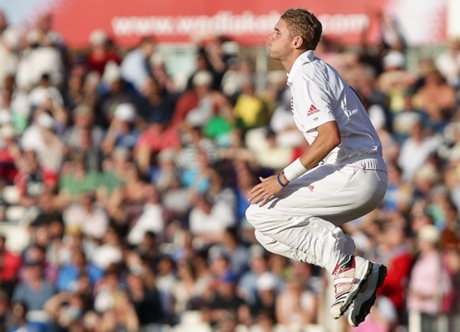 In post match analysis, many people have been saying that they thought Graeme Swann was going to be key and marvelling that he didn't get a bowl. Yes, that's true, but let's put this in perspective: Steven Finn didn't get a bowl either.
James Anderson took 2-23 and Stuart Broad took 7-44. As new ball spells go, these are adequate.
It sounds odd, but people sometimes undervalue bowling performances like this, particularly once the excitement has worn off and a few of the details have been forgotten. The innings is either described in terms of the batting side collapsing or the results are diminished by talk of helpful conditions. But while destructive bowling in unhelpful conditions is undeniably admirable, there's something really special about dismissing a side for 68. You'll be lauded if you dismiss the opposition for twice that and the difference between those two scores speaks of the standards you set yourself.
The TV highlights were pretty much the entire day's play, but yet they still felt very much like highlights. The wickets were interspersed with dozens of similar deliveries which just happened to beat the edge, rather than catch it. Many swing bowlers have picked up five wickets when the ball's doing something, but only the best ones make it seem unavoidable.
31 Appeals
14
We had it all planned out. We were going to cycle up Mow Cop and then, when we got home, we'd 'refuel' with our feet up while watching what promised to be the business end of the New Zealand innings. We'd be exhausted and would therefore be able to sit watching TV contentedly without feeling like we should be doing something else. Flawless, guilt-free self-indulgence was in the offing.
We timed it almost perfectly wrong.
Within 30 seconds of our return, the TV was on. It was the adverts. And then it was still the adverts. This was an unusually long ad break. Maybe it was the fall of a wicket. Oh, wait, maybe it was drinks. It was about the right time – an hour into the afternoon session.
It wasn't the drinks break.
14 Appeals
5
Players are always talking about the brand of cricket they're looking to play, trying to make it sound like there's some lofty aesthetic ideal with which they should be associated. No-one ever talks about playing a squalid brand of cricket and more's the pity. Squalid, low-scoring cricket that's decided by fifties and run-outs and thick edges to third man is marvellous stuff.
Hard-fought fifties used to be a thing. This was because they contributed something valuable. However, in recent years, the hard-fought fifty has been replaced by the 'missed opportunity'. The numbers are the same, but the perception is different. In many Test matches, 50 or 60 runs feels neither here nor there.
In this Test, 50 or 60 runs from someone could potentially swing the match. This struck us yesterday when Brendon McCullum was batting. People perceive McCullum as being a man well-suited to his time because he's an attacking batsman (as if that's a modern phenomenon), but he's an attacking batsman who tends to make quick fifties rather than whopping great hundreds. Once upon a time, he would have regularly tipped the balance and secured New Zealand Test wins with his scores. In this era, the same contributions tend to be something more akin to light relief. They don't affect the story. They're just pleasant distractions for a short period of time.
We rather like the fifty taking centre stage. More of this kind of thing.
5 Appeals
23
We generally approve of England's somewhat one-dimensional approach to top order batting. However, the fact that it's highly appropriate for the current era doesn't mean it's always the best approach. Against equally patient bowling attacks, it can result in stand-offs less spectacular than when two cats spend three-quarters of an hour looking everywhere but at each other.
Many fielding sides have grown weary and moved to Plan B in the face of the numbing barrage of obduracy delivered by the England top order, but New Zealand aren't like that – we're not entirely sure they have a Plan B. The nature of their bowlers means Plan A can be delivered consistently. Cut from the same hardwearing grey cloth as England's batting line-up, the Kiwi bowling attack doesn't scythe through batting orders, but nor does it try to.
Reactive batting
What do you do in the face of this? Fight lukewarm water with lukewarm water?
While it's comforting to see your nation's cricketing representatives taking their job seriously, sometimes you need a bit of irresponsibility to open a match up. Not too much; just a touch. In fact just enough to keep full-blown, overcompensatory irresponsibility at bay (Nick Compton, we're looking at you).
There are times when a little proactivity is required, but Kevin Pietersen is the only upper order England batsman prone to trying to set his own field. The others play according to what they are presented with.
Today, a slow outfield reduced the likelihood of boundaries and run-scoring was further stymied by the fact that this allowed more fielders to be placed saving singles. So perhaps today wasn't the day for proactivity. Perhaps watchfulness was the correct approach and 160-4 is less underwhelming than it seems. Perhaps open-ended closing paragraphs are unsatisfactory.
23 Appeals
19
If you haven't already seen, Jesse Ryder is in an induced coma after being assaulted. He has a fractured skull.
We aren't going to write too much about this, because the site is the wrong tone for that kind of news and therefore it just doesn't seem appropriate. For similar reasons, we'd like to ask that news outlets refrain from using Twitter updates instead of actual quotes when reporting on this story. It's a habit they've got into when covering cricket, but sport can accommodate the throwaway nature of a tweet far more comfortably.
We've read several reports of the Ryder incident which have republished tweets, such as this one from the official New Zealand Cricket Twitter feed:
The whole NZC team's thoughts are with @dijaryder this morning.

— BLACKCAPS (@BLACKCAPS) March 27, 2013
It really undermines the message when you see the stupid Twitter handle. Plus, it just doesn't seem sufficiently earnest to use Twitter at all. When players tweet that their thoughts are with him, it almost feels like an advert for their compassion because they're broadcasting their feelings, rather than sending them more directly.
We're sure that's not the intention; it's just the nature of the medium – which is precisely why it's better to keep that jarring tonal shift away from news reports.
19 Appeals
32
Talk of an England win has been unjustifiably common during this Test. You never know what's likely to happen in a match, but you can tailor conversation according to likelihood and at no point has an England victory seemed probable. Even talking about how they could possibly engineer a winning situation from the difficult positions they've found themselves in has been to remain wilfully blind to reality. A draw was appearing a fairly lofty aim from quite early on.
We're fond of saying that averages only tell you what has already happened and that certainly applies here. Brendon McCullum only averages 30-odd with the bat, but he's made England miserable all series without reaching three figures. Peter Fulton's average has only reached the thirties thanks to a hundred in each innings of this match, but that kind of a contribution is a great deal more meaningful in terms of the series than what Ian Bell did against Pakistan in 2006.
We're increasingly feeling like Ian Bell is a kind of barometer of form for England. We often talk about a team winning when one particular player performs well, but when Ian Bell plays badly, England are terrible. Or is it the other way round? It's almost as if he responds to the pervading air of underachievement and thinks: "Right, time for eight off 89 balls."
Bell's still in, of course, but his obduracy seems less like resilience and more like the foreshadowing of a collapse – a contributory factor, even, if it brings unwarranted nervousness to the young batsmen who follow him.
Good luck to Bell and good luck to England, because they'll need it. Whatever their averages, New Zealand's bowlers have threatened England's batsmen almost all series.
32 Appeals
10
He has one of our favourite nicknames in international cricket, so we're secretly slightly pleased that Peter Fulton scored a hundred against England because it means he should get a few more matches. Set against that is the fact that he was averaging 23 before the first day's play, so you can't say it was a particularly good day for England after opting to bowl.
There have been worse insertions, but 'insertion' is a noun which covers some unsavoury concepts, so that's not saying much. That said, wiser men than us have highlighted the fact that drop-in pitches such as this often get flatter as the match wears on, which doesn't bode particularly well for the weekend's entertainment. Or maybe England were just crap and wickets will tumble when they come to bat.
However things pan out, Peter Fulton didn't put a foot wrong. And with seven of them at his disposal, that means he's still got plenty of room for manoeuvre.
10 Appeals