West Indies
6
Do you get the feeling that there are a number of dead men walking at the minute? It's like one mob family has ordered a series of hits on a rival family and now capos and crew members are being picked off as they go about their daily business.
Sunil Narine is the latest to be visited by Paulie Walnuts, but he's only been wounded, not killed. He's been reported for his action when bowling his quicker ball, but unlike Saeed Ajmal, he's not been suspended.
An uber-cynical prediction would involve him playing the rest of the Champions League for his IPL side before somehow being banned ahead of the World Cup.
6 Appeals
26
Growing up, our home town had one cinema, which had two screens. If you wanted to watch a film, you watched what was on. That's the only possible explanation as to how we once found ourself watching Far and Away, starring Tom Cruise and Nicole Kidman.
Towards the end of the film, just as the plot was reaching its climax, the cinema lost visuals. The sound remained, but the picture went, returning some time later for about a minute of denouement.
No-one complained. Not one single person. Make of that what you will, Ron Howard.
We mention this only because today's semi-final between Sri Lanka and the West Indies feels like the exact opposite of that. The Windies were well behind the run-rate, but that's the way they pace a chase, counting on the Sammy factor to make up the shortfall in the last few overs. However, the match was rained off with our man at the crease, not having faced a ball.
Enter hero, music swells, film ends.
26 Appeals
12
Minnows, upsets, India v Pakistan and the semi-finals already – this World T20 is getting the job done. And while some people claim that Twenty20 can be a lottery, you can make a strong case for the four remaining teams also being the four strongest.
Sri Lanka v West Indies
Darren Sammy is averaging a hundred in this tournament with a strike rate of  224. He's managed to make an extraordinary impact in just 45 balls at the crease. Rangana Herath has played even less cricket but he too has made his mark. Bowling just 21 deliveries, he is currently averaging 0.60.
That sort of sums these teams up. Both seem like proper Twenty20 sides, chock full of weirdness and heavery. Neither gets too disheartened whether chasing a big total or defending a small one. We've no idea who'll win, which is the way we like it.
India v South Africa
Insofar as any team can have reliable batting in Twenty20, India have reliable batting, but their bowling is more than doing a job in these conditions. Hardly anyone's going for runs and in fact this is probably why the batting has appeared solid. They've been able to play within themselves.
For their part, South Africa have been uncharacteristically erratic. They've been generally underwhelming but with flashes of individual brilliance and appear to be working to Broad's Law about only needing a maximum of two or three players to play well in this format. We'd bet on India, but unfortunately we don't hold a position of responsibility within the BCCI and are therefore not permitted to lay wagers on cricket matches.
12 Appeals
9
"I don't particularly like them," said James Faulkner before Australia played the West Indies. He must positively detest them now.
Here's another Faulkner quote.
"If you can do something to upset somebody and upset their team, it goes a long way towards doing well as a group."
He got that the wrong way round. The West Indies did well as a group to chase 179, which surely upset the Australians, and the fact that it was Faulkner bowling the final over when Darren Sammy hit successive sixes to win the match has doubtless upset him specifically.
Sammy said:
"The Australians normally have a lot to say. We are here to play cricket."
Which isn't to say that the West Indies are mutes. They just save their talking for after the matches. Sammy couldn't help but remark that his team had handled the pressure better than the Aussies. Faulkner was unavailable for comment.
The Windies also save their bat-flinging and cool-losing for after the match. The willow of Dwayne Bravo may not yet have returned to terra firma, so high was it thrown, while the emotions were sufficient for even Chris Gayle to finally lose his cool.
And oh how he lost it. This video of the celebrations doesn't even show Gayle's immediate reaction to the winning six, when he screamed so hard he actually fell over.
9 Appeals
19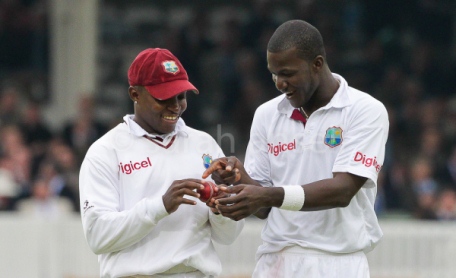 We've got a Sachin Tendulkar post saved as a draft, but let's look elsewhere today. Let's look at the West Indies captain, Darren Sammy, who's currently having a 'mare.
We rather like Sammy. Not just because his initials make him DJ Sammy, not just because he purveys genuine medium-pace and not just because he's forever so ready to smile you wonder whether he's overmedicated. We also happen to think that he's a reasonably decent cricketer.
He's not a match-winning bowler and he's not a batsman you'd expect more than 50 from, but he's more than capable of bowling tight overs and hitting handy runs down the order. The problem is that this is pretty much all you can expect from him, so when he's out of form, there aren't many great memories to refer to when making a case for his retention.
In the Windies, many people have been baying for him to be dropped ever since he was made captain. We see their point, but at the same time the team's often been unstable enough that a decent captain would be worth his place even if all he could do were field. It's not like Sammy's keeping a Michael Holding out of the side, after all.
But whoever he's keeping out of the side may just get a game when the Windies play their next Test. Having been given the boot from the one-day captaincy, Sammy's been under increasing pressure in the longest format. He says he thrives on criticism, which should mean he's at his best right now.
He is not at his best.
In the first Test, he admitted leading by example by playing a stupid, impatient, entirely inappropriate shot. He said he had to learn. In the first innings of this Test, he gloved the first delivery he faced, concluded that he now had his eye in and absolutely skied the second. Then, when India came to bat, in a classic case of trying to claw yourself back into credit through an ill-judged attempt to 'take responsibility' he opened the bowling and was promptly spanked.
Darren Sammy's job is to play second fiddle. In attempting to play the lead violin part, he's making himself redundant in more ways than one.
19 Appeals
39
South Africa are supposed to be playing the Windies today, then India play Pakistan before England play New Zealand. However, we're away for the weekend with no plans to use the internet, so you're going to have to fill in the gaps yourselves in the comments section.
We're not really in the habit of predicting things because we always anticipate being wrong and if you don't trust your own predictions, why should anyone else? However, if pushed to commit to some sort of opinion, we'd say South Africa's bowling line-up appears to have been put together for Chris Gayle's benefit, so maybe something will happen there should the rain relent.
As for the second match, we've been backing India in this tournament and so should probably stick with that. It's a bizarre match though with a great batting line-up and mediocre bowling line-up pitted against a shoddy batting line-up and fantastic bowling line-up. Only one thing's for certain: one team will reveal themselves as being better than the other one (unless the match is rained off).
England v New Zealand? We're pretty confident that one will be a washout. It's just the way these things work.
39 Appeals
1
And largely thanks to the bowling of Ravindra Jadeja, of all people. We're still not quite sure how he gets wickets.
This week's instalment of The Spin was about Jadeja and how fans didn't value him for a long time. We're glad he's no longer getting a hard time, but we're not too sure how we feel about him taking five wicket hauls. Surely that should be the preserve of bowlers who don't purvey such a nondescript stock delivery?
So while it's good that Jadeja is at last getting positive recognition, we'd much prefer him to get it for taking 2-48 and chipping in with a few handy lower order runs. Surely that's the point – appreciating someone for doing the less spectacular work. Anyone can get positive recognition for dismissing half a team.
The other major contributors to India's win were Shikhar Dhawan and his moustache who scored a second hundred on the bounce. India are still our tip for the Champions Trophy.
1 Appeal
6
This post title policy will come to a crashing halt should England lose to Australia today.
An odd and absorbing match at the Oval, where only Misban-ul-Haq and the Jam Shed managed to score more than six runs in Pakistan's innings. Misbah's 96 not out was exactly the kind of innings he specialises in. Almost exclusively a foulweather batsman, when the going's good, he barely gets started, but when wickets are tumbling, he appears unbeatable.
West Indies innings was a halting affair and they perhaps benefited from having something to aim for. If they'd been setting a target, they could well have been bowled out for far less. Then again, having few runs to defend often seems to focus the minds of Pakistan's bowlers and with a giant, a mystery spinner and a fast bowler in their ranks, they have an intriguing attack.
Saeed Ajmal was Saeed Ajmal; Wahab Riaz may not actually have been bowling at 150km/h as the speedgun indicated, but he was quick; while Mohammad Irfan brings the frisson of excitement that he might at any moment grow weary with the human race and decide to destroy us all.
We don't appear to have mentioned the West Indies much in this update. The team playing against Pakistan always appears somewhat incidental, even when they win the match.
6 Appeals
16
The worth of a Twenty20 player cannot be measured via a single innings. That's a mistake many people make – they confuse aberrations with excellence. It's therefore worth underlining the sheer inevitability that it would be Chris Gayle who would break the record for the highest individual score in the shortest format.
It doesn't actually matter all that much that he was facing Ishwar Pandey, Ali Murtaza and even an over from Aaron Finch (although Luke Wright's four overs for 26 look pretty fine in this context). Whoever was bowling, it takes phenomenal ability to hit 30 of the 66 balls you face for boundaries. As a child, we never once managed it when bowling a tennis ball to ourself via the wall of the garage and we were bowling underarm and umpiring as well.
Gayle finished with 175 not out, having hit 13 fours and 17 sixes in another good advert for his core strength. His team, Royal Challengers Bangalore, won. You may well have guessed that last bit.
16 Appeals
21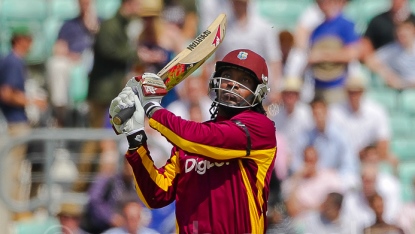 It's generally best to avoid writing about Chris Gayle, because he seems to draw admiration – and therefore blog comments – from the biggest dickheads on the planet.
It's not that there's nothing to admire about Gayle's batting. It's just that a reach seam of knobheadery sits alongside rational, justifiable appreciation. Don't follow his Twitter feed, because he frequently answers questions from what can accurately be described as his fans. These people exhibit an unironic level of hero worship that we find really depressing. Maybe we're just embittered because they appear to find his non-jokes funny. There's little more dispiriting than idiocy that also devalues what you do.
But back to sport, John Hotten has written a nice summary of how and why Gayle is such a singular cricketer in the shortest format. In essence, he's reliable, but he also has an unusual ability to hit sixes once he's played himself in. We've always been struck by how hard Gayle hits the ball with such little effort and we reckon it's all in the core.
It's not in The Core – you'd be hard-pressed to get anything useful out of that. It's in the totally uncool sets of muscles that span your midriff. Gayle is known for being built like a masonry khazi with big cannonball shoulders and biceps which for some reason are always described as 'rippling' as if they're flobbling about rather than solid. But there are plenty of batsmen who are – in the parlance of our times – 'ripped' and who don't seem to hit the ball in the same way.
When you hit a cricket ball, you do so using a whole host of muscles. Your legs and torso are the foundations for all that follows. They are what braces against the impact of ball on bat and if they do not give, you get a better return from your cover drive/aimless heave.
Watch Chris Gayle play a pull shot and the power comes from the body, not from the arms. The strength's not just about producing power, it's also about producing controlled power. He can swing within himself and still clear the nearest sea.
The moral of the story is this: for all the apparent vanity of the man, he must also spend a lot of time developing practical strength and pragmatism is a quality even non-dickheads can admire.
21 Appeals