West Indies
31
Hurray! Friday! Let's celebrate by writing about melancholy exits!
We've sadly had two recently. Shivnarine Chanderpaul's international career ended just as he imagined it would when he first took up the sport as a boy, with a WhatsApp exchange between Test series. Meanwhile, Craig Kieswetter has had to call it a day at the age of 27 because of the hideous eye injury he sustained last year.
Chanderpaul did at least make it to the age of 40 as an international cricketer and with 164 Tests to his name, few can boast a longer career . He also finishes with an average of 51, so few can boast a better career either. Even so, no-one dreams of a poignant final moment in which all they're doing is fuming at a message on their phone.
Was it the right time for him to go? He didn't want to, but it's a lot easier to make the decision to continue when you're the player. You don't really have other options, whereas the selectors do. For the West Indies, life goes on. For Chanderpaul, in a certain maudlin sense, it doesn't.
It's unclear from Kieswetter's statement whether the issue is the injury itself or his reaction to it. "I feel mentally I will never again be the player that I was," perhaps hints that it's the latter.
And who can blame him? Having your eye socket fractured and your vision knackered is going to leave a perfectly understandable psychological mark, even if you get over the physical effects. This is why we should never be too angry at batsmen who back away from short-pitched bowling. They're the logical ones. It's the ones who get in line who have the wonky thinking.
Kieswetter's career high point was being named man of the match when England won the World T20 in 2010. That bigstagegoodknockability was never really on display again and it's bleak to think that reports such as this one reduce the whole course of his life up until now to those 49 balls.
Somerset play Hampshire tonight and the West Indies continue their Test against Australia. Hopefully both players will join the rest of us by having a beer and enjoying the spectacle. After all, it really ain't so bad this side of the boundary ropes.
31 Appeals
27
We can't understand it. It seems such an obvious solution. Captain Hindsight wouldn't have made all the obvious mistakes that Peter Moores made.
Maybe England's loss would have been embarrassing if the opposition had been as mediocre as they were infamously branded, but this West Indies side seemed to us to be much better than that. They'll surely make real progress until their next internecine conflict, at which point all the good work will be undone. They're not dissimilar to England in that regard.
There are the usual calls for revolution, but England tend to make significant changes after every high profile defeat. There comes a point where it's change itself which is holding back the side.
Moeen Ali should never have played
Moeen Ali was getting a lot of criticism yesterday. He certainly bowled badly – self-consciously, perhaps – but it's also true that spinners get harshly judged for failing on a turning pitch in the final innings in a way that an opening bowler failing to exploit the new ball does not. You're very alone and there's no chance to make up for poor bowling later on. Moeen is also unfortunate enough to be an all-rounder. An all-rounder gets twice as many chances to fail.
After the match, Nasser Hussain conducted an interview with Peter Moores in which he looked like he was about to drive a broken bottle into the England coach's neck at any moment. He asked about the absence of Adil Rashid. We've been desperate to see Rashid play, but not because we feel absolute certainty that he'd have won the game for England. The question therefore seemed to amount to: "Would you have preferred to have been slagged off for selecting Adil Rashid?"
Give us what we want
As George Dobell said the other day, hindsight is Twenty20. A lot of the people moaning now are those who were previously moaning about the absence of Stokes, Moeen and Buttler – players who are all now in the side. Whenever England lose, the reason, to them, is obvious. But we can never dip into alternative universes to find out what would have happened had things been done differently. Only the coach finds his decisions exposed by reality. Some were good, some were bad, but we at least can't rouse ourself to outrage. If nothing else, we hugely enjoyed this Test match, last day and all.
Michael Vaughan, the King of Populist Opinion, has expressed an interest in the new director of cricket job. Doubtless he'll reject it because they didn't create quite the right job description and will add this to his list of obvious problems with obvious solutions, but maybe England should kowtow to him.
They should give Vaughan the job and let him select the side. He can even put it to a public vote on Twitter to ensure it remains populist enough ("Fav for Plunkett, RT for Wood"). Give him complete control. Let him decide everything so that when England lose we can all agree to stop whinging on, pretending that the solutions were always obvious. Maybe then people can get back to enjoying Test matches, win or lose, without revelling in the latter as being some sort of proof in the flawlessness of their world view.
27 Appeals
25
Wickets advance a Test match. Yesterday therefore had all the meaningful action of two days' cricket – 18 wickets – constricted into one.
Jerome Taylor kicked things off, but it was Jimmy Anderson who enjoyed himself to the full with six wickets for 42 runs off 12.4 overs. In the comments to yesterday's post, we suggested that the ECB might like to start researching ghola technology with a view to opening the bowling with a James Anderson in perpetuity.
The main side effect of wickets being so cheap is the impact on the exchange rate. Runs in this match are becoming more valuable by the second. But how do you get them? The glory of Test cricket is that you can inch along for an entire day like Alastair Cook or slice sixes back over the bowler's head like Jermaine Blackwood and both approaches are equally valid.
England are 39-5, just 107 ahead. It seems like they need quite a lot more, but who knows, maybe they already have enough. One decent partnership could decide this Test. That fragility and uncertainty is what will make all that follows to watchable.
25 Appeals
15
As in 'returned'. He hasn't got ankylosing spondylitis or anything.
We've always liked Jerome Taylor. He tends to bowl quickly, full and straight and that tends to mean more runs and more wickets, which if you think about it is pretty much how a Test match progresses.
If this were a five Test series, we suspect that Taylor would become increasingly bothersome for England, producing that 'history repeating' phenomenon where a batsman keeps getting out to the same sort of delivery and starts to question himself, his technique and other important things, such as whether the inclusion of mustard in a recent batch of jerk chicken paste was an accident worth repeating.
But it's not a five Test series. It's a three Test series where Taylor missed the middle one. As such, he'll bowl well and then everyone in England will forget about him and instead obsess about whichever Australian bowler takes most wickets in this summer's Ashes.
Frustrated with this lack of recognition, Taylor will get himself into a drunken scuffle. But he's such a class act, he'll wait until a very, very distant relation has first got the Taylors in credit by winning some sort of award.
15 Appeals
17
If you envision the next Chanderpaul, the first thing you picture is a younger version of the current Chanderpaul – a crabby, left-handed batsman who has Chanderpaul's face and Chanderpaul's oversized cricket gear. What you don't picture is a two metre tall right-hander who's actually a bowler. Nevertheless, Jason Holder delivered a Shivnarine Chanderpaulesque performance to save the first Test. It was fully admirable.
There are other bowlers who've never made a first-class century before who've danced their way to their first in a Test match. Holder's team-mate Jerome Taylor is one. He made 106 off 107 balls against New Zealand and that's generally the way it works: a few lusty hits in fairly unchallenging circumstances; the opposition rolling their eyes or getting frustrated.
Holder's effort was very different. Holder played an innings. It was beyond responsibility. It was nothing less than a blunt refusal to allow the opposition to win – this in a team that has frequently folded like junk mail forced through one of those powerfully sprung letterboxes that only opens about 8mm even when you apply maximum force.
As for England, the players who played played well enough. Even Cook's captaincy was pretty decent. Pretty much all of the bowlers were controlled and disciplined, but control and discipline are secondary qualities on a flat, slow pitch when wickets are all you care about. What you want then is an injection of chaos. Five bowlers who deliver chaos is too many but you need at least one.
But this is why you play a Test series. The new ball didn't swing for long, reverse swing was hard to come by. Armed with these facts, we'll judge England based on how they line up and perform in the second Test.
17 Appeals
18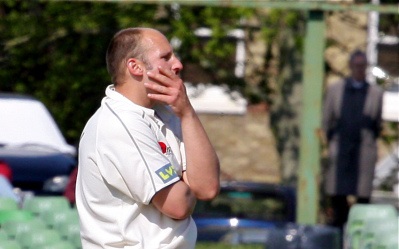 We feel moderately confident naming it this, because it doesn't seem so likely that there'll be another such day when not just one, but both of these players have a sizeable impact on a Test match.
James Tredwell, for one, might never play another Test. This is sad and if you think that's hypocritical being as we were calling for the inclusion of Adil Rashid in his stead, remember that hypocrisy is built into our England support mechanisms. If you're playing, we're behind you. You're our guy.
Tredders is a man who plays both second XI cricket and also for England. As he whangs in his round-arm slattery, he seems more like the former. He looks less like an elite athlete and more like an electrician or a maths teacher. This is, unquestionably, a good thing and only makes his wickets (winkled, cajoled or stolen – never taken) all the more pleasing.
As for Jermaine Blackwood, the mania side of his bipolar batting approach encourages the notion that he might not have a long career, but the gleeful hitting might actually be less relevant than the depression that generally engulfed it.
If the kind of man who carts his second ball for six can smother the impetuous part of his brain to such an extent that his 112 not out takes 220 balls, he has some kind of willpower. There were quite a few where-did-that-come-from larrups but he was skilled enough to get away with most and may need less luck in the future when further synapse smotheration has taken place.
Hindsight is everything. Maybe in years to come we'll look back on the lows of this innings as being indicators that Blackwood wasn't cut out for Test cricket, or perhaps we'll simply see them as rough edges. Who knows, maybe he'll find himself up against wily old James Tredwell again in 2019, two careworn masters carrying underperforming sides, engaging in one more epic individual battle.
18 Appeals
31
He's this guy. And here's his Cricinfo page which currently features a spectacularly poor headshot (and we of all people know one when we see one). It's rather as if the photographer has instructed the Antiguan: "Make a sad face. Now do some mouth-breathing. Perfect!"
According to Tony Cozier, Rahkeem Cornwall is a decent prospect. Excellent name, excellent girth – let's hope he can get into the West Indies side before too long.
This is semi-relevant because England are of course in the Windies at the minute. Most articles we've read about the series seem to almost instantly flit to the tours of New Zealand and Australia in the summer, adopting the Colin Graves attitude that England should easily win and that Test matches against the West Indies are barely worth talking about.
What's your take on that? We feel much the same as we did about all those columns that stated that England would qualify for the quarter finals of the World Cup. In cricket, presuming something is the finest way to negate that very presumption.
31 Appeals
9
Our final King of Cricket appeared on the All Out Cricket website a couple of weeks ago. We didn't link to it at the time because we thought it would get lost amid all the World Cup stuff. We didn't want that to happen because it's Shiv and you all know how we feel about Shiv.
Rickets, Chomsky, Shane Watson talking bollocks and the art of persisting for long enough that eventually the world changes shape to accommodate you. It's all in there.
9 Appeals
15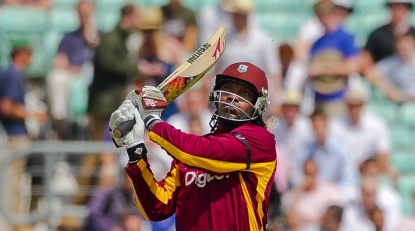 We'd say that Chris Gayle's biggest achievement today was looking like a relatively small person. The route to achieving this wasn't easy. He first had to hit a double hundred and this then allowed him the opportunity to stand next to Ian Bishop at the post-match press conference.
Bishop appears to have spent his time since retirement growing, such that he now looks like a bigger than life-size version of a human – all in proportion but built to completely the wrong scale. We're desperately hoping that England get to play the Windies and that James Taylor puts in a match-winning performance.
Shortly after Gayle had exited the pop-up stage, Jason Holder made an appearance. Miraculously, he was taller than Bishop, but looking at his spindly physique, it was obvious what had happened: someone had stretched him.
Also today, Shane Warne used the phrase 'absolutely salmon trout' to mean 'out'. Combine this with all his talk of cherries, poles and globes and it's obvious that the man is somehow entirely unfamiliar with the language of cricket.
15 Appeals
27
He's kind of like a McBride, but saltier. With all of one first-class match and three one-day internationals to his name before today, he delivered the stupid figures of 0-26 off 10 overs against the West Indies – this in a match in which Ireland chased down 305 inside 46 overs.
We'd recently been thinking that the main problem with the Cricket World Cup is that there are always eight teams with a much better chance of progressing to the quarter finals than any others. No matter how you organise what precedes that stage of the competition, there will always be something of a tension shortfall.
But then there's Ireland. You need 300 chasing in a World Cup and they're your guys.
27 Appeals