West Indies
15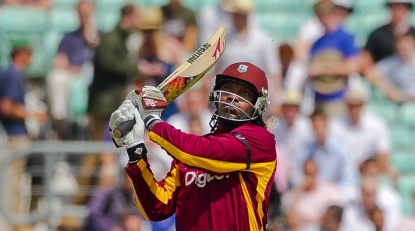 We'd say that Chris Gayle's biggest achievement today was looking like a relatively small person. The route to achieving this wasn't easy. He first had to hit a double hundred and this then allowed him the opportunity to stand next to Ian Bishop at the post-match press conference.
Bishop appears to have spent his time since retirement growing, such that he now looks like a bigger than life-size version of a human – all in proportion but built to completely the wrong scale. We're desperately hoping that England get to play the Windies and that James Taylor puts in a match-winning performance.
Shortly after Gayle had exited the pop-up stage, Jason Holder made an appearance. Miraculously, he was taller than Bishop, but looking at his spindly physique, it was obvious what had happened: someone had stretched him.
Also today, Shane Warne used the phrase 'absolutely salmon trout' to mean 'out'. Combine this with all his talk of cherries, poles and globes and it's obvious that the man is somehow entirely unfamiliar with the language of cricket.
15 Appeals
27
He's kind of like a McBride, but saltier. With all of one first-class match and three one-day internationals to his name before today, he delivered the stupid figures of 0-26 off 10 overs against the West Indies – this in a match in which Ireland chased down 305 inside 46 overs.
We'd recently been thinking that the main problem with the Cricket World Cup is that there are always eight teams with a much better chance of progressing to the quarter finals than any others. No matter how you organise what precedes that stage of the competition, there will always be something of a tension shortfall.
But then there's Ireland. You need 300 chasing in a World Cup and they're your guys.
27 Appeals
10
Rahul Bhattacharya's piece about Shivnarine Chanderpaul in the November issue of The Cricket Monthly is full of highlights, not least because a man who is himself one of our favourite cricketers also seems to revere exactly the same players we do.
He describes how Brian Lara would sometimes put spin on the ball with his shots to evade fielders and then at other times wouldn't, depending on where they were positioned.
There's also a fantasic quote about the challenge of facing Wasim Akram:
"After looking for swing-swing-swing all of a sudden I saw a ball on my face."
However, our favourite moment is the way he tells another Wasim Akram story and more specifically how he punctuates it.
"Wasim bowl a few that went across him. Hooper normally play bat-and-pad, but he left a little gap just enough for the ball to pass through. Wasim had a look at him. Then Wasim had one go back through that little gap and hit them stumps. That is how good this guy is. Wasim is an unbelievable bowler. Wasim Akram."
That's how you end a cricket anecdote. You say the name of the player as if you're ending a prayer.
That Shivnarine Chanderpaul, he's one hell of a guy. Shivnarine Chanderpaul.
10 Appeals
25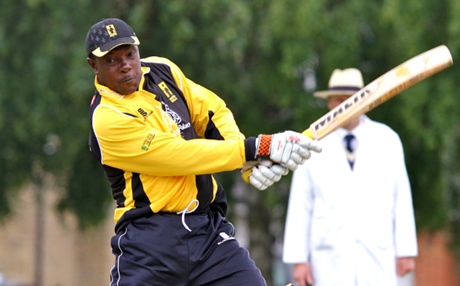 We consider the Spirit of Cricket – the branded, upper-case initial letter creation of the MCC – to be a nebulous pile of bollocks. You can quote us on that. However, that isn't to say that there is no such thing as the spirit of cricket.
The Spirit of Cricket (branded) is all about fair play and doing the right thing. The spirit of cricket (unbranded) is the way the game really works; the unspoken rules of the sport as they have naturally evolved. As such, the West Indies abandonment of their tour of India is most definitely in contravention of the spirit of cricket.
No option?
The board's argument is that they had no choice but to call the tour off once the players had announced their intention to return to the Caribbean. What utter, utter horseshit.
Since when have cricket matches demanded that both sides have their best players, or indeed sufficient players, available to them? Cricket in its purest grassroots form demands only one individual to represent his or her side. That person phones round available players in a vain attempt to drum up an eleven – any eleven – for the next match. If they fall short, the team either plays short-staffed or the opposition provides a few spam-handed incompetents to supplement their numbers.
On no account is the match called off.
A West Indies XI… or VIII or IV or whatever
Obviously, as this is international cricket, the West Indies cannot make use of Ajit Agarkar or any other Indians as they are the wrong nationality and therefore ineligible for selection. That's fair enough, but surely they can still get a few blokes out onto the park?
Richie Richardson's there; he's a decent bat. Stuart Williams is assistant coach; he can open. Clive Lloyd's knocking about and Curtly Ambrose has been working as bowling consultant. You've already got a half decent side there in our opinion. Rope in a few physios and management figures for fielding duty and they could still beat most sides in the world.
Stop your bleating and get on with it.
25 Appeals
21
Let's take a day off from the office politics and instead take a look at some cricket. The West Indies beat India today.
Hypothesis testing
One of the most interesting things in the run-in to the World Cup – often more interesting than the tournament itself – is that we can compare the different approaches of the various nations. England's strategy will change precisely five more times before the tournament starts, but most teams have a fair idea by now how they're going to try and win the precious few 50-over matches that really matter.
One-day cricket is very formulaic, but the rules change rapidly and no two squads are the same, so we don't really know for certain the best approach at present. We'd slotted the West Indies into the second tier of teams behind Australia, India and South Africa, but looking at their team, we think we might be doing them a disservice. Also Sri Lanka now that we come to think about it.
What are they doing?
They're hampered by the absence of Sunil Narine and who knows whether he'll be back for the World Cup. But despite this, they have a lot going for them. Their most obvious strengths are a plethora of all-rounders and a surfeit of might in their lower order batting. Obviously, the two are linked.
If Denesh Ramdin seems at least a place too high at number five, a six-seven-eight of Kieron Pollard, Andre Russell and Darren Sammy gives them three shots at death-over carnage. With Dwayne Bravo currently opening the batting and three specialist bowlers, they also aren't short of options with the ball. One-day cricket has shown us time and time again that if you don't have one Wasim Akram, you may still be able to get away with a motley assortment of Chris Harrises and Sanath Jayasuriyas.
What are their chances?
It seems a rather fragile strategy – light on batting, light on out-and-out bowlers – but we can see it working. It's almost a case of carrying maximum ammunition and then just firing indiscriminately hoping something hits the spot. It's a funny sort of numbers game, but perhaps it fits the current fielding restrictions and whatnot.
King Cricket rating: Daniel Day Lewis in Gangs of New York
A few sound fundamentals, but mostly just throwing all sorts of stuff out there in the hope that some of it sticks.
Other nations' World Cup strategies.
21 Appeals
6
Do you get the feeling that there are a number of dead men walking at the minute? It's like one mob family has ordered a series of hits on a rival family and now capos and crew members are being picked off as they go about their daily business.
Sunil Narine is the latest to be visited by Paulie Walnuts, but he's only been wounded, not killed. He's been reported for his action when bowling his quicker ball, but unlike Saeed Ajmal, he's not been suspended.
An uber-cynical prediction would involve him playing the rest of the Champions League for his IPL side before somehow being banned ahead of the World Cup.
6 Appeals
26
Growing up, our home town had one cinema, which had two screens. If you wanted to watch a film, you watched what was on. That's the only possible explanation as to how we once found ourself watching Far and Away, starring Tom Cruise and Nicole Kidman.
Towards the end of the film, just as the plot was reaching its climax, the cinema lost visuals. The sound remained, but the picture went, returning some time later for about a minute of denouement.
No-one complained. Not one single person. Make of that what you will, Ron Howard.
We mention this only because today's semi-final between Sri Lanka and the West Indies feels like the exact opposite of that. The Windies were well behind the run-rate, but that's the way they pace a chase, counting on the Sammy factor to make up the shortfall in the last few overs. However, the match was rained off with our man at the crease, not having faced a ball.
Enter hero, music swells, film ends.
26 Appeals
12
Minnows, upsets, India v Pakistan and the semi-finals already – this World T20 is getting the job done. And while some people claim that Twenty20 can be a lottery, you can make a strong case for the four remaining teams also being the four strongest.
Sri Lanka v West Indies
Darren Sammy is averaging a hundred in this tournament with a strike rate of  224. He's managed to make an extraordinary impact in just 45 balls at the crease. Rangana Herath has played even less cricket but he too has made his mark. Bowling just 21 deliveries, he is currently averaging 0.60.
That sort of sums these teams up. Both seem like proper Twenty20 sides, chock full of weirdness and heavery. Neither gets too disheartened whether chasing a big total or defending a small one. We've no idea who'll win, which is the way we like it.
India v South Africa
Insofar as any team can have reliable batting in Twenty20, India have reliable batting, but their bowling is more than doing a job in these conditions. Hardly anyone's going for runs and in fact this is probably why the batting has appeared solid. They've been able to play within themselves.
For their part, South Africa have been uncharacteristically erratic. They've been generally underwhelming but with flashes of individual brilliance and appear to be working to Broad's Law about only needing a maximum of two or three players to play well in this format. We'd bet on India, but unfortunately we don't hold a position of responsibility within the BCCI and are therefore not permitted to lay wagers on cricket matches.
12 Appeals
9
"I don't particularly like them," said James Faulkner before Australia played the West Indies. He must positively detest them now.
Here's another Faulkner quote.
"If you can do something to upset somebody and upset their team, it goes a long way towards doing well as a group."
He got that the wrong way round. The West Indies did well as a group to chase 179, which surely upset the Australians, and the fact that it was Faulkner bowling the final over when Darren Sammy hit successive sixes to win the match has doubtless upset him specifically.
Sammy said:
"The Australians normally have a lot to say. We are here to play cricket."
Which isn't to say that the West Indies are mutes. They just save their talking for after the matches. Sammy couldn't help but remark that his team had handled the pressure better than the Aussies. Faulkner was unavailable for comment.
The Windies also save their bat-flinging and cool-losing for after the match. The willow of Dwayne Bravo may not yet have returned to terra firma, so high was it thrown, while the emotions were sufficient for even Chris Gayle to finally lose his cool.
And oh how he lost it. This video of the celebrations doesn't even show Gayle's immediate reaction to the winning six, when he screamed so hard he actually fell over.
9 Appeals
19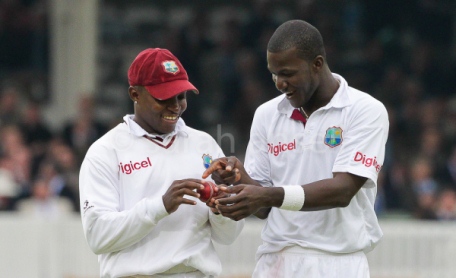 We've got a Sachin Tendulkar post saved as a draft, but let's look elsewhere today. Let's look at the West Indies captain, Darren Sammy, who's currently having a 'mare.
We rather like Sammy. Not just because his initials make him DJ Sammy, not just because he purveys genuine medium-pace and not just because he's forever so ready to smile you wonder whether he's overmedicated. We also happen to think that he's a reasonably decent cricketer.
He's not a match-winning bowler and he's not a batsman you'd expect more than 50 from, but he's more than capable of bowling tight overs and hitting handy runs down the order. The problem is that this is pretty much all you can expect from him, so when he's out of form, there aren't many great memories to refer to when making a case for his retention.
In the Windies, many people have been baying for him to be dropped ever since he was made captain. We see their point, but at the same time the team's often been unstable enough that a decent captain would be worth his place even if all he could do were field. It's not like Sammy's keeping a Michael Holding out of the side, after all.
But whoever he's keeping out of the side may just get a game when the Windies play their next Test. Having been given the boot from the one-day captaincy, Sammy's been under increasing pressure in the longest format. He says he thrives on criticism, which should mean he's at his best right now.
He is not at his best.
In the first Test, he admitted leading by example by playing a stupid, impatient, entirely inappropriate shot. He said he had to learn. In the first innings of this Test, he gloved the first delivery he faced, concluded that he now had his eye in and absolutely skied the second. Then, when India came to bat, in a classic case of trying to claw yourself back into credit through an ill-judged attempt to 'take responsibility' he opened the bowling and was promptly spanked.
Darren Sammy's job is to play second fiddle. In attempting to play the lead violin part, he's making himself redundant in more ways than one.
19 Appeals