2
minute read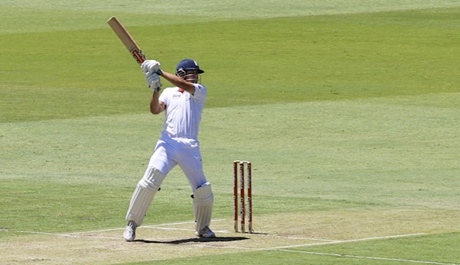 One of Alastair Cook's problems is that he plays every one-day innings as if it might be his last. He positively clings to the crease, grimly trying not to make a mistake. The better approach might be to play as if he doesn't give a toss, but say what you like about Alastair – tosses he gives.
Bowlers can do what they like at Cook. It's like bowling at a cone or a cardboard cut-out. He just sits there passively while you prod away at him with something sharp. After the sixth one-day international against Sri Lanka, Cook said that he was hitting them well in the nets. If he hadn't actually specified that it was balls he was hitting, you'd think he might have meant walls – using his head.
There are no prizes for effort in cricket and in one-day cricket there aren't even prizes for runs unless you can score them quickly enough. It doesn't matter why you drop simple chances or miss straight balls, all that matters is that you do. Cook is.
We don't blame Cook for hanging about in the one-day team. It's his job to retain confidence in himself in the face of all evidence to the contrary. Half of the battle of international sport involves bullshitting your opponent that you're something you're not. The best way to achieve that is to start off by bullshitting yourself. This is why we pay other people to see things clearly: coaches and selectors, for example.
One of the main reasons why Cook was made one-day captain is because they thought it would undermine him to have someone else in charge of the 50-over side ahead of the next Ashes. The same people who reached that conclusion might now want to consider just what effect an endless series of defeats and humiliating underperformance might be having on their boy.