< 1
minute read
We wish they'd warned us. We hate change. We have to prepare for it properly. We needed at least eight weeks' notice to come to terms with something like this.
Look at it!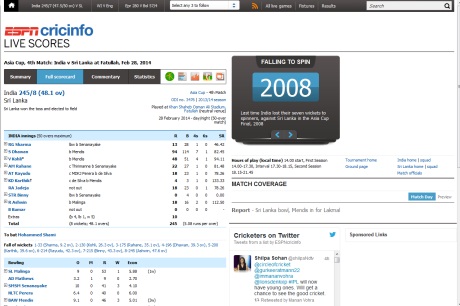 The main bit's slightly off to the left!
We're used to the main bit being in the middle. Now our eyes are in slightly the wrong place when the page loads and we have to move them. THIS WASTES TIME.
Plus there's extra information. Why does everyone always assume you want extra information these days? We don't want to see big facts or tweets from well-known cricketers. We want to see cricketers' names with numbers next to them. That's what we like: cricketers' names and numbers. That's what cricket's all about.
This is almost as bad as when they started putting videos that automatically play at the top of just about every single article. Videos are not the future. Videos take ages because you can't scan them in four seconds, ignoring all the boring bits. Plus, if you open 14 articles in different tabs, you have to play 'hunt the video' when you should be scanning/ignoring the first article.