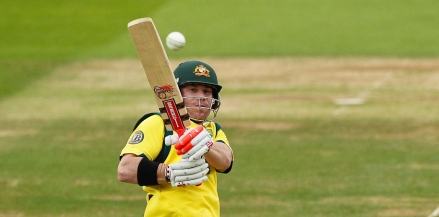 Nobody's happy about that fact, but we might as well get used to it because when he shuts that toolish mouth and plays cricket, he can score some runs.
Diversity
One thing we really like about this Australian team is that it's a lesson to everyone on the importance of having diversity within your team. Australian wickets tend to herald change, whereas an incoming England batsman is typically 'much like the last guy, only more so'.
You need to mix things up. If blocking and leaving isn't a valid strategy, England tend to gradually move towards 'really, really blocking and leaving'. In contrast, Australia have one opener trying to split the leather every chance he gets and another who basically just likes standing at the non-striker's end.
Sometimes obduracy is the better approach. Sometimes giddy pummelling is the way to go. Australia's opening partnership is almost like a fact-finding mission, allowing the rest of the team to gather information on how they should approach things. Whichever opener's out first, do the opposite.
The perfect team
Good sides are rarely one-dimensional. That goes for batting and bowling. The perfect cricket team would be a sickly mélange of top chaps and bell ends of all shapes and sizes, boasting a troubling array of mental health problems and physical abnormalities. It would be like a cross between the Hunterian Museum at the Royal College of Surgeons and my local pub on days when a herd of idiots decide to stop in after the football.