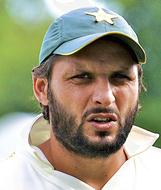 If there is a point to Shahid Afridi – and really, his genius is all about absolute commitment to joyous, unfocused, futile pointlessness – then it is that he should mishit sixes to win matches. That is what happened today.
India and Pakistan have much in common, but they also have their differences – you may even have heard about this. In cricket, the most striking difference is in their respective 'finishers'.
For India, Mahendra Singh Dhoni typically fills this role. Dhoni is one of the finest one-day batsmen of all time and utterly, utterly reliable. In 214 innings, he appears to have learnt everything there is to know about closing out a 50-over innings and he's so cool that anyone else on the field of play is at risk of frostbite and hypothermia.
Pakistan field Shahid Afridi at seven. Afridi is basically one last roll of the dice. These dice have just one side that doesn't say 'wicket' and it says 'six'. In approach, he is as cool as the fires of Hell and in 348 one-day innings, he has learnt precisely nothing. If anything, he has shed knowledge. Certainly, his first innings remains his best.
Today?
"The captain told me to take my time and I did that."
He hit 34 off 18 balls.